MOTO-MASTER PRESENTS THE MXGP OF LATVIA RACE REPORT

By John Basher
Just when it appeared that the 2015 edition of the MXGP series was becoming ordinary, Glenn Coldenhoff proves to be a fly in the 450 ointment. To quote the great Jim Carrey, "We got no food, we got no jobs, our pets' heads are falling off!" Yes, it's that crazy. And to think that the American motocross fan is wrapped up in a ho-hum battle between Ryan Dungey (+44 points over second place, I might add) and Ken Roczen, when in the Old World there has been a huge shake-up at every round.
Need I remind you that throughout the 2015 MXGP series there have been more stories told than in all of the Canterbury Tales (don't know what that is? Look it up.). Max Nagl leads the point standings. Max Nagl breaks his leg. Clement Desalle leads the points, only to fall down the ladder and then destroy his shoulder. Antonio Cairoli, the prodigal son of MXGP, breaks himself at the MXGP in Italy (that's the second Italian MXGP, mind you), and struggles to keep up with the hot shoe rookie, Romain Febvre. And then…Glen Coldenhoff? How is that even possible? Coldenhoff, the third string quarterback on the Rockstar Energy Racing team? Heck, this is the 450 rookie who was an afterthought after the season hit its stride. Up until Latvia the Dutch sand rider's best finish this year was a fifth, which happened in the second moto in France. Then he went out in Kegums and won his first ever 450 qualifying race, first ever 450 moto, and his first ever 450 overall. Our pets' heads are falling off, indeed.
The 250 class was just as wild, thanks to the absence of the man who would be king, Jeffrey Herlings. Jeffrey's mangled pinkie finger, which looked like he had played chicken with a meat grinder, kept him from competing in Latvia. No matter, because Jeffrey held a 78-point lead on Tim Gajser for the 250 crown. Latvia was Gajser's race to capitalize on Herlings' DNS, only he was unable to gain significant ground on the day. Instead it was Max Anstie, the British journeyman who spent time in the U.S. and failed to make a dent on American shores, who rose to the occasion. Anstie's perfect weekend–he won the 250 qualifying race on Saturday and swept both motos on Sunday–helped his cause in the points race, though after 12 races Anstie is fighting for a top five overall finish come Glen Helen.
WHAT HAPPENED IN THE SAND AT KEGUMS, LATVIA? READ ON
Romain Febvre added two points to his lead in the 450 standings. It would have been more had he not crashed in the first turn of the first moto. Tant pis!
The gap widens: Romain Febvre, the Yamaha 450 rookie, padded his points lead in Latvia. It wasn't an outstanding showing from the Frenchman, who won the past four GPs, but a third overall was good enough to add two more points to his advantage over Tony Cairoli. It could have been a whole lot worse for eight-time GP Champio Cairoli because Febvre rounded the first lap of the first moto in 21st place after crashing in turn one. The best Romain could do in the first moto was eighth, while Cairoli came home in fourth. However, Tony was no match for Febvre in the second moto. There are rumors that Cairoli's broken elbow is much worse than originally thought, and that he might pull out from the series. If that is true, then the 450 title will be signed, sealed and delivered to Romain Febvre. Why? The next closest racer is Gautier Paulin, who trails Febvre by 66 points. There is no other rider within 100 points of the Frenchman. If you think Febvre is a flash-in-the-pan rider, chew on this…Latvia was his seventh consecutive podium finish, and he also won his seventh moto of the season.
The Hoff: In every Moto-Master MXGP race report I try to give a nod to the riders worth mentioning. This year I've probably mentioned Glenn Coldenhoff's name a only handful of times. That's because the Dutch rider has been anything but impressive. Maybe expectations were too high for a 450 rookie who is teamed up with Clement Desalle and Kevin Strijbos at Suzuki. However, in Latvia he gave the world notice that he is a winner. Coldenhoff didn't merely luck into his very first MXGP victory. He won the 450 qualifying race on Saturday and followed it up with a first-moto win on Sunday. Second place in the final moto was good enough for the overall. His win, the only Suzuki win this season,  is the bright spot for the Rockstar Energy Racing team–an effort that has struggled with the loss of 450 contender, Clement Desalle, and the injured Kevin Strijbos.
Jeffrey Herlings posted a touching tribute to Ryan Villopoto on his Instagram after RV announced his retirement. Of course the Internet almost went up in smoke when Herlings wrote, "You are the fastest guy on the planet, and maybe the fastest rider ever."
RV retires: On Thursday morning the announcement the industry had been waiting for–Ryan Villopoto's retirement–finally came through the newsfeed. It was a long time coming. After Villopoto broke his tailbone at the MXGP in Arco di Trento, Italy, way back in the middle of April, the phone line went dead on Ryan's end. No one heard a peep from the multi-time AMA National Champion. That's not much of a surprise, given that Villopoto has always had as good of a handle on public-relations matters as a potato. The guy has never been good at addressing the media, shedding any sort of insight on what's going on behind the scenes or telling the real story. Even Ricky Carmichael, considered a dud in the PR department through most of his career, opened up in the waning years of his illustrious career. Sadly, Villopoto lacked the charisma and desire to offer insight on his well being during what turned out to be his farewell season. That doesn't bother me. The Poulsbo, Washington, native doesn't owe me a cent. Ryan was a tough nut to crack even when he was an amateur and I interviewed him in a wheat field beyond the fence at Ponca City, Oklahoma, in 2005. The closest I ever got to Villopoto was when we joked around, mostly regarding matters concerning hunting and fishing. Then the door closed and I was locked out like so many other journalists. That's fine. I'm not angry at the guy, because he had to shed excess baggage in order to focus on the bigger picture–winning titles at all costs. Win he did.
It's beyond me why people are so angered by Villopoto's retirement announcement. So, he had someone else write the press release, but so what? So, he didn't go out on top. How many champions can say that they have left the sport on their own terms? So, Ryan Villopoto doesn't owe you, me, Giuseppe Luongo, Kawasaki or anyone else an apology. The writing was on the wall way back in 2014. Ryan was burned out during his 2014 Supercross run. yes he won, but he took no joy in it. He rarely smiled and he made trips to the podium look a a trip tot he dentist. He was over it. He wanted to retire, but instead he got suckered into taking a hefty payday from Monster to complete a final year of his Kawasaki contract. In doing so he drew attention to the Grand Prix series, won a 450 MXGP overall, and laughed all of the way to the bank (we doubt that Ryan did any laughing during the 2015 GP season, except at the bank). He doesn't own me anything. Good for him. Enjoy retirement, Ryan Villopoto, and collect all of the buckskins your hunting license allows.
Tim Gajser is the real deal.
A bright future: Is Jeffrey Herlings going to stay in the 250 class next year? According to the FIM rulebook, which was rewritten expressly so that Jeffrey could, has every right to stay in the smaller bore class until he's 23. For several years he has been the big fish in a small pond, and it has shown. Had it not been for a broken femur last season while riding a pit bike, he would have walked away with a third consecutive 250 World title. However, this year he has struggled to keep his KTM on two wheels. Some would call his multiple race incidents a fluke, but it appears that the rest of the competition is starting to catch up. First, it was Valentin Guillod, then Tim Gajser caught fire, and soon Pauls Jonass will inevitably go after the whale. It would be a disservice to the sport if Herlings hangs back next year and races the 250 class again. And while this sounds like a bold statement, a Herlings title in 2016 shouldn't be considered a foregone conclusion. Guys like Tim Gajser, Valentin Guillod, Harri Kullas, Pauls Jonass, Jeremy Seewer, Aleksandr Tonkov and Davy Pootjes are finding their placem in the 250 GP series. Herlings needs to find a new challenge—because he's not focused enough when he thinks e's better than everybody else on the track
This is what 23 riders look like off the start of a 450 gate in MXGP. By the end of the series that number will probably be even smaller (not counting the USGP, which KTM and Husqvarna are sending their U.S. teams to).
Ghost town: Giuseppe Luongo has done a masterful job at whittling down the field to those who he feels have the credentials to race the 450 class…or is that "bank account?" GL is so good, in fact, that by Mexico he might achieve the magic number of 15 riders on the gate. Won't that be impressive? And won't the Mexican locals that he fills the field with be worthy GP competition? In Latvia the 450 class was 23 riders strong. No, that's not a typo. Only 23 riders signed up to race. When I met with Giuseppe Luongo at the MXGP in Valkenswaard he proudly stated about wanting only the very best of the best in the 450 class. Forget the rest! The problem with his reasoning is that now, with the series entering the latter stages, he's running out of talent. There was no Max Nagl, Clement Desalle, Ken de Dycker, Alessando Lupino or Xavier Boog in Latvia.
The 250 class looked a little better with 27 riders signed up in the class, but 6 of those riders were non point scorers for the day and less than stellar talents. They were field fillers.
While fans will readily press themselves against the fences to watch guys like Febvre, Cairoli, Paulin and Strijbos wage war, it has to be embarrassing seeing a severely depleted field come off the line. Maybe Giuseppe should invest in a 20-rider gate for the future—instead of the traditional 40?

THE WINNERS
450 class: Glenn Coldenhoff (1-2)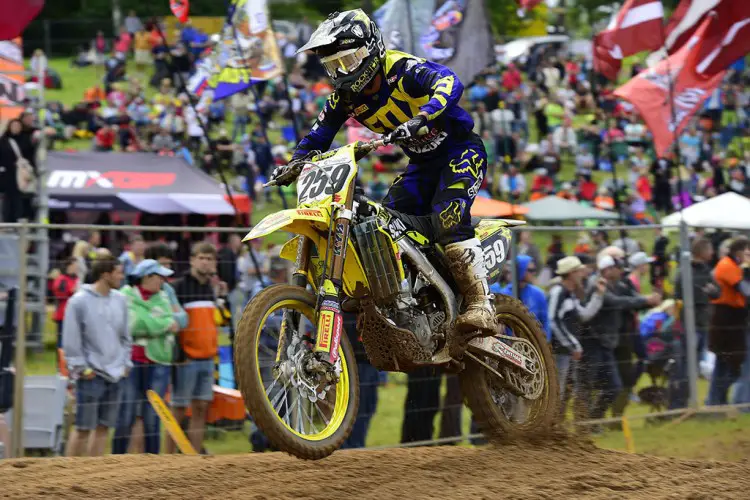 Glen Coldenhoff.
Coldenhoff became the second 450 rookie this year to win his first 450 overall–following Romain Febvre. While it's all well and good that Coldenhoff has become the latest GP phenom, the win won't tell the whole story for quite some time. Several years from now we'll look back and recall how Glenn mastered the damp Latvian sand and gained the confidence needed to ascend up the ranks, or pit pundits will proclaim that Coldenhoff's performance was merely a flash in the pan serendipitous circumstance resulting in several stars aligning. Which one will it be? With an aging 450 field, let's hope that guys like Coldenhoff and Febvre are the new wave of talent who will uproot the establishment.
250 class: Max Anstie (1-1)
Max Anstie.
Not to toot my own horn, but two race reports ago I pegged Max Anstie as the next 250 rider to win a Grand Prix. I wrote, "The Brit has struggled all season to string two motos together. That was the story once again in Germany, as Anstie went 8-1 for second overall. He has the speed to contend, and a rocket ship Kawasaki under him, but the guy has yet to have a breakout ride in 2015. Sure, he finished second in Germany, but he stumbled into the podium spot." Guess what? He dominated the field in Kegums. Anstie is still on the outside looking in at the 250 title, but at least he can sleep comfortably at night knowing that he is a winner. Max looked crafty and cunning in the sand, a bulldog ready to battle for scraps left over in the wake of Jeffrey Herlings' absence.
CRASH VIDEO: THE NAZAROV STRADDLE
MASSIMO ZANZANI'S LATVIA PHOTO GALLERY
Tommy Searle continued to struggle after dealing with injuries. He managed to finish 13th in the second 450 moto.
Despite missing five races due to injury, Kevin Strijbos is climbing up the ranks. He was oh-so-close to scoring a podium finish in Latvia.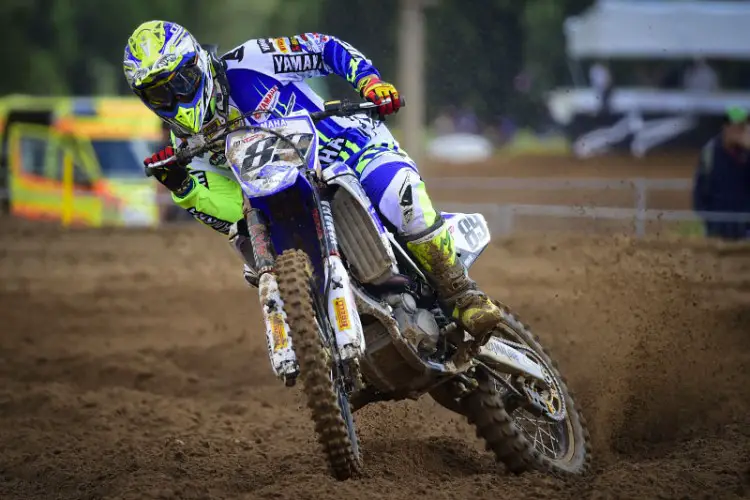 Jeremy Van Horebeek's 5-9 moto scores were good enough for seventh on the day, but his style in this photo earns him a podium finish in my eyes.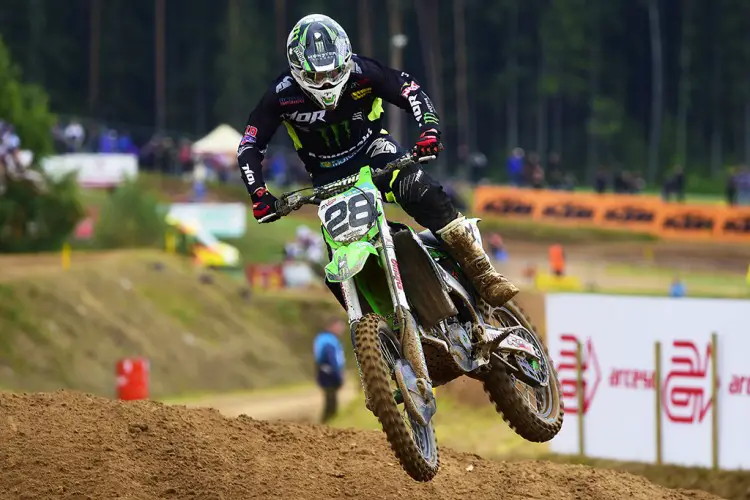 What started out as a promising year for Tyla Rattray has turned into a swan song for the South African. He's hanging up his boots after Glen Helen farewell performance.
Remember this name–Davy Pootjes. The flying Dutchman finished third in the first moto.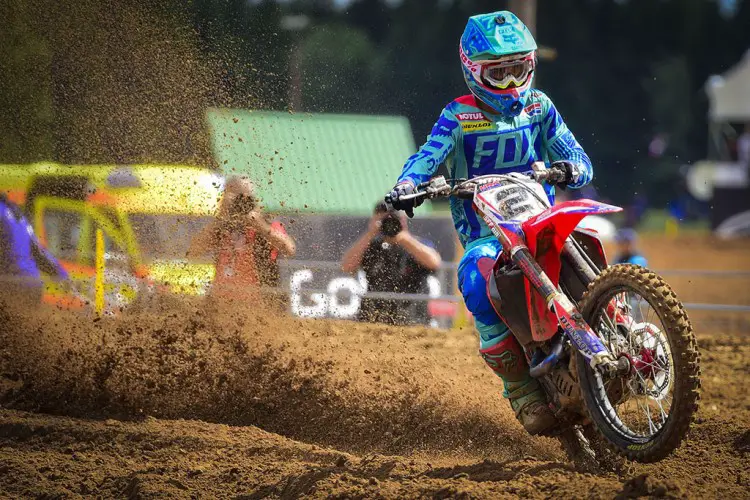 Gautier Paulin was the man in charge on Saturday after winning the rather meaningless 450 qualifying race. He didn't do as well on Sunday, but still earned second place with 3-3 moto scores.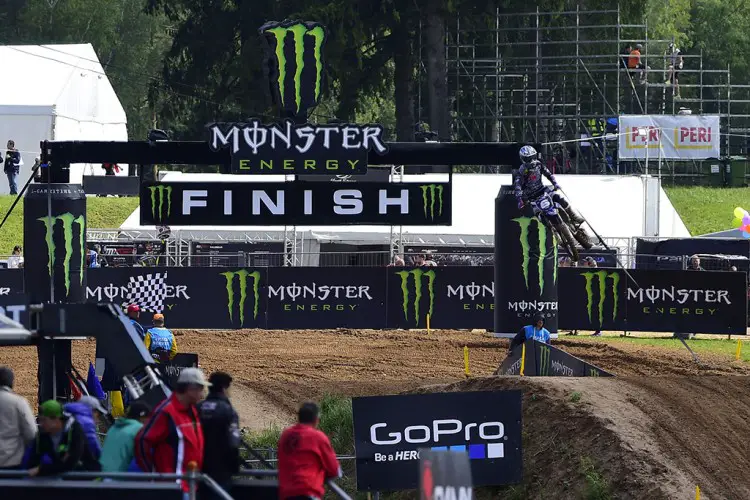 Benoit Paturel breathed a sigh of relief after battling the dense sand of Kegums.
While the Kegums circuit is worthy of a Grand Prix, the first turn needs to be redesigned. A 180-degree right-hand first turn is no good.
Harri Kullas filled in at Husqvarna for the injured Aleksandr Tonkov and cruised to a surprising third place overall in the 250 division.
Pauls Jonass, the hometown hero, did Latvia proud when he finished second overall.
Valentin Guillod is struggling to find his form from five rounds ago. He finished 12th in Latvia.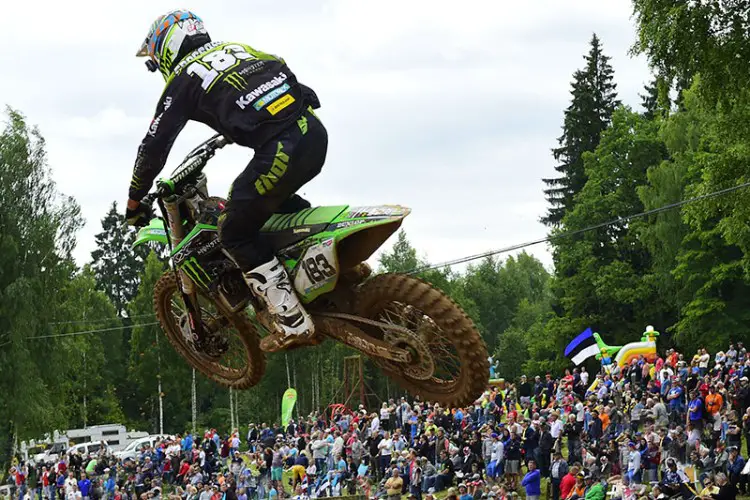 Steven Frossard is filling in on the KRT Kawasaki factory team. He went 6-8 for sixth.
Dean Ferris keeps chipping away. He was tenth in Kegums.
Given that he's an HRC Honda rider and his contract was renewed for 2016, Evgeny Bobryshev should have been styling in Latvia. Instead he had dismal 11-5 moto scores for eighth.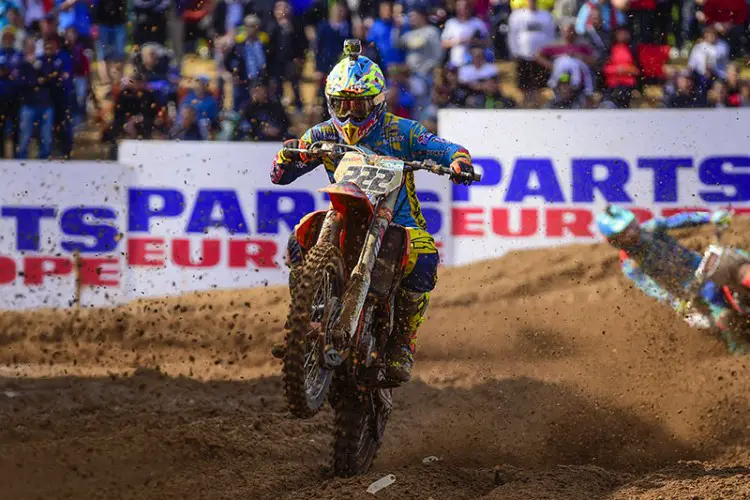 Tony Cairoli is pretty much riding with one arm, yet he's still in sight of the points lead. Will he be able to continue and deal with the pain of a broken elbow?
Brian Bogers went 10-6 for eighth.
Props to Filip Bengtsson and the 24MX Honda Racing team. They're a great group of guys and deserve to be in the mix. It was cool that Bengtsson finished ninth overall.
MXGP OF LATVIA HIGHLIGHTS VIDEO
LATVIAN GRAND PRIX RESULTS: 250 CLASS
1. Max Anstie (Kaw)…1-1
2. Pauls Jonass (KTM)…2-2
3. Harri Kullas (Hus)…5-3
4. Jeremy Seewer (Suz)…4-5
5. Tim Gajser (Hon)…7-4
6. Davy Pootjes (KTM)…3-11
7. Jordi Tixier (Kaw)…6-8
8. Brian Bogers (KTM)…10-6
9. Ben Watson (KTM)…8-14
10. Thomas Covington (Kaw)…14-9
Other notables: 11. Julien Lieber; 12. Valentin Guillod; 13. Robert Justs; 15. Brent van Doninck; 16. Benoit Paturnel; 17. Vsevolod Brylyakov.
2015 FIM 250 POINTS STANDINGS
(After 12 of 18 races)
1. Jeffrey Herlings…423
2. Tim Gajser…377
3. Valentin Guillod…352
4. Pauls Jonass…351
5. Jeremy Seewer…345
6. Jordi Tixier…334
7. Max Anstie…312
8. Julien Lieber…278
9. Aleksandr Tonkov…256
10. Dylan Ferrandis…205
LATVIAN GRAND PRIX RESULTS: 450 CLASS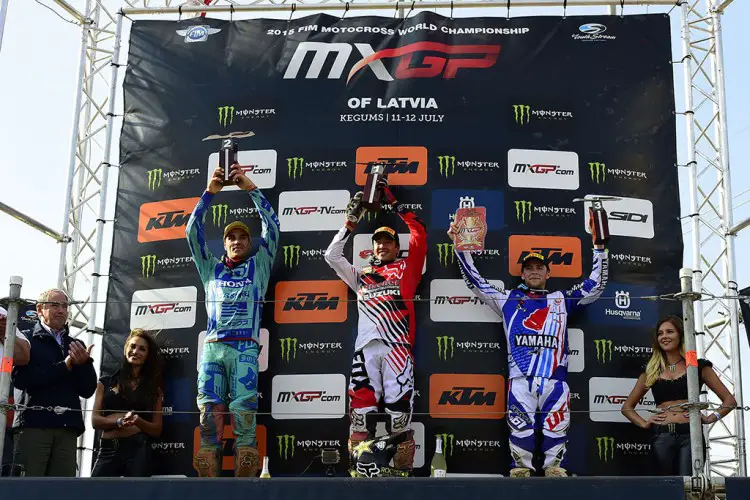 1. Glenn Coldenhoff (Suz)…1-2
2. Gautier Paulin (Hon)…3-3
3. Romain Febvre (Yam)…8-1
4. Kevin Strijbos (Suz)…..2-6
5. Tony Cairoli (KTM)…4-4
6. Steven Frossard (Kaw)…6-8
7. Jeremy Van Horebeek (Yam)…5-9
8. Evgeny Bobryshev (Hon)…11-5
9. Filip Bengtsson (Hon)…9-11
10. Dean Ferris (Hus)…10-12
Other notables: 11. Shaun Simpson; 12. Todd Waters; 13. Jose Butron; 16. Tommy Searle; 19. Tanel Leok; 22. Tyla Rattray.
2015 FIM 450 POINTS STANDINGS
(After 12 of 18 races)
1. Romain Febvre…457
2. Tony Cairoli…416
3. Gautier Paulin…391
4. Max Nagl…360
5. Evgeny Bobryshev…345
6. Clement Desalle…291
7. Shaun Simpson…276
8. Jeremy Van Horebeek…260
9. Glenn Coldenhoff…243
10. Todd Waters…242
There's a weekend break in the MXGP series before things heat up again. Be sure to catch up on all things European on our website, and click back on July 26th to read the Moto-Master MXGP race report with coverage of Loket, Czech Republic. After that it's the famed Lommel round in the deep sands of Belgium on August 2nd. As always, be sure to support those who support the sport by visiting www.moto-masterusa.com. Thanks for reading.
Photos by Massimo Zanzani, HRC Honda and KRT Kawasaki