MOTOCROSS ACTION MID-WEEK REPORT BY DARYL ECKLUND #8
#WHIPITWEDNESDAY
Rider: Brian Medeiros
Location: Glen Helen
Bike: 2017 Kawasaki KX450F
Photographer: Daryl Ecklund
Lens: 70-200mm f/2.8
Focal length: 135mm
Exposure: 1/1000 sec.
F-stop: 5
ISO: 160
MXA VIDEO: FIRST RIDE ON THE 2017-1/2 KTM 250SXF FACTORY EDITION

BENNY BLOSS SUSTAINS DISLOCATED SHOULDER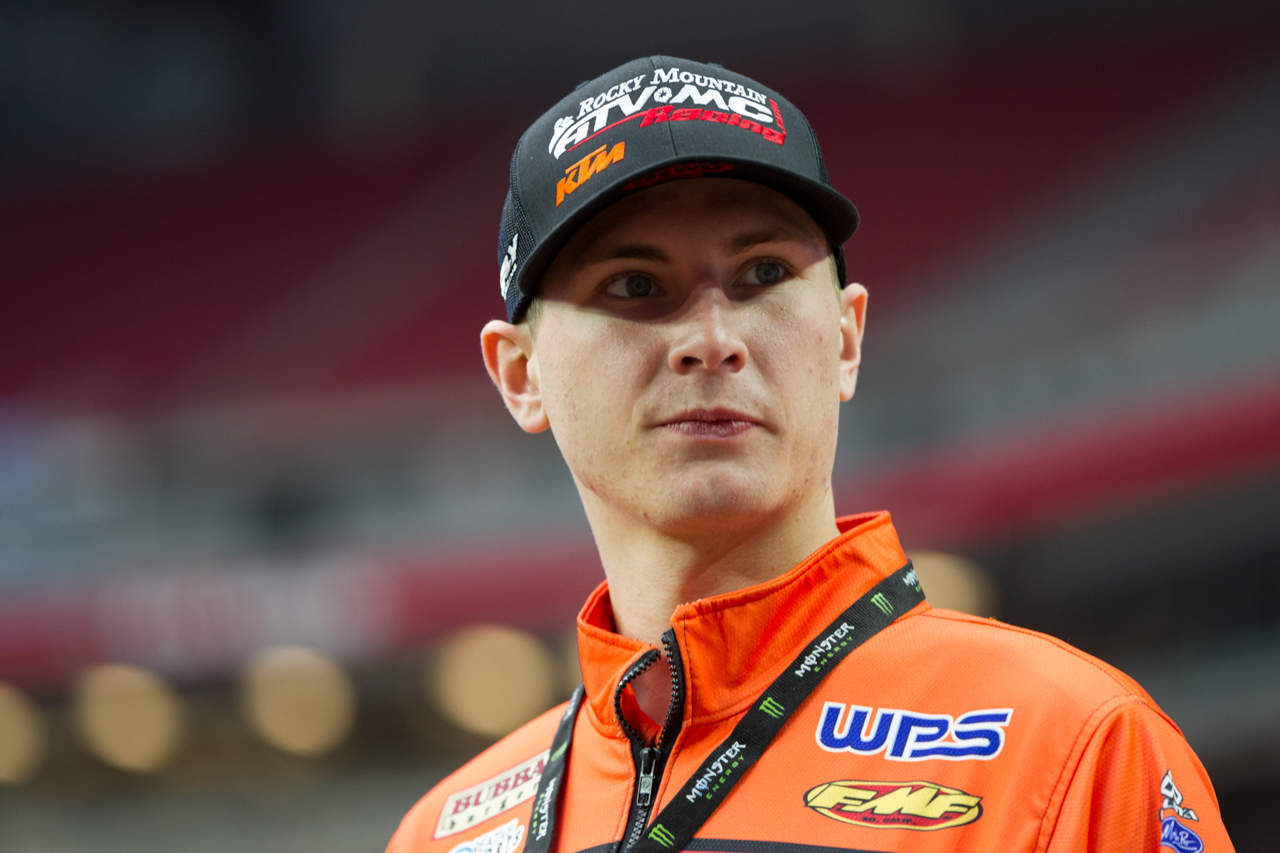 Benny Bloss had a crash in the Minneapolis main event last Saturday and sustained a dislocated shoulder. There has not been any information in regards to him racing this weekend or not. 
PRO TAPER LAUNCHES NEW WEBSITE
Get all the latest ProTaper product information with their easy-to-navigate web platform featuring detailed product descriptions, photos, technical specifications and an all-new authorized dealer locator. Visitors can also utilize the extremely convenient "shop by fitment" filter to easily find every ProTaper product that fits their motorcycle.
THEY SAID IT: MINNEAPOLIS SUPERCROSS
Cole Seely–"Today was a little bit of a struggle for me. I had a really hard time finding my groove all day, starting with practice and even throughout the night. I ended up fourth in practice, which is really good considering how I felt. In my heat, I had an incident with Marvin [Musquin] where we got together and went down in the second turn. I got up and just fought my way forward to try and get a better gate pick for the semi. The only positives I can take away from having to go to the semi is just getting a chance to learn the track more and see the way it's breaking down throughout the night. In the main event, I had 11th gate pick so we assessed it and tried to come up with a game plan back at the truck so I'd know mentally kind of where I'd be. I actually ended up three outside of the box, which is way more outside than I expected to be. I ended up pulling a holeshot from there so that was huge and I was so stoked, hyping myself up in my helmet. I was glad to turn a rough day around with a good start, but as luck would have it I went down on the first lap. I got up and was about tenth, made some quick passes then worked my way into fifth by about the halfway point. With the way the whole day went, all the hurdles I feel like I had to overcome, and how I felt being so off, coming away with fifth is still a positive for me. I'm going to try and take the positives from this weekend, learn from the negatives and put them in the past."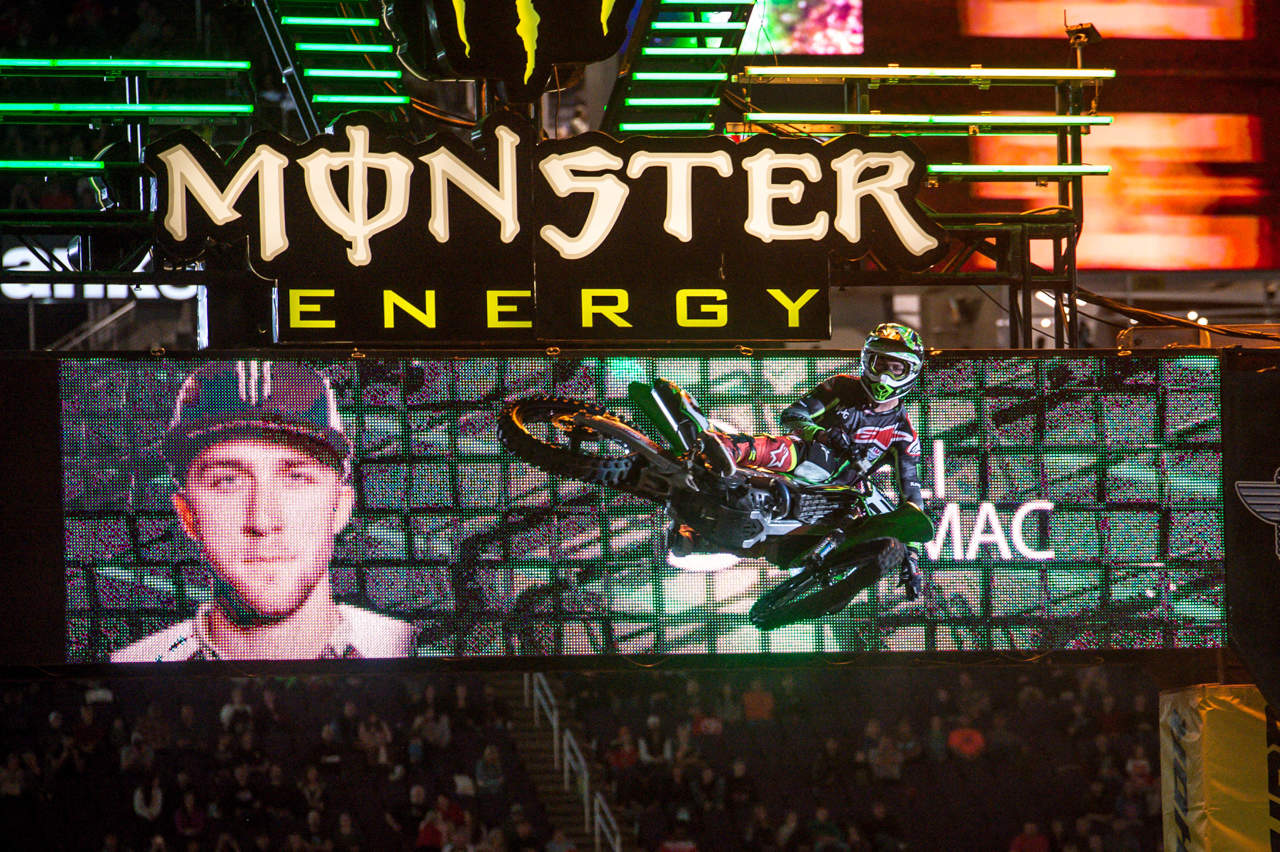 Eli Tomac–"That was a really tough race tonight. The track had a lot of crazy lines and was really tough. I felt like we did a lot of laps. I'm glad to get back on our feet after last week [finishing 15th] and get back to where we were the weeks before that. This was the toughest race of the season so far."
Ryan Dungey– "I definitely had a close call there at the beginning. That section was tricky all day, it sent me into a dive but luckily I saved it and I was able to jump off the side of the track. I had a good charge with Eli at the beginning but he was riding really well and he was able to break away. I made a couple mistakes and then there was Marvin – when he passed me, I saw some of his lines and they were good."
Marvin Musquin– "The day started off rough – I got hit from behind in the heat race and went down. I was trying to go through safe but it didn't work out. Thankfully we won the semi and get a decent gate pick that was the goal. It actually was not that bad going to the semi because you get to do more laps and learn more of the track. In the Main Event I was able to make some good passes in the beginning but they [Tomac and Dungey] had a good gap on me and I was trying to put on the charge. I thought it was going to be tough to catch those guys. Obviously Ryan made a mistake but the lappers were really tough out there and the sand section was difficult but I felt like I did good through there. After winning last weekend and then to back it up with a 2nd place tonight is pretty awesome."
KTM JUNIOR CHALLENGE MINNEAPOLIS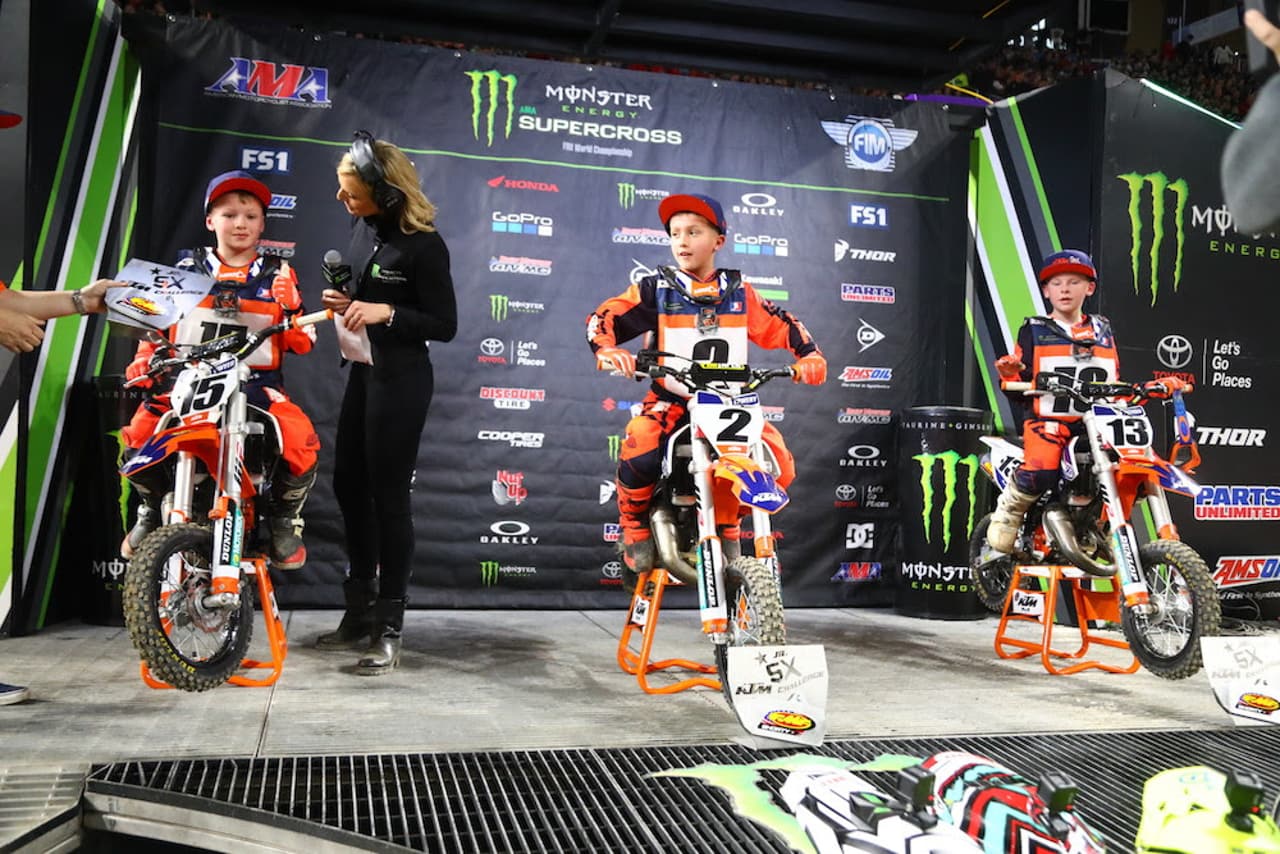 Malikhi Lowery ran away with the race and claimed the win, while Cash Petersen made the pass for second, overtaking Parker Dwyer who claimed the final podium spot.
PRODUCT SPOTLIGHT: WARP 9 RACING TITANIUM SPROCKET BOLTS

Give your ride some factory-style hardware with Warp 9 Racing's new Titanium Sprocket Bolt Kit. The kit comes with 6 8mm Torx Head Bolts, 6 Fuji Lock Nuts, and base washers. These bolts are stronger and lighter than OEM, and the Torx head is nearly impossible to strip. Warp 9's Titanium Sprocket Bolts weigh in at nearly half the weight of OEM and fit all motocross and supermoto models 65cc – 650cc. Price: $59.00.  www.warp9racing.comor (801) 699-7979.
SUPERCROSS KNOWLEDGE: MINNEAPOLIS
By Broc Bridges
1. Making his 54th career start, Eli Tomac earned career win number seven. His victory ties him for 23rd on the all-time Supercross wins list. Tomac has also tied his career best for wins in a season with three (2015 he also won three on the way to his runner-up position in the final points standings).
2. Tomac now has four wins on a Kawasaki, tying him for eighth on the all-time Kawasaki Supercross win list with Jimmy Weinert.
3. After winning the week before in Dallas, Marvin Musquin backed it up with a runner-up finish in Minneapolis. It was his 10th career podium.
Eli Tomac got his third win of the season.

4. Ryan Dungey finished third in his hometown race for his 95th career podium and 112th top five. The top five was his 42nd consecutive and he is only one top five finish away from tying Kevin Windham for fourth on the all-time podium list.
5. Jason Anderson made his 39th start in Minneapolis and earned his 22nd career top five finish with a fourth.
6. Cole Seely could have a 50% top five percentage with a repeat next week.
Jason Anderson earned his 22nd career top five finish with a forth.

7. Davi Millsaps earned his seventh consecutive top-10 finish this season with a sixth place.
8. Mike Alessi gets his first top-10 finish of the season. He now has 116 career starts which puts him ahead of Ricky Carmichael and Jeff Emig in 15th all-time.
9. Joey Savatgy takes his fourth victory of his career.
Davi Millsaps has consistently been in the top-ten this season.
10. Pro-Circuit Kawasaki is on a five race win streak with Justin Hill winning the last four West rounds and Savatgy's opening East Coast victory.
11. Jordon Smith and Zach Osborne both finished within two seconds of Savatgy for second and third.
MXA MINI-VIEW: JORDAN SMITH
Although with Geico Honda's impressive 250 squad the past few years, Jordan Smith has been somewhat below the radar. Maybe it was due to his quiet nature, or his up and down results. Many questioned his late 2016 season signing with the Troy Lee Designs KTM Team, but it certainly seems to have worked out for the North Carolina native. Not only did he finish second in the 250 class at the Minneapolis Supercross, he led for the majority of the main. We were able to talk to the newly turned 21 years old after the Minneapolis main.
Jordan Smith seems at home on his new team. 
By Jim Kimball

JORDAN, YOU SWITCHED FROM GEICO HONDA TO TROY LEE DESIGNS KTM. THE STOCK HONDA IS NOT AS FAST AS THE STOCK KTM. DOES THE PRODUCTION BIKE ADVANTAGE TRANSLATE INTO YOUR FACTORY BIKE? Yes, I think absolutely it does. The things that they can do with the bikes now are pretty unbelievable, how fast they can make them, and how much faster they can make them then a production bike. But if you are starting behind the eight ball, it is definitely going to be tougher to get on par with people. It is just like a handicap, and I think it absolutely has an affect.
WHILE TROY LEE DESIGNS TEAM HAS BEEN PRACTICING AND TESTING IN SOUTHERN CALIFORNIA, YOU HAVE BEEN STAYING IN FLORIDA. TRUE? Yes, but I spend  all of October, and most of December in California with the team, getting the bike done, and getting comfortable. I think that was really good, and we got some really good settings. I took it back east and started riding the tracks at MTF. My bike was still working really well there, so I did not make hardly any changes at all in the off-season. I did go out and test about two or three weeks ago prior to Minneapolis, and rode my race bike a little bit. I just switched some minor things, but overall, the bike has been handling really well, and I have been really happy with it.
Jordan got his best career finish this past weekend in Minneapolis.
IS IT BETTER BACK HOME OR WITH THE TEAM IN CALIFORNIA? Being back on the East Coast with all the people that I grew up with, I am more comfortable there.  I have more fun at home, and it is just overall better for me.  I just bought some land in Georgia and am building a house out there, so that is just home to me. I am a country boy, and I like to be out in the country.  I do not like being in California with all the traffic, and I don't necessarily like the tracks that much in California.  Some days the tracks are good and some days you just never know what you are going to get. They do a really good job at MTF at keeping up with the tracks. I don't really think it hampered me, if anything, I think it was good for me.
YOUR SECOND IN MINNEAPOLIS iS YOUR BEST 250 EAST CAREER FINISH, HOW COOL IS THAT TO DO IN YOUR FIRST RACE ON NEW TEAM? It is awesome.  I made a pretty big change late last year when I decided to come over here to KTM. I was a little bit nervous doing that. It was the right decision, but it was definitely tough. So to come out and get a second place and to lead almost half of the main was great. I was right there at the end too, and I didn't get tired. It was a really good night and something that we can definitely build off of.  For the first race to be this good is a great start. Really if you would have told me after the heat race that I was going to finish second, I would probably thought you were lying. At first it just did not feel like my night, and I was struggling, but I just kept putting things behind me. I just knew that it is a long main event now with the timed mains. I knew the track was gnarly, and I knew if I got a good start, then I would be good. So I did that and it was a good first race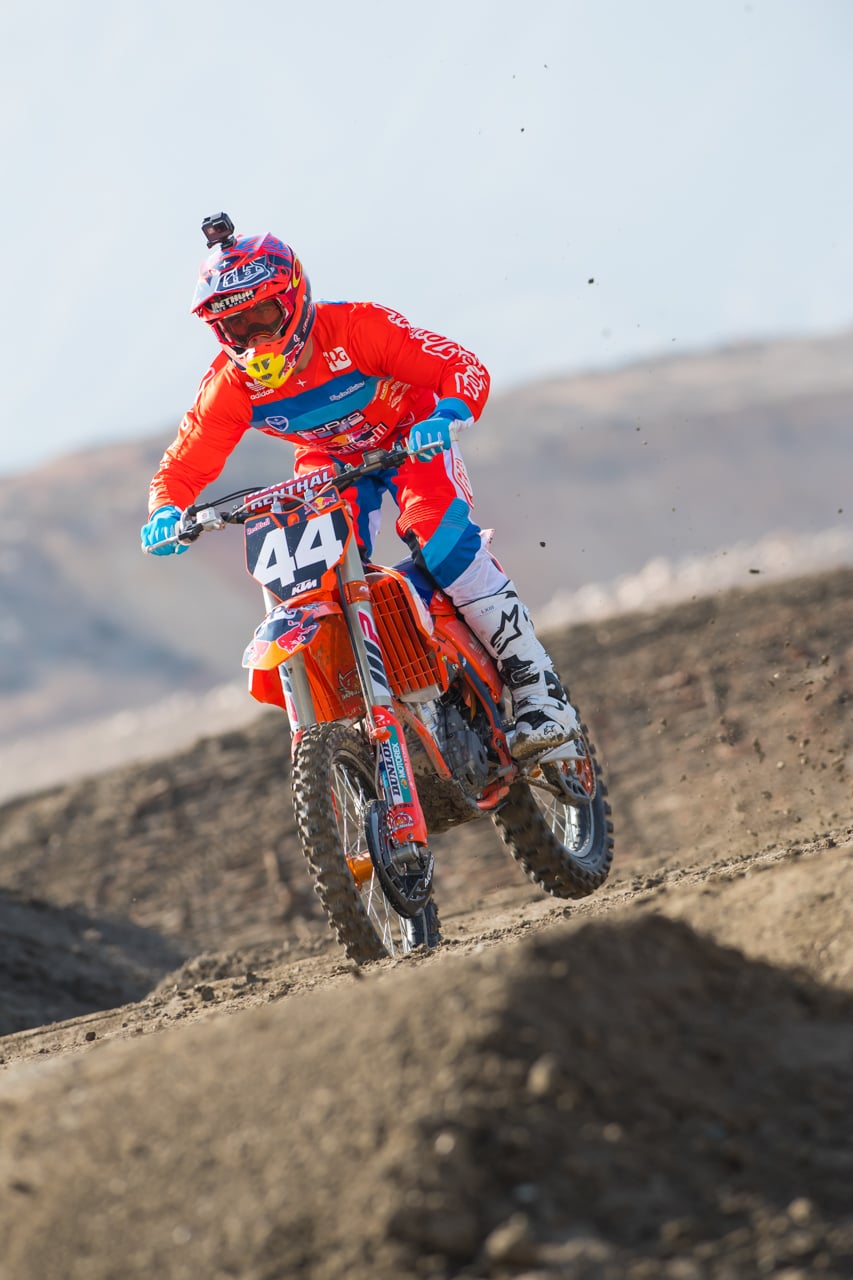 Jordan has the speed, but can he stay consistent? Only time will tell.
DID YOU FEEL ANY PRESSURE WHILE YOU WERE LEADING? Last year in San Diego, I led for about five or six laps, and I also lead a few outdoors this past summer. So I have a little experience running up front. The biggest thing for me in Minneapolis was that I knew that I was not the fastest guy out there. I qualified 7th and was over a second off the fast time, so I knew I had work to do. When I got that good start, I just knew that I needed to hit my lines. The track was getting really tough, and no one was not going to be able to throw down that fast, one-lap, sprint speed for the whole time. I did not really feel too nervous out there.  On lap 6 when I got together really bad with a lapper,d I tightened up a little after that. But once Joey got around me, I kind of loosened back up and just tried to see his, and Zack's lines.  I just learned from them, and could see what they were doing.
ONCE JOEY AND ZACH WENT BY YOU, YOU WERE ABLE TO GET IT BACK TOGETHER AND CATCH BACK UP.  Yes I did.  When ZacH got around me, Joey had stretched out a lead for a little bit. I just tried to stay right on Zach; I knew that he was the fastest out of all of us.  He had caught us from a pretty far back, so I just tried to stay right on him and learn his lines.  The track was really tough and I knew that everyone was going to be tired. But I just kept pushing, and pushing.  Zach went down near the end there, fortunately for me, but unfortunately for him. I capitalized on that, and pushed to the end.
TWO-STROKE SPOTLIGHT: MORTEN LARSEN'S 2017 KAWASAKI KX250
A 2017 KX250F with a KX250 two-stroke engine in it. 
"I am so pleased that you guys are doing a fine job in putting attention on the two-stroke bikes again. Our sport needs it. The motocross sport should not be for rich kids and Vet racers only. Our sport is not just about racing and getting new stuff all the time. Many seems to have forgotten what made out sport big. When I was a kid, I was so proud the first time I changed a piston myself on my first 80cc. There were many kids running around in the garage helping each other prepping the engines. We did not have tons of money to buy new machines every year and if the engines broke, we still had a chance to work enough to pay for the parts. The social aspect was a big thing in the old days. We spent 100´s of hours hanging around in the garage working on the bikes.
I like four-strokes, but the 250F killed it. I became an educated motorcycle mechanic and have worked with mostly motocross bikes all my life. More and more teenagers do not fix their bikes, or at least not their engines. Dad can not help them there either, and none of them have the tools for fixing a 250F. Poor Dad, when he wants to help his beloved son buying his first used 250F, they have no clue about the condition of the engine, and often (when the engine breaks) it will cost them two times the price of what they payed for the bike. 1½ years after the young kid stopped racing again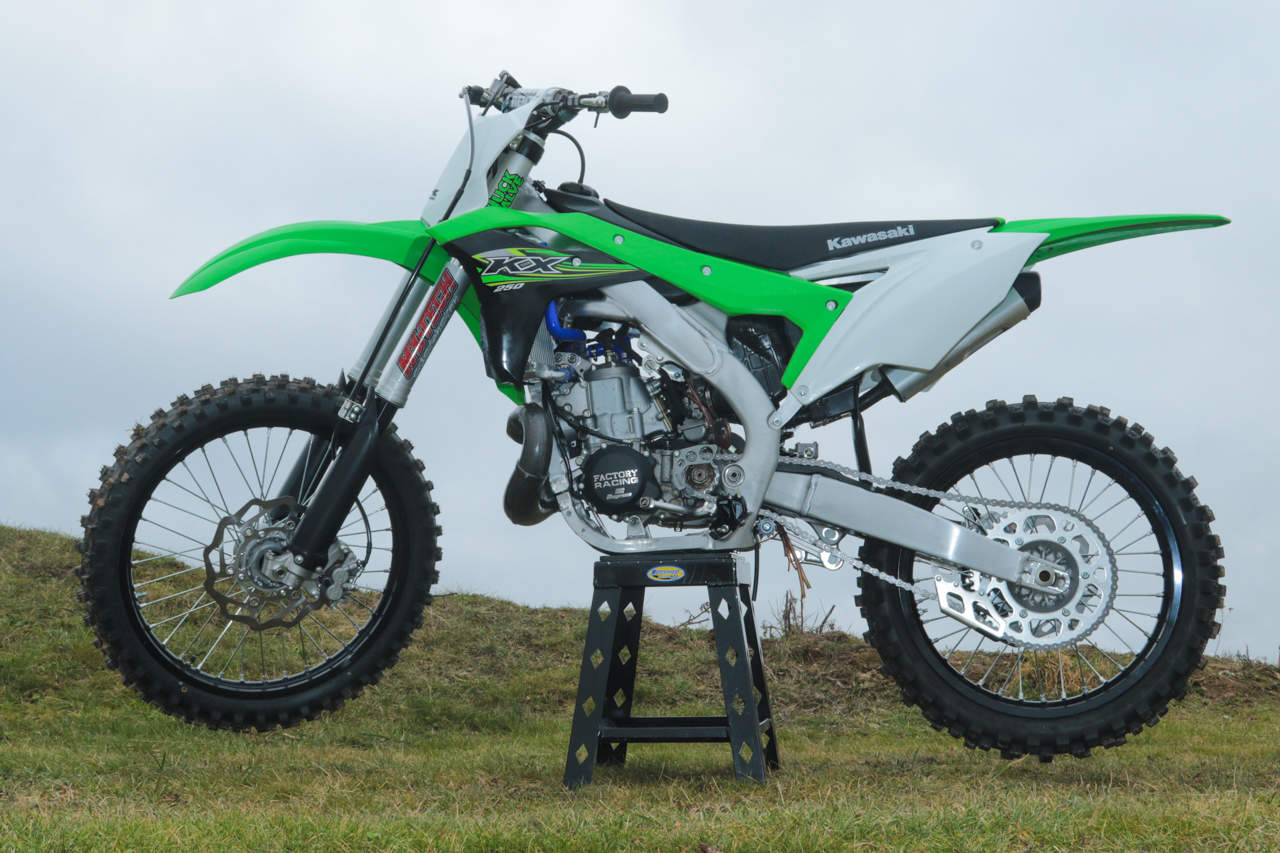 Only if Kawasaki would listen to the general public and build two-stroke again. They are in high demand. 
People become what we teach them, and not to be rude, but sometimes it looks like the Japanese manufactures are teaching young men not to ride motocross. You gotta respect KTM for doing what they are doing, they really deserve the credit. We did not give up. We still love the Japanese bikes, and who would not love a brand new fuel-injected RM125 or Honda CR125?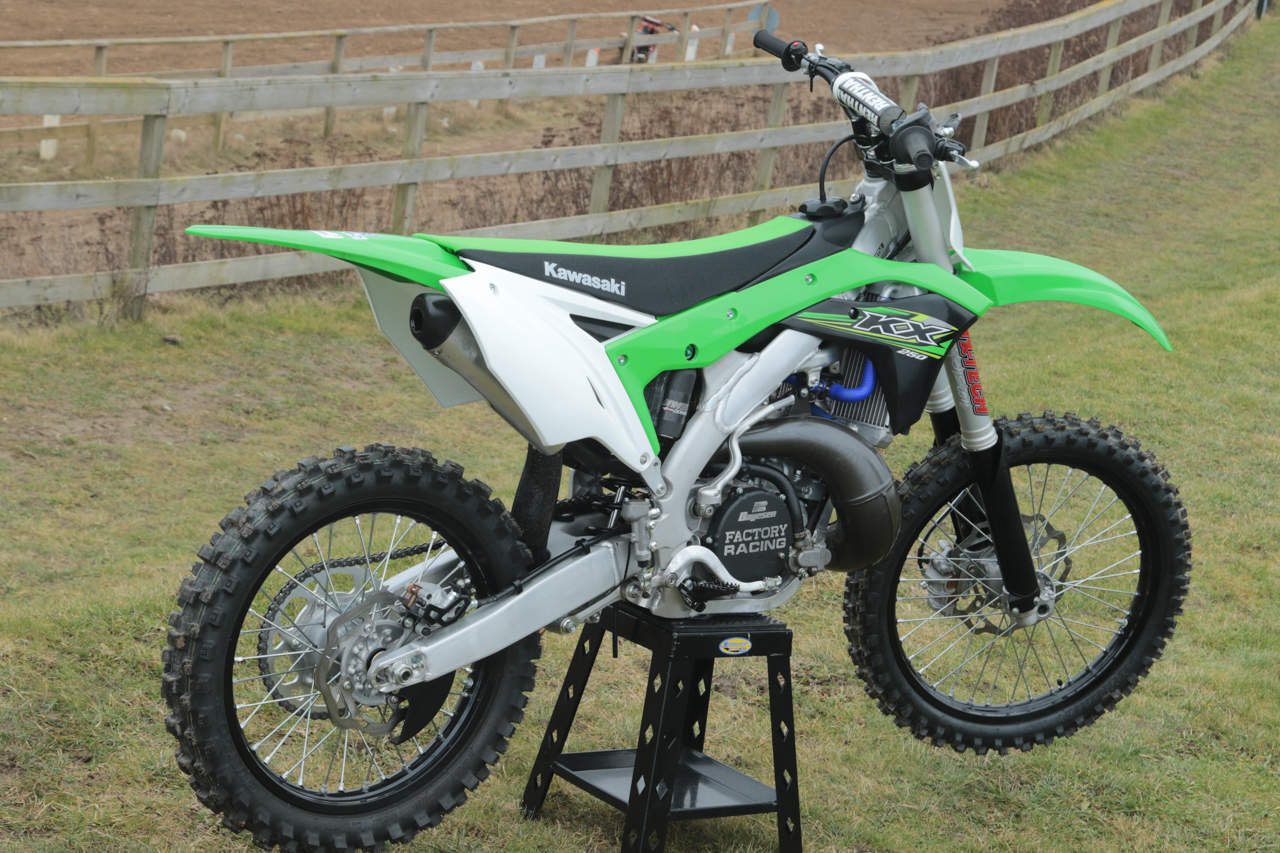 Stock KX250 two-stroke pipe and all.
For this reason we made our own Kawasaki KX 250 2017 model. It is not fancy, it is not fantastic, it is just a simple KX250 you can beat up for years, easy to fix if it breaks, and not get ruined in the process. This is the bike Kawasaki should have made.
Ediors note: Please keep those submissions coming. If you would like your bike to be featured in the "Two-Stroke Spotlight," please email me at [email protected]. All I ask is that you give a breakdown of your bike and a detailed description of the build. Please also send a few photos of your steed. By submitting your bike for the "Two-Stroke Spotlight," you agree to release all ownership rights to the images and copy to MXA. Please don't email me spam or try selling me Taylor Swift concert tickets or email me spam. I already celebrate T-Swizzle's entire collective, and there will be "bad blood" if you send me junk mail. See what I did there? Happy submitting your smoker.
2017 RACE SCHEDULES: BE THERE OR BE SQUARE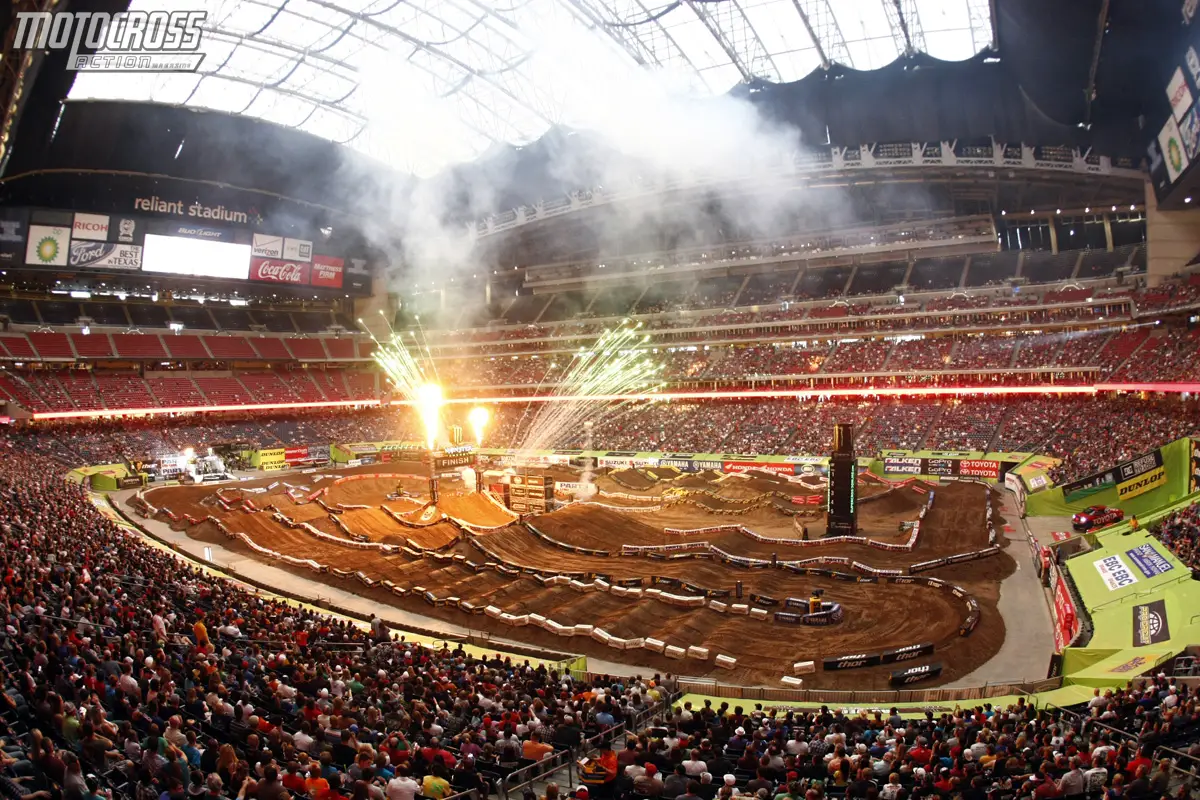 California is the richest race state in the union, with seven major events in 2017. Folks in Michigan should rejoice, as Supercross (Detroit), Arenacross (Grand Rapids) and the Lucas Oil Nationals (Red Bud) visit "The Great Lake State." And those residing in the Pacific Northwest will be happy hosting a bevy of events, from Supercross to the AMA Nationals. Races in bold have already happened.
2017 MONSTER ENERGY SUPERCROSS SERIES
January 7…Angel Stadium…Anaheim, CA (West)
January 14…Petco Park…San Diego, CA (West)
January 21…Angel Stadium…Anaheim, CA (West)
January 28…University of Phoenix…Glendale, AZ (West)
February 4…Alameda Coliseum…Oakland, CA (West)
February 11…AT&T Stadium…Arlington, TX (West)
February 18…U.S. Bank Stadium…Minneapolis, MN (East)
February 25…Georgia Dome…Atlanta, GA (East)
March 4…Rogers Centre…Toronto, Canada (East)
March 11…Daytona Speedway…Daytona, FL (East)
March 18…Lucas Oil Stadium…Indianapolis, IN (East)
March 25…Ford Field…Detroit, MI (East)
April 1…America's Center…St. Louis, MO (East)
April 8…CenturyLink Field…Seattle, WA (West)
April 22…Rice-Eccles Stadium…Salt Lake City, UT (West)
April 29…MetLife Stadium…East Rutherford, NJ (East)
May 6…Sam Boyd Stadium…Las Vegas, NV (East/West)
*Visit http://www.supercrosslive.com/ to purchase tickets
2017 AMSOIL ARENACROSS SERIES
January 7-8…U.S. Bank Arena…Cincinnati, OH
January 13-15…Van Andel Arena…Grand Rapids, MI
January 20-22…Royal Farms Arena…Baltimore, MD
January 28-29…Bridgestone Arena…Nashville, TN
February 4-5…Freedom Hall…Louisville, KY
February 18-19…Sprint Center…Kansas City, MO
February 24-26…Georgia Dome…Atlanta, GA
March 3-5…Landers Center…Southaven, MS
March 11-12…Smoothie King Center…New Orleans, LA
March 18-19…Moda Center…Portland, OR
March 24-26…Livestock Events Center…Reno, NV
April 1-2…Golden I Center…Sacramento, CA
April 22-23…Denver Coliseum…Denver, CO
May 5-7…Orleans Arena…Las Vegas, NV
*Visit http://www.supercrosslive.com/ to purchase tickets
2017 LUCAS OIL PRO MOTOCROSS CHAMPIONSHIP
May 20…Hangtown…Sacramento, CA
May 27…Glen Helen…San Bernardino, CA
June 3…Thunder Valley…Lakewood, CO
June 17…High Point…Mount Morris, PA
June 24…Muddy Creek…Blountville, TN
July 1…Red Bud…Buchanan, MI
July 8…Southwick…Southwick, MA
July 22…Spring Creek…Millville, MN
July 29…Washougal…Washougal, WA
August 12…Unadilla…New Berlin, NY
August 19…Budds Creek…Mechanicsville, MD
August 26…Ironman…Crawfordsville, IN
* Visit http://www.promotocross.com/mx/tickets to buy tickets
2017 FIM MOTOCROSS WORLD CHAMPIONSHIP
February 25…Losail…Qatar
March 5…Pangkal Pinang…Indonesia
March 19…Neuquen…Argentina
April 2…Leon…Mexico
April 16…Trentino…Italy
April 23…Valkenswaard…The Netherlands
May 7…Kegums…Latvia
May 21…Teutschenthal…Germany
May 28…Ernee…France
June 11…Orlyonok…Russia
June 25…Maggiora…Italy
July 2…Agueda…Portugal
July 23…Loket…Czech Republic
August 6…Lommel…Belgium
August 13…Frauenfeld…Switzerland
August 20…Uddevalla…Sweden
September 3…Charlotte…USA
September 10…Assen…The Netherlands
September 17…Villars sous Ecot…France