MXA INTERVIEW | AUSTIN FORKNER TALKS ABOUT GETTING TAKEN OUT & BAD LUCK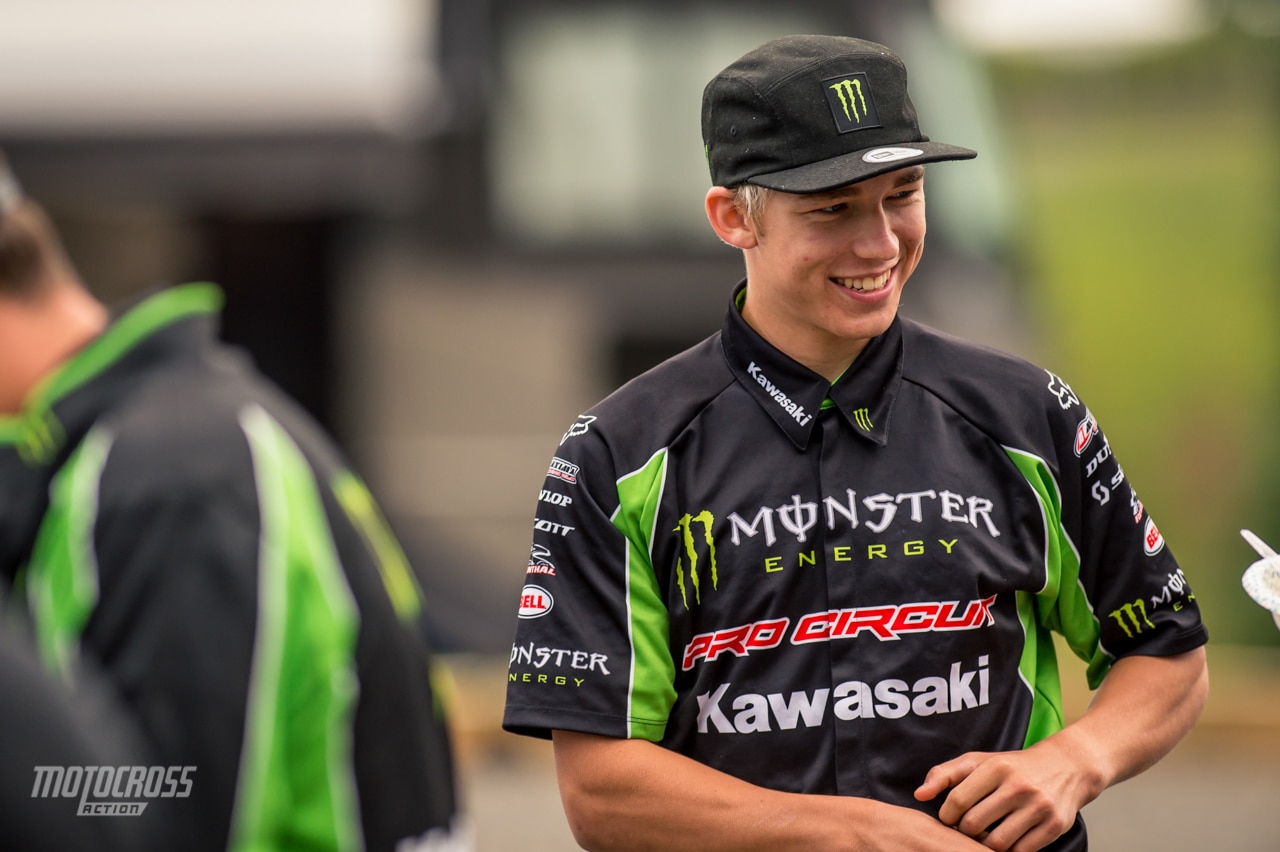 It's a fact that one of the strongest 250 motocross teams, as well as one of the fastest 250 riders has been struck by bad luck more times that once on 2018. If you have seen any of the 2018 Lucas Oil Outdoor Motocross rounds it would be easy to assume that Monster Energy/Pro Circuit/Kawasaki's Austin Forkner would be battling for the championship. But its been a strange case of one good moto followed by another bad moto. And its really not the fault of the 19-year-old. Many times, his overall results have been derailed by the riding of a competitor. Still fourth in championship points, and with an overall podium championship finish in his sights, Forkner is focused on doing his best. We caught up with Austin in Millville, Minnesota after an eighth overall via 2-18 moto finishes.
BY JIM KIMBALL
 AUSTIN, LET'S BEGIN WITH YOUR RIDING THIS OUTDOOR SEASON.  I BELIEVE WITH YOUR SPEED THAT MANY WOULD THINK YOU WERE ONE OF THE CHAMPIONSHIP CONTENDERS. Yes, I can understand your comment somewhat. I would like to be closer to the points lead right now, but I am not; still I am happy with my riding right now. I just need to put together some solid finishes. if I can get up into the top three in points, I will be happy with that, but really, I want to be battling for the points lead.
He just wants somebody on his team to win, and he thinks that everybody on his team should be winning.
YOU HAD YOUR SHARE OF BAD LUCK.  I have been taken out the past few races and that kind of sucked, especially with the position I was in. I was winning both times when I got taken out, so that was bad, but at least I know that I had the speed to run up there, and to get a win, so I just have to move on. At Millville I came upon a lapper who came over on me over a jump and took me out. Jordan Smith (Red Bull/TLD/KTM) ran over me! It sucks when it happens, but it is already in the past, so it is always on to the next race.
WHEN WE TALKED DURING YOUR ROOKIE SEASON SOME OF THE MORE VETERAN GUYS WERE TRYING TO SHOW THE HYPED ROOKIE A FEW THINGS.  DO YOU STILL GET THAT VIBE NOW Probably a little bit just because I am still relatively young for the class. I am only 19, and most of the guys are a lot older, so nobody really wants to get beat by anybody younger than them. So, I feel like I probably still get that a little bit but not as much as my rookie year.
ALL THE GUYS ON YOUR TEAM HAVE HAD THEIR MOMENTS THIS YEAR, AND ARE ALL FAST, BUT GENERALLY YOU HAVE FINISHED THE BEST, DOES THAT AFFECT THE TEAM? Not really, it just kind of raises expectations as obviously Mitch wants to win, and I don't think he really cares who on his team is winning.  He just wants somebody on his team to win, and he thinks that everybody on his team should be winning. I mean that is why you are on the team, basically to win. So probably it's a little bit of added pressure, but not anything that I am not used to. At the end of the day, it is going to be what I can do out on the track, and any pressure that anybody puts on me is just irrelevant.
YOU ARE FIFTH IN POINTS RIGHT NOW, SO FINISHING THE YEAR IN THE TOP THREE WOULD BE A GOOD ACHIEVEMENT. Yes, being top three would be the best I would have finished in any championship since my rookie year when I got fourth. I am only ten points out of third right now. I think I'm only five points out of fourth or something like that, so I could be in third by the end of the day, but with how crazy the racing has been lately, you never know.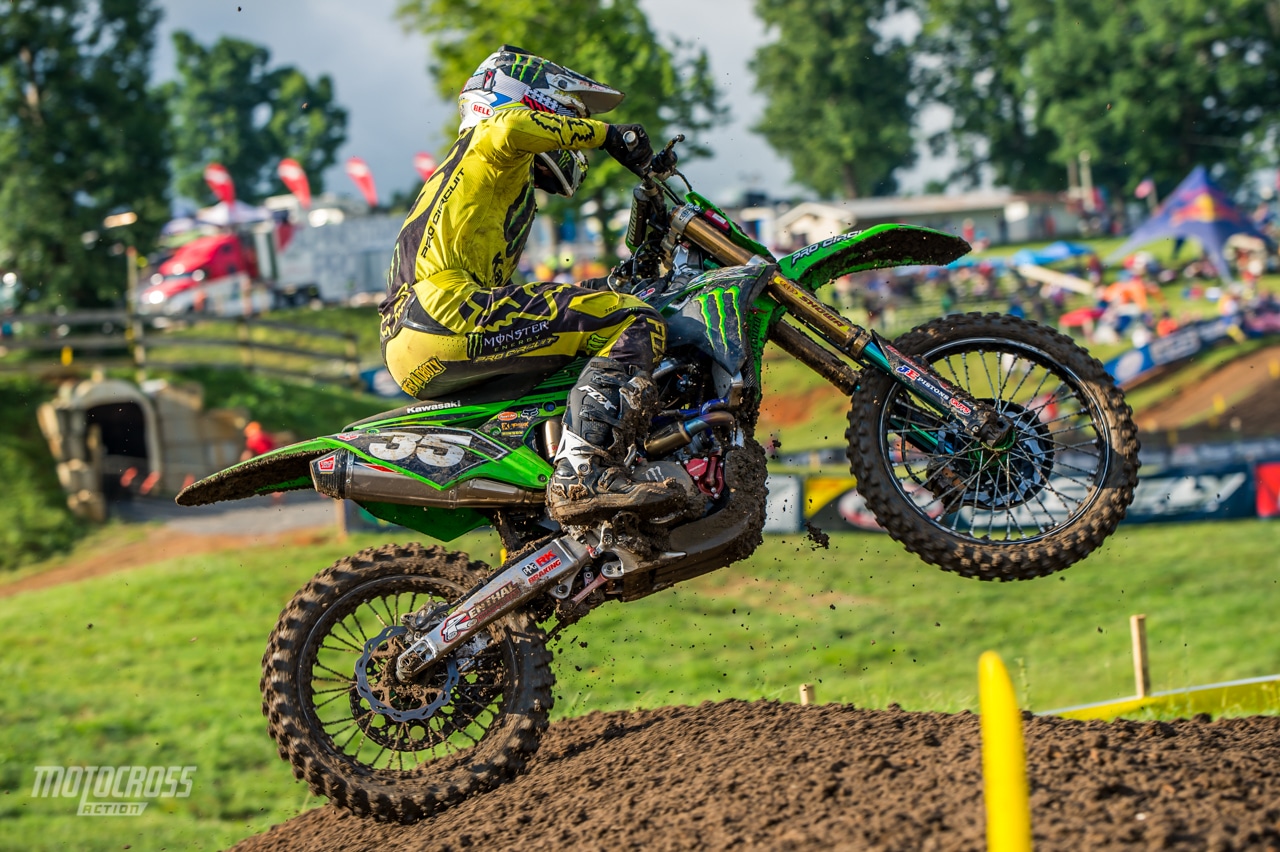 JASON ANDERSON RECENTLY TOLD ME THAT HE FELT LIKE IT TAKES A THREE-YEAR CYCLE TO REALLY GET TUNED IN. I knew in my rookie year that I was not going to win. I knew that it was going to be hard to win in my rookie year in Supercross, but now I feel like I should be up there definitely with having a couple of years under my belt. I feel like I should be up there batting for race wins, and consistent podiums. And I would be there if it was not for getting taken out the past couple of weekends or running into lappers. But it is what it is, and I feel like I am starting to meet my goals for the season as far just how I am riding, and where I am putting myself.
DO YOU HAVE ANY BIG PLANS WHEN THE SERIES IS OVER IN ANOTHER MONTH? Maybe a cruise of some sort, but I really don't know. I don't really have a house right now, and I think I am going to buy a house and get that settled in. We will see. I really want to do a lot of relaxing, as much as I can. I will probably still hang out with my friends a little bit and probably still go out to Robby's (Reynard, training and riding facility) a little bit, because I will probably get a house pretty close to there. I will just go out there, and hangout with them, and watch them ride. But probably I will not do a whole lot of riding over the off-season myself.