MXA INTERVIEW: STEVE STACKABLE—THE LONG-HAIRED KID FROM TEXAS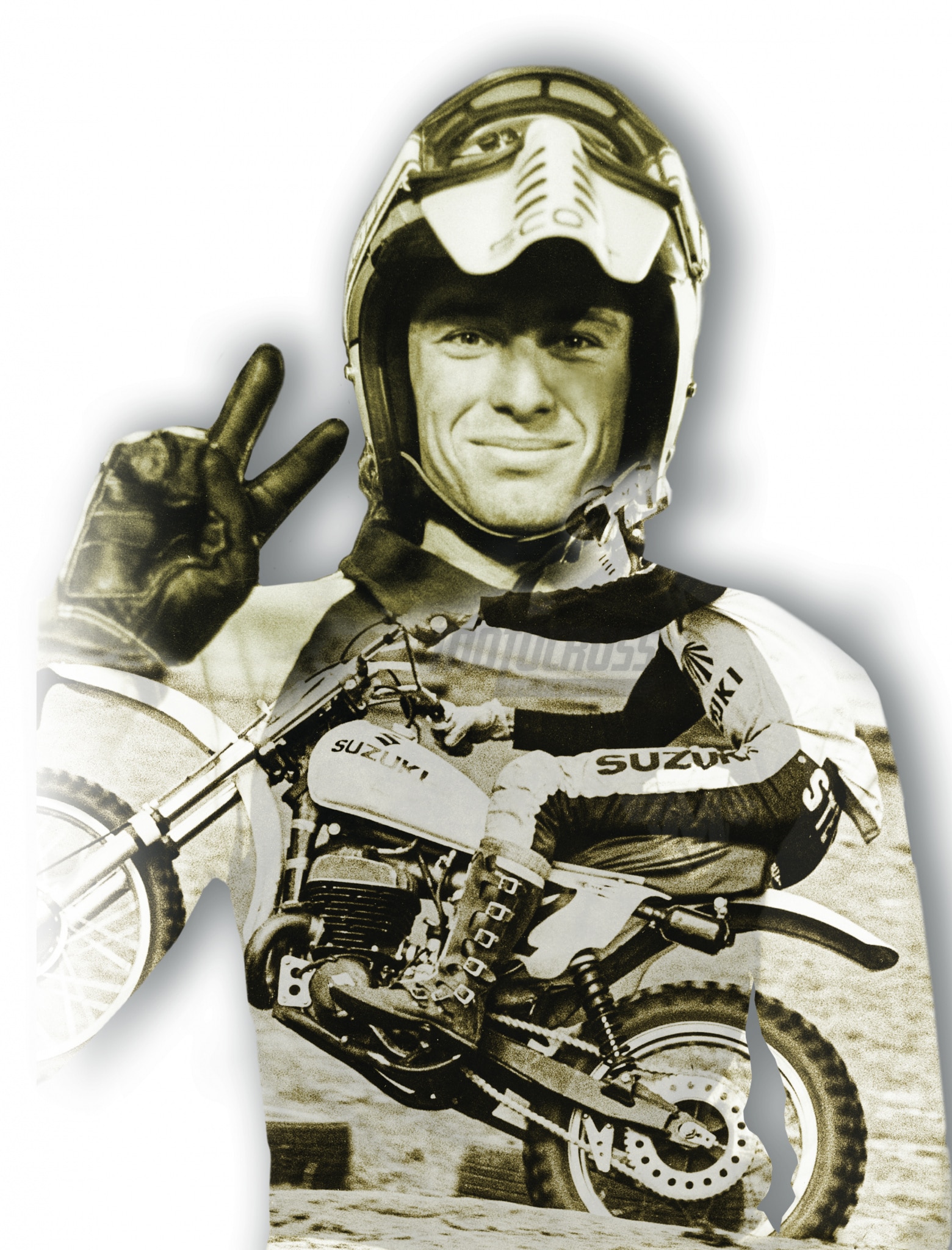 STEVE, LET'S BEGIN WITH YOUR EARLY DAYS. WHERE DID YOU GROW UP? I was born in Germany, but a month after I was born, my mother, who did not speak any English, and my father, came back to Michigan for his mom's funeral. He was stationed in Lansing back then. From there, we went to Cheyenne, Wyoming, for his next relocation. We lived in Wyoming for six to seven years, and then he was restationed in Japan. I was just in my teens, and my older stepbrother, who came from my father's second marriage, had a Honda step-through 90.  
SO, THAT STARTED YOUR MOTORCYCLE INTEREST? Yes. He was two to three years older than I was, and we just all drooled over that thing. We used to sneak off the military base around Tokyo and go out to this mountain. A lot of the Japanese students and American soldiers hung out on the mountain. They had their motorcycles, and there were trails all over the hill. They loved American cigarettes, so we could go out there with a pack of cigarettes that we got at the Base Exchange for next to nothing. We would trade them American cigarettes, and they would let us take a couple of laps on their bikes. That is how it all got started. Later, my dad was moved to Austin, Texas, where they had an Air Force base. I started sacking groceries as a kid and saved up money and bought a Yamaha 60 street bike. Then I got another job at the grocery store on base and would ride the 10 miles back and forth.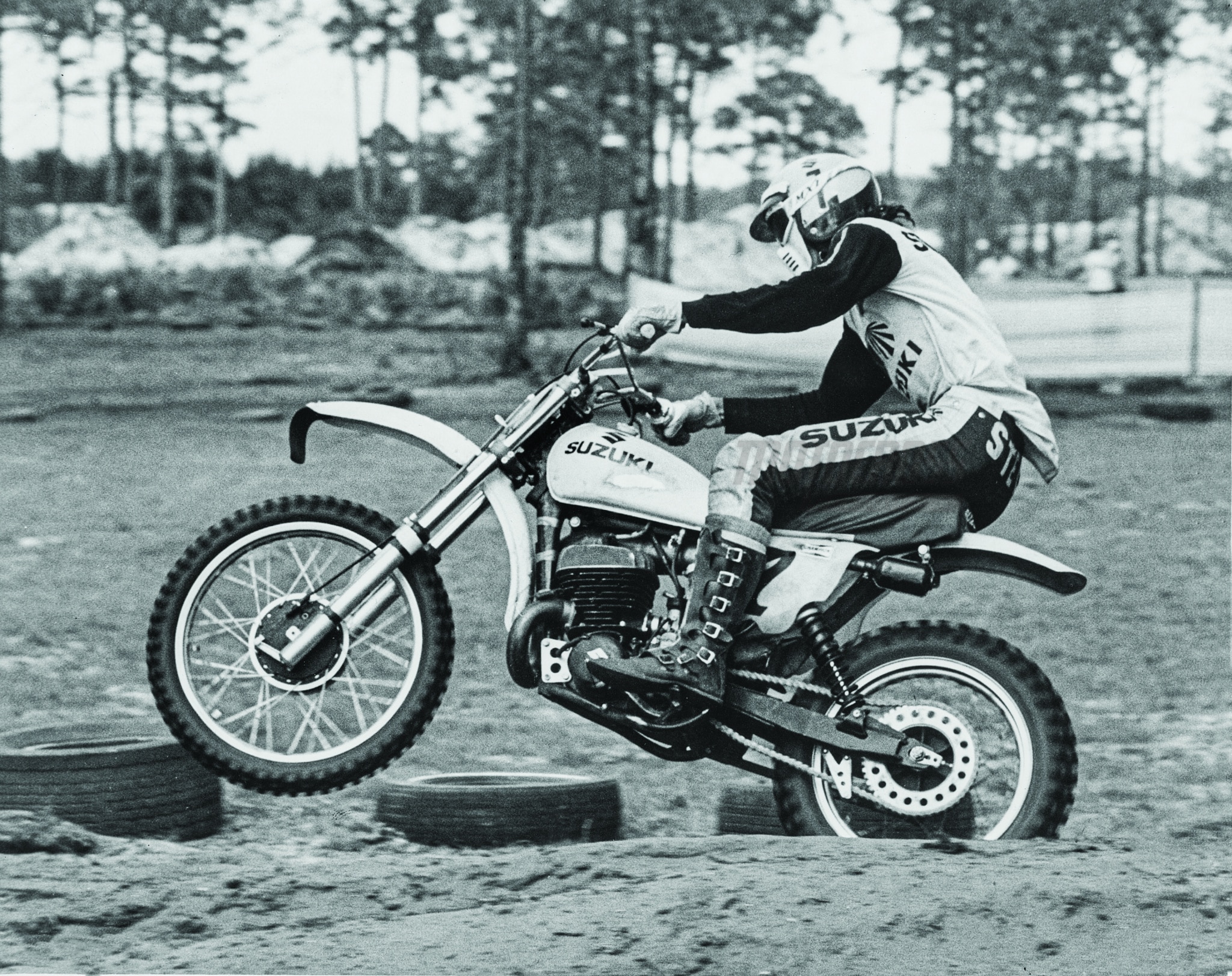 HOW DID YOU BEGIN RIDING OFF-ROAD? On each side of the highway, there was a big irrigation ditch, and I used to always run off the road, and go riding up and down through these irrigation ditches. If they did not have water in them, it created a downhill and a jump. I would just S-turn through all that stuff on the way to work every day and back if I could. That was where I started improving my motorcycle riding skills. Later, after we moved off base, there was a playground right across the street at the school where my little brother played. We used to play tag, but I was on a motorcycle. We did that all the time until one day I hit him. After that, I stopped chasing the kid.
"ON EACH SIDE OF THE HIGHWAY, THERE WAS A BIG IRRIGATION DITCH, AND I USED TO ALWAYS RUN OFF THE ROAD, AND GO RIDING UP AND DOWN THROUGH THESE IRRIGATION DITCHES."
WHEN DID YOU SWITCH FROM CASUAL RIDING TO RACING MOTOCROSS? Actually, my younger sister was dating a motorcycle mechanic who raced. He had a CZ 250, and he used to go to all the local motocross races in Texas. I could not wait until I could go racing with him. I finally bought a Yamaha 175, and we went to the races. I watched him race a couple of times, and then I finally decided to go ahead and race. My first race was somewhere around Corpus Christi, Texas, and I got down there with all the farmers and guys wearing suspenders and cowboy boots to ride with.
CAN YOU STILL RECALL THE DETAILS OF THAT FIRST RACE? It was in the 250 Novice class, and I won! I remember thinking "Boy, that was easy." I raced a couple of races on the 175 and then got a 125 cylinder that we slapped on the bike. I started racing the 125 class and went right into the Expert class on the 125 and started making money. That was a beautiful thing; races would pay $100 for first, $50 for second and $25 for third. Back then, that was reasonable money for a day of motorcycle riding. I think I won nearly every race I entered for quite a while. 
At that time, Wyman Priddy was racing, and Kent Howerton started to show up. I raced 125 Pro, and then I started riding whatever bike I could get. If somebody wanted to let me race, I would race in any class. Sometimes I raced three classes in a weekend, but at least always two classes. I was making more money racing than doing anything else. I just rode whatever I could—Yamahas, CZs, BSAs.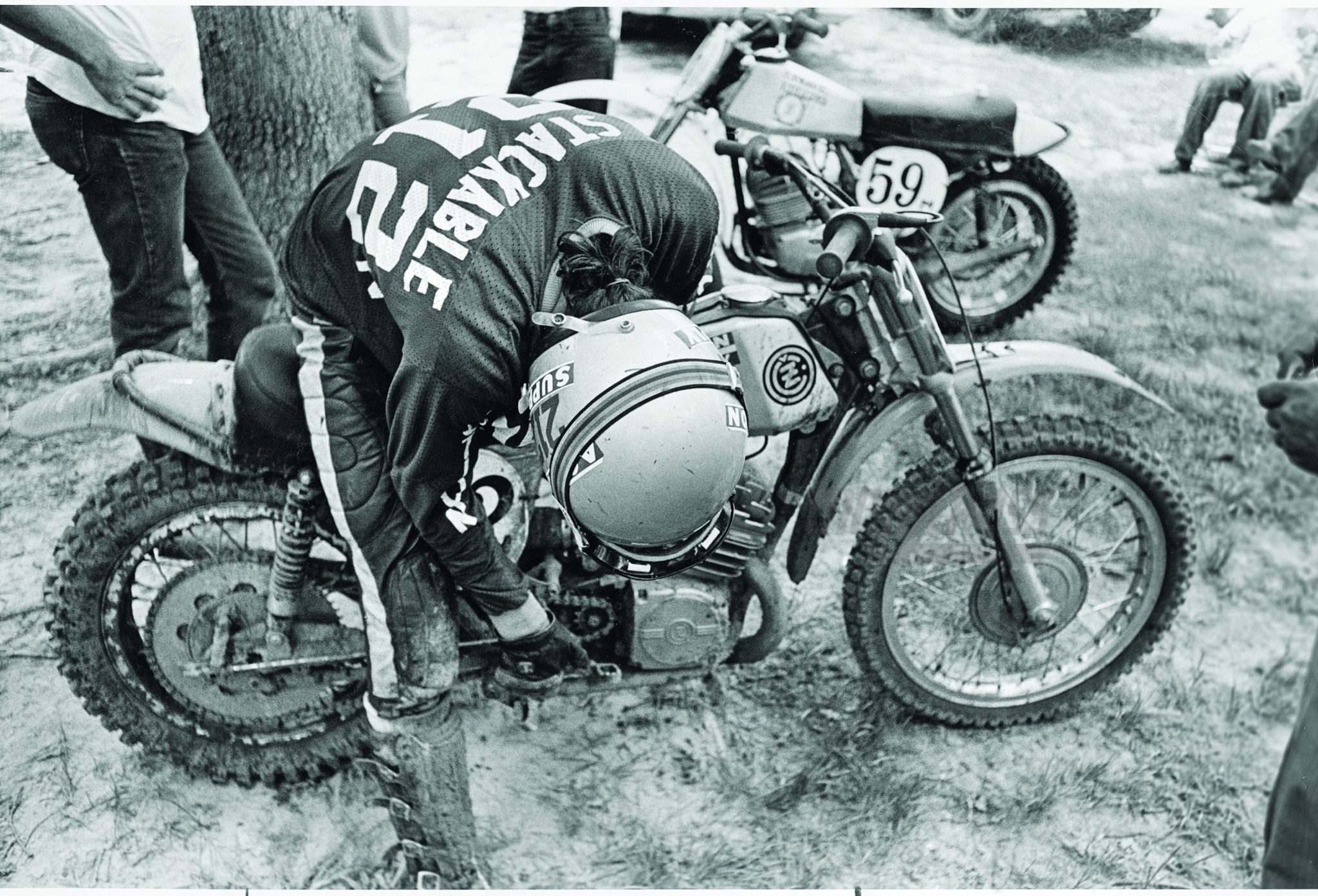 DIDN'T YOU PICK UP SPONSORSHIP FROM A TEXAS COMPANY? Absolutely. Bill Daniels owned a company called Action Supply in Houston, Texas. He sold motorcycles and accessories. Bill was quite the promoter, and we had the best rig of anybody. I traveled around in motor homes and all different types of rigs that you could imagine. We had the first big fifth-wheel rig out there, a trailer with a shop and camper. The factory guys in their box vans were always checking out our rig. 
Bill was selling a lot of gear, and I was basically his sponsored rider. We made a big scene. Everybody knew who Action Supply was. We tricked out all of our bikes and started copying what the factories were doing, like moving the shocks forward. This was before I was with Maico, but I was riding Maicos. Bill later changed the company name to U.S. Sports and began making aluminum swingarms that you could buy to move your shocks forward.
AS SOON AS YOU TURNED PRO, DID YOU BEGIN BEATING THE FACTORY GUYS? At the time, it did not seem abnormal to me. Guys from California, like Bill Grossi, John DeSoto, Rich Eierstedt and Brad Lackey, would come to Texas for different races during the season. Gary Bailey came to Texas, and when I saw Bailey, I said, "I am going to beat that guy," and we had it out. We diced it out big time. I thought I was supposed to beat him, because I was used to winning races, and that is what I did.
WHAT MADE YOU SETTLE ON RACING A MAICO FOR 1974? I had been racing Yamahas, and I also jumped on a CZ for a while. I would ride anything that I could get ahold of or anything anyone would allow me to ride. I got the feel of a lot of different bikes, but when I jumped on the Maico, I was stunned. I said, "Wow, this is the best motorcycle I have ever ridden." It steered exactly where I wanted it to. The powerband was so smooth, and everything just clicked on it. I was sold on the Maico at that time, but, unfortunately, it had other defects that caused me a lot of heartache further down the road–broken spokes, blown wheels, thrown chains and lots of other small things. The engineering work was not up to American standards at that time, but it was a great learning experience. I loved Maicos, and I still do.
"I WOULD RACE IN ANY CLASS. SOMETIMES I RACED THREE CLASSES IN A WEEKEND, BUT AT LEAST ALWAYS TWO CLASSES. I WAS MAKING MORE MONEY RACING THAN DOING ANYTHING ELSE."
WAS 1974 A BIG YEAR FOR YOU? I finished third on my privateer Maico in the AMA 500 Nationals. That clinched me a factory ride for the next year. Maico figured they better pick me up or I was going to ride for someone else. My AMA number that year was 21; then it went down to number 6. I did not get to fly to the races or anything. We were driving 50,000-plus miles a year between all the Nationals and Supercrosses. In 1975, as a Factory Maico rider, I was still driving around with my mechanic, and that was the year that I won the 500cc Supercross Championship.
Gaylon Mosier and Steve Stackable on the Maico team.

WINNING THE 1975 500 SUPERCROSS CHAMPIONSHIP HAD TO BE BIG FOR MAICO. Oh, it was great for me. It is funny, because that first year as an Open Class Supercross Champion, it didn't get very much recognition at all. I was the 500cc Supercross Champion, and it was a beautiful thing, but to this day it rarely gets mentioned. Still, it was a big deal back then.
1975 WAS THE YEAR OF THE "BATTLE OF NEW ORLEANS." WERE YOU ONE OF THE MAIN PLAYERS THAT DAY? There is a movie about it named "One Chance to Win," and that was the final 500 AMA National of the year. There were five guys who had a mathematical chance of winning the title—Jimmy Weinert, Gary Semics, Bill Grossi, Tony Distefano, Pierre Karsmakers and me. Brad Lackey came back from Europe to race. I was in second place with a couple of laps to go in the first moto when my spokes started coming out of my front wheel. I limped around and finished 11th. I won the second moto hands down, but I could have won if I had been seventh or better in the first moto. I would have won the 500 National Championship except for Maico spokes. Weinert won it, of course.
AFTER WINNING THE 1975 500 SUPERCROSS CHAMPIONSHIP, YOU GOT A RIDE WITH TEAM SUZUKI. I raced Maicos from 1973 through 1975, and then I got my Suzuki contract after I won the Supercross series in 1975. Suzuki had gone around asking European riders racing in the Trans-AMA whom they thought might be a good prospect. Roger DeCoster put in a good word for me because I was doing really well in the Trans-AMA series. Suzuki called, and I signed with them for 1976. I finished third in the 250 Nationals and third in the 500 Nationals. But, my two top-three results didn't mean a whole lot to Suzuki. I thought I had done well for my first year on an unfamiliar bike, but just before the Trans-AMA series, I was playing softball with family and hyperextended my knee and had to have surgery. Suzuki fired me. I was upset about that whole deal. I had gotten injured, but my career was not over. I felt they should have given me at least two years on the motorcycle to ride it up to my potential. Not so. They simply said, "You are not getting results, so you are gone."
WHAT DID YOU DO AFTER SUZUKI DROPPED YOU FOR 1977? I was ticked off and vowed that I was not going to let any Suzuki riders beat me. I went back to Maico when they upped the ante. They paid me decently at the time. It wasn't exactly what Suzuki paid me, which was around $100,000, but it was okay. Payments were all in the bonuses and contingencies. I had to sign for a little less, but I did not care. I wanted to ride the bike. I loved the motorcycle. I was on Maico for one year and then Kawasaki offered me a nice contract for 1978.
WHAT WAS IT LIKE RIDING FOR KAWASAKI IN 1978? It was a fire drill. I had six different frames and four different engines during the year. How was I supposed to get used to the bike if they kept changing it? The problem with the Kawasaki was that you could not steer it because the front tire was never on the ground. The power was too pipey and peaky. During 1978, we went from the minimum amount of suspension travel all the way up to 13 inches. The thing was a pogo stick.
DID YOU EVER GET ANY QUALITY TESTING DONE? They flew the whole team over to Japan to test at the Suzuki Race facility for four days. When we got to Suzuki, we saw this big flatbed truck with 12 motorcycles stacked on it from front to back. And as we were standing there, in drove two more flatbeds with even more bikes. There must have been at least 12 bikes on each, and then came in two more trucks. I think each rider on the team had at least four motorcycles to test.
We would go out on the track for four or five laps, put in some hot laps, and then come in and say, "I need this and that and that and that." We would get on another bike and go out for four or five laps and come in and say, "I need this and that and that and that." We spent all day, every day–four long days–doing this. It was quite an experience, but I found out later when we got our race bikes that Kawasaki made some improvements for 1978. So did everybody else. We were still running 370cc and 390cc engines but needed big-bore power. This was right in the middle of the long-travel suspension movement, and we were changing so much all the time that it was hard to get into a groove on the motorcycle because the geometry kept changing. That was a frustrating year. At the Atlanta Supercross, I injured my knee. It became a chronic problem throughout the rest of that year, but I did not want to get surgery because of the Suzuki experience. Not surprisingly, I did not get rehired at Kawasaki. That was my last year on a factory bike. I went to the LOP Yamaha team for 1979, but I had lost my drive.
"I REMEMBERED WHEN I FIRST LOOKED AT ROGER DECOSTER AND HOW HUNGRY I WAS TO BE LIKE HIM."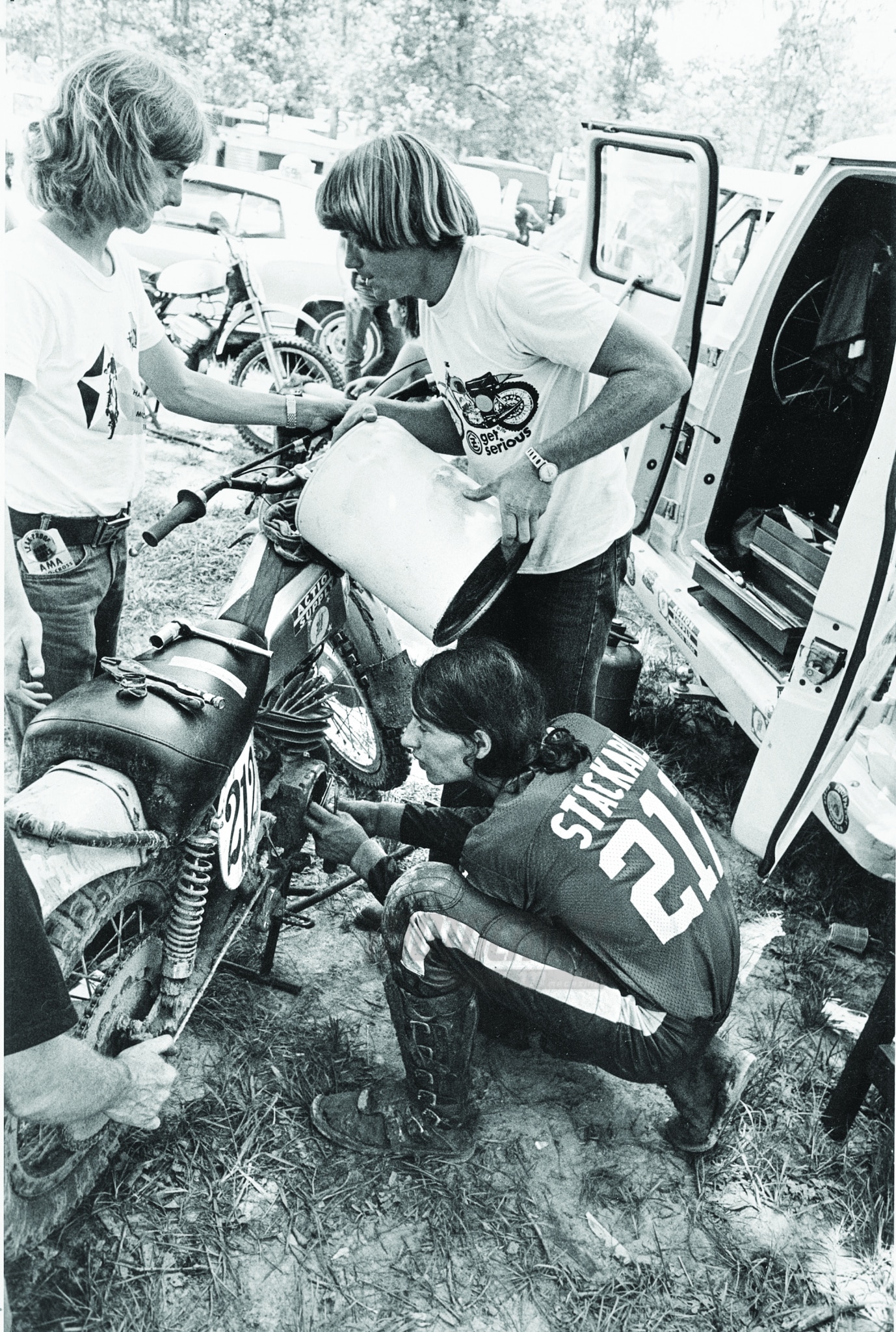 WAS THAT WHEN THOUGHTS OF RETIREMENT ENTERED YOUR MIND? I saw this young rider looking at me from the other side of the pits, and it struck a chord. I saw myself in him. He was me, 10 years earlier. I remembered when I first looked at Roger DeCoster and how hungry I was to be like him. I understood right then and there that this was the kind of kid I would have to deal with in the future. I was not getting the results that I needed to get back on a factory team, so I figured maybe it was time to bow out. I bowed out gracefully shortly after.
YOU LIKED DOING THINGS YOUR OWN WAY. TELL US ABOUT THE MARIJUANA LEAF PAINTED ON YOUR HELMET, YOUR REPUTATION WITH WOMEN, HANG GLIDING AND BEING IN THE GEAR BUSINESS. In my personal rule book, I could only party one day a week or smoke a little bit of pot one day a week, on Monday, because that was the day after a race. People thought that I did not train, but I had my own program. Anyway, a friend of mine was visiting me and got hold of my helmet and painted a big fat Marijuana leaf on top of my Maico helmet. It was not really anything that I was trying to make a statement about. I was not trying to say, "I am a pot head" or anything like that; it was just something that my buddy did, and it was a cool-looking helmet. Plus, I thought the only people who would recognize what it was were people who smoked it themselves. It was just a decoration on my helmet.
Steve and Kent Howerton at Rio Bravo.
AND THE RUMORS ABOUT WOMEN? I never chased women; I was just lucky enough to have them come around. I was High School sweethearts with a girl, Janet Quist. Later, she became a Playmate of the Month. Everyone used to say that she distracted me, but when I was racing, my mind was on racing! Of course, she distracted them. It was funny watching the reaction of many of the guys in the pits to her. Some guys would try to get me upset by showing me photos of her in the magazine, but I didn't let it bother me. I took it as a compliment. Anyway, later in life, we got married. We divorced some time ago, but I have a wonderful son with her.
AND THE HANG-GLIDING? Back in 1971, a buddy of mine took me out hang gliding, and I have been flying hang gliders ever since. When I quit racing, I started working at a hang glider manufacturing factory called Air Sports International in San Diego. It was near Torrey Pines State Beach, which has massive cliffs rising above the ocean. Torrey Pines is one of the classic flying spots in the country where you can soar 365 days a year. I am a tandem instructor for paragliding and a tandem instructor for hang gliding. I was taking 1000 people flying a year at Torrey Pines before I retired.
AND THE MOTOCROSS GEAR BUSINESS? Back in the early days of motocross, we all wore leather pants, which were heavy and hot. There was a company called Griffs in Connecticut that was working with a nylon fabric called Cordura. I met the owner, Stanley Arron, and began testing the gear for them. It was much lighter and more breathable. We struck up a deal, and the pants were called "Steve Stackable Ultralites." My older brother Rolf was the businessman in the family, and he actually got almost everyone on the starting line wearing them—even Bob Hannah. Eventually, I retired from racing. Rolf wanted to do other things, and Stanley was getting on in age. By that time, there was so much competition coming from offshore that you couldn't compete with an American-made product.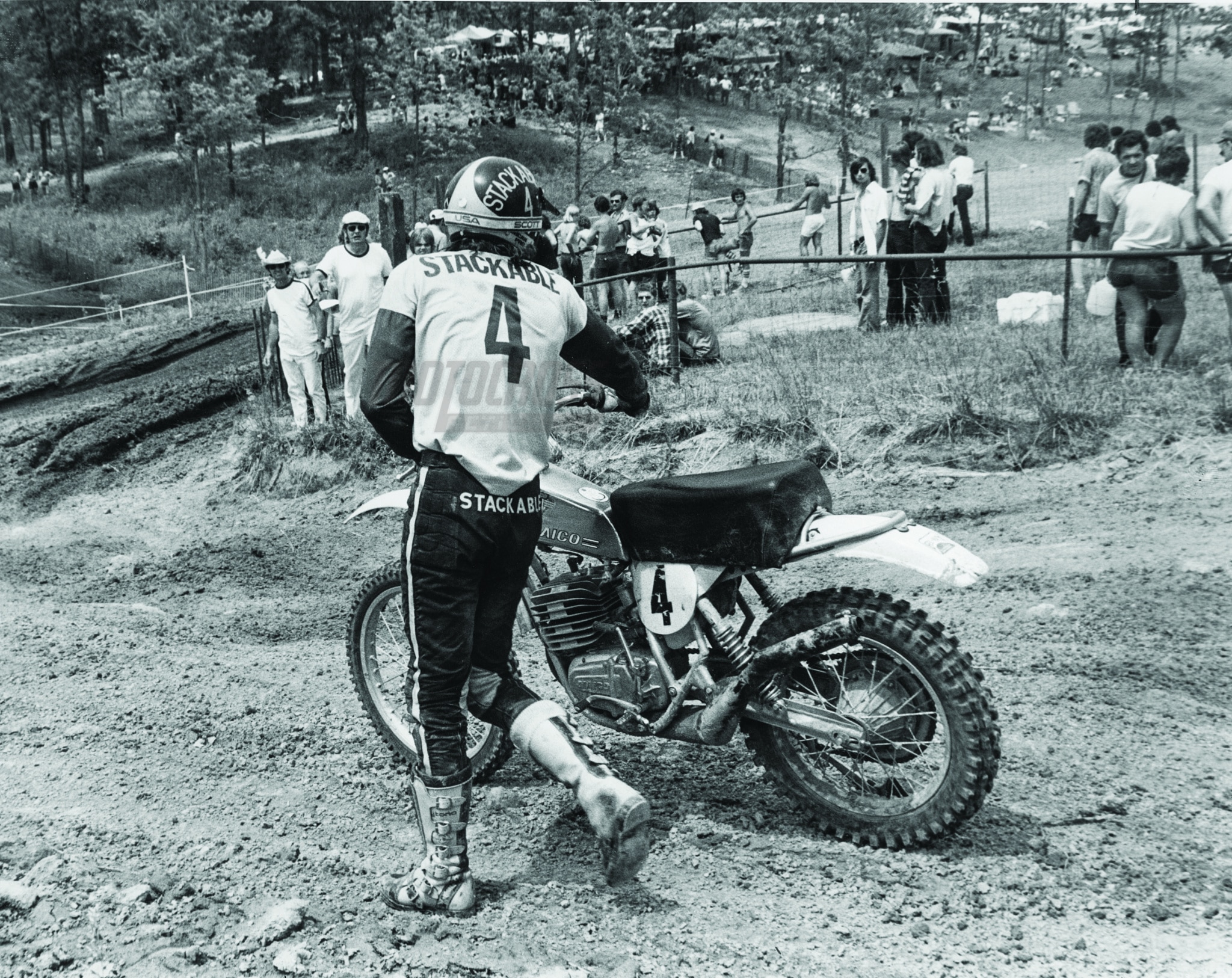 Maico-Break-o.
WHAT WAS THE HIGHLIGHT OF YOUR MOTOCROSS CAREER? My 500 Supercross Championship. They made Supercross an all-250 class after that year, but it was the highlight of my career for sure. I wish I would have had a National championship to back it up, but a few spokes cost me that. When I was racing, I was doing things completely different from what other people were doing. During practice, I never used the lines everybody was using; I would make my own lines, because I knew that when the fast lines wore out, you had to have new ways to go around people. I was always cutting new lines, running wide and squaring the corners up. The Maico was such a smooth bike that I looked like I was out having a Sunday ride.
YOU DID NOT MENTION BEING ON TEAM USA FOR THE 1977 TROPHEE AND MOTOCROSS DES NATIONS. That was a great experience! I was teamed up with Gary Semics, Kent Howerton and Tony DiStefano. At the Motocross of Nations, I was riding the all-new Maico that they had come out with. They let me, this long-haired kid from Texas, race it, and I beat all the other Maico riders. In fact, I almost won the first moto. I was catching the leader before I slid out. I ended up scoring the most points for Team USA. It was an experience that I will never forget!
WHAT DO YOU WANT YOUR FANS TO KNOW? That I was not a long-haired hippie who was lazy and did not train. I was always fit for the races. At the hot races, I would outlast anybody, and people just thought that I was naturally talented. I trained in my own way. I had a certain routine that I did, and nobody really knew about it. They just thought that I was a soft-spoken hippie guy that racing was easy for, but I worked at it.