MXA RETRO TEST: WE RIDE MIKE LAROCCO'S 1998 JACK-IN-THE-BOX CR250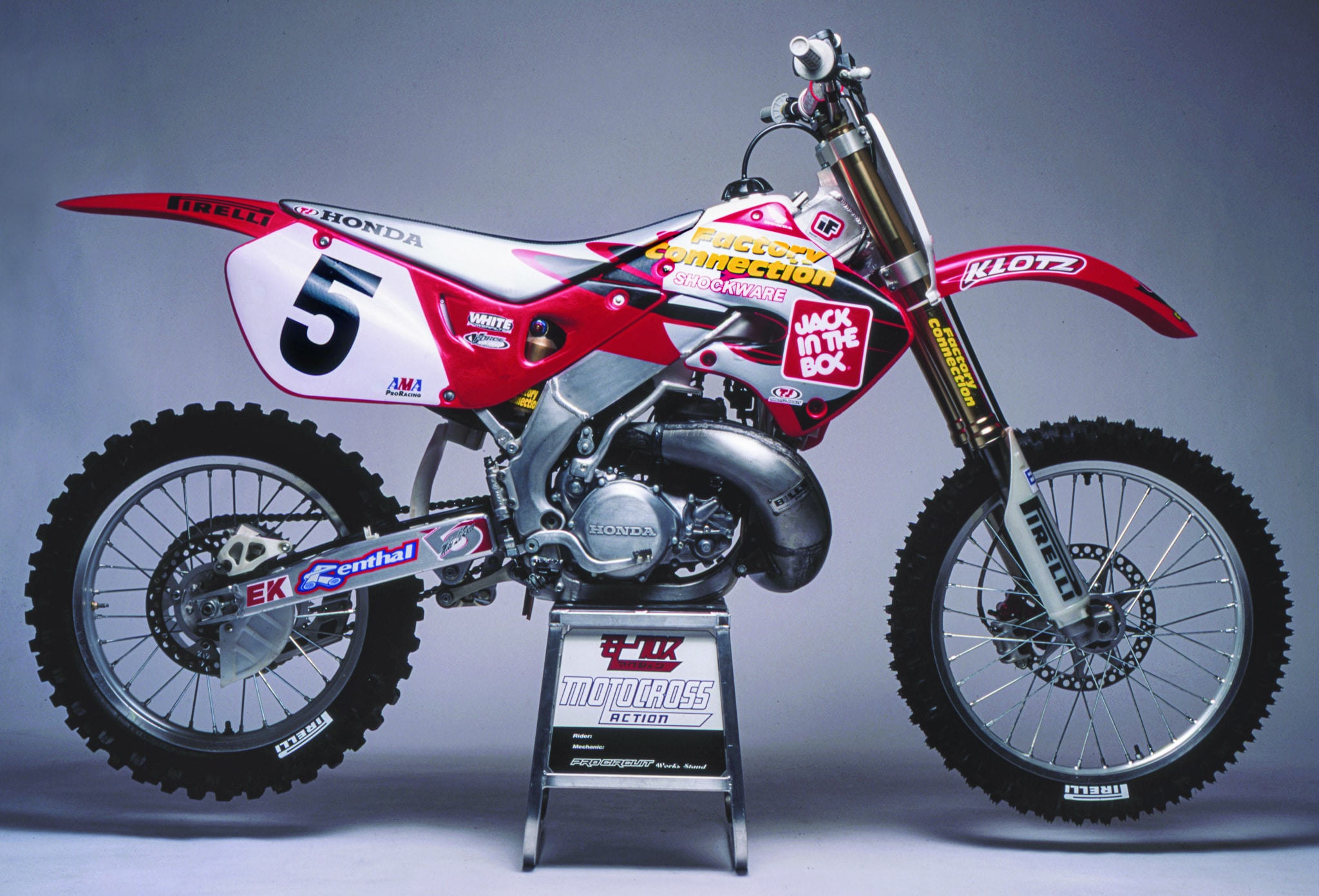 We get misty-eyed sometimes thinking about past bikes we loved and those that should remain forgotten. We take you on a trip down memory lane with bike tests that got filed away and disregarded in the MXA archives. We reminisce on a piece of moto history that has been resurrected. Here is our test of Mike LaRocco's 1998 Factory Connection Honda CR250.
Mike LaRocco couldn't be happier about riding Hondas. After an aborted attempt to jump from Team Suzuki to Team Honda in the middle of the 1997 season, he finally got his wish. For the 1998 season, Mike got support from Honda, Factory Connection, Shockware, Bill's Pipes and Jack in the Box.
Okay, it's not the same as his "almost deal" with Team Honda, but it's as close as the former National Champion could get. Why did Honda offer him a spot in the semi midway through last year and only offer him support six months later? Because they were desperate last year, and now, with Lusk on the payroll, they don't feel they need a 26-year-old who hasn't won anything in a few years and caused his last sponsor grief (by trying to leave Suzuki in the middle of his 1997 contract to move to Honda).
Mike still has a good deal, though. Good for him and good for Honda. Mike gets to ride the bike he wants (Honda has given him the works support that it gave to Damon Bradshaw last year), and Team Honda gets a potential winner for a song. 
The MXA test crew was hot to throw a leg over Mike's bike. It's basically a back-door factory Honda' except that this one comes with free Monster tacos and fries.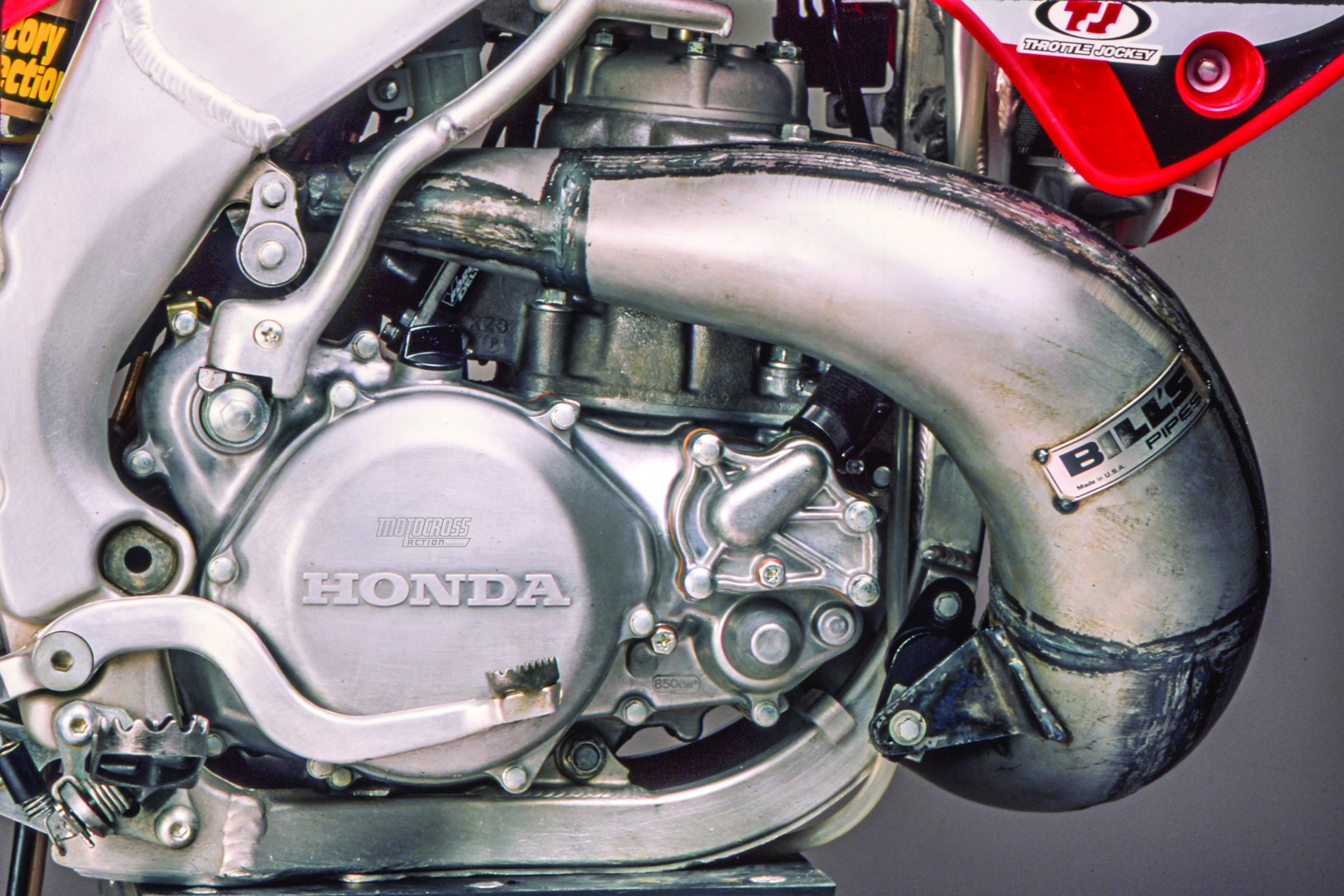 HOW ARE MIKE'S CONTROLS?
Mike has unusual taste. His control layout is awkward at best. 
Clutch lever. The clutch lever is aimed at the sky, and the front brake lever is so far out there that only a man with huge hands would feel comfortable. The funniest thing about LaRocco's lever position is that he agrees that it's bad. Every time Mike climbs on his bike, he shoves the clutch lever down to a more traditional position' and then, while sitting on the starting line, he shoves it back up again out of habit. As for the front brake lever, what can we say? Mike's got big hands.
EVERY TIME MIKE CLIMBS ON HIS BIKE, HE SHOVES THE CLUTCH LEVER DOWN TO A MORE TRADITIONAL
POSITION' AND THEN, WHILE SITTING ON THE STARTING LINE, HE SHOVES IT
BACK UP AGAIN OUT OF HABIT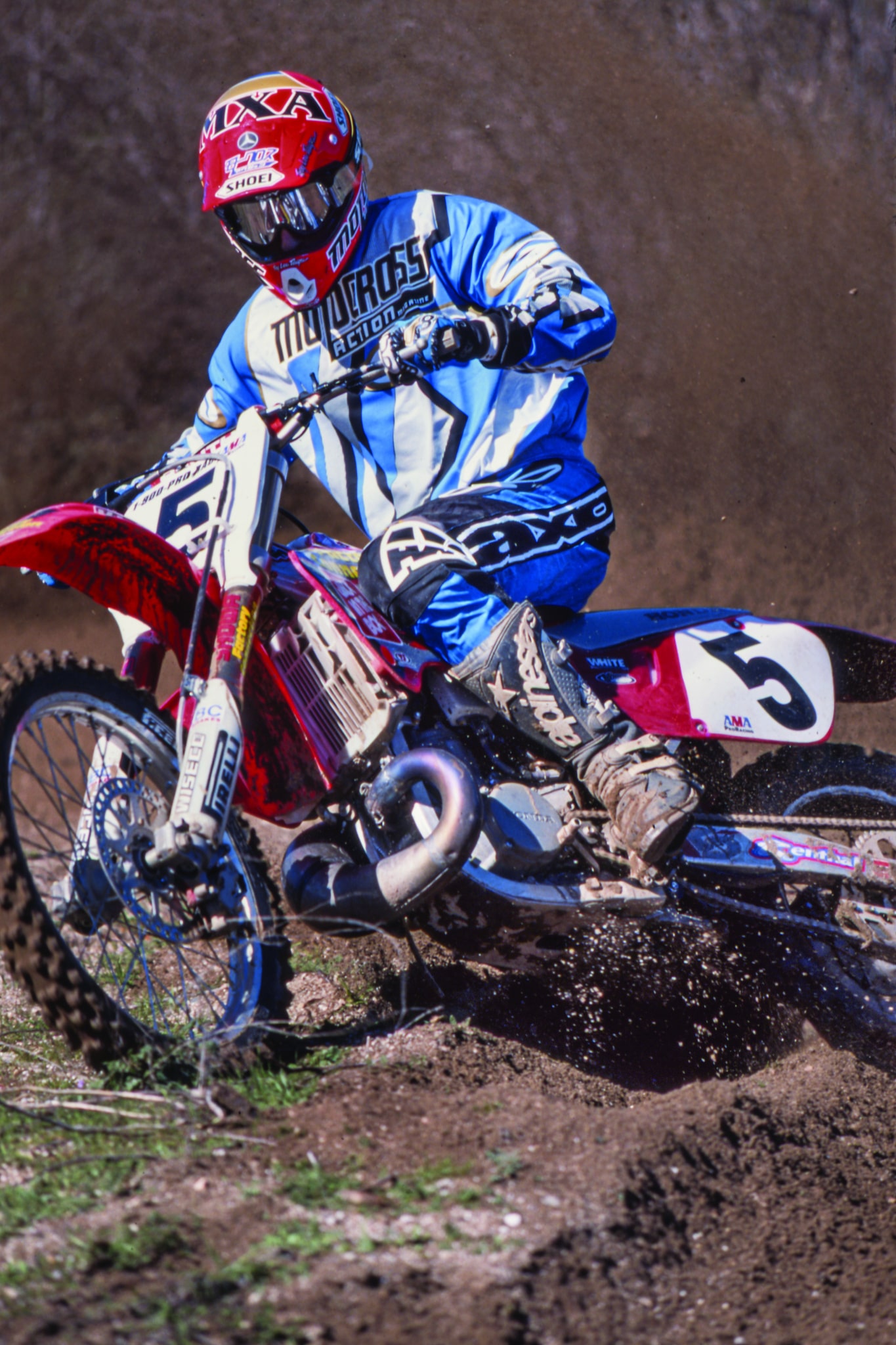 The clutch lever that Mike keeps shoving up isn't stock. Of all the back-door works parts on LaRocco's bike, his clutch perch and lever are the trickest. Straight from Honda's works department (known as HGA), LaRocco's clutch perch has on-the-fly cable adjustment. With a quick flick of a small arm on the adjuster barrel, LaRocco's clutch arm can be tightened or loosened (up to three times). 
Brakes. Stock Honda brakes are the best on the planet, but LaRocco's works Nissin front brake is globally better. Nothing is stronger and more progressive feeling than works Honda brakes.
Handlebars. Mike has been around longer than any other active rider and doesn't buy into the goofy bar position of the younger set. Mike runs a Renthal 971 bend and positions the bars right in the center of the clamps. The MXA test crew loved it. Why? Because it's the same bend that we run on our bikes. Equally surprising was that we run rubber-mounted handlebar clamps on our test Honda, and Mike does, too. The one difference is that Mike's rubber-mounted bars are attached to works triple clamps (we use a stock CR500 upper clamp). 
Grips. Mike chooses Renthal soft half-waffle grips with a stock throttle tube and housing. 
HOW FAST IS MIKE'S BIKE?


 In one word' awesome! What other engine could clear a set of 80-foot triples in first gear or let LaRocco ride the entire Houston track in second gear (okay, maybe Doug Henry's YZ400, but nothing else)? What does Mike think of his CR250 engine? "It's as good, if not better, than any of my works bike engines. It's faster than my Suzukis ever were."
LaRocco's engine has everything a racer could want, especially a CR250 racer. Unlike the stock CR250 engine, Mike's engine has bottom—and we mean very good, KX-style low-end. In the midrange, it hits in the same spot as a stock CR250' only harder. At higher rpm, the bike revs for an eternity. LaRocco's engine gets its amazing powerband via a mixture of back-door works parts and over-the-counter items. The powerful bottom and mid can be attributed to the trick Honda cylinder, piston, head, Bill's Pipes pipe and Moto Tassinari V-Force Delta reed cage. The top end is the product of a reconfigured works ignition. 
Riding LaRocco's engine is a treat. There is nothing you can't do on his bike. Tight turns, fast straights and sweepers are no problem. It's so flexible, powerful and responsive that you never use the clutch (except to start and stop). LaRocco's engine differs from a stocker in three ways: 
(1) It has bottom-end. Unlike a stock CR250, LaRocco's bike doesn't have to wait until after the power valves open before it goes.
(2) The works ignition adds a hyperactive shriek on top that initially scared the MXA test crew. We thought it blew up, because after it revved to the point where a stock CR250 revs, Mike's bike kicked in with an extra burst of rpm.
(3) Shifting is sweet and swift, but this is not a bike that has to be shifted very often. Mike admits that there are Supercross races where he stays in one gear for the whole race. If only Honda could make a production CR250 with bottom end' it would be unbeatable. 
HOW DOES MIKE'S SUSPENSION WORK?
For a Supercross bike, it is surprisingly supple. The fact that Mike's primary sponsor is Factory Connection may have a little to do with the plush suspension. LaRocco's forks start out as standard Showa CR250 forks. Factory Connection rips out the internals and replaces them with its Showa works kit. Next, the fork legs are coated with Factory Connection's Works Ti coating to reduce friction. Last, but not least, the valving is redone to handle the rigors of Supercross. 
COMPARED TO EVERY SUPERCROSS SUSPENSION THE MXA TEST CREW HAS RIDDEN, MIKE'S IS THE
SMOOTHEST. WE ARE NOT SAYING MIKE'S FORKS ARE SOFT, JUST THAT THEY ACTUALLY
WANTED TO MOVE UP AND DOWN.
How does it feel on the track? Compared to every Supercross suspension the MXA test crew has ridden (which is almost everybody's), Mike's is the smoothest. We are not saying Mike's forks are soft, just that they actually wanted to move up and down rather than stop at the halfway point like the typically overly stiff Supercross setup. When push came to shove, Mike's forks wanted to keep moving. 
In the back, LaRocco runs a stock Showa shock with a heavy amount of massaging from Factory Connection. The shock is mounted to a works Honda linkage (a more progressive ratio for Supercross). For the Nationals, LaRocco will dump the works linkage in favor of the more linear stock linkage. 
WHAT'S IT LIKE TO RIDE LAROCCO'S BIKE?
It feels like cheating. The biggest surprise is that Mike isn't hole-shotting races (because even a bad starter like Mike could get this bike to the first turn first!) The power delivery is perfect. It growls, it barks, it snarls and it shrieks—in that order. Picture a CR250 with these traits. The suspension is fluid. The engine has bottom. The chassis corners on a dime. The brakes pucker every pore. The handlebars don't vibrate. The world is a blur.
This is a bike that anyone on the AMA circuit would race in a heartbeat. What about the average consumer? You bet! Throw on the stock linkage, take some clicks out of the forks and shock, move the clutch lever down, change the front brake lever position and hang on. This is the CR250 that everyone who has ever had a CR250 wants.