MXA RETRO TEST: WE RIDE SCOTT SHEAK'S 2001 PLANO HONDA CR125
We get misty-eyed sometimes thinking about past bikes we loved, as well as ones that should remain forgotten. We take you on a trip down memory lane with bike tests that got filed away and disregarded in the MXA archives. We reminisce on a piece of moto history that has been resurrected. Here is our test of the late Scott Sheak's 2001 Plano Honda CR125 as it ran 22 years ago.
When Scott Sheak announced his return to the United States after an aborted second year on the Grand Prix circuit, we weren't shocked. Europe isn't the most friendly place for a lone American. With Mike Brown coming home to contest the 125 Nationals for Team Pro Circuit and Jeff Dement back in Texas with an injury, Scott was the only American battling for the 125 World Championship.
Scott had inklings that his 2001 European foray would come to a nasty end. First, the Italian team that he had signed with failed to come up with the promised money. Scott refused to board the transatlantic flight until the team lived up to its commitment. By the time the cash showed up, Scott only had a month to get acclimated. Second, Scott says his new team was so disorganized that every time he asked to go testing, the team had a reason why they couldn't go. In the end, Scott was forced to race an almost box-stock CR125. Amazingly, he finished inside the top 10 at the first two GPs and had the fastest lap in timed qualifying at the third round in Australia. Finally, by the fourth round of the 125 GP season, Scott had had enough.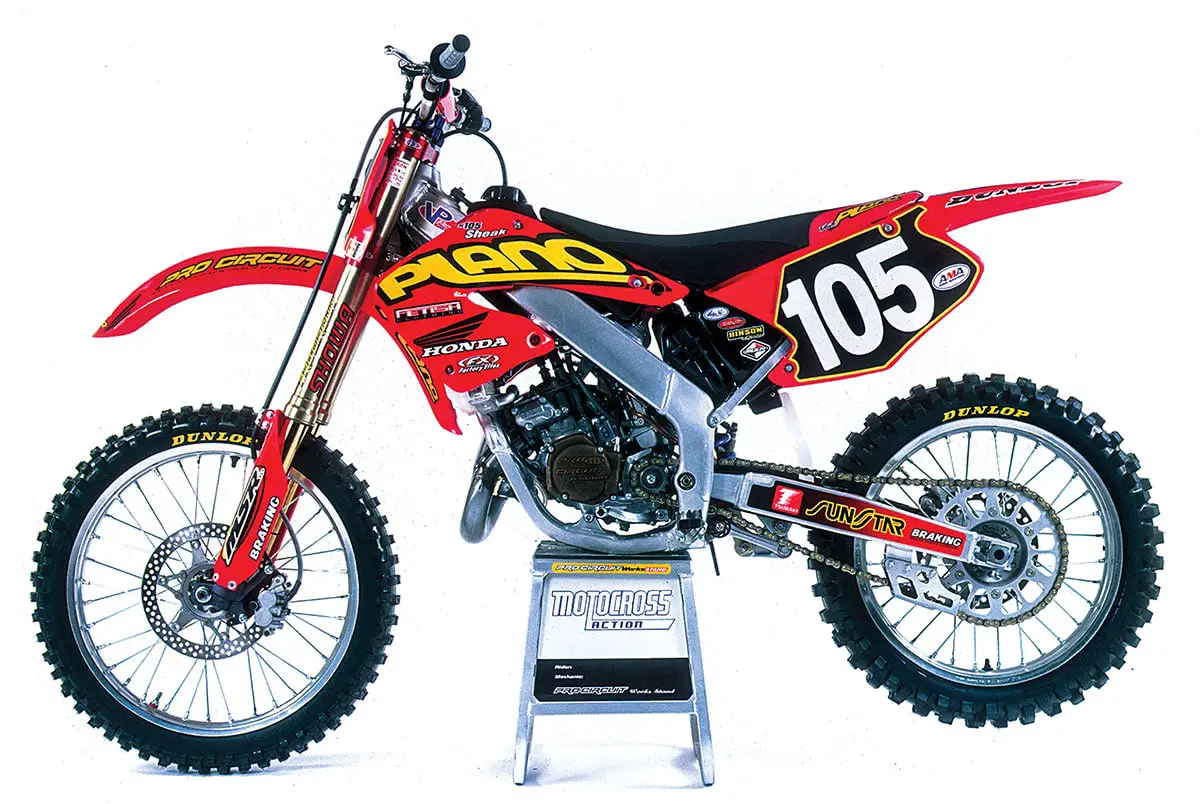 The Plano Honda effort was separate from the factory Honda team and did not receive factory support, although their bikes were factory-fast.Scott left Europe in a huff, but he couldn't have planned his American comeback at a worse time. The Supercross season was almost over, and the 2001 AMA National rosters were already set in stone. Scott made some calls, but nobody had room for another rider. Luckily, Scott had an ace in the hole. His old mechanic Kenny Watson was now the Plano Honda team manager. Plano rider Travis Elliot had just suffered a serious knee injury, and the team had an opening. Watson gave Sheak the deal he only dreamed of back in Europe. Plano would fly Scott to all the races, let him test as much as he liked and give him the best bike possible. The downside? No salary but big bonuses.
Riding for Kenny Watson is like a homecoming for Scott Sheak. As a rider/mechanic duo back in 1996, the pair were so impressive that Scott earned a ride on FMF's factory-backed Honda squad in 1997, which led to his one and only 125 National victory at Mount Morris. Although Scott Sheak is unhappy about what happened to him in Europe, he realizes that it gave him a great perspective on how to make a 2001 CR125 work. He struggled with a stocker on the GP circuit and now has a free-hand to develop his own machine at Plano. Sheak's Plano Honda CR125 has little if anything in common with a stock CR125. As part of their deal with Honda, Plano gets a fleet of bikes and a huge parts allotment. As the team's results have improved, so has Honda's support.
Don't confuse Plano with Honda's factory 125 effort run by Factory Connection. Plano gets parts from Honda, but for the most part, they are stock replacement parts. To make the bikes go, Plano has to pull support together from the best aftermarket suppliers they can find. Once Honda delivers the CR125s to Plano's Corona, California-based race shop, they are torn down to the frames. Every part is massaged to make the stockers into national-caliber.
THE ENGINE: Plano Honda is serious about testing. Every rider gets his choice of pipe and cylinder combination. The MXA wrecking crew spent a lot of time with Scott as he finalized his outdoor settings. Sheak wants his bike to pull in every gear for a very long time. To accomplish this, he runs a Pro Circuit pipe that is mainly mid-and-up, gears his bike up with a 13/51 combination and has his ignition programmed for serious over-rev.

To a mere mortal, this combination means that first gear comes into play in most corners, while the clutch is used from gear to gear. Scott can carry the speed from transition to transition, but we opted to add a tooth to the rear sprocket, swap back to the torque pipe that Scott had rejected (with a 3mm-longer head pipe) and richen the jetting. Sheak's high-rpm flyer is perfect for his 125 National speed, but without his talent, it is a demanding bike to ride. With our detuning (actually re-tuning to the setting that Scott had used the week before), things came into better focus.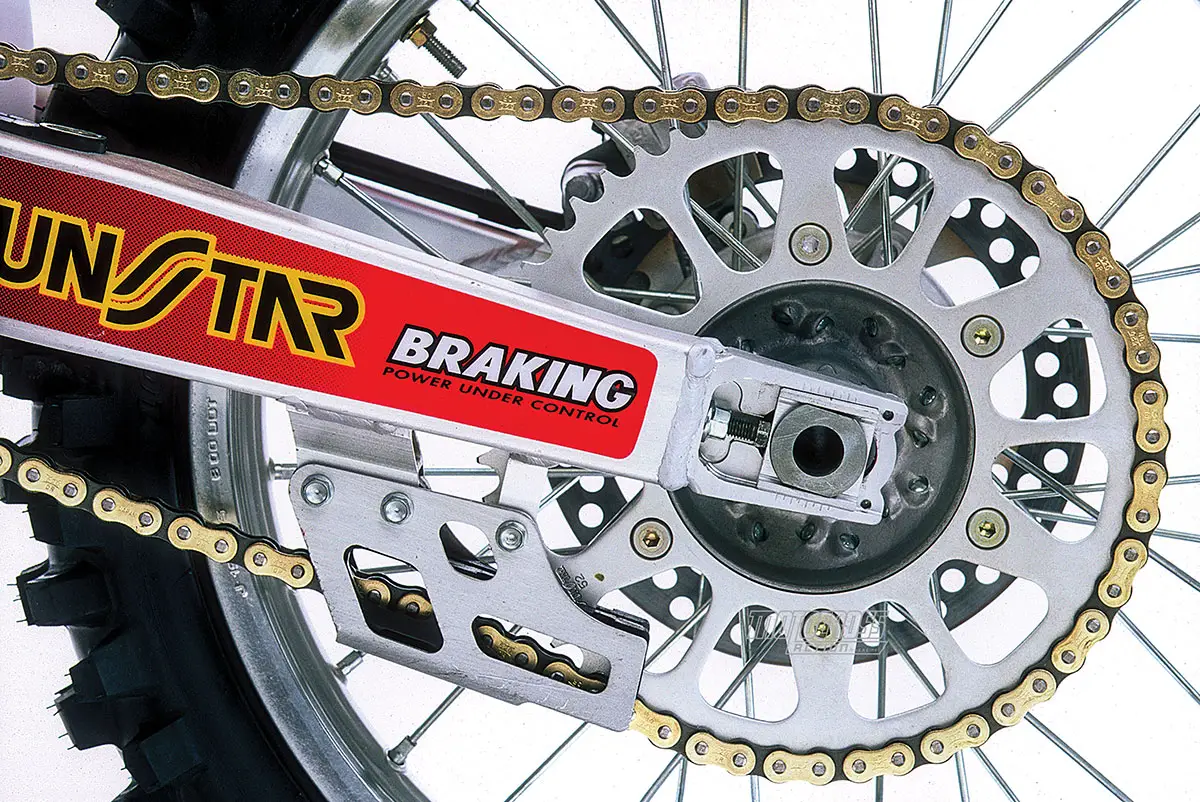 Plano Honda had an engine secret that they refused to reveal to us, but they didn't have to. The MXA wrecking crew has a lot of CR125 time. We know how to make them run, and we have had our best luck with old-style CR125 cylinders. When the supply of 1995 cylinders ran dry, everyone who was anyone in the CR125 biz switched to 1999 cylinders. It's our guess that Plano's secret is that Sheak runs a 1999 Honda cylinder on his bike mated to the new 2002 transmission, which has a taller first gear.

THE SUSPENSION: The stock Honda CR125 doesn't use Showa suspension components like its big brother the CR250. It comes with Kayaba. For the local racer, the Kayaba parts are good. But for the 125 Nationals, good isn't good enough. Sheak's bike runs works A-kit Showa units. Plano Honda gets these limited-edition suspension components from Pro Circuit. They are terrific. The MXA test riders didn't have to touch Sheak's clickers. They were spot-on. Amazingly, Pro Circuit will sell the same works suspension to anyone with the dough. The price? About $4500 for the fork and shock—and you can't buy one without the other.
THE COMPONENTS: The feel of a stock CR125 is second to none, but Plano's changes make the bike feel even better. Sheak runs Pro Circuit triple clamps (required for the A-kit forks), Renthal TwinWall bars, a Works Connection quick-adjust clutch perch, Motion Pro Terminator cables, a Braking oversized rotor on the front and a Hinson clutch.
As for the tires, Plano gets its tires straight out of the back of the Dunlop semi. Sheak's bike was outfitted with a standard 739 front and rear combo, but sneaker choice varies with track conditions.
FROM THE SADDLE
If anyone thinks Plano Honda and Scott Sheak aren't the real deal, they are sadly mistaken. Kenny Watson and his crew do an excellent job on the bikes, and for the first time in years, Scott Sheak is injury-free. It's nice to see a rider/mechanic pairing that works like a well-oiled machine. They hope for a return to the results of their glory days. And, they have the bike to do it.