MXA'S 1994 HONDA CR125 RESTORATION DISASTER: WORDS, PHOTOS & VIDEO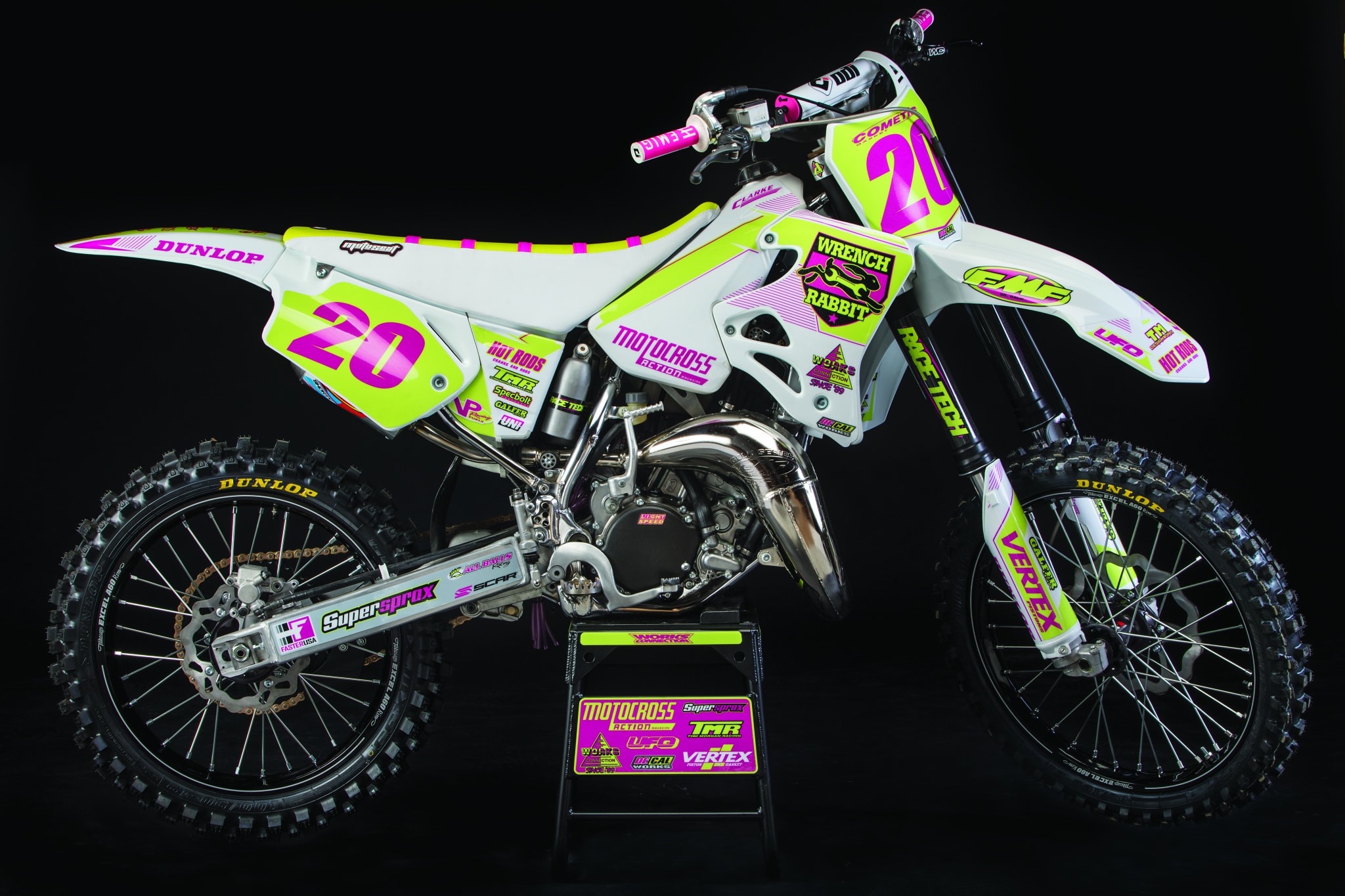 This old dog mysteriously blew up two times before we found the fly in the ointment.
BY DARYL ECKLUND
We love working on old bikes that are in need of serious TLC. We can see things of value in old bikes that their owners can't—most of the time. When an old bike quits running, the owner pushes it into the back corner of the garage and forgets it. He is fearful of the potential price tag of getting the old dog running again. Billionaire investor Warren Buffet once said, "We simply attempt to be fearful when others are greedy and be greedy only when others are fearful." Buffet knows stocks; we know dirt bikes. But, even a billionaire like Warren Buffett doesn't have a perfect track record and neither do we. We found a deal on a unique 1994 Honda CR125 and decided to invest our time and money into it. The bike didn't run, and it looked in bad shape, but we saw potential. The engine looked intact. The frame had been oddly chromed but was straight and crack-free. The owner wanted $600. We gladly gave him the money, because we thought it was a steal. 
TMR cleaned up the cylinder and head, while V-Force added bolt-on power.
Our 1994 Honda CR125 project started off great. We had the idea of replicating the flo-neon pink and yellow colors of the historic Works Connection logo from back in 1989. The frame was in good shape structurally, but the chrome finish wasn't. Our first thought was to strip it and paint it white, but we know the best polisher in town at All American Polishing. We let them do the dirty work on the chrome, and it came back in pristine shape. Even if the chrome finish turned out well, the hardcore MXA test riders thought it was gaudy and desperate-looking. We eventually convinced them that the flo colors would accent the chrome tubing. Boy were we wrong!

"WE TOSSED OUT THE OUTDATED 1994 SHOWA FORKS FOR A SET OF 2008 CRF450 FORKS. OF COURSE, THE 2008 CRF450 FORKS DIDN'T FIT IN THE 1994 CR125 TRIPLE CLAMPS."
We updated the 1994 forks with 2008 CRF450 forks and a 2016 CRF front fender, thanks to Applied Racing.
With the frame back from polishing, the hard work began. We tossed out the outdated 1994 Showa forks for a set of 2008 CRF450 forks. We had Race Tech re-valve the stock shock and update the Showa forks to work in unison. Of course, the 2008 CRF450 forks didn't fit in the 1994 CR125 triple clamps. Applied Racing CNC machined us a custom set of triple clamps to accept our fork-updated triple clamps. Since the clamps had to be built from scratch, we had Applied drill out the front fender bolt holes to accept a 2016 CRF450 front fender because we liked the look. 
At this stage, everything was going okay—not great, but not beyond the realm of the typical resto-mod of a 26-year-old motocross bike. It turns out that the hardest part of building any 26-year-old motocross bikes is finding parts for it. Honda stopped making 1994 CR125 replacement parts two decades ago. Why do they stop making parts for bikes that are still being used? Three reasons: (1) They couldn't be expected to foresee a day when anyone would want to ride an almost three-decades-old dirt bike; (2) Back in 1994, the dealers had lots of CR125 parts on their shelves and didn't have the space to keep stockpiling parts year after year for both new and old models; (3) Honda is in the business of selling new bikes, and they can't stop the next year's production line to run off parts for an old model.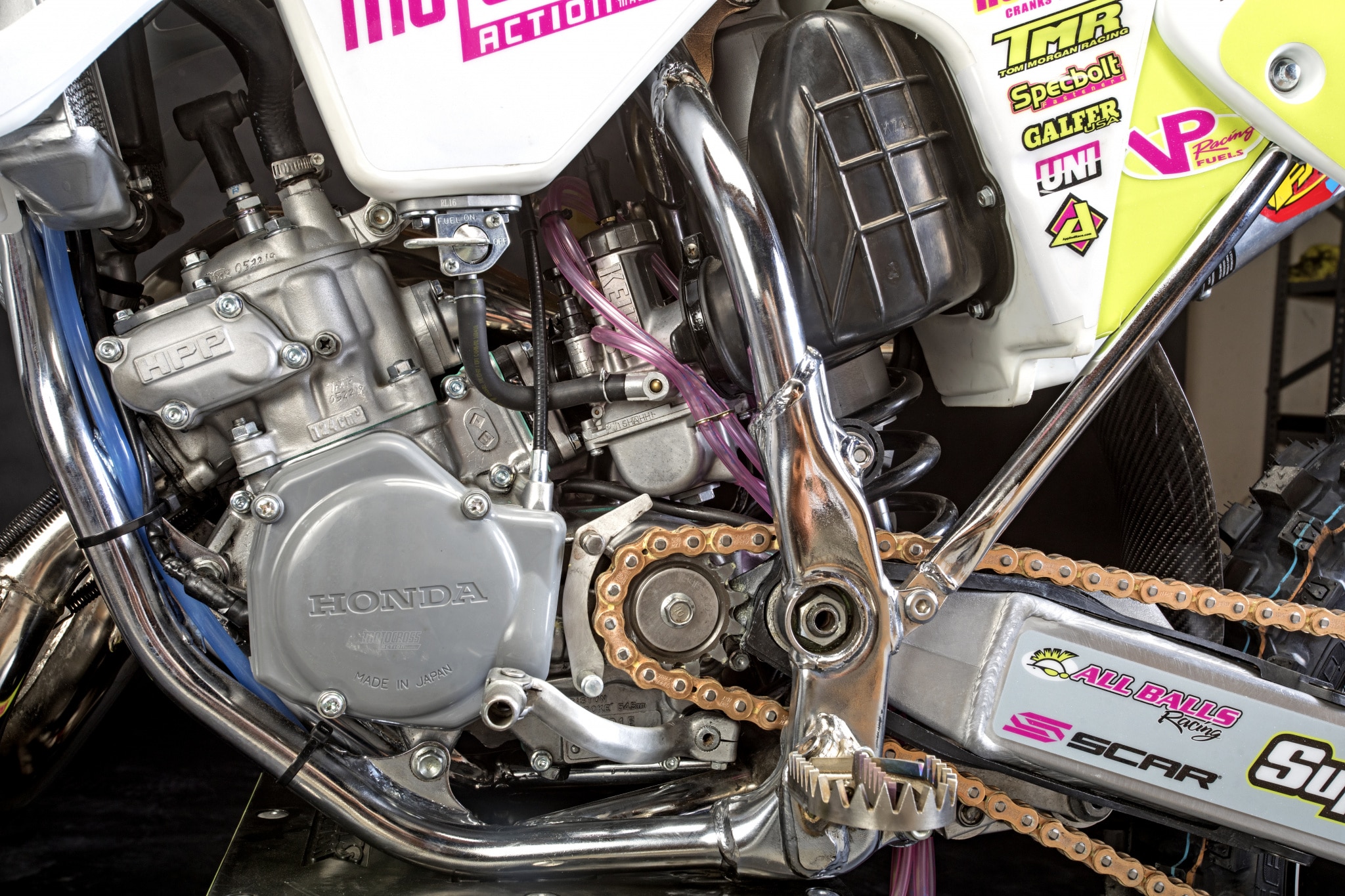 The frame was chrome when we bought the bike off Craigslist. We weren't sure how it was going to look—and we still aren't.
Luckily, three things have happened since the 1994 Honda CR125 rolled down the assembly line. First, the used-bike market has boomed. Second, the two-stroke resurgence caught everyone by surprise. Third, the effect of the boom and surge convinced aftermarket companies that there was demand for replacement parts for bikes as old as the sport. That was a blessing for MXA's 1994 Honda CR125. With the help of Wrench Rabbit, we had most of our engine needs covered. They make a simple engine kit, with all the needed parts under one part number, that includes a Hot Rod crankshaft, main bearings, Vertex piston, transmission bearings and all the gaskets you need. The parts we had to source off eBay and Craigslist were the airbox, axles, fuel line and chain guide. We got burned on a few parts from unscrupulous sellers in these private-party deals, so finding good, used CR125 parts bogged down the building process. 
The CR125 cylinder and head were salvageable. We have always had great luck with Millennium Technologies when we give them our tired, poor and huddled parts yearning to breathe at 10,000 rpm again. Millennium took our wretched CR125 refuse, re-plated the cylinder and cleaned up the head. We trust Millennium Technologies to keep our project bikes on track. When we got the re-plated parts back, we sent them to Tom Morgan Racing to coax some more power out of the old engine. We aren't stupid; we didn't ask Tom to go over the top. We just wanted a good runner. Tom cleaned everything up and did some light porting on the cylinder.
"ROLLING ANY RESTORED MOTOCROSS BIKE OUT INTO THE SUN FOR THE FIRST TIME IS AN EMOTIONAL MOMENT. IT'S A LOT LIKE BIRTHING A BABY IN THAT THE BIKE SHARES YOUR DNA."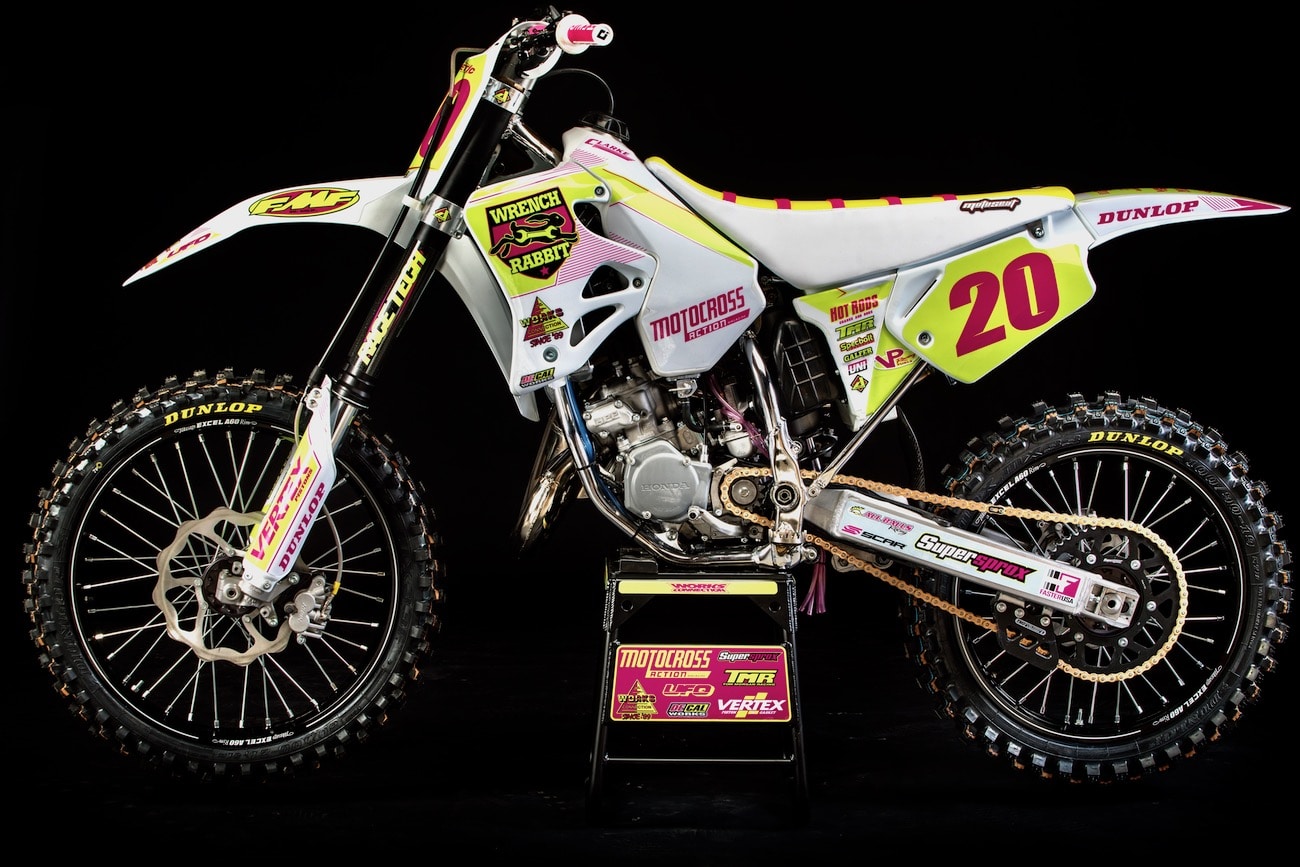 DeCal Works and UFO made our retro Works Connection color scheme come to life. Not every MXA test rider was onboard with the color cmbo. Well, actually, it sounded better on paper than on the CR125.

Our project was on time. Everything was flowing perfectly, so we tore the entire bike down to nothing and started building it back up. We didn't leave a stone unturned, at least we thought we didn't. The rest of the build was straightforward. The carburetor was rebuilt with All Balls parts. UFO still makes old-model Honda plastic, and we went with its white plastic kit. DeCal Works set us up with our neon color scheme for the graphics. Mylers rebuilt and reinforced the old radiators. One thing that was on our "hate list," as far back as 1994, was the incredibly narrow stock footpegs that came on Hondas back then. No aftermarket company makes wide footpegs for a 1994 CR125, so we dug through a big box of footpegs in the MXA warehouse. Whoopee! By mixing and matching a selection of old pegs, we found a set of Scar titanium KTM pegs and springs that fit the CR125 like a glove.
Rolling any restored motocross bike out into the sun for the first time is an emotional moment. It's a lot like birthing a baby in that the bike shares your DNA. You made all the choices. You orchestrated the workflow charts and dedicated yourself to the project—and now that it is done, it is time to bask in the glow of your workmanship. Sounds mystical, doesn't it? It wasn't. In the sunlight, our 1994 Honda CR125 looked hideous. Really? Flo-neon pink and yellow? This wasn't like a Jackson Pollock painting where you could argue that it had artistic merit, even though it looked like a mess. Our 1994 Honda CR125 was just a mess.
This photo was shot in the first 14 minutes of riding our CR125 for the first time. How do we know the exact minute? By the 15th minute it was dead in the water.
Hey, we all make mistakes, and you can't judge a book by its cover, or its pink and yellow color combo. All that really mattered was how it performed on the track. Ugly could be fixed with new plastic—if the bike ran like a scalded cat
With the FMF bolt-on power mated to the Tom Morgan-tuned engine, our CR125 sounded crisp on the stand. It looked great on the track when the first MXA test rider started to spin laps on it. We swear that we could see a big smile on his face behind his 6D helmet. That is until the bike rolled to a silent stop. The engine had lost compression. Our maiden voyage only lasted 15 minutes. There was the usual amount of finger-pointing. Was it our fault? Did Tom Morgan go too far on his modifications? Did we mix the C12 too lean? We tore the engine down and didn't find anything suspect, just a badly damaged cylinder and piston.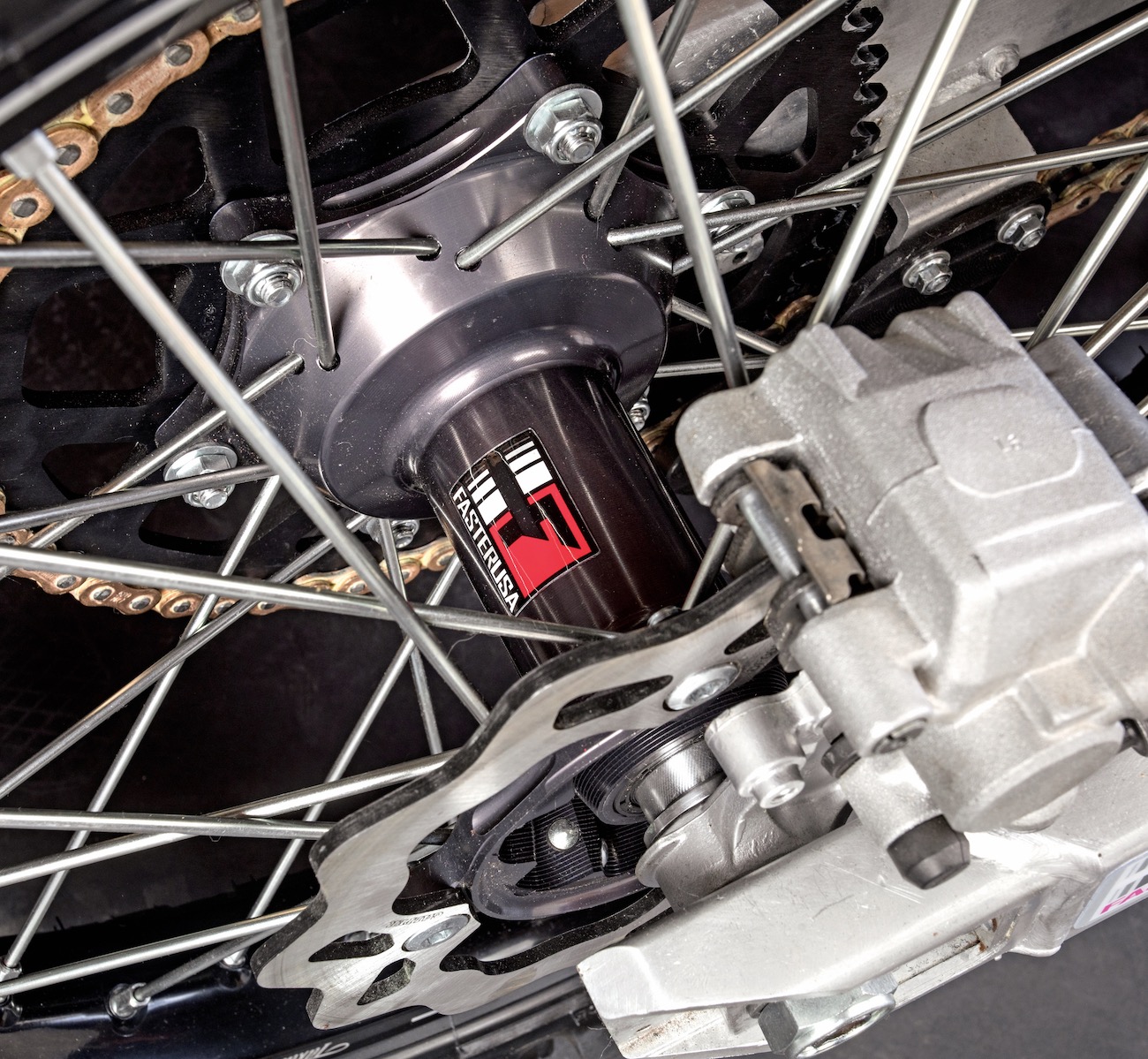 FasterUSA wheels and Galfer rotors graced the rear of the 1994 Honda CR125.
A month went by before we got the bike back together again. We had the cylinder re-plated once again and had Tom inspect his prior work. The bike was put together again and everything looked as it should. It was the day of reckoning for the CR125. We had the entire MXA crew there to put the tiddler through its paces. The first MXA test rider roared off down the straight and disappeared over the first big hill. And that was the last we saw of him—until he came rolling down the backside of the hill with a dead engine. "Boom" went the engine again. 
Everyone involved with the project was stumped, frustrated and embarrassed. We were breaking the bank with this build. There were test riders who wanted to shelve the project because it was taking up too much time for what there was to gain. It was never considered a performance project. We did it because it was something cool and creative. Believe it or not, we couldn't stop now. We had some of the best hands in the business work on our 1994 Honda CR125. We were missing something.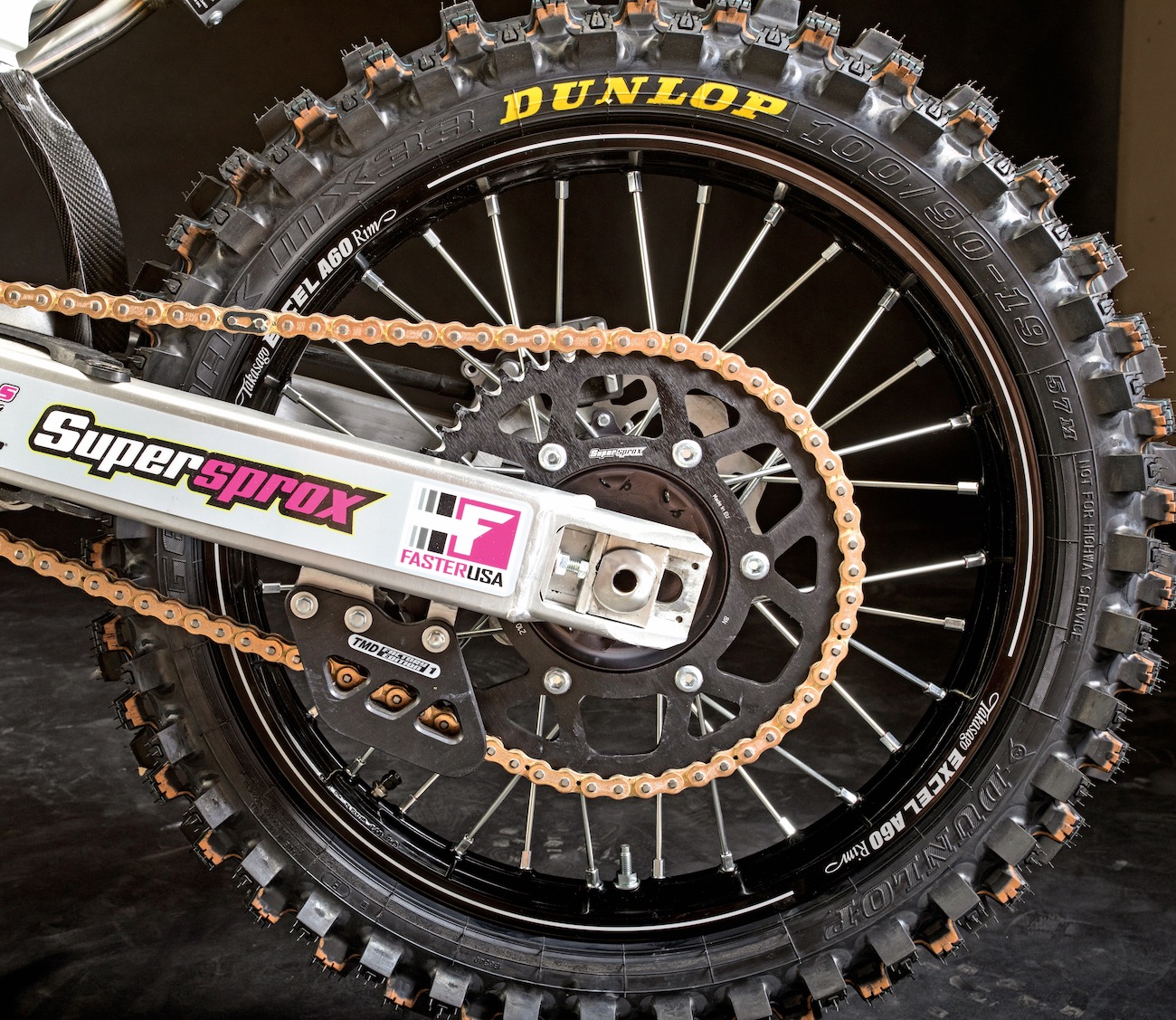 Again, the engine was torn down. This time we looked at each piece with a magnifying glass. We knew the engine was getting hot and we had some expensive aluminum paperweights to prove it, but why? We checked the rebuilt Myler's radiators, water hoses, water pump, radiator cap and impeller, but everything was in good working order. Finally, by accident, we flipped the cylinder over and saw something odd in the water jacket. There was a plug stuck way down inside that was blocking the coolant from circulating through the engine. The engine was blown up when we got it, but why the prior owner had plugged up a water passage was a mystery. 
Gluttons for punishment, we rebuilt the CR125 engine for a third time. The third time is a charm, right? This time the bike ran great. For a change, the MXA test riders came back from their assigned duties, saying how surprised they were with how much fun it was to ride. It handled well, ran crisply, and the suspension, chassis and ergos were just what we expected. It didn't erase all the flaws and foibles of a stock 1994 Honda CR125, but it ran better than a '94 Honda—at least after the first two times. 
In every failure there is something valuable to gain. We missed something that cost us a boatload of time and money. And, we learned that beauty is in the eye of the beholder. And just like Dr. Zira in Planet of the Apes when she was asked to kiss Charlton Heston's astronaut goodbye, she said that she could, but it would be better if he weren't "so [darn] ugly."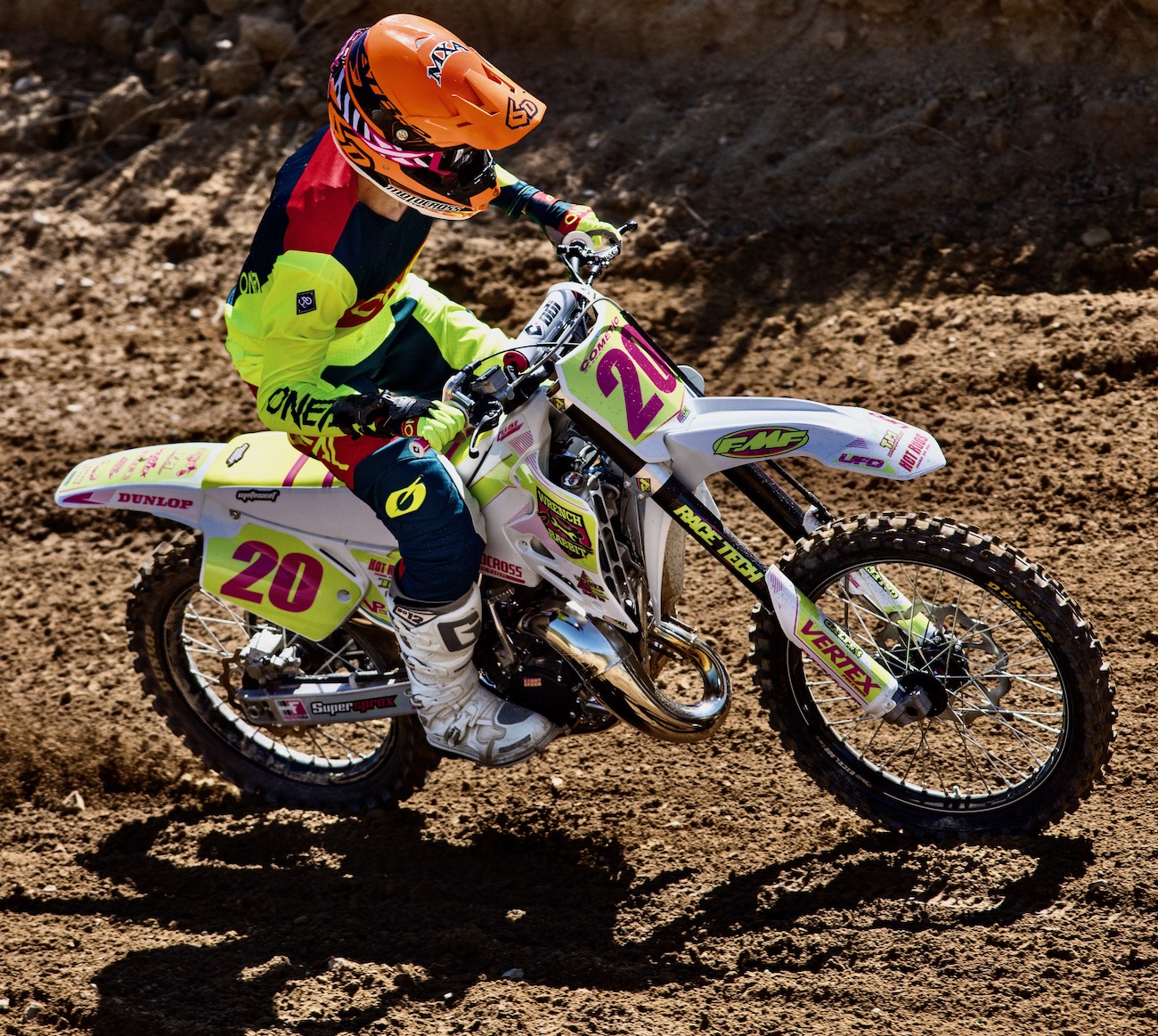 PROJECT 1994 HONDA CR125 DISASTER VIDEO
1994 HONDA CR125 SUPPLIERS

 
Wrench Rabbit: A Hot Rods complete bottom end kit was used that included a complete crankshaft, main bearing seal kit, transmission bearings, output shaft, water-pump rebuild kit, complete engine gasket kit and Vertex Pistons Pro Replica Piston kit (ring, pin and clips). www.wrenchrabbit.com
TMR: Tom Morgan ported the cylinder and modded the head. www.morganracingengines.com
Millennium Tech: They stripped, repaired damage and re-plated the cylinder to stock size and repaired the head. www.mt-llc.com
Myler's Radiators: Myler's repaired and strengthened the old radiators. www.motorcycleradiators.com 
All Balls Racing: The carb, master cylinder and front and rear calipers were rebuilt with their carb rebuild kit. www.allballsracing.com
Uni Filter: We used the two-stage air filter. www.unifilter.com
Hinson: Hinson supplied clutch fibers, steel and springs. www.hinsonracing.com
FMF Racing: We used the FMF Racing Fatty pipe and Shorty silencer. www.fmfracing.com
Moto Tassinari: The V-Force Reed cage gave us some bolt-on power. www.mototassinari.com
Pivot Works: A plethora of Pivot Works rebuild kits were used, such as the steering stem, wheel bearing, linkage, wheels and swingarm. www.pivotworks.com
SpecBolt: Our bolts came from a full nickel works custom restoration bolt kit. www.specbolt.com
Faster USA: Complete wheels with Faster USA hubs. www.fasterusa.com
ODI: ODI supplied the MX Emig Lock-On grips and custom bar pad. www.odigrips.com
Dunlop: The bike was shod with Dunlop MX33s front and rear. www.dunlopmotorcycle.com
DeCal Works: The semi-custom graphics kit in Flo-Neon sparkle was made by DeCal Works. www.decalmx.com
Moto Seat: Moto Seat customized the seat cover. www.motoseat.com
TM Designworks: We used TM Design Works' bulletproof rear chain guide. www.tmdesignworks.com
Supersprox: The chain and front and rear sprocket were Supersprox. www.supersproxusa.com
Fasst Co.: We used Fasst Co.'s rear-brake return spring and rear-brake clevis. www.fasstco.com
Works Connection: Works Connection makes tons of cool stuff, and we used everything they made for our old dog. www.worksconnection.com
Applied Racing: Applied made custom triple clamps for our updated CRF450 forks and front fender. www.appliedrace.com
Scar: We took the skinny footpegs off and mounted Scar KTM pegs. www.scar-racingusa.com
LightSpeed: The Light Speed carbon fiber clutch cover was a nice touch. www.lightspeedcarbon.com
Race Tech: Race Tech took the beat-up shock and 2008 CRF450 forks and made them work. 
VP Fuel: We ran the popular VP C-12 fuel. www.vpracingfuels.com