MXA'S 90-SECOND TEST: 2014 KTM 450SXF
You don't need a weatherman to know that this is KTM's world—Honda, Yamaha, Kawasaki and Suzuki just live in it. Product is king and KTM has invested heavily in their product line. It shows.
50 WORD ANALYSIS
The MXA wrecking crew likes to think of the 2014 KTM 450SXF as the greatest 4/5ths of a bike ever made. It has a great powerband, awesome brakes, amazing clutch, super shifting, clean looks, superb handling and an electric starter. It does everything better than its competition—except suspension.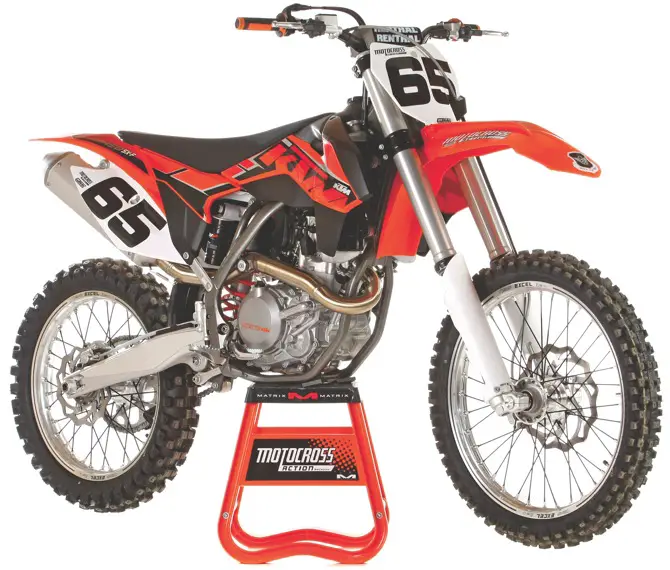 WHAT'S GOOD?
Power. At almost 57 horsepower, the KTM 450SXF has a crescendo style of power that builds like a kettle drum solo. It hammers out power pulses forever.
Electric start. Once you try it, you can't live without it.
Miscellaneous. This bike has the best brakes, best all-around handling, best clutch, best shifting, best overall powerband and best air box. No brand has as many superlatives as the KTM 450SXF.
WHAT'S BAD?
Suspension. KTM tuned its suspension settings for Vet riders. Any rider under KTM's target weight or over the target speed is in trouble. MXA's Pro test riders bottomed the forks on every jump.
Rims. The KTM rims may say "Excel" on them, but they are weak.
Preload ring. Who would put a rubber preload ring on a shock?
Shift lever. The shift lever is too low and if you move it up one notch, it is too high.
Seat foam. It breaks down quickly.
WHAT DID WE CHANGE?
Here is the short list of things the MXA wrecking crew changed on the 2014 KTM 450SXF.
(1) We sent our suspension out to have it revalved. We have had good luck with MX1, Pro Circuit and MX-Tech. While the shock is in the shop, switch to an aftermarket preload ring or X-Trig.
(2) We relaced the stock hubs with D.I.D. ST-X or A60 rims.

(3) We added a 1.250mm longer link.
(4) We swapped out the stock Dunlop MX51FA for a Dunlop MX31 to suit our intermediate terrain better.
WHAT DO WE THINK?
For most serious racers, having the forks and shock revalved are Job One on any new bike. If that's you, then KTM's worst flaw isn't a problem.