TWO-STROKE TUESDAY | JOHNNY O'MARA'S 1986 MXDN CR125

At the Honda museum rests Johnny O'Mara's bike from the 1986 MXDN in Maggiora, Italy. 
Each moto they had a two-row start, with one team member being in the back and one in the front. For Johnny's first moto, the team decided it was best for Johnny and his 125cc to start in front of Ricky Johnson on his 250cc. The idea was for Johnny to get the best start he could, while Ricky had the power to make passes easier. The idea worked like a charm. Johnny got a good jump off the gate with Ricky passing him down the start straight. They entered the first corner 1-2 and never switched positions the rest of the moto. This first moto set the tone for the rest of the day.

O'Mara and his CR125 made history by clawing his way to two second-place finishes against 250cc and 500cc machines at the 1986 MXDN.  
For the second moto, the team made Johnny start in the second row behind Bailey on his CR500. Bailey grabbed the start and left the field. O'Mara started around 11th and had to claw his way forward. Johnny made up time everywhere, save for the hills. With each lap, he put his head down and made passes on 250cc and 500cc machines. By the end of the race, O'Show made his way to second place behind his teammate, Bailey. For a 125cc machine to place second two motos in a row against the best in the world on bigger displacement bikes was almost deemed impossible. O'Show, on that day, was the hero.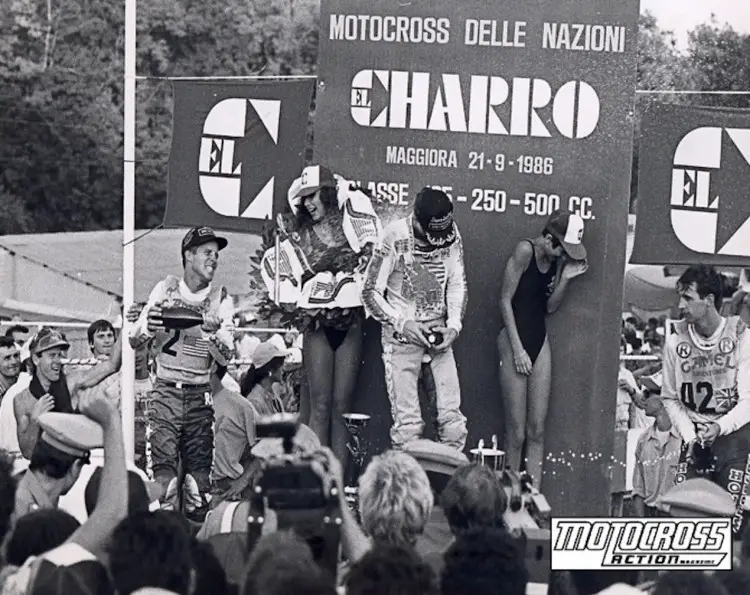 The 1986 U.S. team at the MXDN ended up winning each of the three motos in Maggiora for team USA's sixth straight victory. Pictured far left with his shirt off is Johnny O'Mara. Ricky Johnson is spraying the champagne on David Bailey. 
The final moto of the day Johnson and Bailey got upfront and made it look easy. They swept the third and final moto leading team USA to their sixth straight MXDN win.