PRO TAPER PRESENTS MXA'S MID-WEEK REPORT BY JOHN BASHER
#WHIPITWEDNESDAY
Rider: Daryl Ecklund
Location: Glen Helen Raceway
Date: October 31, 2014
Photographer: John Basher
Camera: Canon 1D Mark III
Lens: 70-200mm f/2.8
Focal length: 200mm
Exposure: 1/1000 sec.
F-stop: 4.0
ISO: 500
MXA VIDEO: 20 TIPS FOR THE 2016 KAWASAKI KX250F
QUOTE OF THE WEEK: MIKE LaROCCO
"When I was racing I didn't use that number [Supercross main event starts] as a reason to race. It just happened to be what it was. I actually retired feeling like I had more in the tank, but I wasn't competitive enough to win, so I lost my drive. It is what it is. I understand it gives guys after me a target or goal to hit, which it sounds like Chad is using, but it's pretty much whatever to me."
Click here to read the interview.
ENDLESS WINTER: BACKCOUNTRY SNOWBIKING
JOHN'S GARAGE: YAMAHA YZ125 BUILD
I'm not living up to my word this week, because the project 2005 Yamaha YZ125 build isn't complete just yet. I'm waiting on a few more important pieces being shipped here to MXA's North Carolina workshop. Having said that, above is a picture of where I'm at with the build. It's mighty close, but it's still missing the big black bow. Bear with me, as I'll be able to show multiple views of the bike (taken with a professional camera, rather than a iPhone) next week. In the meantime, gawk at Mark Chillzone's Kawasaki KX125 below.
EXOTIC TWO-STROKE: 2003 KAWASAKI KX125
Last week I wrote about how my buddy, Mark "Chillzone" Chilson, shipped me a set of handmade titanium footpeg pivot pins and a titanium rear brake clevis for my project Yamaha YZ125. Mark is brainiac machinist who loves crafting hand-made exotica for his beloved 2003 Kawasaki KX125. It's unclear how many hours Chillzone has spent making one-off parts for his KX125. Quite frankly, I don't want to know. Mark has an obvious sickness, and it's to our benefit. Why? Take a look at the parts breakdown of what he did. Yes, there are 38 changes, with possibly a few more in the future.
Look at that turned down front hub, but don't forget to take a gander at the Buchanan polished spokes and hand turned aluminum front wheel spacers.
2003 KX125 MODIFICATIONS/CHANGES:
(1) Suspension Hard anodized inside and outside.
(2) Brown upper front fork tube Pro Circuit stanchions.
(3) Rear works KYB bladder end cap and core.
(4) Yamaha YZ250F rear titanium KYB 4.9 kg shock spring
(5) Suspension revalved by Graeme Brough.
(6) 2009 KX250F front fork guards.
(7) Buchanan oversize polished stainless steel spokes with aluminum nipples.
(8) Turned down front and rear stock hubs–saving a little over 2.25 ounces each–and hard anodized clear.
(9) Aluminum Honda front axle nut that replaces the stock steel nut, along with a Honda rear lock nut.
(10) Hand turned aluminum front wheel spacers, replacing the stock steel ones, and hard anodized Pro Circut (PC) brown.
(11) Valve core caps PC brown.
(12) Handmade aluminum ignition bracket, replacing the stock steel one.
(13) 2014 KX250F front number plate and front fender.
(14) Universal triple clamps with aluminum stem nut, drilled and safety wired.
(15) 7/8-inch Renthal McGrath bend handlebars with Scott grips, black ASV levers, and clutch perch with anodized green clutch adjuster.
(16) Handmade carburetor tube guide.
(17) Handmade rear brake clevis with titanium clevis pin and jam nut, along with a brake snake.
(18) Handmade aluminum radiator lowering brackets.
(19) Carbon fiber glide plate, chain guide and frame guards.
(20) KF3, a CNC shop that Chillzone is friends with, made CRF450 rear axle blocks that were modified to fit the KX125. The axle blocks were then hard anodized PC brown.
(21) Rear caliper brake bracket hard anodized black.
(22) Oversize Galfer front brake rotor with Galfer front brake line.
(23) Modified aluminum Honda CRF450 front brake pinch clamp anodized green.
(24) Renthal lightened front sprocket, Super Sprox black rear sprocket with stock gearing and D.I.D.  ERT2 gold chain.
(25) Shaved and flattened seat foam with Flu Industries gripper seat cover.
(26) 180 Decals Chevy Truck graphics.
(27) Custom made copy of Loudmouth intake for air intake with slightly larger air opening, along with a Twin Air loudmouth style filter.
(28) Moto Tasinnari V-Force3 reed cage assembly.
(29) Athena high-compression gasket kit.
(30) Pro Circuit Works pipe and silencer with custom made aluminum spacers/washers.

(31) Polished inside of carburetor for better airflow and polished outer with green hoses and PC jetting specs.
(32) Hinson clutch cover and Boyesen ignition cover.
(33) Modified water pump cover for better water flow.
(34) Hour meter and Hammerhead shift lever.
(35) Every bolt and nut has been replaced with titanium, including perches, triple clamps, pinch bots, axle pinch bolts, outside motor bolts and engine mounting bolts. Titanium rear axle adjusters and subframe bolts..basically everything is titanium except the axles, swingarm pivot bolts and internal engine bolts.
(36) Shaved and lightened kickstarter, front and rear calipers, and front master cylinder; all have aluminum brake banjos with safety wire.
(37) Modified Pro Taper 2.3 footpegs from a 2009 KX250F, with handmade titanium clevis pins.
(38) Aceribis plastic and custom aluminum front brake cable guide.
Mark Chillzone claims that the total weight savings is around eight pounds. In Mark's words, "This is pretty much my garage version of a factory bike. It was a long time in the making. The only other things I may wind up doing are porting and polishing the cylinder, and getting the transmission gears tumbled and polished. I also want to get a full Hinson clutch assembly and possibly a set of Kayaba SSS forks off a 2006 or newer Yamaha YZ125." 

One thing is certain, and it's that we're going to get our hands on Mark's KX125 and test ride it. Stay tuned.
The ProTaper footpegs are off a 2009 Kawasaki KX250F.
If it's metal, you can bet it has been polished.
Look at that Honda self-locking rear axle nut, titanium chain adjuster and polished rear brake caliper.
Safety precautions have been taken, which is why the steering stem nut on the Universal triple clamps has been drilled and safety wired.
LightSpeed carbon fiber parts are used throughout. 
MINI-VIEW: ARENACROSS CHAMP GAVIN FAITH
Racing in a variety of Supercross series around the world, Gavin Faith has two Australian Supercross Championships to his name. Not exactly a "household name" in the U.S., that may change now that Faith won the 2016 Arenacross Championship. As part of the powerhouse Team Babbitt's Monster Energy Kawasaki team, Gavin's main competition came from his own teammates–Chris Blose and Jacob Hayes. We caught up with Gavin, who is from Fort Dodge, Iowa, to get his thoughts on the new title.
By Jim Kimball
Gavin, congratulations on winning the 2016 Amsoil Arenacross title. Play out the Las Vegas finale for us.
It was definitely nerve racking! My main goal was to get through the first couple corners and then work my way to the front. As you saw, my teammate, Chris Blose, started great and was leading both mains. I wanted to get into second, but not get too close to him, as I didn't want him to do anything crazy. We are teammates, but we both wanted to win.
How does Arenacross differ from some of the other race series that you have done?
It's been really good. This was my second year racing Arenacross. Last year I really learned a lot, especially with the Race for the Championship. I've raced in Australia and Germany, and they are both very professional series. Those races have benefited me, as they are such short championships. In reality, the Arenacross Championship is a pretty short series due to the re-start. I feel that it gives me a pretty good advantage. I was able to get a little bit of a lead (note: 8 points) going into the final round and was able to get it done.
What have been some keys to your success in Arenacross?
Something that has been huge for me has been getting better starts. I think that I only had one holeshot last year. I could never get out of the gate very good, and with Arenacross having such short lap times, I had a hard time getting through the pack to the front. My starts have been a lot better, and I feel very comfortable being on the Monster Energy Babbitt's Kawasaki team. The team is very professional. Everything is done as it should be. I have a great mechanic, and everything is taken care of. I only need to show up to the races. It takes a load off my mind, because I only need to focus on riding my dirt bike.
Your teammates were your strongest competitors all season long. Did that make things a bit awkward in the pits?
It was tough at times, as there was a Championship on the line. Tensions had gotten high from time to time, but we really do all try hard to work together as a team. We knew going into the final race that one of the Babbitt's riders would win the championship. So, owner Eddie Babbitt, and Denny Bartz (Team Manager) had to be pretty happy.
You are the only Arenacross rider to be training with Ricky Carmichael in Florida. That's serious business.
Yeah, I definitely think as far as the Arenacross riders, I take training the most seriously. I put in a lot of hours down there, but this is my job and what I do. I feel like my training has shown in my riding, and that has helped me to become Champion. Fitness probably isn't quite as crucial in Arenacross as Supercross or motocross, but it still matters. We only have two 15-minute mains that have really short lap times, so fitness just isn't as key, but I still do about as much as Joey Savatgy does, I still train hard. It's not like I am just down there hanging out during the week. Even if you don't actually need the fitness, I believe that it helps a lot.
What do you have going on now with Arenacross ending?
I have had a lot of success in the past going overseas to Australia and Germany to race, so I may be doing that again. I feel like that has really helped me prepare for Arenacross. I don't have anything finalized right now, as my focus has been on this championship. I'll think about all that now that the Arenacross series is over. First I may take a little time off to reflect on my Championship.
RIDE ENGINEERING VIDEO: GAVIN FAITH
BLAST FROM THE PAST: THE FLYING FRECKLE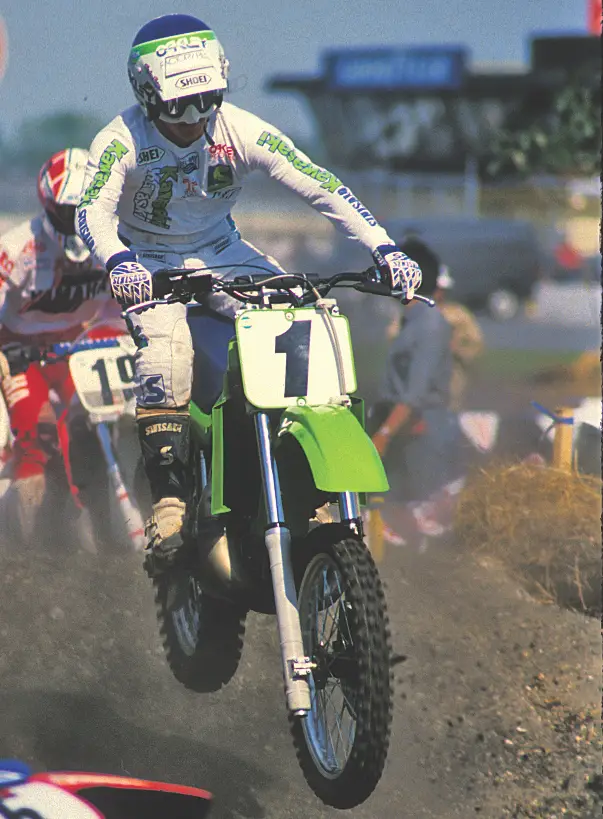 Ah…right-side up forks, open-face helmets, and all-white Sinisalo gear. It must be Jeff Ward from Daytona in the 1980s. Known as "The Flying Freckle" by his fan base, Ward is the only rider to win a 125, 250 and 500 National title, and he also captured the 250 Supercross crown twice. In total, Jeff won seven AMA titles. Oddly, Ward never won the Daytona Supercross.
TOM PAGES: FRONT FLAIR
Coming to X Games in a few weeks
MORE MADNESS: DOUBLE FRONTFLIP

Photo: Mark Watson/Nitro Circus
Nitro Circus Live's Gregg Duffy stomped the impossible–a double front flip–a few days ago at the show in Brisbane, Australia. If you want to see some crazy action in person, be sure to check out www.nitrocircus.live for tickets, dates and behind-the-scenes content.   
A LOOK BACK AT THE 2015 HANGTOWN NATIONAL
The AMA National series kicks off this coming Saturday at Hangtown. This will be the 10th time in the past 13 years that Hangtown will host the opener (Glen Helen was first the other three times). It's an honor to hold the first race of a new series. On Saturday, all eyes will be focused on the golden hills of Rancho Cordova. Hangtown is a good indicator as to whether Jeremy Martin and Ryan Dungey can get off on the right foot in defending their titles. It's also an opportunity for riders to establish themselves as early season favorites.
Last year's Hangtown opener belonged to Eli Tomac (1-1) and Jeremy Martin (2-1). Tomac made a mockery of the 450 field, while Martin had to dispose of Marvin Musquin in order to collect the overall. Take a look back at the action from the 2015 Hangtown National.
Eli Tomac (3) led the charge in the 450 class at Hangtown. He blitzed past the competition, which included Ryan Dungey (5), Chad Reed (22), Justin Barcia (51) and Jason Anderson (21).
Straight and balanced prove vital in getting a good start. Take a look at Eli Tomac (3). Conversely, you could take Blake Baggett's approach (4). Needless to say, the number 3 started at the front, while the number 4 came through on the first lap of the second 450 moto in 12th.
Jeremy Martin, the defending 250 National Champion, couldn't catch Marvin Musquin in the first moto. Musquin couldn't catch Martin in the second moto. As a result, Martin took the overall with 2-1 moto scores. 
Eli Tomac boosted the "Fly 150," a new uphill triple jump in 2015. It was spectacular.
After Hangtown, everyone wondered how Eli Tomac gapped Ryan Dungey (above) by 22 seconds in the first moto and a minute and a half in the second moto.
The first turn was about as much as anyone in the 450 class saw of Eli Tomac at Hangtown…or Glen Helen…or even the first moto of Lakewood. Will Tomac be able to put on a dominant performance this weekend after multiple shoulder surgeries and on new equipment?
Another new feature at Hangtown was the halfpipe. It was a cool concept. The track map doesn't clearly reveal whether the halfpipe will be used on Saturday. 
The 250 class will look different for 2016, but in many ways it'll be very similar. The great outdoors start in three days!