REM GLEN HELEN RACE REPORT: ENDING 2017 WITH A BANG
Jon Ortner went 1-2 to win the Over-50 Elite class after both Jon and Luther French were knocked down when a lapper crashed in front of them. Andy Jefferson avoided the collision and went to to win the moto, but Jon's 1-2 beat Andy's 3-1. Photo: Kyoshi Becker (Click on images to enlarge)
You wouldn't think that many people would want to give up the last Saturday of 2017, especially on New Year's Eve weekend, to come to Glen Helen and race the last REM Motocross of the year. But, you'd be wrong. REM packed in a healthy number of motocrossers who wanted to burn off some energy before the next night's festivities.
David Cincotta (861) and Dutchman Ralf Schmidt (73) take different lines through this banked corner. Amazingly enough, there was even a higher line that was faster later in the day. Photo: Kyoshi Becker
The large turnout resulted in big gates for the Over-50 Novices, Over-50 Intermediates, Over-60 Experts and Over-60 Intermediates (and a lot of riders for the Adult Minicycle class—which took on epic proportions with Doug Dubach, Ray Hensley, Bob Tocco, Pasha Afshar and Ralf Schmidt all signed up to race the one-off event).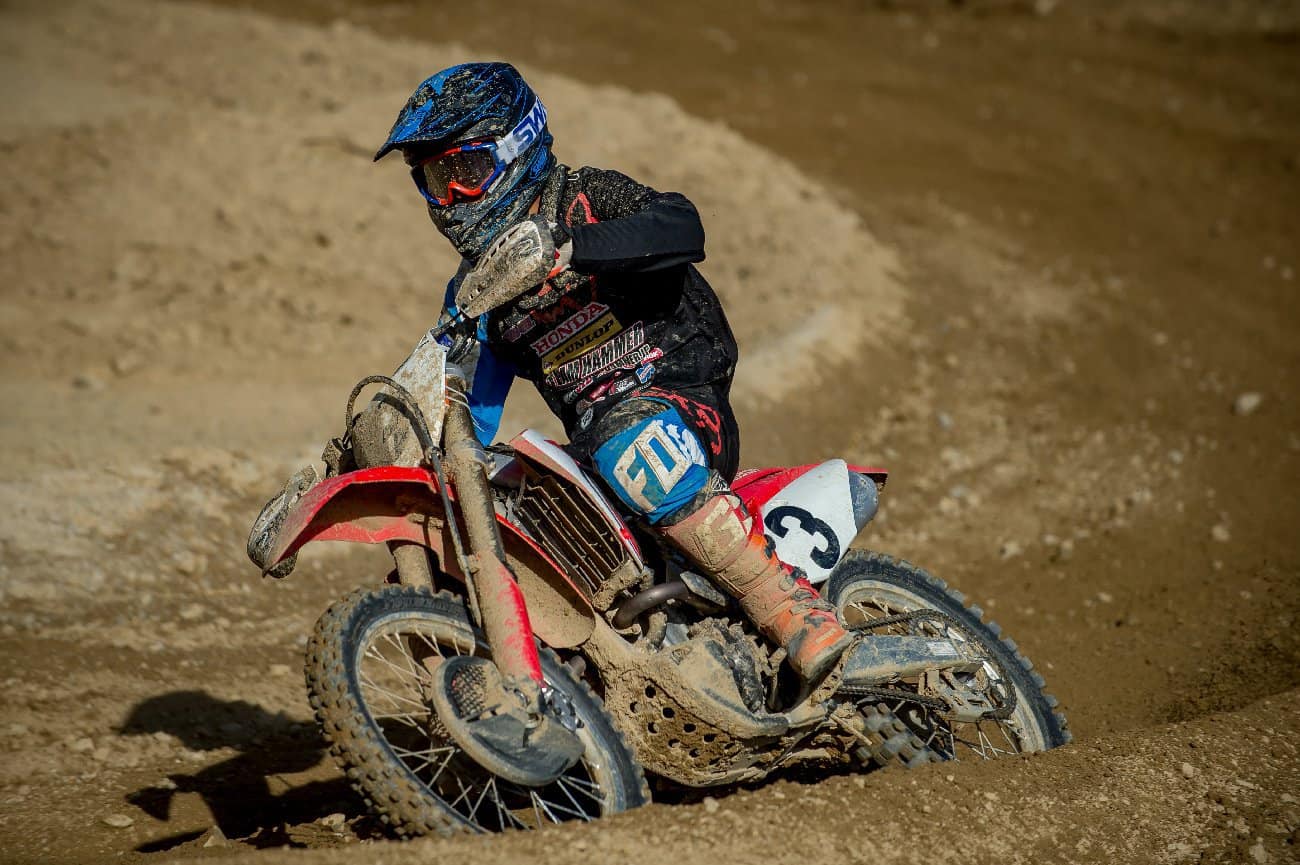 Japanese rider Yuki Kondo went 4-2 for third overall in the 250 Intermediate class. Photo: Kyoshi Becker
With the temperature in the mid 80s and no wind it was a perfect day. The REM track was crowded and, as always, lots of foreign riders came to Glen Helen to race at REM while they were waiting to watch Anaheim 1 this coming Saturday night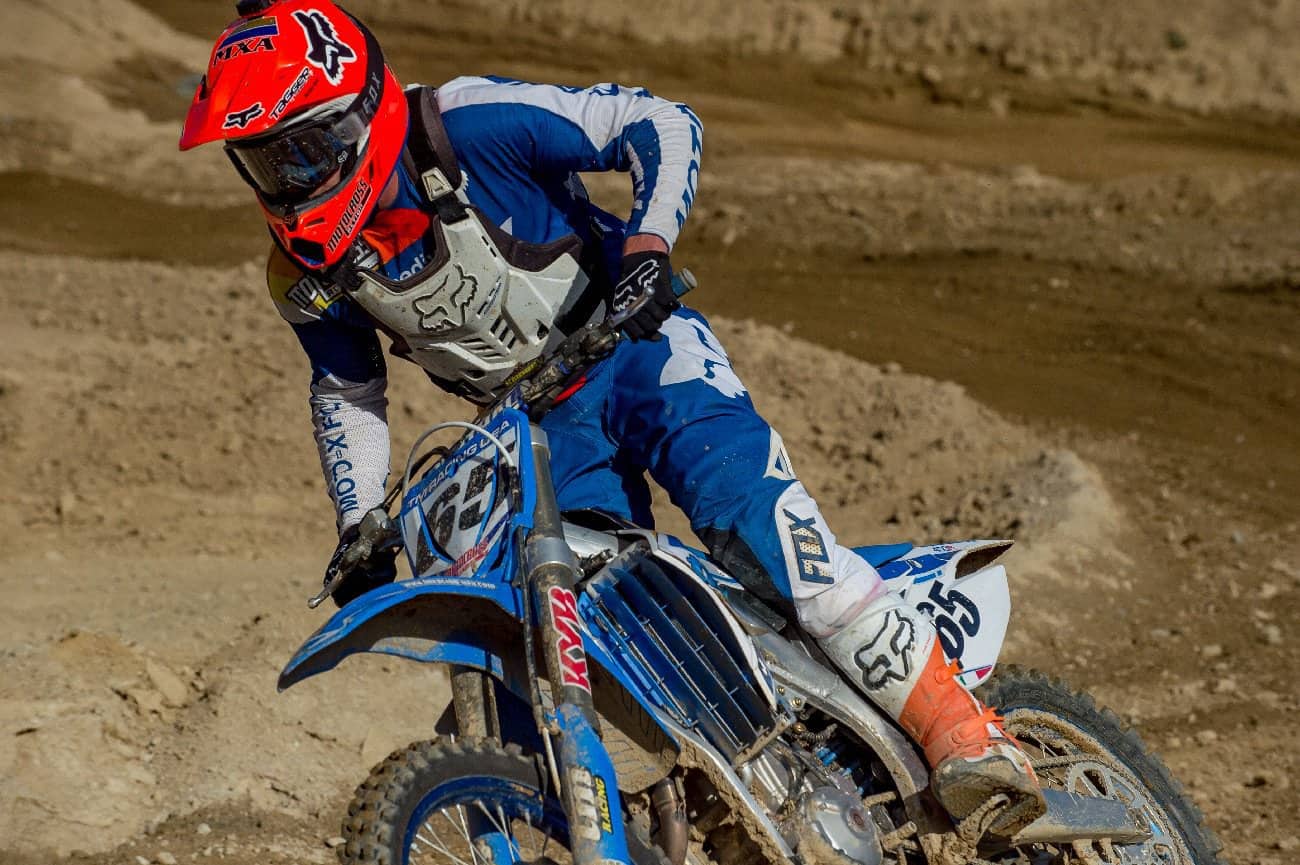 MXA's Dennis Stapleton (65) raced a moto on a 2018 TM MX450-FI. Photo: Kyoshi Becker
Dennis Stapleton (67) raced a second moto on a 2018 Honda CR450 to test a new shock. MXA test riders often race different bikes in different motos. Photo: Debbi Tamietti
Dennis Stapleton even rode a moto on Over-60 Intermediate Kent Reed's KTM 450SXF to tell him how the suspension worked. Dennis said it was "too stiff for him and probably too stiff for James Stewart." Photo: Debbi Tamietti
Mark Chilson captured Carter Dubach (15) going down and Dutch rider Jeroen Bussink (51) wheelying over Dubach's YZ125. Photo: Mark Chilson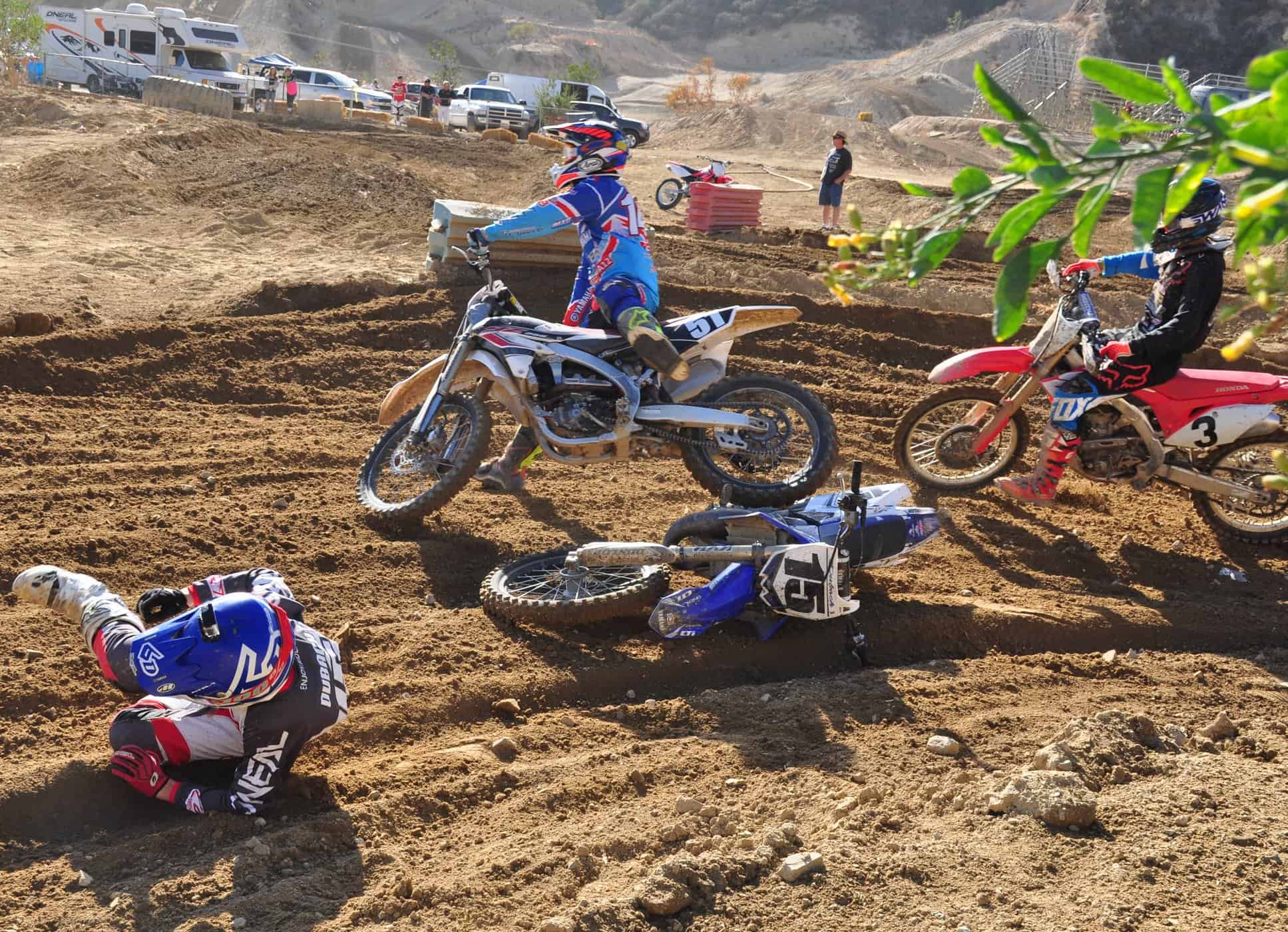 Bussink loses control and starts to crash to the right as Dubach rolls left. Photo: Mark Chilson
The path is now clear for Japan's Yuki Kondo (3) to make two easy passes. Photo: Mark Chilson

Dave Eropkin (811) was on his way to the overall victory in the second moto of the Over-60 Expert class, but on the last lap he was blocked by lappers and got passed by Jim Latendresse. Photo: Jon Ortner
John Caper (67) powers over an REM drop-off on his way to fourth overall in the Over-60 Intermediates with a 4-4 score. Photo: Debbi Tamietti
MXA assigned three test riders to race the 2018-1/2 Husqvarna FC450 Rockstar Edition, but as always Jody gave AMA Hall of Famer Lars Larsson the first pick of what bike he wanted to ride. The former Husky factory rider chose the Husky. Photo: Dan Alamangos

Surprise! Val Tamietti (31) didn't win the Over-60 Expert class this weekend. Mediocre starts left him chasing in both motos. His 4-3 was his worst score of 2017. Photo: Debbi Tamietti
MXA's Randel Fout split his motos between a KX250F (141), TM MX450-FI, Husqvarna Rockstar Edition and stock 2018 Husqvarna FC450. Photo: Debbi Tamietti
AMG Mercedes auto racer Ernie Becker had his best starts of the year, which he splits between racing sports cars, doing driving schools for AMG and racing the Over-50 Intermediate class. Photo: Dan Alamangos

Andy Jefferson raced his Rockstar Edition FC450 to a 3-1 day in the Over-50 Elite class. Andy, who works for Husqvarna, came to REM to babysit the MXA test riders. Photo: Dan Alamangos
 
Josh Fout swept both motos of the 450 Novice class, although he won the first moto on a TM MX450-FI and the second moto on a Husqvarna Rockstar Edition—which for all intents and purposes is the 2019 Husky. Photo: Dan Alamangos
Last week Gary Sutherlin (12) signed a contract to race the 2018 offroad races for Suzuki. Gary was on an RM-X450 at REM, instead of the RM-Z450 that every previous Suzuki offroad rider raced. Gary went 3-5 in the 450 Pro class. Photo: Debbi Tamietti
Bob Rutten (83) leads Jim Latendresse (564) in the first moto of the Over-60 Expert class. Latendresse would win both motos. Rutten got caught up in someone else's crash in moto two and finished the day with a 3-7 score. Photo: Debbi Tamietti

The 250 Intermediate class was won by Japanese rider Tatsushi Kawakami (412). REM had several British, Swedish and Australian riders mixed into the classes. Photo: Dan Alamangos
Florida's Jason Lewis (817) went 3-3 in the Vet Novice class behind Reid Davis and Mark Taylor. Photo: Debbi Tamietti
Mike Monaghan (12) chases down Phil Dowell (23) in the Over-50 Expert class. Monaghan's KTM 125SX was outpowered on REM's hills. Photo: Kyoshi Becker
Kent Reed (491) softened up his forks and changed his shock spring after Dennis Stapleton told him how bad his suspension setting was. Reed went 5-5 in the Over-60 Intermediates. Photo: Kyoshi Becker
Doug Dubach won the Adult Minicycle race on son Carter's SuperMini, with Ralf Schmidt on a TM MX85 second and Ray Hensley third. Photo: Dan Alamangos
Carter Dubach (15) moved up to the 250 Intermediate class, but had a rough day as the class was made up mostly of experienced Japanese, Swedish and British riders. Photo: Dan Alamangos
Former AMA Pro Billy Joe Mercier won the Over-40 Expert class. Photo: Debbi Tamietti
Kirk Bassett (V93) takes a moment out from racing to adjust his goggles before getting back on it. Photo: Dan Alamangos
Australian Jordy Flaherty went 1-2 in the 250 Pro class, but lost the overall to Gordon Keller's 2-1. Photo: Dan Alamangos
Jon Ortner (10) takes a moment to wave a "thank you" to Chris Cole (45), who moved over at the top of the hill to let Jon and Luther French (2) go by. Photo: Rich Stuelke
REM does not race next weekend because of Anaheim 1, but is scheduled to return on Saturday, January 13th, 20th, 27th and February 3rd. For more info go to www.remsatmx.com
Click on images to enlarge
Photos by Dan Alamangos, Mark Chilson, Rich Stuelke and Debbi Tamietti