RICKY CARMICHAEL'S BARN: DUST, RELICS & WORKS PARTS
Ricky Carmichael's barn, which looks like it's straight out of a horror movie. Just like a relationship, it's what's inside that matters.
By John Basher
The life cycle of a motocross bike isn't altogether different from that of a human being. Over time, parts begin to wear out and, if left unkept, the whole suffers. For that reason, self preservation must kick in before it's too late. That part, of course, is not actually possible for a motocross bike. While it would be amazing if a bike could change its oil and swap filters when necessary, the rise of the moto-bots won't happen any time soon (and if it does, bikes will likely run on electricity). Where am I going with this story? People need fixing, just as motocross bikes need fixing. Factory bikes, like the ones Eli Tomac and Ken Roczen pilot, are the Steve McQueens of motocross machinery. Just like "The King of Cool," factory bikes ooze coolness. They're admired and one of a kind.
Would you ascend decaying steps and walk across creaky planks if it meant that you might get a glimpse into Ricky Carmichael's past? Back in 2016 we tempted fate without thinking twice about the potentially grave repercussions. 
Ricky Carmichael, now many years removed from professional racing, is still lauded for his achievements on the track. Those accomplishments, which most people can recite in their sleep, include 15 championships, 150 career wins, two perfect seasons, three-time MXDN winner and five-time AMA Rider of the Year. There has never been a greater motocross racer ever, which is why RC is aptly named "The GOAT."
Your eyes aren't deceiving you. That's a factory Suzuki RM-Z450 engine. It was one of several in the old barn.
Here's what you don't know about Ricky Carmichael. As perfectly prepped as his factory bikes were through the years, and as flawless his gear setup was, the guy isn't exactly a neat freak. In fact, anyone with OCD would have a conniption after stepping foot on Carmichael's "GOAT Farm." A thick layer of red Georgia clay dust covers old trophies, number plates, photos and everything else that a diehard RC fan would love to own. Ricky's old cabin, which he lived in for a few years, offers no frills. White tile floor sweeps around the open first floor; a range and modest kitchen the only indicators that Carmichael's cabin was capable of even being considered as a living space. Trophies upon trophies line the inner perimeter of the first floor. From a massive trophy from Broome Tioga carved out of wood, to a mirror with a picture of Carmichael's head etched in glass, it somehow makes sense that these awards are haphazardly strewn around the cabin. When you win 150 professional races you have to find somewhere–anywhere–to store them.
How about two sets of works Showa forks? Look closer and you'll see a stack of Tag Metals rear sprockets, subframes, and cylinders.
This leads us to Ricky Carmichael's barn, which isn't immediately visible on the premises. The dilapidated wooden shack is one swift breeze away from tumbling down. It's not a welcoming building by any means. In fact, horror fans would confuse the barn for a setting out of "The Blair Witch Project." That's due, in part, to its location on the GOAT Farm. Tucked away by overgrowth, the screen door only kept closed by a wooden plank butted up against the bottom frame, the barn is downright scary. Piles of tires–probably in the neighborhood of 40–line the left outer wall. Apparently Carmichael and crew have selected that specific spot. This is where the Bridgestone and Dunlop rubber go to die.
If Ricky Carmichael allowed you to take one item from his barn, would you choose this factory Suzuki engine?
I shouldn't have learned about Carmichael's barn, much less poked my nose inside. If it wasn't for a conversation with Ricky's track builder, I wouldn't have been the wiser. Instead, I learned that Ricky has an old barn. Inside that old barn was a collection of factory parts, race momentos, bikes and more. I had to check it out, only I didn't want to do it by myself. I asked Tim Castrone, Suzuki's district manager for the southern region, to accompany me. Curious himself, it didn't take any convincing for Tim to sign on. To me, Castrone was the perfect person for the job. He was courageous enough to enter the building first. He would spook any bats and rodents. Tim would also be testing the strength of the withered floor boards.
Take it all in. I had to wade through Christmas boxes and other nicknacks, but the search was worth it. 
The barn didn't have any internal lighting. Slivers of sun cut through the dank air, revealing an unfinished (or maybe the walls were torn down?) main room. Tim and I poked around. It wasn't long before we found a factory Suzuki RM250 engine sitting on a shelving unit. The next shelf down supported two sets of factory forks. Heaps of junk were piled on the floor…only that "junk" turned out to be factory subframes, exhaust pipes and several Suzuki RM-Z450 engines.
Works wheels, anyone?
At the far end of the room were stacks of wheels, many with factory magnesium hubs. One of the wheels had the name "Dungey" written on it in black marker. Ryan Dungey used to train at the GOAT Farm for a spell. Dungey's KTM side panel/rear fender section was discovered in a smaller room off the side of the barn. There were enough factory parts to build several works RM250s and RM-Z450s. It was unreal.
Tell me this doesn't do it for you–Ricky Carmichael's Kawasaki KX80 side panel from one of his last years in the mini class. 
The crown jewel, at least in my opinion, wasn't the Pro Circuit works carbon fiber RM250 silencer or Showa forks or even the engines. Nope. I fell head over heals when Tim Castrone held up a side panel that was caked in 20 years of dust. It was a Kawasaki KX80 plate with number 167 plastered on the side. Ricky Carmichael's KX80 number plate holds special meaning to me, because I got into motocross in 1994. Ricky was the top Amateur rider, and he was #167 on a KX80. Do you remember the Oakley and Fox Racing ads? The moment I saw that beat-up side panel I was immediately sent back in time to when I was a snot-nosed 13-year-old. It took all of the strength I had not to hide Ricky's KX80 side panel under my shirt and peel off with it. What's funny is that Carmichael wouldn't have known it was gone. Dang you, moral beliefs!       
Part of a Suzuki four-stroke took up a section of the barn, along with a Honda pit bike. I'm not sure how Ricky and crew were able to get some of these items in the barn, given that the entrance was so dilapidated.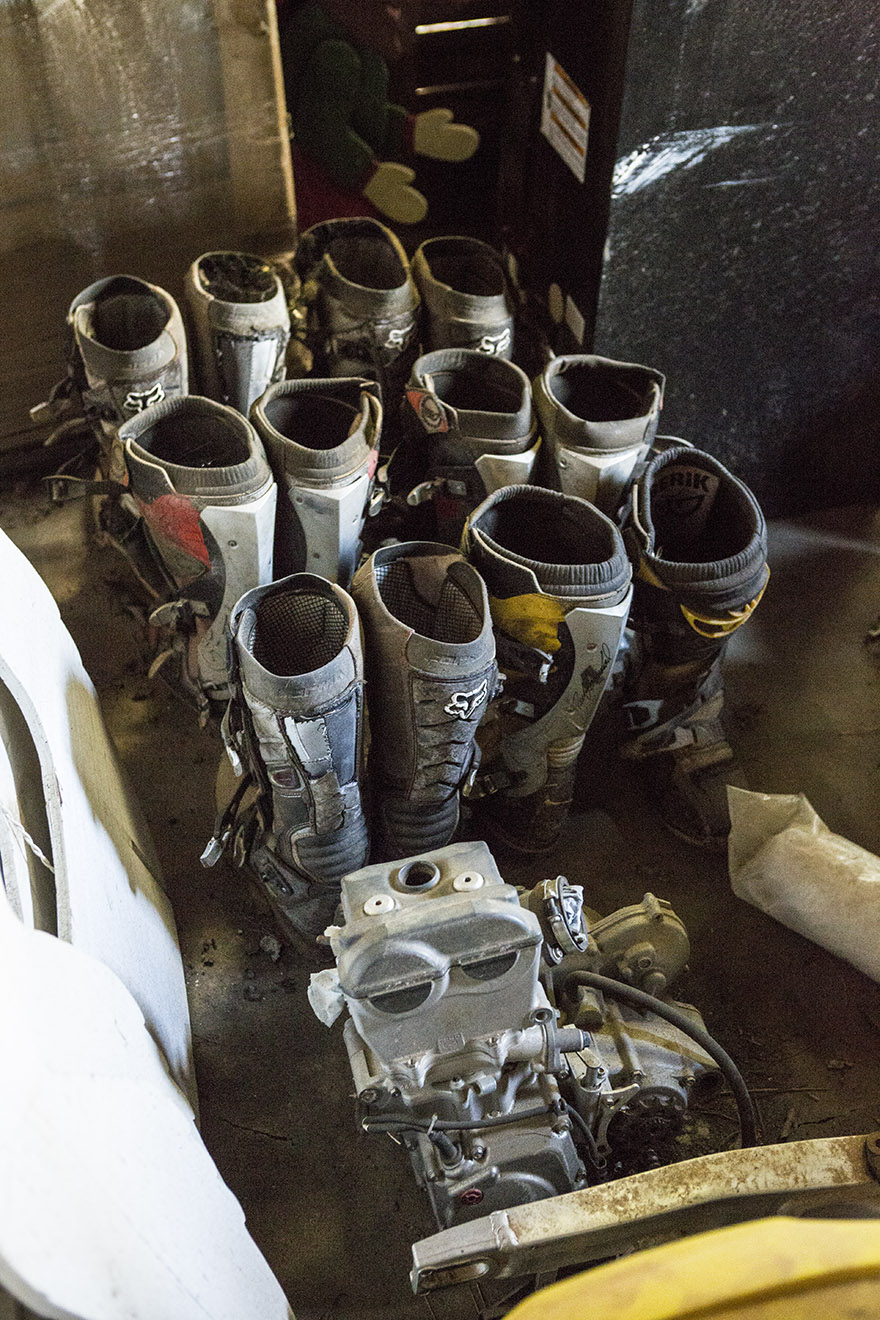 Do you remember Berik boots? Ricky has a few pairs collecting dust.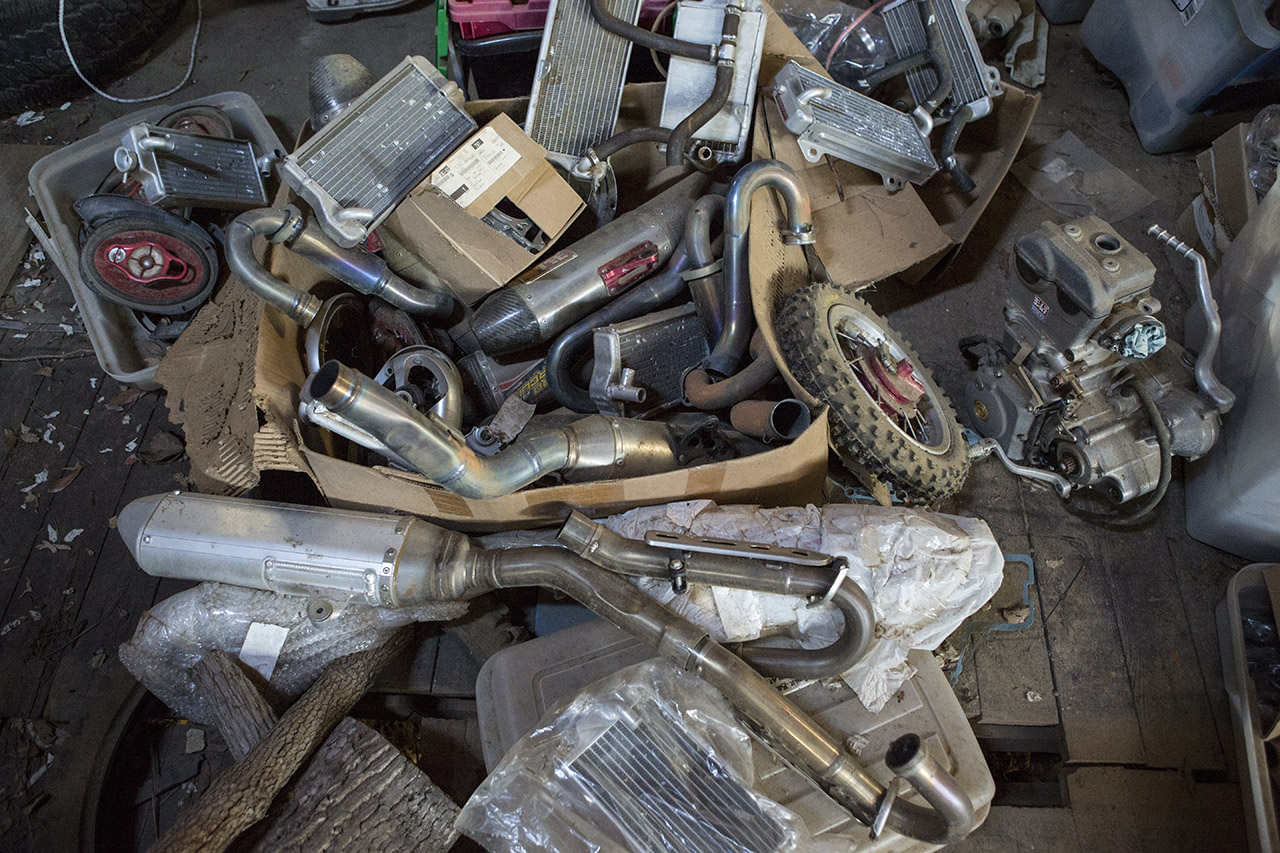 A collection of stock and factory exhaust systems from Ricky's four-stroke days.
Apparently this is Ryan Dungey's wheel off one of his old Suzuki's.
One man's trash is…wait a second…Carmichael's barn was chock full of treasure.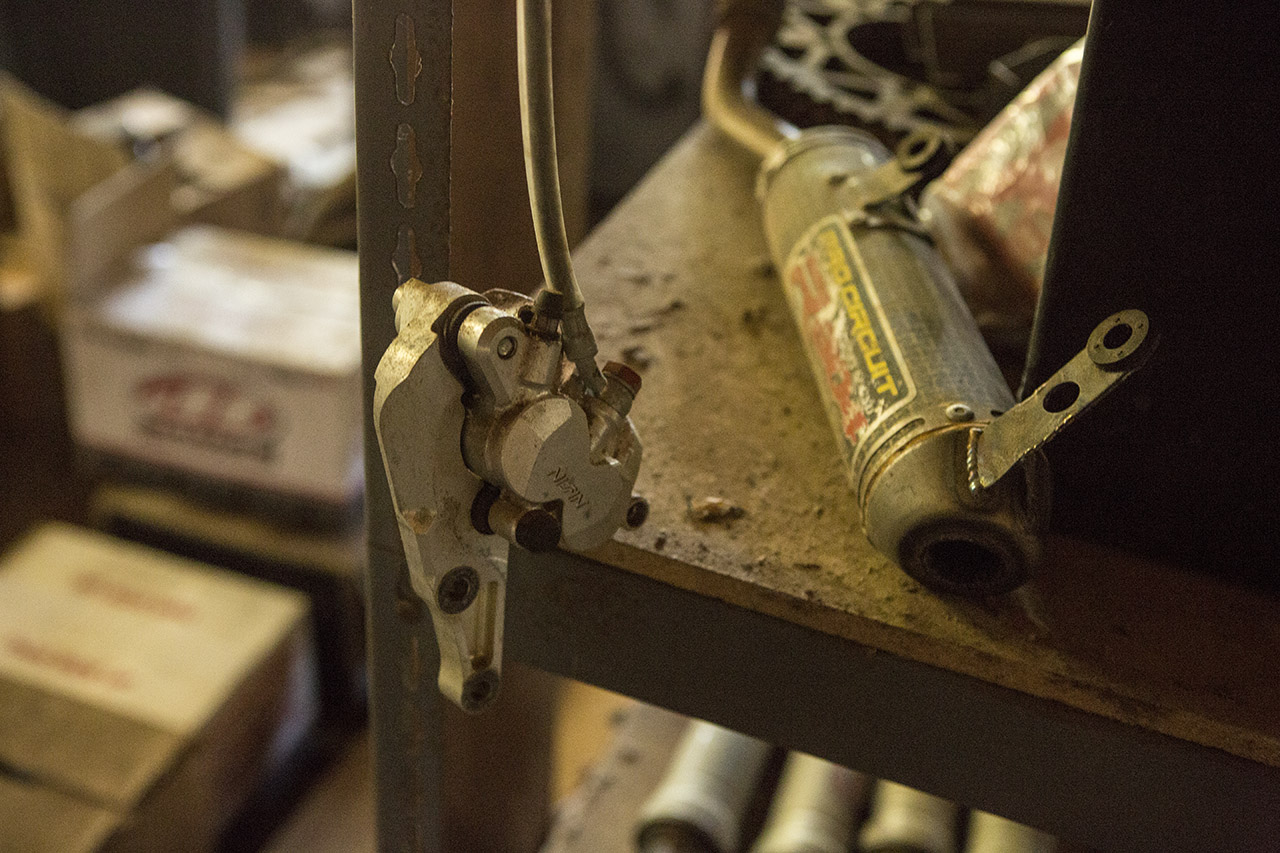 A works Nissin front brake hangs near a Pro Circuit works carbon fiber silencer.