MXA'S 2006 SUZUKI RM125 TWO-STROKE PROJECT BIKE
Click on images to enlarge
It's funny how some things never change. Long ago the head honchos at Suzuki picked a direction and stuck with it. In MXA's 2006 Suzuki RM125 test, we said, "Cornering has always been a Suzuki strong point, but high-speed stability has been the bike's weak link. As it sits, the 2006 RM125 is a cornering fool." Doesn't that sound a lot like what we said in our 2016 Suzuki RM-Z450 test? Just to remind you, it states, "There is no doubt that the 2016 RM-Z450 is unsettled at speed, but you gotta give to get. If you want a bike that can turn inside any bike, this is it." Turning has been a signature strong point for Suzukis for well over 30 years.
At the turn of this century, four-stroke fever was spreading like a virus. It killed most of the available two-stroke motocross bikes, with Suzuki holding off the Grim Reaper until 2008; however, a decade later, racers are digging up these old treasures, once thrown away like yesterday's trash, and turning them into like-new machinery. The MXA wrecking crew wanted to dig up a decade Suzuki RM125 and build the ultimate 2006 Suzuki RM125. How hard could it be?
Finding used RM125s was easy; finding a good one was much harder. Eventually, we decided to give up on the search for a pristine 2006 RM125 and instead go for the cheapest complete bike we could find. If we got it cheap enough and did the work ourselves, it might turn out to be a good deal. We plunked down $700 for a Zook with a grenaded bottom end and worn-out top end. No big deal. A little tender-loving care and it would be good as new. Then, one of our test riders reminded us that the 2006 RM125 wasn't even very good back in the day. No sweat, a slow 125 is more fun to ride than a fast one—and fun was what this project was all about. The next day, some enterprising historian posted an outtake from MXA's 2006 Suzuki RM125 test on the refrigerator door. It said, "To make the most of the RM125's power profile, the best strategy is to fan the clutch on the exit of every corner. Oh yeah, make sure the throttle is wide open." We weren't discouraged.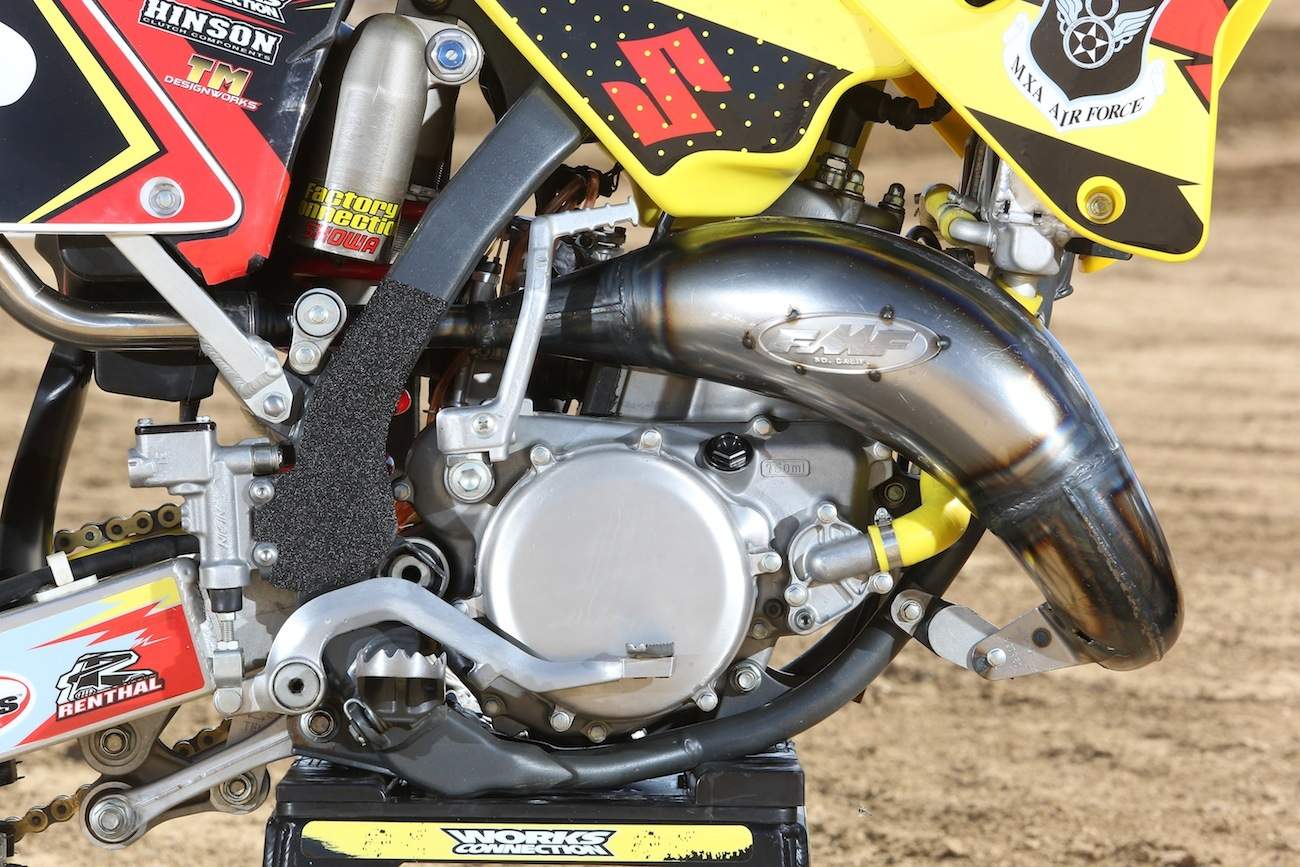 We ported the cylinder, added an FMF Fatty pipe and silencer and installed a V-Force reed cage to perk up the engine.
We sent the ancient cylinder off to Millennium Technologies for refurbishing, and when it came back, we had CP Racing's Jim Chamberlin port and polish it. The bottom end was rebuilt with a Hot Rods' bottom-end kit and the top end with a Vertex piston. To spice it up, we bolted on an FMF Factory Fatty pipe and silencer, Moto Tassinari V-Force reed cage, Uni Filter and a full Hinson clutch.


As for the suspension, in our 2006 RM125 test we said, "If it were us, we'd opt for the stiffer 0.43 kg/mm front fork springs." Well, since that was us speaking to us a decade later, we decided to take our own advice. We sent the RM125's Showa suspension to Factory Connection to get it serviced and had stiffer fork springs put in.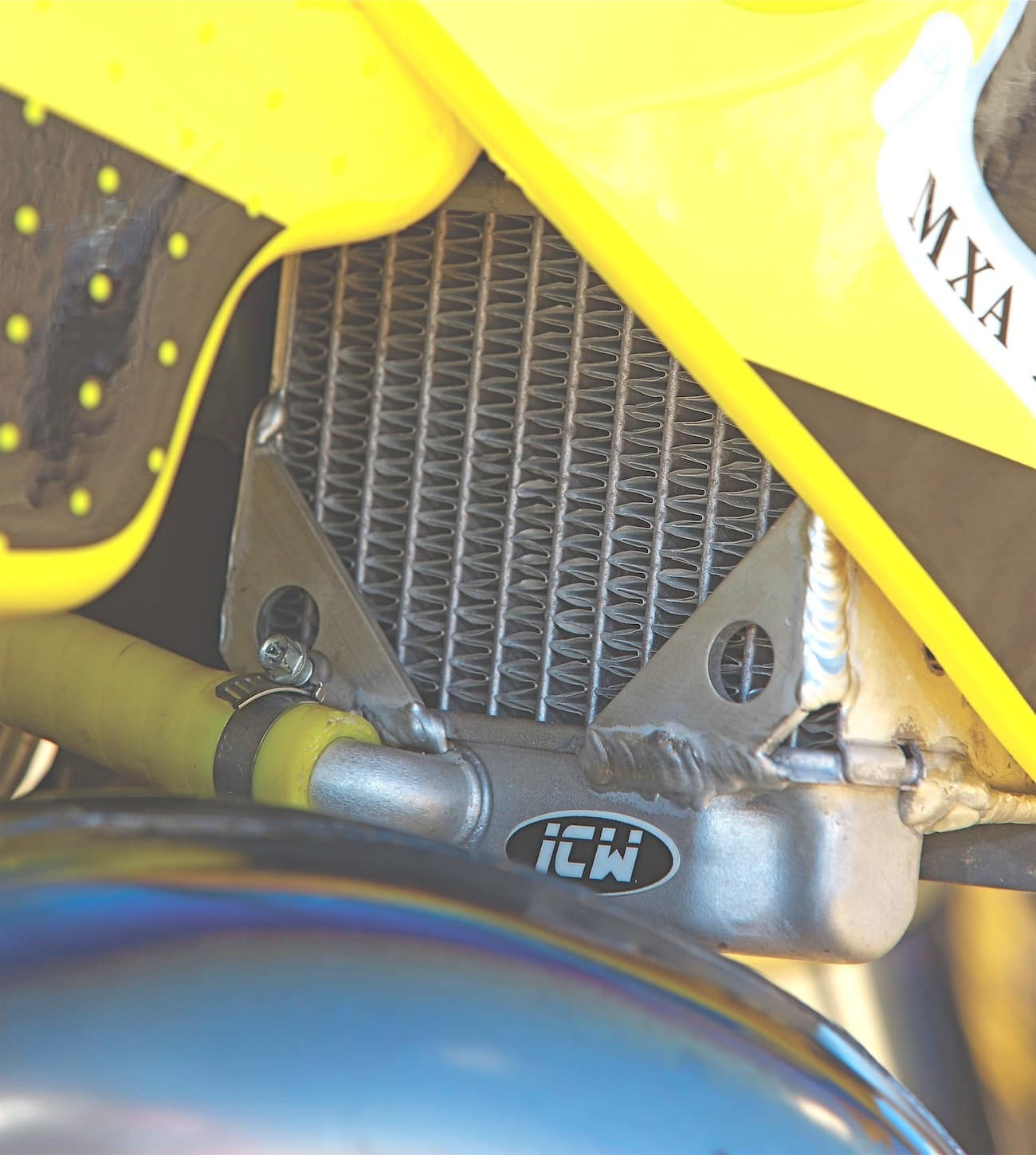 The radiators were demolished when we got them. Instead of spending a fortune buying new ones, ICW came to the rescue.
WHAT ABOUT THE ENGINE?
The new 125 two-strokes, like the 2017 KTM 125SX, pump out close to 40 ponies. That is not in the cards for a very old RM125. It wasn't going to light the world on fire—and that wasn't our goal. We wanted a fun powerband that filled in the gaps that we complained about 10 years ago. Once we fired it up and rolled it out on the track, our RM125 had a nice, peppy powerband that worked well across the board. It wasn't fast by any means, but we didn't have to feather the clutch out of the corners or duct tape the throttle wide open to keep the bike moving. Our small mods made for an easy-to-ride engine that every test rider loved.
We replaced the worn sprockets with new Renthals front and rear and added a fresh TM Designworks chain guide

WHAT ABOUT THE SUSPENSION?
In stock trim the 2006 RM125 was sprung for old-school racetracks and riders no heavier than 150 pounds. Heavier riders or modern jump tracks would over-stress the 2006 setup. But with Factory Connection's valving and heavier fork springs, we could put 180-pounders on the little RM and jumped every big booter with confidence. In our "2006 MXA 125 Shootout," we rated the RM125 suspension components second to last (beating only the KTM 125SX's atrocious PDS shock and stodgy WP forks). If we were to hop into a time machine (with our updated RM125 wedged in with us), we are positive that our modified 2016 suspension settings would move the Suzuki up a notch or two in the ratings—although it is unlikely that our modified Suzuki suspension would take the reign from the 2006 YZ125's Kayaba SSS components.
HOW WAS OUR 2006 RETRO ROCKET?
The engine was responsive and easy to ride with the addition of our simple modifications. The Showa suspension held up in the stroke and did not bottom out with heavier riders on big jumps, but one thing we couldn't fix was the shakiness at speed. That's okay, though, because as we said in our original 2006 RM125 test, "The Suzuki slices and dices in the turns but achieves this Veg-O-Matic expertise at the expense of straight-line stability. However, in MXA's view, we are almost always willing to give up security in a straight line for some aplomb in the tight stuff."
The puny front brake rotor on the RM125 was replaced by an oversized Moto-Master system.
As for what it costs, we spent a ridiculous amount of money getting an old bike back to the way it was originally, albeit improved in most areas. You don't have to go whole hog, though. You could focus solely on the mechanical issues.

We just wanted to showcase the bike's full potential.
2006 SUZUKI RM125 SUPPLIER CONTACT LIST:
www.mt-llc.com
www.vertexpistons.com
www.hotrodsproducts.com
www.dunlopmotorcycle.com
www.hinsonracing.com
www.rockymountainatvmc.com
www.fmfracing.com
www.icwbikestands.com
www.moto-masterusa.com
www.factoryconnection.com
www.sandiegopowdercoating.com
www.wheellacing.com
www.worksconnection.com
www.tmdesignworks.com
SEE OUR 2016 SUZUKI RM125 IN ACTION