HARD FACTS ST. LOUIS: FASTEST LAP TIMES, BROKEN BONES AND THE RED PLATE

Click on images to enlarge
Justin Brayton, Eli Tomac, Ryan Dungey, and Trey Canard line up for the 450 main in Indianapolis.

By Kyoshi Becker

PRE-ST. LOUIS ROUNDUP
The loose dirt in Indianapolis last week made for an exciting race. Ryan Dungey has shown technical perfection all season, but in Indy he make mistakes. Ken Roczen has been putting  pressure on Dungey since the main event in Santa Clara. In Indy he was able to capitalize on a mistake by Dungey leading to an intense back and forth race between the two. Unfortunately, Roczen came up short on the landing off the dragon back before the finish, allowing Dungey to pass. Jason Anderson got a distant third between him and the two leaders.
Ryan Dungey has a comfortable 45 points ahead of Roczen with four races left in the season. That means Dungey has just about a two race lead. It is fair to say that odds are in his favor for the championship, but as always, anything can happen. If he does win the championship, it will be his first consecutive championship in either Supercross and motocross.
Aaron Plessinger is the fifth different winner in the 250 East class this season. His win in Indy put him second in points after his teammate, Jeremy Martin DNFed. While Jeremy Martin and Martin Davalos had a rough night in Indianapolis, Malcolm Stewart held onto second place. Kawasaki received their first podium on the East with rookie, Gannon Audette.
BASIC STATS

The 2016 Supercross season is 82.3% complete.
The St. Louis opening ceremonies will start at 3PM Eastern standard time. It is the earliest a Supercross will start this year.
KTM has never had a Supercross win until 2015 in St. Louis. Factory riders, Ryan Dungey  and Marvin Musquin, took first place in the 450 and 250 class respectively.
This will be St. Louis' 21st year in the Supercross series.
Ryan Dungey now has 29 straight podiums. He is likely to make it an even 30 this Saturday.

 450 CLASS NOTES
Jeff Emig ended Jeremy McGrath's 13-race win streak in 1996 while in St. Louis.
Both Ricky Carmichael and Chad Reed have won four times in the 450 call in St. Louis. Both also have one win in the 250 class there.
The last time James Stewart won a Supercross race was in St. Louis during the 2014 season.
Ricky Carmichael won his last Supercross in St. Louis back in 2007.
FASTEST 450 MAIN EVENT LAP TIMES
Anaheim 1 – Tomac 1:01.954.
San Diego 1 – Dungey 48.794.
Anaheim 2 – Tomac 57.202.
Oakland – Dungey 53.229.
Phoenix -Tomac 1:02.602.
San Diego 2 – Dungey 57.995.
Dallas – Dungey 50.754.
Atlanta – Dungey 45.943.
Daytona – Dungey 1:04.851.
Toronto – Dungey 54.604.
Detroit – Dungey 46.808.
Santa Clara – Roczen 43.144.
Indianapolis – Roczen 43.548.
Malcolm Stewart has a ten point lead going into St. Louis.

250 CLASS NOTES
Justin Barcia has been the only rider to win the 250 class in St. Louis three consecutive years.
Suzuki has not had a 250 class win since 2003 when Brandon Jesseman made a pass on Steve Boniface.
Everyone who won in St. Louis from 2008 to 2013 rode a CRF250. Trey Canard, Blake Wharton, Justin Barcia (who won three times) and Will Hahn
FASTEST 250 EAST MAIN EVENT LAP TIMES
Atlanta – Davalos 47.027.
Daytona – Hill 1:07.740.
Toronto – McElrath 56.279.
Detroit – Stewart 48.190.
Indianapolis –  Plessinger 46.274.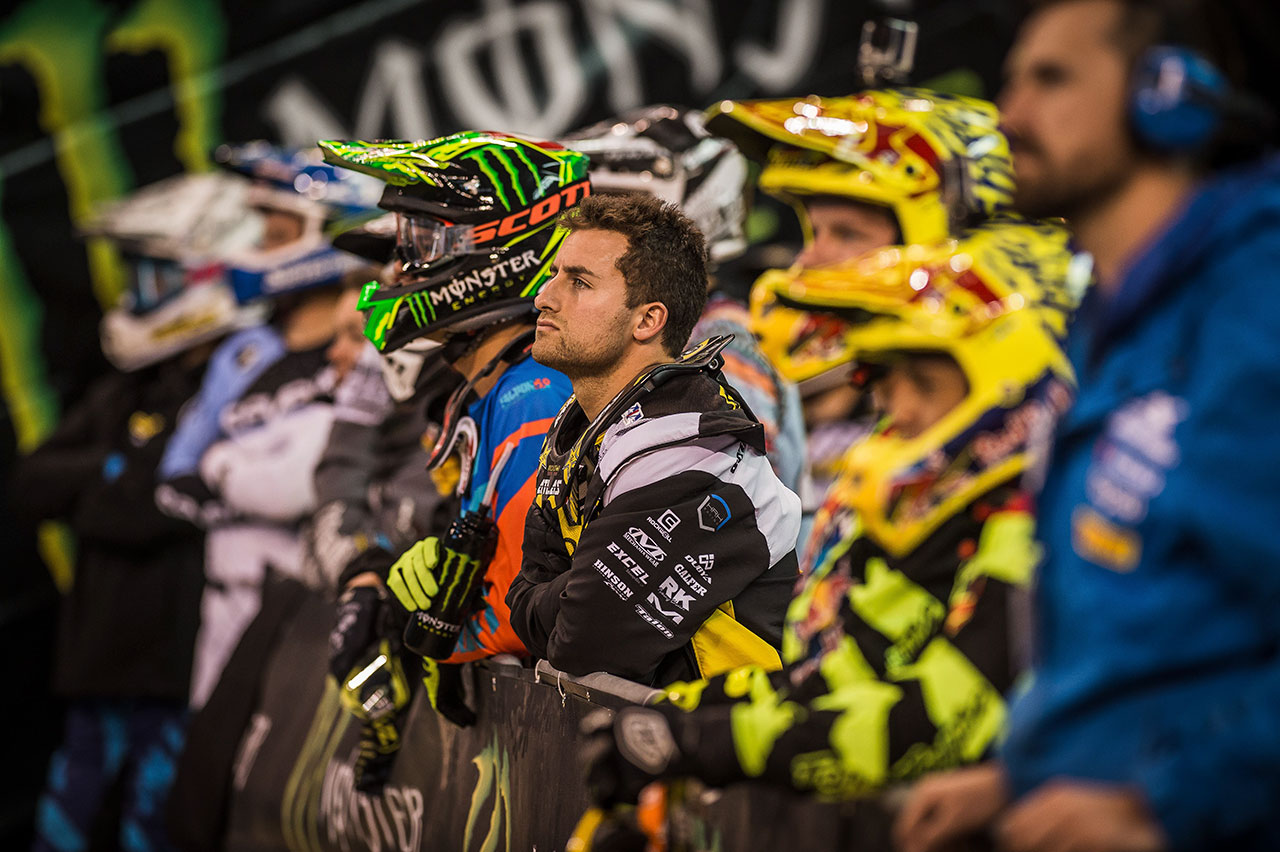 Martin Davalos had a bad crash in Indianapolis, but will return for St. Louis.

450 INJURY LIST

Marvin Musquin – Wrist injury from Santa Clara's practice crash.
Tommy Hahn – Injured foot. He should return in St. Louis.
Ronnie Stewart – Recovered from a broken wrist. Should return in St. Louis.
Cole Seely – Chipped his C7 vertebra.
Davi Millsaps – Broken ribs and a collapsed lung.
Wil Hahn – Broken collarbone, torn labrum and a broken scapula.
Andrew Short – Concussion from the three-way crash between him Wil Hahn and Phil Nicoletti. Retiring after this season.
Kyle Chisholm – Recovering from a broken humerus, dislocated shoulder and concussion.
Dusty Pipes – Like Chisholm, he is recovering from both a broken humerus and dislocated shoulder.
Tyler Enticknap – Broke his thumb at the first San Diego round.
Tevin Tapia – Broken wrist from preseason still healing.
Dean Wilson – Out for the 2016 season with a torn ACL and meniscus.
Adam Enticknap – Out for the season due to a broken femur.    
250 INJURY LIST
Kyle Cunningham – Broken wrist.
Justin Hill – Concussion.
Arnaud Tonus – Dislocated shoulder.
Marshal Weltin- Dislocated shoulder.
Nick Gaines – Out of the 2016 Supercross season with a broken femur.
Adam Cianciarulo – Still recovering from a broken wrist, although he si getting ready for outdoors.
Jordan Smith – Injured shoulder.
Zach Bell – Still healing from a broken collarbone, but may not finish the 250 West series if his infection isn't taken care of.
Jessy Nelson – Out of Supercross with a shoulder/back injury and concussion.
Luke Clout – Out of with a broken femur.
Mark Worth – He dislocated a hip and broke his elbow on the first lap of practice at Anaheim 1.
Daniel Baker – Done for the 2016 Supercross season after tearing his ankle.
Josh Osby – Broke some ribs and punctured a lung.