IRONMAN NATIONAL PRE-RACE REPORT
2019 IRONMAN NATIONAL PRE-RACE REPORT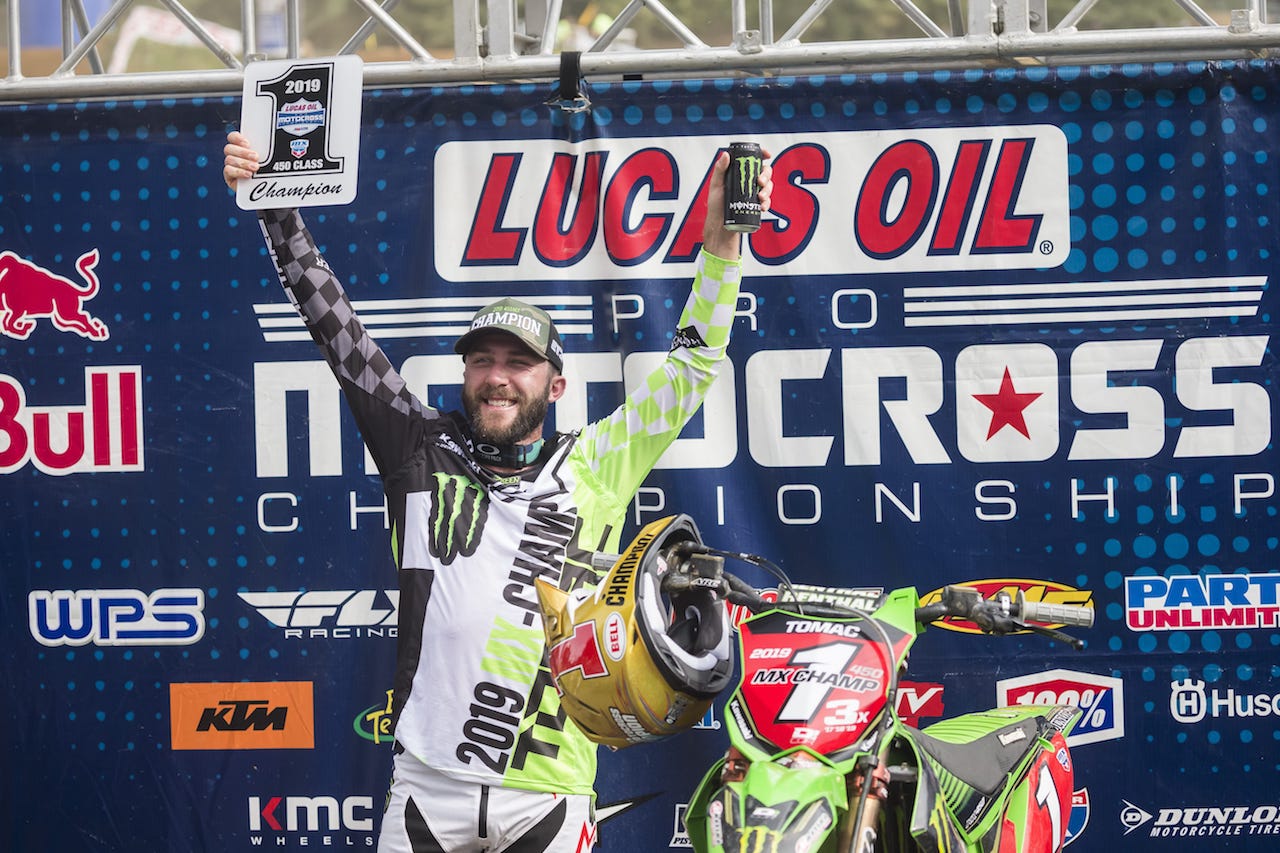 Eli Tomac wrapped up the title one week early. Will he go out on top or take it easy at the final round?
The final round of the 2019 AMA Outdoor Nationals is here as the teams and riders head to Crawfordsville, Indiana for round twelve of the Pro Motocross season. This Saturday August 24th marks the fifth annual Ironman National and as one of the newer additions to the circuit, this track features big jumps, elevation changes, deep and loamy dirt, a sand roller section and a long start straight away with a big sweeping first turn. The anticipation and emotions of the riders is unique going into the final round as most of them are motivated to finally stand on top of the podium in their last opportunity for this season. Some riders are still looking to earn a contract for the 2020 season and they have the weight of the world on their shoulders with one chance left to prove themselves.
IRONMAN NATIONAL TV SCHEDULE
All times for the TV and streaming Schedule are in Pacific Standard Times—even the ones that say the second 250 moto will be shown at 8:00 p.m.  
HUNTER LAWRENCE INJURED
Hunter Lawrence is injured for the third time this season.
Unfortunately for Hunter and the Geico Honda team, a practice crash this week resulted in another injury for the popular new rider out of Australia. Click here for more information on Hunter's injury.
COLT NICHOLS OUT FOR IRONMAN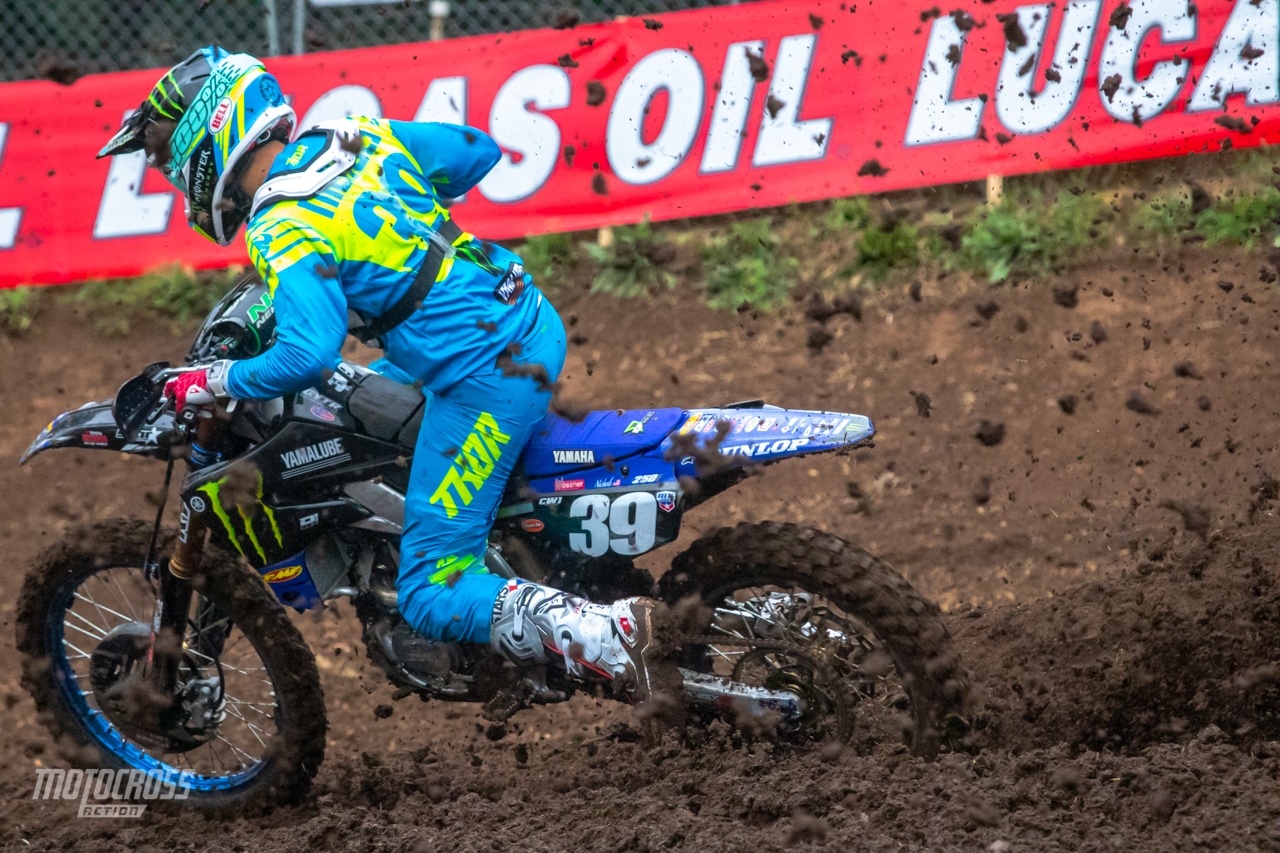 Colt Nichols had a hard crash as seen on TV at the Budds Creek National. He will miss the final round.
Colt Nichols' crash from the Budds Creek National resulted in a concussion and unfortunately he is still having some symptoms from it this week. Colt announced via Instagram that he and the Star Racing Yamaha team have decided it would not be smart to line up this weekend at Ironman. Colt mentioned that he was sad to miss Ironman as it is his favorite track on the circuit, but he is excited for the 2020 racing season already.
ELI TOMAC IS A THREE-TIME CHAMPION
Eli Tomac's 1-1 scores at Budds Creek earned him just enough points to wrap up the title one week early. 
History shows that the Ironman National hasn't produced the best results for Eli Tomac, but luckily for him it doesn't matter what place he finishes this weekend. In 2018, Eli wrapped up the Championship by finishing fourth overall, in 2017 he won his first Championship by finishing sixth overall and in 2016 it was Ken Roczen who won the Championship but Eli did earn his only podium finish that weekend when he scored third overall. Eli Tomac wasn't at the first Ironman National in 2015 due to his shoulder injuries that he suffered at Thunder Valley. So it will be interesting to see how he does this weekend. With the title already sealed he won't have to ride smart to protect it which theoretically gives him the upper hand.
KEN ROCZEN AND HIS IMPRESSIVE IRONMAN STAT SHEET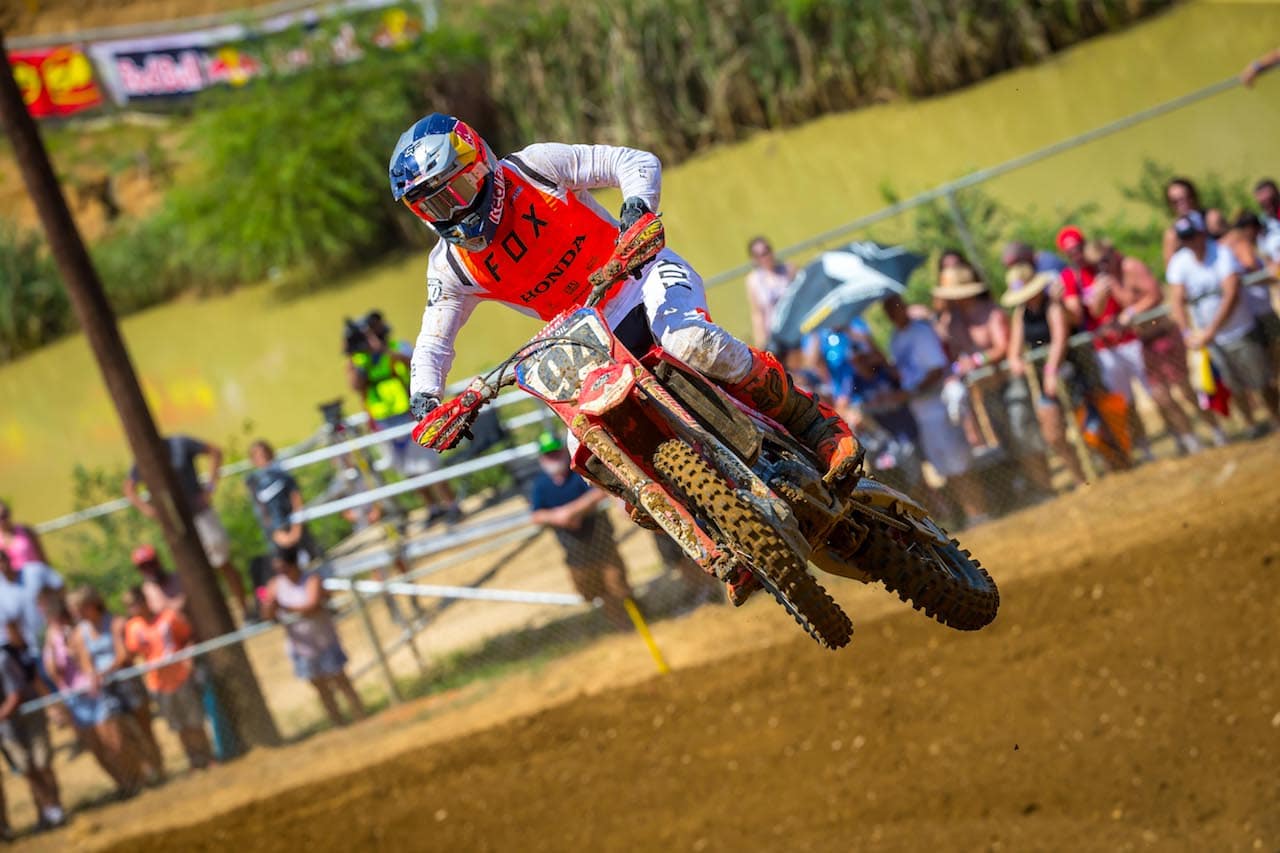 Ken Roczen struggled in the heat at Budds Creek. 
Ken Roczen has struggled when the weather is hot and humid this season. With his health issues, Ken has stated that it's very hard to push when it's as hot as it was in Maryland. Ken only rode minimal laps during the morning qualifying sessions to try and save energy for the races, he even logged the fastest times in both sessions at Budds Creek without riding the whole practice. We thought we would see a battle when he started behind Eli Tomac last weekend, but that wasn't the case. Now coming into Ironman, the weather is predicted to be 74 degrees with 61% humidity. This isn't too bad for an AMA National and  Ken's results at Ironman are second to none. Ken has won at Ironman three out of the four years that this event has been on the circuit and he's done it on three different brands, KTM, Suzuki and Honda. The stats show that Ken has a great ability to end the season on a high note this Saturday.
2018 IRONMAN NATIONAL 450 MOTO 2 RECAP
ADAM CIANCIARULO IS UP 30-POINTS

Adam Cianciarulo can win the 250 National Championship after the first Moto. 
With each Moto scoring 25-points each, if Dylan Ferrandis wins the first Moto and Adam finishes third, he will have won the title. If Dylan wins the first Moto and Adam finishes fourth or worse, then the title chase will go on to the final Moto. Adam Cianciarulo could finish third in the first Moto and not line up for Moto two and Dylan could win both Motos and score a maximum 50-points to tie Adam in the Championship, but Adam would win the tie-breaker with more wins throughout the season. Adam Cianciarulo has worked for many years as an amateur and Pro towards the goal of winning his first Championship so it will be a great celebration Adam if he can pull it off. But we have seen Ferrandis pull it off in an unlikely situation earlier this year during the 250 East/West shootout in Las Vegas. So for now, the title is still up for grabs.
SHANE MCELRATH IS LOOKING TO BACK IT UP
We talked to Shane McElrath in this interview here about his win at Budds Creek.
Shane McElrath came from almost nowhere to go 1-1 at the Budds Creek National and surprise the entire industry. The Red Bull Troy Lee Designs KTM rider has struggled this season and it's no secret, but he put it all together to dominate the 250 class in Maryland with perfect scores. Now with one round left, everyone is wondering if he can do it again.
JOEY SAVATGY IS FIGHTING FOR A RIDE
Joey Savatgy missed the Budds Creek National to be home with his wife as their baby daughter was born this weekend.
Joey Savatgy has openly stated that he doesn't have a ride for the 2020 season and with Adam Cianciarulo joining the Factory Kawasaki team alongside Eli Tomac, it doesn't look like the team will be making room for a third rider. Now Joey is in limbo searching for a spot on a team for next year. We all know Honda is looking for a rider to replace Cole Seely, but it hasn't been confirmed yet if that rider will be Joey Savatgy or someone else. Joey certainly will be looking to end the season with a great result at Ironman.
MITCH PAYTON AND ADAM CIANCIARULO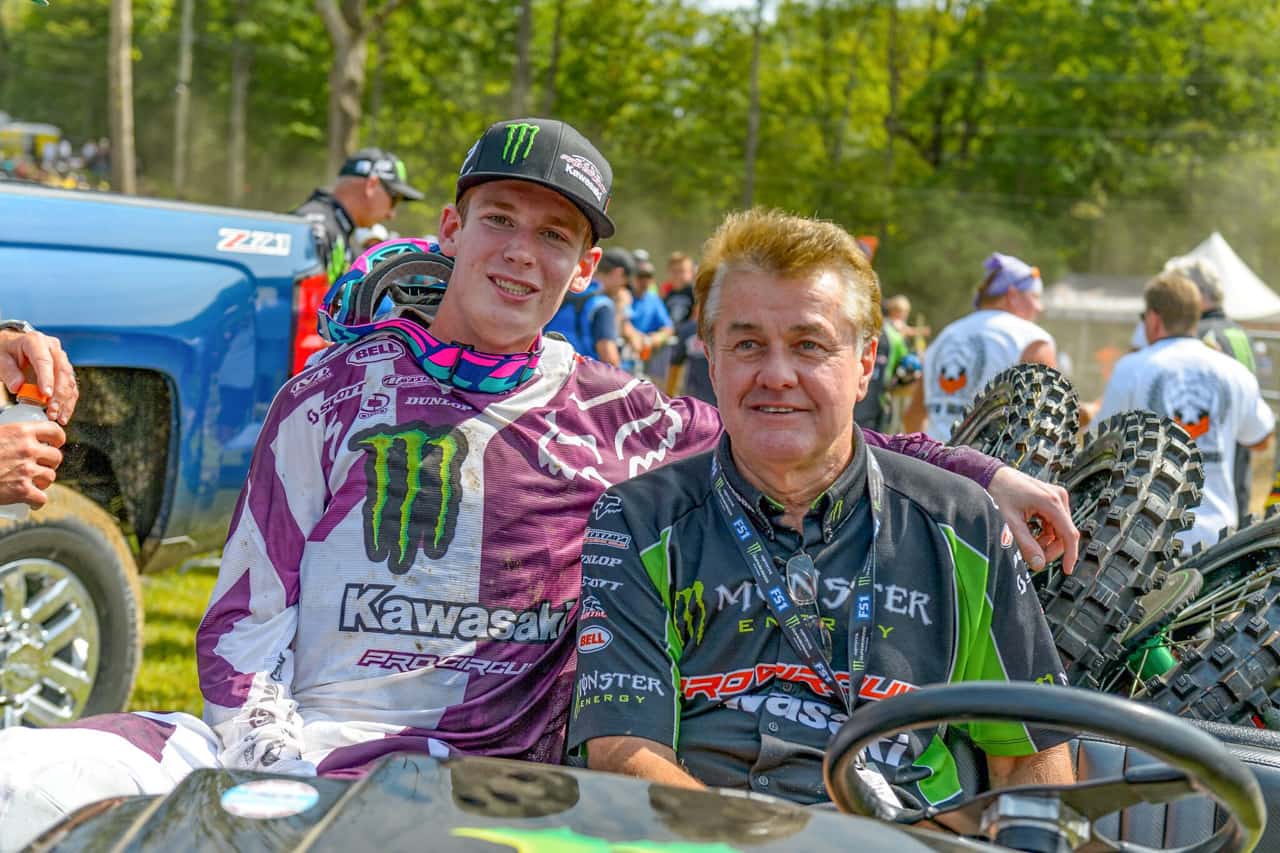 Mitch Payton and the Monster Energy Pro Circuit Kawasaki team have supported Adam since he was on 65s as an amateur. 
If Adam wins the Championship it will be the Monster Energy Pro Circuit Kawasaki's first title since Justin Hill won the 250 West Coast Supercross division in 2017. The team had a string of bad luck with Austin Forkner being injured and Adam crashing out of the shootout in Las Vegas earlier this year. Mitch Payton and Adam Cianciarulo have also had a great relationship for many years. With Adam moving up into the 450 class next year to ride on the factory Kawasaki team, he is certainly looking to reward the team for all of their efforts this Saturday.
JUSTIN BARCIA IS LOOKING TO END ON TOP
Justin Barcia won the 2018 Ironman National.
Justin Barcia has had a rough go this season, but he has turned it around recently after Yamaha's R&D test rider Travis Preston helped the team make some changes to the bike. Justin finished on the podium with a third in the first Moto at Unadilla and he rode solid to score sixth overall at Budds Creek, but he is one of the many riders who is looking to end the season with a bang this Saturday. Justin Barcia has proven he can do it at Ironman. His 1-1 Moto scores last season gave him his third ever Outdoor National win and his first time doing it with a 1-1.
RJ HAMPSHIRE IS A MAN ON A MISSION
Rj Hampshire was on another level in the first Moto at Budds Creek.
Rj Hampshire seems to have shifted up a gear as of late. His first Moto performance at Budds Creek was spectacular as he rode his way through the pack to finish third. Unfortunately for him, he was in the middle of the first turn pile up in the second Moto and he had to fight his way from the back to finish eighth.
Here Brian Kranz, Eli Tomac's mechanic switches out Eli's front number plate for the #1 plate in 2017 when he grabbed his first 450 AMA Outdoor title. Ever since he has worn the #1 plate in Outdoors and that will be the case again in 2020.