ASK THE MXPERTS: ONE MORE OR ONE LESS IN MXGP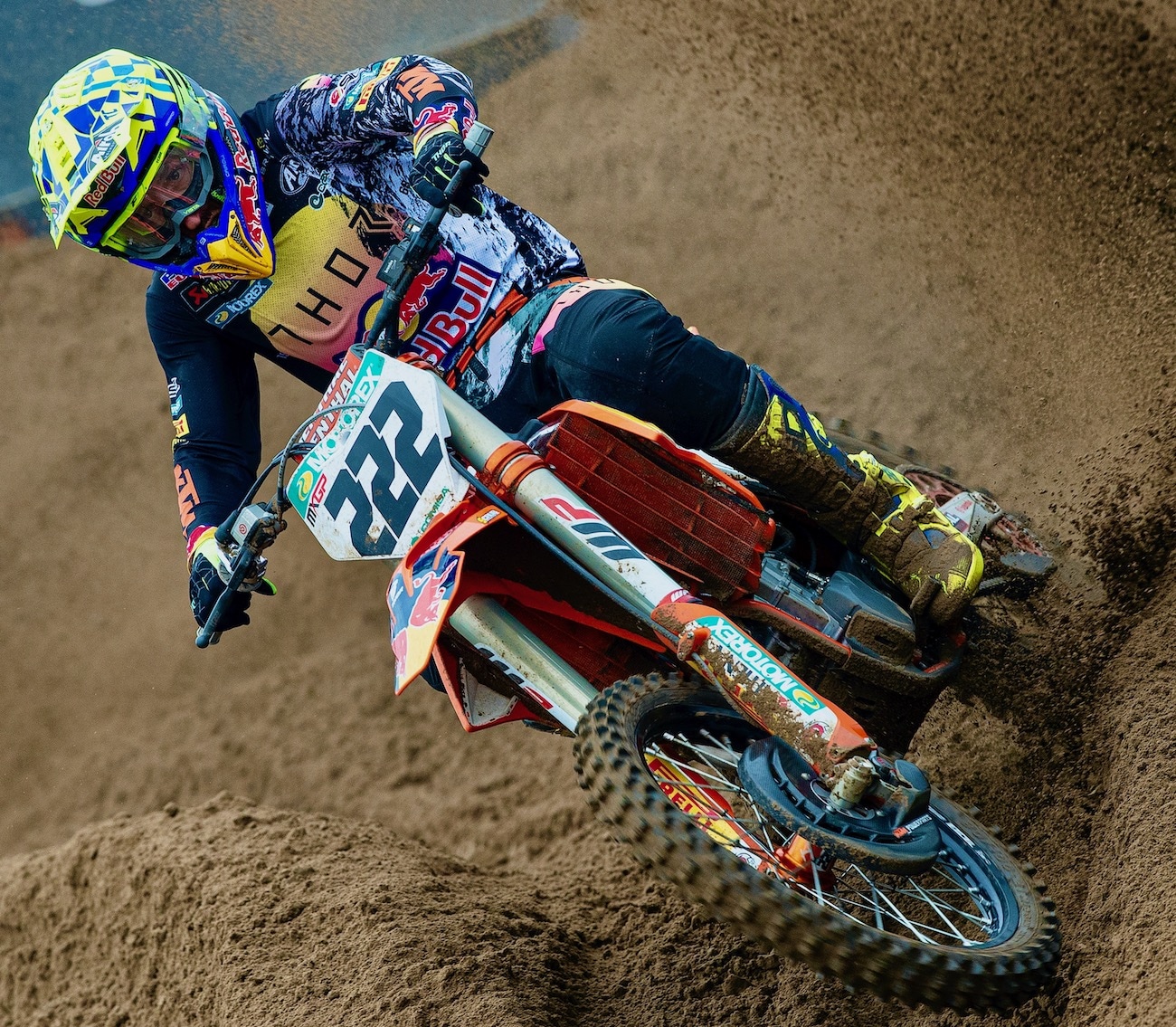 Tony Cairoli could be in any gear, but fifth.
Dear MXperts,
In the January 2020 issue, you stated that the KTM 450SXF transmissions in Europe are four-speeds, while the American-imported 450SXFs have five-speed transmissions. My question is, what transmissions do the KTM 450 Grand Prix riders use, four- or five-speed?
According to Roger DeCoster, the Red Bull KTM factory riders run four-speed transmissions in the MXGP series—although under Grand Prix rules they are not required to. The American KTM team runs five-speed transmissions, with the exact same gear ratios as the production gearbox. Showroom stock European KTM 450SXFs get four-speed gearboxes. As for Husqvarna, they roll down the production line in Austria with five-speed gearboxes—and Husky does not sell four-speed models in Europe.
You might be surprised to find out that every KTM 450SXF four-stroke had a four-speed transmission when the 450SXF was first introduced in 2003 (and before that the KTM 525SX had a four-speed). Starting in 2010, all of the American 450SXFs were changed to five-speed transmissions; however, Euro-spec KTM 450SXFs, including the 2021 model, still have four-speed transmissions. Additionally, the first 2006 KX450Fs and Suzuki RM-Z450s came with four-speed gearboxes, but the KX450F was changed to a five-speed in 2007 (although all Kawasaki did was add a taller fifth gear on top of the existing four-speed) and the Suzuki RM-Z450 added a gear in 2008.
The 2010 KTM 450SXF was the last four-speed to be shipped to the USA, they have had a five-speeds ever since.
The reason most modern bikes come with five speeds instead of four speeds is because Kawasaki, Honda, Yamaha and Suzuki have no idea what the end user is going to do with the bike once he buys it. Because of this, they spec five close-ratio gears instead of four widely spaced gears. In most motocross bikes, the five-speed provides gear ratios that work best on most tracks in second and third gear. If you had a four-speed gearbox, the gear spacing could be wider and taller in each gear—and perhaps not as usable on your second and third-gear track.
Additionally, lots of tracks do require fifth gear, and by shifting up through close-ratio gears, the rider can maximize the power on the way to fifth. With a four-speed gearbox, like on the 2010 KTM 450SXF, where first gear on the four-speed was actually second gear from the five-speed it could still produce the same top speed in fourth as the five-speed in fifth. The end result for you would be the same. You'd still only be using two gears most of the time, but it might be first and second instead of second and third.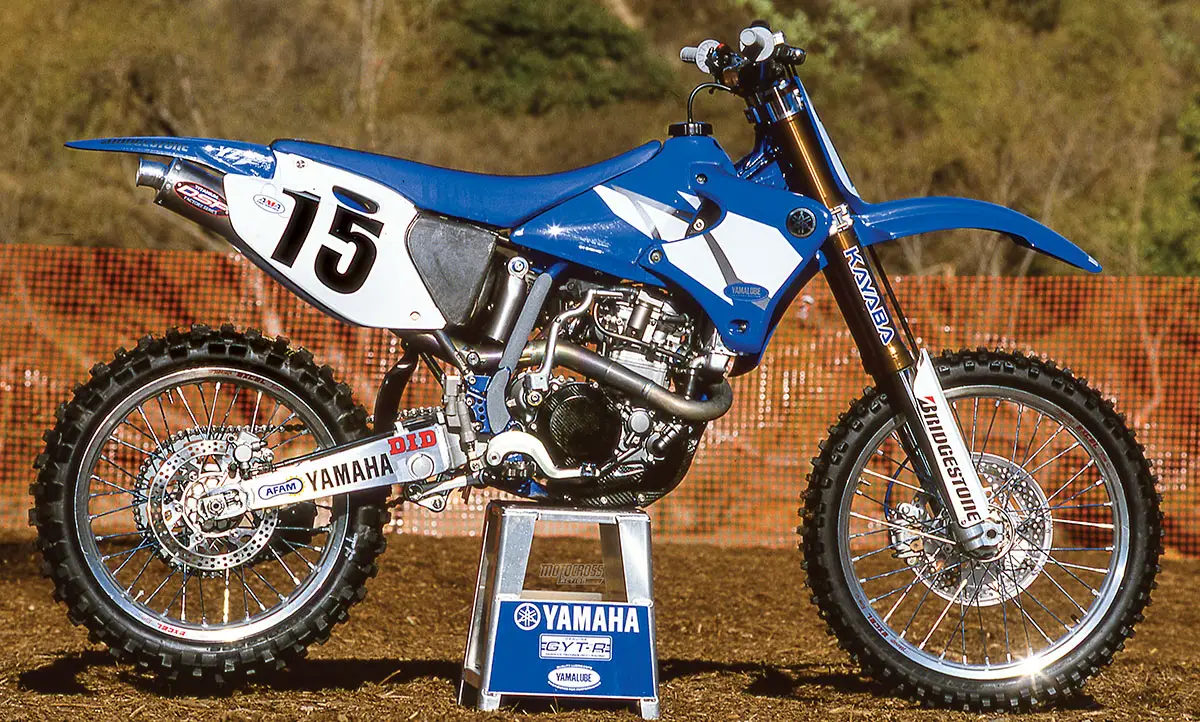 Tim Ferry's three-speed Yamaha YZ426.
There have been three-speed works bikes, most notably Tim Ferry's 2002 Yamaha YZ426 Supercross bike; however, it wasn't a pure three-speed. It was a five-speed Yamaha transmission with fourth and fifth gears blocked out. In motion, that made it a two-speed, because Ferry never used first gear. Yes, under the AMA production rule it would be illegal to change the number of gears in the tranny, but it is not illegal to block them off.
There were five gears in Ferry's 2002 Yamaha YZ426 to meet AMA production rules, but only three of them could be engaged.
When MXA tested Tim Ferry's 2002 Yamaha YZ426 we thought that the three-speed tranny was only on Ferry's Supercross setup, but not so. Yamaha technician Steve Butler told us the only thing they do differently for the outdoor Nationals is throw on a smaller rear sprocket. We believe it. With the works ignition and uncorked rev limiter, Ferry's bike would pull forever. Ferry's three-speed YZ426 was one of the best-running engines we've ever ridden. It doesn't matter whether you were fast or slow, the power was accessible at all times and in whatever amount you desire. Plus, you didn't have to think about when to shift… more than once
To read MXA's complete test on riding Tim Ferry's YZ426 Click Here.