CYCLE NEWS CROAKS: JIM "THE GREEK" GIANATSIS SAYS GOODBYE TO CYCLE NEWS; AND JODY RELATES HIS NOT-SO-FOND MEMORIES:
THE OFFICIAL PRESS RELEASE: Cycle News has ceased publication (at least for now) as of Tuesday. August 31, 2010. We wish to thank all of our loyal readers and supporters, many of which have been with us for 40 years and more. The people and the companies in the motorcycle industry and sport have been great partners and soul mates for these many years and we have all "grown up" together. We hope to find a new owner to carry on this iconic publication and we thank you in advance for your future support if we are successful.
Again, our heartfelt thanks for all your support.
Jim Gianatsis on the cover of Cycle News, January 1976.
FORMER CYCLE NEWS EDITOR AND FAMOUS MOTO-JOURNALIST JIM GIANATSIS SAYS GOODBYE

"I was with Cycle News almost from the beginning. Sharon and Chuck Clayton started what would become Cycle News West from their home in Long Beach, California, in the mid 1960s and they quickly expanded it across the United States by buying up other regional motorcycle monthlies.
"I was 19-years-old working at a local Yamaha dealer in 1968 in my hometown of Biloxi, Mississippi, and had my first new motorcycle in years, a Yamaha CT175 that I was racing on the weekends in anything from scrambles, to motocross, to road racing (on a 1/2 mile banked asphalt stock car track on Saturday nights in nearby Mobile). I had one set of spoked wheels with Continental street bike tires for road racing, then late Saturday night after the races I bring my bike back to the shop and convert it back over to knobbies for motocross on Sunday morning.
"One of my hobbies had always been photography, and since I was also shooting at the races I started covering the local races for Dixie Cycle News based out of Atlanta. Within a year I had turned AMA Pro motocrosser, moved to Florida to work at a couple of Yamaha shops there, and was racing in the Florida Winter-Am Series with guys like Gary Bailey and Barry Higgins, while also sending in race coverage and tests of new dirt bikes to Dixie Cycle News.
"In the summer of 1969 the Clayton's decided to consolidated two Eastern newspaper they had recently purchased, Motorcyclist's Post out of Lorain, Ohio, edited by Todd Rafferty and Gary Van Vhoories, together with Dixie Cycle News. Both papers merged under the new title of Cycle News East, based in Tucker, Georgia, under the editorship of Jack Mangus, a dirt track enthusiast from Maryland and friend of Triumph dirt tracker Gary Nixon. Jack immediately phoned me in Florida and asked me to come on board as the paper's resident motocross specialist. About the same time back in California at Cycle News West under the Claytons, a skinny arrogant kid named John Ulrich was hired on as editor there.
"Once I arrived at Cycle News East I quickly found my job was much more than covering the races. Along with production artist Carol O'Neal, we were responsible for the entire production of the paper, which at that time was done by paste-up, using hot wax to burnish down the word type and halftone photographs to the cardboard page boards. Carol also did all the newspaper's typesetting from hand written or typewriter generated copy. I was also the photo lab guy responsible for the processing of all the newspaper's raw film, proof sheeting it, then making the selected photo prints and then using them to make the paper half-tones for paste up on the pages.
"My editorial duties included writing one to two feature articles during the week, which could have been a bike test and racer interview. And on weekends I would fly across the country to cover all the major AMA National, Trans-AMA's and Supercross races East of the Mississippi.

The Greek.

"Cycle News West covered the Western region events. And around 1972 the Clayton's bought up another regional publication in Austin, Texas. They hired a motocross racer named Jody Weisel to be the editor of Cycle News Central. Whenever Jody or I covered a National in our area we had to carry two camera's and shoot three sets of film, one for each of the three Cycle News regions. Then Sunday night after the races we'd drive our rental car back to the nearest airport on Sunday night and put the film on planes to Los Angeles, Austin and Atlanta to be picked up the next morning. We also had to write our race story on the airplane that night as we flew home, as it had to be done by 9 a.m. that Monday morning so it could be teletyped to the other two offices as well. This was all before the days of email, faxes and Federal Express.
"Mondays were always the most hectic day at all three editions of Cycle News as we had to have the papers completed by that evening for delivery to each of our regional printers on Tuesday, where they would be printed and mailed out to subscribers on Wednesday for Friday delivery. So, even after covering a Trans-AMA races at Unadila in upstate New York just the day before, I'd be back into Atlanta on a plane by midnight, catch five hours sleep and show up at our Cycle News office by 8 a.m. to finish up the paper. We usually I'd be there to 10 p.m. at night to finish up the paper, a good 14 hour day. I often spent it drinking beer and getting pretty crazy.
"Some of the editors lived off whiskey bottles stashed in their desk drawers. I'd have to come right back Tuesday morning to drive the finished newspaper paste boards up to Athens, Georgia, (60 miles away) where our printer was located, and stay the day as the paper was plated and printed, doing a press check and bringing finished copies of the paper back to the office. I usually drive Cycle News East senior editor Jack Mangus' 1969 Pontiac GTO up to Athens and back on the narrow two-lane, moonshiner, wooded back roads with the speedometer hovering around 100 mph. I wore out his classic Who's "Who's Next" album playing full volume on his 8-track.
"I worked 60 to 100 hours a week and loved it. It was a dream job, working, writing, photographing and hanging out with the best motorcycle racers in the world at the heyday of the sport in America. Sharon Clayton made us sign 40 hour week time cards so we couldn't ever come back and sue her for unpaid wages if we ever got fired. Jack Mangus and I wanted at one point, to evolve Cycle News into the feature style of the then-hugely popular Rolling Stone music newspaper, and I'd like to think East took the lead among the three Regions?despite not being located in the motorcycle capital of Los Angeles. I wanted to evolve Cycle News beyond just race coverage.
"At some point in time all the good editors at Cycle News get fired, hired away or burn out. I got fired. Mangus fired me in November in a little spat over my not wanting to cover both a Trans-AMA race weekend and also help Van Voorhis shoot a late night Dirt Track Saturday Night National that same weekend—while working the motocross both days by myself.
"I moved to Ohio to work for John Penton, who owned Husqvarna East at the time. I was there for a year, but was then let go when Husqvarna of Sweden decided to takeover ownership of the U.S. distributorships and move it to Tennessee. Then, I returned to covering most of the National motocross and Trans-AMA races and doing feature articles for Cycle News on both coasts as a freelance editor. I was close friends with all the riders including Tony DiStefano and Bob Hannah and traveled the circuit with them and their mechanics in their factory box vans or in my own Ford E250 Econoline Van.
"Once I made a non-stop record run from Los Angeles to Daytona in 36 hours. The teams often stopped over at my parent's house in Biloxi on the Gulf Coast, where I was based at the time, to rebuild their race bikes on the front lawn between trips to and from Daytona. I covered all the major motocross races, tested bikes and wrote feature stories for Cycle News up through 1980, at which point I went to work full time for Moto-X Fox in San Jose, California, as their product designer and marketing manager.
"During the mid 1970s Cycle News, with their three editions, was probably the most important motorcycle publication in America with around 50 employees. Cycle News was sold on the parts counters of every motorcycle shop in America.

"In 1976 all three editions were merged together at Cycle News West with Jody Weisel moving there to take over the reigns. John Ulrich went to work for Cycle World, and later started his own newspaper Roadracing World which would rival Cycle News for that sport's segment.
"Cycle News was still the news source for motorcycle racing in America up through the year 2000. It filled a need in the sport that lasted until the Speed TV Channel emerged to cover racing in the 1990s. Still the Japanese bike distributors poured tens of thousands of dollar in advertising revenue into Cycle News each month to tout their race wins over each other, or their newest bikes—just as a matter of company pride
"Then the internet came into its own around year 2000 and the handwriting was on the wall. Now all the race organizations from AMA to World Superbike and MotoGP had their own press offices and websites to report their races. This was soon followed by the race teams themselves getting their own press officers to offer team coverage as well. Anyone with a motorcycle website could offer just as detailed race coverage as Cycle News.
"When the US economy started its down turn three years ago, the motorcycle distributors saw their sales drop as low as 50%, all their advertising budgets ran dry, particular for Cycle News—which was now down to a claimed 30,000 readers a week.
"Could Cycle News have survived the current economic crises if it had done something different? Hard to say. Losing the advertising revenue of the major motorcycle manufacturers was a huge blow. But they still could have survived if they could have stopped focusing on racing-only coverage where they could no longer compete with TV and the internet. Instead they needed to evolve 20 years earlier as mainstream motorcycle weekly newspaper like England's still hugely successful MCN Motorcycle News. They needed to cover other major non-racing motorcycle events like Sturgis and the EIMCA Show in Milan. Both Sharon Clayton and most recent editor Paul Carruthers were too set in their ways. They didn't want to change until it was already too late."
Jim Gianatsis
FORMER CYCLE NEWS CENTRAL AND CYCLE NEWS WEST EDITOR JODY WEISEL SAYS SOMETHING UNEXPECTED


Jody at Mosier Valley before his Cycle News days. Check his knuckles to see how close the trees were to the track back in 1973.
"I was a motorcycle racer from Texas and I did a lot of test riding during the formative days of American motocross.I went to school, raced on the weekends and tested bikes, shocks or gear on weekedays. I was buddies with two famous Cycle News photographers, Richard Creed and Dennis "Ketchup" Cox. They both worked for Cycle News and would often ask me to ride test bikes for the photos. I liked doing it and I liked being on the cover of Cycle News…it was the motorcycle version of the cover of Rolling Stone.
What I didn't like was the tests that the Cycle News editors wrote to go along with the bikes I rode. I told them that I could do a better job and they agreed. So, I rode for the photos and I wrote the tests…but I didn't work for Cycle News. I was just riding the bikes for photos. One day they ask me if I would like to be the editor of Cycle News Central (as Jimmy "The Greek" said, there were three Cycle News back then). Richard Creed was moving to California to take over Cycle News West and I was to fill his shoes. I loved Cycle News Central and all the goofballs that Ketchup and I hung out with in Austin, Texas. We had a blast. We raced at Whitney, Rockhart, Mosier Valley, Strawberry Hill, Rio Bravo and Pecan Valley and basically treated Cycle News Central as our own play toy.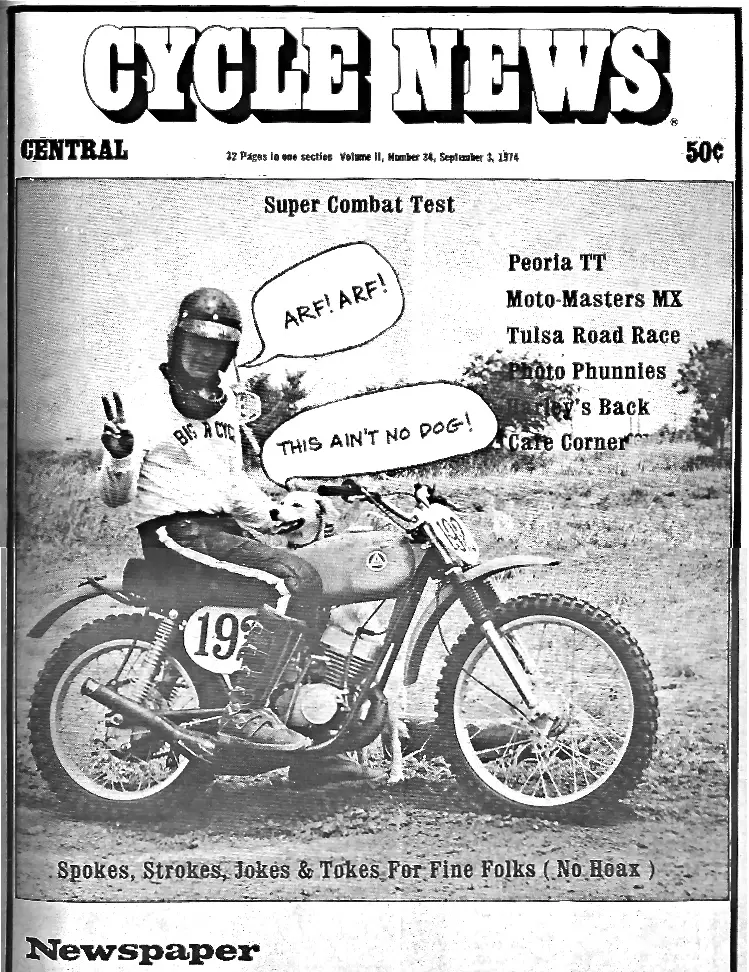 Jody on the cover of Cycle News in September, 1974, before he started working for them.
"Then something bad happened…very bad.
"Richard Creed had gone off to cover the Sturgis Rally and decided that he wanted to stay there<. He married a local Sturgis girl and took over the town newspaper. Creed was the greatest photographer I ever met—but he wasn't marriage material. I don't know what happened to him. But, back to the bad part. With Creed leaving, Cycle News West needed editors who raced motocross…Ketchup and I were the only two editors who raced dirt bikes (the Greek raced, but he was on the road 40 weekends a year). Ketchup and I didn't want to leave Texas, but Sharon Clayton was going to close Cycle News Central down and merge it with the West…so we were out of a job any way. I told Ketchup to go to SoCal (where he would run the photo lab) and I negotiated to get to do the complete 1975 Trans-AMA Series before moving to California. Sharon was over a barrel, so she agreed. Tony D, Keith McCarty, Brian Lunnis, Billy Grossi, The Greek and I had a grand time on the road for ten weeks.
"Suddenly, the honeymoon was over. Once the Trans-AMA ended at Saddleback I was at the corporate offices and I hated it. I grew over time to distrust the people in charge. Sharon Clayton appointed some horse's patoot to run the company for her…his name was Bob something. In my humble opinion, he was an arrogant imbecile who was basically spending Cycle News money while making terrible decisions. Founder Chuck Clayton wasn't around much during my time at Cycle News West, but when he did come down from Malibu he was spacey. He had some wacky ideas about publishing that we resisted with all our might. I loved Chuck as a person, but when people would tell me that Chuck Clayton was a genius who was ten years ahead of his time, I would say, "Yes, he is, but his time was 1950."
"Cycle News was a dysfunctional place to work at and I wanted out of there within a month of the 1975 Trans-AMA ending. Luckily, I got five job offers from the motorcycle monthlies looking for editors who raced…I analyzed all the offers and chose the smallest magazine of the bunch—Motocross Action. It was a magazine about motocross and that was all I cared about. Plus, I would get total control—no moron in a suit ruining the hard work. I came to Cycle News West in January of 1976 and I left in December of 1976. I never looked back and I'm not misty about my time at Cycle News West…but I am about the glory days at Cycle News Central.
"And here is the kicker. A couple weeks ago, Ron Lawson of Dirt Bike was telling me that Cycle News was going out of business. I told him that it seemed inevitable because they had made a ton of bad decisions (dropping local coverage, going to glossy paper, focusing on road racing and losing their shop circulation) and I told him my story about Cycle News management, saying that, 'When I was at Cycle News 34 years ago Sharon Clayton hired some boob to run the company into the ground. His name was Bob something.'
"Lawson started laughing and said, 'Yeah, that's the same guy who runs it now.'
"I won't miss Cycle News. Sorry, you probably wanted some tear jerker story from me about how great the grand old paper was. Here it is—I loved the people I worked with—Mike Klinger, Ketchup (who by the way came with me to MXA when I left Cycle News), Bob Dickey, Richard Creed, the Greek, Lane Campbell and all the contributors. I just didn't like the people I worked for.
Jody Weisel