MOTOCROSS ACTION MID-WEEK REPORT
TWO-STROKE SPOTLIGHT: JAMES HICKS 2016 TC250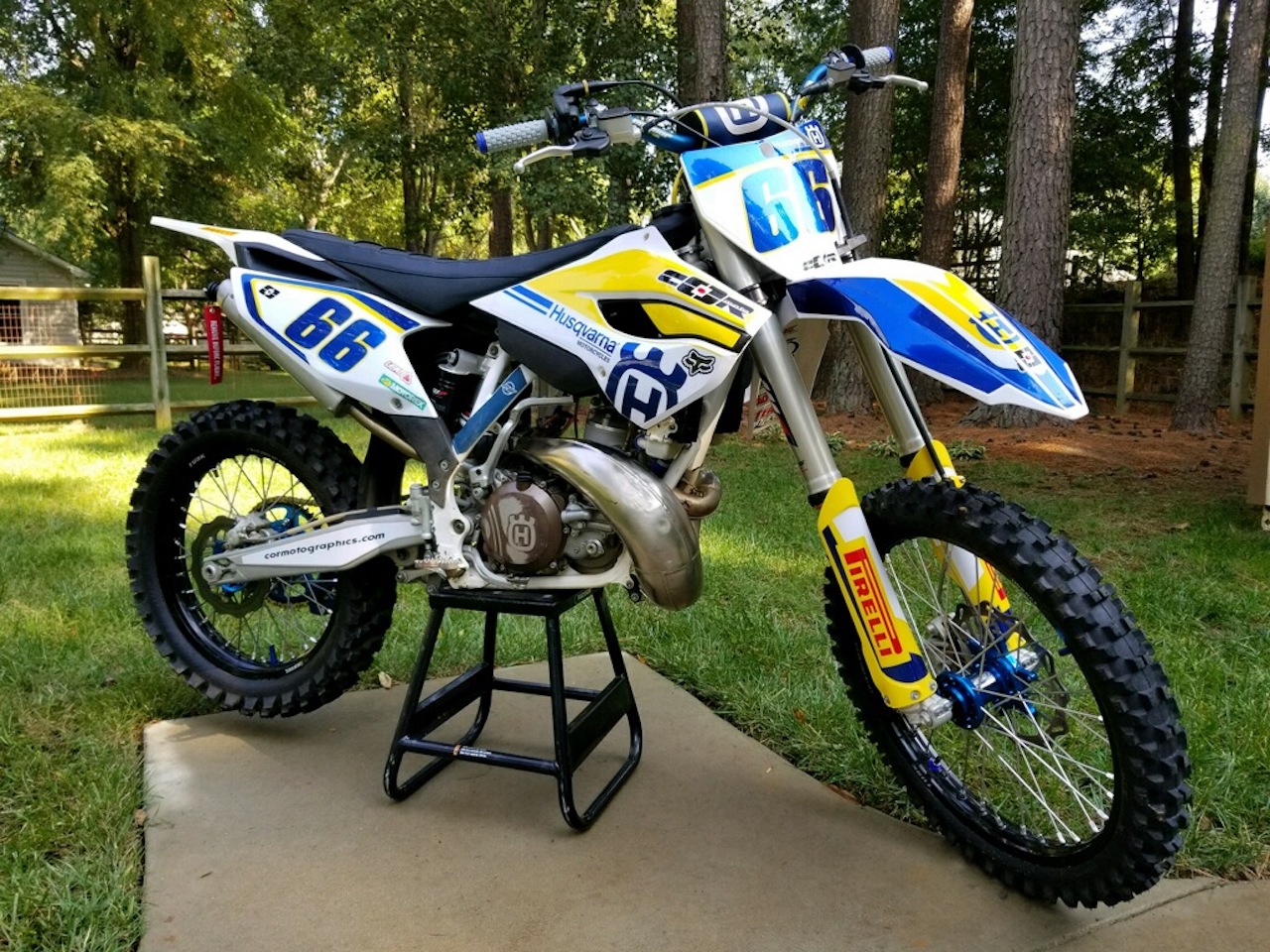 "This is my 2016 TC250. After several years on a four-stroke, I didn't have the same passion for riding. I suppose I was missing the nostalgia of what riding was like in my younger years on a two-stroke.
At 44 years old, I didn't have the need for a radical build, so it's mainly stock. Caleb Atkins did a complete overhaul/rebuild with Tusk Wheelsets, a flywheel weight, all new bearings and freshened up the engine.
One of the most unique aspects of the bike are the custom graphics done by CORMoto, which look stock, but are blue chrome. I've not seen anything like it out on the track. And hey, it's nice to at least look fast in the pits!" –Jim Hicks Charlotte, NC.
Editors Note: Please keep those submissions coming. If you would like your bike to be featured in the "Two-Stroke Spotlight," please email me at [email protected]. All I ask is that you give a breakdown of your bike and a detailed description of the build. Please also send a few photos of your steed. By submitting your bike for the "Two-Stroke Spotlight," you agree to release all ownership rights to the images and copy to MXA.
MORE THAN BARS | PHOENIX HANDLEBARS
MOTO | TRIVIA

Name the rider. Answer at bottom of page.
MXA EXCLUSIVE | RYAN DUNGEY | LIFE AFTER RACING
THEY SAID IT | ROUND 3 SX IN HOUSTON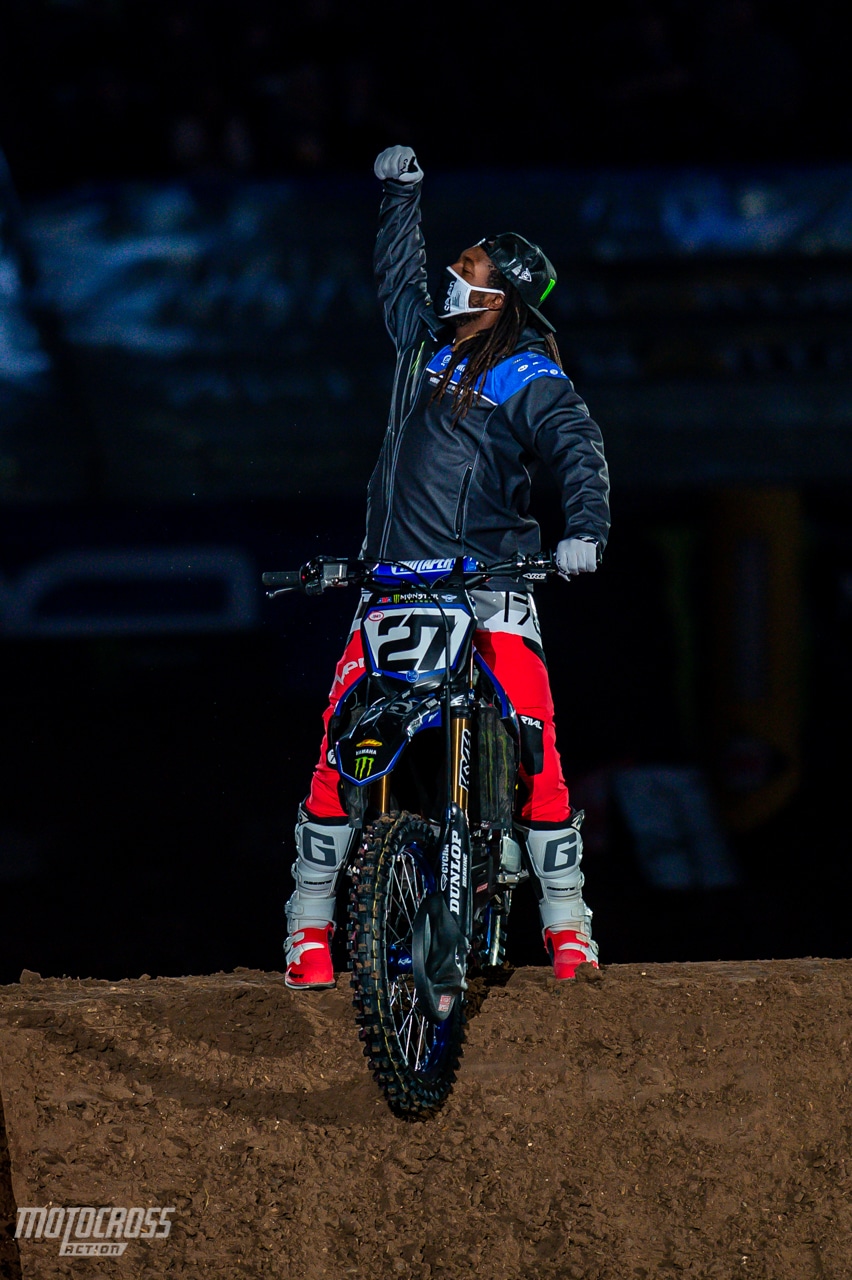 Malcolm Stewart: "I guess I'd say H3 was not bad, actually. Throughout the day, we didn't have the best qualifying, but the lap times were right there with the top guys. For us, it was more about riding smart and picking the right lines. I struggled a little bit in practice, but then in the Heat, I actually rode really well. I just tried to keep that same mentality going into the Main Event. I had Eli (Tomac) right there but made a few mistakes. We ended up sixth and AP (Aaron Plessinger) was right behind me. So hats off to him. He rode excellent. I feel like we made a lot of improvements with the bike and are getting it in the right direction. I'm really excited for Indy. It's going to be a completely different track, dirt, and everything. I'm really looking forward to that and to see how that goes. But for now, I'm going to go home and watch some football, get a couple of days off, and get ready for the week."
Aaron Plessinger: "I think it was a better day overall than Houston 2. It started out well. I qualified 10th and then in the Heat race, I got an okay start. I got passed by (Jason) Anderson and kind of got stuck there. I didn't really go forward until the last lap, and then it was too late. The track was really, really sticky going out for the Main. I got a great start in fourth until a few guys got me and I went backward a little bit. The whole race I was feeling good, but towards the middle, I kind of tightened up a little bit. I think I just need to keep charging. Overall, it was a good day and I'm happy with it. We'll keep moving forward. The next race is Indy, a hometown race for me. We're going to bring the heat."
Dylan Ferrandis: "It was a difficult track. Nothing really crazy, but it was hard to do everything correctly and make no mistakes. We struggled a little bit with the bike and tried some different settings today. We wanted to give it a chance and try some stuff, but it didn't work. We came back to what we had at the last race, but I just didn't feel good on the bike today. I was a little tired from the past two races with the lack of training this winter. It was a hard day. In the Main, I was doing what I could to finish in the top 10 but then I crashed alone at the end of the race and lost some places. It was not a good day of racing for me. We're going to try to rebound at the next race."
Cooper Webb: "It was a close race the whole time and Kenny [Roczen] rode a solid race with not many mistakes. The track was really tricky, easy to over-ride and get impatient. The lappers there at the end was a bummer, I felt like we were going to have a really good battle, and obviously we did, but the lappers were really tough tonight. I hung in there and I pounced on that last lap and made it happen. I've really got to give it up to my team, they're amazing."
Marvin Musquin: "I started off not so good with the heat race, I was in a decent position but Malcom Stewart overshot the end of the whoops, blocked me and I went down. I got back to 8th, which was decent for the Heat race, I did not want to go to the LCQ. In the main I was on the outside, and couldn't get a great start, and couldn't close the guys on my right. I went too quick over the wall and hit Friese, I don't know what happened, but after that I was dead last. I tried my best to make up as many points as possible. I'm very disappointed, but ready for a week of work and to come back stronger."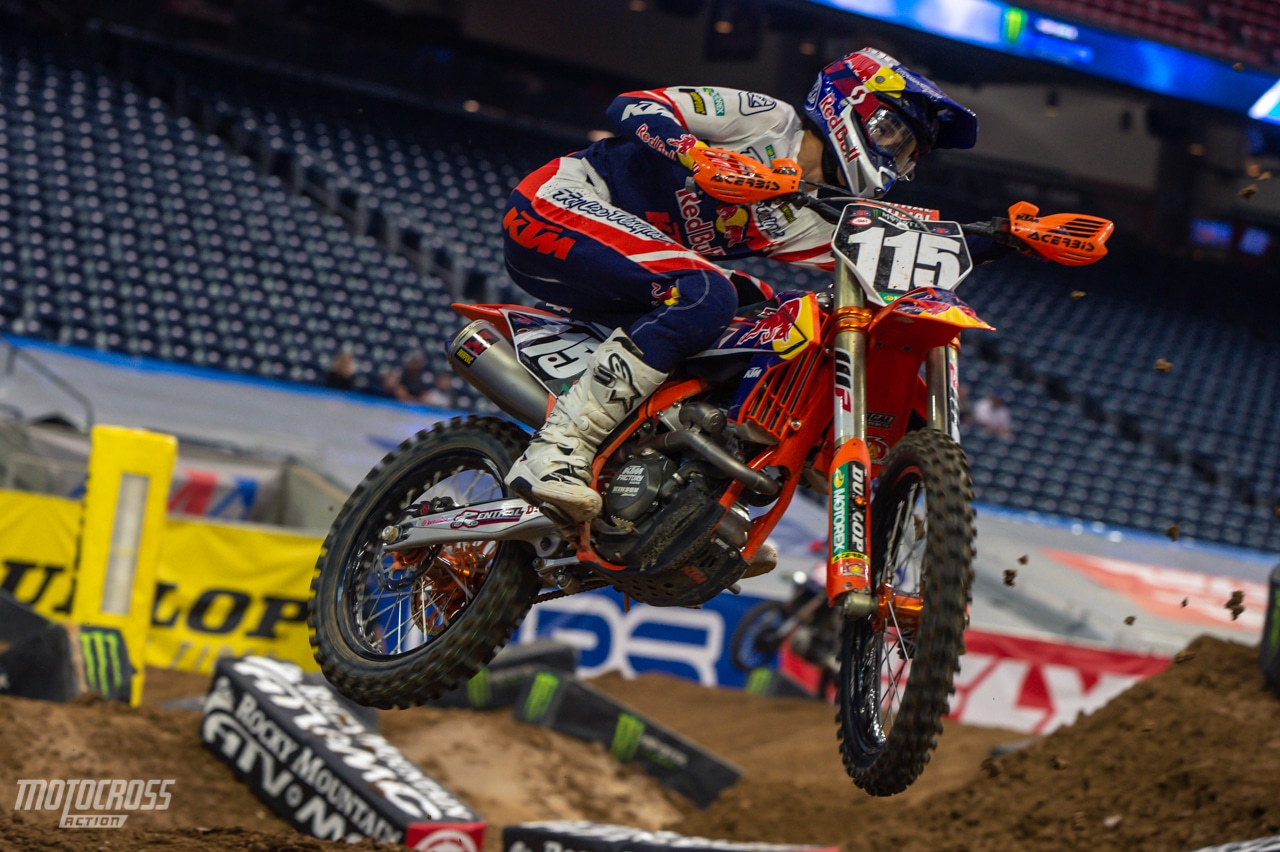 Max Vohland: "Tonight was great! The heat race was awesome, I got off to a really good start and was able to get out front early and lead a majority of the laps. I felt really comfortable riding up front. In the main, I got off to another good start and I got into third early and was hanging onto those guys but I got into a run-in with another guy and ended up breaking a spring in my shifter. I couldn't shift and I let that get to me a little bit but I was still able to come back and get sixth so overall it was an awesome night. I learned a lot and I'm looking forward going into Indy."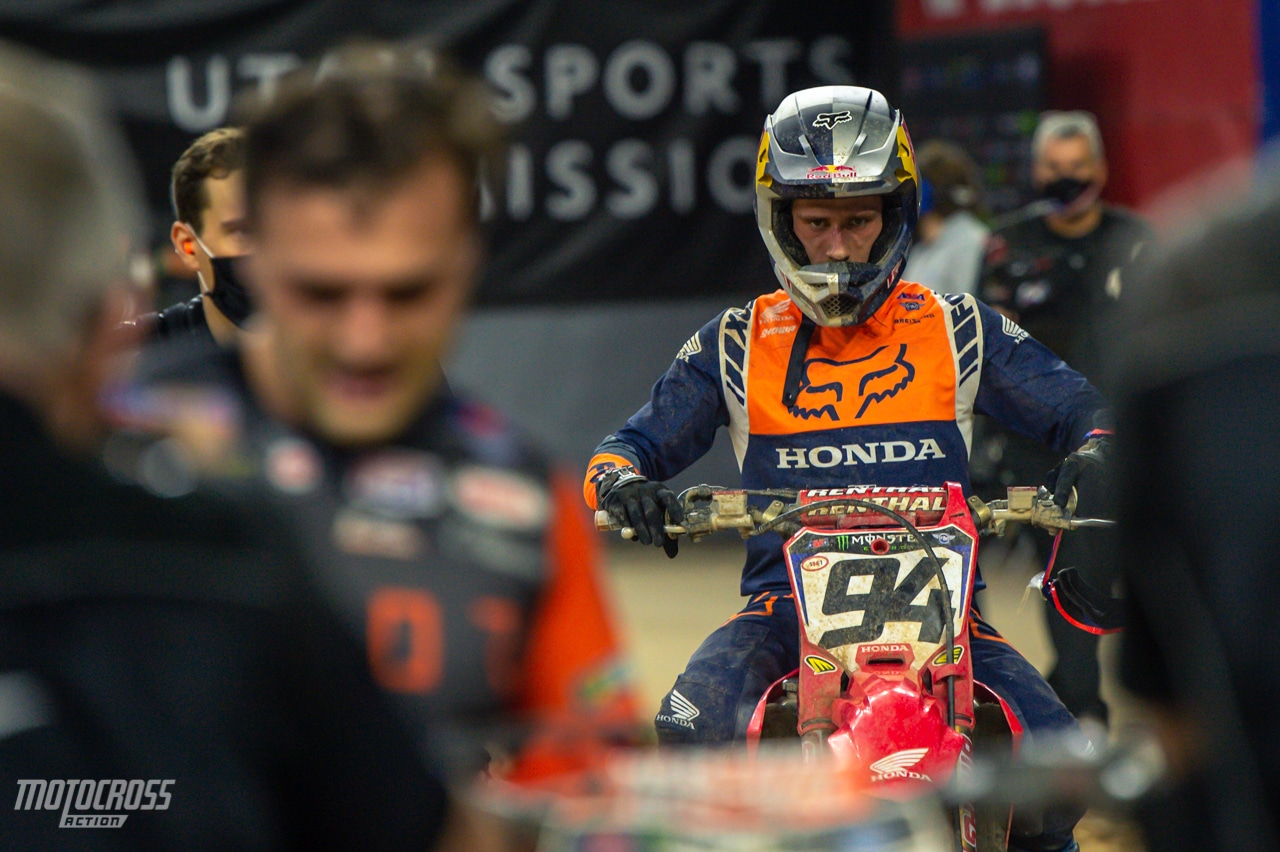 Ken Roczen: "We had a pretty solid night, winning the heat race and then grabbing a good start in the main event. We put a pass on Cooper [Webb] and I was leading the way until the last lap, when [Dean] Wilson got in my way and was ahead of me for three quarters of a lap. I was yelling and screaming. He said he didn't hear me, but obviously there were blue flags around. I hit the back of his wheel and almost went down–a lot of madness going on. I passed him, but at that point that was the end of the race. We came in second place, even though we should've had the win. A lot of positives to take away here though, with the red plate and a second-place finish. It's not ideal but I'm looking forward to Indy."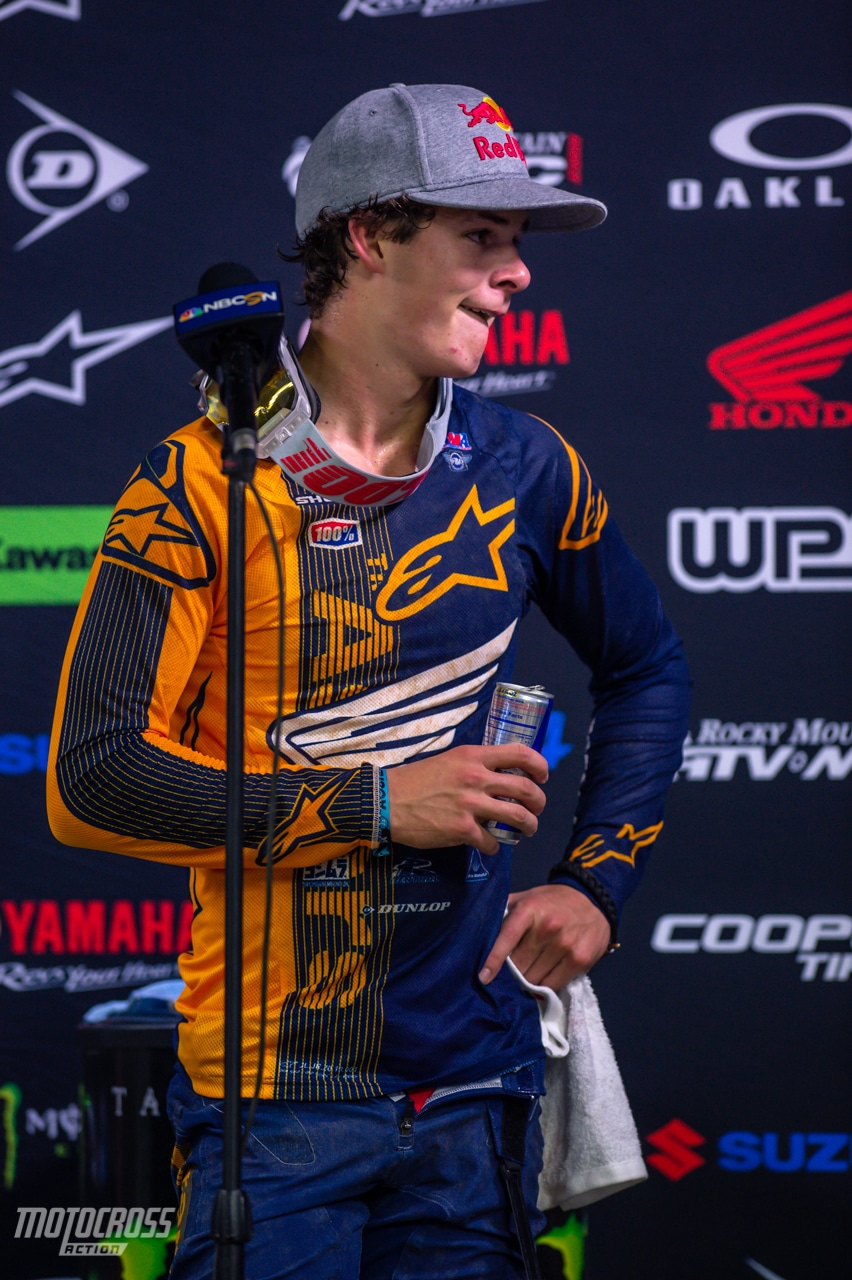 Jett Lawrence: "The day wasn't bad. I qualified strong; I was a little sore after my crash in the last qualifying session, but I felt okay in the heat race and knew I had to improve in the main event. Unfortunately, I messed up the start and had to make my way through the pack, and by the time I got into third the leaders were gone. I'm happy to salvage a podium, but we're much better than that. I'm looking forward to Indy, to get back on top and start chipping away at these six points."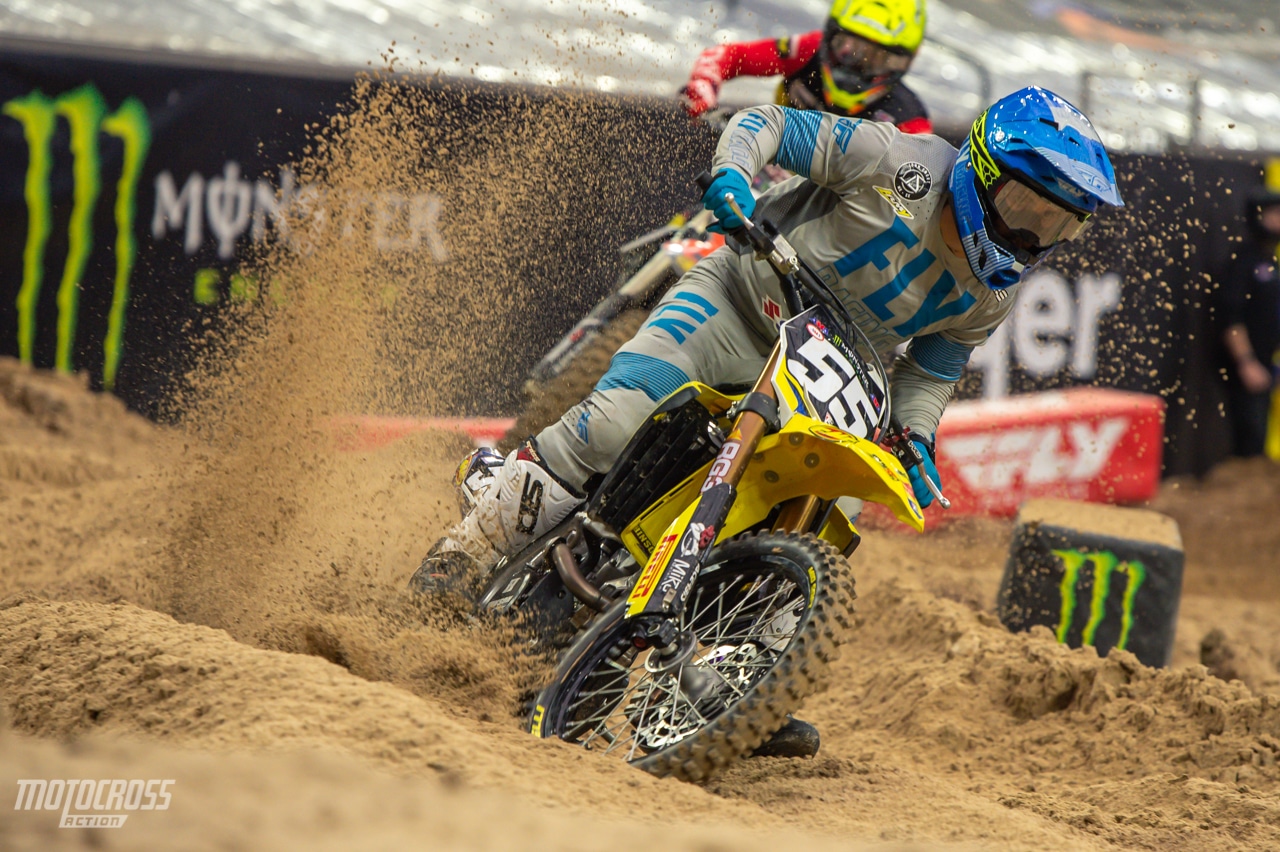 John Short: "The rhythm lanes were a little taller, and had deeper pockets and they got rutty. It was the first track of the year that had the time to be lost in the rhythms if you didn't hit your marks. Normally, my times between when the track's rough and when it's smooth are about the same, so when the track breaks down I feel like it lends a hand to me." But getting a late-season change to race the earlier-starting 250 East series put Short a little behind with his training goals, "I had another rider right ahead of me for the whole main tonight. I passed him once and made a mistake before I could seal the deal. In the last six minutes I'm thinking, 'Just throw down two fast laps and you're gonna blow by him and you're gonna keep moving forward,' but I had to tell myself, 'Hey, be smart, just keep it on two wheels, you're fatigued.' I know as my fitness gets a little better I can do really well."
Brandon Hartranft: "The track suited me a lot better today, was riding really well in the heat race. I think I was sixth or seventh when I went down in the whoops and then got hit by another rider. So I had to go to the LCQ with the last gate pick and just had a terrible start in the LCQ; I was fourteenth on the first lap so there's not much I could really do. I just have to take the positives away from the night and build for next weekend."
Adam Enticknap: "The Houston round three track was definitely more technical. I had a decent-sized crash in the whoops tonight in the first qualifier, and that shook me up a little. But I got back and finished second. In the LCQ, I got a decent start and had some complications in the first corner and then just didn't get it done. I'm looking forward to Indianapolis and looking forward to another round, but there's definitely some stuff I need to work on this week and get my Twisted Tea Suzuki into the main event."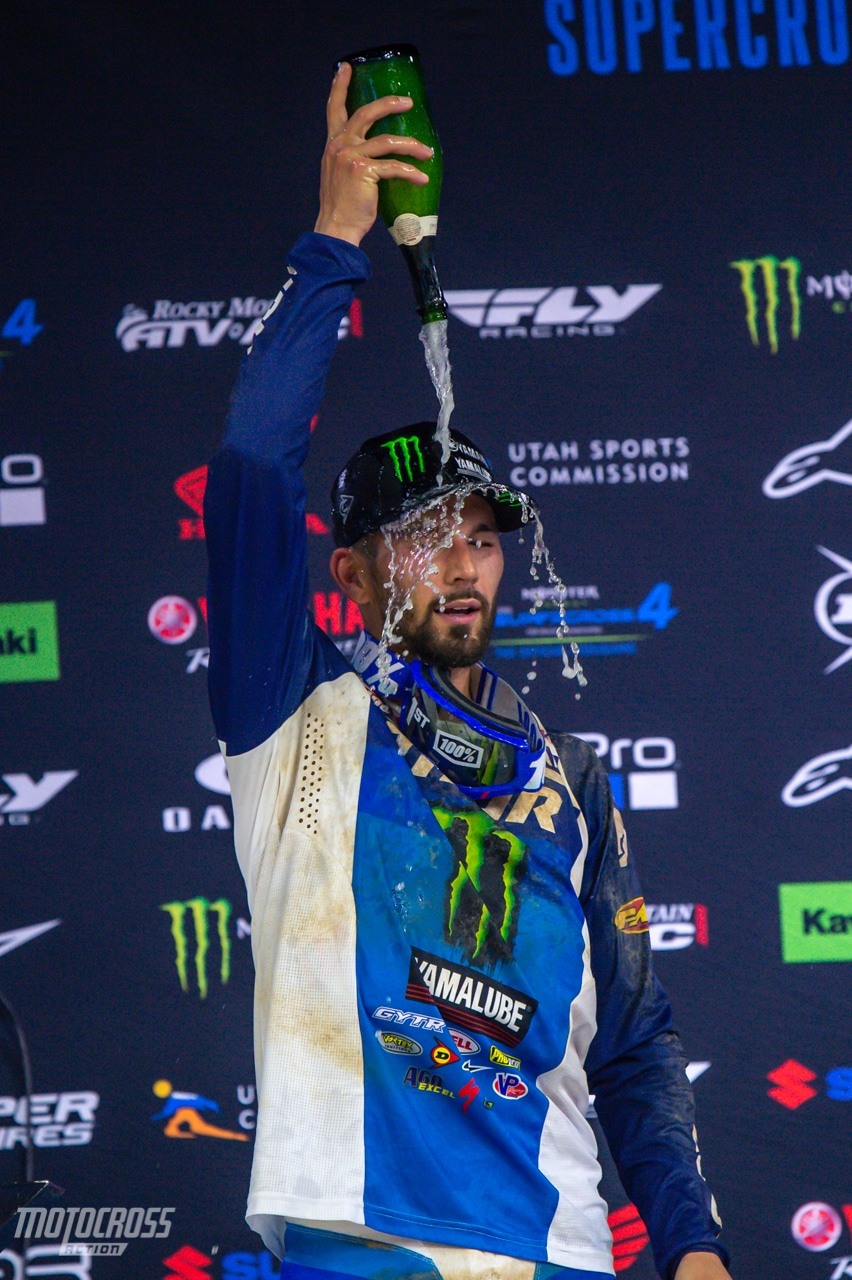 Colt Nichols: "It felt just like another day at the Yamaha test track out in California with me and Christian just kind of trading laps. I got a good start. I've been struggling with my starts all day, so I'm glad we turned that around. I really just tried to be patient. I knew where he was a little faster, so I tried to pick up on a few lines. It felt great to finally get a win. It has been a while so I'm going to soak it in. It's awesome to have the red plate, me and Christian will be sharing it so that is cool for the team. I'm looking forward to Indy and ready to keep the momentum rolling."
Christian Craig: "Houston 3 went pretty well. I qualified fastest again which was great. In the Heat, I don't know how but I was in third gear so I had a terrible start. I worked my way up from almost last to win it. In the Main, I led most of the laps but Colt was right on me the whole time. He ended up getting me with a few laps to go. I was bummed but nothing I can do now but learn from my mistakes and keep trying to get better."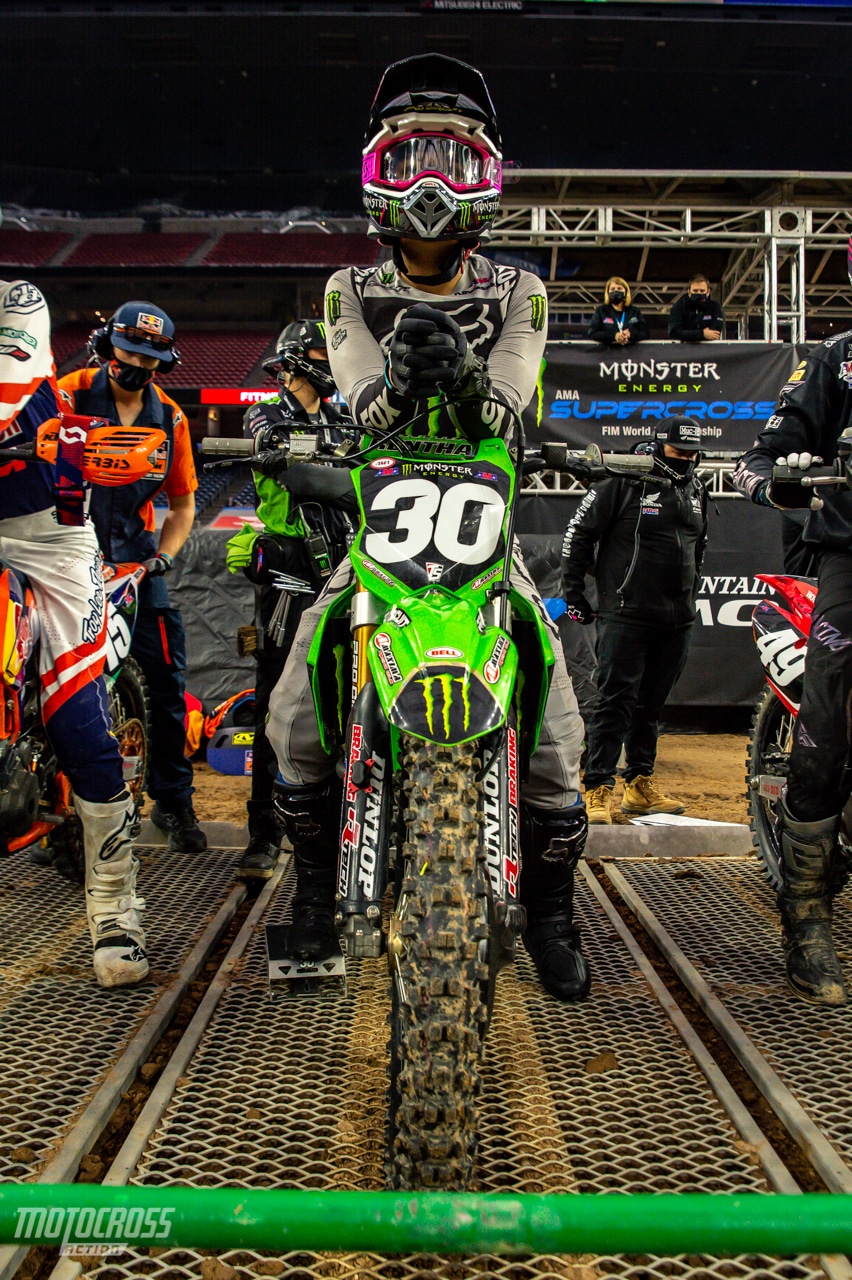 Jo Shimoda: "My main event start was better than the first two rounds, but I should have made a few better decisions on the first two corners because it cost me a few spots. I did feel much better this race from the start, but I couldn't get comfortable in the whoops and it was causing a little arm pump. It takes a lot of energy out of you so that will be something I need to fix for the next race."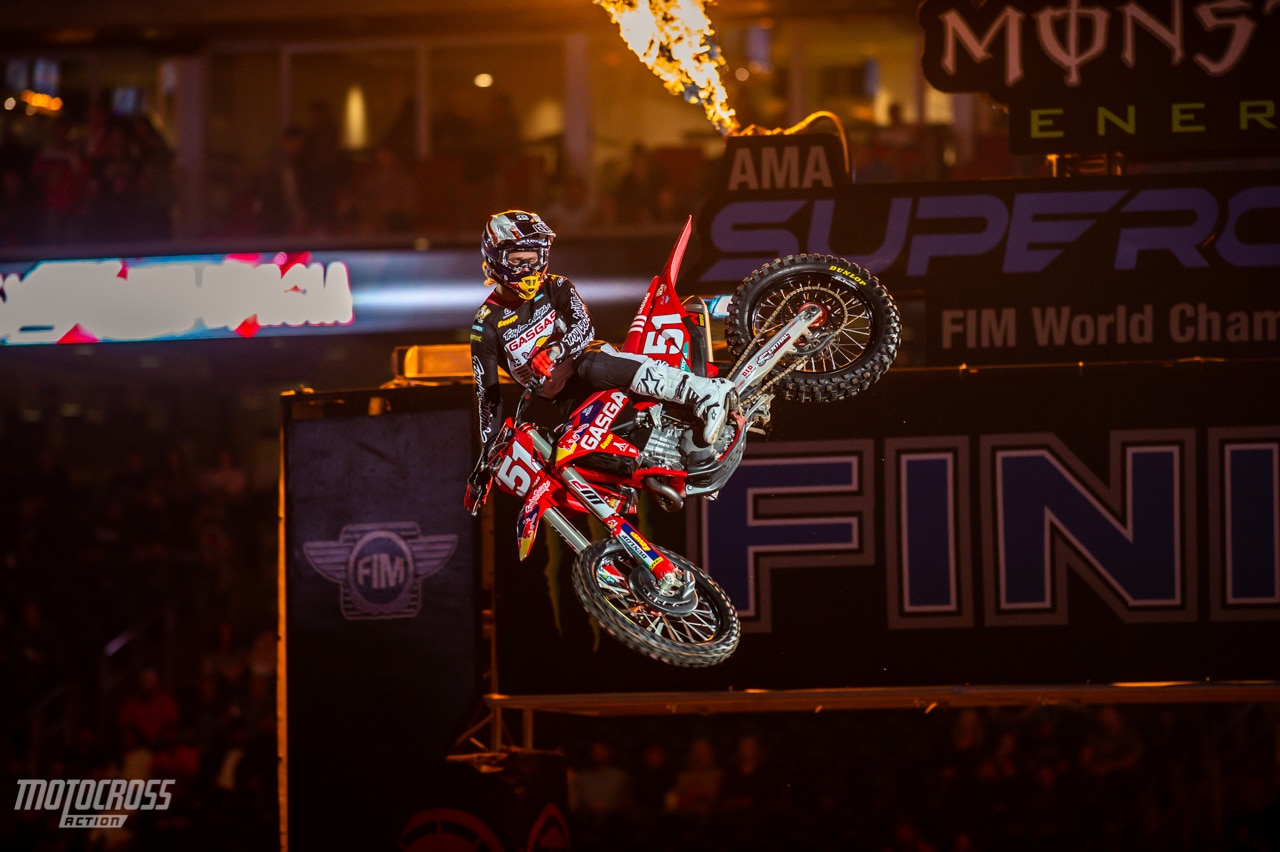 Justin Barcia: "I felt good going into the Main Event. The track was pretty rough and beat up and I came off the line a little bit late and didn't get the best of start but I worked my way up to fourth. I was behind third and made a mistake in the sand and went down. All-in-all, I should have been on the podium but we'll regroup and be ready for Indy. We are in a good spot, the bike feels great, I'm feeling good and the speed is definitely there, I just need to keep it on two wheels, keep nailing the starts and put myself in a good position to be in the fight."
Michael Mosiman: "I was just a little bit off all day but I brought it together for the night show. In the heat race I was really frustrated; I feel like Jett kind of walked away from me. I made a couple little mistakes but I think I had the speed. In the Main Event, I made some adjustments, got a better start and then there was chaos. I was in third and things were looking good, I got into some lapped traffic and Jett caught up to me and absolutely plowed me. There is blood in the water and it's going to be an exciting season."
Jason Anderson: "My night was pretty good. I ended up getting a top-10 and I feel like I'm coming around, just going to try to keep getting better from here."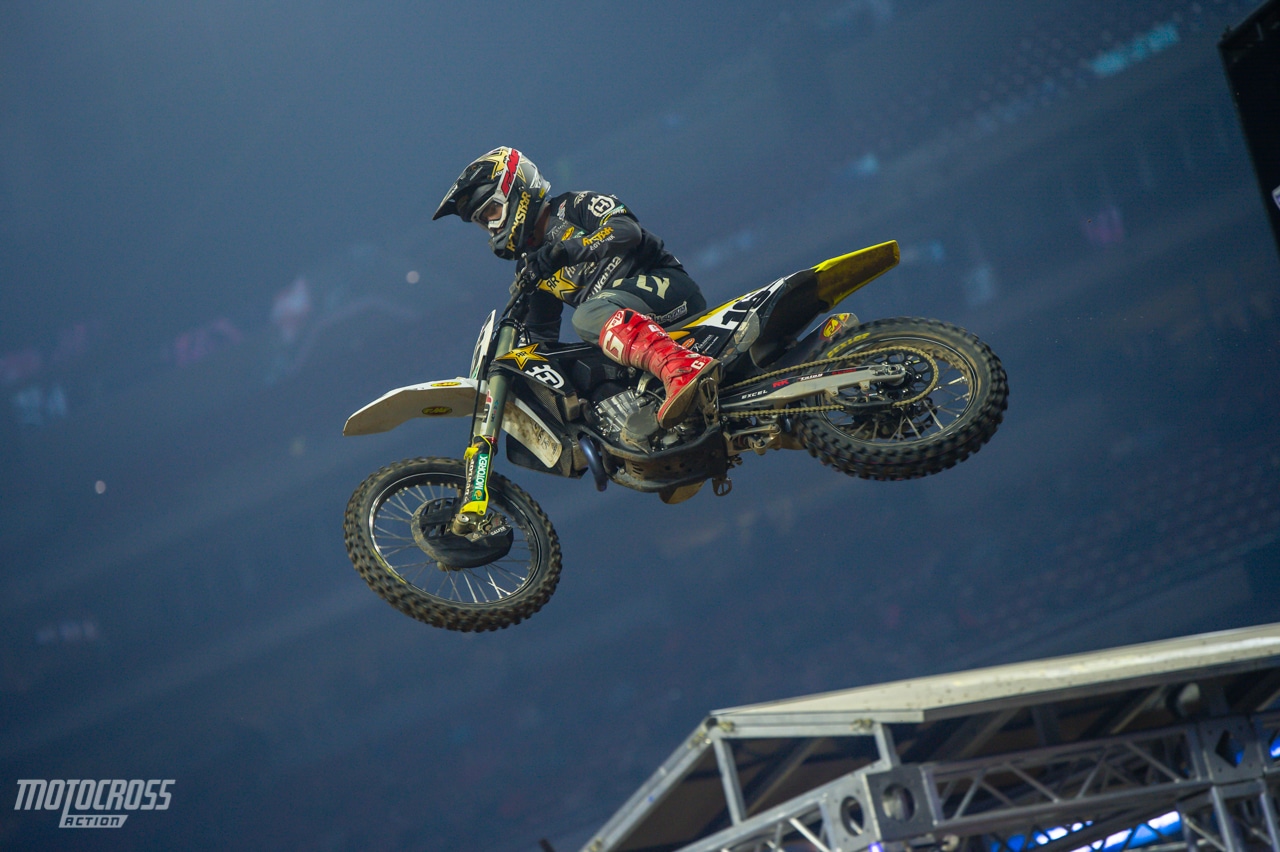 Zach Osborne: "My night was rather disappointing honestly. I feel like I'm riding the best I've ever been riding in my life – and in my 450 career – and to start with two 10th places and a ninth is a little disappointing. I'll improve this week and be better in Indy."
Dean Wilson: "My night was okay. I didn't get a great start, I really pushed the first corner trying to be up there but everyone is so good at starts. I was outside top-15 and came back to 11th, which is not really what we want but we'll keep pushing to be better."
MXA EXCLUSIVE BEFORE THE SEASON OPENER
THROWBACK TO THE LAST USA MXDN VICTORY IN 2010 IN LAKEWOOD, CO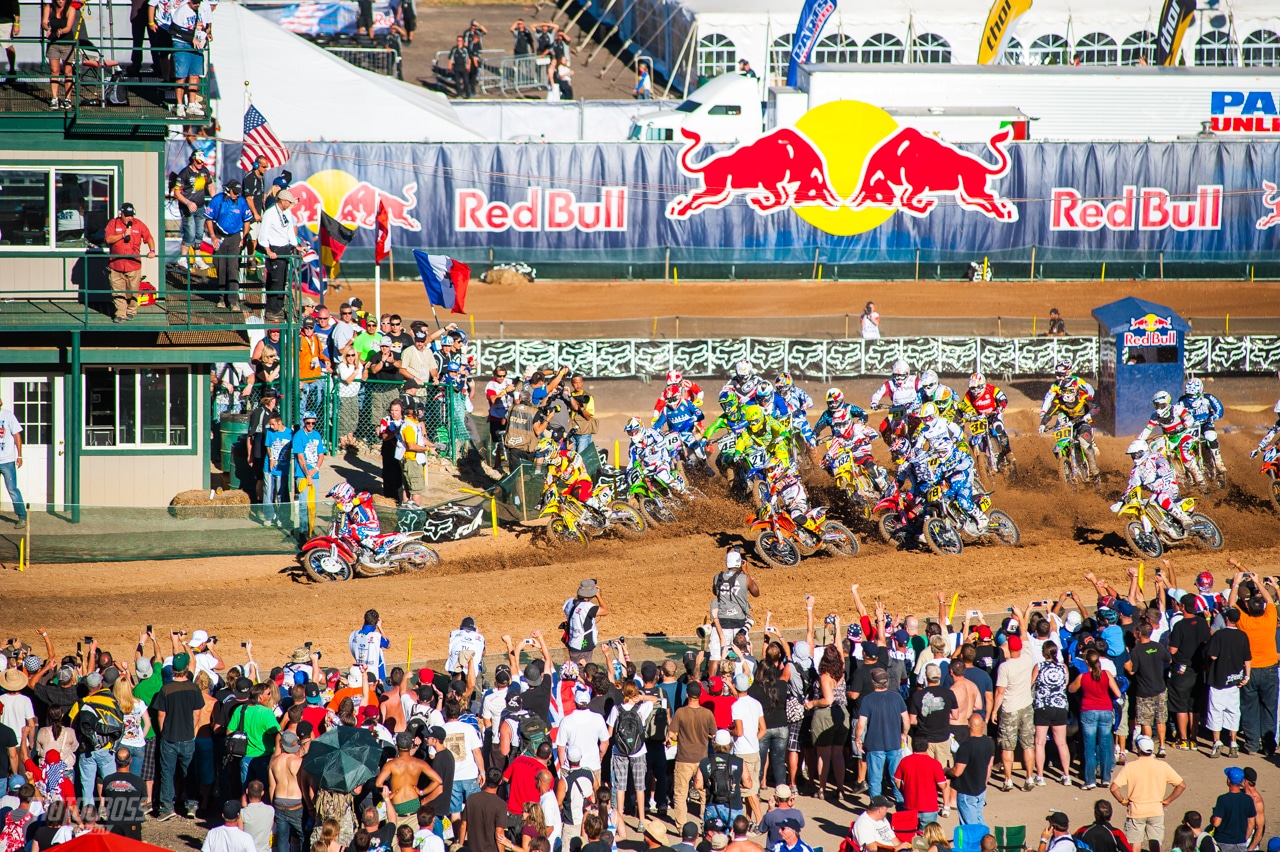 The USA team was Andrew Short, Ryan Dungey and Trey Canard. Andrew shown holeshoting one of the motos in his home state of Colorado. 

Ken Roczen before he was Americanized. 
Dean Wilson raced for the Great Britain team. 
Trey Canard's first and only MXDN victory.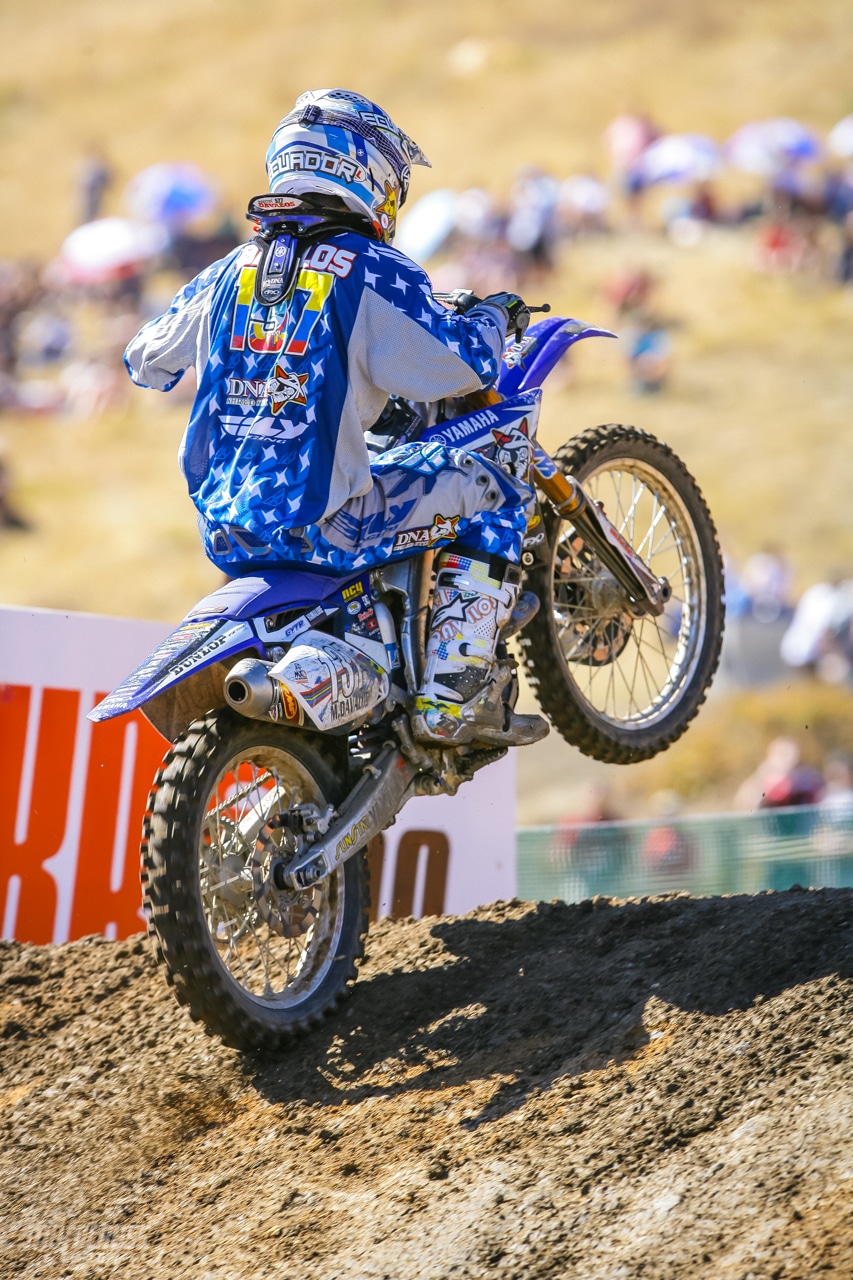 Martin Davalos raced for Team Ecuador.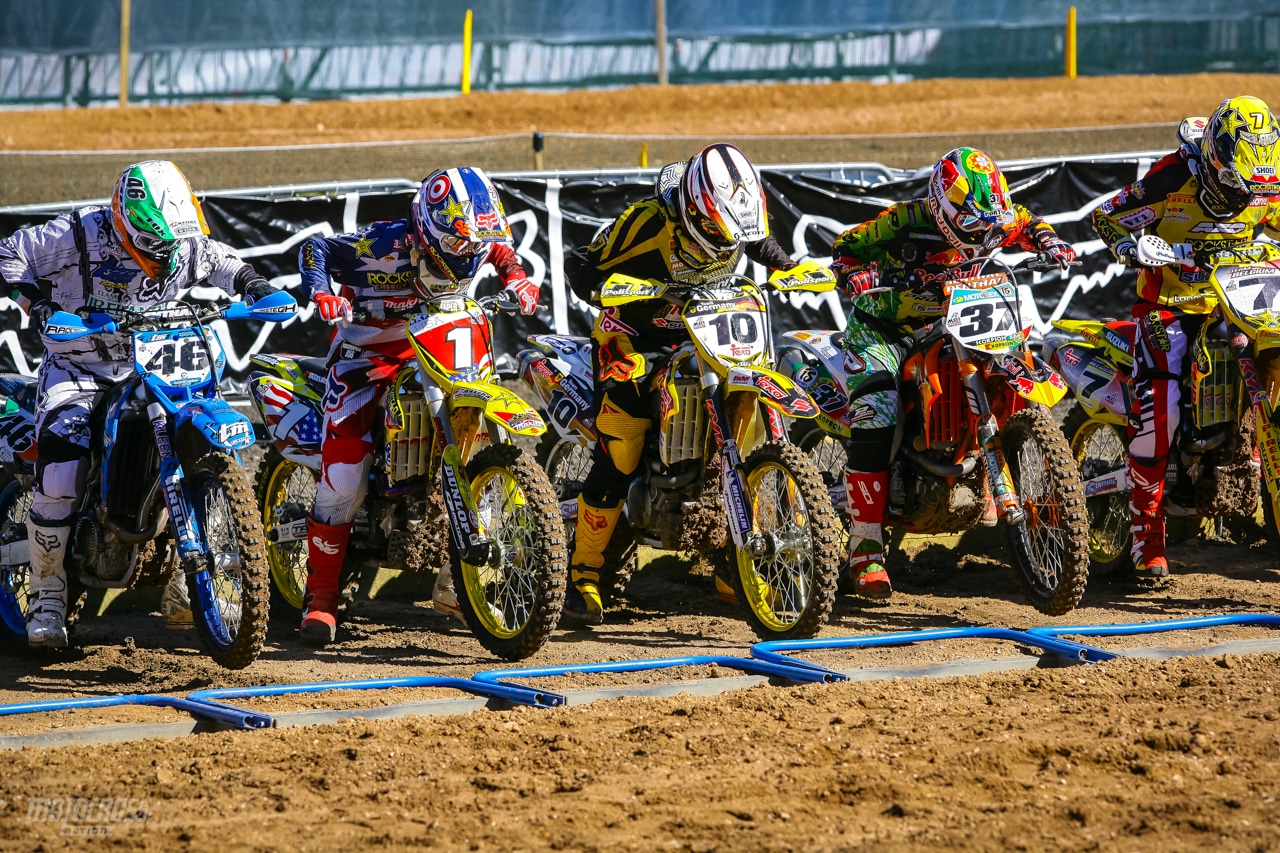 Ryan Dungey off the gate. 

Marvin Musquin on Team France.
Zach Osborne got into the MXDN by racing for Team Puerto Rico.
Arnaud Tonus.
Gautier Paulin.
---
Moto Trivia answer: Jeff Emig