MOTOCROSS ACTION'S MID-WEEK REPORT (10/25/11)
By John Basher
PHOTO OF THE WEEK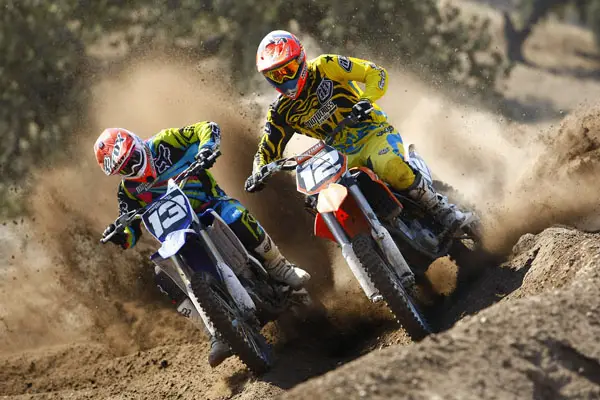 Sean Kranyak (12) and Jeff Pestana (13) blast a berm during our 250 Four-Stroke Shootout at Zaca Station.
MINI-VIEW: JEFF WARD


Jeff Ward graces the July 1986 cover of MXA.
Multiple championships in multiple classes. 10 wins in the 500 Nationals. 11 wins in the 125 Nationals. 13 wins in the 250 Nationals. 20 wins in the 250 Supercross series. The results speak for themselves. Jeff Ward was one bad dude on a dirt bike. Even after he retired the "Flying Freckle" finished second at the Indianapolis 500, won Supermoto championships, and kept his finger on the pulse of the motocross industry.
Now Wardy is back full-time in motocross, not as a racer, but as a team owner. Just last week Jeff joined forces with Mike Kranyak (formerly of L&M Racing) to form a race team for the 2012 Supercross and National series. In order to delve deeper into what's going on with the team's progress I called Jeff up.

MXA: When did the whole team deal come together?
Jeff: I've been wanting to put together a 250 team now for a couple of years. I wanted to branch out from Troy Lee and have more control over certain things. I was working with Troy and their guys, and I have been with Troy forever. So I was trying to do my own deal, and I have some investors. There are people that wanted to do a team. I had meetings with Roger DeCoster, as well as Kawasaki. We've been trying to put things together, but we didn't really have the infrastructure. Then I saw that Mike Kranyak wanted to keep his race team going. At first the team was up for sale. I realized that Mike and I were both trying to reach the same group of people and have the same goals, so I called up Mike. He thought it was an interesting idea, so we met over breakfast, and in about an hour we talked and decided to join forces.
Mike Kranyak has worked with James Stewart and Chad Reed, while you've talked about forming a 250 team. Have you reached common ground in terms of riders, or even the class you're going to focus on?
Yes. Our plan is to have two 450 riders. Right now we're putting everything together with Josh Grant. There are a handful of other guys still out there. We'll look and see what the next best thing is that works for our situation and our budget. We're definitely going to be in the 450 class. Mike's previous team riders, with Reed and Stewart, were phenomenal. The infrastructure of that team is first class. Now we're meeting with sponsors and getting the shop tied together. We know that it's the first year and we're late in getting things going. We're ramping up more for next year than this year. Even with the manufacturers, no one really has anything available. We're in the process of working all of that out right now.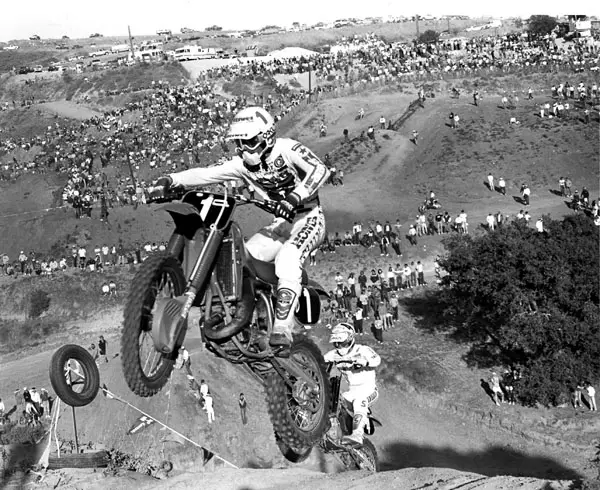 Johnny O'Mara (1) and Jeff Ward (4) battle up Saddleback Park's Suicide Mountain in 1984. Ward came out on the winning end.
The L&M team has never committed to racing the Nationals. Is that decision going to change for the 2012 season?
Yes. That's our plan. I can't speak for everyone, but I think they want to go outdoors. Of course any team would love a break, because then they can spend time with their families. However, as a racer, it might be nice taking a little break, but after a few weeks you're itching to go back out and race. I'm a hardcore outdoor motocross guy. I like seeing these guys race the outdoors and work hard. It helps with Supercross the following year, because there's not a big break. Definitely the outdoors is in our program.
Will the team still be on Yamahas, or are you looking into working with another manufacturer?
We're looking at working with another manufacturer. I don't believe that we will be with Yamaha. We've talked with Kawasaki and Suzuki. Nobody has a lot out there. Due to my relationship with Kawasaki, I think it would be great for the future to make the team bigger and better with them. Everyone at Kawasaki seems to want to do it, but it's all about putting together a program that works. If we have to buy bikes or do whatever, then that's what we will do. We're going to make sure that the riders are happy with what we do have to offer. We'll build and do whatever needs to be done to make that happen.

Jeff Ward stated that they're going after Josh Grant, with another rider to be determined. Grant was a member of the factory Honda team this year, but he was plagued with injuries all season long.
Can you shed light on some of the sponsors that are already on board with the team?
It's too early to tell. We have a few calls to make on a couple of sponsors. Right now nothing has been inked and done, but everything is moving along extremely well. When the team deal was announced it seemed like the flood gates opened. We've been getting calls from riders, manufacturers, clothing companies and aftermarket businesses. We haven't jumped the gun, because there could be several delicate situations with conflicting sponsors.
As a former Kawasaki factory rider, you must have sone insight in Villopoto's season. Was Ryan Villopoto's season the most successful year ever for a racer in this sport?
If you look at it from a money standpoint, I'm not sure. Who knows what James Stewart gets paid? However, for a one-race deal, then heck yeah. There's no way anyone has come close to that, except for a Championship bonus. For a night's paycheck, it was huge. I won the 250 Supercross and National title, as well as the Motocross des Nations, in 1985. One year Jean-Michel Bayle won all three classes in the same year. As for Ryan Villopoto, he had a good year! I would definitely liked to have won that much money in one day. When I raced it would have taken three years of salary to get a million dollars!
VIDEO: DROPPING IN ON RYAN HUGHES

Dropping In_Ryan Hughes from Travis Fant on Vimeo.
MONSTER ENERGY CUP PHOTO GALLERY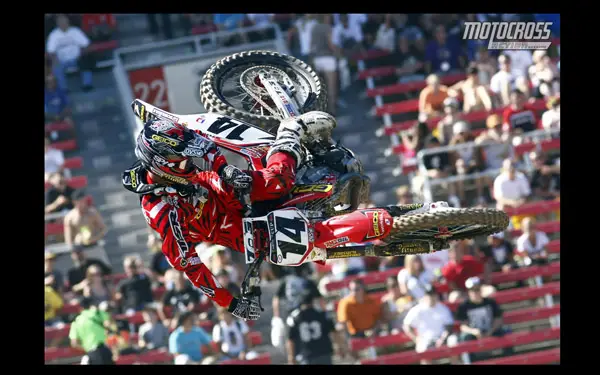 In case you missed the Monster Energy Cup gallery (hey, dress up your desktop!), click on the image above. Download as many photos as you want. Why? They're free!
MOTOREX USA STILL ACCEPTING RIDER SUPPORT APPLICATIONS FOR THE 2012 RACE SEASON



Motorex USA is expanding our rider support roster for 2012 accepting resumes through Dec 31st 2011. We have reviewed many resumes already but we are also looking for new riders that we may have not worked with in the past. If you're looking for an extra edge?Our Swiss engineered products are tested, relied upon, and proven by top racers around the world. To apply please send your resume with race results via email or mail to these addresses:
Email: [email protected]
Mail: Motorex USA
Attn: Rider Support
900 Mendelssohn Ave. N.
Golden Valley, MN 55427
MINI-VIEW: MIKE WILLIAMSON

Behind every great racer is an equally excellent mechanic. And so it goes with Ryan Villopoto's wrench, Mike Williamson. This year the pairing won ten races, but more importantly, the 450 Supercross crown, 450 National title, Motocross des Nations and Monster Energy Cup. RV completed what many believe to be the most successful racing season ever and firmly established himself as the man to beat in 2012.
Mike Williamson and Villopoto have been working together for several years, and it seems like a match made in heaven. I gave Williamson a shout to see how he evaluated his 2011 season.

MXA: Could the 2011 season have gone any better for you?
Mike: Of course. Obviously not qualifying at the Jacksonville Supercross was a low point for us. If we could have had that race back then it would have made the Supercross series a lot easier. Even if we would have managed to get some points at that race then there would have been a bigger point cushion. We went into the race with a sizable lead, but left with only a one-point advantage. It made the rest of the series tough. Fortunately Ryan pulled through in the end.
Do you ever have to motivate Ryan, such as after Jacksonville when the points tightened back up?
Ryan is very good at motivating himself. Sometimes I do have to reassure him. Maybe he doubts himself sometimes. I don't think Ryan realizes how good he really is! He's one of the best racers I've ever seen. Maybe he doesn't have the best style, but when it comes to racing he gets it done. He was pretty down after Jacksonville, but he came back. It's a tough situation when you don't qualify and you're leading the points. It's hard to explain how that whole deal went down.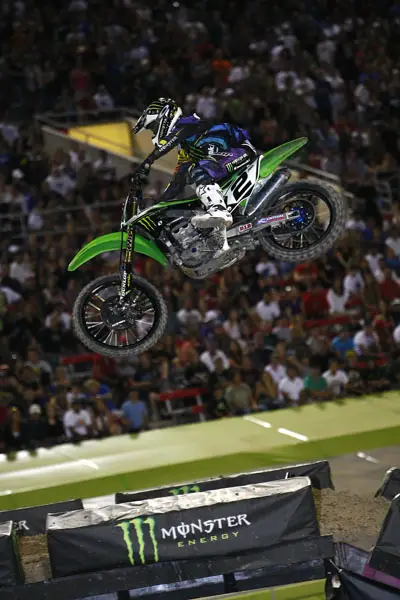 With the help of Williamson, Ryan Villopoto capped off the most successful season for a motocross racer ever.
Was it difficult switching to the 2012 Kawasaki KX450F before the Unadilla National? It seemed like a dicey move to make during the middle of the season.
I wouldn't say that it was difficult, but it was definitely a lot of hours and testing put in before Unadilla. Really though the engine still bolted in the same, and the swingarm was the same. Mainly it was about the chassis parts and getting the suspension dialed with the new chassis.
You don't get much of an offseason as mechanic. While the racers have time off right now if they're not focused on testing, what are you busy doing?
At the moment I'm doing a photo shoot. Lately I've been doing a lot of photo shoots, magazine stuff, and building test bikes up. We had done some testing already, because of the Monster Energy Cup. We started testing a little bit earlier than usual. Typically we hit testing really hard in November for the Supercross season. At that time it's two to three days of testing per week, and the other days are spent in the shop preparing for what parts we want to change. We try to make improvements, and then in December we do final settings and get ready for Anaheim 1.
How difficult was it getting Ryan's bike ready between main events at the Monster Energy Cup? Due to the short breaks, there wasn't a whole lot of extra time to make major bike changes.
It was tough! They didn't even want us going back to the semi. A lot of other teams brought parts down by the staging area. It was tougher for us, because right after each main event they wanted to interview Ryan, since he was the winner of each race. As he was getting interviewed everyone else was getting their bikes ready. Each interview would take about five minutes, which meant that we had less time to get prepared. One of the mechanics would put gas in the bike, and I'd be changing the wheels as quickly as I could. We did that at the rig, and then we'd go right back down to the staging area. Knowing how difficult it would be to work on the bike, I prepared my wheels beforehand by doing tire pressure, tightening the spokes and sprockets.
Was there any race during the season where you realized after the race that the bike almost didn't go the distance?
There weren't any situations that I can think of. I saw some parts that were bent, but nothing that would have jeopardized the race. I feel that our race bikes are pretty solid. I always try to do the same thing every week when working on Ryan's bike. It's all about repetition.

How would you celebrate winning $1 million in a single day? If you're Ryan Villopoto, you bust out a one footer over the finish line.
Did you learn anything at the Monster Energy Cup that you, as a team, can apply towards the 2012 Supercross series?
It's difficult to say, because there really weren't any whoops. The jumps were also really big. We made one suspension change that carried over to what we're testing now. We were headed that direction anyway, but it helped. Racing the event was good for the team, and it was obviously was good for Ryan. He won a million bucks, after all!
Is Ryan particular about any bike settings?
He knows what he's looking for. He can definitely tell you what he doesn't like. If we do something that he's not happy with he lets us know. Ryan's not picky about his handlebars or levers. He just gets on the bike and rides it. He's easy about that stuff.
Thanks for your time, Mike. Congratulations on such a fruitful 2011!
Thanks, John.

TWO-STROKE NEWS! ALL-NEW TM MX125 TWO-STROKE FOR 2012


TM's engines are raced in the World Karting Championships as well as the FIM 125 Championship. They know their way around a two-stroke engine.
TM has returned to the American motocross scene after a few year of being backburnered. After a successful season in 2011, TM has an all-new 125cc two-stroke motocross bike for 2012. It includes new graphics, redesigned front fender and an all-new engine (with electronic power valve, freshly cast new cylinder and stronger center cases). TM also makes 144cc, 250cc and 300cc two-strokes (and 250cc and 450cc four-strokes).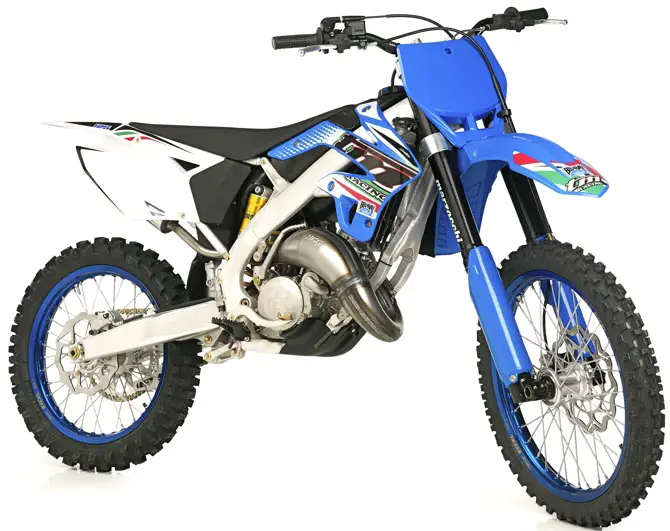 2012 TM MX125 FEATURES
New electronic power valve
New cylinder
New center cases
Bore and stroke: 54mm x 54mm
Carb: 38mm Keihin PWK
Ignition: Kokusan CDI (with two maps on handlebar switch
Reed: Moto Tassinari VForce3
Transmission: six-speed, straight-cut gears
Front brake: 270mm Braking/Nissan/Brembo combo
Rear brake: 245mm Braking rotor. Nissan caliper and master cylinder
Forks Marzocchi 50mm
Shock: Ohlins
For more information go to www.tmusa.homestead.com
VIDEO: DEW TOUR BEST WHIP

Dew Tour-Best Whip from Travis Fant on Vimeo.
ARE YOU READY? WORLD VET CHAMPIONSHIP IS ONE WEEK AWAY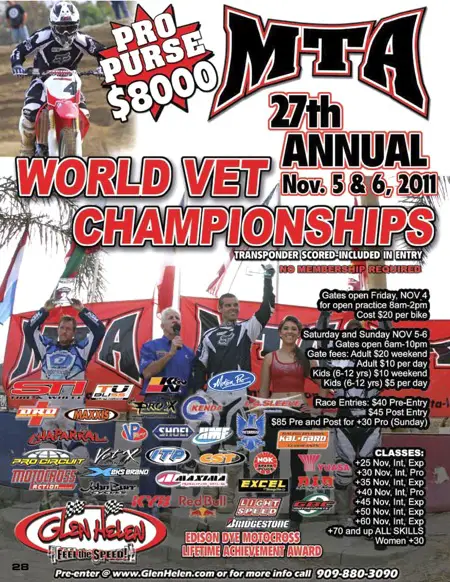 For 26 years, Vet racers from around the world have been gathering for the yearly World Veteran Championship. This year's race is only a week away. The action starts on Wednesday, November 2, with a Ryan Hughes motocross school and is followed by practice days on Thursday and Friday, before racing starts on Saturday. The Over-40 Pro class (along with all the other classes) will be held on Saturday. There is a $4000 purse. The Over-30 Pros race on Sunday (along with all the other classes). They will also race for $4000.
If you want to get some practice before the MTA World Vet on November 5-6, you can show up at Glen Helen tomorrow for the regular Thursday practice, attend Friday's "Showa Ride Day" (if you have been invited) or race the REM Octobercross on Saturday. MXA was out testing at Glen Helen on Tuesday and snapped a few photos of the track being worked on (it was raining at the time). The track is all-new for this year's MTA World Vet. To enter, or get more info, go to www.glenhelen.com

The Cat is working on the sand section, which is the second turn on the track. You can see the Talladega banked first turn in the upper left. The sand straight leads to a very steep, two-stage, uphill (out of sight in the upper right).

The new World Vet layout includes a mix of tight technical sections followed by fast sweepers and big hills. It is a Vet friendly track. This is the sweeping section that goes into the part of the track known as "The Canyon." This section bypasses the massive "Saddleback Humps." It is 40-feet wide.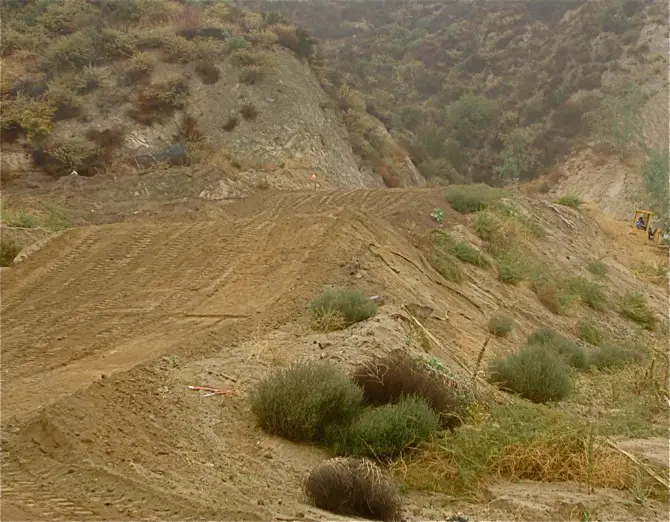 The old step-up in the Canyon has been replaced with a step-up that is designed to let slow old guys jump up one level and then jump a small tabletop into the downhill right-hand turn (where the Cat is). Fast old guys can jump the step-up and land on top of the adjoining tabletop. Really fast old guys can jump the whole thing.

Although you can't see the banking in this photo, the left-hand turn at the top is steeply banked to allow riders to slingshot in the right-hand turn in the foreground, which is banked twice as high. It is a thrill ride.
LONGER PRO CIRCUIT KTM LINKAGE ARM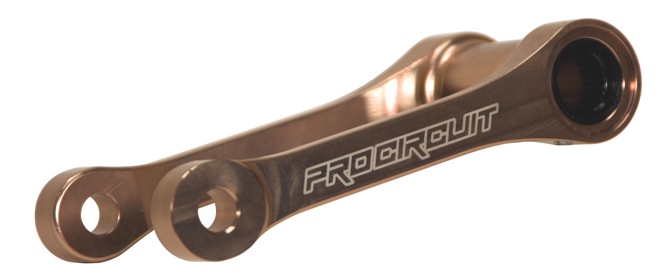 Pro Circuit has a new longer KTM linkage arm that improves handling and stability for professional and weekend riders alike by stiffening up the initial part of the linkage curve, and lowering the chassis. This also aids in the elimination of the initial loose and wallowy feeling riders experience on their bikes. The Pro Circuit KTM Linkage Arms are CNC machined from billet aluminum. All Pro Circuit KTM Linkage Systems and Arms include all the required bearings and seals. It fits the 2011 and up KTM 250SXF, 350SXF, 450SXF, 250SX, 150SX and 125SX models. The retail price is $224.95. For more info go to www.procircuit.com
AUSSIES ONLY! WIN A NINE-DAY TRIP TO THE AMA SUPERCROSS SERIES



InsureMyRide is giving Australian motorcycle fans the chance to experience a trip to the USA and AMA Supercross for nine days of extreme action.
Insure My Ride, an Australian motorcycle insurance company, we give two people the opportunity to fly to the USa to spend three nights at the New Orleans Supercross; plus a VIP experience with the JDR Motorsports Supercross team. The winner will also spend a full day with the team before the race, including a pre-race dinner with JDR Rider Matt Moss. They will also get $2000 (AUS) in spending money, a five-night stay in Los Angeles and free airfare from Sydney to Los Angeles to Sydney (and from Los Angeles to New Orleans and back to LA). The trip is from April 8, 2012 to April 16, 2012.
To enter go to www.InsureMyRide.com.au and get a quote online and save on the insurance premium for your road bike, dirt bike or scooter.

TREY CANARD JOINS PANICREV'S CHRISTMAS MX CAMP!


PanicREV Ministries is excited to announce that Trey Canard will be joining the team of world class athletes that will be helping with the 2011 PanicREV Christmas MX Camp. The camp will be held at Glen Helen Raceway on December 19th, 20th, and 21st.

Canard states, "I'm very excited to be a part of the Panic Rev winter Camp this year. Last year the little I got to participate I had a great time. It is awesome to see God and the sport I love and enjoy combined into a few days of camp that has a lasting impact on its campers. I look forward to being a part of the 2011 session and can't wait to see what it has in store." ? Trey Canard. For more information on the 2011 PanicREV Christmas MX Camp please CLICK HERE.
SIDI AND TUF HONDA JOIN FORCES FOR ARENACROSS

Motonation is very pleased to announce that it has secured the services of TUF Honda, one of the most successful teams in AMA Arenacross Series history, to wear Sidi Crossfire boots for the 2012 championship campaign. TUF Honda will boast a talented three-rider lineup for the 2012 AMA Arenacross Series. Former series champion Jeff Gibson, along with 2011 race winner Cole Siebler, return to the team, and will look to bring the title back to the TUF stable for the first time since the 2009 season. Additionally, TUF welcomes back up-and-comer Michael Lang, who is coming off a solid year in 250 Arenacross class competition.
From 2007 to 2009, there wasn't a more successful team in the AMA Arenacross Series than TUF Honda. Three consecutive championships vaulted the team to juggernaut-like status, and while the premier-class title has fallen just out the team's reach over the past two seasons, TUF Honda has been in the thick of the title fight.
Gibson is a true veteran of the AMA Arenacross Series. After making his return to competition with an exceptional title-run in 2009, Gibson has overcome adversity to return to top form, finishing runner-up in the championship last season, on the heels of three wins. Ironically, the series' move to 250cc machines could work into Gibson's favor. The last time such a rule was in place, it was Gibson who prevailed to take the championship, and he will look to rekindle that magic for the upcoming season.
After several years honing his ability on the larger tracks of Monster Energy Supercross, an FIM World Championship, Siebler joined the AMA Arenacross Series full time in 2010 with TUF Honda, and was one of the championship's bright spots. He posted an underdog win, turning many heads within the industry, and while injury forced him to cut his season short, Siebler had established himself as a contender. With a return back to the TUF Honda team for 2012, he will be one of a handful of riders battling for the championship.
As one of the youngest riders in the AMA Arenacross Series, Lang continues to develop as a rider, and under the tutelage of Team Manager Dave Antolak, will surely be a contender for this season's 250 Arenacross title. In 2011, Lang captured one heat-race win, posting six top-10 finishes en route to sixth in the Eastern Regional Championship. With experience under his belt, look for Lang to be a consistent challenger for podium results. "We are honored to be chosen as the first Sidi boot sponsored team in Arenacross," added Antolak.
KTM HIRES KEVIN FOLEY AND RANDY MULLINIX AS AREA SALES MANAGERS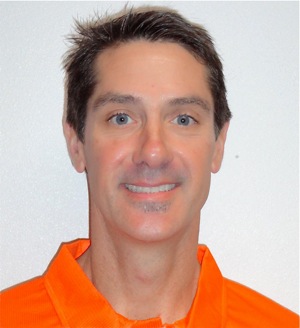 Kevin Foley.
KTM has hired Kevin Foley and Randy Mullinix their new sales managers for Southwest Area (Foley) and Northwest territory (Mullinix). Kevin Foley has 15 years industry experience in sales, product liability litigation and media relations as well as a lifetime experience as a rider, both on and offroad. Kevin Foley was AMA Rookie of the Year in 1985 and earned nine Loretta Lynn titles.


Randy Mullinix.
Randy Mullinix worked at Pro Moto Billet, Fastway and was District Sales Manager at another brand before accepting the KTM position.
ON TRACK SCHOOL CUSTOM HELMET AUCTION ON EBAY



Have you ever wanted one of those awesome custom painted helmets like the pros and top amateurs wear? On Track School is auctioning off a helmet paint job on EBay to help support their scholarship program. The On Track School scholarship program was established in 2010 to help riders who may not be financially able to attend a private school, take part in an essay contest each year, with the winners being awarded a full year scholarship to the school. So far, riders like Malcolm Stewart, Blake Baggett, Trey Canard, and Blake Wharton have helped by donating towards the scholarship program.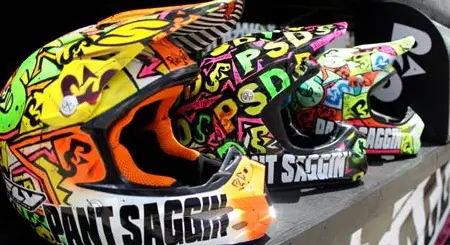 For more information on On Track School, and/or the scholarship program, you can email program director Andrea Leib at [email protected] or at www.ontrackschool.com.
R&D'S ROTATING GATE THROTTLE BODY GETS ONE STEP CLOSER TO FRUITION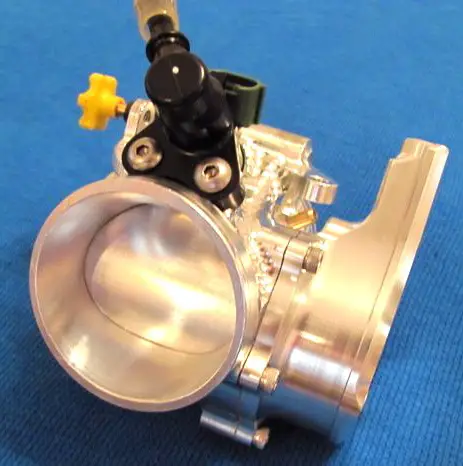 When the throttle is closed, the rotating gate blocks the venturi.

Dean Dickenson of R&D is the guru of carburetors. Dean has worked for years perfecting the once ubiquitous Keihin FCR carburetor with his Power Pump, Power Bowl, Flex-Jet and Power Spring. Dean has an intimate understanding of the problems associated with fuel delivery. With motocross bikes switching to fuel injection, Dean has now focused his attention on to the EFI throttle body.

When the throttle is fully opened there are no obstructions in the venturi (unlike a slide or butterfly design).

Dean has designed and patented an EFI throttle body that doesn't use the pesky butterfly valve, but instead uses what Dean calls a "rotating gate." What is a rotating gate? Instead of a flat slide that is pulled vertically out of the venturi, a rotating gate is an elliptical barrier that rotates into a slot beneath the bore when opened. The elliptical shape guarantees that the butterfly replacement rolls away with a smooth, shaped surface that disappearances completely out of the way. It's a simple, clever design that eliminates the obstruction of a butterfly and the drag of a slide. Dean is still in the prototype stage, but has several teams waiting for a chance to try his throttle body design. For a detailed view go to www.r1dean.com.
AMA ARENACROSS SERIES STARTS THIS WEEKEND IN DES MOINES



The AMA Arenacross Series kicks off its 2012 season on Saturday, October 29, from Wells Fargo Arena in Des Moines, Iowa. Babbitt's Monster Kawasaki rider Tyler Bowers is ready to defend his Arenacross class title against a talented field of challengers.
Date………………..Venue………………….City
October 29-30…Wells Fargo Arena…Des Moines, IA.
November 4-6…First Mariner Arena …Baltimore, MD
November 11-13…Alliant Energy Center…Madison, WI
December 9-11…Mohegan Sun Arena…Wilkes Barre, PA
January 6-8…VanAndel Arena…Grand Rapids, MI
January 13-15…KS Expo Centre…Topeka, KS
January 21-22…Nutter Center…Dayton, OH
January 27-29…Cedar Park Center…Cedar Park, TX
February 3-5…Rupp Arena…Lexington, KYl
February 11-12…Save Mart Center…Fresno, CA
February 17-19…Livestock Events Center…Reno, NV
February 25-26…Target Center…Minneapolis, MN
May 6…Sam Boyd/South Point Arena…Las Vegas, NV
THE NEWS CYCLE MOVES ON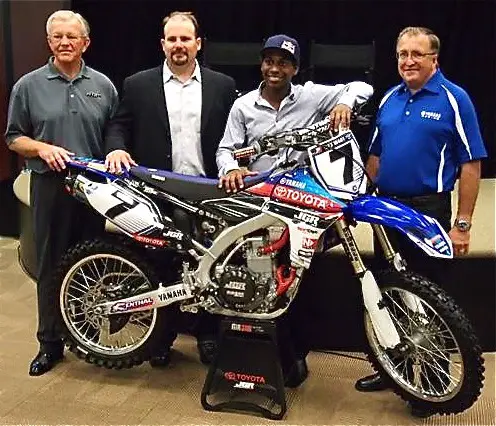 News tidbit: Yamaha has a contract with Joe Gibbs Racing (JGR). Joe Gibbs (far left) has a contract with James Stewart. Yamaha does not have a contract with James Stewart.