MXA INTERVIEW: DARRELL SHULTZ — THE KING OF PAIN
The two big red 500cc factory Hondas came growling around the corner, their rear tires groping for traction on the greasy right-hand turn, which then launched up the face of a large jump. The lead bike, with the black number 34 on its yellow number plate, leaped in the air and was followed immediately by the number 20 Honda. 
DARRELL SHULTZ'S

 

AMA PRO MOTOCROSS CAREER ONLY LASTED FIVE YEARS. HE STARTED AS A MAICO PRIVATEER IN 1978, AND BY THE END OF 1982, WITH ALL THE DAMAGE HIS INJURY-RAVAGED BODY HAD ENDURED, IT WAS OVER ON SUNDAY, AUGUST 15, 1982.
Under a non-threatening, monotone gray sky, Sunday the 30th day of May in 1982 was a big one for a Northern California racer named Darrell Shultz. In the opening first moto at High Point Raceway in the very far southwest corner of southeastern Pennsylvania, Shultz followed his teammate Danny "Magoo" Chandler across the finish line to place second. Later that afternoon, the 500cc machines lurched out of the gate, dragged up the long uphill-start straight, around the right-hand sweeper and out onto the track. As the moto wound down, Suzuki's Alan King, Shultz and Chandler all went at it, a full-on brawl for the moto win—and the overall. In the bitter end, it got nasty.
"Magoo, he passed me with two laps to go, and I thought I was just dead," smiled Darrell Shultz. "Then the bells in my head went off and I just went kind of crazy. I found a second wind and some more speed. I thought I'd given it everything I had, but that pass fired me up. Somehow I slammed him in the off-camber turn at the bottom of the hill—it was at the very bottom—and pushed him into the trees. He came flying back onto the track on the uphill, wide open and out of control. I just barely squeaked by him. I hit him so hard in that corner that I couldn't believe he survived it."
And so Shultz not only the won the moto but the first overall AMA National of his very young professional career.
If one were to make the claim that Darrell Shultz was the bravest, wildest, hardest-living, hardest-luck motocross racer who ever lived, one wouldn't be out of line. Yes, Danny Chandler has swung a cat at nine lives and left carnage, X-rays and slack-jawed stares in awe, but compared with the way Darrell Shultz went about it all, well, Magoo comes off as a "be prepared" Boy Scout.
The story of "Dangerous" Darrell Shultz is one where truth is stranger—and far crazier—than fiction. He was the original demolition man who "ran out and bought a little Honda-red Porsche" and would "be at Lake Tahoe all the time with beer flowing out of [his] ears!" Living by the sword and dying by the sword, Darrell Shultz's AMA Pro motocross career only lasted five years. He started as a Maico privateer in 1978, and by the end of 1982, with all the damage his injury-ravaged body had endured, it was over on Sunday, August 15, 1982. He was only 24 years old.
"SUZUKI WAS GREAT BUT TOUGH," HE SAYS. "MY FIRST TWO YEARS ON THE TEAM WERE A LOT OF LEADING AND A LOT OF CRASHING OUT. I REMEMBER BEING IN THE HOSPITAL ALL THE TIME."
"I was always pretty out of control as a kid," reflected Shultz. "I started racing at 16 and never really took the time to learn how to ride that well. I was just in a huge hurry to make it. I think I only raced Novice for four months, rode one Intermediate race and went Pro. I never really took the time to smooth it out. Plus, I had to race against Danny "Magoo" Chandler. As soon as I turned Pro, I had to race against Magoo every weekend, and I don't think anybody could ride in a controlled manner and stay with Magoo. Nobody was going to do that. I couldn't beat him every week, but on the weekends that I could, I'd never even try to beat him in both motos; it was just too risky to go that far over my head in two motos. I'd usually let him win the first moto by a minute or 30 seconds or some crazy amount of time. Then, in the second moto, I'd battle with him.
"To be honest, Magoo and I didn't get along at all. We pretty much hated each other. To battle that hard and that seriously, it pretty much came down to knocking the other guy down to win. He was short, but he was stocky and tough as hell. He could slam anybody and take them out no problem at all. He was a brutal little guy, and I think we both pushed each other and helped each other become fast enough to win."
By 1978, Shultz packed his Maico big-bores up in a van and, despite his hand-to-mouth privateer existence, managed to place seventh in the 500cc National Championship. The California teenager also won a round of the then-spectacular Trans-AMA Series.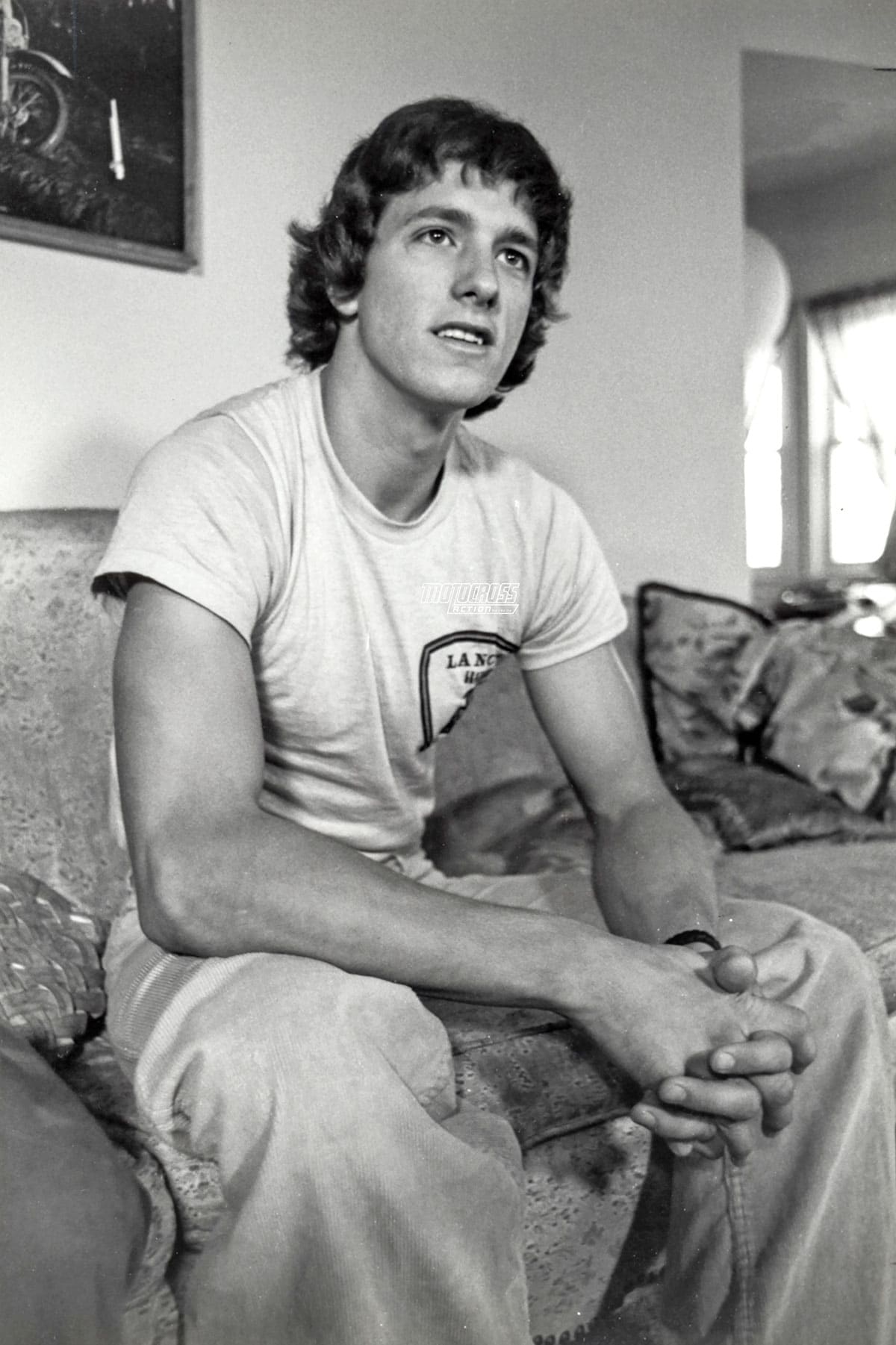 "After riding the Expert class for maybe six months in total, in 1978 I then went out and did the 500 Nationals on Maicos. I was 19 years old when I hit the road, and I had the best bike in the world for my riding style—the big Maico. The Japanese bikes back then were lighter and less powerful, and my style was to swap all over the place, so the Maico and I worked well together. That autumn, I also won the last Trans-AMA ever on a European bike at Plymouth, California, which was my home track. It was all like a dream come true. All my friends were there that day."
"SUZUKI WAS GREAT BUT TOUGH," HE SAYS. "MY FIRST TWO YEARS ON THE TEAM WERE A LOT OF LEADING AND A LOT OF CRASHING OUT. I REMEMBER BEING IN THE HOSPITAL ALL THE TIME. IN FACT, I RODE MOST OF THE SECOND YEAR WITH A BROKEN WRIST.
Team Suzuki made a play for Shultz and was able to get him to sign on the dotted line for the 1979 Supercross and motocross seasons. "Suzuki was great but tough," he says. "My first two years on the team were a lot of leading and a lot of crashing out. I remember being in the hospital all the time. In fact, I rode most of the second year with a broken wrist. I was a big trainer then. I never drank a beer or anything. But there's only so much you can do when you're always hurt."
Ultimately, Team Honda came calling on the wild-riding Northern Californian. "Honda hadn't had any Supercross winners for a while, and I knew they were hungry for a winner. Suzuki, on the other hand, had two National Champions on the team in Howerton and Barnett. I could have landed the same money from Suzuki, but I knew Honda wanted me a lot worse." And not only was Shultz enticed by Honda's brilliant new RC250 stadium bike and its state-of-the-art 500cc National bike, but by the fact that his childhood idol, Roger DeCoster, had just retired from racing to become the Japanese brand's new global motocross consultant for the 1982 season.
Team Honda came out swinging in 1982. Donnie Hansen won the season-opening round of the AMA/Wrangler Supercross Series before 70,000 fans at Anaheim on January 30. Shultz ran fourth. Then came two second-place finishes at the Kingdome in Seattle, followed up by a huge win at the Daytona International Supercross on March 6. On Sunday, May 16, 1982, at the opening round of the AMA 500cc National Championship in the deep brown sand of Southwick, Massachusetts, Darrell fell in love with his bike. "I really had no expectation at all of doing any good because, as usual, I was just coming back from knee surgery," reflects Shultz, who went 8-4 on the day for fifth overall. "I hadn't trained or anything. Still, it was pretty incredible to be riding for Honda. I just got lucky with the timing that they came out with this incredible bike, with the monocoque frame and aluminum tank and all those other wonderful things that they did that year. That was just my good luck. The year before, my Suzuki team, Mark Barnett, Kent Howerton and I, won almost everything. The Hondas were a lot better than anything Suzuki had in 1982. I can still remember the feeling of racing that bike. I just felt invincible on that thing."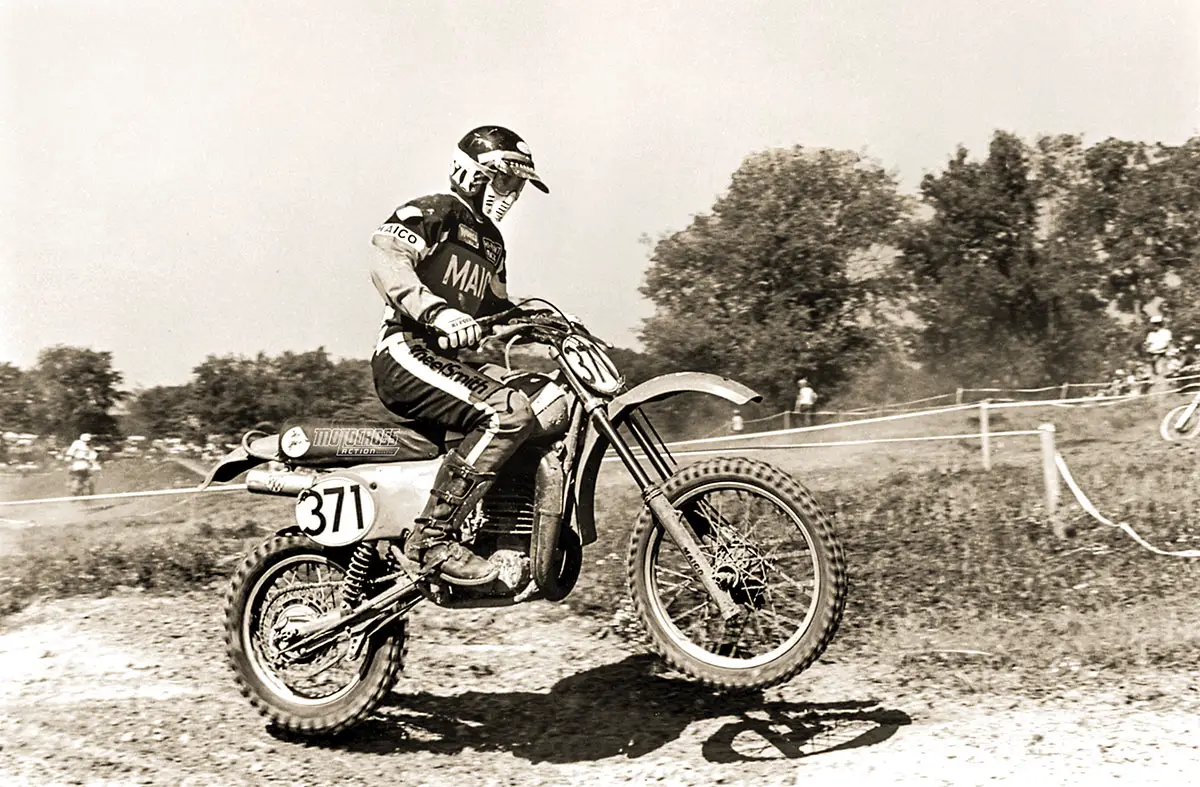 On Memorial Day weekend at High Point Raceway, Darrell Schultz had the best day of his scar-crossed life. "We went to Mount Morris, and I had the best day of my life," smiles Shultz. "I won my first-ever 500 National. I was just fast and consistent that afternoon. There was that one hairy part when I had to pass Magoo on that off-camber. Like I said earlier, with Magoo, he usually won or went down."
THE IMPACT WAS SO HARD UP THROUGH THE SEAT AND INTO MY SPINE THAT I DIDN'T REALLY KNOW WHAT WAS GOING ON. I THOUGHT I HAD PULLED A MUSCLE. I JUST CAME IN TO THE PITS AND GOT OFF THE BIKE AND TOLD CHRIS HAINES, 'I CAN'T RIDE. I'M GOING HOME.'
Throughout the 500cc National Championship, all was not well with Darrell Shultz. Battered and black-and-blue, he limped back home to the funky California beach town of Santa Cruz to try, both literally and figuratively, to pull it together. The penultimate round of the series was set for August 8, 1982, at the forested evergreen Washougal circuit in Washington. In the days leading up to the race, Shultz, as well as ace spanner Chris Haines, found themselves in dire straits. What ensued next is one of the gnarliest, most unbelievable MX folk tales ever told.
"Washougal was the second to last race of the 500 Championship. I had the points lead over my Honda teammate Chuck Sun. Unfortunately, I hit a bump in practice while sitting down that I should never have hit. I should have been standing when I hit it. It literally tore something in my chest. The impact was so hard up through the seat and into my spine that I didn't really know what was going on. I thought I had pulled a muscle. I just came in to the pits and got off the bike and told Chris Haines, 'I can't ride. I'm going home.'
"We were in a restaurant later that night, and I reached forward over the table to leave a tip. When I bent over, I felt something let go. My lung just totally collapsed. All the air went out of it. I knew instantly that something was really, really wrong. I could barely talk. I could barely breathe. I was taking these tiny little breaths in and out. I told Chris, 'I have to go to the hospital.' He said, 'Oh yeah, okay, whatever. I'll get the bike ready for you next week and you can call later from the hospital.' That guy was all business.
"ARE YOU REALLY GOING TO JUST LAY HERE AND THROW AWAY YOUR ONE SHOT AT EVER BEING A NATIONAL CHAMPION? YOU ARE LEADING THE POINTS, BUT YOU WON'T BE IF YOU DON'T RACE NEXT WEEKEND AT CARLSBAD. YOU'RE NOT GOING TO LAY THERE AND GIVE IT UP, ARE YOU?"
"When I got to the hospital, the doctor said, 'You've got a collapsed lung. You won't be racing next Sunday. You won't even be out of here for a week.' I called my dad and told him everything the doctor said. He said, 'I'll be there immediately.' When his plane landed, he came to my hospital room and said, 'Well, you seem fine now. You can talk fine. You can breathe fine. Are you really going to just lay here and throw away your one shot at ever being a National Champion? You are leading the points, but you won't be if you don't race next weekend at Carlsbad. After all the injuries you've had, you're not going to lay there and give it up, are you?'"
"I said, 'I don't know. The doctor said I can't even get out of here for a week.'
"He said, 'I'll talk to the doctor. Don't worry about that.'"
Believe it or not, Darrell Shultz checked out of the hospital, and on Sunday, August 15, 1982, he showed up at Carlsbad Raceway for the final round of the 1982 AMA 500cc National Championship. No one believed it. He was in obvious pain. The pits were abuzz that Shultz looked like he should be in the hospital—not at the hard-packed, dry adobe of Carlsbad Raceway.
"Carlsbad was brutal," says Darrell. "There were such huge holes and bumps. Some of the uphills, I don't think they had ever been graded in the history of Carlsbad. On the uphills before and after that monster-long downhill the holes must have been 3 feet deep, and they were as hard as concrete. That was bad. I really didn't know if I was going to be able to finish the first moto. Every jolt I hit hurt my lung and my knee so bad that I just cruised around in 11th. I tried to take it as easy as I could. I was in agony. By the end of the first moto, I knew that I couldn't go out for the second moto.
"That whole year with the knee operations, hospital visits and chest injury I had been seeing the signs. By the end of the first moto in Carlsbad, I was thinking, 'This is it. I don't know if I'm even going to be able to race next year.' I had always felt invincible. I honestly thought I could take any amount of pain and could withstand it. But on the Carlsbad downhill, I could tell that my body had given up on me."
"I HAD ALWAYS FELT INVINCIBLE. I HONESTLY THOUGHT
I COULD TAKE ANY AMOUNT OF PAIN AND COULD WITHSTAND IT."

 
The 10 points that Darrell Shultz earned for his 11th place in the first moto at Carlsbad were exactly what he needed to keep Chuck Sun, the 1980 AMA 500 National Champion, from winning the 1982 500 National Championship. If Darrell Shultz hadn't gotten out of his hospital bed, he would have lost his one and only AMA National Championship and the $200,000 he earned for the pain and suffering he endured in 1982; however, Darrell Shultz never raced again. His body indeed had given up on him. In the context of modern Supercross and motocross bonuses and salaries, that sort of money adds up to something close to nothing. Today, Darrell Shultz resides in the San Diego region of California where he still rides for fun and takes life pretty easy.