MXA MINI-VIEW: JOSH GRANT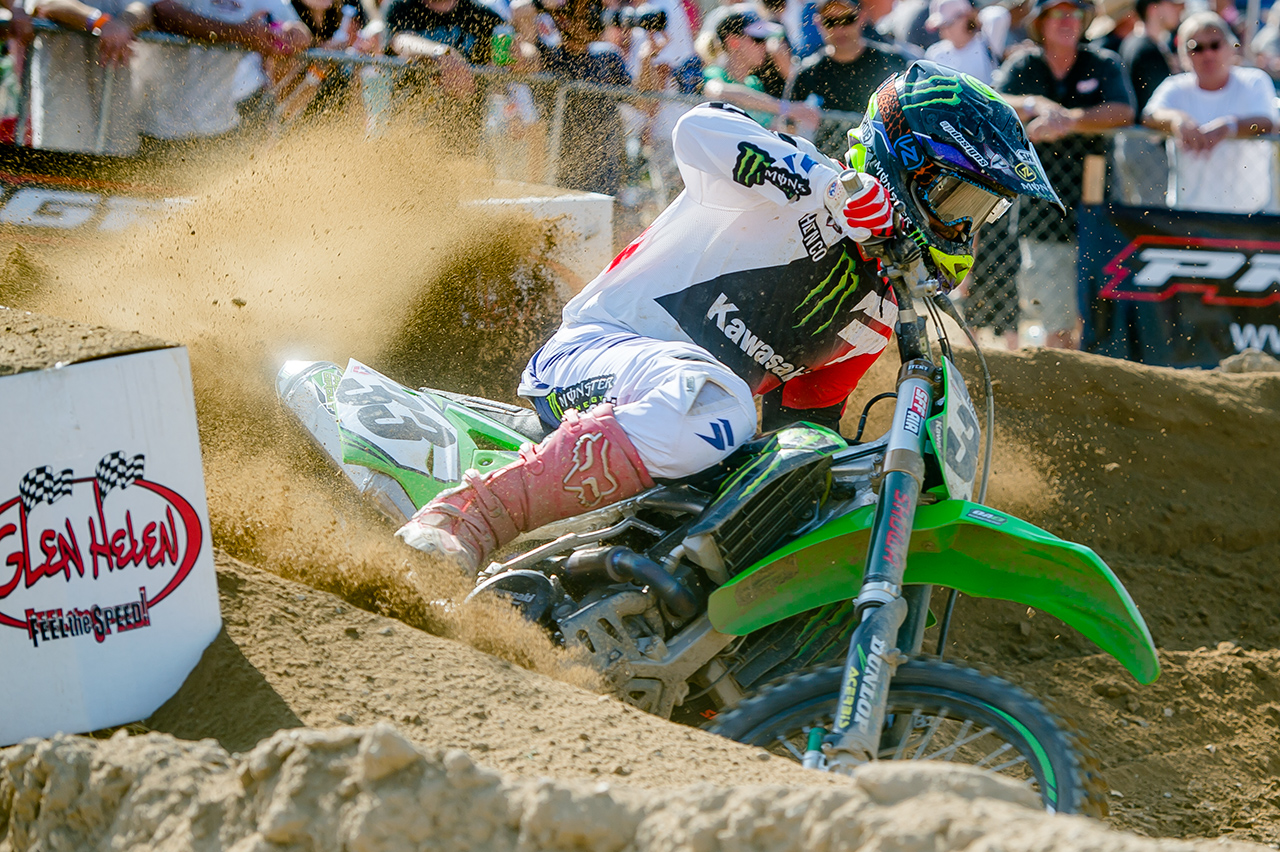 Josh Grant blowing through a corner at the 2016 Glen Helen National.
Josh Grant has been riding longer than most of the current lineup, yet the native Californian seems to re-invent himself every few seasons. This year Josh Grant didn't start racing until the Daytona Supercross, where he did well enough for Kawasaki to bring him on board. Grant would reprise his role as fill-in for Wil Hahn until High Point, where he had to pull out and get season-ending ankle surgery. We caught up with him at the Shift gear launch to talk about life.
Do you have a contract with Kawasaki next year? That is the plan now. It's not fully signed, but we do have an agreement put forward to race in 2017.
Josh Grant answers TV personality Georgia Albertson's questions before a National moto takes off.
You have been a Pro since 2004. Any thoughts looking back? I look back at it and I'm like, shoot, 30 years old! The new guys are so young.  A lot of the guys I never even raced. I raced with James Stewart and Ricky Carmichael when I rode my first 450 race in St Louis, along with Kevin Windham and many more legends of the sport. I came up through that and now I'm racing with the new group.
It appeared like you had rebuilt yourself in 2016. Yes. I mean, I had some time off. Unfortunately, it wasn't time off that I wanted, but coming into 2016 I didn't have a ride. At that point I was left wondering what I was going to do. I did a last-ditch effort with my friends. We raced Daytona and it turned into something great. I was able to fill-in for Wil Hahn at Kawasaki. I've had a good relationship with those guys in the past, so it turned into a good thing. I was able to race again.
Is it true you went fishing after the Daytona Supercross? [Laughter] Yeah, we didn't go to bed until like three or four that next morning. We were pretty excited about how the night went. We went out and had some fun. The next day, we threw some poles in the water and caught some tarpon and red fish.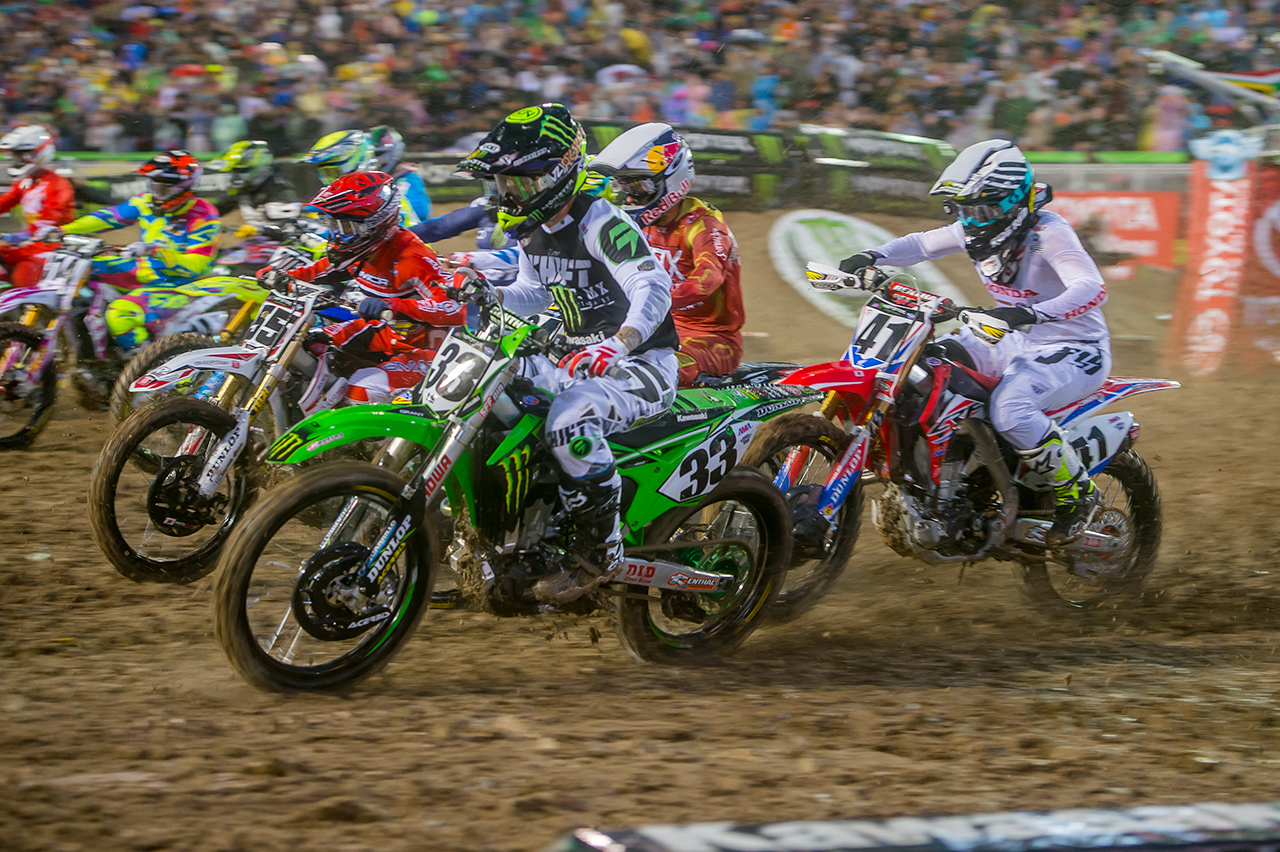 Josh Grant finished 11th in the brutally messy race at the Las Vegas Supercross finale.

Can you cook the fish as well as you can catch them? Definitely. I just can't skin fish.
At Thunder Valley you beat Eli Tomac in the first moto. Was there any talk in the trailer after? Not really anything. I've always expected myself to be in that category with those guys. It is no surprise to anybody that I can go out and do that. I feel like I can still go out and win races. The stars have to align, though. I just need to be healthy and make sure everything is right. That is kind of why Kawasaki put me in that position. They know that we can be up there. Even watching the races now, it would be really hard to say that I could be up on the podium with Eli and Kenny (Roczen) almost every single weekend. I was just stoked I was riding and putting in good results. There was no bad blood with the team. It was just having fun and doing my job.
This is your second time filling in for Wil Hahn. Any thoughts? Wil did really good on a 250 bike. He probably is better suited for the smaller bike, but the way our sport is organized you can't stay in that class for Supercross. I think that is wrong. At the same time, I respect Kawasaki for standing by him. They kept supporting him when he was hurt. For me to fill in was good, but unfortunate for Wil.
Josh Grant is well known for his whips.
Tyler Bowers, the fill-in for you, is the opposite build of Wil. Bowers is like six foot something and 280 pounds. He's like a freaking monster, and Wil is the complete opposite.
What was your decision behind riding a Suzuki during the off-season? I rode for Chad Reed and on a Kawasaki. Before that I was with JGR and they ride Yamahas. I was already familiar with the bike. Unfortunately, I was left without a ride after the USGP at Glen Helen, which was my last race for Kawasaki. They still had another contract with Wil and couldn't bring me in. I was left high and dry with no ride. There are no hard feelings. That was just the situation as it was. I didn't get the opportunity at the time, so I decided to go out and see what I'd like to ride. I was feeling the waters. I went out and bought a couple of bikes, and that turned into riding a Suzuki.
Speaking of Suzuki, both RCH and Yoshimura Suzuki ran into hard luck during Supercross. However, they didn't opt to get a fill-in rider. Were you contacted? They wanted to get a fill-in. They just didn't want to pay anyone. That is just the truth. There are a lot of guys that will go out and race for free. I'm not one of them.
Will you be healed up enough to do the USGPs this year? I wanted to. I was on track to do it in place of Wil, but getting my ankles fixed threw that out of the window. The healing time is about four months. My legs are swollen and bruised. There is a lot of healing time left, but this was the best time to do it. The wife is still not used to it. It was hard the first couple of weeks with juggling two kids at the same time. It was kind of tough.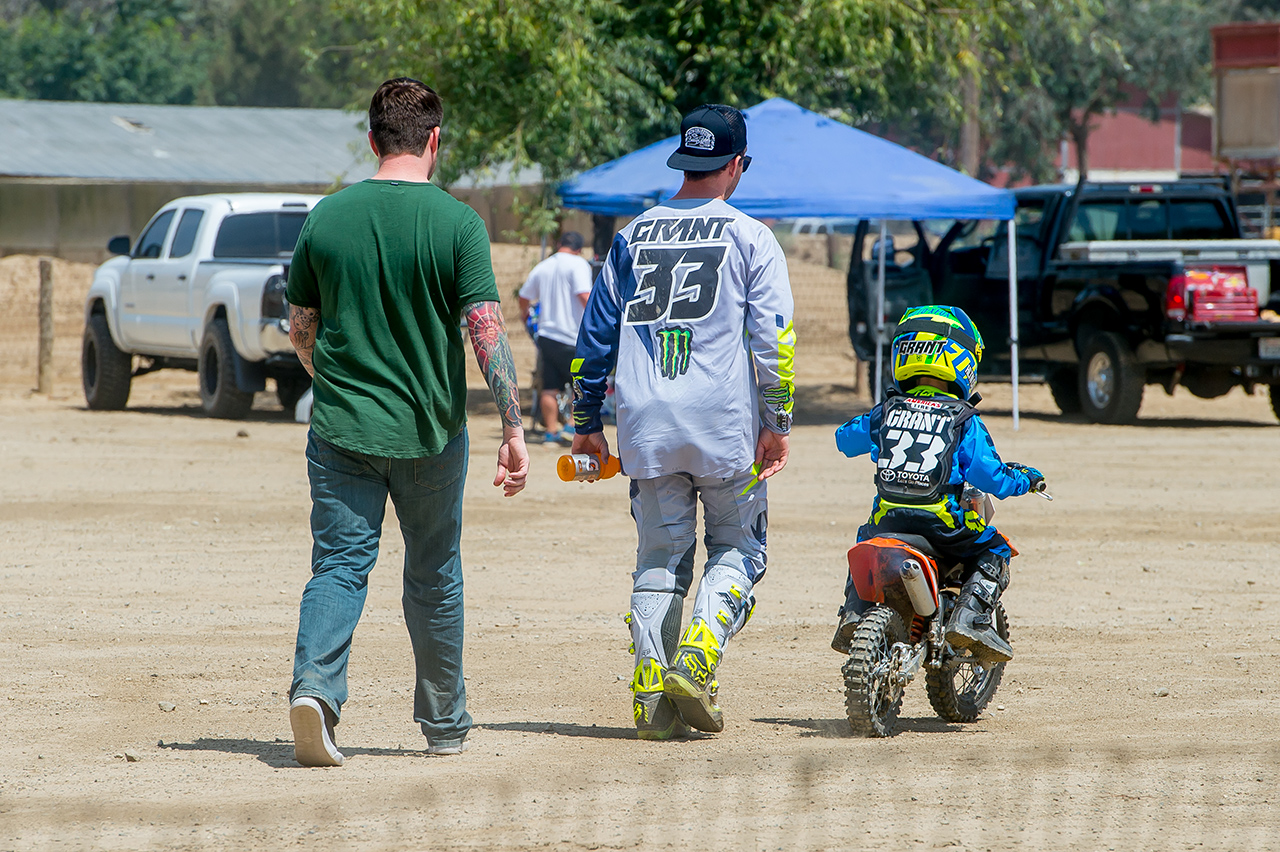 Grant and his son at Milestone.