THE REAL TEST OF THE 2020 HUSQVARNA FC250
READ THE FULL MXA REVIEW OF THE 2020 HUSQVARNA FC250
---
Q: FIRST AND FOREMOST, IS THE 2020 HUSQVARNA FC250 BETTER THAN THE 2019 FC250?
A: The 2020 Husqvarna FC250 is better for some people and worse for others, but that was a calculated move on Husqvarna's part, and we like in comparison to the 2019 Husqvarna  FC250.
The 2020 Husqvarna FC250 has a much softer suspension setup than its brother the KTM 250SXF. We like it.
Q: WHAT DID HUSQVARNA ROLL THE DICE ON FOR 2020?
A: It's no secret that Husqvarnas roll down the same assembly line as KTMs in Mattighofen, Austria. Using an automotive manufacturing technique known as "platform sharing," the production costs of KTM and Husqvarna off-road motorcycles can be lowered by ordering in higher volumes. Mattighofen can get price breaks on outside parts by ordering 100,000 throttle bodies instead of 50,000, not to mention the money saved in the warehousing, product planning and start-up development stages of R&D. The manufacturing process is more cost-efficient, because sourcing of parts, designing time and purchasing are all streamlined. You'd be surprised to find that an $80,000 Cadillac Escalade's closest relative, in term of parts and design, is a $50,000 Chevrolet Tahoe. Obviously the challenge for the manufacturer is to highlight the differences between butter and margarine.
Husqvarna and KTM share the same engine, chassis, electronics, cooling system, battery, transmission, hubs, fuel injection and components. The inherent problem with platform sharing is that either the borrower or lender of parts runs the risk of being marginalized by the consumers. This is evident in consumers often calling Husqvarnas "white KTMs." To the serious buyer, KTM has not done as good a job of differentiating one brand from the other as General Motors has with the Chevy and the Cadillac. Yes, a Husqvarna has different bodywork, seat cover, color palette, subframe, airbox, handlebars, brake rotors, rims and hydraulic master cylinders, but that hasn't proved to be enough to remove the platform-sharing stigma. But for 2020, the Husqvarna FC250 does get a new wrinkle to set it apart from its KTM brother; Husqvarna's U.S. derived suspension settings are worlds apart from KTM's 2020 setup.
This move carried with it some risk in that both the firmer KTM and softer Husqvarna settings can't please everyone. So, for risk-adverse KTM management, the change in Husqvarna suspension philosophy was a gamble, but one that MXA thinks will work out as a benefit for both brands. Kudos to Husqvarna's American test team for pushing to have more of a say in how its bikes should perform and whom they should be built for. They rolled the dice and it came up a winner.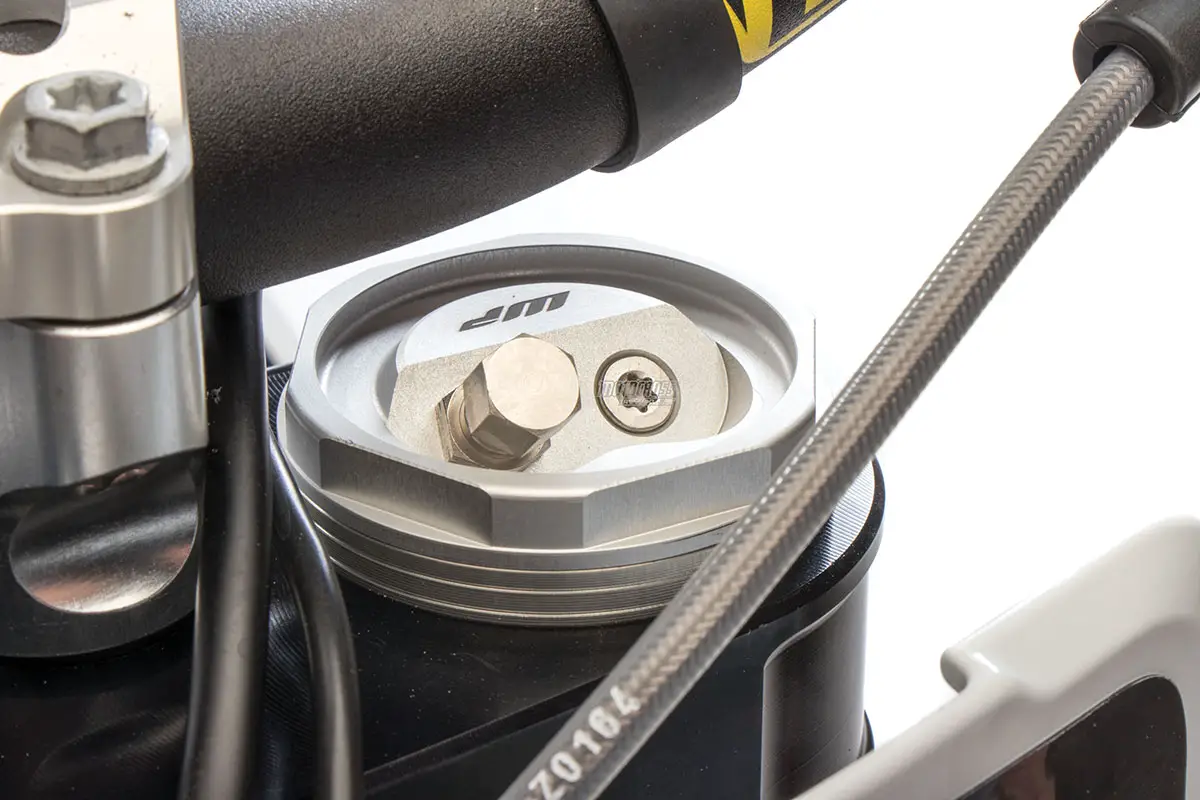 Q: WHAT DID HUSQVARNA DO TO ITS 2020 FORK SETTINGS?
A: First and foremost, Husqvarna's product planners knew that as long as they stuck with KTM's suspension settings they were going to be painted with the same brush—that meant the same accolades and the same criticisms. It just happened to turn out that Husqvarna's test riders and engineers felt that complaints about KTM's fork and shock setup were valid grievances, especially for their core customers. In our opinion, Husqvarna's buyer demographics skew towards riders who are not interested in Supercross-stiff suspension. They want suspension that moves, is plush and more fun to be on. Husqvarna decided to target a different audience than KTM—that meant not catering to fast Pros at the expense of the vast majority of regular folk.
What did Husqvarna do? They threw out the KTM play book and softened the suspension, front and rear. The compression shim stack was changed to make the forks softer from mid-stroke down. They eliminated free-bleed in the mid-valve, fought bottoming by raising the oil height and upped the recommended air pressure by 2 psi (from 149 psi to 151 psi) to hold the fork higher in its stroke early in the travel. In the process, Husqvarna succeeded in lessening mid-stroke harshness, smoothing out the action of the fork, improving front tire contact and increasing overall comfort mega-fold.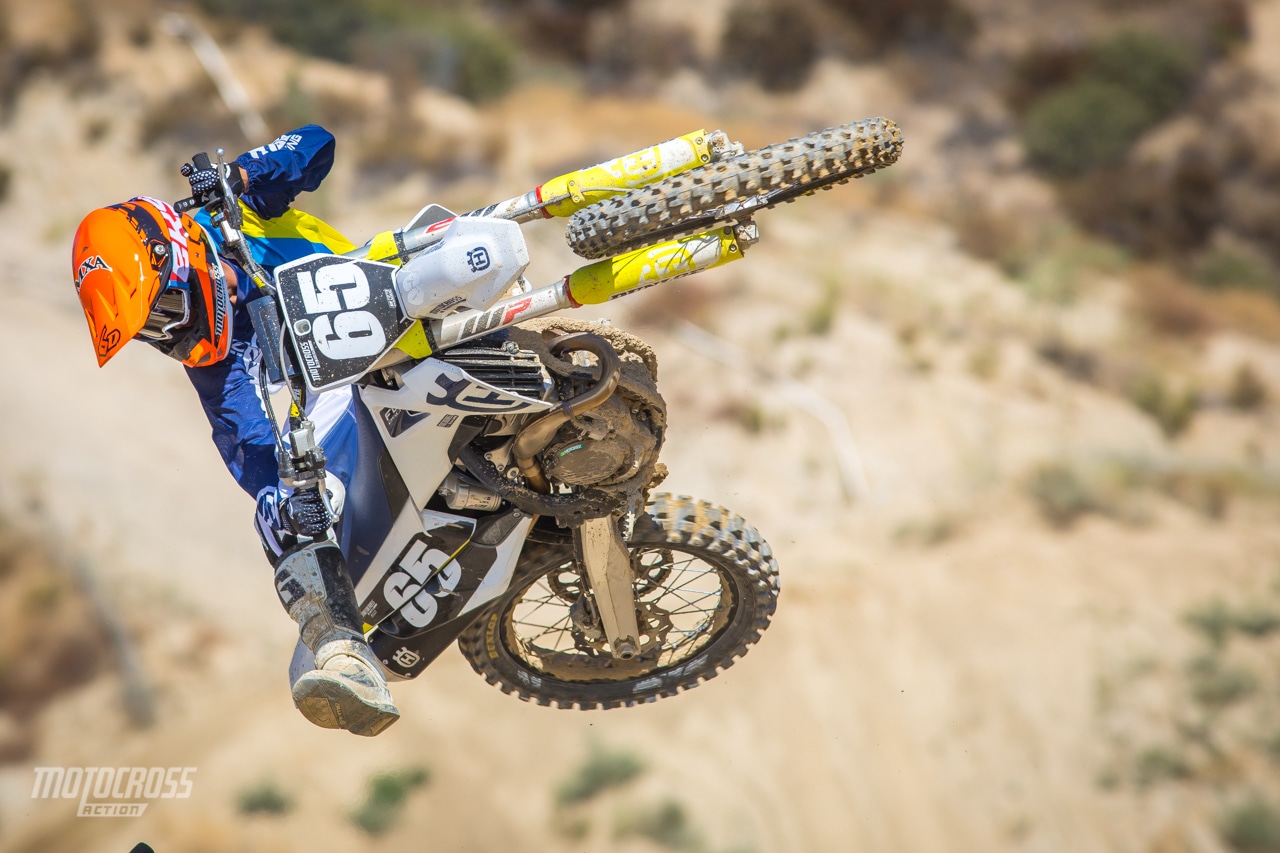 Q: WHO WILL AND WON'T LIKE HUSQVARNA'S FORK STRATEGY?
A: When you read the pluses of Husqvarna's new fork strategy above, you must think that, "God's in his heaven, all's right with the world." Not so. Remember back in the beginning where we wrote, "Softer Husqvarna settings can't please everyone." That is truer than true. If you fall into Husqvarna's target zone in terms of speed, weight, usage and self-realization, you are gonna love what Husqvarna has achieved. However, if you are a Pro rider, the 2020 FC250 forks will be too soft for your tastes. They will bottom with a Pro on board, and he will need to raise the air pressure from the recommended 151 psi to 154 psi or higher while also stiffening the compression. Husqvarna is willing to risk the ire of fast riders and Supercross wannabes because they know that every Pro rider sends his forks out to have them re-valved, often before he even rides on them. Husqvarna's strategy is to set their forks up for the mass majority of riders who dream of buying a bike that doesn't need to have the forks shipped off for an expensive make-over. 
Q: HOW WAS THE SETUP ON THE WP REAR SHOCK?
A: The plan of action with the FC250's WP rear shock is to seek a balanced chassis. Most MXA test riders thought the damping was too light at the end of the stroke and not firm enough on rebound throughout the stroke. We compensated for this with 5 clicks more of rebound (from 15 clicks out to 10 clicks out). We ran the race sag at 105mm and felt that the shock spring rate was in the ballpark for the typical 250 four-stroke racer. If you have any doubts about the shock spring, measure your free sag. If it isn't between 30mm and 40mm unladened, you need a different spring. The easy way to gauge both the spring rate, preload and compression damping is to look under the rear fender to see if you are leaving black skid marks there. If you are, go stiffer.

Q: WHAT'S DIFFERENT ON THE 2020 HUSQVARNA FC250 ENGINE PACKAGE FROM 2019?
A: Husqvarna insisted that the 2020 engine was the 2019 FC250 engine. No differences what-so-ever! That meant no mechanical changes to the crank, piston, valves, throttle body, cases, clutch or ECU mapping. We have no reason to doubt them. Well, we have one minor reason to think that perhaps there is a mapping change hidden away in the black box—and that is because the 2020 Husqvarna FC250 feels faster on the track than the 2019 FC250 (in back-to-back tests and races). The 2019 engine had a major lag off the bottom, then slowly got up to speed pulling to the moon. The 2020 FC250 engine reacts fast off the crack at the throttle and moves through the powerband swiftly having to shift more and sooner. It is a huge difference, but Husqvarna claims nothing is changed? You can't fool us.
 Q: WHAT ABOUT THE VENTED AIRBOX COVER?
A: In the past MXA has used the term "Husqvarnitis" to describe how inefficiently Husky's molded plastic subframe/airbox breathes. In our search for a solution, we consulted with the Rockstar Husqvarna factory team, and they showed us how they drill out the airbox cover to get the FC250 engine sufficient air to run to its fullest potential. After we began drilling holes in the exact spot that Rockstar Husky showed us, we felt a noticeable increase in throttle response and power across the range. But, back at the Husqvarna factory, the engineers pooh-poohed the idea of drilling holes, but for 2020 they cracked under the pressure of the vast majority of Husky owners going hole-crazy. Well, they sort of cracked.
The 2020 Husqvarna four-strokes come with vented airbox covers. But, not only did Husky put in the least amount of vents humanly possible, and they drilled them in exactly the opposite place of where their factory FC250 team said they needed to be.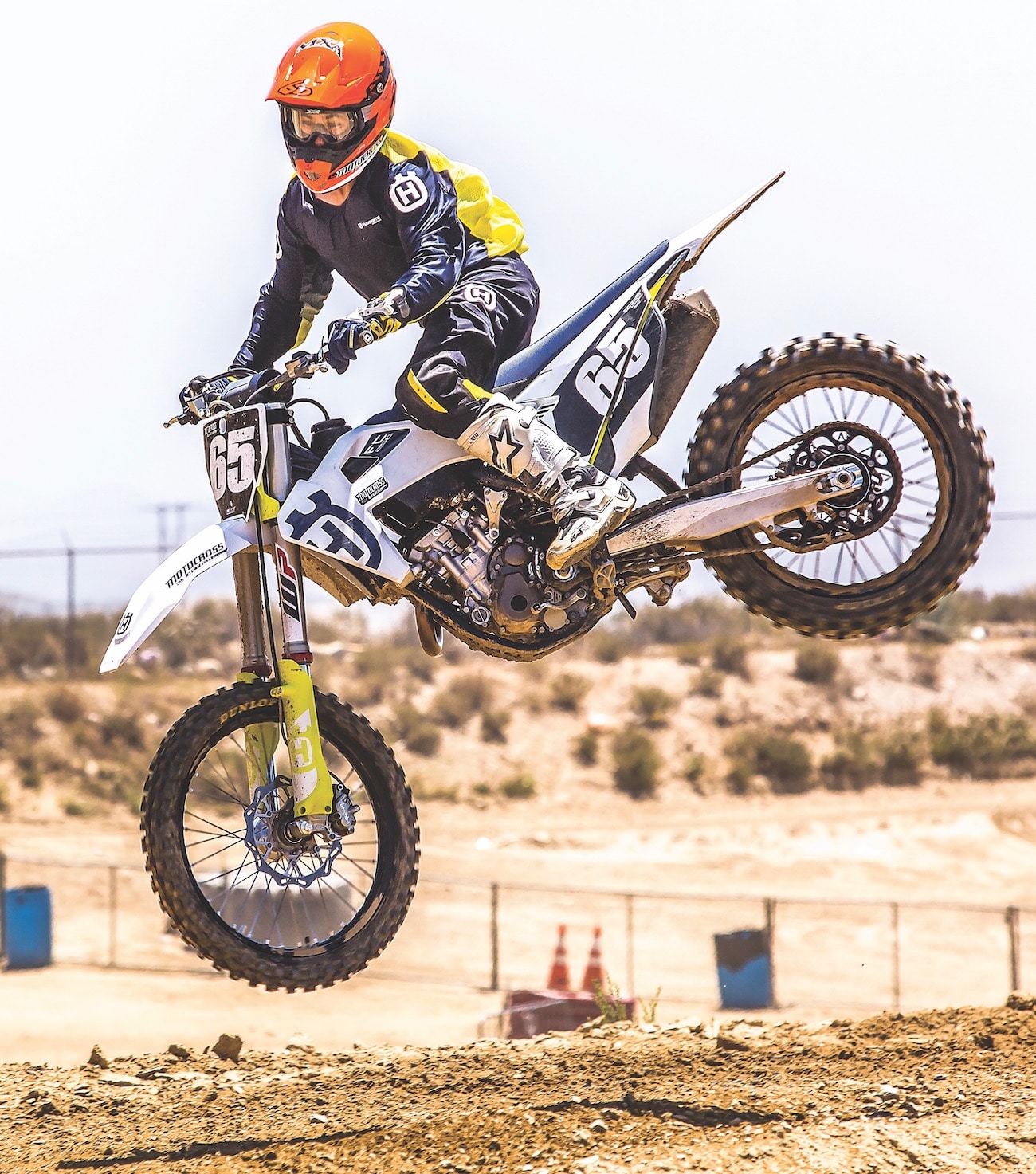 Q: HOW DOES THE 2020 HUSQVARNA FC250 RUN ON THE DYNO?
A: The basic facts are that the 2020 Husky FC250 produces 43.05 horsepower at 13,000 rpm, with 20.66 pound-feet of torque at 9300 rpm. Those are very good numbers. When we tested the vented and non-vented airbox covers on the dyno, the vented airbox produced more power at virtually every point across the rpm range, with the exception of a half-horsepower dip in the curve of both airbox covers at 10,000 rpm that the non-vented airbox cover slid over better for a 500-rpm section. Other than that one spot on the dyno curve, the vented airbox was a half horse better everywhere and a full horse better at max rpm.
The surprise is that test riders could feel a much greater increase in throttle response with the vented airbox cover (throttle response doesn't register on a dyno). Although, it was less lively than the improved pickup on the KTM with its vented airbox cover.
Q: HOW DOES THE 2020 HUSQVARNA FC250 RUN ON THE TRACK?
A: This is a high rpm engine. You'll often hear people say that it has a lot of "over-rev." Not true. The word over-rev describes how far an engine revs after reaching its peak. For example, the 2020 Kawasaki KX250 peaks at 12,700 rpm, but revs to 14,000 rpm before signing off. Thus, the KX250 has 1300 rpm of over-rev. In the case of the 2020 Husky FC250, it hits its peak horsepower at 13,900 rpm and signs off at 14,000 rpm. Simple math tells you that the Husqvarna has 100 rpm of over-rev. That is very little over-rev as opposed to a lot. This bit of trivia should inform you that you have to rev the Husky until dogs howl in the next county to get the most out of it. In fact, if you shift early at 13,000 rpm, it will cost you 0.5 horses. If you shift at 12,000 rpm, it will cost you 2 horses. If you shift at 11,000 rpm, it will cost you 3 horses, and if you shift at 10,000 rpm, it will cost you 6 horses. In simple terms, don't shift. 
Because of the high-rpm peak, the Husqvarna has a very long powerband. Last year this was a bad thing, as the slow-revving power had no excitement. We had to use much lower gearing to get the bike out of its own way. For 2020 the FC250 power revs through its power faster, and we love it! Most testers didn't have a prayer getting to 14,000 rpm; now they have a chance. The engine is more lively, fun, exciting and, bottom line, easier to ride for the masses. With Honda's CRF250 and now Kawasaki going with a top-end engine, you can now say that the FC250 and KTM 250SXF offer good bottom-end power in comparison with the competition. This connects the strong mid and top-end power, making for a great overall powerband.

Q: HOW WAS THE GEARING?
A: The gearing isn't perfect, but much better than last year, even though the gearing or engine (according to Husky) is unchanged. The fact is, something is different. Whether the change is big or small, the slow-revving turtle is now the fast-revving hare. This difference is so big that the box-stock 14/51 gearing combo was way too tall on the 2019 FC250 with a 3.64 ratio. Most riders preferred a 13/50 gearing combo (3.85 ratio), as throttle response and low-end power were minuscule. When Husqvarna switched from their 13-tooth countershaft sprocket to a 14-tooth back in 2017, it muted acceleration. However, the engine has perked up in recent years, especially in the midrange, so 13/51 seems a little extreme, as the power will now pull all the gears out of the corners. This is a judgment call that depends on your speed and track's layout.
Q: WHAT DID WE HATE?
A: The hate list:
(1) Bolts. Check the spoke nipples and rear sprocket bolts at very regular intervals.
(2) Blue frame. The blue frame looks old and weathered on the showroom floor. 
(3) Compression clicker. The three-prong compression clicker has been changed to a two-prong clicker, which isn't any better. We need longer prongs, not fewer of them.
(4) Graphics. The graphics look like the mechanic slipped while putting them on.
(5) Vented airbox. Husqvarna's engineers didn't put their hearts into making the vented airbox work.
(6) Gas hose. The gas hose gets tangled up when taking the gas cap on and off. 
(7) Side plates. Two-piece side plates mean two-piece number-plate backgrounds and a Grand Canyon-size gap.
Q: WHAT DID WE LIKE?
A: The like list:
(1) Weight. The 2020 Husqvarna weighs 219 pounds, which is a pound more than the KTM 250SXF but 10 pounds lighter than some of its 250 competitors.
(2) Brakes. The Brembo brakes with GSK rotors are great.  
(3) Clutch. The FC250 clutch design is a Belleville washer-activated, steel basket, DS (diaphragm steel) clutch, not the rubber-damped DDS clutch hub from the FC450. This allows the FC250 clutch to be lighter.
(4) Electronic suite. Most MXA test riders preferred the aggressive map (#2), but if the second moto was late in the day, they would combine map #2 with the Traction Control (TC) mode. The ability of mixing maps #1 and #2 with traction control offers four different maps instead of two. 
(5) Transmission. The gearbox is made by the Formula 1 supplier Pankl Racing systems.
(6) Handling. The new suspension settings glue this bike to the ground. The front-end response is phenomenal in corners.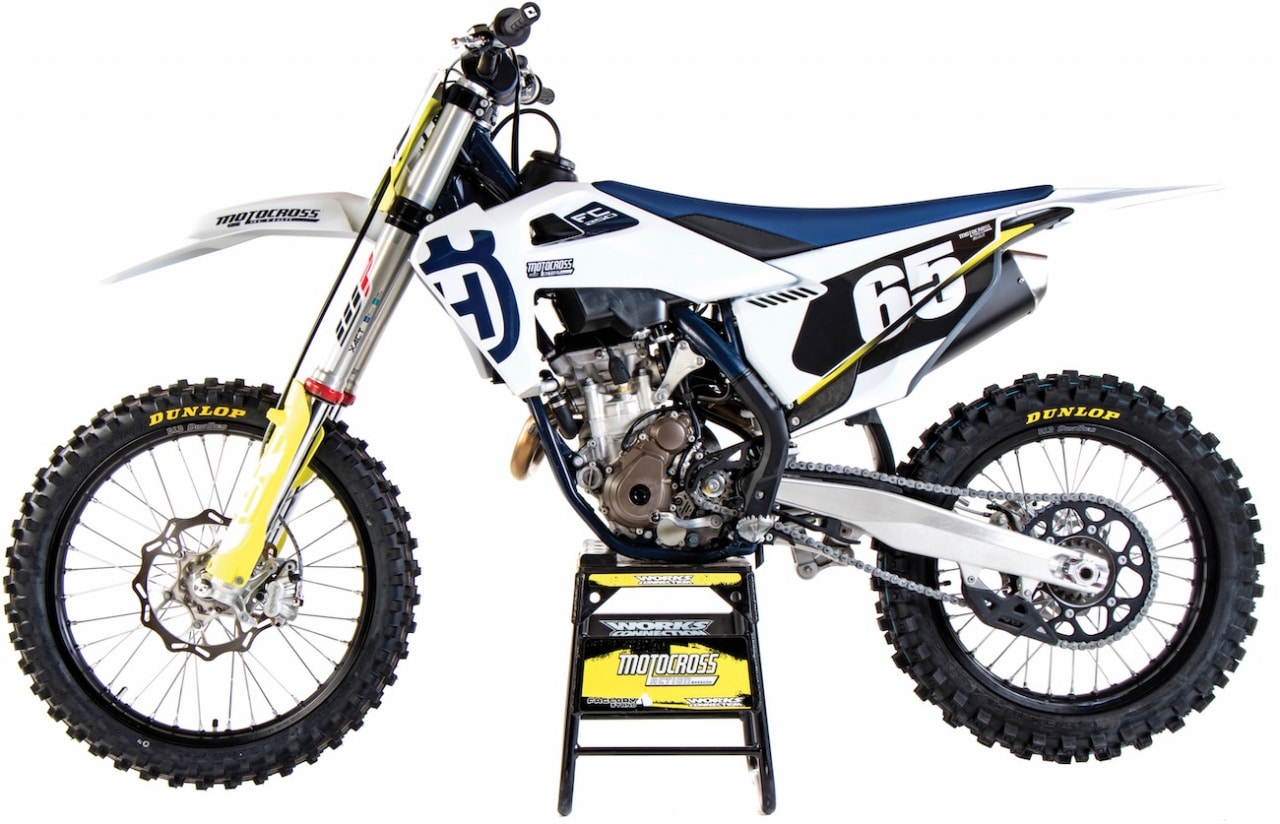 Q: WHAT DO WE REALLY THINK?
A: Let's call a spade a spade. We know something is different, and it had us jumping through hoops trying to figure it out. We were thinking we were crazy to notice such a big difference between two bikes that are
supposedly identical. We could have kept our lips sealed, but we would be doing a disservice to are customers. Whatever the change was, the FC250 offers much quicker throttle response, improved bottom end and revs through its broad rpm range with authority. We loved it. As far as the suspension, it felt more like a stiff off-road setup than a motocross setup, which isn't a bad thing. The WP components absorb chop like you were riding on clouds. However, if you are gifted with your right hand, the suspension will be on the soft side. 
MXA'S 2020 HUSQVARNA FC250 SETUP SPECS
This is how we set up our 2020 Husqvarna FC250 for racing. We offer it as a guide to help you find your own sweet spot.
48MM XACT FORK SETTINGS
The stock Husky air fork setting is 152 psi. This pressure is perfect if you are light, race the Vet class or don't like catching big air. The fork is extremely supple for these riders. On the other hand, if you are fat, fast and like catching big air, the stiffer KTM setup will suit your needs better. For hardcore racing, we recommend this fork setup for an average rider on the 2020 Husqvarna FC250 (stock specs are in parentheses):
Spring rate: 152 psi
Compression: 15 clicks out
Rebound: 10 clicks out (15 clicks out)
Fork-leg height: Third line
Notes: These are great forks for the right riders. Although if the rubber fork guides have moved to the bottom of the fork tubes after a moto, this is your indication that the forks are too soft. Go up on the psi at 2-pound increments to find your sweet. 
WP SHOCK SETTINGS
If you are heavier than 185 pounds, you should go up one on the spring rate to 45 N/m, as there is not enough rebound damping for the weight. Overall, this is a very good shock. Although we do make clicker adjustments, we rarely stray very far from the stock 15 clicks out on compression. It can be dialed in with only a few clicker changes. We do run additional rebound damping. For hardcore racing, we recommend this shock setup for the 2020 Husqvarna FC250 (stock specs are in parentheses):
Spring rate: 42 N/m
Race sag: 105 mm
Hi-compression: 2 turns out
Lo-compression: 13 clicks out (15 clicks out)
Rebound: 10 clicks out (15 clicks out)