MXA RETRO TEST: WE RIDE THE LAST WORKS 125 TWO-STROKE
We get misty-eyed sometimes thinking about past bikes we loved, as well as ones that should remain forgotten. We take you on a trip down memory lane with bike tests that got filed away and disregarded in the MXA archives. We reminisce on a piece of moto history that has been resurrected. Here is our test of Brett Metcalfe's 2005 works Yamaha of Troy YZ125.  
You didn't even have to attend an AMA Supercross to know the brand and rider of the loudest bike on the track. You could hear it when driving past the stadium in your car. Now, you might wonder how it would be possible to tell the model and rider from the freeway. That's simple; it only requires three jumps in logic: (1) The loudest bike was a 125 two-stroke. That was easily discernible by the high-rpm whine of the engine as its sound rose from the midst of a bunch of four-stroke washing machines. (2) The only factory-backed 125 two-stroke on the circuit is a Yamaha of Troy YZ125. (3) Australian Brett Metcalfe is the sole surviving 125 two-stroke rider in Supercross. He is a lonely man when it comes time to borrow a plug.
SINCE EVERY OTHER FACTORY-SPONSORED RIDER ON THE AMA CIRCUIT IS
ON A FOUR-STROKE, WHO DID BRETT METCALFE MAKE ANGRY?
WHY IS HE THE LAST OF THE MOHICANS?
Thus, without looking up from your steering wheel or your race program, you could tell when Brett Metcalfe went by. Amazingly, even though everyone winced at the sound of Metcalfe's YZ125, his bike barely registered 95 decibels on the AMA sound meter (the four-strokes were pushing 102 decibels). Why did Metcalfe's bike sound so loud if it was so quiet? First, its tone was unique. It was one of a kind. Second, the AMA sound test is a joke. The results vary from week to week on the same bike—and two-strokes, because of their power valves, slide under the AMA's prescribed rpm settings.
It's no secret that the 125cc two-stroke is dying a quick death. That is unfortunate, because Metcalfe and a large number of hard-riding locals have proven that it might be too early to put a toe tag on the tiddler. There is a real riddle at work here. Since every other factory-sponsored rider on the AMA circuit is on a four-stroke, who did Brett Metcalfe make angry? Why is he the last of the Mohicans?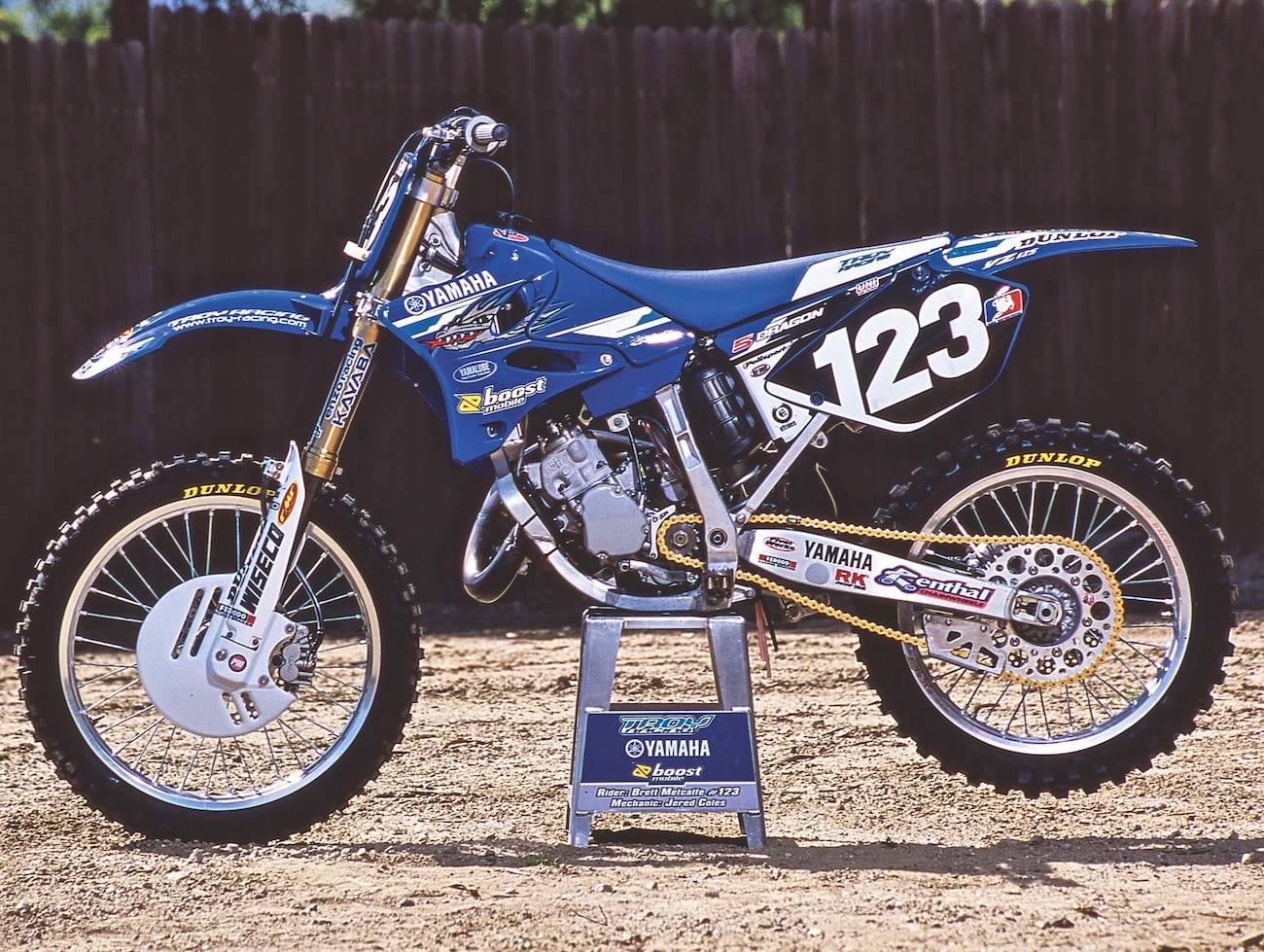 We all miss the sound of factory two-strokes ripping around. This YZ125 was the last of its kind.
The answer is quite simple. Yamaha invested oodles in the brand-new, aluminum-framed, laid-down-engine 2005 YZ125. They wanted the bike to be raced. They didn't keep it a secret from their riders. Both Brett Metcalfe and Kelly Smith were hired to be YZ125 pilots. Smith opted out and was allowed to switch to a YZ250F four-stroke. Which left Metcalfe. If Brett is asking, "Why me?" he has kept it to himself. There have been some perks for being different. Metcalfe has been making the top 10 and getting rave reviews' largely because he is doing it on a two-stroke, while his four-stroke teammates are hardly ever mentioned.
Back at the beginning of the year, when the MXA wrecking crew first took delivery of our 2005 YZ125, we thought it had the potential to be a 250F killer. After it easily won our 125 shootout, we thought about building the ultimate 125 two-stroke to erase the four-stroke scourge. But, in the end, we had a better idea. Why build the ultimate 125 when Brett Metcalfe already had one?
WITHIN A LAP OF RIDING METCALFE'S BIKE, IT BECAME READILY APPARENT JUST WHAT THAT 22 POUNDS MEANS ON THE TRACK. THERE
WASN'T AN INSIDE LINE WE COULDN'T HIT.

Wanting it was the easy part. Actually, getting Metcalfe's YoT machine was more difficult. YoT team manager Dave Osterman liked the idea. After all, it wasn't like Yamaha of Troy was setting the world on fire. A little publicity might pay off a few disgruntled sponsors. But, Dave had to get approval from Team Yamaha before he could hand Metcalfe's bike over to MXA. We waited for the official word—and waited. We were patient at first. Then we decided to go over the heads of Yamaha Racing and pitch our idea to Yamaha's corporate marketing division. They were the ones faced with the burden of selling 125 two-strokes in a four-stroke world. We thought they might be more responsive to our request. Three days later, we had our hands on Brett Metcalfe's YZ125—and had very few friends left at Team Yamaha.
So what's the first thing we noticed about Brett's YZ125? The weight. That's because the first thing we did was put it on a scale. Tipping the scales at the AMA limit of 194 pounds, the YoT YZ125 is a feather in a brick world. It was light on the scale and light to the touch. Considering that most 250Fs weigh 216 pounds, Metcalfe's YZ125 is in a world of its own. Within a lap of riding Metcalfe's bike, it became readily apparent just what that 22 pounds means on the track. There wasn't an inside line we couldn't hit or a jump we couldn't whip the YZ125 off of. That is the biggest advantage Metcalfe's YZ125 has over the 250Fs.
There is a misconception out there that 125cc two-strokes don't make as much horsepower as 250cc four-strokes. Not true. On the dyno, there isn't a gnat's hair difference. It isn't horsepower that puts a 125 two-stroke at a disadvantage. It is the fiefdom at the AMA. Since the AMA allows four-strokes to have twice the displacement, they are able to turn that bonus into tons of torque. Four-strokes produce very broad powerbands and lots of torque' which means that they are making good power at 5000 rpm and good power at 13,000. A two-stroke engine works like the shutter of a camera; it only makes good power when the shutter is open (normally between 10,000 to 12,500 rpm). 
THE AMA GAS RULE WAS A WASTE OF PAPER AND, MORE THAN ANYTHING,
HASTENED THE DEMISE OF 125 TWO-STROKES. WHO KILLED THE
125 TWO-STROKE? SOME GENIUS AT THE AMA.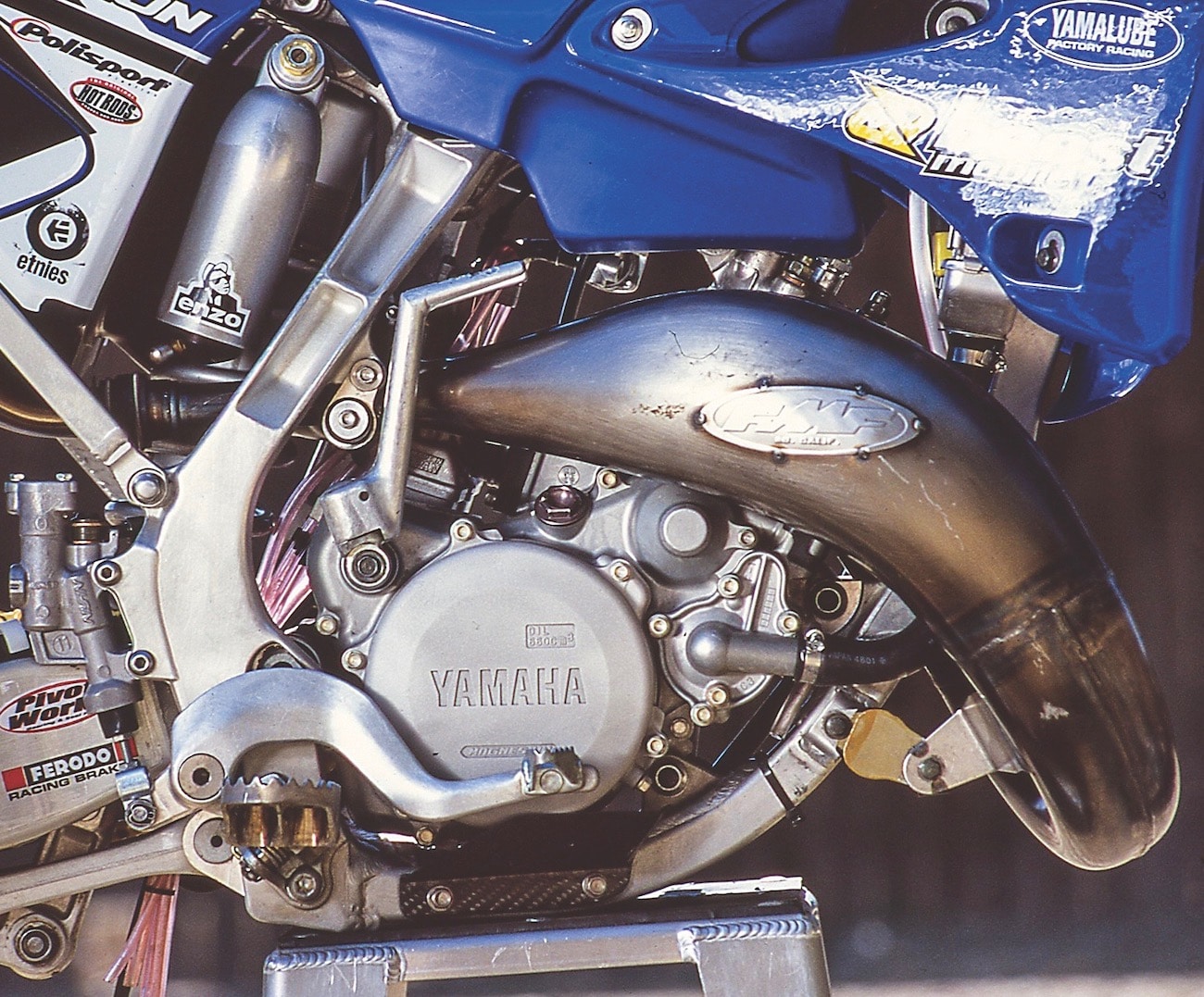 The second suppressor of two-stroke prowess is the AMA's stupid unleaded gas rule. Passed in 2004, this rule killed high-compression, high-rpm two-strokes but didn't have any effect on four-strokes. The AMA gas rule was a waste of paper and, more than anything, hastened the demise of 125 two-strokes. Who killed the 125 two-stroke? Some genius at the AMA.All that said, we were impressed with the overall power of the Yamaha YZ125. The boys over at Yamaha of Troy have built Metcalfe's YZ125 into a mid-and-up monster. Even in the deepest berms, all you have to do is fan the clutch and you're rewarded with an explosive surge forward. That surge doesn't end quickly, as Metcalfe's bike revs beyond the normal 12,500 rpm (his bike runs $40 a gallon VP Pro2 gas to defeat the AMA unleaded rule). This is a really good 125 engine.
HIS BIKE IS THE LAST OF THE BREED. MANY PEOPLE WILL POINT TO THE FACT THAT BRETT ISN'T WINNING AS PROOF THAT THE 125 TWO-STROKE IS DEAD. WE DON'T THINK SO. METCALFE ISN'T READY TO WIN YET.

Right on par with Metcalfe's YoT engine is the Enzo suspension. We got to sample Enzo's outdoor National setup and were blown away. The forks were really good. They stayed up over little stuff and didn't bottom out on the big hits. Anyone from a Pro to Novice could have easily raced with Metcalfe's fork. The shock action was just as good as the forks' action, but because the average wrecking crew test rider weighs a little over 30 pounds more than Metcalfe, the rear of the YZ125 hung down more than we'd like.
What do we really think of Metcalfe's YoT YZ125? His bike is the last of the breed. Many people will point to the fact that Brett isn't winning as proof that the 125 two-stroke is dead. We don't think so. Brett Metcalfe isn't ready to win yet' but his year of doing penance on a two-stroke might make him a contender in 2006' when he will most likely be riding a YZ250F.
The 125 two-stroke isn't a dinosaur yet. It's more fun to ride than the typical 250F. It's quicker, more agile and better handling. If it weren't hampered by the rule book' it would be unbeatable.