MXA TEAM TESTED: HI POINT M-16 FATTY FRONT TIRE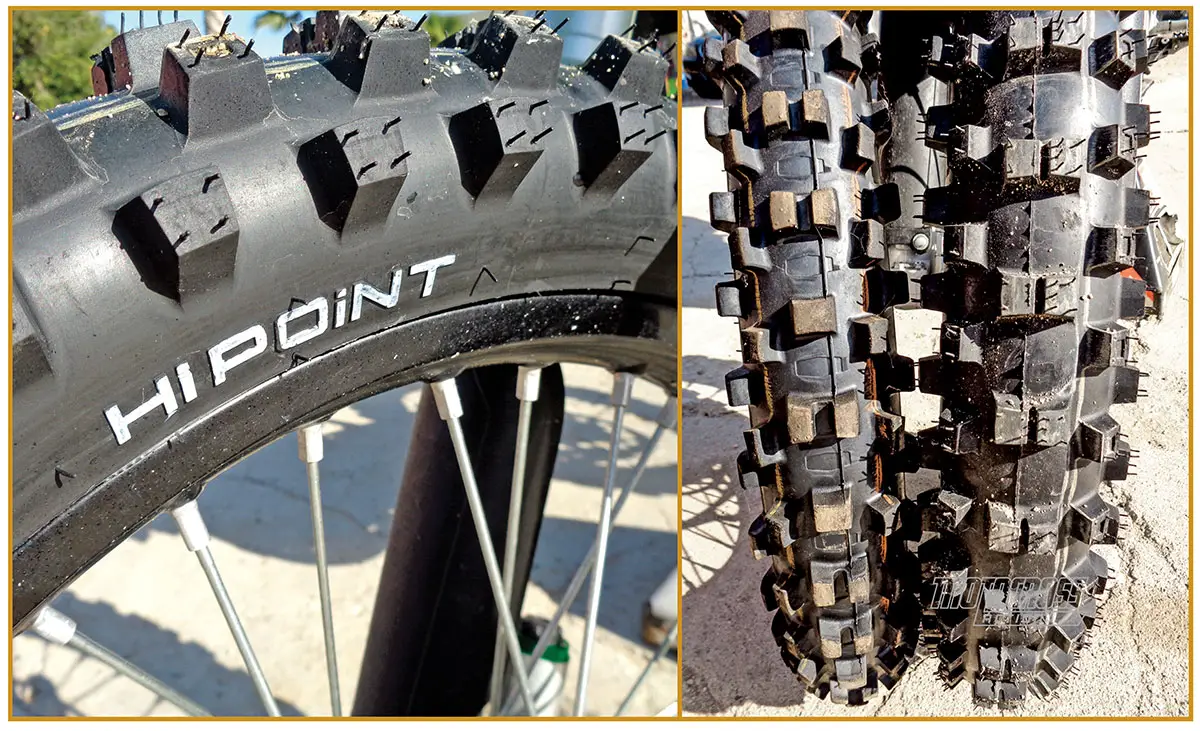 WHAT IS IT? The Hi Point M-16 Fatty front tire is the answer to Team Honda's wishes from 40 years ago for a high-volume, oversized front tire. That wish resulted in the original 20-inch front tire, but Hi Point has finally made it as a 21-inch tire.
WHAT'S IT COST? $71.00.
CONTACT? www.motomandistributing.com or (760) 949-0941.
WHAT STANDS OUT? Here's a list of things that stand out with the Hi Point M-16 Fatty front tire.
(1) Fatty. How much larger is the Hi Point Fatty than a conventional 21-inch front tire? It is 11mm wider and 10mm taller (see photo below for front tire comparison).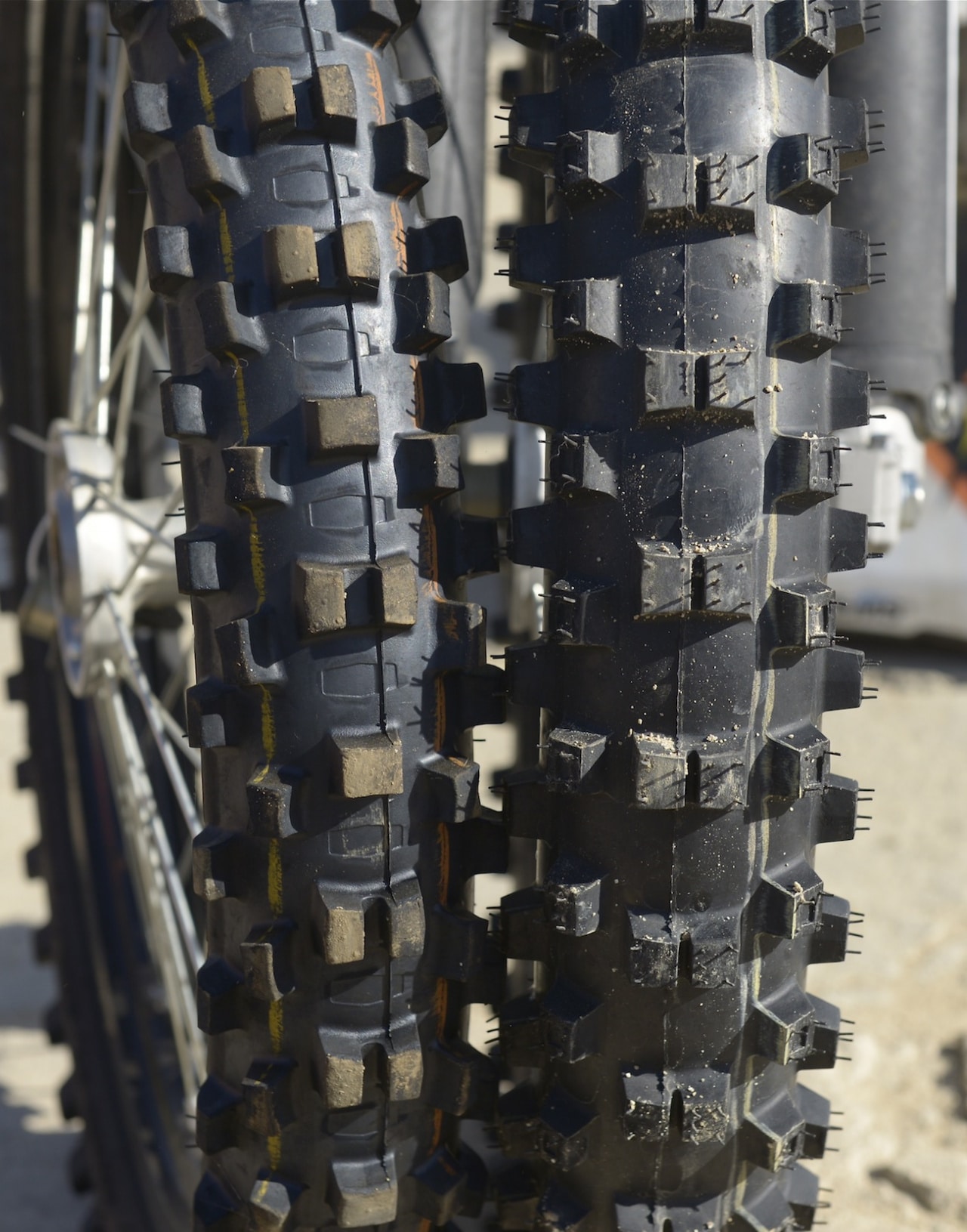 (2) Tire science. We admit that we were a bit confused about what terrain the M-16 Fatty was designed for. In baked, hardpacked conditions, the Hi Point M-16 was at its best. It had the added width and knob surface area to work wonders on hardpack. When the dirt was loamy, the M-16 Fatty had plenty of knobs to bite in the churned-up dirt. It should be noted that the M-16 Fatty is an offroad tire, not a purpose-built motocross tire. It is DOT-legal for street use and designed to be FIM legal for the European ISDE and enduro circuits. So, why were we racing it on motocross tracks? We felt that the Hi Point Fatty was the distant cousin of the 20-inch front tires from 20 years ago. Back then, Honda asked Dunlop to build them front tires with more air volume to take the harshness out of the CR250's aluminum frame. Dunlop and Bridgestone answered with the large-volume 20-inch front wheel. So, when Hi Point built what Honda asked for, albeit 20-plus years later, we had to try it.
(3) Performance. You gotta give to get. Here is what the MXA test riders thought. In the corners, the added rubber upped the adhesion of the front tire with three caveats: First, it was at its best on hardpack dirt. Second, because of the inflated shape of the tire, it didn't like to be leaned over as far as a conventional 80/100 front. Third, the added air volume caused the Fatty to bounce more in braking bumps, which could be mitigated a little with lower air pressure. That same large volume and big carcass acted like suspension travel for hard landings over jumps. Just like the 20-inch tire before it, the Fatty didn't like deep ruts in the corners—mostly because they were made with 80/100-21 front tires and were too narrow for the 100/90-21 Fatty. Strangely, we thought it would be great in muddy conditions, but it wasn't. It turns out that knob pressure is more important in mud than knob surface area. Not only did it slide more, it also packed up with mud easier.
WHAT'S THE SQUAWK? As a hard-track tire, it has a lot of charm, but that makes it a fairly specific-use front tire for a motocross racer. As an offroad tire, especially in fast West Coast WORCS, Big Six and Grand Pix races, it could be a great all-around tire.
MXA RATING: The Hi Point M-16 Fatty front tire has a purpose in the offroad world, but for motocross, its only real value is as a hardpack tire.