MXA TEAM TESTED: TUSK IMPACT WHEELSET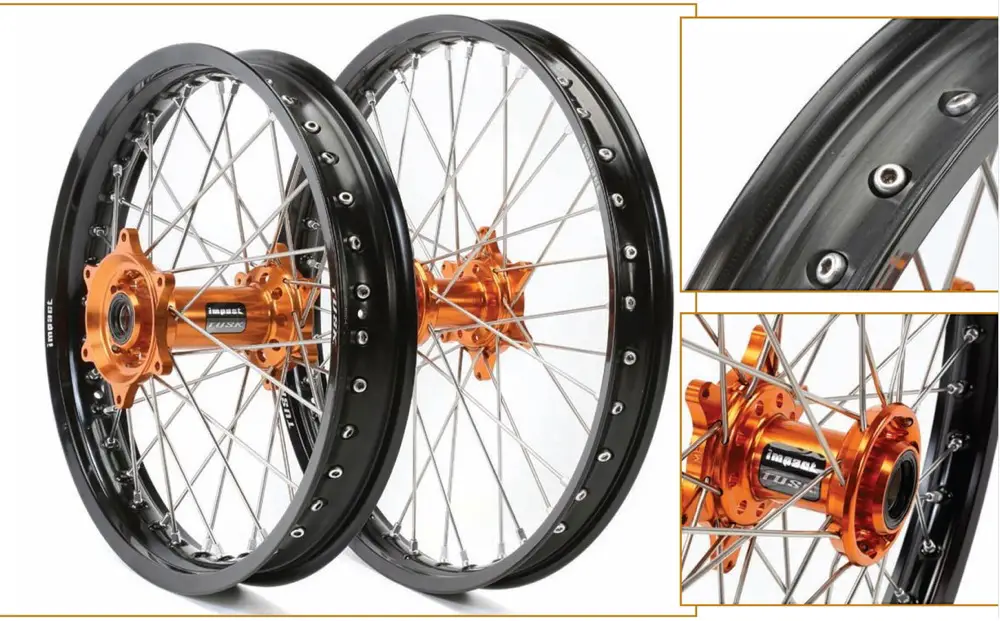 WHAT IS IT? The new Tusk Impact wheelset is the least expensive high-performance wheelset that MXA has ever successfully tested—which means that the other low-cost wheels couldn't cut the mustard.
WHAT'S IT COST? $499.99 (front/rear wheelset), $289.99 (rear wheel), $259.95 (front wheel).
CONTACT? www.rockymountainatvmc.com or (800)-336-5437.
WHAT STANDS OUT? Here's a list of things that stand out with the Tusk wheelset.
(1) Price. For the $499.99 you pay for a complete set of front and rear wheels, you couldn't buy a front Kite, Talon or Excel wheel. The MXA wrecking crew would be the first to admit that we were scared to race with such an inexpensive set of wheels—based on past bad experiences. So, we started out using them as practice wheels, upgraded them to desert riding wheels and eventually began to race with them. We wanted to be thorough, so we started testing this set of Tusk wheels in July of 2013 and they are just appearing in the magazine.
(2) Constructions. Tusk's aluminum hubs are forged, not cast, and CNC-machined for a precision fit. The Tusk hubs come with high-quality bearings, seals and hard anodized wheel spacers. The rims are anodized and made from 7075-T6 aluminum. They aren't D.I.D. or Takasago rims, but are private label from a Tusk supplier. The spokes are 3024 stainless steel. Tusk wheels come completely assembled and will interchange with the stock OEM wheel components, which is very nice.
(3) Colors. Tusk's KTM hubs are anodized orange. Yamaha gets blue hubs, honda red, Suzuki yellow and Kawasaki blue. All Tusk Impact rims are anodized black
(4) Performance. The more time we put on the Tusk Impact wheels the more comfortable we became with them. Although they are heavier than other premium wheesets, we took that as a sign that they were overbuilt to hold up to abuse better. In the first month we chased the spokes on a regular basis, but they didn't require any more attention than the stock KTM rims. By the second month, we began to notice that the stock KTM Excel rims were looking kind of whoopty, while the Tusk Impact rims were still round. By the end of our test, the Tusk wheels had won us over.
WHAT'S THE SQUAWK? There were two quibbles. (1) They are a little heavy for race wheels, but perfect as practice wheels. (2) Black rims may look sweet when new, but get gouge up.
MXA RATING


You can't beat the price and we couldn't beat the Tusk Impact wheels to death. All good