MXA'S 2013 YAMAHA YZ250F MOTOCROSS TEST: THE MOST MODERNIZED VINTAGE BIKE ON THE MARKET TODAY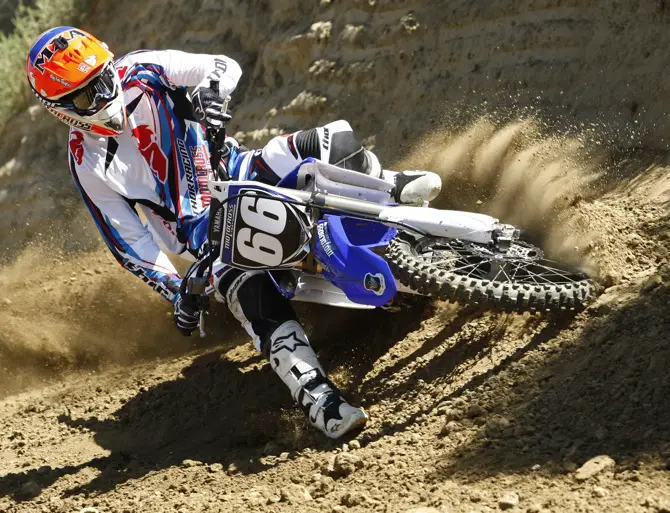 IS THE 2013 YZ250F BETTER THAN THE 2012 YZ250F?
A: No! Is it worse? No. The 2013 Yamaha YZ250F is the same bike as last year, aside from the graphics, black handlebars and a white rear fender. It is, much like Dolly the sheep, a clone of the 2012 model.
Q: HOW MANY CHANGES WERE MADE TO THE 2013 YAMAHA YZ250F?
A: Didn't you read the answer to the previous question? We weren't joking. The 2013 Yamaha YZ250F has BNG (Bold New Graphics), black handlebars and a white rear fender instead of blue. Cosmetic updates don't mean squat to the MXA wrecking crew. We'll admit our sadness regarding the lack of meaningful changes to the 2013 Yamaha YZ250F, but we won't shed too many tears. Why? We've been down this road with the YZ250F many times before. MXA has incessantly begged for a new YZ250F engine for the last 10 years. Our requests have fallen on deaf ears. We accept that it is only natural that Yamaha?facing decreased motorcycle sales in a failing economy?would shy away from pumping money into a new model. However, Yamaha didn't pump very much money into this particular bike even when times were flush. We sympathize with Yamaha's sales projections, but other manufacturers, most notably Kawasaki and KTM, are forging ahead regardless of the economic climate. As a result, the YZ250F seems archaic compared to them.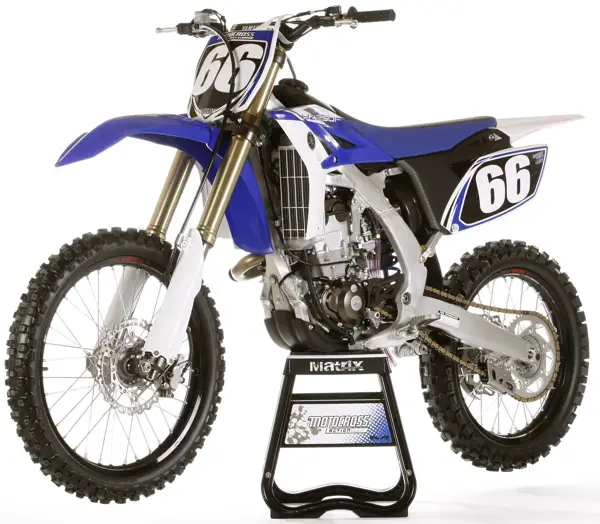 Q: WHAT WERE WE HOPING THAT YAMAHA WOULD CHANGE ON THE 2013 YZ250F?
A: Here's our wish list:
(1) Engine. For many years we've longed for a new YZ250F engine. Don't get us wrong, the powerplant is very reliable and workman-like. It pumps out 37 horsepower; not bad for a 250 four-stroke?if we were still living in 2009. Sadly, the current 2013 Yamaha YZ250F engine doesn't cut it in a market where the KTM 250SXF and Kawasaki KX250F both break the 40-horsepower barrier by large margins. Giving up four or five horses to more modern engines is a crime, but the 2013 YZ250F even gives up 1-1/2 horsepower to the unchanged Honda CRF250. We aren't telling tales out of school, but the most important attribute of a 250cc four-stroke is how much power it makes. Using that criteria, the 2013 YZ250F falls drastically short.
(2) Electronic fuel injection. The YZ250F is the only big-bike four-stroke that relies on a carburetor. In truth, we don't think that the Keihin carb is what is holding the YZ250F back, since many of the current fuel-injected bikes actually had better powerbands when they were carbureted. However, it's hard to deny the simplicity of electronic fuel injection. The MXA wrecking crew may be masters at working on the 39mm Keihin FCR carb, but most people don't want to swap jets based on atmospheric conditions. Public opinion dictates the need for Yamaha to slap EFI on the YZ250F. We're going to go out on a limb and say that every adult displacement four-stroke will be EFI-equipped in 2014, because the YZ250F is either going to join the party or end up as a wallflower.

(3) Exhaust. We're proponents of decreased sound levels, but Yamaha went to great lengths to choke down the YZ250F. How so? The muffler core is extremely small and doesn't allow the engine to perform at its best. Last year we drop-kicked the stock exhaust system for an FMF Factory 4.1 RCT system (www.fmfracing.com). It noticeably improved midrange and top-end power (something that the YZ250F desperately needs).

2013 Yamaha YZ250F: It doesn't take Sherlock Holmes to find that the 2013 YZ250F bears a striking resemblance to its predecessor. The only updates to the new model are visual, with graphics, black handlebars and a white rear fender.
Q: OKAY, IF NOTHING IS NEW IN 2013, WHAT WAS NEW IN 2012?
A: Yamaha made several quality changes to the 2012 YZ250F. The Yamaha engineers focused on massaging every area of the bike. Most of these updates positively affected the YZ250F (e.g., 2mm-larger carburetor bore, lighter piston, 50-tooth rear sprocket, new frame and stiffer fork springs). There were, however, a few flies in the ointment (e.g., 8mm-smaller muffler core, black rims and a horsepower deficit). Yamaha took several steps in the right direction a year ago, but that doesn't really compensate for taking no steps in any direction in 2013.
Q: HOW DOES THE 2013 YAMAHA YZ250F COMPARE TO LAST YEAR'S MODEL ON THE DYNO?
A: Yawn. Last year's dyno chart is this year's dyno chart and vice versa. Maximum horsepower on our 2013 YZ250F was 37.13 ponies at 11,500 rpm. Maximum torque was 19.55 foot-pounds.
How does the YZ250F engine compare to its competition? Unfavorably?and that is the nice way to say it. The 2013 Kawasaki KX250F makes four more horsepower (41.16 horsepower), while the KTM 250SXF wallops the YZ250F by almost 5-3/4 ponies (42.89 horsepower). Of all the bikes in the 250 class, the YZ250F and the Husqvarna TC250 are a match for each other. The Yamaha YZ250F has better midrange and throttle response, while the Husky revs farther.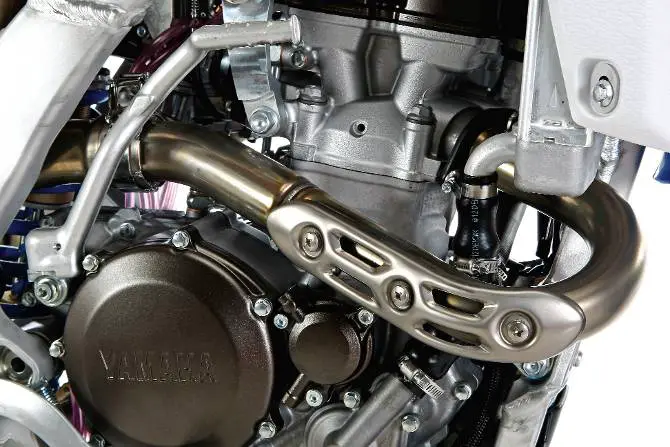 Old warhorse: The YZ250F has a reliable, but outdated engine. Add a pipe for more power.
Q: IS THE 2013 YAMAHA YZ250F ENGINE ALL BAD?
A: No. Although down on power, it has an easy-to-use, broad delivery. It can go fast in the right hands (as Yamaha's AMA 250 National riders have proven). No matter what you may think, it is possible to build a carbureted bike that is faster than a fuel-injected bike. Yamaha just hasn't kicked out the jams in the production R&D department.
Q: CAN YOU WIN ON A 2013 YAMAHA YZ250F?
A: That's the million-dollar question. We might sound hard on Yamaha for their decision to regurgitate the same bike as last year, but facts are facts. Although the YZ250F is long in the tooth, it's still a very good all-around motorcycle. Aside from the choked-up exhaust system and soft engine, the YZ250F is a marvel. The Kayaba SSS suspension, balanced aluminum chassis, gearing and ergonomics are a hit among MXA test riders. We even like the Keihin carburetor and stock jetting?as long as we're not at a high elevation or riding in a cold climate. Plus, it is super reliable.
Overall, the 2013 YZ250F could be a winner in spite of its engine, but it takes a special kind of rider to stick with the other bikes on the track. Giving up almost six horsepower to the KTM 250SXF before the gate drops is a sobering thought. The best strategy for putting the 2013 YZ250F in the winner's circle is to maximize the suspension advantage and ease of use to outride, out-brake and outsmart the competition.


Q: WILL YAMAHA EVENTUALLY JUMP ON THE FUEL-INJECTION BANDWAGON WITH THE YZ250F?

A: Yes. Consumers demand electronic fuel injection. Why? People have been led to believe that it's must-have technology. And even though a carburetor will work better than EFI in most cases, it's not de rigueur. Need proof that the YZ250F will come with EFI as soon as 2014? Here are two clues: (1) It's no secret that Yamaha has been running fuel injection on their Grand Prix bikes, with success, since 2011. (2) Yamaha's change from their plug-and-play aluminum frame to the current perimeter frame was done to facilitate the transition to fuel injection; fuel injection requires a flat-bottom gas tank that comes with a perimeter-style frame.
Still not convinced that Yamaha will make the jump to EFI? Look no further than the KTM no-link rear suspension design. KTM believed in it and didn't want to change to a linkage system. But, the consumers passed judgment on the no-link design and deemed it faulty?although, in truth, it could be made to work very well and had the benefit of being 5 pounds lighter. KTM gave into consumer demand, and Yamaha will have to do the same thing. It's only a matter of time.

On the dyno: The 2013 YZ250F can be a winner in the hands of a competent rider. It pumps out 37.13 horsepower.
Q: SINCE IT'S UNCHANGED, IS THE 2013 YAMAHA YZ250F CHEAPER THAN ITS COMPETITION?
A: Yes and no. Consumers are more money-conscious now than ever, and the YZ250F is $130 cheaper than the next expensive Japanese bike, the Honda CRF250 ($7420), but more expernsive than the least expensive bike, the Husqvarana TC250.
Q: HOW MUCH DOES THE YZ250F WEIGH?
A: It is the lightest 250 four-stroke made. At 218 pounds, it floats off the scale compared to its competition, which varies from 4 to 13 pounds heavier.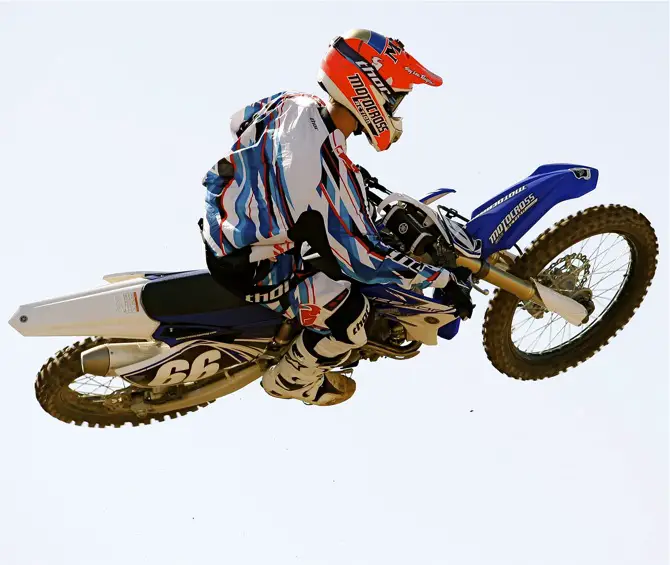 Q: WHAT DID WE DO TO MAKE THE 2013 YAMAHA YZ250F WORK BETTER?
A: The problematic areas all involve one issue: power. Yamaha didn't do the YZ250F any favors by using a small muffler core and a merely adequate air boot.
(1) Exhaust pipe. Get rid of the stock exhaust system. Yes, it will pass sound (not only the antiquated AMA test, but also the current FIM two-meter-max test), but it will do so at the expense of power. We're sound advocates, but we're also realistic. Any number of aftermarket exhausts will drastically improve the powerband without making your ears bleed.
(2) Intake system. Imagine trying to outrun a tiger while breathing through a straw. That's kind of how the YZ250F intake system felt before we installed Moto Tassinari's Air4orce. The system spices up the transition from the bottom end to the midrange, improves throttle response, and allows the engine to pull farther. We also discovered a one-horsepower gain on the dyno. For more information, visit www.mototassinari.com.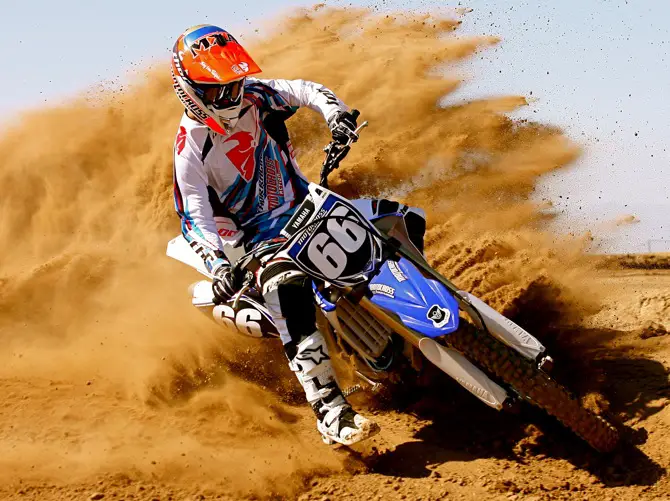 Even keel: The best attribute of the YZ250F is that it doesn't do anything glaringly wrong. It's a pleasant bike that works well in many situations.

Q: WHAT DO WE HATE?
A: The hate list:
(1) BNG. It's not that we hate the bold new graphics; quite the contrary. However, the ubiquitous white fender craze has now spread to Honda, Husqvarna, Kawasaki and Yamaha for 2013. Thankfully, KTM dropped their white fender for 2013 and Suzuki went black.
(2) Engine. The YZ250F engine is a warhorse. It is bulletproof. But why shouldn't it be? It's not stressed very much.

(3) Rims. Too bad that the black rims don't look as nice on the track as they do on the showroom floor. Black rims are nothing more than a reminder of how terrible you are at installing new tires.
(4) Exhaust. The YZ250F muffler is comparable to a comedian that tells off-color jokes. No one wants to hear him, and everyone is appalled by his performance. Get rid of the stock exhaust for something that makes better power.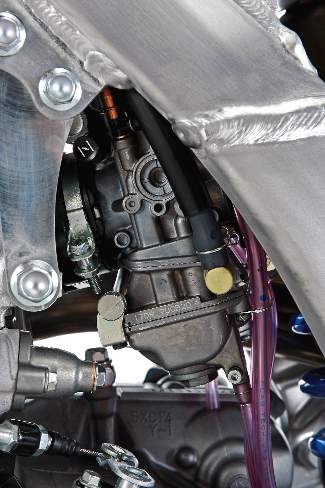 Endangered species: The 39mm Keihin FCR carburetor is a thing of beauty, but its days are numbered.
Q: WHAT DO WE LIKE?
A: The like list:

(1) Frame. The chassis is very well balanced, and the narrow frame spars make the YZ250F feel svelte. We like the way the YZ250F handles, because it doesn't do anything weird.
(2) Gearing. There's no need to invest in a different sprocket combination. Yamaha hit the gearing nail right on the head.
(3) Tires. Bridgestone's 403A/404 sneaker combination is the best, bar none.
(4) Forks. Kayaba SSS. Need we say more?
(5) Durability. Hurl it off a cliff or let second-gear-only Sam ride it; don't worry about the YZ250F breaking.
(6) Weight. This is the lightest 250cc four-stroke made at 218 pounds. Why is it lighter? Because it has a carb; fuel injection adds 5 pounds to almost every bike it is attached to.
Q: WHAT DO WE REALLY THINK?
A: We think this it the end! If it's not new in 2014?Yamaha won't sell and YZ250Fs. This isn't a matter of whether their bank account can afford to build a new bike, but whether their reputation can afford not to make a new bike. At the risk of dating ourselves, we can describe the 2013 Yamaha YZ250F by borrowing a famous line from the musical group Hall & Oates: "So close, yet so far away." For many years, the YZ250F has been a competitive, durable, no-frills kind of bike. It's good, but it's not great. However, Yamaha's engineers must have taken a nap. While they've been asleep, the competition has surpassed them. The question is, will Yamaha wake up in time to come out with a new bike in 2014?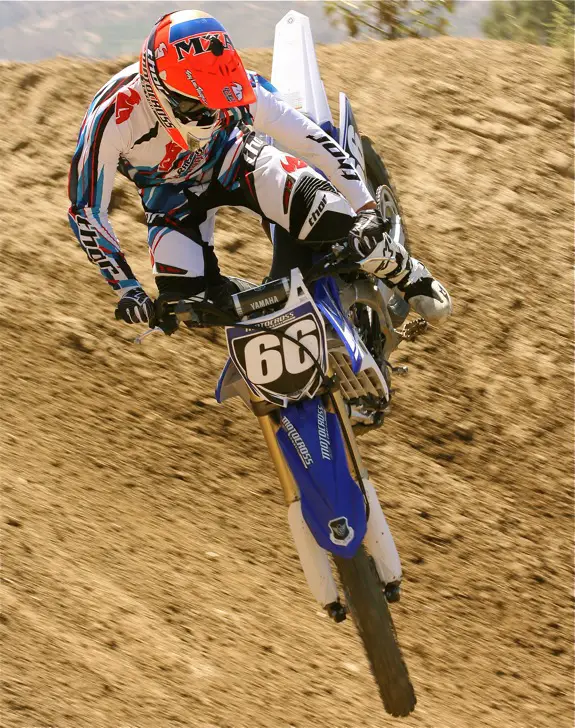 MXA YAMAHA YZ250F SETUP SPECS
This is how we set up our 2013 Yamaha YZ250F for the track. We offer these settings to help steer you in the right direction.
KAYABA SSS FORK SETTINGS
Last year Yamaha went to stiffer fork springs. This was a favorable decision in the opinion of the MXA wrecking crew. The 0.46 kg/mm fork springs are geared to the competitive racer, and the spring rate covers a wide range of riders. Lighter riders complained that there was a bit of midstroke harshness, so we drained 5cc of oil out of each fork leg to compensate. That seemed to do the trick. For hardcore racing, we recommend this fork setup for the 2013 Yamaha YZ250F (stock specs are in parentheses):
Spring rate: 0.46 kg/mm
Oil quantity: 340cc (345cc)
Compression: 9 clicks out (10 clicks out)
Rebound: 10 clicks out
Fork-leg height: 5mm up
Notes: Slower riders complained of midstroke harshness, but oil-height changes can mellow out the forks. The lower oil height made the forks more supple. Faster riders didn't mind the stock oil height.
KAYABA SSS SHOCK SETTINGS
We immediately noticed that the shock felt fast on rebound, so we went in a few clicks. Also, heavier riders should be able to get away with the stock 5.3 kg/mm spring rate, but make sure that there is between 30mm and 40mm of free sag. If not, jump up to a 5.5 kg/mm spring. For hardcore racing, we recommend this shock setup for the 2013 Yamaha YZ250F (stock specs are in parentheses):
Spring rate: 5.3 kg/mm
Race sag: 100mm
Hi-compression: 2 turns out (1-3/4 turns out)
Lo-compression: 10 clicks out (8 clicks out)
Rebound: 12 clicks out (14 clicks out)
Notes: The shock had a tendency to hop under heavy braking and down rough straights. We slowed down the high-speed compression and softened up the low-speed compression.
KEIHIN FCR JETTING SPECS
Remember that last year Yamaha increased the size of the Keihin FCR carburetor bore to 39mm (up from 37mm). In turn, there is a richer mainjet. We found Yamaha's jetting specs to be very close to perfect for most sea-level SoCal tracks. Here are MXA's recommended jetting specs for the 39mm Keihin FCR carburetor (when changed, stock specs are in parentheses):
Mainjet: 185
Pilot: 38
Needle: NFPR
Clip position: Fifth from top
Fuel screw: 1 turn out (2 turns out)
Leak jet: 95
Notes: We recommend turning in the fuel screw in hot conditions.