PRO TAPER PRESENTS MXA'S MID-WEEK REPORT BY JOHN BASHER

#WHIPITWEDNESDAY
Rider: Eli Tomac
Location: MetLife Stadium
Date: April 30, 2016
Photographer: Brian Converse
Camera: Nikon D4
Lens: 300mm f2.8
Exposure: 1/2000 sec.
F-stop: 4.5
ISO: 1600
MXA VIDEO: "OLD COUNTRY" WITH BOGLE & SEELY
QUOTE OF THE WEEK: DAVE OSTERMAN
"If you were a race team and dropped the ball as many times as the AMA has, then you wouldn't be there any more. I'm still shocked that some of the people hold some of the positions that they hold and do some of the things that they do. I'm a hard nose. These guys are professional, and I know they are human, but it doesn't seem like they are learning from their mistakes."
Click here to read the interview in its entirety.
LAS VEGAS SUPERCROSS SCHEDULE: 250 EAST & WEST COLLIDE
PRODUCT SPOTLIGHT: MG12 MAGNESIUM OIL
Press release: Mg12 Transdermal Magnesium Oil, handcrafted in Tryon, North Carolina, is excited to present Magnesport ™ transdermal oil and balms to help with your muscle recovery and repair from riding and racing. Magnesium is the "Spark of Life" mineral needed for over 350+ metabolic functions in our bodies. Magnesium is needed to destress the body from the physical, chemical and mental stress that we put ourselves through daily. Magnesium is also essential in addressing issues that are common to all athletes, such as muscle spasms, muscle cramps, joint pain and delayed onset muscle soreness. We've learned that by applying magnesium topically, none of it is wasted via the digestive track. Mg12 is absolutely vital to athletes wanting to perform at their best.Mg12 is 100% natural and produced from the highest source of magnesium in the world. Please visit Mg12.com for more information and also this month use coupon code "Moto" for 25% off.
BLAST FROM THE PAST: JOEL & TORSTEN
Back when men were men and motorcycles had as much suspension travel as a skateboard.
POSTCARD FROM IDAHO
Western Power Sports/Fly Racing Hard Parts Development Manager, Greg Berg, emailed over these photos from his recent riding excursion in Idaho. Do you have an extra bike, Greg? I'll be right there!
MOTORCYCLE-SUPERSTORE SUZUKI RM-Z250 GIVEAWAY
With the Supercross season winding down, Motorcycle-Superstore.com and Suzuki wants to remind everyone that we are giving away a 2016 RMZ250. The winner will be chosen on May 9th after Las Vegas Supercross. Not only will we give away the bike, but five additional winners will be chosen to receive:

Seven MX – jersey, pants & gloves
Alpinestars – Tech 10 boots
Bell – Moto 9 Flex helmet
Pro Taper – handlebars, grips and sprocket
Pirelli – MX32 tires
To win, enter here. http://bit.ly/RMZGiveAway
A PHOTO WE WON'T BE USING IN THE MAGAZINE
ClubMX in Chesterfield, South Carolina, is training ground for such Pros as Justin Brayton, Mike Alessi, Marshal Weltin, Henry Miller, Cade Clason, Shane McElrath and many more. Owner Brandon Haas has built a top-notch facility, including two Supercross tracks and three motocross tracks. The photo above is ClubMX's lower Supercross track, which Alessi and crew were riding on this past Wednesday. With the Supercross series winding down, this track will likely sit through the summer before getting rebuilt before the Monster Cup in October.
MINI-VIEW: SILVER SPRING'S BRIANNA STONE
Silver Springs MX, located in the quiet town of Silver Springs, New York, was one of my favorite racetracks growing up. A lot of fond memories were formed there. I'll always remember the traffic signal used as a starting board, working up the courage to jump the huge infield double on a Suzuki RM80 (the jump isn't there anymore), and watching Joe Ellington and Billy Silvarole battle for the number one plate.
This past September I traveled to Upstate New York from North Carolina to visit my old stomping grounds and test a 2006 Yamaha YZ250F (by the way, that bike test can be found in the May 2016 issue of MXA). Thanks to Joe Ellington, my buddy, Eric Carr, and I were able to ride Silver Springs MX. I hadn't ridden the track in well over a decade. I experienced a serious case of deja vu. There was a reason why Silver Springs was one of my very favorites. The layout flowed nicely, the jumps were fun, the back section tests your courage, and the pit area is still very spacious.
Brianna Stone and her husband, Darrell, have owned Silver Springs MX for nine years. As Brianna says, "I married into it [laughter]. Darrell, has been riding motocross since the 1980s. Silver Springs was built for him by family. They got out of operating the track, so we took it over." The Stone's are preparing for the 2016 race season–their first race is on Sunday, May 8th–so it seemed appropriate to run this interview with Brianna. 
I should note that motocross racing in Western New York has changed considerably since I raced from 1996-2004. Back then there was only one racing organization–Western New York Motocross Association (WNYMA)–that held racing at Silver Springs, Hunt Moto Park (no longer around), Batavia, Palmyra and Frozen Ocean. Some of those tracks split, resulting in two racing organizations–WNYMA and WNYRacing. Silver Springs is still part of the WNYMA. It's unfortunate that a breakup would happen, but that's business. I have no interest in getting in the middle of the spat, but I should note that several tracks in WNY were kind to offer their facility to me for the MXA bike test. Can't we all just get along?
Without further ado, meet Brianna Stone from Silver Springs MX.
Silver Springs is centrally located in Western New York. Where do you draw riders from?
We have a really large local following from Warsaw, Pavillion, Perry, and all around this area. Since we're located about 50 miles from Buffalo and Rochester, we pull from both cities. We also have a huge Canadian following, although I don't know why. Maybe it's due to word of mouth. I've heard that their tracks aren't maintained that well up north. It seems like once one Canadian rider comes here the herd follows. We're lucky, because our district dips down into Pennsylvania with Miles Mountain, so we pull people from the south, as well. It helps with the numbers when we're sharing riders between several tracks.
What was the first year this track being here?
It was the fall of 1989 when everything got set. Our first official race was 1990. Through the years I've seen Mike Brown, Tony Amaradio, Bruce Stratton, Bobby Kiniry, and Pauly Carpenter race at Silver Springs. We actually sponsored Pauly at one point in his career.
What has the split between the Western New York Motocross Association (WNYMA) and WNYRacing done to motocross racing in Western New York?
In 2008, with the economy going the way it did, that hurt enough. Then the district split in Western New York. Having closing area tracks running races on the same days resulted in a hit in numbers. We used to get about 400 riders at a really good race, and now we get 300 riders on a good weekend. There has been a change. Fortunately, we do this for the love of the sport. We don't have a lot of overhead, because this is literally a family-run operation. We'll continue to go forever.
What differentiates Silver Springs from all the others in the area?
This is going to sound arrogant, but I believe we have the best facilities. It's a campground. I'm asked almost every week why we don't change it into a campground. We won't do it, because motocross is in our blood. We are also so family friendly. Everybody knows everyone, and every race is like a homecoming.
Can you talk about the track in terms of length, size, and the number of races you hold per year?
The motocross track is around a 2-1/2 minute lap time. The whole lot is about 55 acres. We're open from April until October. We hold about six races a year. It all depends if another track can't take a race, in which case we'll go up to seven races a year. We've never had more than seven races in a given year. There aren't very many practice days at our facility, because my husband teaches at a college and I manage a bank. It's hard to get to the track on a weekday. In a perfect world we would love to hold a practice every week. Now the trend has become that people want to ride practice on Saturday, so we do a full practice rotation the day before a race.
It sounds like you and your husband are busy.
Darrell is a diesel mechanic instructor at Alfred State and I'm a bank manager. Between raising two children and working full-time, we're pretty busy!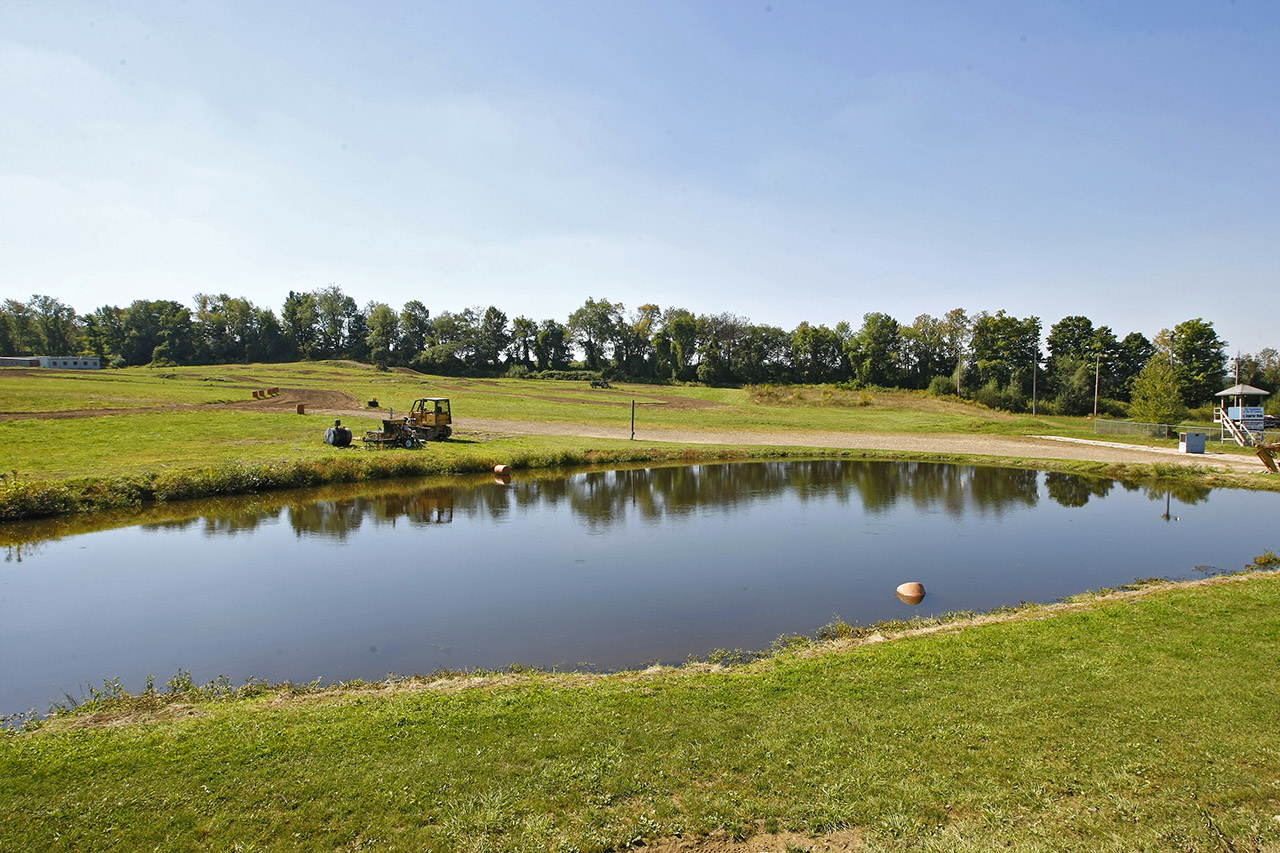 How many classes are offered on race day?
We have around 24 different classes on any given race weekend. The races are anywhere from 8 to 16 minutes. The biggest class is typically the Novice group. There are typically 30 Novice riders on the gate. Our Senior classes and our Minis are similar. We have quite a few older riders. Right now there's a big group of kids age 19 to 21 that aren't racing right now, because financially it's difficult. I'll probably see them when they're 26, because they'll have solid jobs and will be able to support themselves. It's interesting how it works.
What are the most popular bikes being raced at your track?
It's pretty widespread, although the one brand I rarely see is Suzuki. Kawasaki, back in the 1990s, was huge in our area. Now I'm seeing a lot of Yamaha, and more KTMs than I ever have before. I think some of the older riders like the electric start [laughter].
Thanks, Brianna. How can people find out more information about Silver Springs MX?
They can visit www.ssmxracing.com. Our first race is this weekend. The gates open Saturday at 10am, close at 11pm, and reopen Sunday at 7am. The rider's meeting is 8:15 and practice will follow directly after. Thanks for coming out!
VIDEO: 2016 KTM ORANGE BRIGADE WEST COAST CAMP
MXA'S PROJECT BIKES: STATIC BEAUTY
We got our hands on the most exotic Honda CR250 two-stroke outside of the old factory Honda race bikes.
I transformed a 2007 Suzuki RM125 into a competitive bike for young riders making the transition to the big bike class, but fun enough for Vet and play riders. 
Would you believe this is a 1995 Honda CR125?
MXA'S PROJECT BIKES: SLINGING SOIL
Jeremy Lasater blows up a silt berm out in the desert during a SoCal sunset on the 1995 Honda CR125.
How low can you go? If you're ClubMX Practice Facility's Ben Graves, you can drag bar. Graves felt comfortable on the RM125, evidenced by this photo!
Jeremy Lasater did double duty in the desert by punishing a berm on the Honda CR250. 
PRODUCT RELEASE: 51FIFTY ORGANIC ENERGY DRINK
Press release: Treat your body like the race machine it is and fuel up with 51FIFTY's all new Organic Energy Drink. This new line of drinks are packed with nutritional benefits of the sweet potato and contain a blend of other high quality herbs and vitamins. Natural strawberry and banana flavors provide great taste along with the energy and nutrients that athletes crave. The 51FIFTY Organic Energy Drink allows riders to maintain their bodies and perform at the highest level possible. Price: $37.99 per case (24 16oz cans). Contact: (855) 51-FIFTY. Website: www.51fiftyenergydrink.com 
RANDOM THOUGHTS, BY MIKE ALESSI

On the MTA World Two-Stroke Championship:
"I had more fun racing that one day on a two-stroke than I did racing the whole Supercross series. The joy of riding a two-stroke was amazing. Keeping the momentum up and pinning it everywhere is something that is hard to match in terms of fun. I had a good battle with Zach Osborne, and there were some good fast up-and-coming kids in the class, too. I didn't get the holeshot either moto, but I passed up into the lead. I had a huge smile under my helmet."
On holeshots:
"I think Dungey has gotten most of the starts this season, believe it or not. He needs to spread a little love for the other guys. He's winning all of the races and taking all the money. Then to top it all off he has to go and take the holeshot money. C'mon, Dunge, spread a little love to the MA800 [laughter]."
SNEAK PEAK: MIKE ALESSI'S VEGAS ALPINESTARS TECH 10's
I'm not sure if these boots will be sold, but take a look at the whole boot collective at www.alpinestars.com.
THE FIGHT FOR 10TH OVERALL

Photo by Scott Mallonee
There are big race team bonuses to be had for a rider finishing inside the top ten in the overall 450 Supercross points standings. With only Las Vegas to go, there are four riders vying for the coveted spot–Weston Peick, Justin Bogle, Mike Alessi and Jake Weimer. Believe it or not, only six points separate those riders. See below:
10. Weston Peick…125 points
11. Justin Bogle…120 points
12. Mike Alessi…120 points
13. Jake Weimer…119 points
Who will likely get that coveted top-10 spot and the bonuses and prestige that comes along with it? Judging by the past few races, Justin Bogle has the greatest likelihood of knocking Weston Peick out of the spot. However, Peick is typically very good on Las Vegas hardpack and won't go down without a fight. Look for the JGRMX Yamaha rider to leave Vegas with the 10th spot. 
THE FASTEST OF THE FAST: TOP QUALIFIERS AFTER 16 ROUNDS
FASTEST QUALIFIERS: 450 CLASS
Anaheim 1…Trey Canard
San Diego 1…Ryan Dungey
Anaheim 2…Ken Roczen
Oakland…Ryan Dungey
Glendale…Ryan Dungey
San Diego 2…Eli Tomac
Arlington…Ryan Dungey
Atlanta…Christophe Pourcel
Daytona…Eli Tomac
Toronto…Trey Canard
Detroit…Marvin Musquin
Santa Clara…Eli Tomac
Indianapolis…Christophe Pourcel
St. Louis…Eli Tomac
Foxborough…Ryan Dungey
East Rutherford…Marvin Musquin
FASTEST QUALIFIERS: 250 CLASS
Anaheim 1…Cooper Webb
San Diego 1…Cooper Webb
Anaheim 2…Zach Osborne
Oakland…Cooper Webb
Glendale…Cooper Webb
San Diego 2…Zach Osborne
Arlington…Joey Savatgy
Atlanta…Malcolm Stewart
Daytona…Justin Hill
Toronto…Justin Hill
Detroit…Malcolm Stewart
Santa Clara…Cooper Webb
Indianapolis…Malcolm Stewart
St. Louis…Malcolm Stewart
Foxborough…Jeremy Martin
East Rutherford…Jeremy Martin
HOLESHOT AWARDS: 450 CLASS
Anaheim 1…Cole Seely
San Diego 1…Chad Reed
Anaheim 2…Davi Millsaps
Oakland…Ryan Dungey
Glendale…Davi Millsaps
San Diego 2…Ryan Dungey
Arlington…Ken Roczen
Atlanta…Justin Brayton
Daytona…Ryan Dungey
Toronto…Ryan Dungey
Detroit…Ryan Dungey
Santa Clara…Jason Anderson
Indianapolis…Mike Alessi
St. Louis…Ken Roczen
Foxborough…Ryan Dungey
East Rutherford…Ken Roczen
HOLESHOT AWARDS: 250 CLASS
Anaheim 1…Jessy Nelson (West)
San Diego 1…Jordan Smith (West)
Anaheim 2…Jimmy Decotis (West)
Oakland…Christian Craig (West)
Glendale…Jimmy Decotis (West)
San Diego 2…Jordan Smith (West)
Arlington…Christian Craig (West)
Atlanta…Shane McElrath (East)
Daytona…Malcolm Stewart (East)
Toronto…Matt Bisceglia (East)
Detroit…Aaron Plessinger (East)
Santa Clara…Zach Osborne (West)
Indianapolis…Gannon Audette (East)
St. Louis…Jeremy Martin (East)
Foxborough…Dakota Alix (East)
East Rutherford…Dakota Alix (East)