REMEMBERING TOM WHITE BY JODY WEISEL: HARD TO BELIEVE THAT IT'S BEEN FIVE YEARS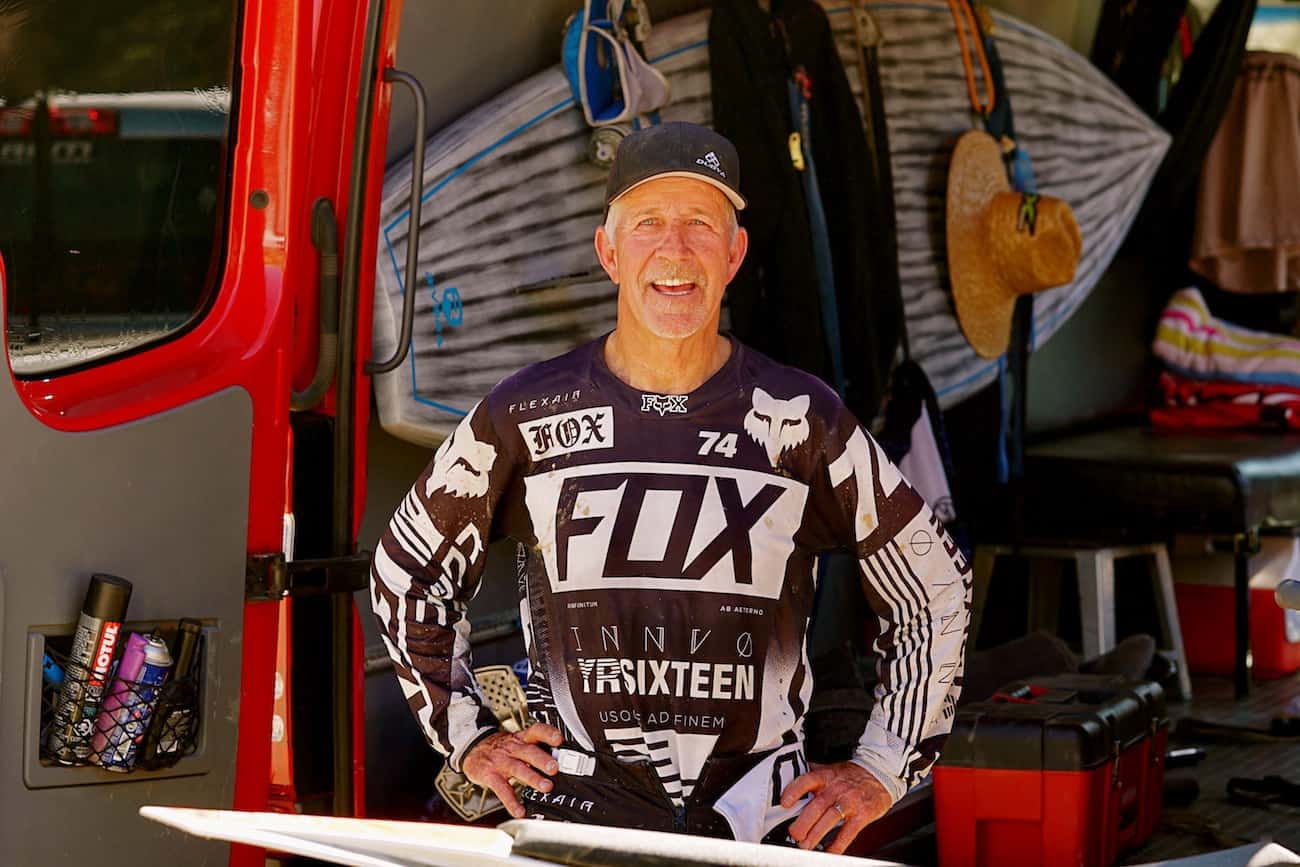 GODSPEED! TOM WHITE (1949-2017).
By Jody Weisel
All of us have friends and acquaintances, but motorcycle friendships are intense — bonds as intense as soldiers in a war zone and as close as a secret society. Men who race together, trail ride on the weekends or share riding stories in the garage have a connection that is forged by fire —albeit ignited by the spark of an old Champion plug. Tom White was special to me…very special. We raced together through the 1970s, 1980s, 1990s, 2000s — right up to the end. We were in the same class for most of our racing lives, except for the time when he was a dirt tracker and I was a road racer. We both found our true calling when we switched to motocross. He was called to motocross because a severely broken arm led him away from dirt track. I became a motocrosser because I wanted to race every week — not just five weekends a year.
Tom (80) racing at Golden Gate Field back in 1974.
Tom turned his job at Orange County Cycles into a launch pad for his own business. And he brought his brother Dan with him to form White Brothers Cycle Specialties. Since Tom, Dan and I knew each other from Saddleback, it was only natural that his business (motorcycle parts) and mine (motorcycle test rider) would bind us together. We were both attracted by the fact that we wanted to make motocross better for the guy in the pits. And Tom understood what that meant that better than almost anyone in the motorcycle industry.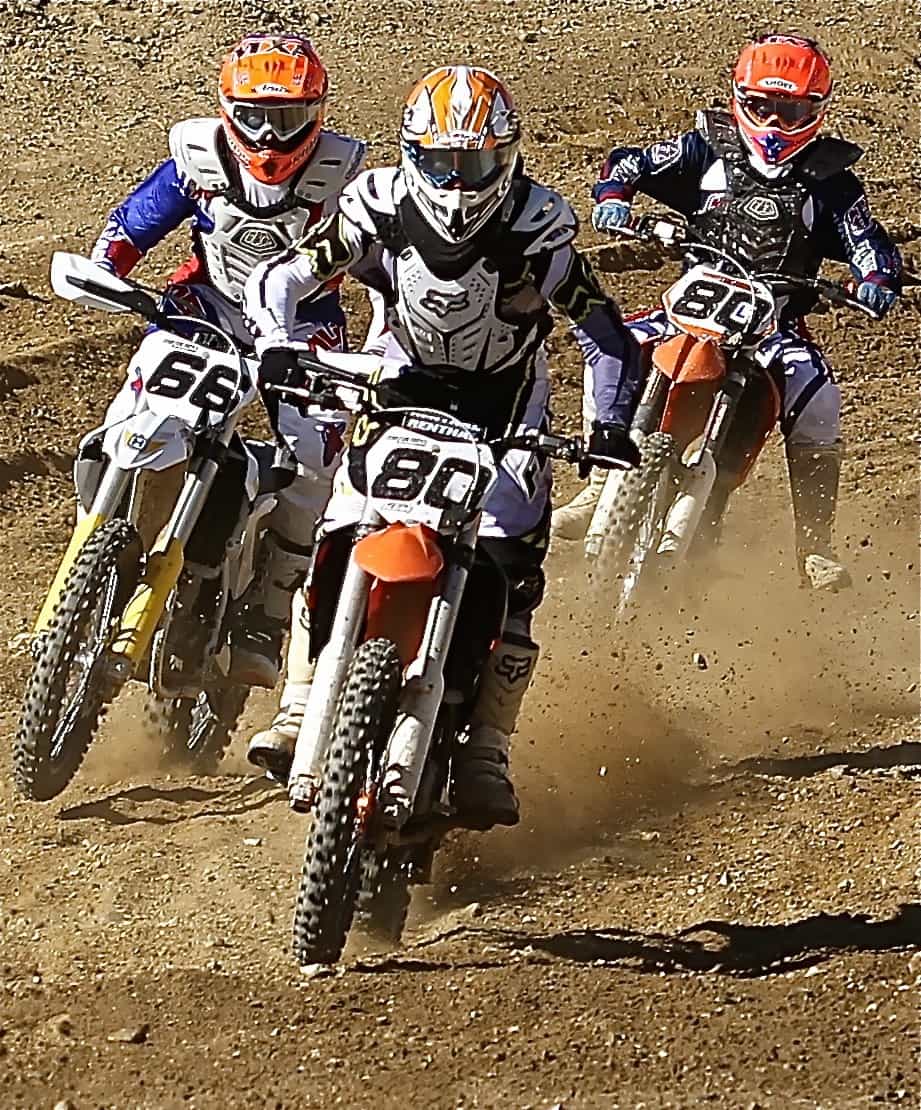 Tom White (80) leads his buddies George Kohler (66) and Lars Larsson (80) at the weekly Glen Helen races.
Way before there was even a whiff of a Yamaha YZ400 on the horizon, the White Brothers were the kings of four-stroke parts. The White Brothers made every conceivable item that the crude four-strokes of the 1970s and 1980s could use. Tom built one-off four-stroke concept bikes, sponsored a four-stroke-only team and eventually threw the might of the White Brothers into founding the World Four-Stroke Championship. He put up the purse, organized the races and even acted as the announcer — all of this at a time when no motocross racer took four-strokes seriously. And he did the same thing with the World Vet Motocross Championship— which celebrated its 33rd year on the weekend of his death.
Plus, when Glen Helen and MX Sports had a falling out that led to Glen Helen pulling out of the AMA Nationals, Tom worked tirelessly behind the scenes to get both parties back together again. Whenever a charity needed a place to hold a fundraiser, Tom always offered his spectacular motorcycle museum as the venue—and was always the largest donor at the event. He tirelessly gave his time and money to help fund rehab programs for people with brain trauma. Tom raised and donated millions of dollars.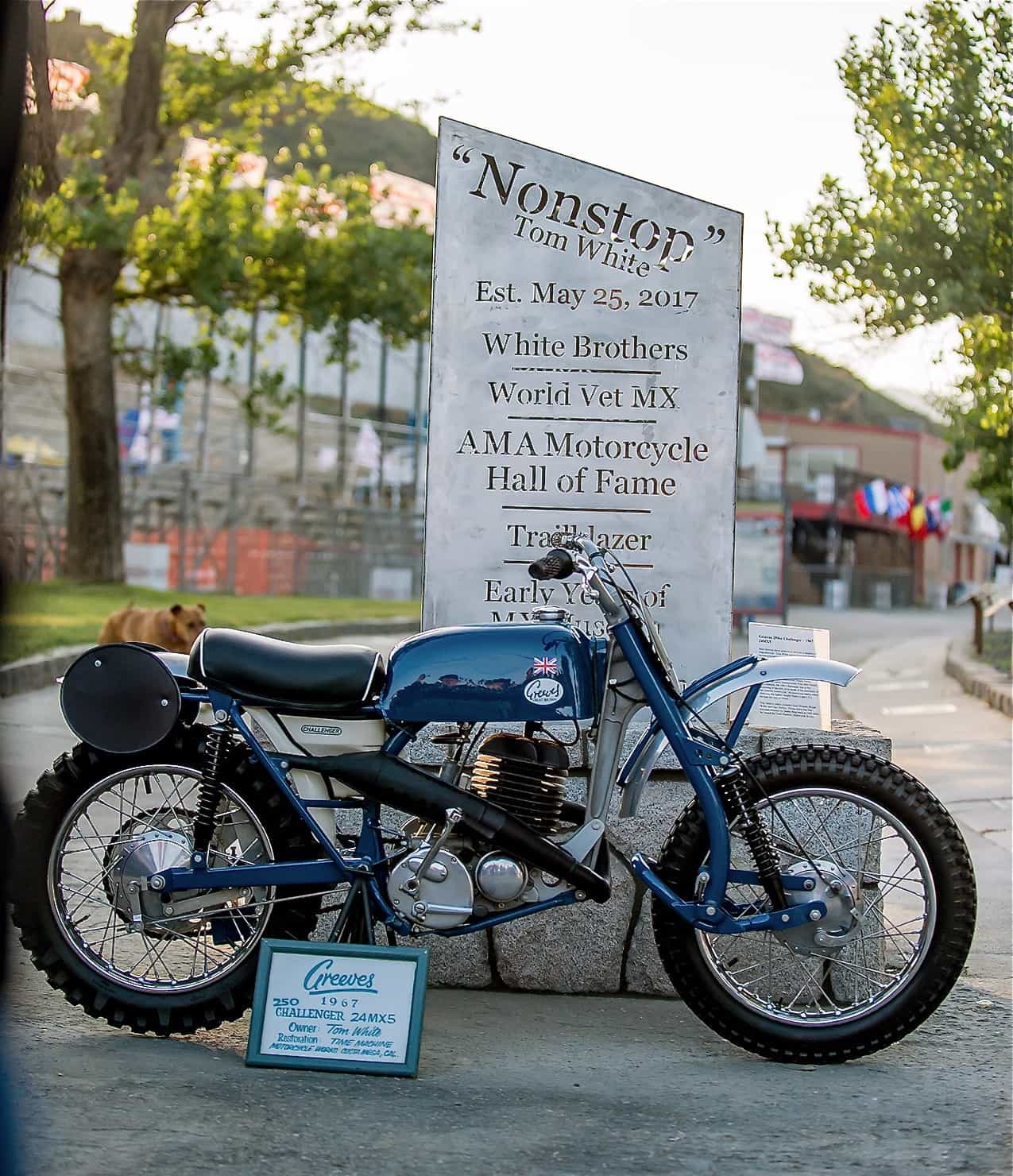 Tom White is honored on the Glen Helen Walk of Fame.
Don't hold it against him, but Tom was rich. But he used his wealth for the good of the sport — he contributed to the AMA Hall of Fame Museum, paid the greats of motocross to come to events that benefited the sport and made sure that when it came to hosting an event that no expense was spared.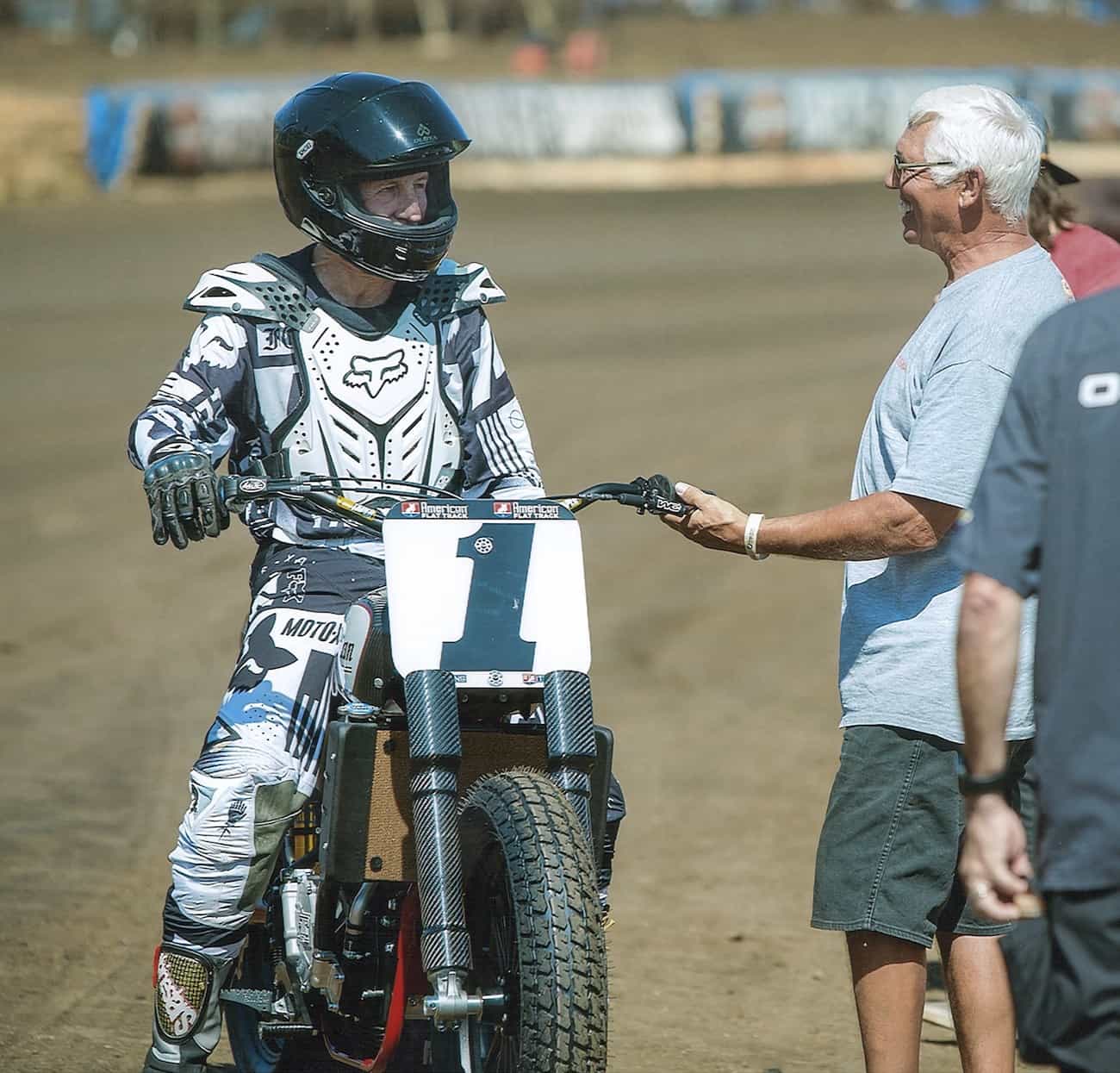 When Tom White got a chance to ride a dirt track bike again he jumped at it. He even brought former AMA Supercross Mechanic of the Year Alan Olson with him to do the wrenching. Photo: Scott Wilson
Although I hung out with the mega-rich Tom White, he always made me feel like he was hanging out with me. But, mostly I knew the hard-working, non-stop, not-so-rich Tom White (before he sold his company for millions). The money didn't really change him and sometimes it brought him back to reality. When he made his first big money at the White Brothers he bought himself a Ferrari. He was so proud of it that he decided to drive it to the shop the first week. The engine caught on fire on the Garden Grove Freeway and it would have burned to the ground if a guy in a pickup truck hadn't stopped by the side of the road to throw dirt on the fire. Tom finally joined in, but said that it pained him to no end to throw dirt on his prize possession.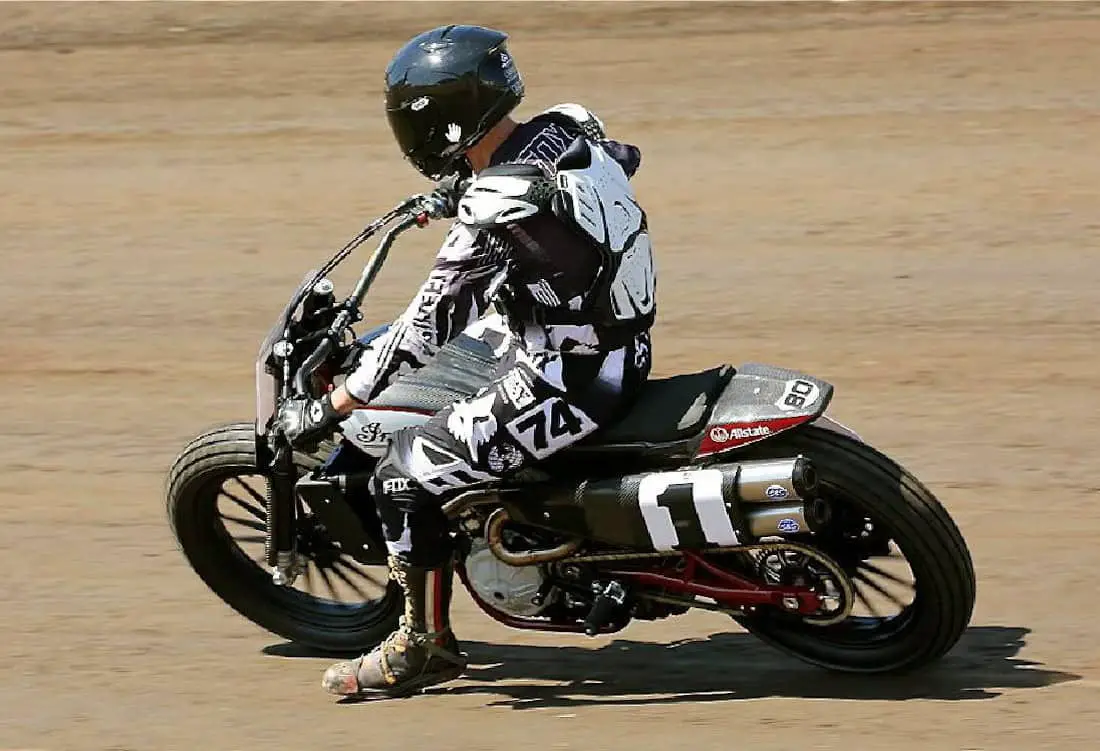 Tom White got to wear his old Maley steel shoe one last time when he blasted around on the latest greatest Indian FTR750 at Perris Auto Speedway before the 2017 American Flat Track Finals. Photo: Glenn Moore
And pain was second nature to Tom. I remember the hours we spent in the water talking while waiting for a set to roll in. He would tell me about the financial end of the motorcycle business, the horror of the accident that left Tom's son Brad severely disabled. Always a successful businessman, what Tom loved most was working side-by-side with his twin brother Dan. Oh, they had their quarrels, as all brothers do, but one day it went off the chart and Dan refused to speak to Tom. From that day on there were no White Brothers at the White Brothers. I'm sure that on his death bed Tom wished that Dan would have been by his side.
Tom White and Jody Weisel in happier times (at the 2017 REM Awards ceremony).
Tom was always surrounded by people who loved him. His family, his friends, his grand kids, his former employees and his loyal racing buddies will all miss Tom. But I don't feel any sorrow for Tom White. I Ioved the guy and will continue to until the day I die. But, Tom White lived a full life, even if it was cut short. He got bang for his buck — he was a Grand National dirt tracker, successful businessman, World Vet Champion, museum owner, AMA Hall of Famer, husband, father, philanthropist and one heck of a guy. He has done it all in the sport.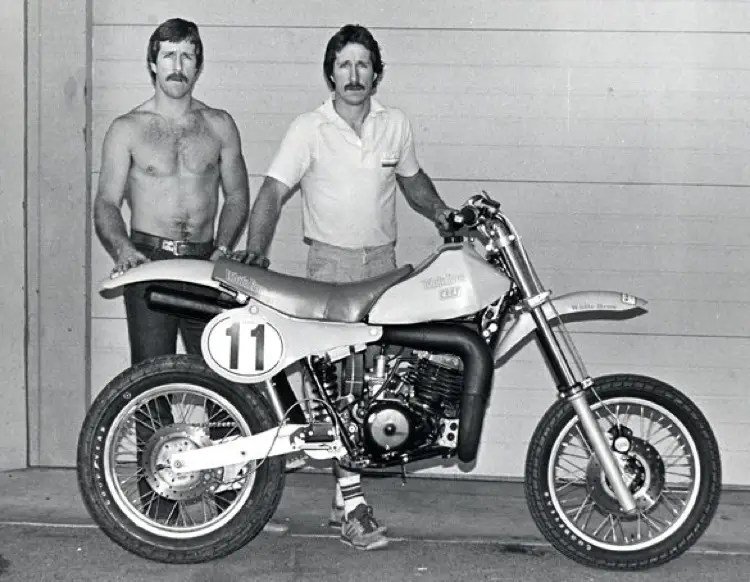 Tom (left) and Dan (right) with the bike they sponsored Brad Lackey on for the ABC-TV Superbikers race.

However, while getting ready to go to a motocross race at Glen Helen in mid 2017, Tom White felt a pain in his stomach. Thinking it was indigestion, he kept on working on his bike. The pain persisted so much that Tom decided not to race. After a couple days of his stomach aching, Tom went to his doctor, who poked and prodded and decided that maybe it was an ulcer. What followed was a series of endoscopes, MRIs and Barium swallows. Ulcers were ruled out after the endoscopy. The MRI showed nothing wrong. Finally, the doctor ordered a PETscan. The finding? Cancer in his intestines that had spread to his liver and lungs.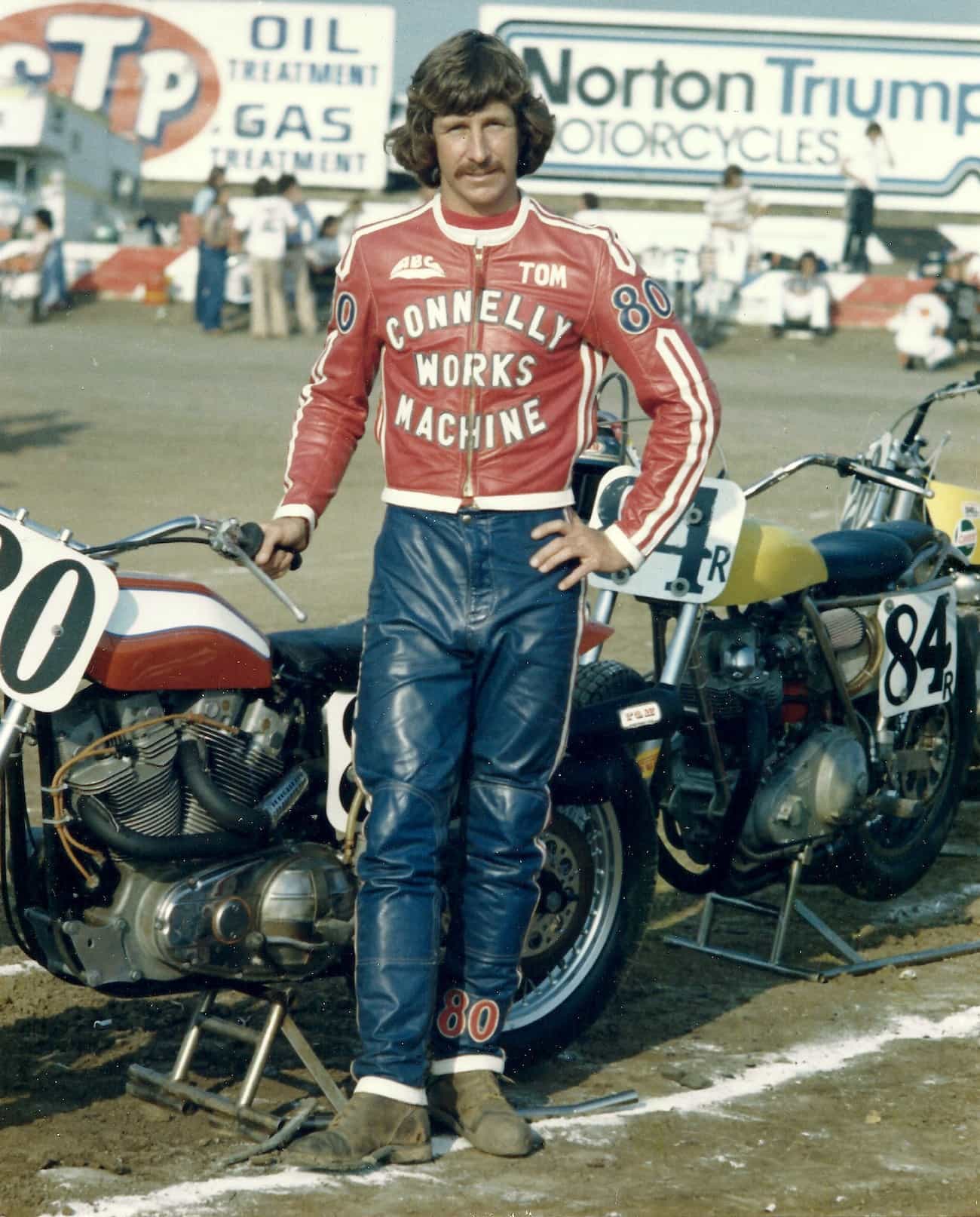 Tom White at Ascot back in the day.
The man and his museum.
When he was diagnosed with terminal cancer, he called me on his way back from the doctor's office. He said, "If I only have six months to live, I want to live them to the fullest. I'd rather have four months on my motorcycle than six months in bed." He laid out his grand plan to me. He wanted to race his KTM 450SXF with his buddies at Glen Helen one last time. He wanted to see his new granddaughter born to son Mikey and wife Parisa. He wanted to ride the Indian FTR flat track racer that he had bought to get back in touch with his roots. He wanted to ensure that his motorcycle museum would continue to exist and he wanted to help other people in his last days.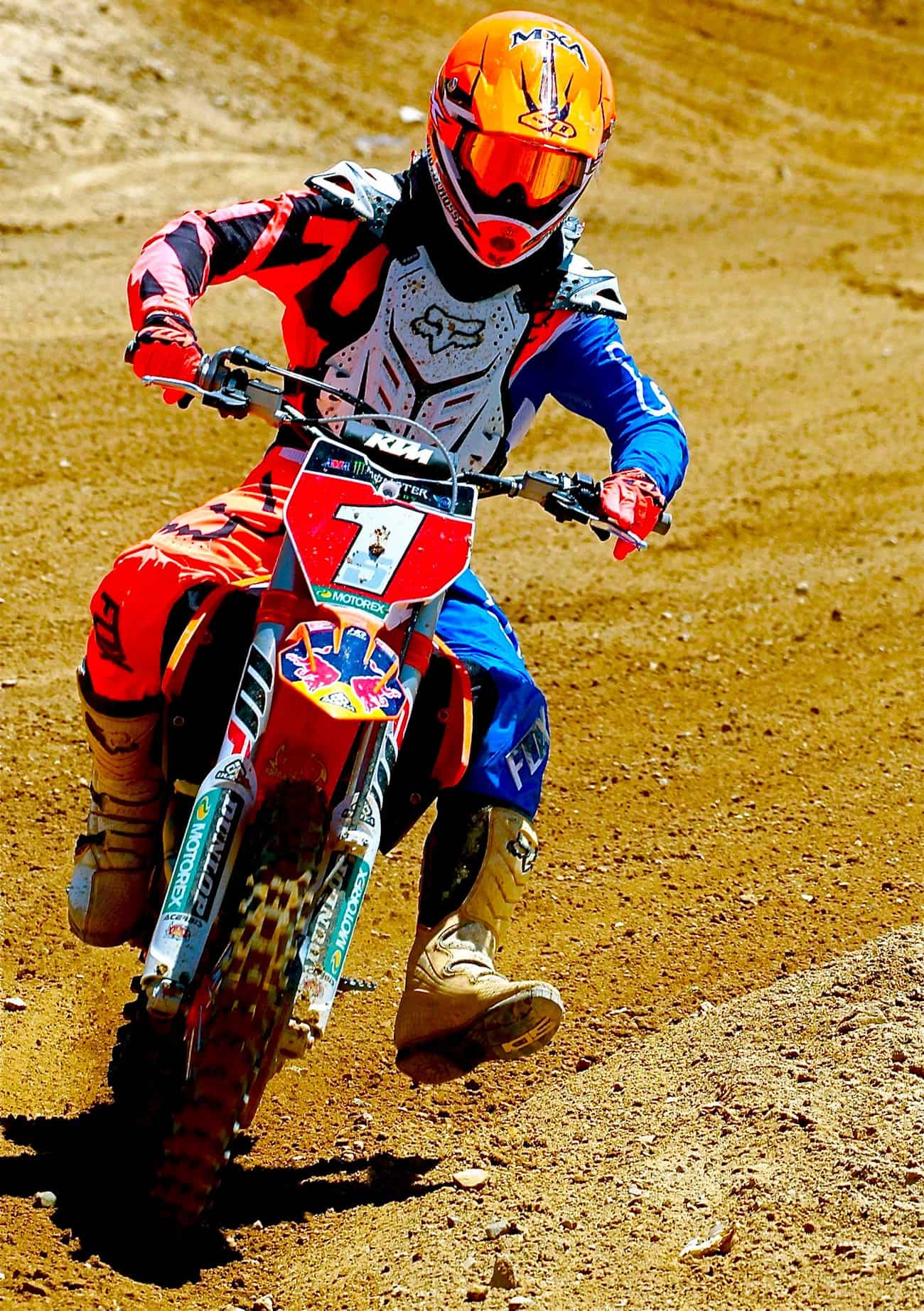 Tom White at his last Glen Helen motocross race.
I'm proud to call Tom White a friend. He was genuine, outgoing and totally involved. Even though he could have lived the life of a country squire, he was the busiest retired guy I've ever seen. When you called to see what he was doing, he'd reel off a list of board meetings he had to attend, flights to far off cities for business he was taking and races that he had volunteered to announce (almost always for free).
But I'm mostly proud of Tom because in his dying days, when others would have taken to their beds,  he raced his KTM 450SXF between chemo treatments, did four laps of an AMA Grand National dirt track on his new Indian 750FTR, held his granddaughter in his arms and bought a rare vintage bike for his museum (even though he would never get to enjoy it). I'm sad that my dear friend of 45 years is gone, but I'm glad that he got to go on his terms. I know that he wishes the same for all of us.
THE MXA INTERVIEW: TOM WHITE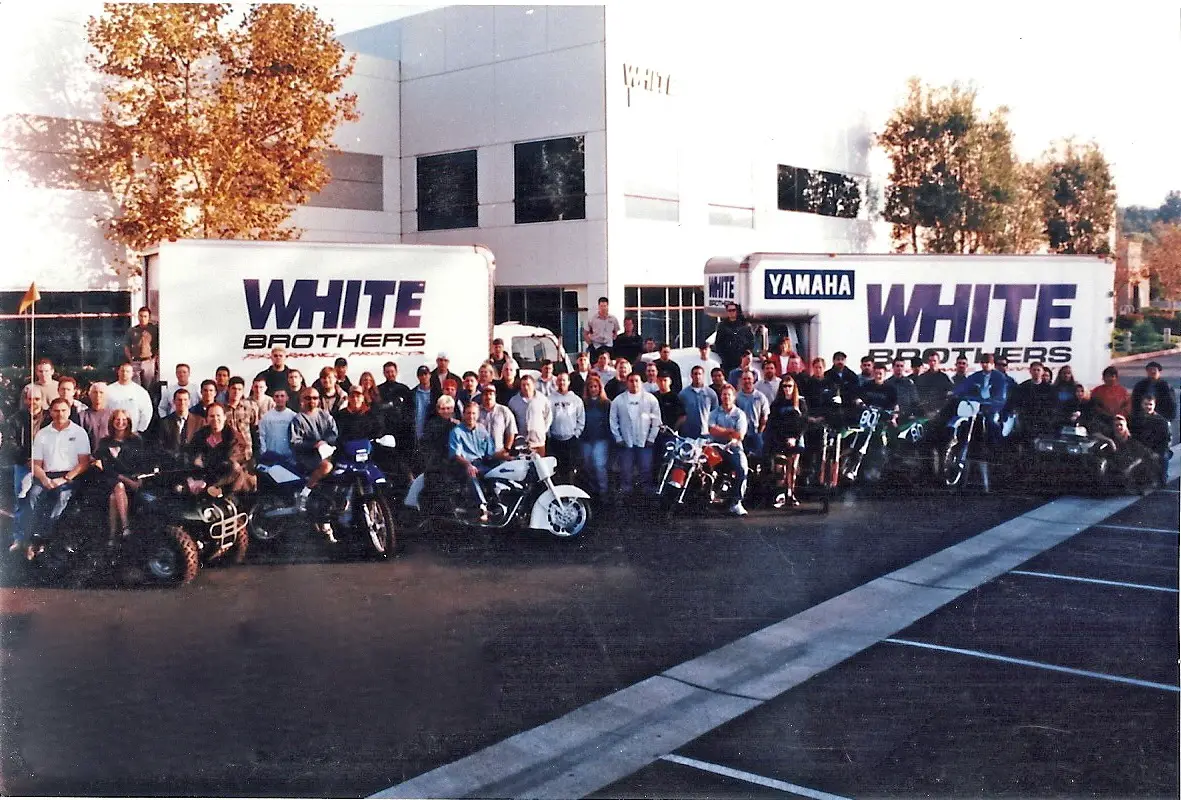 MXA: WHEN DID YOU START RIDING/RACING MOTORCYCLES? As soon as my brother Dan was old enough for a drivers permit he purchased his first motorcycle, a 1965 Yamaha 80. My surfer friends and I had a lot of fun picking on him, accusing him of becoming a rebel and a future Hells Angel. Right about the same time, a friend let me take a ride around the block on his Honda 50…well, almost around the block as I couldn't figure out how to slow the thing down for a corner and crashed into a parked Cadillac. After paying $65.00 in damageS later, my parents decided that I didn't have the necessary coordination to ride a motorcycle..
In my senior year of high school I was gainfully employed as a bus boy at a restaurant and I purchased my first motorcycle, a '67 Yamaha 100cc Trailmaster. We had a big dirt pit near our house in Huntington Beach and my brother taught me how to ride off-road. Later that year, Dan and I attended the Anaheim Motorcycle Show and I laid eyes on the most significant motorcycle in my life to this date…the brand new Yamaha DT1. I immediately ordered one from my local dealer – Rustan Motorcycle Sales and a long four months later, the first DT1 arrived in the dealership. Rustan made me wait an additional two weeks (the longest two weeks of my life) so customers could come in and check out this exciting new motorcycle. It wasn't much longer, that I installed the GYT kit (Genuine Yamaha Tuning) that increased the power by 50% and entered my first race at Huntington Beach Cycle Park. The event was a TT Scrambles. They had watered the track before my heat race and I crashed three times on the first lap. Well, you stick with anything long enough and in a few years I was National #80 racing Miles, Half-Miles and TT's against riders like Mert Lawwill and Kenny Roberts aboard a Harley Davidson XR750.
Tom and his DT-1.
MXA: WHEN DID YOU START WHITE BROTHERS CYCLE SPECIALTIES?  Though racing is a lot more lucrative these days, the fact remains that only a few riders make enough money to support a proper race program. I worked at Orange County Cycle (OCC), the number one motocross dealership on the West Coast and Dan worked for the Kawasaki factory in Tech Services. The skills we learned were applied to our racing effort and by also surrounding ourselves with the top performance specialists like Kenny Harmon, Jerry Branch and John Connelly we were able to be competitive against the best riders.
In 1975, I decided to start my own business. The original name was "Tom White Cycle Specialties" and I had hoped to sell the products that I had designed at OCC and still continue racing dirt track. That hope was dashed just after I signed the lease for the building when I hit a guy head on at Saddleback Park and fractured my already plated arm. Dan immediately came to the rescue, working with me at night on the few jobs that we had and by the end of 1975, Dan decided to leave Kawasaki and we became "White Brothers."
White Brothers! What a ride over the next 25 years. It featured the happiest and saddest parts of my life. The happy stuff was being involved with riders like Bob Hannah, Marty Moates, Brad Lackey, Scott Parker, Chris Carr and Scott Russell. I enjoyed working with some really great employees, customers, and vendors in an industry that I was passionate about. Possibly the best part up to this date, is having access and friendships with many of my heroes. The sad stuff was having very little time for my family, my son's tragic accident, my brother leaving the company, and losing touch with so many people that helped grow White Brothers.
Tom sliding sideways on his Triumph in 1973.
MXA: WHEN DID THING REALLY CHANGE FOR YOU AT THE WHITE BROTHER?  They say timing is everything in life and in January of 2000 I was approached by a representative of a San Francisco venture capital firm that wanted to form a motorcycle group. As I mentioned, my son Brad had been tragically brain injured in 1997 when he rode his mini bike into a chain used to block a parking lot and crushed his larynx. At 18 years of age, he became 100% disabled and now requireS full-time care. My wife and I had brought him home and hired nurses to help us in our home seven days a week. Then, Dan decided to pursue his love for bicycles and left the company at about the same time. After 25 years in the motorcycle business, I was ready to work on my surfing, focus on my new passion of building a first class museum, and start spending more time with my family and friends.
MXA: WHAT HAPPENED TO WHITE BROTHERS AFTE RYOU LEFT THE COMPANY? White Brothers was the first company to be purchased by the venture capital firm that would later include eight companies and as a group would be called Motorsport Aftermarket Group (MAG). At the time of the acquisition, we had 165 employees, a warehouse in Yorba Linda, California, a warehouse in Louisville, Kentucky, and two small manufacturing facilities. Only 15% of our revenue came from products that we manufactured, another 20% came from products that we had exclusive agreements on, and the remaining 65% were products that we distributed for vendors like Pro Circuit, FMF, and Boyesen Engineering. I felt that we were very good at seeking out the best performance products and making them available to our dealers quicker than the bigger distributors like Parts Unlimited and Tucker Rocky.
Initially, after the acquisition we automated the warehouse and ramped up a business model that focused on manufacturing and distribution. It is my belief that as the Motorsport Aftermarket Group grew with manufacturing segment champions, like Vance and Hines, Performance Machine and Renthal, that White Brothers as a distributor who competed against the big distributors, was detrimental to the group. The decision was made for White Brothers to focus on manufacturing and proprietary products. Unfortunately, this would prove to be a very tough road to be successful and profitable at. I feel bad that so many good people lost their jobs and that the acquisition wasn't successful for MAG.
Tom bought a Russian-made Ural sidecar so that he could take his paralyzed son Brad riding with him.
MXA: WHAT GOT YOU STARTED COLLECTING MOTOCROSS BIKES? During the White Brothers years I started collecting early motocross bikes, the first was a Greeves that I planned to restore with the help of my young son Brad. Though I had never raced a Greeves, I just loved the look…so agricultural! We did manage to get it apart, but we soon realized it was more fun to ride them than work on them, so a friend – Denny Berg completed the restoration. Soon, a Triumph Metisse and a Wheelsmith Maico, restored by Vintage Iron were added to the collection. By the early 90's I had somewhat of a focus for the collections. The focus was bikes that were important in the early years of American motocross.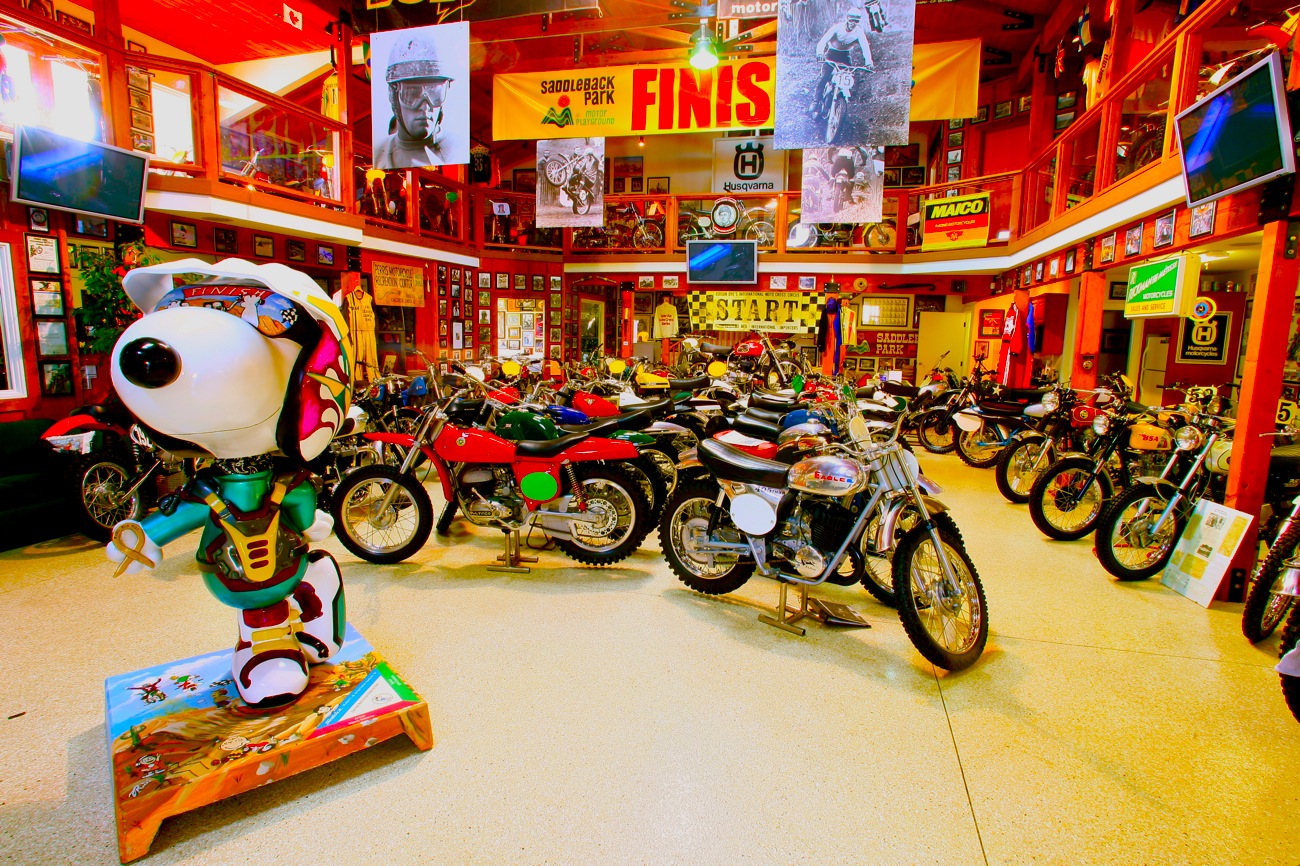 With a combined square footage of 10,000 feet, Tom's "Early Years of Motocross" museum is a thing of beauty. On the property there is a motocross museum, dirt track/enduro museum and Tom's personal collection.
MXA: YOU ALSO PLAYED A BIG ROLE IN PROMOTING THE SPRT"S HISTORY WITH THE WORLD VET CHAMPIONSHIP.  By 1997, the White Brothers World Veteran Motocross Championships (founded in 1985) had grown to be a huge event and Glen Helen's Bud Feldkamp and I decided to honor a person each year that we felt had made the largest contribution to American motocross. The first year we honored Roger DeCoster, a huge contributor to the sport's growth in America and, in 1998 ,it was the dynamic Rick Johnson. Two weeks before the 1999 event, I still hadn't decided who we would honor. While driving home from Glen Helen, I reflected on a story my friend Lars Larsson had shared at the Vintage Iron Vintage World Championship Banquet the year before. Lars shared how just a couple days before, he and Bengt Aberg decided to visit the man who brought them and the sport of motocross to America. He went on to share that the man, Edison Dye was overtaken with emotion on seeing Bengt and Lars and also mentioned that Mr. Dye had not been to a motocross event in over 20 years.
Tom showing Edison Dye the stories about him after he came out of a 30-year exile.
Wham, it hit me! We need to find Edison Dye and bring him out to our event to receive the Lifetime Achievement Award. With so little time before the event, I called both Roger DeCoster and Malcolm Smith. Their response to honoring Edison was overwhelming. The respect and admiration they had for this man and their willingness to help in the presentation pushed me on. I was also aided by the only person in motorcycling that had visited Edison over the years, Frans Munsters, the owner of Twin Air Filters. He gave me the contact information for Edison and when I called, Edison was in Arizona, but Edison's daughter Shirley was eager to help and allowed me to spend an afternoon reviewing boxes of pictures and other memorabilia that was in total disarray. Unbelievable! The pictures, the letters — they told the story! This man was truly the father of motocross in America and the motorcycling people needed to be reminded!
The event was a huge success! We brought Edison on to the track in a limo and he was joined in the presentation by Roger DeCoster, Malcolm Smith, Lars Larson, Joe Parkhurst and Feets Minert. Edison was very emotional on receiving this long overdue credit for his huge contribution to motocross. For me, I now had a real focus for my collection. It was going to be about Edison Dye and the "Early Years of Motocross" in America.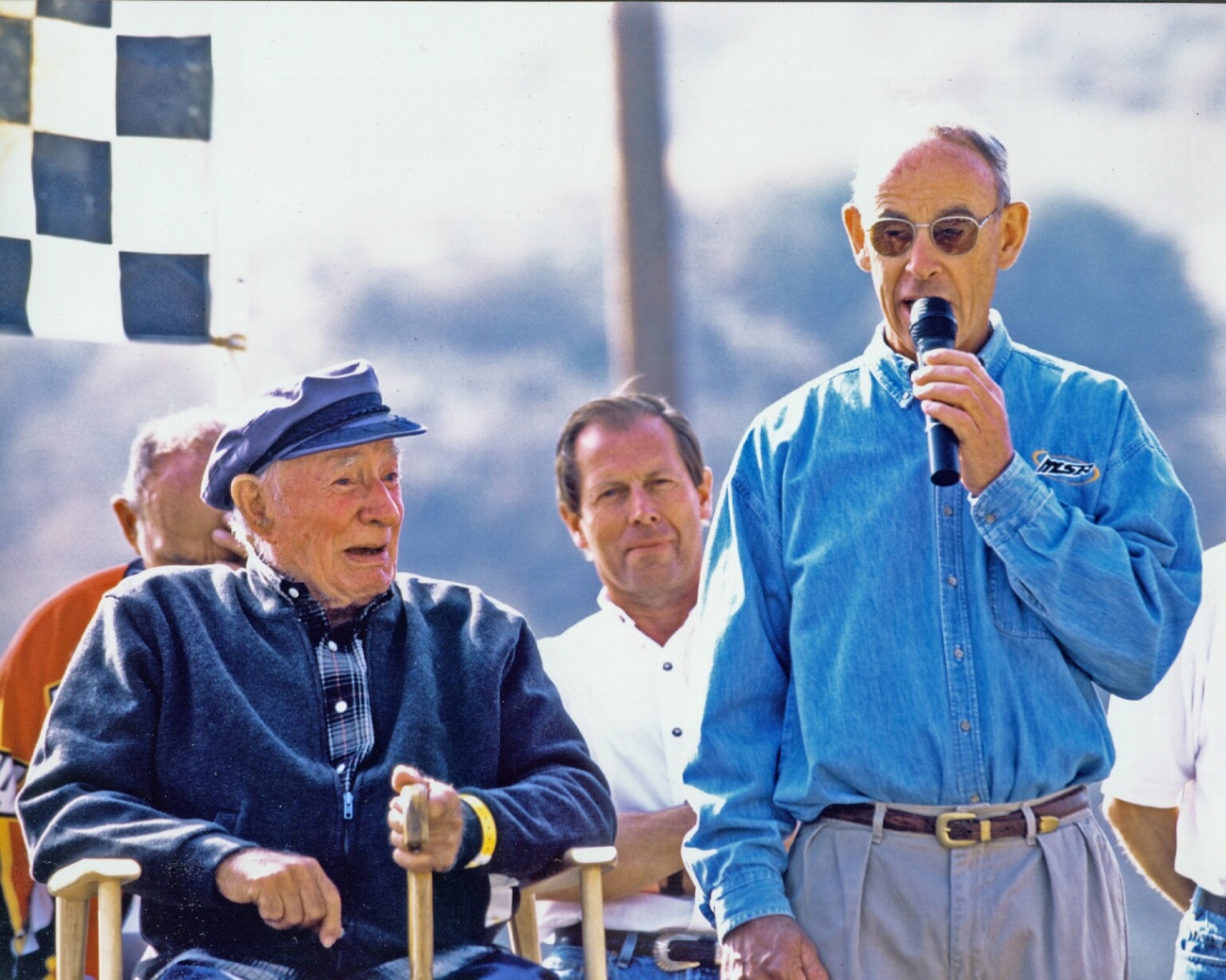 Malcolm Smith (with microphone), Roger DeCoster (rear center), Feets Minert (rear left) and Edison Dye (front) at his Lifetime Achievement Award ceremony. All of these men were part of the Edison Dye legacy.
MXA: WHAT IS YOUR FAVORITE BIKE OF ALL-TIME? It probably doesn't surprise you that the 1968 Yamaha 250cc DT1 is my all-time favorite bike. The DT1 wasn't a great street bike, nor was it a great dirt bike or race bike, but it was way ahead of anything else as a true dual-sport bike. At the same time as its introduction, Yamaha also sold the GYT kit that gave the bike competitive power for scrambles and/or motocross. The DT1 would ultimately evolve into the 1974 YZ250A, which at the time, was arguably the best motocross bike available. I still remember how it felt riding that bike.
MXA: WHAT IS IT ABOUT OLD BIKES THAT YOU ADMIRE SO MUCH? Today all of the major brands of motocross machines are quite similar and each one is just fabulous to ride and race. In having said that, change the color of plastic and you can't tell one brand from another at a distance. But, it makes me appreciate the early years of motocross machines so much more as collector bikes. In the early '60s and '70s, every manufacturer had a different idea on what features would make their machine most competitive and attractive to customers. Take a close look at these early machines, each brand is unique with lots of chrome, aluminum, fiberglass, and very different frames and suspensions. The Husqvarna's are beautiful, the Maico's are ugly, and the Greeves look like farm equipment. Just looking at them takes older riders like myself back to the feeling I experienced when I first rode them, although I have no desire to ride or race them again! They weren't much good when they were brand new and they are horrible when compared to the new machines! When the 2018 bikes came out, I couldn't wait to get off my vintage 2017 and it's exciting every year to see how the factories have improved their machines.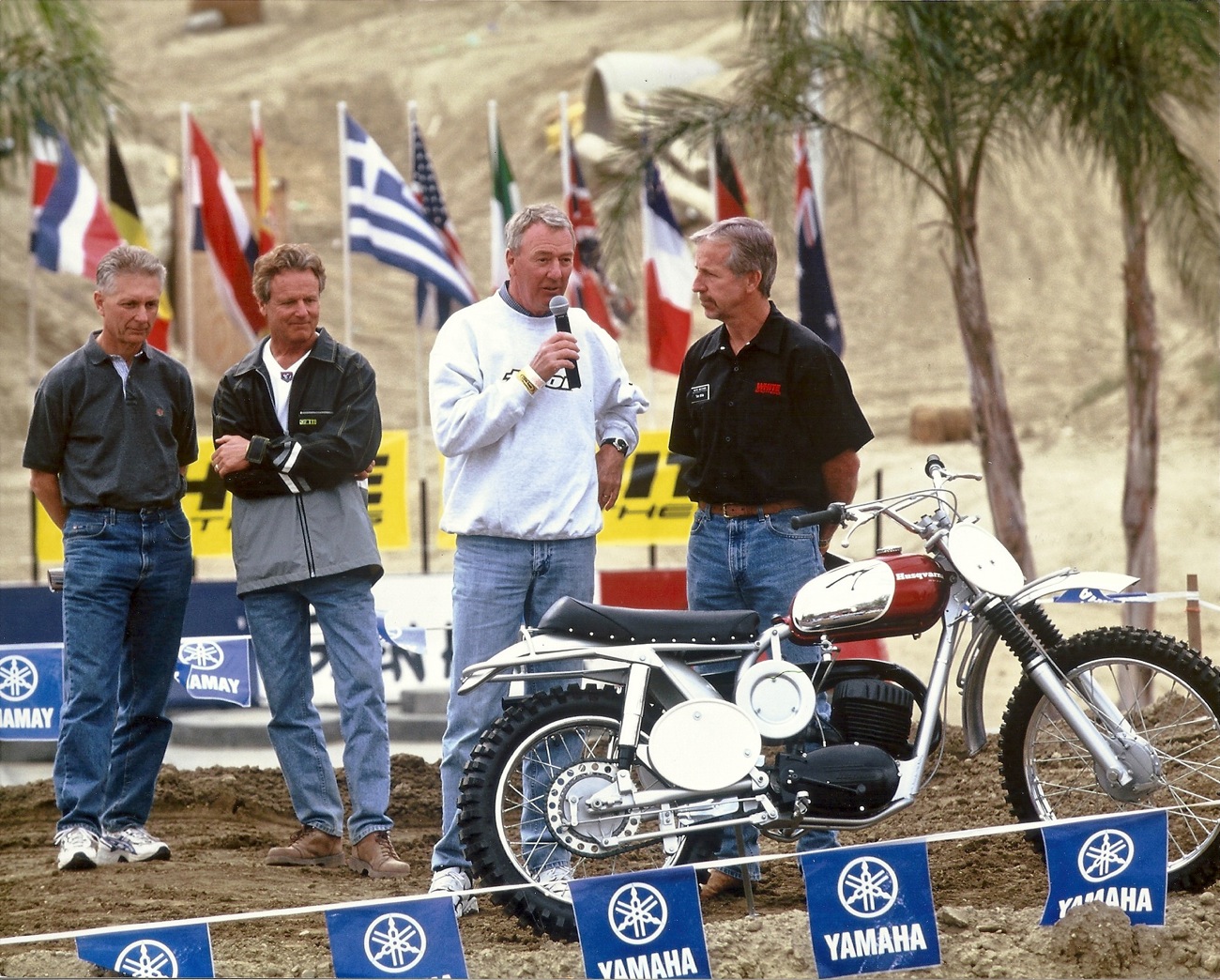 Tom White (right) with Torsten Hallman at Torsten's awards ceremony. In the background is Tom's old boss at Orange County Cycle Bob Maynard with Gunnar Lindstrom (far left).
WHAT ARE YOUR FAVORITE BIKES IN THE MUSEUM? It probably doesn't surprise you that the 1968 Yamaha 250cc DT1 is my all-time favorite bike. The DT1 wasn't a great street bike, nor was it a great dirt bike or race bike, but it was way ahead of anything else as a true dual-sport bike. I have favorites after the DT1. Most notaably, a few year ago one of my closest friends spent 9 months building an exact replica of the bike I won my only AMA National Championship event on at the Castle Rock TT in 1972. The bike is a Redline 650 Triumph and is exact in every detail. This machine will always be my favorite race bike. The 1961 Lito 500 MX is among my loves, next to my 1959 Monark 500 MX and 1976 Puch Twin Carb 250.
I'm always surprised by how fast the collection grows. I currently have 170 motorcycles. There are 110 historic motocross machines displayed in the main museum, 17 flat-track and enduro machines in the new mini-museum, and the remainder are in storage or inside my house.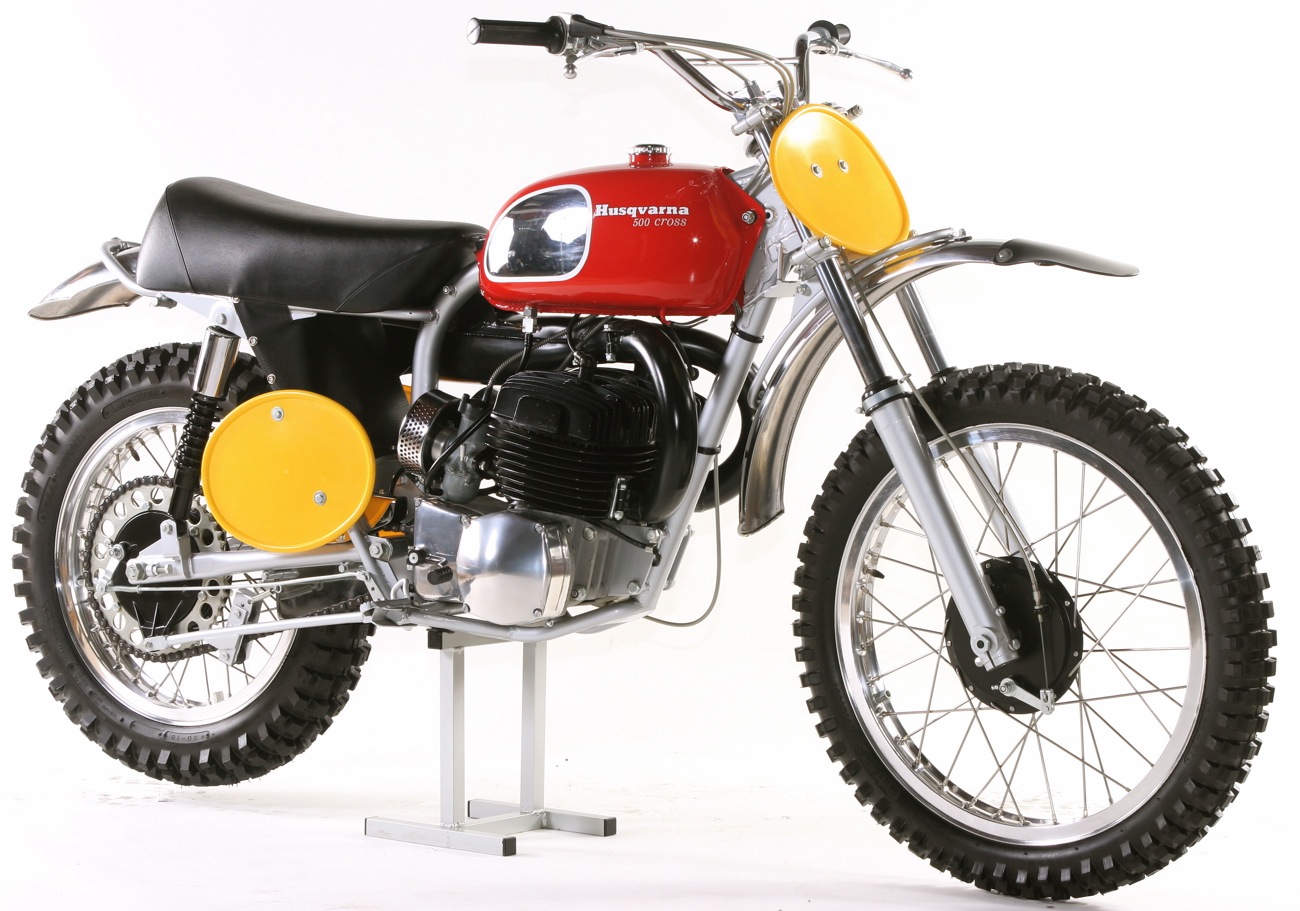 The Husqvarna 500 Twin Baja Invader. The only one in the world.
WHAT BIKE IS THE RAREST AND MOST VALUABLE? One of the only bikes in my collection that actually wasn't a production bike is my 1969 Husqvarna 500cc twin cylinder Baja Invader. It was the third and last prototype built by the Husky factory. It was shipped to the USA so that Gunnar Nilsson and J. N. Roberts could race it in the Baja 1000. Though they won the race, the 500cc twin never went into production as it was deemed too powerful and expensive for motocross. This is the only one left in the world. I estimate the value in the six figures.