MXA'S WEEKEND NEW ROUND-UP: TWO-STROKES ON THE HORIZON
ANOTHER MISSING 450 RIDER: BROC TICKLE OUT OF FLORIDA NATIONAL
After his big crash last weekend Broc Tickle has decided to skip the Florida round this Saturday to be 100% when the series moves to Colorado next Saturday. See Broc's crash below.
PASHA OPEN 125 PRO CLASSES AT THE WORLD TWO-STROKE CHAMPIONSHIP: $6000 PURSE FOR THE 125 PRO, 125 OVER-30 PROS & 125 OVER-50 PROS

When Hollywood actor Pasha Afshar started holding 125cc Pro races earlier this year, he was planning on taking over the 125 Pro class at the 2020 Wiseco World Two-Stroke Championship and building it into something big. Please note that Pasha makes no money from the race entries, instead he pays the purse because he wants to see 125 two-strokes blossom. And  on Saturday, October 3, 2020, the World Two-Stroke Championship will offer three 125 Pro classes thanks to Pasha's generosity.
Mike Alessi won the Pasha 125 Open warm-up race in both the 125 Pro and Over-30 Pro classes. He earned $1500 for his two wins. He intends to race both the $8000 Open Pro race at the World Two-Stroke race and the Pasha 125 Pro race (but will he be in the Pasha 125 Pro race or the Pasha 125 Over-30 race?).
Here are the classes that will be getting paid a share of the $2000 purse per class.
(1) 125 Pro: This is the actual 125 World Championship class—it pays $1000 to the winner, $600 for second place and $400 for third.
(2) 125 Vet Pro: This class is open to riders over 30 years of age (theoretically up to 49 years of age). Surprise! It also pays a $2000 purse, with the same $1000, $600 and $400 payout as the 125 Pro class.
(3) 125 Over-50 Pro: Who'd a thunk it? A big purse race for riders over the age of 50. It's true. The winner will pocket $1000, second $600 and third $400 (just like the teenage 125 Pros get paid).
Former Grand Prix star Kurt Nicoll has won both the Over-30 and Over-50 125 classes at the two Pasha Open warm-up races and pocket $1500 at the first round and $1250 at the second. He hopes to take home a double win and $2000 on Saturday, October 3.
Don't fret if you are just a regular 125 racer, and don't want to have your Amateur standing ruined by accepting money for racing motorcycles, Glen Helen will hold all the normal 125 classes by skill and age divisions at the World Two-Stroke Championship. For more information or to sign up early, go to www.glenhelen.com
2020 AMA 250/450 NATIONAL WINNERS AT A GLANCE: THREE RACES TO GO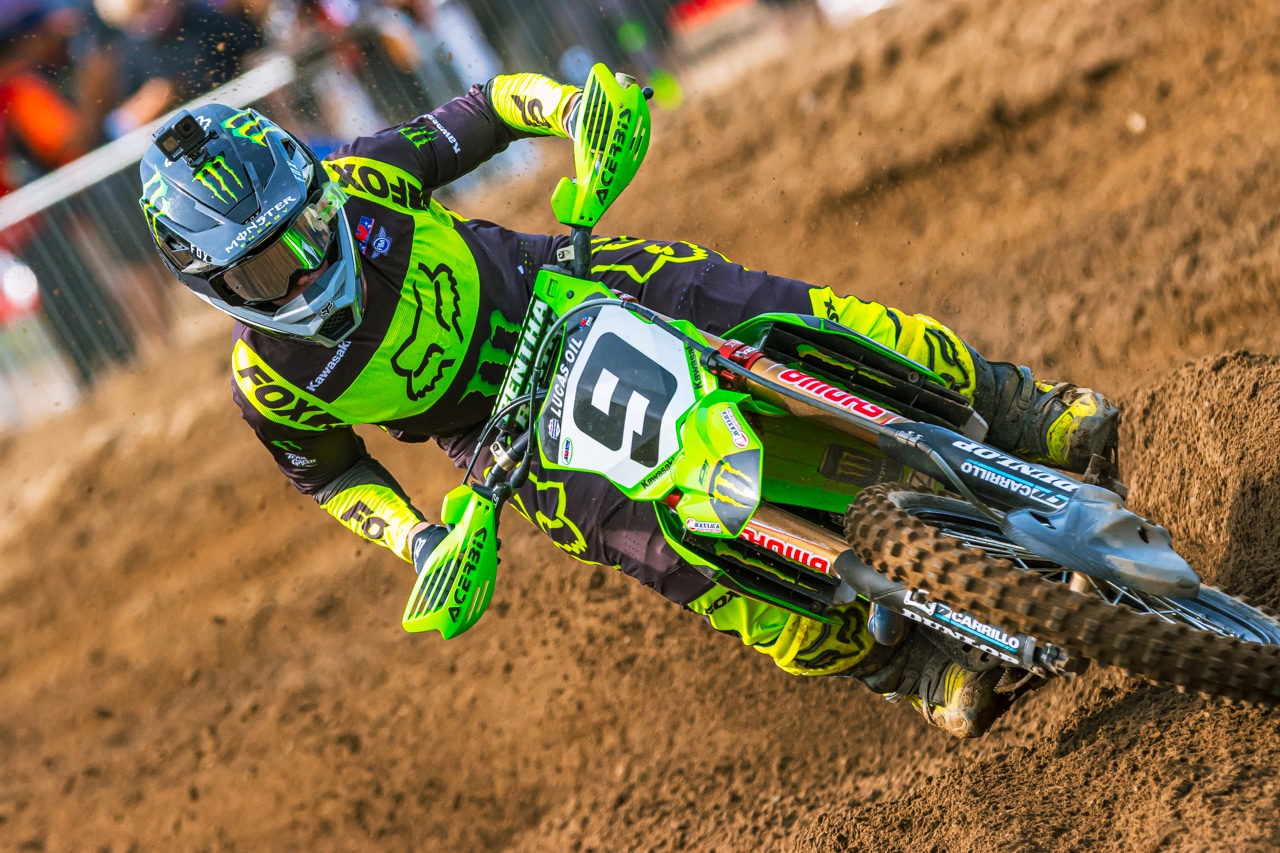 Adam Cianciarulo has won the last two 450 Nationals and is on a hot streak with only three races to go.

Date                       Venue                                        450                                      250
1. Aug. 15…Hurricane Mills, TN…………..Zach Osborne              Dylan Ferrandis
2. Aug. 22…Hurricane Mills, TN…………..Zach Osborne             Jeremy Martin
3. Aug. 29…Crawfordsville, IN……………..Eli Tomac                        Jeremy Martin
4. Sept. 4….Red Bud, MI………………………..Zach Osborne             Jeremy Martin
5. Sept. 7….Red Bud, MI………………………..Adam Cianciarulo      R.J. Hampshire
6. Sept. 19…Millville, MN……………………..Adam Cianciarulo      Dylan Ferrandis
7. Sept. 26…Jacksonville, FL…………….
8. Oct. 3…Lakewood, CO…………………..
9. Oct. 10…Pala, CA……………………………
450 Points leader…Zach Osborne
250 points leader…Dylan Ferrandis
CURRENT 2020 AMA NATIONAL POINT STANDINGS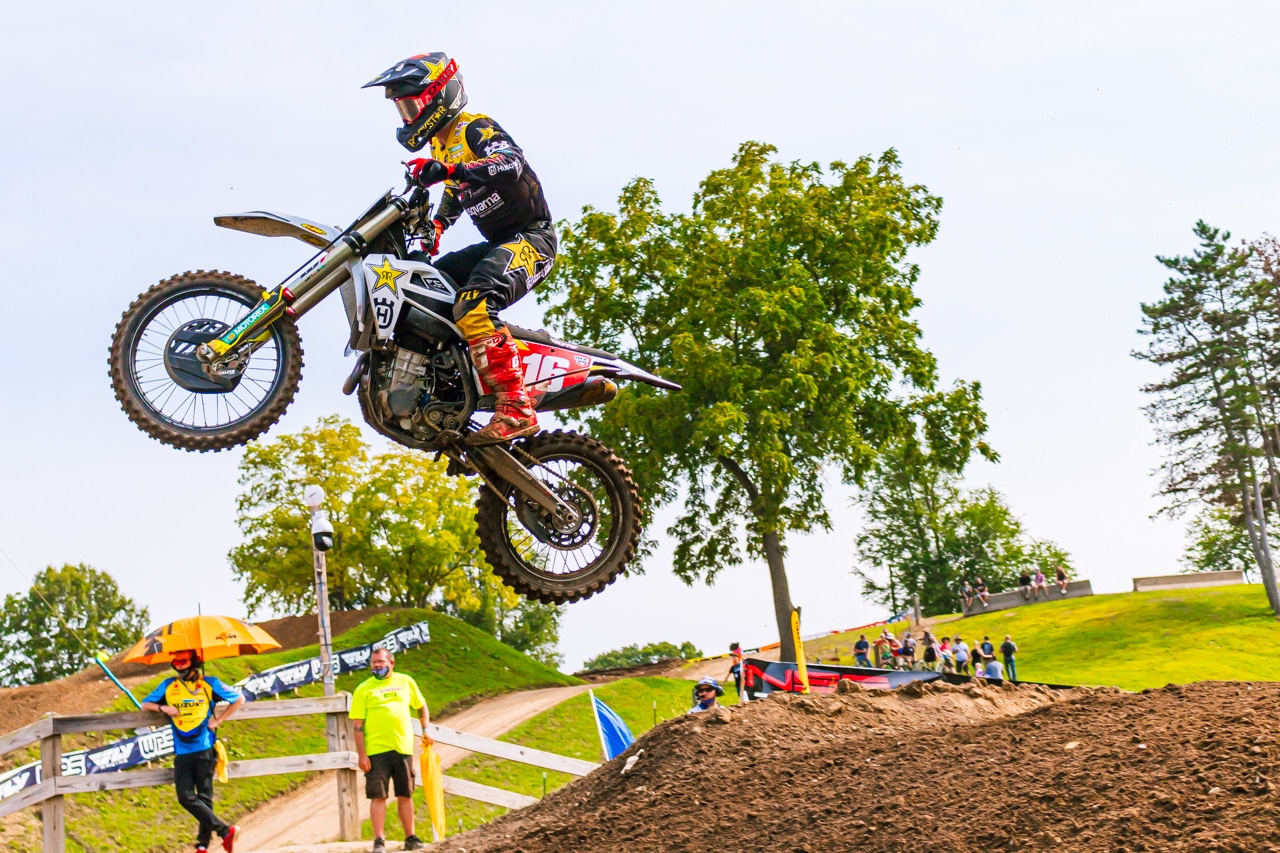 Zach Osborne had a solid lead heading to Millville, but a flat tire in the second 450 moto left him 15 points in front of Adam Cianciarulo, 20 points up on Marvin Musquin, 39-points ahead of Eli Tomac and 41 points in front of Justin Barcia.

2020 AMA 250 NATIONAL POINTS STANDINGS
(After 6 of 9 rounds)
1. Dylan Ferrandis (Yam)…257
2. Jeremy Martin (Hon)…254
3. R.J. Hampshire (Hus)…202
4. Alex Martin (Suz)…194
5. Shane McElrath (Yam)…186
6. Justin Cooper (Yam)…164
7. Jett Lawrence (Hon)…162
8. Cameron McAdoo (Kaw)…140
9. Mitchell Harrison (Kaw)…123
10. Brandon Hartranft (KTM)…114
2020 AMA 450 NATIONAL POINTS STANDINGS
(After 5 of 9 rounds)
1. Zach Osborne (Hus)…235
2. Adam Cianciarulo (Kaw)…220
3. Marvin Musquin (KTM)…215
4. Eli Tomac (Kaw)…196
5. Justin Barcia (Yam)…194
6. Blake Baggett (KTM)…190
7. Chase Sexton (Hon)…173
8. Christian Craig (Hon)…141
9. Broc Tickle (Yam)…134
10. Joey Savatgy (Suz)…122
MXA'S 2021 HONDA CRF450 VIDEO: LEARN A LOT ABOUT THE NEW CRF450 FROM OUR FIRST RIDE
MXA PRODUCT SPOTLIGHT: PRO CIRCUIT ENGINE PLUG KITS

Press Release: A new mini moto accessory for the 2013-2020 Honda CRF110F has just rolled into our warehouse and is ready to ship out. Much like our standard sized bike shift levers, this lever is also CNC-machined from aircraft quality billet aluminum for strength and anodized for durability. It comes with stainless steel spring hardware that resists corrosion and the free-folding, knurled tip design helps prevent dirt from clogging. It's also slightly longer than the OEM shifter to benefit adults, and is a perfect upgrade for someone looking to replace an older shift lever or to add a factory look to their mini moto machine. Note: The shift lever works best while in the stock position on the gearbox shaft, otherwise the lever may hit the engine case. For more info go to www.procircuit.com
MXA TEST RIDER PHOTOS OF THE WEEK: WIDE WORLD OF THINGS TO RIDE

In Texas in the very early 1970s, men were men and pants were made of leather. Do you remember the Hallman Flip Visor, Full Bore boots, Face Fender, Arnaco rear shocks, Curnutt front shocks, Swenco swingarm, leading link forks, radial head and cylinder, mud flap on the front fender, Rickman front hub and Hallman GP chest protector?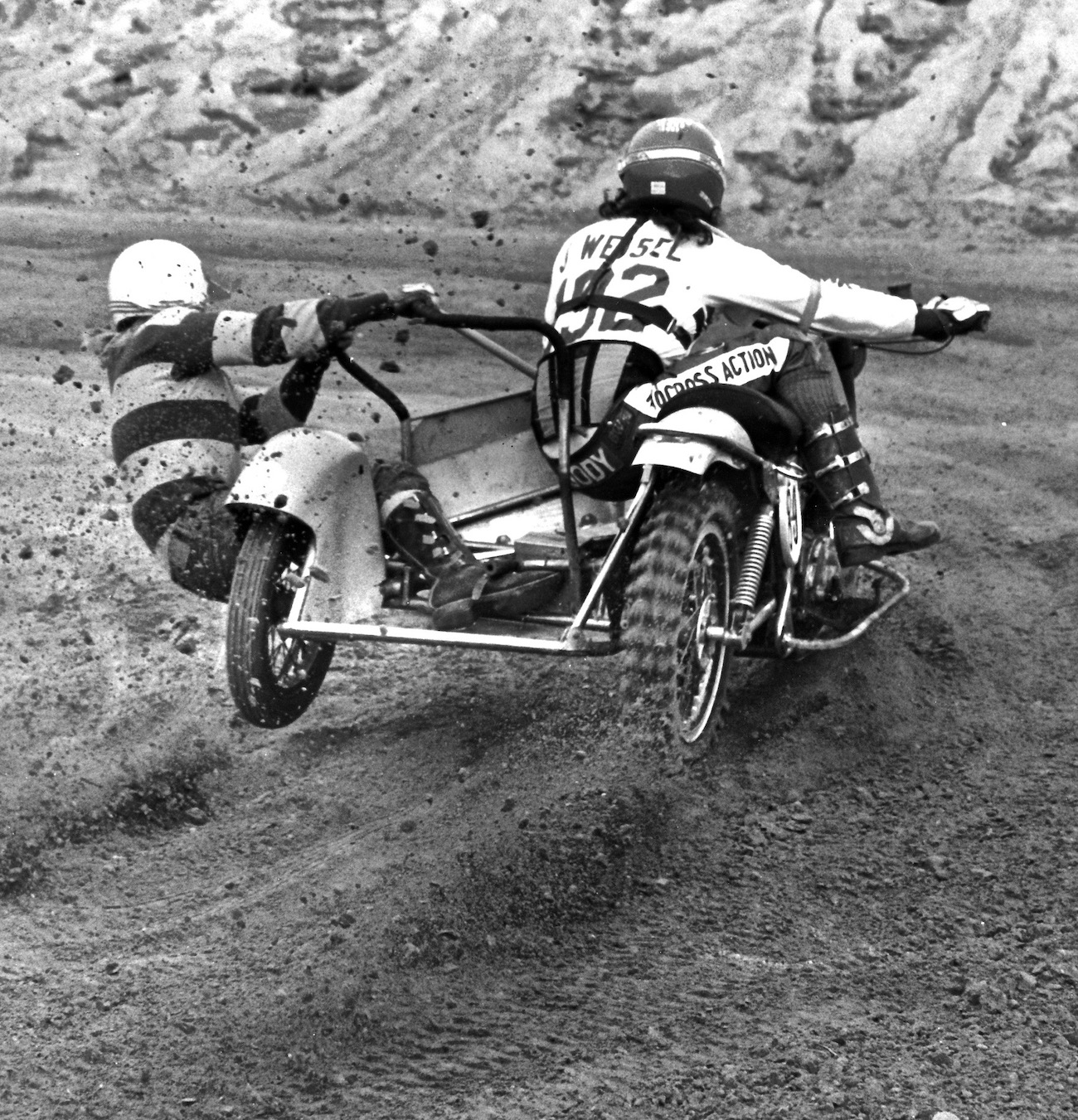 This photo was shot at Saddleback Park at a sidecar motocross race. This Wasp is powered by a 650 Yamaha twin.
This Lake Whitney photos looks like a sea of snow fences as Jody blast a Maico 400 out of a Texas berm.
Jody wheelies a Montesa 250 out of a Rabbit Run corner. For some reason he isn't wearing gloves, hadn't had a haircut in a few years and had replaced his Carerra goggles with a face mask.
Super Hunky eats a sandwich and drinks a beer while telling Jody how to get the holeshot at Saddleback. If you've never been to Saddleback, the start went up and over the hill on the horizon and just kept going.

The wave is small and the board is long. Jody had better start backpedalling off the nose. This photo was shot in the shorebreak at Port Aransas, Texas, in 1966.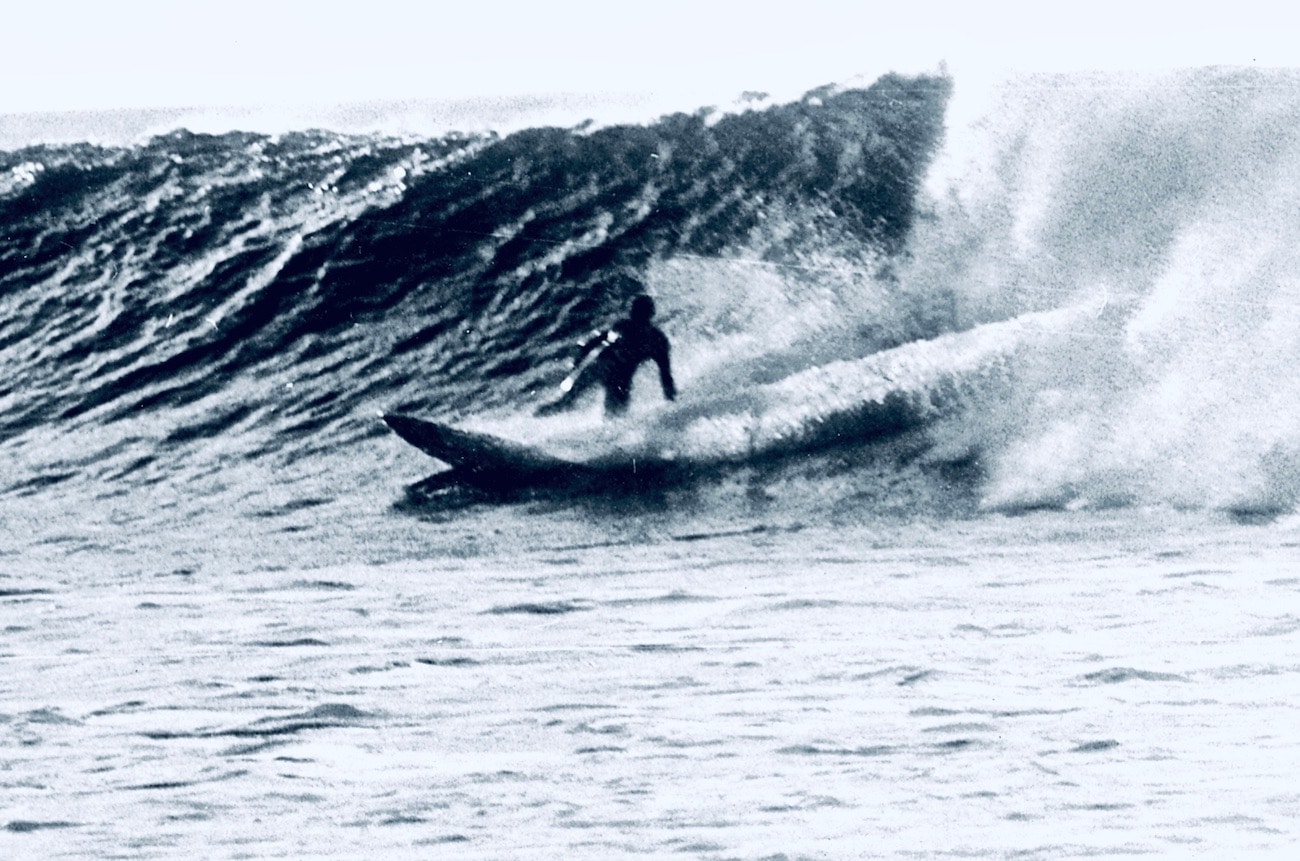 The wave was big and the board was short. Jody had better hustle down the line and forget about hitting off the lip. This photo was shot at Rincon in 1973.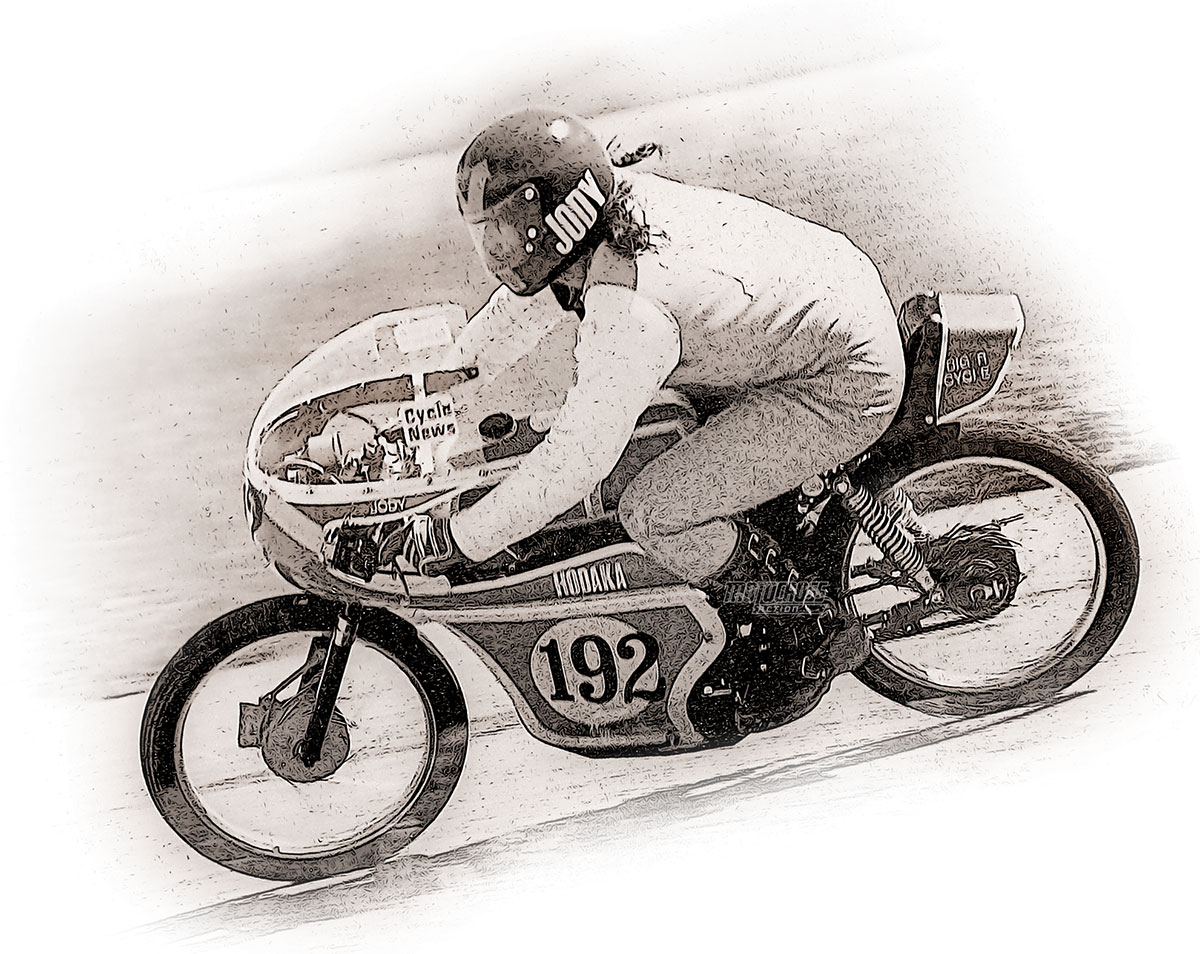 Jody at the Austin Aquafest road race on Hodaka's 100cc road racer, which saw life extra life as an E.C Birt-built 125 and 140 as the AMA kept upping the displacement limits.
The aerodynamic tuck is really essential when you try to race a 35mph Garelli moped against 100 mph Kreidler Van Veens. A black flag was in Jody's future.
The greatest open bike of the 1980s was the 1981 Maico 490 Mega 2. If you wanted to be somebody at Saddleback Park, this is the bike you raced because its style of power was perfect for blue groove.
MXA FIRST RIDE VIDEO: 2021 KTM 450SXF
2020 FIM 250/450 GRAND PRIX WINNERS AT A GLANCE
Who would have thunk it? Tony Cairoli not only won his second 450 GP of 2020, but he took over the points lead in the 450 World Championships. This weekend they start another three-race (Sunday, Wednesday Sunday) triple header. This time in Mantova.

Date                       Venue                                        450                                      250
1. Mar. 1…Matterley, Great Britain …..Jeffrey Herlings        Tom Vialle
2. Mar. 8…Valkenswaard, Holland…….Jeffrey Herlings        Jago Geerts
3. Aug. 9…Kegums, Latvia…………………..Glenn Coldenhoff     Tom Vialle
4. Aug. 12…Kegums, Latvia………………..Tony Cairoli                 Jago Geerts         
5. Aug. 16…Kegums, Latvia………………..Jeffrey Herlings        Jago Geerts
6. Sept. 6…Faenza, Italy……………………..Jeffrey Herlings        Maxime Renaux
7. Sept. 9…Faenza, Italy………………………Jorge Prado               Tom Vialle
8. Sept. 13…Faenza, Italy……………………Tony Cairoli                 Tom Vialle
9. Sept. 27…Mantova, Italy
10. Sept. 30…Mantova, Italy
11. Oct. 4…Mantova, Italy
12. Oct. 11..Arroyomolinos, Spain
13. Oct. 18…Lommel, Belgium
14. Oct. 21…Lommel, Belgium
15. Oct. 25…Lommel, Belgium
16. Nov. 1…Trentino, Italy
17. Nov. 4…Trentino, Italy
18. Nov. 8…Trentino, Italy
450 Points leader…Tony Cairoli
250 points leader…Tom Vialle
CURRENT 2020 FIM WORLD CHAMPIONSHIP POINTS STANDINGS
With the exception of Glenn Coldenhoff's victory in Latvia on the GasGas, every 450 Grand Prix of 2020 has been won by a KTM—and the kicker is that Coldenhoff's GasGas is a KTM at heart.
2020 FIM 450 GRAND PRIX POINTS STANDINGS
(After 8 of 16 rounds)
1. Tony Cairoli (KTM)…285
2. Tim Gajser (Hon)…278
3. Jeffrey Herlings (KTM)…263
4. Jeremy Seewer (Yam)…255
5. Jorge Prado (KTM)…237
6. Arminas Jasikonis (Hus)…233
7. Glenn Coldenhoff (Gas)…233
8. Romain Febvre (Kaw)…203
9. Gautier Paulin (Yam)…201
10. Clement Desalle (Yam)…194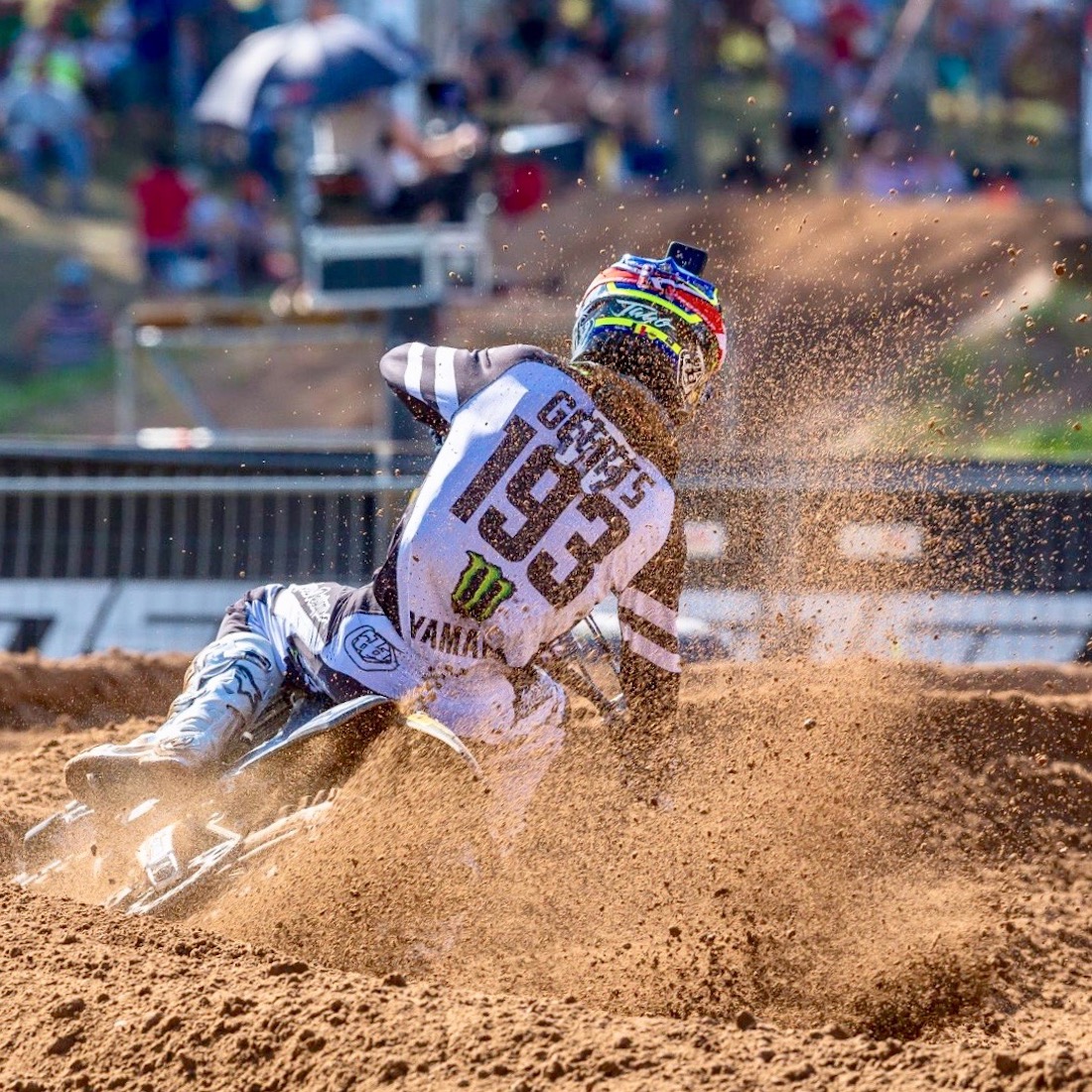 Jago Geerts got to within 3 points of the 250 World Championship points lead two week's ago, but is now 21-points behind Tom Vialle.
2020 FIM 250 GRAND PRIX POINTS STANDINGS
(After 8 of 16 rounds)
1. Tom Vialle (KTM)…354
2. Jago Geerts (Yam)…333
3. Maxime Renaux (Yam)…259
4. Jed Beaton (Hus)…247
5. Roan Van De Moosdijk (Kaw)…210
6. Ben Watson (Yam)…191
7. Thomas Kjer Olsen (Hus)…188
8. Mathys Boisrame (Kaw)…182
9. Conrad Mewse (KTM)…162
10. Ruben Fernandez (Yam)…156
MXA PRODUCT SPOTLIGHT: KTM POWERPARTS ACCESSORIES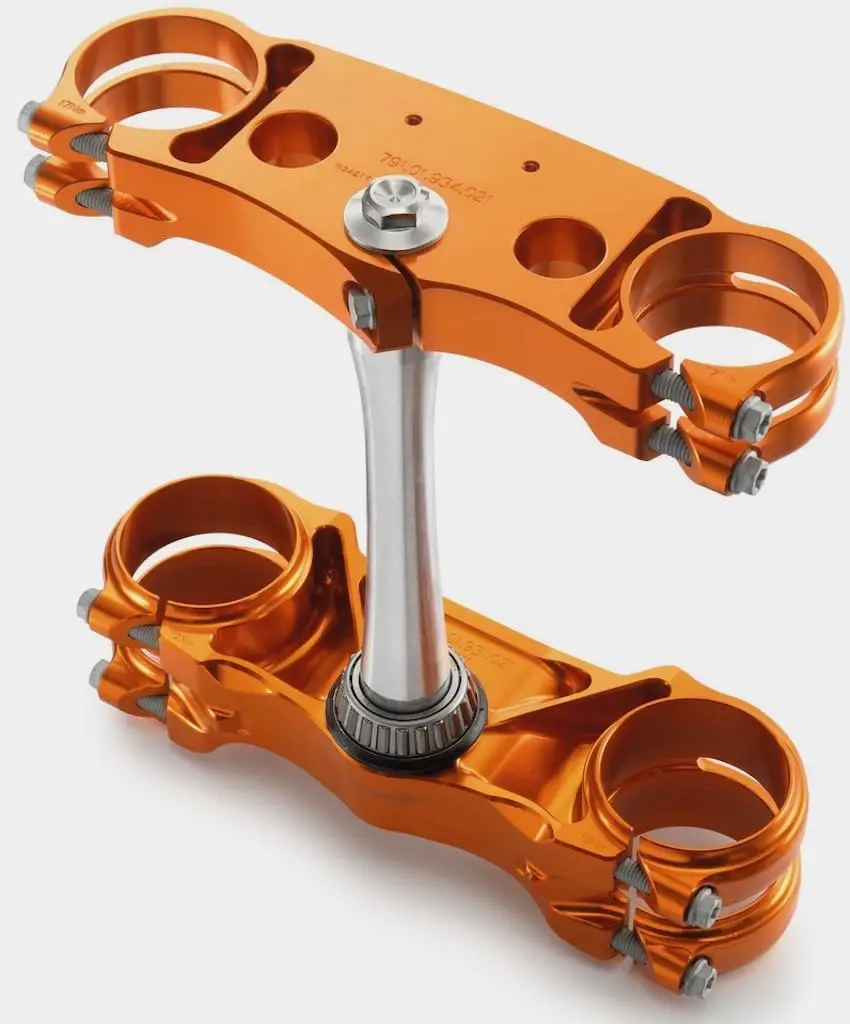 FACTORY TRIPLE CLAMPS
This orange anodized triple clamp includes the steering stem with the bottom bearing already pressed on. It features adjustable offset (20mm or 22mm) and a special split clamp design to optimize perfect grip on the fork tubes. Identical to the 2020-1/2 KTM FC450 Factory Edition triple clamps. Retail price—$623.99.
KTM 60-PIECE 3/8″ TOOL BOX KIT
The most commonly used Torx, Allen, socket, screwdriver blades, adaptors, ratchet, extensions and breaker bar in a form-fitting case. It is design to make working on almost every KTM nut or bolt from 50cc to 505cc. Retail price—$145.99.
KTM 300CC FACTORY ENGINE KIT
All the parts needed to turn your 250SX into a 300SX (including cylinder, gaskets, piston, rings, cylinder head, black box, wrist pin, circlips and power valve). It is a bolt-on engine kit that boosts  power by 4.25 horsepower more than the stock 250SX engine. Retail price—$956.99.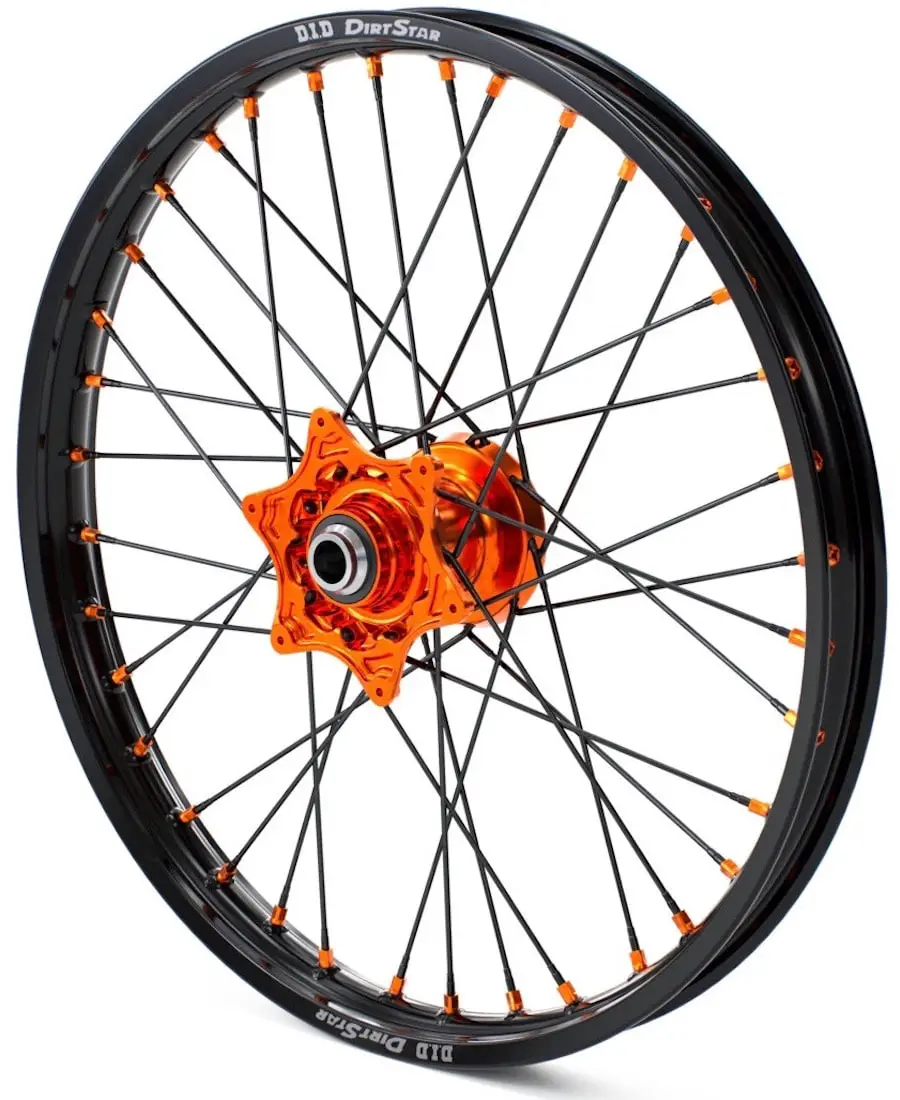 FACTORY WHEELS
The  orange anodized CNC-machined hubs are laced to D.I.D DirtStars rims with orange anodized aluminum spoke nipples with 36 black anodized spokes. The rear wheel comes in either 18-inch or 19-inch diameters on 2.15-inch DID DirtStar rims. Retail price—$424.99 (front), $499.99 (Rear).
KTM Power Powerparts are available at your friendly local KTM dealer. to find a KTM dealer near you Click Here.
REM RACE SCHEDULE FOR WHAT'S LEFT OF THE 2020 SEASON

REM has announced the six remaining races on its 2020 race schedule. The very popular REM races at Glen Helen have had their 2020 season disrupted by the coronavirus situation, but plan to hold their normal 30 races in 2021. The big news is that the yearly Octobercross, a continuation of the old REM "Commotion-by-the-Ocean" event from Carlsbad Raceway, will be held prior to the November 6-8 World Vet Championship on October 17. Here are the remaining six races on the 2020 schedule, starting on October 10 and finishing on December 19. For more info go to www.remsatmx.com
2020 REM RACE SCHEDULE
Oct. 10….REM track
Oct. 17…STI Tires, X Brand Goggles Octobercross on the Vet World track
Oct. 24…REM track
Nov. 14…REM track
Dec. 5…REM track
Dec. 19….REM track
NEW FUNNELWEB AIR FILTER IMPORTER FOR THE USA
FunnelWeb Filters of the Netherlands has made an agreement with Central Powersports Distribution (CPD) for the importing, distributing and resale of FunnelWeb filters, oils and accessories. FunnelWeb uses a pyramid-shaped single-layer foam TO increases the total surface of the air filter by 100%. The increased surface area is capable of holding a lot more dirt at, or nearer to the surface of the filter and can advantage different riders in different ways.
Niels Van Kempen, owner of Funnelweb Filters, has been doing the promoting, marketing, and management in the USA since 2018 from his base in the Netherlands. "Now is the time to build on what we have started in the USA and CPD is the right team for us to work together on the growth and success for Funnelweb. We look forward to a long partnership with CPD for the US market. CPD has a full warehouse of filters for every brand and their dealer programs is ready immediately. The retail web site for order from customers is www.funnelwebfilterusa.com or www.FWF-USA.com.
MXA FIRST RIDE VIDEO: 2021 KAWASAKI KX450
WHAT'S INSIDE THE OCTOBER 2020 ISSUE OF MXA?
The October 2020 issue of MXA features close-up looks and tech specs for the 2021 Hondas, Yamahas and Kawasakis. Plus, the best barn find ever, know-how from Twisted Development's Jamie Ellis and an interview with the long forgotten Mike Hartwig.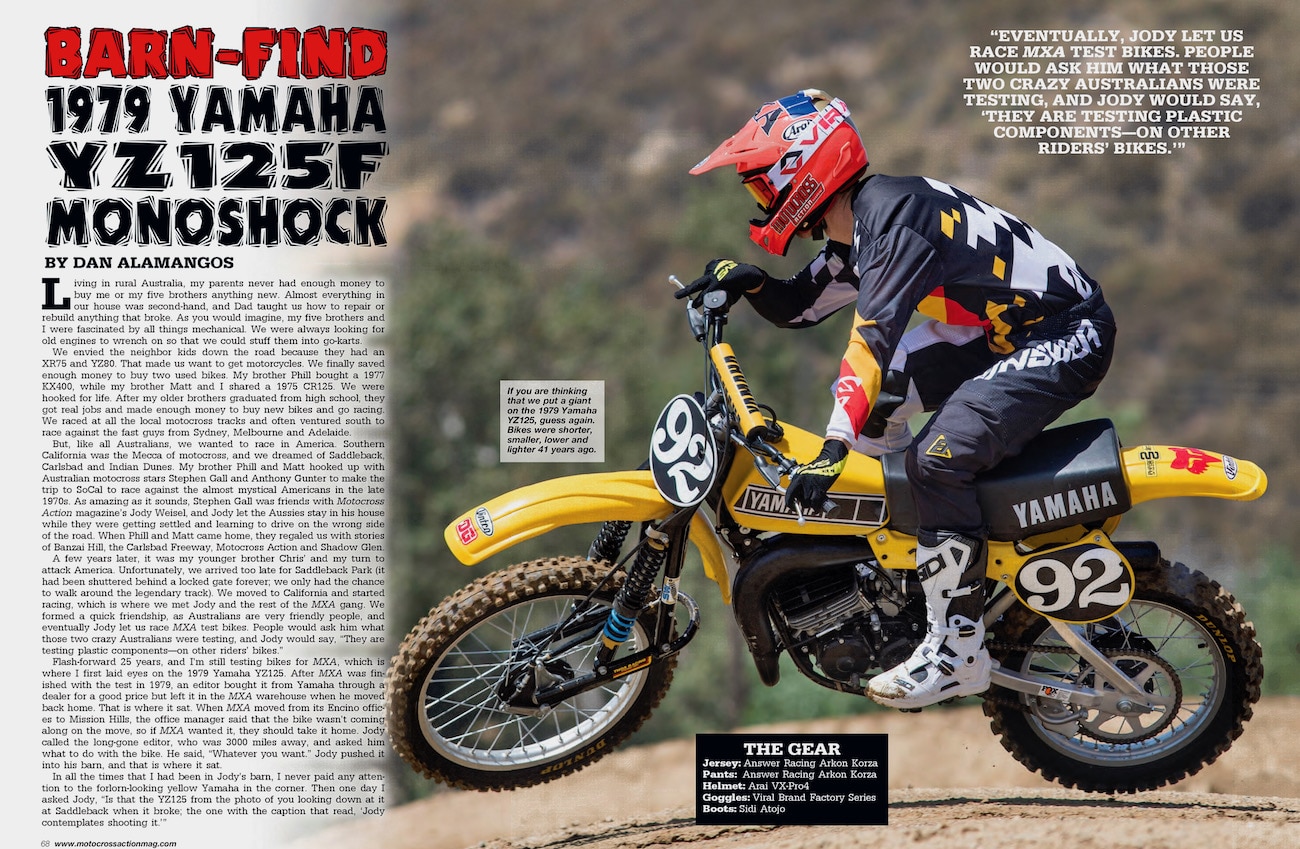 What would you do if you found a 1979 Yamaha YZ125 sitting in the back corner of a barn. Dan Alamangos ask himself that same question. His answer was to restore it to exactly how it was raced 41 years ago.
It's hard to imagine that a Czechoslovakian motorcycle was once the winningest Grand Prix bike of all-time. Unfortunately, that was a long time ago, but we will always have the joy of racing a 1972 CZ yellow tanker as kids.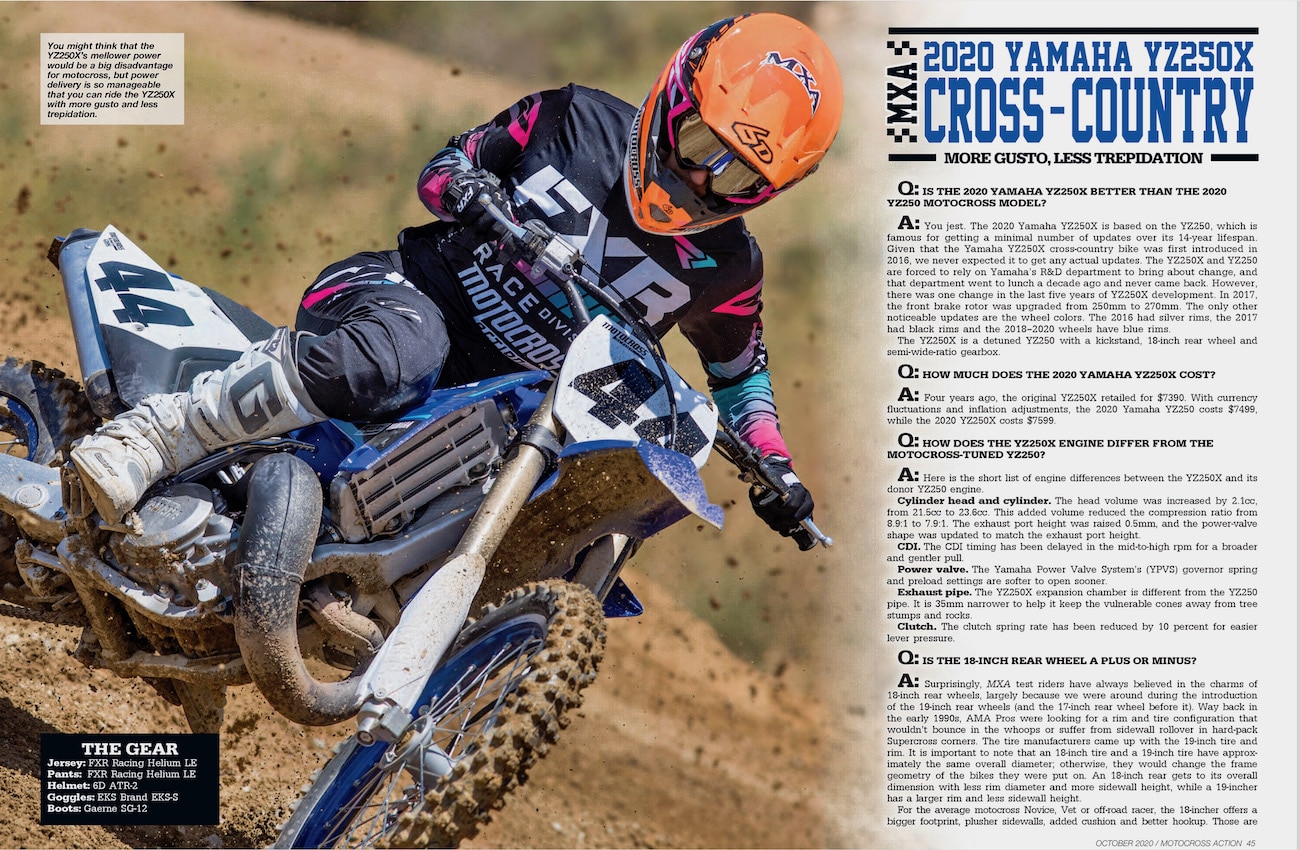 We are proud that Yamaha still makes two-strokes when their partners in the "Big Four" gave up. We are even prouder that Yamaha has taken those motocross smokers and turned them into a line cross-country racers to give KTM a run for their money in the off-road world.
Once we saw the 2021 KX450F, we knew that we could take our trusty, but rusty, 2020 Kawasaki KX450 and make it better than the 2021 KX. Read all about it here.

Mike Hartwig was a true Cinderfella story. He came out of no where, well Michigan to be honest, and shocked the factory riders with his speed. Mike Hartwig won AMA Nationals, made the MXDN team and a year later was gone. Read the story of Mike Hartwig's brief but spectacular career.

We sent MXA's Josh Mosiman to a Supercross track to test Mitchell Falk's BWR Engines Honda CRF250. The BWR team is one of the most successful privateer Supercross effort in the sport. Learn how they do it and what other privateer teams could do to be as good.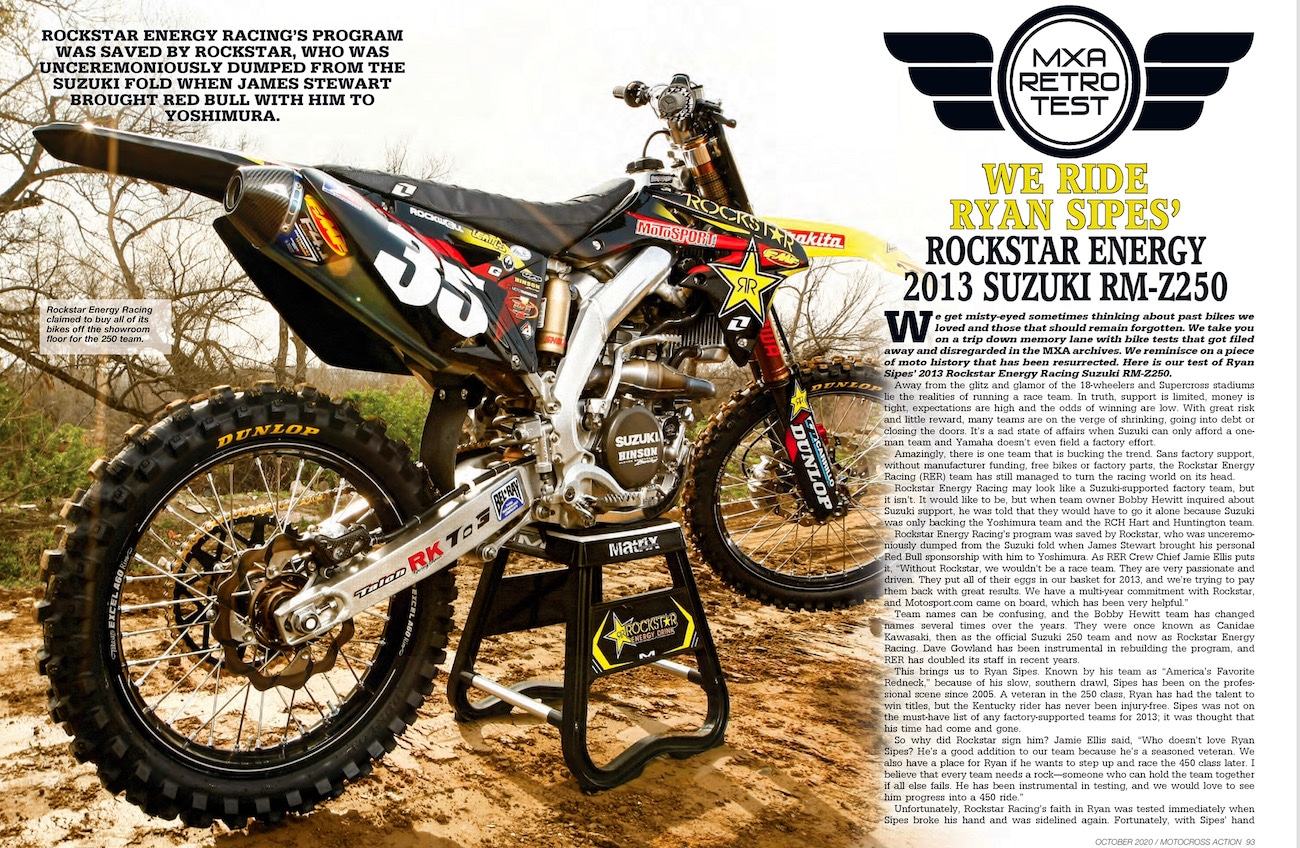 Remember when Ryan Sipes raced for the Rockstar Energy Suzuki team? Of course you do, but we thought it would nice to revisit his 2013 Suzuki RM-Z250.
HOW TO SUBSCRIBE TO MXA SO THAT YOU NEVER MISS ANOTHER ISSUE, PLUS GET A $25 ROCKY MOUNTAIN GIFT CARD TO COVER YOUR COSTS
If you subscribe to MXA you can get the mag on your iPhone, iPad, Kindle or Android by going to the Apple Store, Amazon or Google Play or in a digital version. Even better you can subscribe to Motocross Action and get the awesome print edition delivered to your house by a uniformed employee of the U.S. Government. Did we mention the $25 gift card for any part you want from Rocky Mountain ATV/MX? You can call (800) 767-0345 or Click Here (or on the box at the bottom of this page) to subscribe.
MXA VIDEO: FIRST RIDE ON THE 2021 KTM 350SXF
MXA TEAM TESTED: GAERNE FASTBACK ENDURANCE BOOTS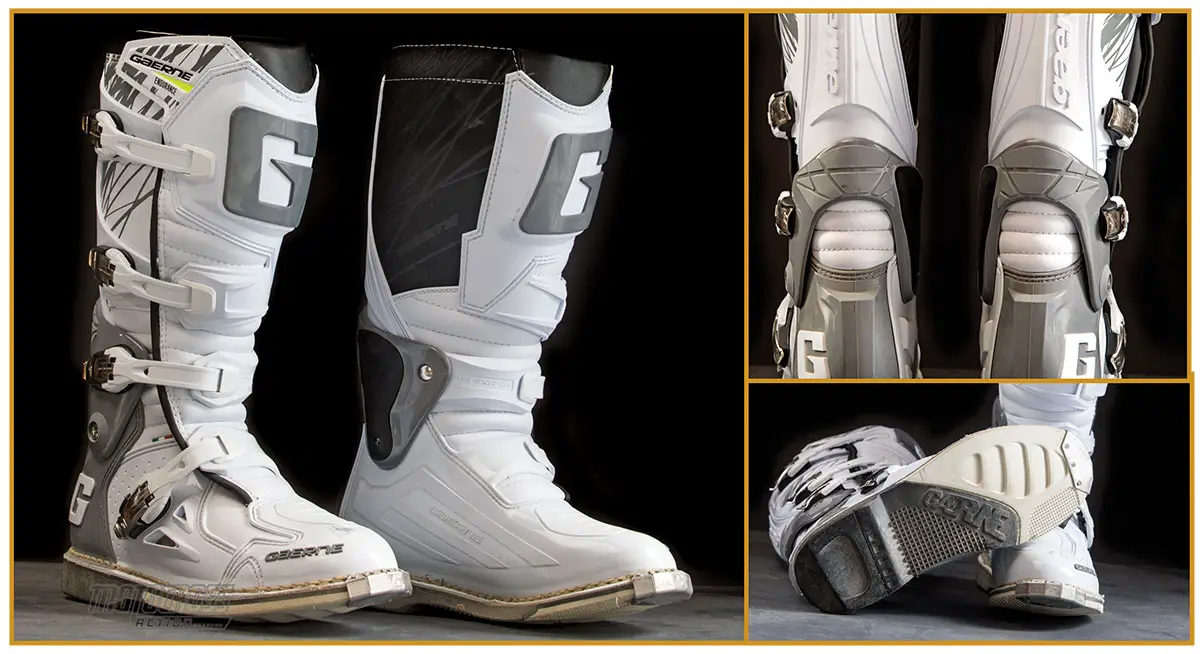 Gaerne's Fastback Endurance boots are replacing its tried-and-true React boots. The Fastback boots are light and straightforward boots that offer many of the great features of Gaerne's top-of-the-line boots without the high price tag.
The Gaerne Fastback boots are as minimal as a boot gets without sacrificing safety and durability. What we mean by that is the boot still offers a robust, single-stage, dual-pivot ankle-wraparound system that protects the ankle from damage. The bottom part of the boot is covered in a rigid plastic that protects the foot, while the rubber composite sole, shank and adjustable buckles are the same as those used on Gaerne's premier SG12 boots.
The upper half doesn't have the inner rubber grip guard like the SG12 or SG10; instead, it offers a leather thermal shield that gives you a closer fit against the bike. The part of the boot that takes the brunt of the beating is the rubber pivot grip guard. This rugged part sticks out just a bit more than the rest of the boot so it can take most of the impact against the bike, as it's supposed to.
Break-in is always a nuisance when getting a new pair of boots, but with much less material than most boots, the Fastback broke in within 30 minutes of riding.  The Fastback boots comes in at 4 pounds, 2 ounces, while the SG12 coming in at 4 pounds, 14 ounces. This is a substantial weight difference due to less material on the Fastback. If you have bad knees, your foot is a leverage arm. The more weight that is on it, the more potential force it has. Boots have to achieve a delicate balance between protection and weight.
The lighter Fastback boots offer excellent protection for their weight; however, if you want superior protection because you jump big jumps,  and aren't worried about weight or are a National Pro, the SG12 would be a better boot for you. Many of our testers, the ones who aren't prone to catching big air, wanted more fluid movement and less weight. They loved the Fastback in every way, shape and form.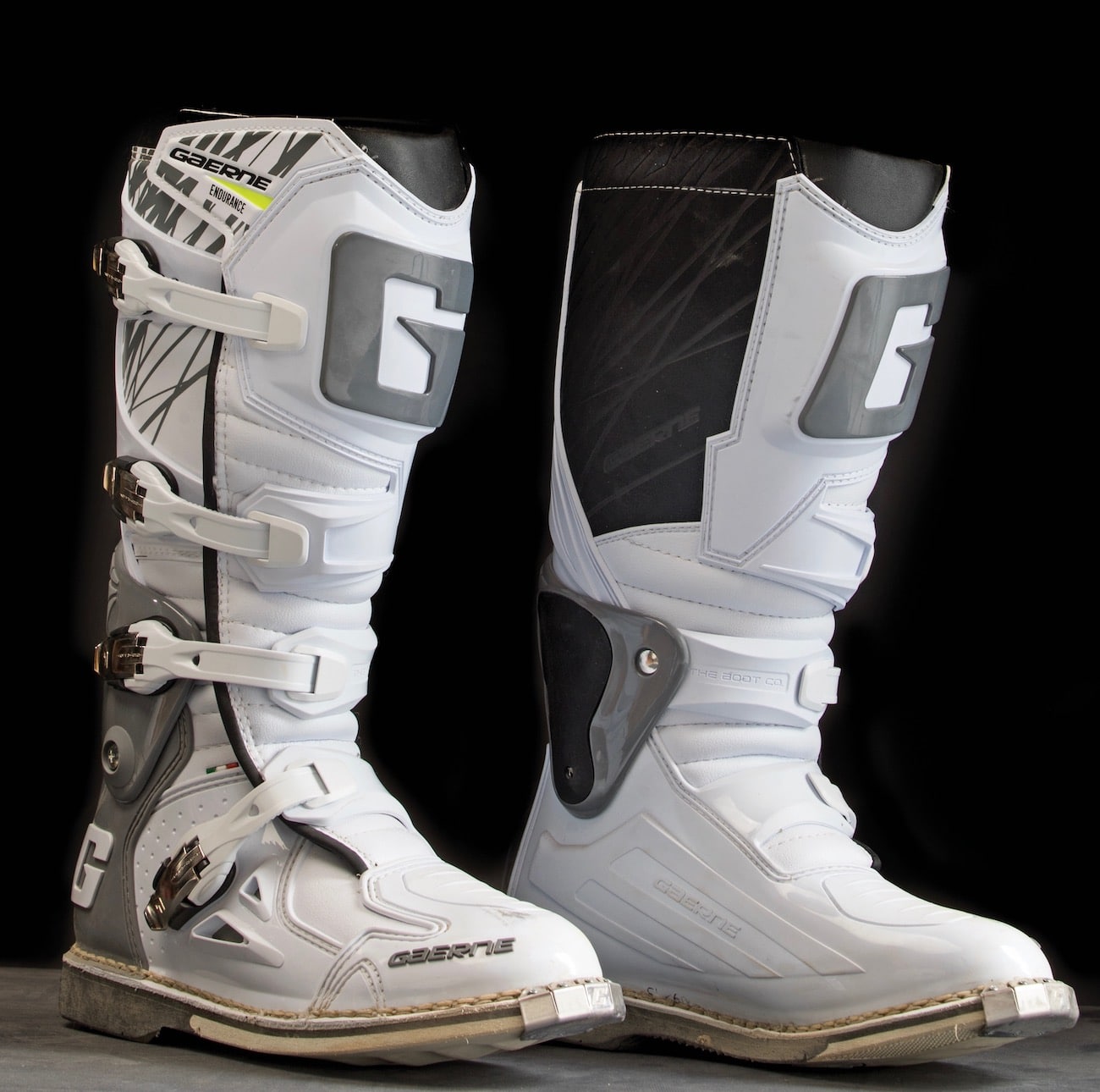 While many boots are either all soft or all hard, the Fastback boot is the perfect combination of flexibility and rigidity. The upper half of the boot brings you supreme freedom, while from the ankle down it offers excellent protection from the elements. The rubber sole doesn't flex over the pegs. It provides a firm feel for your foot.
Gaerne's Fastback buckle system is awesome. The buckles are easy to actuate, reliable and straightforward. The top buckle strap is adjustable to fit just about any size calf and knee brace. The Gaerne rubber sole is the holy grail of boot soles. It offers the best combination of strength and grip on the market. The Fastback's leather thermal shield protects well against the bike. It just doesn't provide as much grip as the SG12's rubber grip guard. You will be pleasantly surprised just how long these boots last.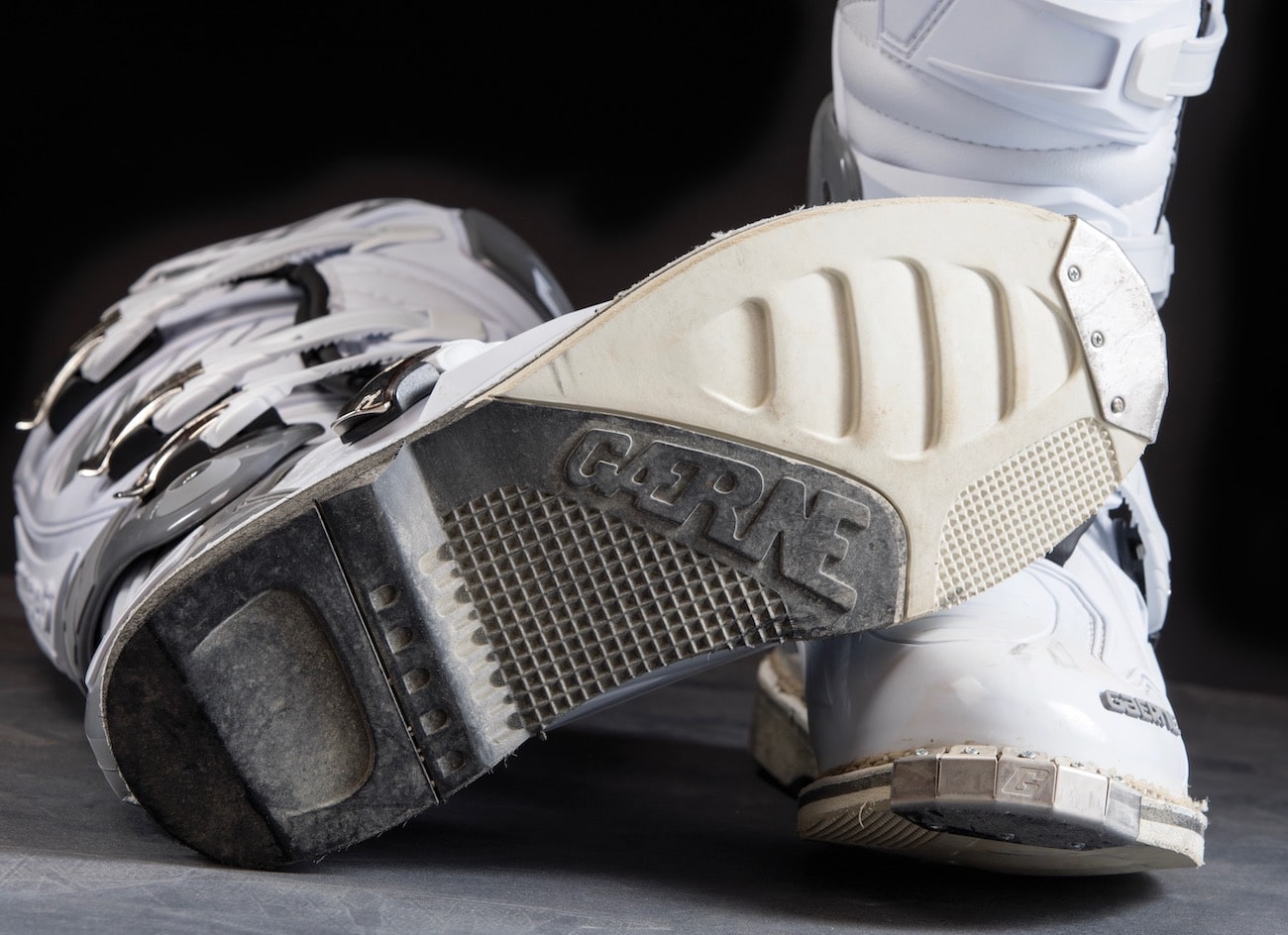 DIGITS? $369.99—www.gaerneusa.com or (800) 426-0213.
WHAT'S THE SQUAWK? The insoles were on the soft side. If you want supreme comfort get insoles that mold with your feet.
MXA RATING: This is a perfect boot for the weekend warrior. It offers comfort, safety and durability at a great price point.
MXA FIRST RIDE VIDEO: 2021 HUSQVARNA FC450
MXA FIRST RIDE VIDEO: 2021 YAMAHA YZ450F
MXA AD OF THE WEEK: BAIT AND SWAP

Lots of gullible riders bought 1977 Suzuki RM370s because they thought it was the same as the bike that Roger DeCoster raced. It wasn't. It had a powerband that riders joke was designed by Thomas Edison—like a light switch.
2020 WISECO WORLD TWO-STROKE MOTOCROSS CHAMPIONSHIP WILL BE HELD ON OCTOBER 3, 2020
There is over $15,000 of Pro Purse Money at the Wiseco World Two-Stroke Championships—Hosted by Fasthouse
Glen Helen Raceway, Fasthouse, Wiseco, and Pasha Racing will be offering over $15,000 in Pro Purse money at the 10th Annual Wiseco Two-Stroke World Championships hosted by Fasthouse on Saturday, October 3.
The ever-popular Open Pro Class will have a Pro Purse of $8000 paying down to 10th place. Top riders participating include Josh Grant, Mike Alessi, and the 2019 Two-Stroke Champion R.J. Wageman along with several other top pros.
Pasha Racing is offering the pro purse for the popular Pasha 125 Open Pro class, Over-30+ 125 Pro class  and Over-50+ Pro classes. Top riders in these classes include Mike Alessi, Sean Collier, Josh Mosiman, Pete Murray, Kurt Nicoll, and more. Along with the pro classes, there are classes for everyone 50cc and up including all age groups and skill levels.  Register for pre-entries early and save money!  For all information including advance pre-sale admission passes, rules, and more visit GlenHelen.com.
2020 OLD SCHOOL SCRAMBLES SERIES ON OCT. 3-4, OCT. 10-11 & DEC. 19-20 AT GLEN HELEN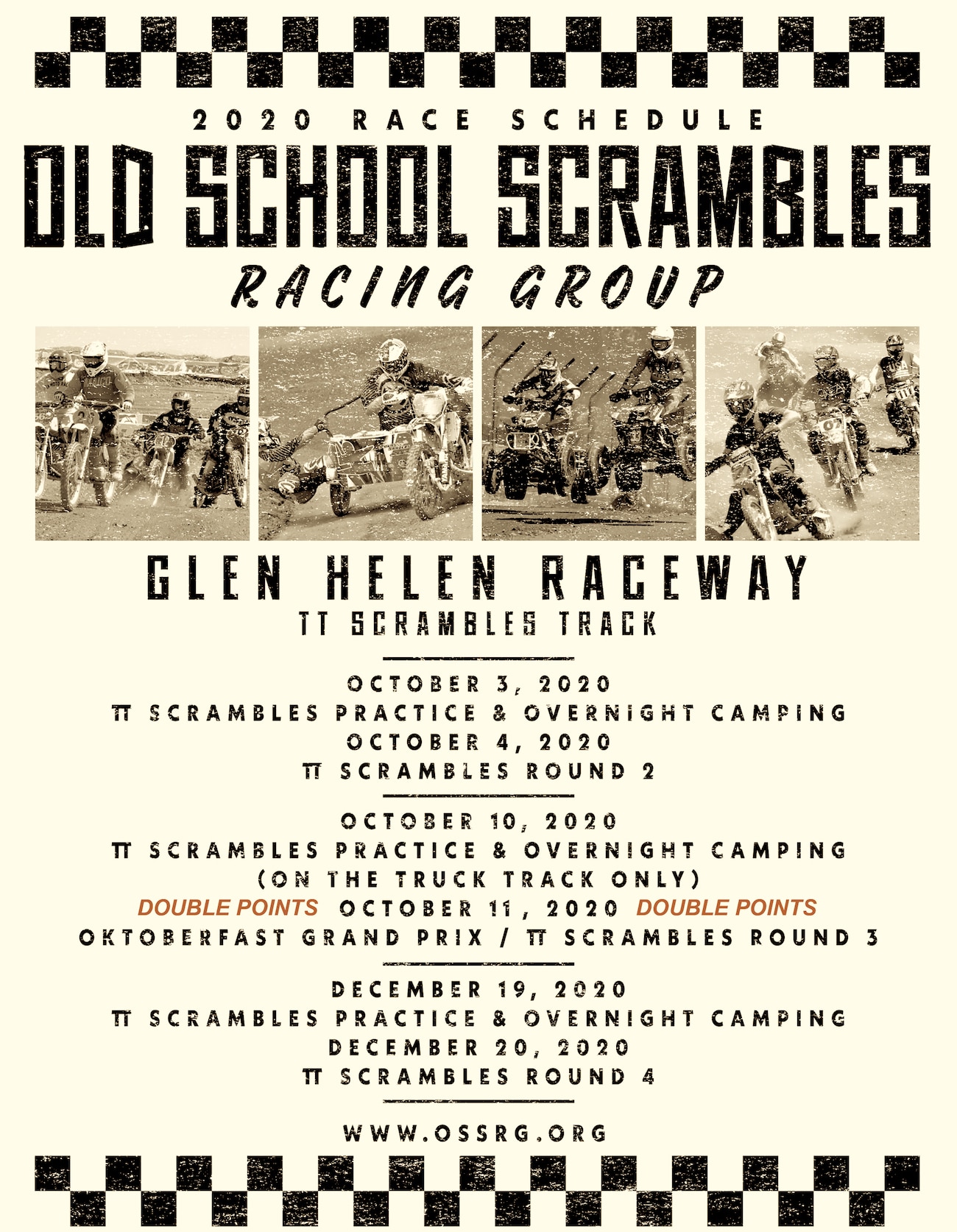 For more information go to www.ossrg.org
WASHOUGAL 125 DREAM RACE POSTPONED TO OCTOBER 10-11
For more info go to www.125dreamrace.com
OLD SCHOOL SCRAMBLES "OKTOBERFAST" GRAND PRIX ON OCTOBER 11
For more information go to www.ossrg.org
18TH ANNUAL REM OCTOBERCROSS (WORLD VET WARM-UP RACE) ON OCT. 17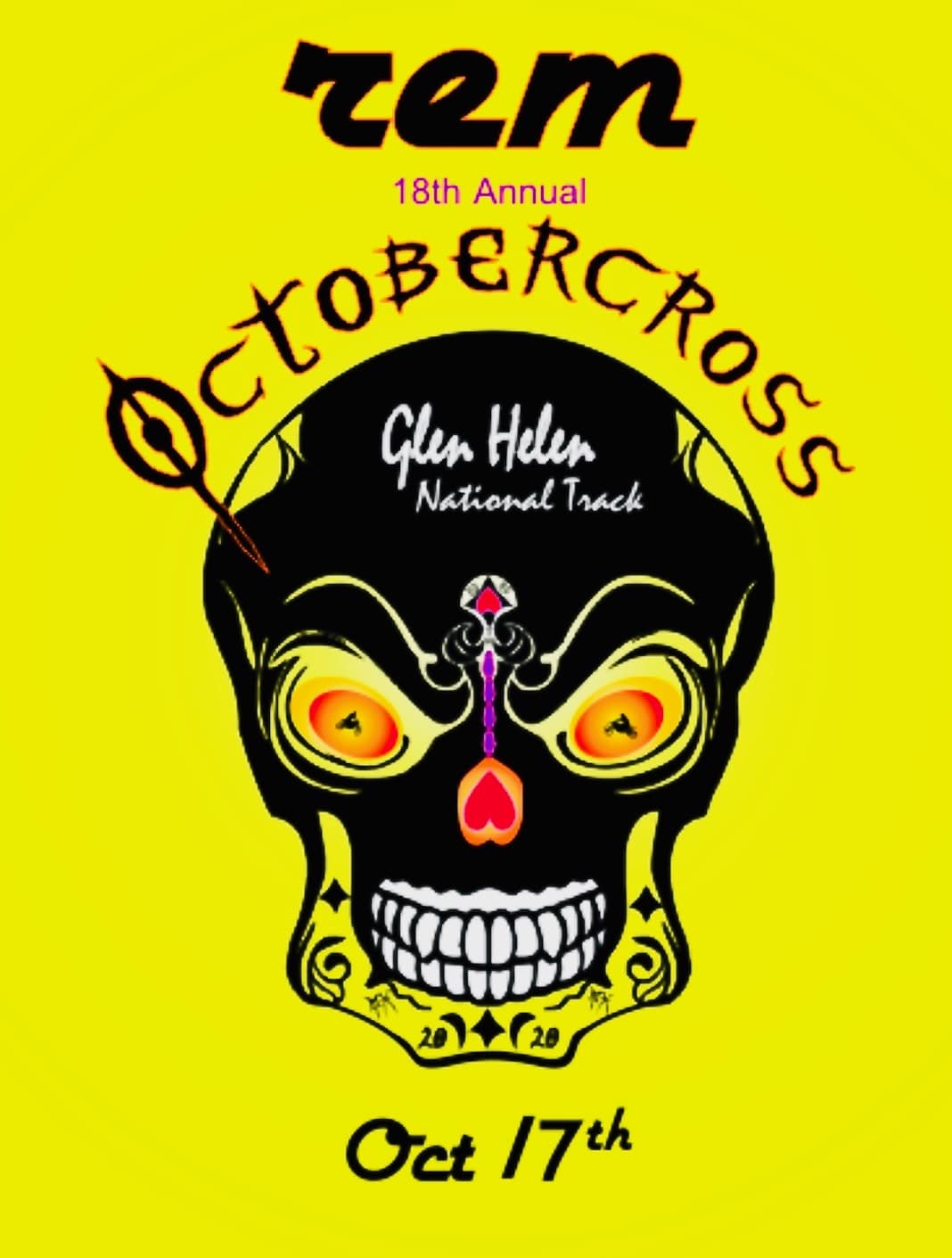 Those of you who are old enough might remember when the Octobercross was called "The Commotion by the Ocean" and was held at Carlsbad Raceway. When Carlsbad closed, REM moved to Glen Helen. They didn't hold the Commotion anymore, because Glen Helen is no where near the ocean, but 18 years ago they decided to hold it again in late October on what would be the layout for the World Vet Championship track. It was popular because everyone wanted a sneak peak at what the World Vet track would be like—and since it was held in October and close to Halloween, the REM Commotion by the Ocean became the REM Octobercross. For more info Click Here
36TH ANNUAL WORLD VET MOTOCROSS CHAMPIONSHIP ON NOVEMBER 6-8: PRE-ENTRY OPEN NOW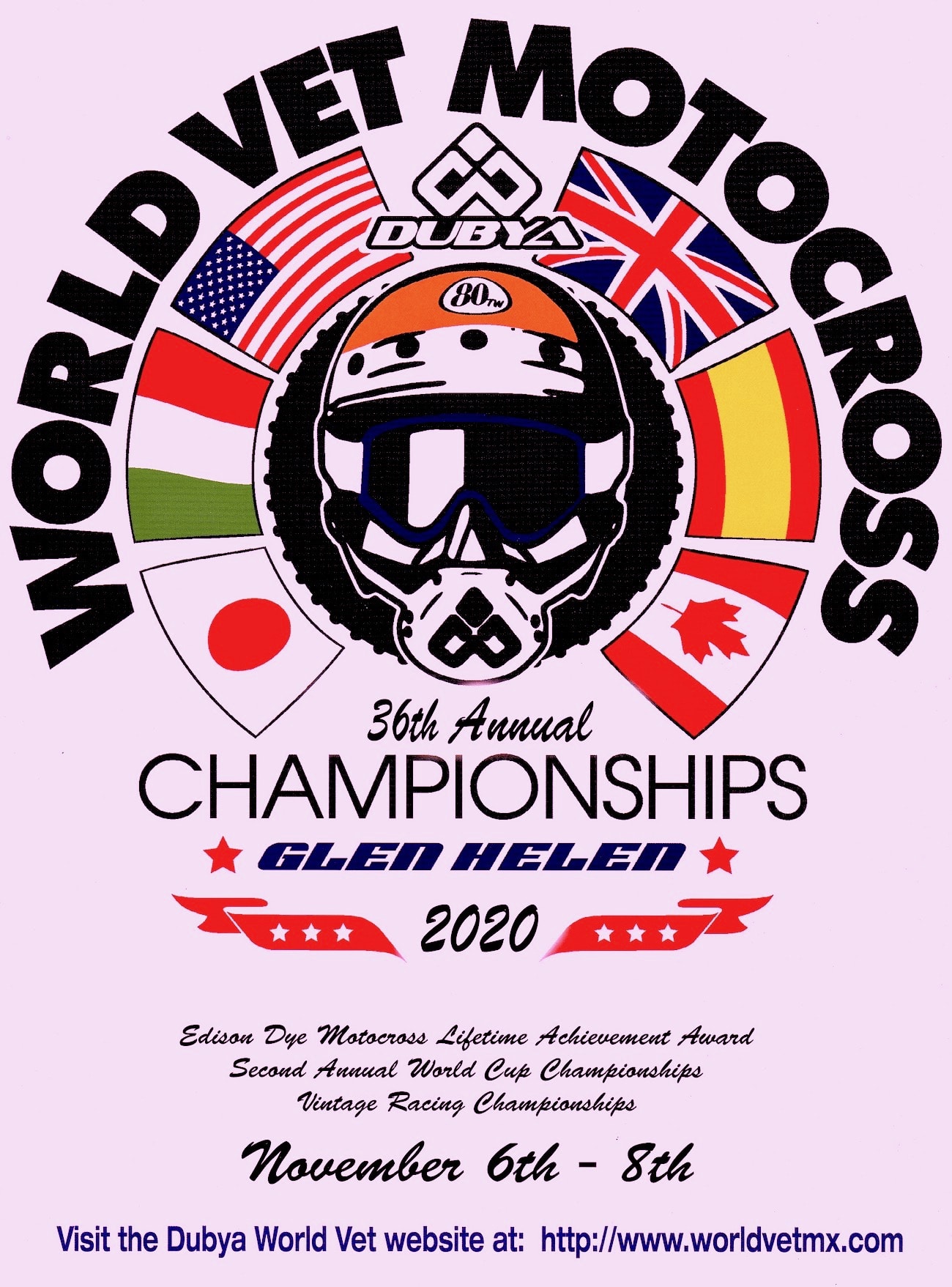 Save money and time by submitting your online pre-entries now. The Dubya World Vet MX Championships takes place on Saturday and Sunday, with Sunday being the World Vet Motocross Championship Day. For additional savings riders have the option to sign-up for both Saturday and Sunday!
PRE-ENTRY FEES
Saturday & Sunday $100 | $90 Second Class
Saturday Only $70 | $60 Second Class
Sunday Only $70 | $60 Second
To sign-up click this link:
https://secure.tracksideprereg.com/glenhelen/index.asp?event=83&mc_cid=66136c7217&mc_eid=3c9b324536 For more information go to www.worldvetmx.com
24-HOURS OF GLEN HELEN ENDURANCE RACE SCHEDULED FOR NOVEMBER 21-22

Glen Helen's 3Bros-sponsored 24-Hour off-road endurance race is scheduled for November 21-22.The 24-Hour of Glen Helen will begin on November 21 at 10:00 a.m. and end on Sunday, November 22 at 10:00 a.m. The amateur teams can have 6 riders and two bikes, but the Pro teams can only have 4 riders and must finish the 24 hours on the one bike. Headlights are required for the 24-hour. For more info go to www.glenhelen.com.
8TH ANNUAL KURT CASELLI RIDE DAY ON SATURDAY, DEC. 5 AT PALA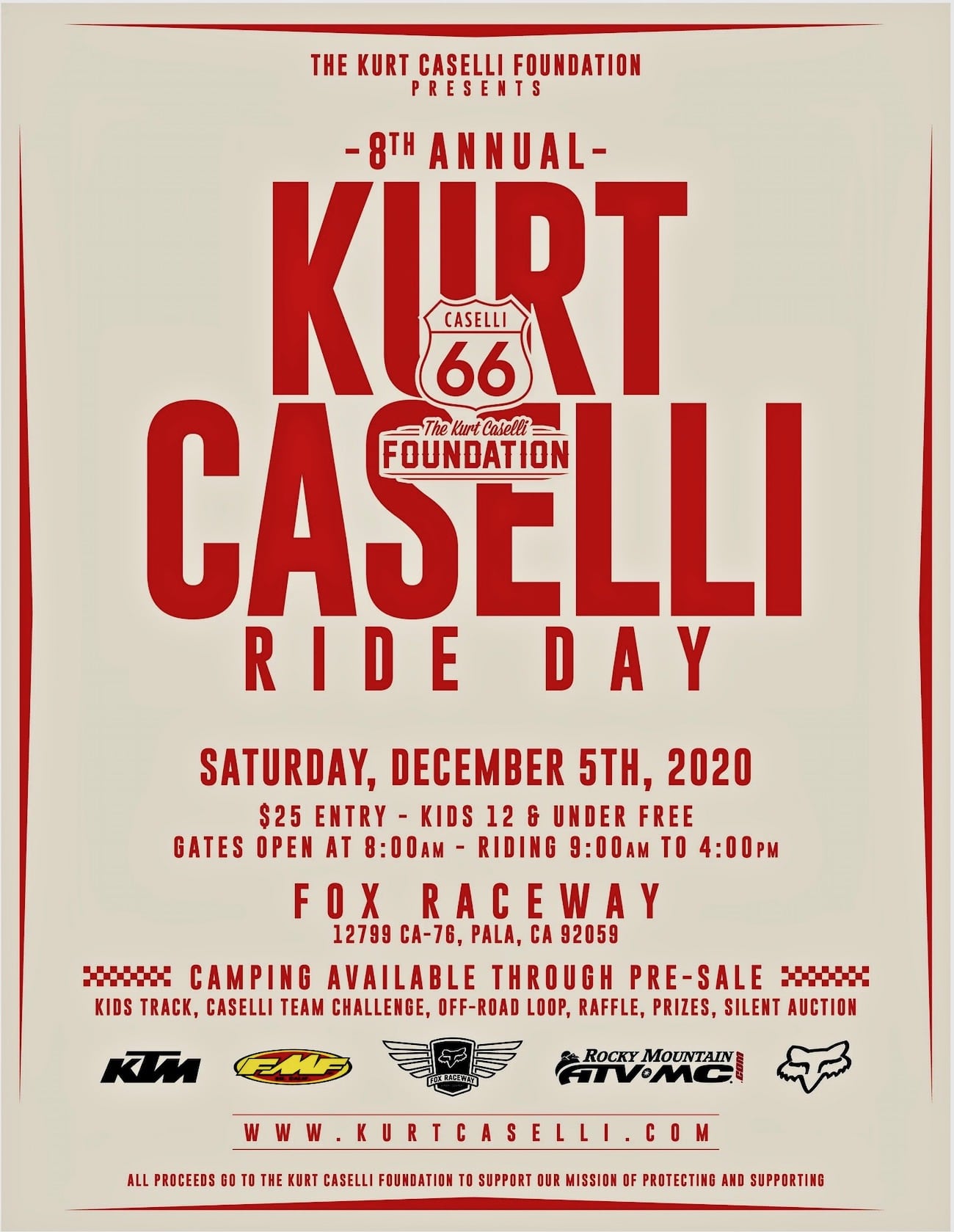 For more information go to www.kurtcaselli.com.
KEEPING TRACK OF THE 2020 RACE SCHEDULES
Tony Cairoli's 10th Grand Prix Championship hopes got a boost when the revised 2020 MXGP schedule came out and had nine races held in Italy (out of 18 events) .
TENTATIVE AMA NATIONAL MOTOCROSS CHAMPIONSHIP
Aug. 15…Hurricane Mills, TN
Aug. 22…Hurricane Mills, TN
Aug. 29…Crawfordsville, IN
Sept. 4 (Friday)…Red Bud, MI
Sept. 7 (Monday) …Red Bud, MI
Sept. 19…Millville, MN
Sept. 26…Jacksonville, FL
Oct. 3…Lakewood, CO
Oct. 10…Pala, CA, CA
REVISED 2020 FIM MOTOCROSS WORLD CHAMPIONSHIP
Mar. 1…Matterley, Great Britain
Mar. 8…Valkenswaard, Holland
Aug. 9…Kegums, Latvia
Aug. 12…Kegums, Latvia
Aug. 16…Kegums, Latvia
Sept. 6…Faenza, Italy
Sept. 9…Faenza, Italy
Sept. 13…Faenza, Italy
Sept. 27…Mantova, Italy
Sept. 30…Mantova, Italy
Oct. 4…Mantova, Italy
Oct. 11..Arroyomolinos, Spain
(Note: The Spanish GP will run without any spectators).
Oct. 18…Lommel, Belgium
Oct. 21…Lommel, Belgium
Oct. 25…Lommel, Belgium
Nov. 1…Trentino, Italy
Nov. 4…Trentino, Italy
Nov. 8…Trentino, Italy
2020 WISECO WORLD TWO-STROKE CHAMPIONSHIP
Oct. 3…Glen Helen, CA
2020 DUBYA WORLD VET MOTOCROSS CHAMPIONSHIP
Nov. 6-8…Glen Helen , CA
2020 FIM MOTOCROSS DES NATIONS
CANCELED
JOIN MXA'S FLIPBOARD PAGE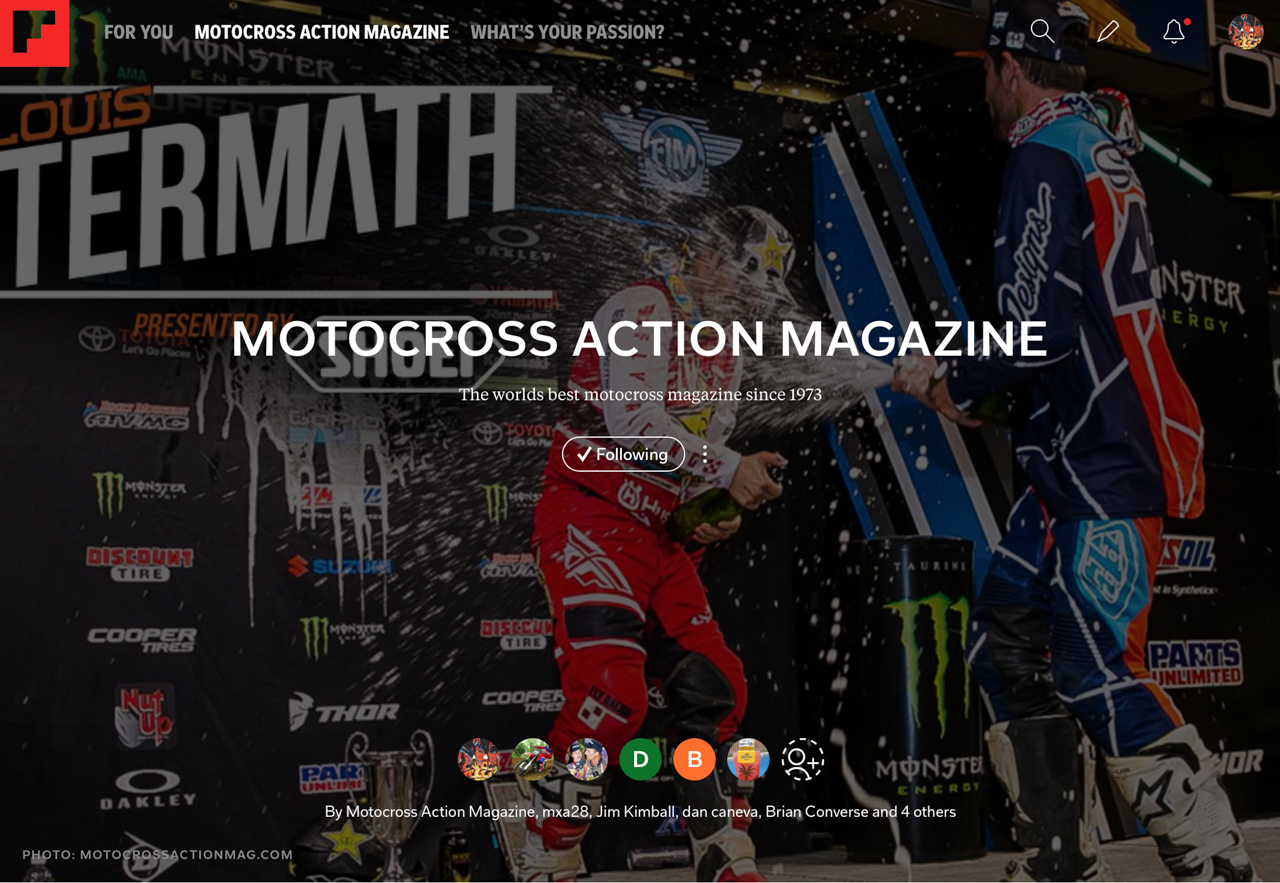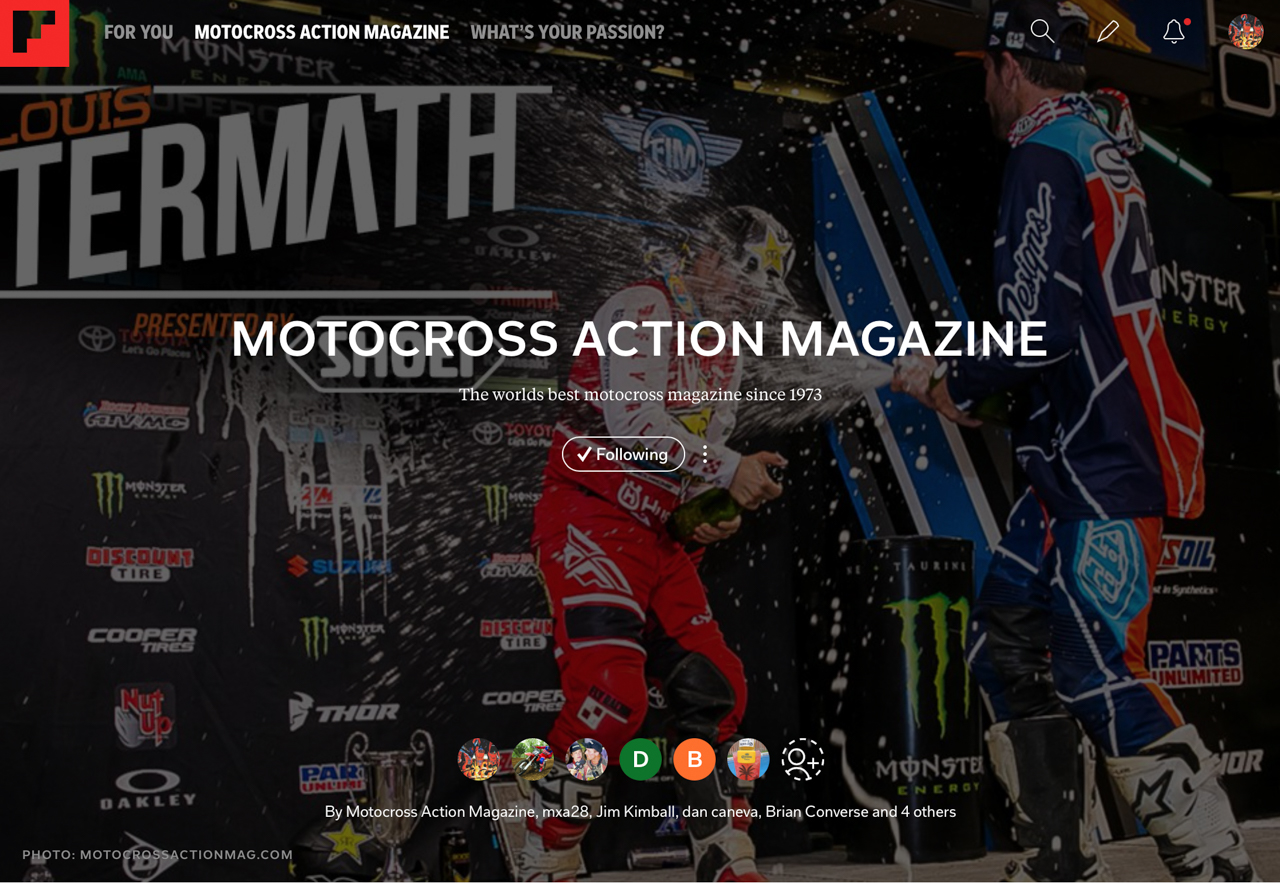 If you use Flipboard make sure to subscribe to the Motocross Action page for all the updates on our website. Click HERE to check out the page.