START THE FOUR-STROKE REVOLUTION WITHOUT ME…BY WILLY MUSGRAVE
By Willy Musgrave
You may have heard of me, and you may not have—that isn't all that important to this tale. This is my story from eight years ago—when I came to a realization that I hope will inspire others. Go back in time with me as I relive the two-stroke versus four-stroke war on a personal level.
For some background, you should know that I've been around the block in motocross. I graduated from MMI, worked in dealerships, was the production manager for ATK, got the patent for an exhaust system used by the White Brothers, raced in the 2001 Motocross des Nations World Cup race for the Czech Republic team, won a round of the World Supercross series back in the 1980s (in Pune, India), spent 20 years as an MXA test rider, and raced the AMA Nationals and FIM GPs. Today, I'm just another motocross racer who enjoys the sport, but late in the 2010 racing season I got involved in a nutty experiment that is worth sharing.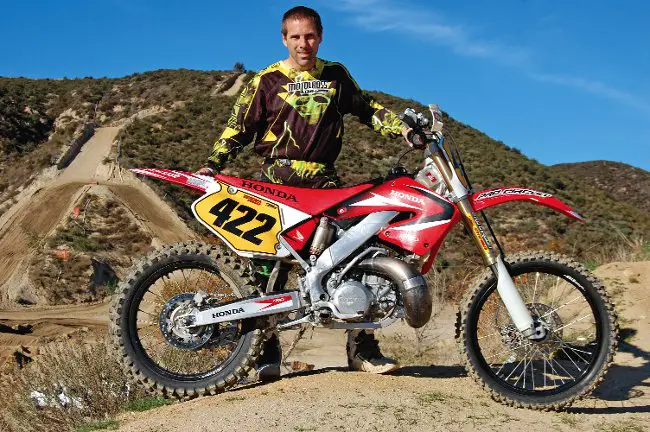 Willy Musgrave and the trusty but rusty 2001 CR250 two-stroke he elected to race instead of his modified 2010 CRF450.
The whole crazy idea started back in 2010 when Tyson, one of the salesmen at the MTA distributing company, bought a 2001 Honda CR250 two-stroke that he was trying to sell for $800. At first glance, the bike looked pretty torn up. However, after closer inspection, I thought that it had some potential—although my vision was probably blurred a little by current events. The timing for this could not have been any better. I had been going through a phase in my life where I didn't want to race with the same intensity that had driven me for the last 25 years. The reason for my disenchantment was really simple—I didn't have that much fun riding a four-stroke. Oh, don't get me wrong. I owned one; I raced one and knew how to work on it—I just felt that there had to be a better way.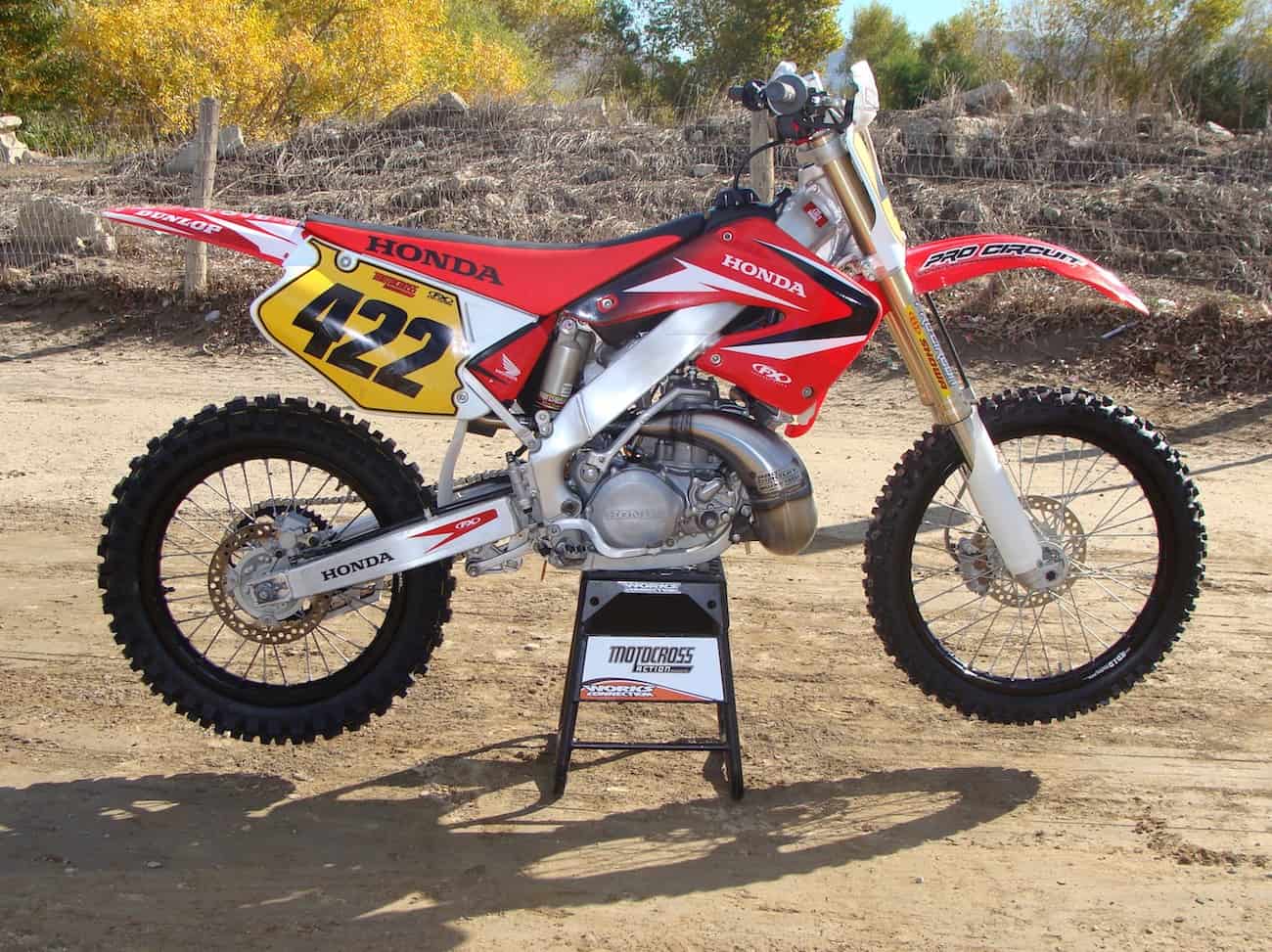 Willy Musgrave's 2001 Honda CR250 two-stroke.
I'm not the first person to come to this conclusion, but it is obvious to me that the cost of a new four-stroke is way too high. The expense of maintaining them is also cost prohibitive. Then, after the fact, the resale value is terrible. I'm not crying poverty: I've work for major motorcycle distributors; I was a magazine test rider, and I have a great relationship with the sponsors I worked with throughout my AMA Pro days. But, even at my level, racing a four-stroke is expensive. The happenstance of Tyson rolling a well-used CR250 two-stroke in the door at the height of my self doubt got me wondering—could I race a two-stroke as fast as I could my full-race, totally modified Honda CRF450?
For those in the know, the 2001 CR250 engine is the holy grail for Honda two-stroke racing.

I knew that if I elected to take on this project, I couldn't do it halfheartedly. I had to bite the bullet. So, I not only gave Tyson the $800, but I sold my CRF450 to a friend the next day. I had a simple plan in mind. I would ride the bike "as is" before working on it. Then, I would race at it local events in SoCal to shake down my modifications and eventually use it to race the World Vet Championships at Glen Helen. To me, that would be the ultimate test of man and machine.
I went out to Milestone Motocross Park to test ride the stock bike to see if I needed to do anything to it. The answers came fast and furious. The forks were too soft and the shock was too stiff—which is exactly how I felt about my  Honda CRF450 when I first rode it. I guess not much had changed.

Willy's (422) bad start at the 2010 World Vet Championship at the 2010 World Vet Championship.
I had work to do—more so than the average person, because I wasn't starting with a cherry bike. This CR250 was 10 years old, and it needed some tender loving care. I cleaned up the bike with a new set of Polisport plastic, a graphics kit, TAG handlebars, White Knuckle grips, Bridgestone 403/404 tires, DID heavy-duty black rims, a DID 520 MX chain, Super Sprockets, clutch plates and a new piston and rings. Finally, I had Pro Circuit revalve the suspension for my speed. Amazingly, Bones had my suspension settings written down in a logbook from when I raced a CR250 back in 2001. The guy is amazing.
My first race on the 10-year-old Honda two-stroke was actually going to be a real workout. Thanks to SoCal's crazy racing world, I planned to go to Glen Helen on a weekend when they were holding two races on the same day. There was an REM race on the upper track and an International Old Timer's Club National on the USGP track. If the scheduling worked out, I felt that I could race the three 20-minute Old Timer motos and still squeeze in the two 20-minute REM races on the same day.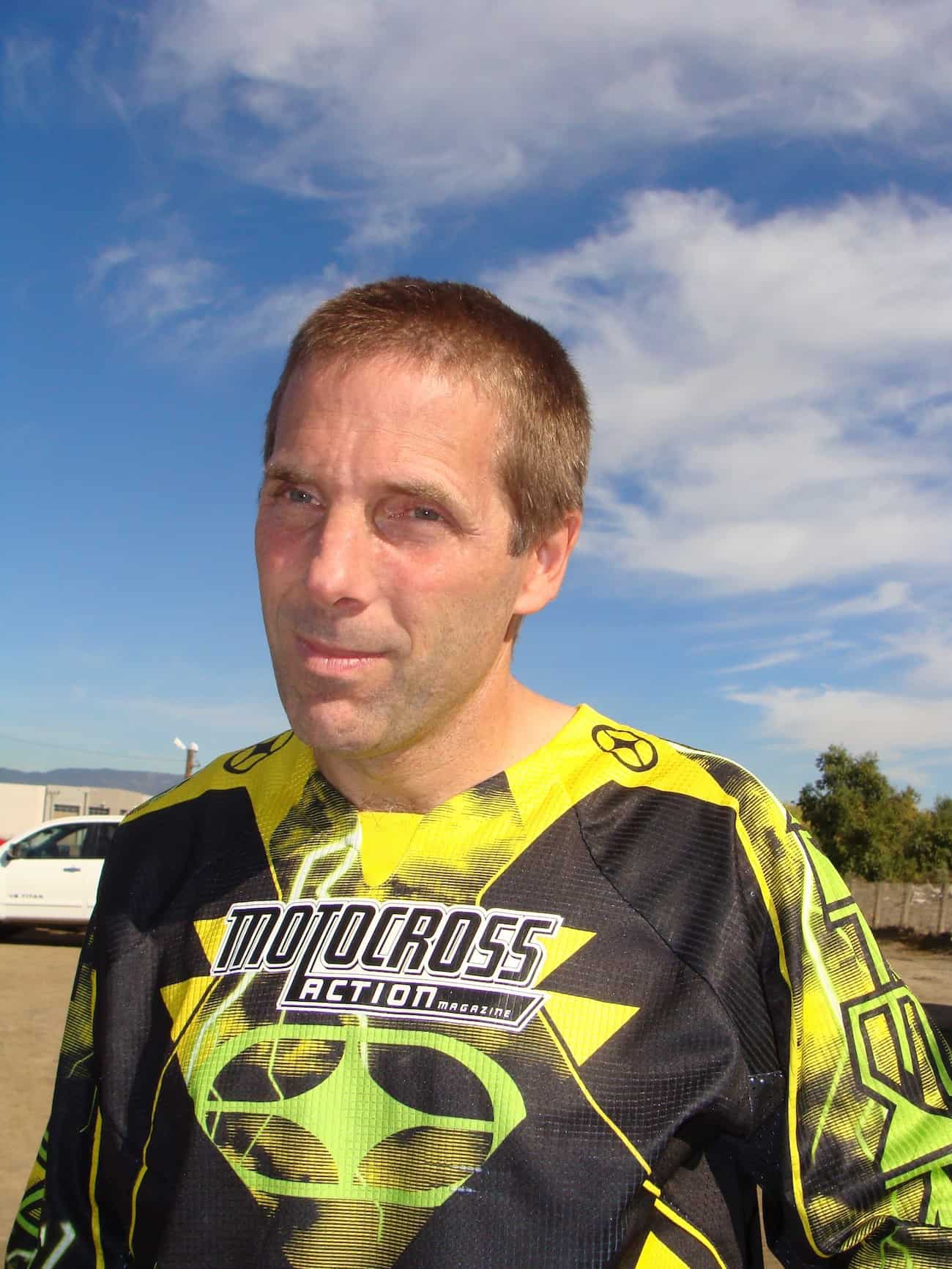 The jokes started as soon as I unloaded the CR250 in the morning. I didn't expect anything less from my friends. "Is there a vintage race here today?" "Did you blow your CRF450 up again?" "Can you pit next to someone else?" "Are you nuts?" I just stood there and took it all in. By the end of the day I would be able to answer all of their questions…and some of my own.
I had not raced a two-stroke since 2007. Oh, I had spun laps on MXA's two-stroke test bikes, but never really volunteered to race them. In practice, it took me about four laps to get the cobwebs out. I was a little squirrely as I adjusted to the immediate and abrupt powerband, but I was really surprised how quickly I got back into the groove. At first the bike felt twitchy under braking and wanted to spin the rear tire under acceleration. That feeling went away once I quit riding it like it was a four-stroke. Jumps that I could do easily on my 450cc four-stroke seemed a little harder to do on the two-stroke, but once in the air the two-stroke was so much easier to manhandle. With each lap, my doubts were erased.

The one thing that stood out from everything else was the smile that was stuck on my face. I was having a blast pinning the two-stroke around Glen Helen. Berms that you knew you would blow through on a four-stroke you could now rail on the two-stroke. The flickability difference was something that I had forgotten about. Suddenly I was enjoying riding—and I told myself that even if I got beat, I would never return to a four-stroke.
After practice, I got ready for my first race. It would be the Over-40 Master class with the Old Timers on the Glen Helen National track. I was the only two-stroke on a full starting gate. I got a great jump out of the gate and thought I had the holeshot, but Glen Helen's National start is very long and very fast. By the time I was halfway down the start, (and leading), I was already tapped out in fifth gear. I got passed by a few 450 four-strokes leading into the banked first turn and came out in 10th place (I geared it taller after this moto). I got to fourth place before the first lap was over and, in short order, I had moved into second place behind my old buddy and rival Dan Berg. I followed him for a couple laps to try to analyze what my decade-old two-stroke could do that his brand-new KX450F couldn't do. Once I realized how much easier it was to charge downhill on a light and responsive two-stroke, I passed Dan for the lead. Northern California pro Eric McKenna worked his way into second place, but when I crossed the finish line, I had a giant smile on my face.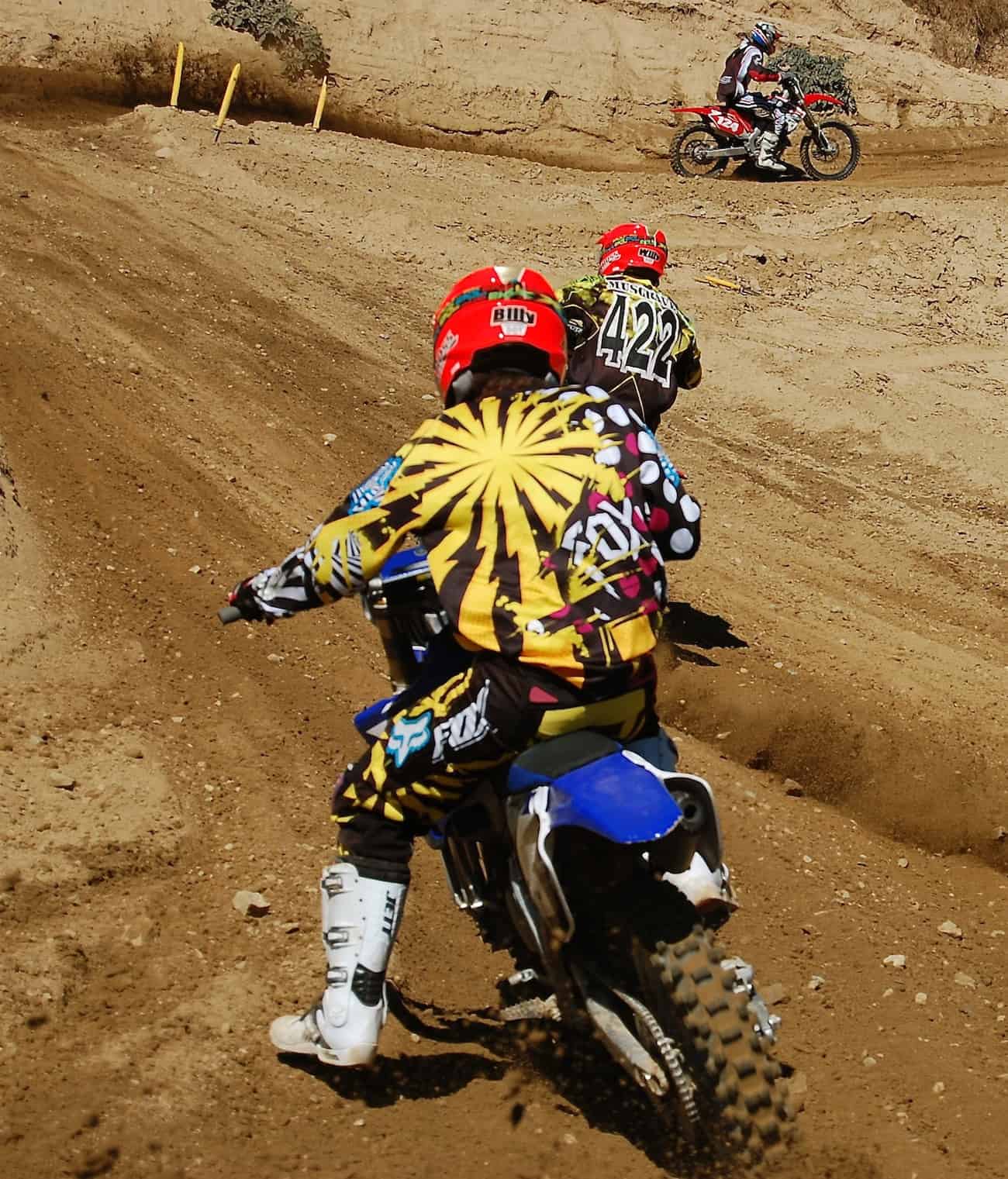 Willy (422) and Billy both raced the Pro class at the 2011 World Two-Stroke Championship. They were never more than this far apart and both made the top ten.
My next race was on the REM track. At REM, they combine classes and start the races in waves to ensure a quick and efficient race program. I was in the Over-40 Pro class at REM, and we were combined with the Intermediates, which included my son Billy. Billy had gone to races with me since he was born, and we had raced against each other ever since he moved up. I knew that as I got older and he got faster, the day was going to come when he would finally beat me. I hoped that it wouldn't be today.
When the gate dropped, I nailed the start. Pete Murray was right behind me. I wasn't sure where Billy was, but since he was on MXA's YZ125 two-stroke in a field of 250 and 450 four-strokes, I was pretty sure that he couldn't have gotten a very good start. Shocker! By the end of the first lap, I heard a high-pitched shriek behind me. The race was on! Everyone originally thought I was at a disadvantage by riding a 10-year-old two-stroke, but that disadvantage seems to disappear when a kid on a 125 two-stroke is on your tail. I would be lying if I didn't admit that I was questioning my two-stroke decision throughout most of the moto. Finally, near the end of the race, I wore Billy out and pulled away for the win.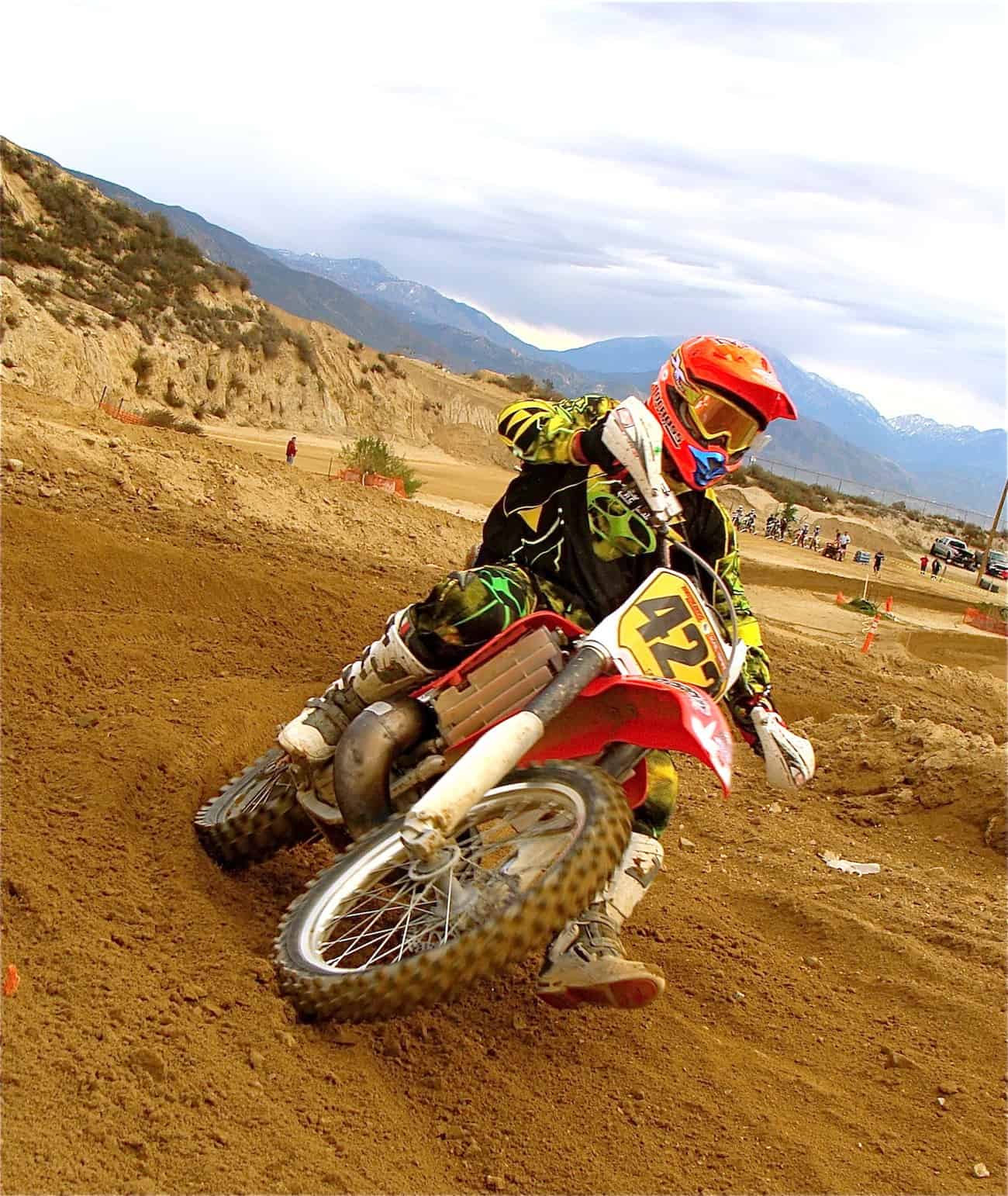 Being pushed so hard by my own kid…who I did not want to get beaten by, was actually the best thing that happened to me. The harder I tried, the better I felt. By the end of that race, I had transformed from a four-stroke bus driver into a real motocross racer again. I was charging around the track, and that made it fun. Amazingly, I won all five motos that day…and I think I changed a few people's opinions.
The 26th annual MTA World Vet Championship would be the real test of my 2001 CR250. The competition in the Over-40 Pro class was incredibly strong. There were riders from all across the USA and many foreign countries—not the least of whom were multi-time World Vet Champion Doug Dubach, 1985 AMA 125 National Champion Ron Lechien, Gordon Ward and former Grand Prix runner-up Kurt Nicoll. The track was rough, and the layout was incredibly demanding.
Climbing Glen Helen's steep hills at the World Vet Championship gave the 200cc larger four-strokes an advantage, going down them put them at a disadvantage.
As I sat on the starting line looking down the long Glen Helen start straight, the Glen Helen track crew rolled out with a tractor and disced the first 100 yards into power robbing mulch. By the time the tractor was done, my chance of getting a good start on a two-stroke had vanished.
Oh yeah, it came to me that the reason I had switched from two-strokes to four-strokes back in 2007 was because of starts like these. I immediately changed my plans about starting on the inside of the long Glen Helen start and moved all the way to the outside—where I found myself sitting next to three other two-stroke riders who had the same idea. We all planned to come from the outside and leave our bikes pinned around the outside of the 45-degree banked Talladega first turn. It was a great idea, but it didn't work, because the torque of the 450 four-strokes powered through the disced dirt so well that I found myself mid-pack. I put my head down and started charging. I moved from 16th to seventh by the checkered flag. Dubach won on a YZ450F, with Ward, Lechien and Nicoll on his tail. I was the first two-stroke.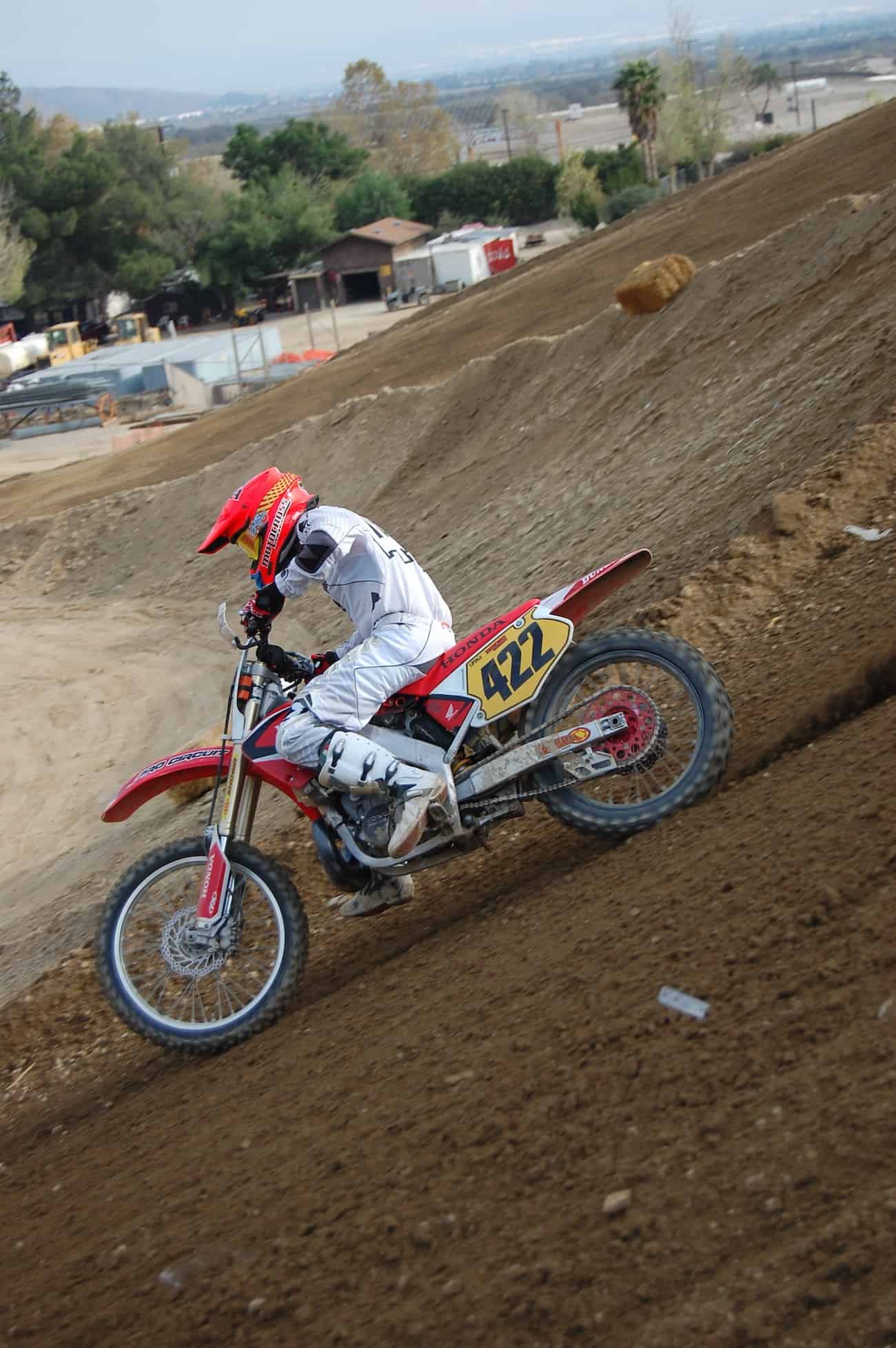 The steeply banked and 60 mph Talladega first turn is not just used on the start, but on every lap at Glen Helen.
There was no strategy that could get me to the front of the pack through that disced wasteland off the gate. My second moto start was about the same, but I started to make moves sooner. The track was much rougher, and I was having some epic battles. I could really tell where my advantages were compared to the four-strokes. In most of the rough sections, rutted turns and twisty sections, I would make passes, but on the smoother, faster and steeper sections, I would often get passed back.
With a couple laps to go, I had caught Victor Sheldon for fifth, and we went back and forth until I finally made a pass stick. I would like to have been standing on the podium again this year, but I came up a little short. I'm positive that even if I was on a four-stroke, I probably wouldn't have been able to beat Doug Dubach, Gordon Ward, Kurt Nicoll and Ron Lechien. They beat me when we raced as teenagers, and they most likely finished where they belonged, but I was fifth overall, and there were a lot of four-strokes in my wake. The next day, I raced the Over-30 Pro class and got eighth overall (Ryan Hughes won on MXA's CRF450). Even with a 10-year disadvantage for my bike and a 16-year disadvantage for my age, I had a great day.
After the World Vet Championship, I kept racing my 10-year-old CR250 (after all, I sold my four-stroke). I think that my experiences are worth noting. I didn't just jump on a two-stroke and spin a couple laps. I made the full commitment, and I was willing to suffer the results that came with the decision.
I truly believe that four-stroke motocross bikes are awesome! They can turn an average rider into a good rider, and they can turn a great rider into the best of all-time. But, at what cost? How many people can afford a $9000 motocross bike? Or a $1000 exhaust pipe? Or all the other mods that I had to make to my CRF450 (linkage, suspension, reprogramming, head porting and several major blow ups) to make it work to its fullest? Mitch Payton says that Pro Circuit's switch from two-strokes to four-strokes raised his race team's costs by four times. I have to agree with him, because even at my level, the cost started to get out of hand. Over the years, my CRF450 proved to be very expensive. I suffered everything from cracked cases to cracked ignition covers to cracked pistons. Virtually every failure had collateral damage that raised the repair cost to at least four times more than what it would have cost me to repair a two-stroke. Worst of all is that once you have fine-tuned your four-stroke into the perfect machine, you better love it, because it can be very hard to get rid of. Most people are scared to buy used four-strokes because they are ticking time bombs.
Willy's son Billy was a 250 Pro that never raced a four-stroke. He preferred 125 two-strokes.
I'm no longer a professional motocross racer trying to make a living through my racing. Instead, I work in the karting industry and make my living selling parts to other kart racers. My son Billy made the switch to Karting and is a well-regarded Pro racer. From my business experience, the costs associated with buying four-stroke machines, modifying the machines and repairing the machines has damaged the sport. The peripheral changes brought about by four-strokes spread far beyond just what racers can afford, but also to track designs, land use, entry-level sales and the joy of riding the bike. The whole theory foisted on the public that heavier, more expensive and harder-to-work-on machinery is good for the sport is so flawed that it could only have led to a shrinking of the sport's base.
This is Billy today—in his new career as a professional kart racer.
I have no plans of returning to the four-stroke fold. But, I'm not asking you to follow my lead. I'm not the pied piper of two-strokes. I'm just a guy who had had moderate success in the motocross world that had enough and wasn't going to take it anymore. I acted on the spur of the moment and purchased a 10-year-old Honda two-stroke. In the process, I proved to myself, and the men I race against, that it could be competitive. And most of all, it has been fun.
Willy Musgrave still races two-strokes—just in a different kind of machine.
Oh yeah, I'm still racing a two-stroke in 2018—except that it's tucked into a kart chassis now. You can learn more about what I'm doing now by going to www.musgraveracing.com