TWO WORLD CHAMPIONS CROWNED AT MAGGIORA: WATCH ALL THE ACTION IN UNDER 10 MINUTES
GRAND PRIX OF ITALY VIDEO: MAGGIORA GRAND PRIX HIGHLIGHTS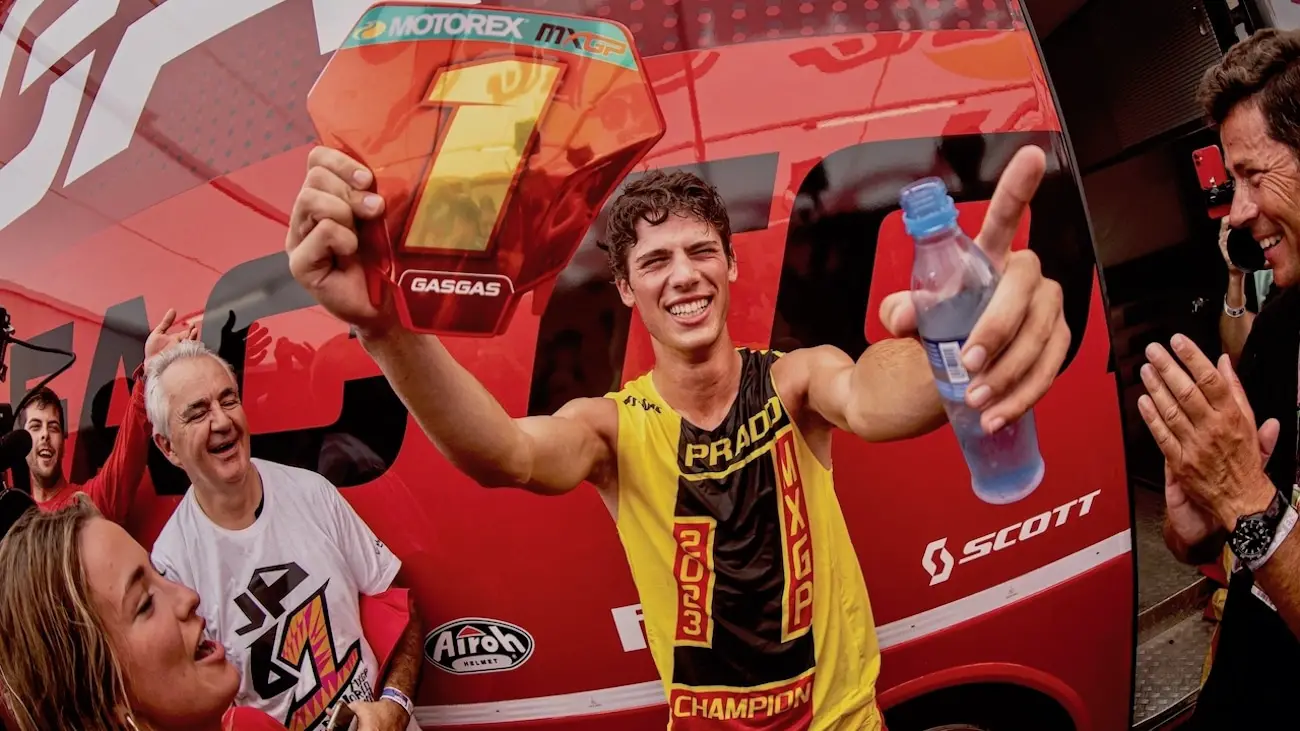 Jorge Prado clinched his third FIM World Motocross Championship.
Twenty-two-year-old Jorge Prado finally added not only his first 450 world Championship at the penultimate rounds of the 2023 FIM 450 World Motocross Championship, but also clinched the first-ever Motocross World Championship for GasGas. Prado, who already has two 250 World Championships (2018-2019) had a big points lead going into round 18 of the 19-round 2023 title chase, was assured of the title when his closest and only serious contender for the crown Romain Febvre suffered a DNF is the first moto.
450 ITALIAN GRAND PRIX RESULTS
1. Jeremy Seewer (Yam)…2-4
2. Jorge Prado (Gas)…1-6
3. Ruben Fernandez (Hon)…5-3
4. Alberto Forato (KTM)…3-5
5. Tim Gajser (Hon)…9-2
6. Pauls Jonass (Hon)…6-7
7. Calvin Vlaanderen (Yam)…4-11
8. Glenn Coldenhoff (Yam)…7-9
9. Romain Febvre (Kaw)…32-1
10. Valentin Guillod (Hon)…10-8
Prado heads to the final round in England with an 83 point lead with only 50 points left to earn.
450 WORLD CHAMPIONSHIP POINTS STANDINGS
(After 18 of 19 rounds)
1. Jorge Prado…890
2. Romain Febvre…807
3. Jeremy Seewer…719
4. Glenn Coldenhoff…655
5. Ruben Fernandez…612
6. Calvin Vlaanderen…565
7. Alberti Forato…490
8. Jeffrey Herlings…456
9. Valentin Guillod…334
10. Maxime Renaux…314
Andrea Adamo is the new 2023 FIM 250 World Champion and with 73 points in the bag can't lose it next Sunday at Matterley Basin.
In the 250 Championship, Andrea Adamo finished third to Simon Laegenfelder nd Jago Geerts in the first moto and scored  another third in the second moto to secure the 2023 FIM 250 World Championship with one round to go. Adamo's title was assured when his closest rival, Liam Everts, crashed out of the second moto. Not only did the crash cost Liam Everts his shot at the 250 World Championship, but he slipped from second to third in the points standings as Jago Geerts move up to second in the standings. Amazingly, Jago Geerts, Liam Everts and Simon Laengenfelder will go to the final round in England separated by only four points.
250 ITALIAN GRAND PRIX RESULTS
1. Jago Geerts (Yam)…2-1
2. Simon Laengenfelder (Gas)…1-2
3. Andrea Adamo (KTM)…3-3
4. Kay de Wolf (Hus)…9-4
5. Thibault Benistant (Yam)…7-5
6. Kevin Horgmo (Kaw)…6-6
7. Lucas Coenen (Hus)…5-7
8. David Braceras (Kaw)…14-8
9. Camden McLellan (Hon)…13-9
10. Valerio Lata (KTM)…12-10
Maggiora was a little muddy, but Andrea was consistent with a 3-3 day.
250 WORLD CHAMPIONSHIP POINTS STANDINGS
(After 18 of 19 rounds)
1. Andrea Adamo…779
2. Jago Geerts…706
3. Liam Everts…702
4. Simon Laengenfelder…702
5. Lucas Coenen…558
6. Kevin Horgmo…541
7. Kay de Wolf…531
8. Roan Van De Moosdijk…523
9. Thibault Benistant…493
10. Rick Elzinger…377
Photos by Ray Archer and J.P. Acevedo


\