WE BUILD A CYLINDER WORKS HUSQVARNA FC270 BIG-BORE
It's no secret that not everyone who buys a 250cc four-stroke is happy with it. They thought it sounded like the perfect bike—light, high-revving and a barrel of fun. But, after a few races, they realized that they aren't 250 four-stroke material. Maybe they are too heavy, too timid or too slow, but either way, they are disappointed with the all-out commitment that a 250 requires and the need to keep it on the pipe all the time. They wish that they had bitten the bullet and bought a KTM 350SXF or Husky FC350 like their buddies suggested. It's too late and too expensive to make the switch now, so they are stuck with the 250 until their wives says they can break the bank again.
THE CYLINDER WORKS KIT COMES WITH A BRAND-NEW CAST CYLINDER THAT COMES SIZED AND HONED, GIVING YOUR ENGINE GREAT RING SEALING AND CYLINDER-WALL LONGEVITY. 
But, you don't have to live with your mistake. The MXA wrecking crew has a simple, age-old, well-proven plan. You can make your 250 four-stroke torquier, broader and more powerful in one simple step. The secret sauce? Cubic centimeters. Oh, we don't mean a stupid amount of up-sizing. No need to turn your 250 into a 325, at least not if you want grunt combined with more power in the right places. This is where Cylinder Works' 270cc kit comes in. For $694.95, you get a brand-new cylinder, 3mm-larger Vertex piston and a Cometic gasket kit. It is a bolt-on kit that ups the bore from 78mm to 81mm, and the displacement from 250cc to 269.5cc. All you have to do is remove the stock parts, slip the new cylinder and piston on and drop the head back into place. By four-stroke standards, this is the simplest big-bore mod known to man.
Best of all, this isn't a kit that requires you to bore your stock cylinder out until the skirt is thin enough to see through. Nope! The Cylinder Works kit starts with a brand-new cast cylinder with a nickel silicon carbide cylinder sleeve that comes precisely sized and honed, giving your engine great ring sealing and cylinder-wall longevity. The dimensions of the Cylinder Works big-bore cylinder are sized to fit your stock engine without any machine work or modifications. The compression ratio is 14.4:1, and the forged high-compression Vertex piston is available in A, B and C sizes (for later rebuilds). Replacement piston kits are available with piston, rings, pin and circlips for $219.32. Complete Cometic gasket kits are $90.73.
Oh, yeah, did we mention that once you make the trade-up, you will have a perfectly good FC250 cylinder and piston sitting on the shelf should you change your mind or want added value on the resale price of your FC250/270?
What else did we do to turn our Husqvarna FC250 into a Husqvarna FC270? In truth, we could have stopped with just the bolt-on kit. It is a one-stop shopping spree. We didn't have to do anything else, short of removing the backfire screen (by running a KTM/Husky two-stroke air filter cage). Even the stock 14/49 gearing worked, because the FC270 engine had the grunt to pull the tall gearing.
DON'T WORRY! IF YOU ARE ON A BUDGET, THE STOCK HUSQVARNA EXHAUST SYSTEM IS MORE THAN
CAPABLE OF MAKING GOOD HORSEPOWER.
For most MXA test riders, the Cylinder Works Husky FC270 mod was too easy. MXA test riders like the job to be harder, so we asked them what else they thought we should do to the FC270. Here is their list of added foof. Be aware that we don't think that the following mods are critical, just icing on the cake.
A LIST OF ADDED PERFORMANCE PARTS THAT CAN HELP THE HUSQVARNA FC270
Race Tech. We sent the suspension to Race Tech to have a coil-spring conversion kit put in a spare set of WP forks and have the stock AER air forks re-valved. We wanted two sets of forks for comparison purposes. While the bike was at Race Tech, the guys volunteered to install a Vortex X10 programmable ignition and map it for VP U4.4 oxygenated race fuel. We couldn't resist, because just the U4.4 was good for about 2 horsepower, especially when properly mapped.
FMF. Looking to help the big-bore cylinder breathe better, we added an FMF Factory 4.1 RCT Ti system with a MegaBomb head pipe. Not only did it save a couple pounds of weight and improve the mid-to-top transition, it also allowed us to remove the pipe without having to remove the Husky shock first. Don't worry! If you are on a budget, the stock Husqvarna exhaust system is more than capable of making good horsepower.
Supersprox. With the added horsepower and torque, we weren't worried about the stock gearing being too tall, as it is on the stock FC250 setup, but we were worried about the wear and tear on the powertrain. Since our base FC250 already had a bunch of hours on it, we decided to replace the front and rear sprockets with Supersprox cogs and add a new chain.
Hinson clutch. If any clutch can hold up to added horsepower, it is Husqvarna's almost bulletproof hydraulic system, especially since the FC250 and FC350 share the same clutch. But, just to be on the safe side, we added a Hinson inner hub, pressure plate, 280 N/m Belleville washer and clutch plates.

VP fuel. The Cylinder Works FC270 will run on pump gas with the stock ignition, but to get the added juice, we decided to run oxygenated U4.4, which required us to remap it via a Vortex X10 ECU.

Decal Works. You can ride your 270cc Husky with allthe stock plastic and graphics, but we wanted it to stand out—largely so that you would be enticed to read about it. When we want something to look good, we go to Decal Works.
Miscellaneous. The biggest ticket item was a set of Faster USA wheels. Renthal supplied the 604 FatBars and Tacky grips. This Renthal combo was highlighted by ASV levers offset by Works Connection anodized parts and a Motion Pro aluminum throttle tube. The Scar footpegs were beefy.
IF YOU BOUGHT A 250CC FOUR-STROKE THINKING IT WAS GOING TO BE THE CAT'S MEOW, ONLY TO DISCOVER THAT IT WAS AS UNPLEASANT AS CAT SCRATCH FEVER, THE CYLINDER WORKS 270 KIT WILL  MAKE THE MISTAKE GO AWAY.
HOW DID IT WORK?
This is the best $690 we have ever spent on an engine. We gained horsepower and torque at every step along the dyno curve—from as little as one horse down low to five more horses through the middle. The added torque helped the rather linear 250SXF powerband become more kinetic. Instead of lying down and waiting for the rpm to build, on the FC270 we could short shift, rev it to the moon or slam through the gearbox. It had enough power to pull a taller gear when it counted. It hit harder and didn't lose any rev on top. It was sweet. Best of all, if you aren't bound by the rulebook or ethics, the Cylinder Works FC270 big-bore kit is the best way to get competitive power at a wallet-friendly price.
Not only did we like this engine better than the stocker, we liked it with nothing more than the 3mm-larger piston, which means that you could bolt the kit on and leave well enough alone. It's that good. But, once you get used to the base 269.5cc engine kit, every aftermarket product we bolted on added to the horsepower and torque gains. The FMF pipe, Vortex ignition and VP U4.4 all increased the power, but they did it for more than double the investment in the Cylinder Works big-bore kit.
The MXA wrecking crew chose to test the Cylinder Works 270 big-bore kit on a Husqvarna FC250. This is a great 250, but it is also one of the highest-revving four-strokes made, with the rev limiter set at 14,000 rpm. This singular feature makes it a prime candidate for a big-bore kit. Why? Because it already has over-rev to spare and thus will become much more effective when it is mated to a solid midrange hit.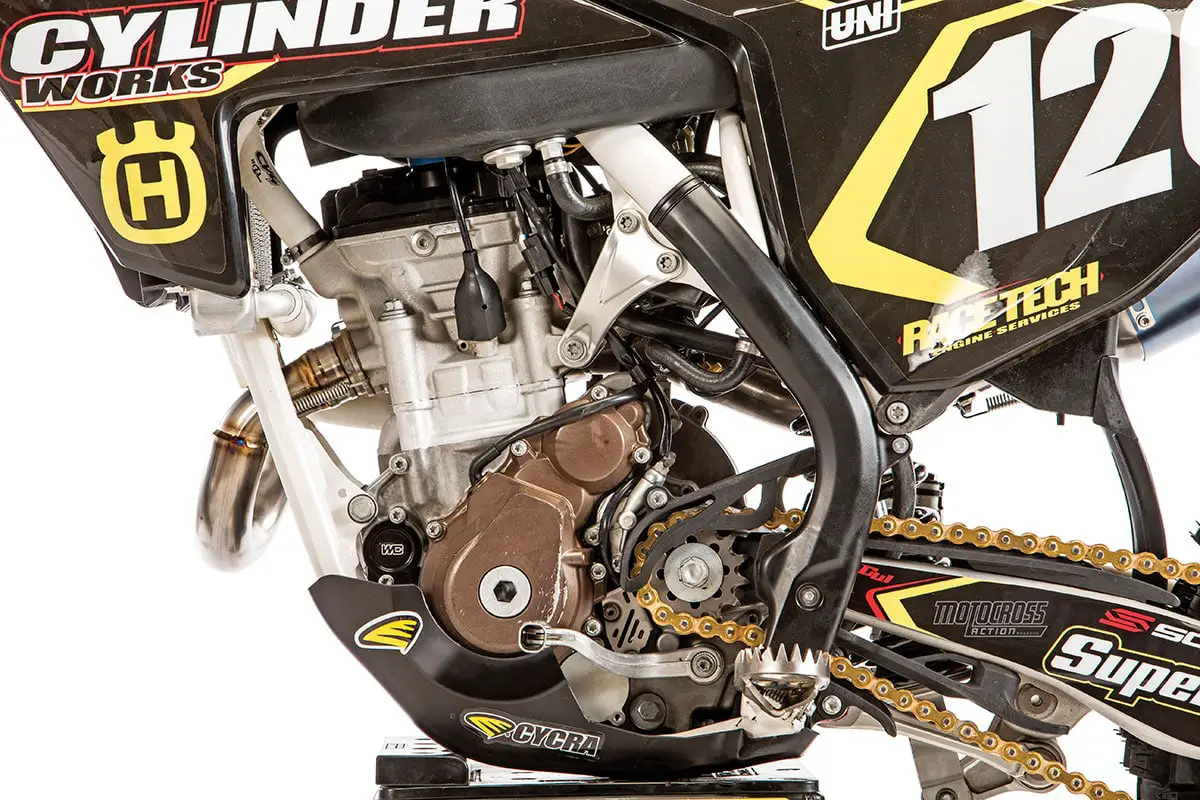 In short, if you just want to get more midrange out of your 250cc four-stroke, go with the big-bore kit—with the knowledge that it will run fine with all your stock components and on readily available pump gas.
What about the two sets of WP forks? Every test rider loved the feel of the coil-spring conversion kit in the corners. The front tire tracked the ground like it was glued to it, thanks to the supple feel of coil springs. Paradoxically, they liked the progressive feel of the air forks in the bigger bumps and jumps. Under heavy loads, the coil-spring conversion kit often dove excessively, while the WP air forks could be fine-tuned with air pressure to ride exactly where we wanted them. And, the 3 extra pounds that come with the conversion kit were noticeable to test riders in quick transitions and under braking. Both had their charms, but for most MXA test riders, the WP AER air forks offered a better overall feel, save for the brilliance of coil-spring forks when the front wheel is hitting braking bumps.
The Cylinder Works Husqvarna FC270 kit, which also fits on the KTM 250SXF, is like the eraser on a pencil. It is a do-over kit. It makes mistakes go away. If you bought a 250cc four-stroke thinking it was going to be the cat's meow, only to discover that it was as unpleasant as cat scratch fever, the Cylinder Works 270 kit will make the mistake go away for a lot less than buying a new bike.
HUSQVARNA FC270 SUPPLIER LIST
ASV: www.asvinventions.com
Bolt Hardware: www.boltmotorcyclehardware.com
Cycra Racing: www.cycraracing.com
Cylinder Works: www.cylinder-works.com
DeCal Works: www.decalmx.com
Dunlop: www.dunlopmotorcycletires.com
Faster USA: www.fasterusa.com
FMF Racing: www.fmfracing.com
Hinson: www.hinsonracing.com
Motion Pro: www.motionpro.com
Moto Seat: www.motoseat.com
Race Tech: www.racetech.com
Renthal: www.renthal.com
Scar: www.scar-racing.com
Supersprox: www.supersproxusa.com
TM Designworks: www.tmdesignworks.com
Uni Filter: www.unifilter.com
Vortex Ignitions: www.vortexcdi.com
VP Fuel: www.vpracingfuels.com
Works Connection: www.worksconnection.com