WE RIDE L.A. SLEEVE'S YAMAHA YZ300 "RIP & GRIP" BIG-BORE KIT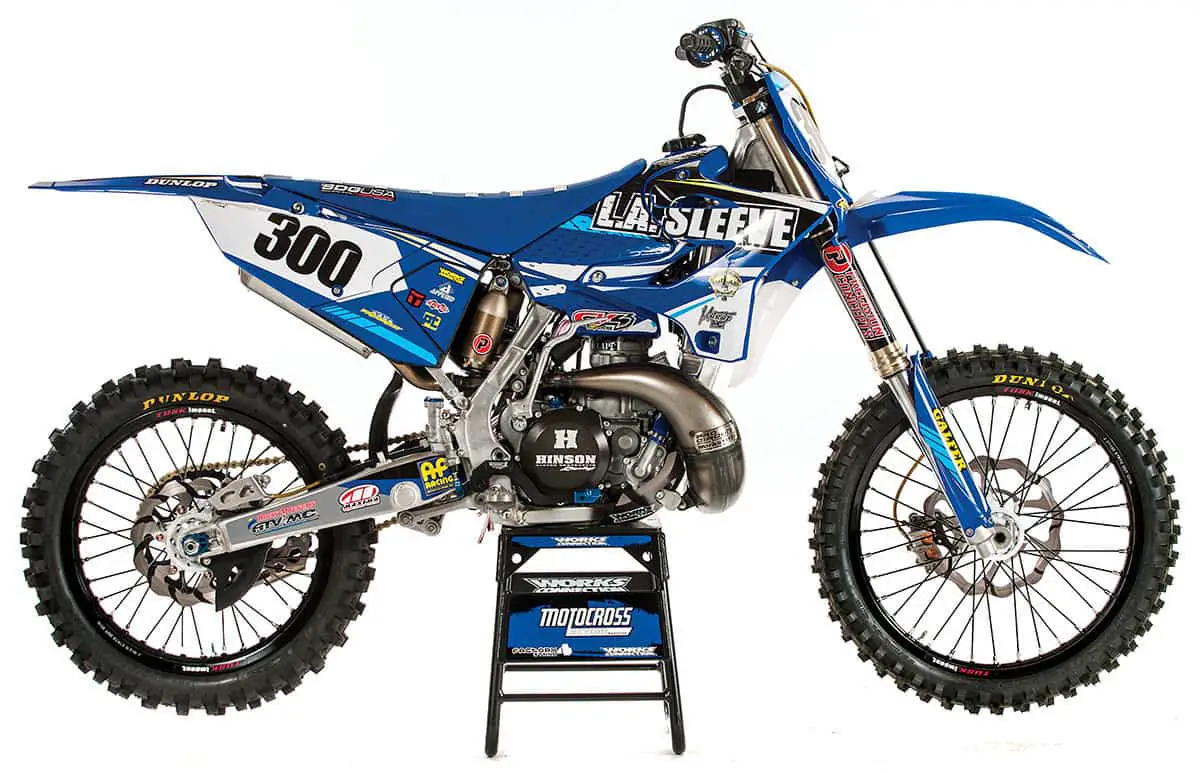 MXA's prime interest was in the 300cc big-bore engine, but it's hard to resist the Hinson clutch, Applied triple clamps, Tusk wheels, Dunlop tires, Cycra plastic, Precision Concepts revalve, Pro Circuit pipe, MotoTassinari reeds, Galfer brakes, IMS pegs, SDG seat cover, Torc1 pedals and Works Connection parts.
As the sport marched blindly into the four-stroke epoch, the two-stroke fell out of favor. There was a time when motocross racers sold their CR250, KX250, RM250 and YZ250 two-strokes on the used-bike market for a fraction of their worth. In fact, you couldn't give a two-stroke away in 2004. Everyone wanted a four-stroke; nobody wanted a two-stroke. Oh, there were the few diehards, by virtue of stubbornness or cheapness, who refused to switch from two to four, but over time every entry-level racer's first thoughts turned to valves and cams. The two-stroke was relegated to Craigslist. What a shame, a crying shame, because what the sport has always needed is good, inexpensive racing motorcycles—and not since the glory days of Hodaka has the world gotten what it needed. Instead, it gets what the status-seeking, sheep-like followers want—and from 1998 to today, that has been four-strokes. Wanting a four-stroke, when what we really needed was more two-strokes, has been like a cancer to the sport. Heavy, expensive, complicated four-strokes are not the ultimate motocross machinery. Four-strokes are closer to agricultural equipment than racing weapons. Contrary to popular belief—pound for pound, cubic centimeter for cubic centimeter and head to head—the two-stroke is the ultimate motocross racing engine.
But, that ship has sailed. AMA Pro racing will never give the two-stroke a fair shake in the political milieu of Supercross and the AMA Nationals. And that is where the story might have ended—with more expensive machinery shrinking the motocross population while a better, cheaper, faster, less expensive and easier-to-work-on alternative sat on the sidelines rusting away.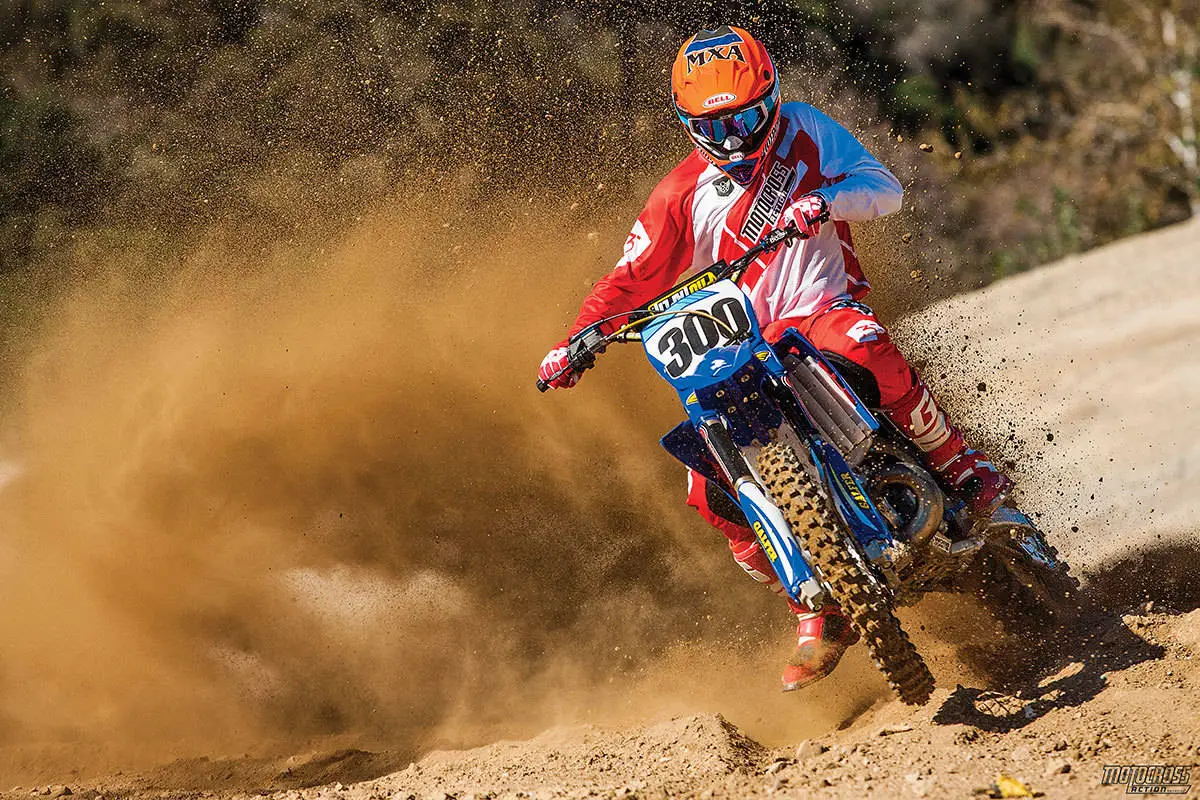 Although bureaucratically the two-stroke has been persona non grata in the boardrooms of the sanctioning bodies and Japanese product planners, it is alive in the underground of American motocross.
Sounds ominous, doesn't it? Although bureaucratically the two-stroke has been persona non grata in the boardrooms of the sanctioning bodies and Japanese product planners, it is alive in the underground of American motocross. Local riders, tired of being hit with $3000 repair bills when their four-strokes blew up, began to rediscover the venerable two-stroke. Unable to afford the four-stroke dream, they went into the dark corners of their garages and rolled their dusty and rusty CR250s, RM250s, KX250s and YZ250s out into the sunlight—and went riding—at a price they could afford and on a bike that was fun. The two-stroke underground has exploded in the last five years. Everybody and his brother is rebuilding an old two-stroke—even the highfalutin factory riders eschew their practice bikes for the thrill of riding a smoker in their spare time. The two-stroke is back—not just with the stubborn and stingy, but with every person who wants to put joy back into his riding.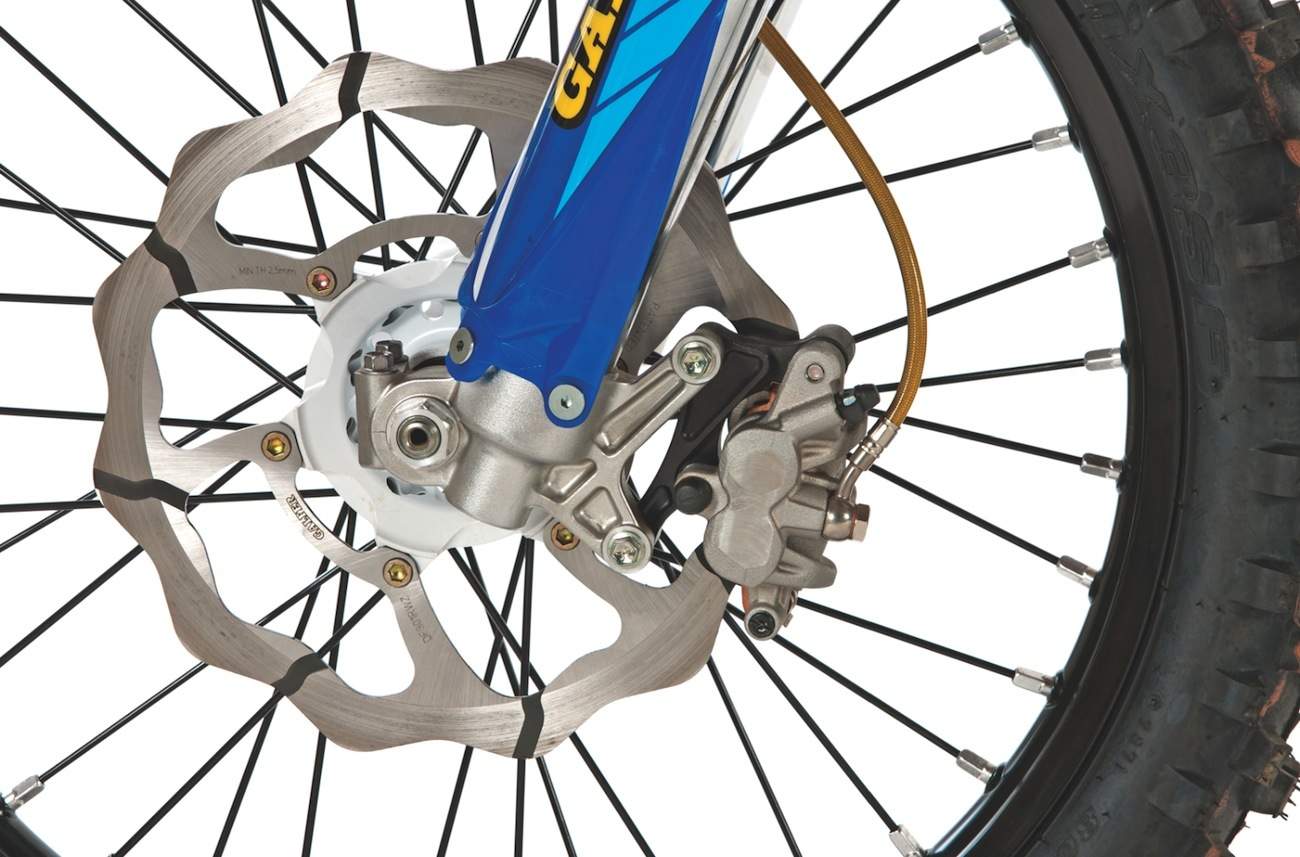 The 2017-18 YZ250 comes with a 270mm rotor, but for every other year YZ you need to buy your pucker power. This is Galfer's oversize brake system.
The AMA and the Japanese factories have not seen the light, but the sport has seen a two-stroke resurgence that is hard to ignore. Two-strokes are only dead in the boardrooms of the giant corporations that think they run the world. They are still alive and kickin' at the local tracks, hop-up shops, aftermarket companies and wherever intelligent people gather to share the thrill of riding. Thankfully, in one boardroom in Mattighofen, Austria, the two-stroke has never been shelved. KTM continues to put out new machines like clockwork. KTM has never faltered and, in turn, has been rewarded to the point where KTM sells more two-stroke offroad bikes than the Japanese manufacturers sell four-strokes. KTM is the point of the two-stroke spear, but Yamaha deserves some credit—not for two-stroke creativity or engineering prowess, but for perseverance. They didn't throw in the towel when Honda, Kawasaki and Suzuki did. They kept the two-stroke light burning, albeit at a dim glow, by continuing to produce YZ125 and YZ250 two-strokes. Kudos to Yamaha for its effort, even though it pales in comparison to KTM's.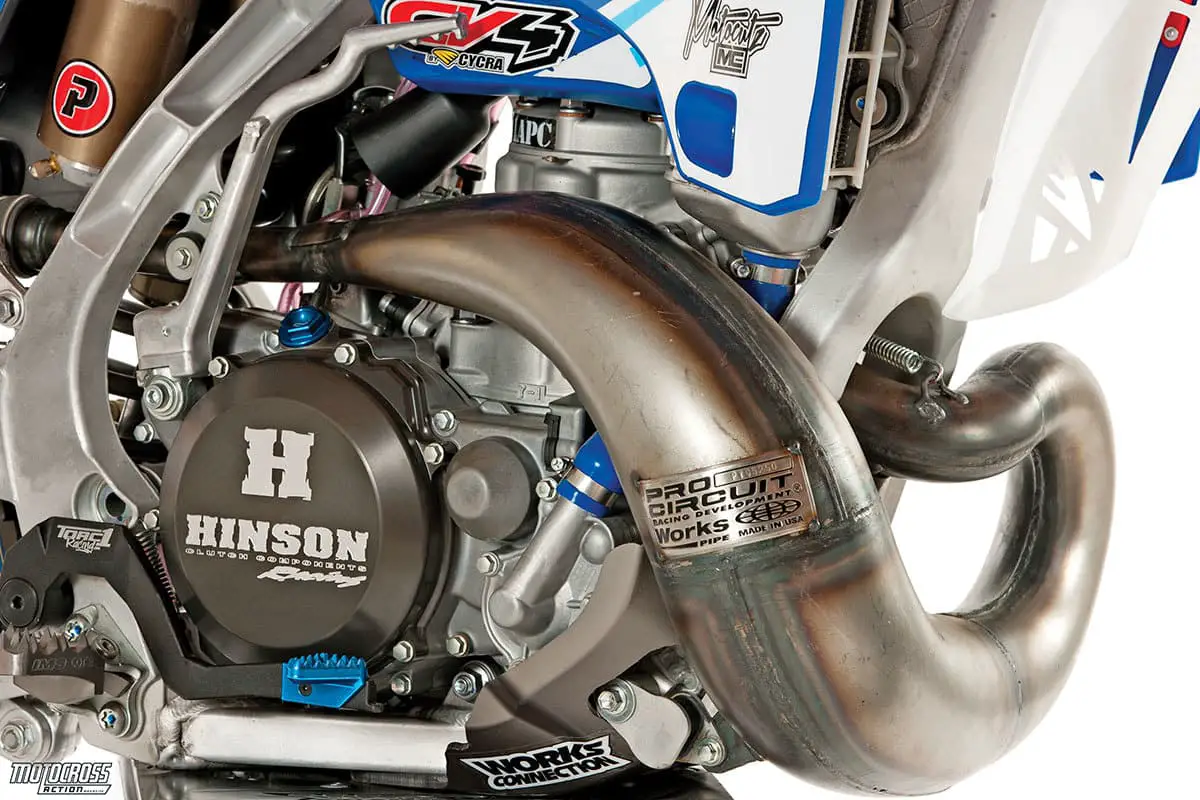 For under $1200, L.A. Sleeve can turn your trusty but rusty YZ250 two-stroke into a very healthy YZ300. All you have to do is pull the top-end and send it to L.A. Sleeve.
Although the 2006-to-2019 Yamaha YZ250 is 13 years old, it is still a good machine that has been made great by the loyalty and dedication of its owners. Yamaha doesn't reap the same sales rewards as KTM, because Yamaha hasn't changed the YZ125 or YZ250 enough to make its new-bike showrooms a destination place. Hard-core two-stroke aficionados know that you don't need to pay $7399 for a 2019 Yamaha YZ250 when you can buy a used one for $3200 and turn it into a 2018 replica for under a grand. Because of this, the YZ250 is the king of the used-bike market. As long as an old-school YZ250 comes with Kayaba SSS suspension, it will get top dollar from riders looking for an easy-to-ride, easy-to-maintain and easy-to-live-with two-stroke.
But, what if you want a little extra oomph out of your aging YZ250? You know, that something special that makes you feel a renewed kinship with your two-stroke. Some two-stroke fans turn their bikes into garage queens, replete with carbon fiber bits, works suspension components and fancy graphics. Some two-stroke fans spend every red cent they earn on hopping up the engine, coating the transmission, buying cone pipes and experimenting with exotic carbs. Some two-stroke fans spend all their time on the great worldwide interweb chastising four-stroke owners as though the choice of others makes their choice seem less relevant. And, some live and love what they've got. But, we have a suggestion for two-stroke owners looking to put more pizzazz into their two-stroke experience—big-bore it.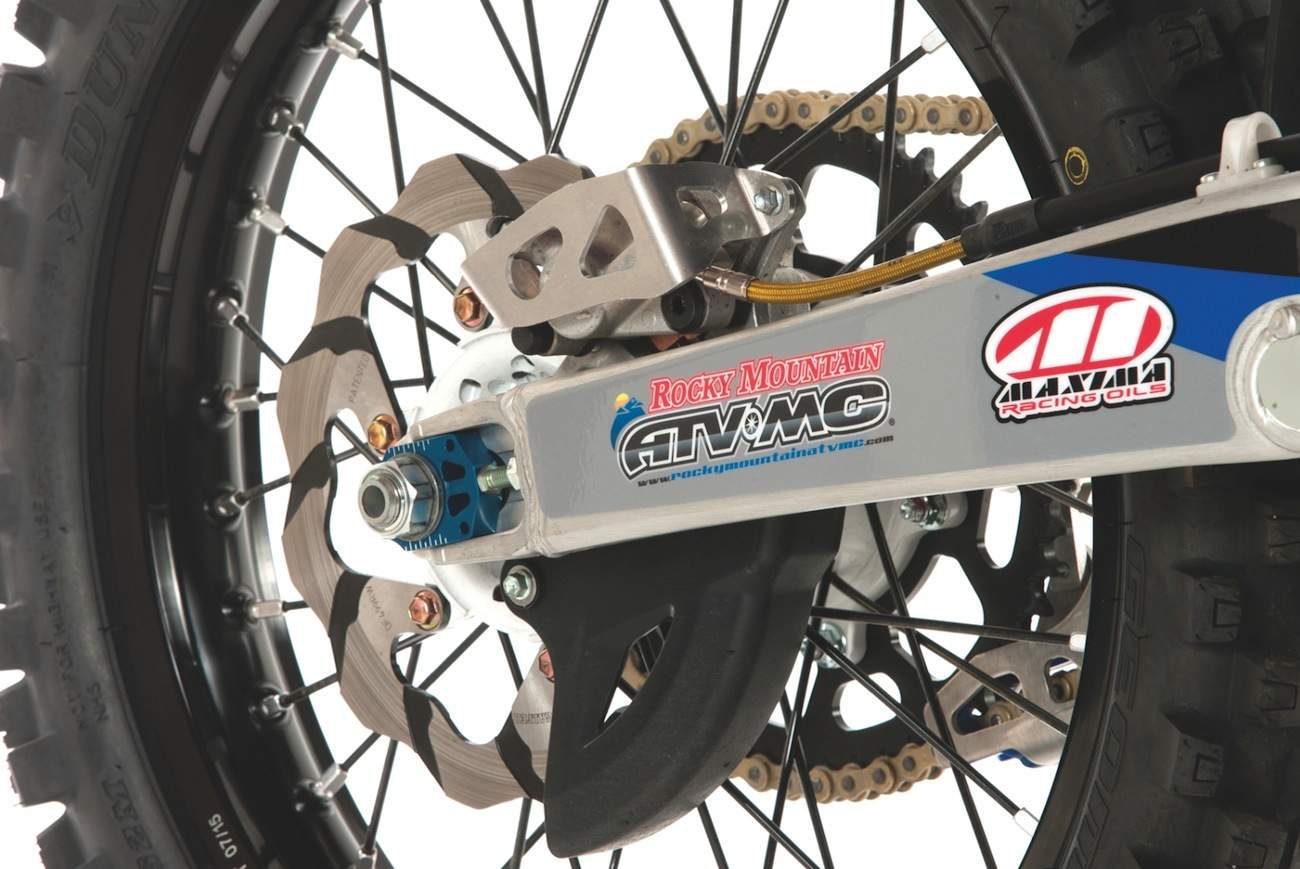 The rear of the L.A. Sleeve Rip & Grip 300 features Dunlop tires, Galfer rotor and Works Connection goodies.
The next time your YZ250 needs a new top-end or the cylinder is worn out from excessive hours, don't just throw in the same old piston, rings and cylinder. Instead, go on an adventure by increasing the piston size. Making more power with a standard-size bore requires that you compress the constrained explosion with a major increase in pressure. More compression forces the engine to work harder, resulting in more stress and an engine that wears out quicker. But, when you increase the cylinder's bore, you increase the surface area on top of the piston. This spreads the fuel/air mixture's workload out and produces more power without the taxing force of excessive combustion. Even with standard cranking pressure, you gain better performance because of the extra size of the combusted explosion. How big can you go on a YZ250? Using standard parts, you can easily go to 300cc. Mathematically, a two-stroke cylinder can be bored up to 4mm larger. Two-strokes aren't as radically over-square as four-strokes (in that the difference between the length of the stroke and width of the bore is less on a two-stroke than it is on a four-stroke). What can you gain by going up in displacement? You will gain horsepower paired with a massive increase in torque.
L.A. Sleeve does all the work to turn your YZ250 into a YZ300 and the price is a reasonable $1140. the Moto Tassinari reeds, Pro Circuit pipe, Hinson clutch, Torc1 shifter and IMS pegs are extra.

Will you need to re-jet the carburetor? Yes, but not in the direction that you think. The stock carb will almost always support the bore increase. So much so that in many cases you will need to jet the engine leaner. It may seem counter-intuitive, but a larger engine draws more air, which in turn drops more pressure, sucks harder and pulls more gas out of the float bowl thanks to Bernoulli's principle. On most big-bore two-strokes, you will need to drop the needle one clip and go one size leaner on the pilot and main.
Who is the best candidate for a big-bore engine? There are four main groups: (1) Cheaters who want an advantage over other riders. In the modern world, it is only possible to cheat in the mini classes. The 250 and 450 classes are weighted so heavily in favor of four-strokes that big-boring your 125 or 250 two-stroke isn't cheating; it's a formal protest against the AMA's stupidity. (2) Vets who would like to ride a light motorcycle without giving up massive ponies to their four-stroke competitors. Many Vets choose to big-bore their 125s or 250s just to get that extra boost out of corners. (3) Professional practice riders who aren't bound by a rule book can ride anything they want. (4) Riders who are tired of racing the same bike year after year, or mechanically unlucky riders who have to big-bore their engines when it comes time to rebuild them after a blowup. If you are going to buy parts anyway, why not get more for your money?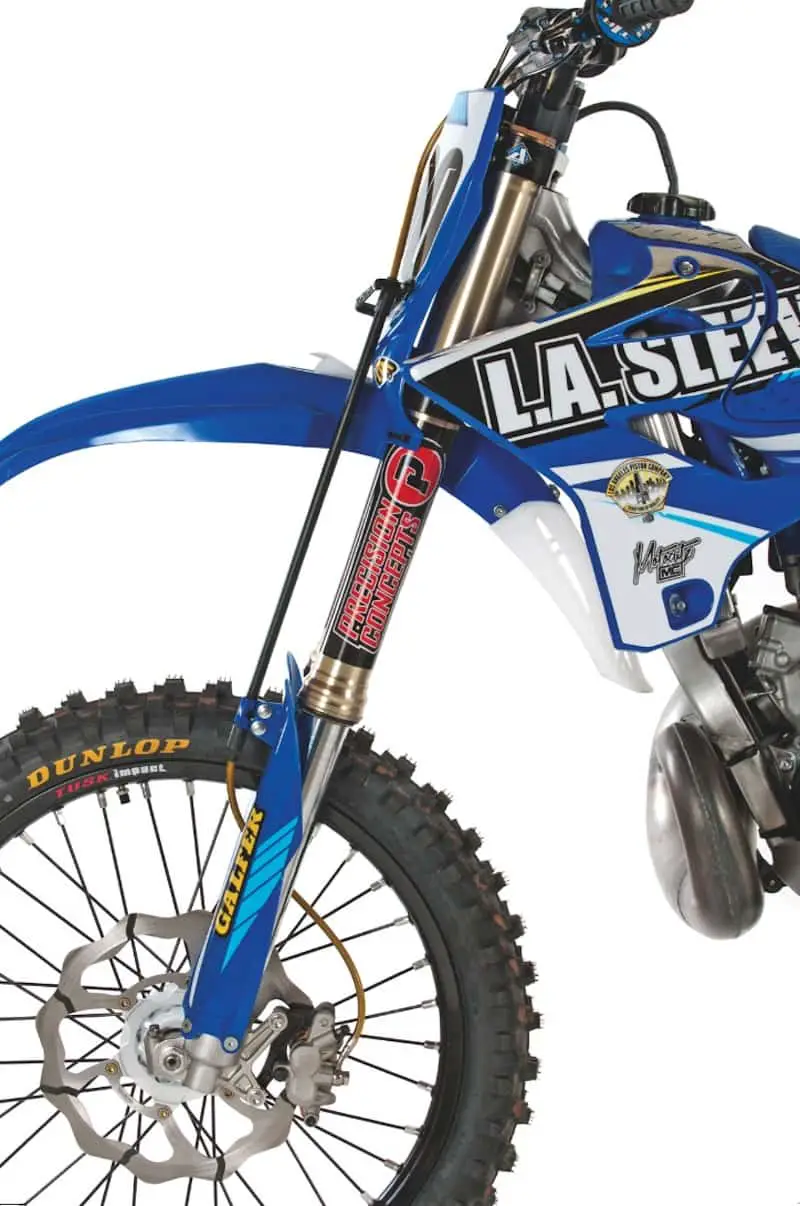 Precision Concepts handle the suspension chores. Which, on a Kayaba SSS equipped bike, is an easy task.
The MXA wrecking crew wanted to build a big-bore Yamaha YZ250. There are a lot of big-bore kits to choose from, but we elected to go with L.A. Sleeve's YZ300 Grip & Rip big-bore kit. It isn't necessarily a bolt-on kit, but it's as close as you can get. All you have to do is send your YZ250 cylinder, cylinder head and power valves to the guys at L.A. Sleeve. They will bore out the cylinder and install their Moly2000 big-bore sleeve, modify the combustion chamber and grind the power valves to match the larger cylinder radius. Replacing the original plating with their Moly2000 cylinder sleeve means the new sleeved cylinder can be bored in four over-size increments, starting at 72mm with upsizes at 72.25mm, 72.50mm, 73.00mm and 73.50mm. The ability to bore out the Moly2000 cylinder means that the L.A. Sleeve's cylinder will be serviceable through many years, pistons and even mistakes.
While the guys at L.A. Sleeve have your cylinder in the shop, they will port the cylinder with their proprietary porting specs. The port work increases the volume of air/fuel into the engine and speeds up the exhaust flow out of the cylinder. When they ship your cylinder head and power valves back to you, they will include a new multi-layered steel head gasket to replace the stock O-ring. What does it cost? Total price to turn your YZ250 into a YZ300 is $1140. To learn more about the kit, visit www.lasleeve.com or call (562) 945-7578.
The L.A. Sleeve Rip & Grip 300cc kit produced an amazingly usable powerband. It wasn't grunt and shift, but fluid from gear to gear.
What's it like to ride? Would you be surprised to learn that it was just like racing a standard YZ250 but with more of everything. Big-boring our YZ250 cylinder didn't hurt its usability and, best of all, it didn't turn it into a low-to-mid monster that wouldn't rev. Thanks to the porting, the YZ300 pulled well into the top-end and didn't chug or lug through the corners. We had multiple MXA test riders compare it back to back to a KTM 300XC, and they all reported that it produced a little more midrange than the KTM but gave up some in breadth. Overall, they said that it was competitive against the $9099 KTM 300XC—and when the much lower price was considered, it was a good deal.
Where did the MXA test riders see the biggest advantage over a YZ250? In its ease of use. The added horsepower and torque made the YZ300 stronger off the starting line, important against 450cc four-strokes, and much more manageable through tricky part-throttle switchbacks and off-cambers. Instead of having to wring the engine out and pump the clutch to get drive, test riders could power through corners without touching the clutch, sometimes a gear higher. It seems obvious that adding 4 horses without drastically changing the overall powerband pays dividends in every aspect of racing. It enhanced the YZ250 two-stroke in a four-stroke way. It was a simple hop-up that produced a healthy increase in power and torque and placed those attributes directly in the two-stroke's weak spot (when compared to a four-stroke). We got better starts, stuck closer to four-strokes on slippery off-cambers and could respond tit-for-tat on hard dirt. While the extra power was welcome on the starts, hills and straights, the increase in torque was most noticeable in how it helped the YZ250 chassis hook up to the ground better. Every test rider felt that the YZ300 tracked better through turns than the YZ250. It is true that the YZ300 gave up some of the snappy responsiveness of the 250cc engine, but this is a trade-off; you have to give up a little rat-a-tat-tat to get closer to the four-stroke target. And the goal, for any underground two-stroke fighter, is to shoot down the 450 four-stroke. The L.A. Sleeve "Rip & Grip" YZ300 kit can do that.