2018 ASIA MXGP | MX2 QUALIFYING RACE RESULTS
The Factory KTM rider of Pauls Jonass took the qualifying race win in Asia. 
Round 13 of the MXGP World Championship series is on its way in Semarang, Indonesia in the country of Asia. Just like the MXGP last week in Indonesia, the MX2 field won't even half-way fill up the 40 man gate. At 19 riders it's a joke. On the same weekend at the Red Bud National over 80 riders signed up to race in the 250 class.
Points leader Pauls Jonass took the Saturday qualifying race win with teammate Jorge Prado taking second. Yamaha's Ben Watson finished third.
MX2 QUALIFYING RACE RESULTS | ASIA
Pauls Jonass (KTM)
Jorge Prado (KTM)
Ben Watson (Yam)
Thomas Kjer Olsen (Hus)
Thomas Covington (Hus)
Calvin Vlaanderen (Hon)
Anthony Rodriguez (Yam)
Michele Cervellin (Yam)
Brent Van doninck (Hus)
Davy Pootjes (KTM)
Bas Vaessen (Hon)
Jago Geerts (Yam)
Adam Sterry (Kaw)
Jy Roberts (Hus)
Muhammad Delvintor Alfariza (Hus)
Diva Ismayana (Hus)
Yosua Pattipi (Hus)
Hitman Maksum (Hus)
Morgan Fogarty (KTM)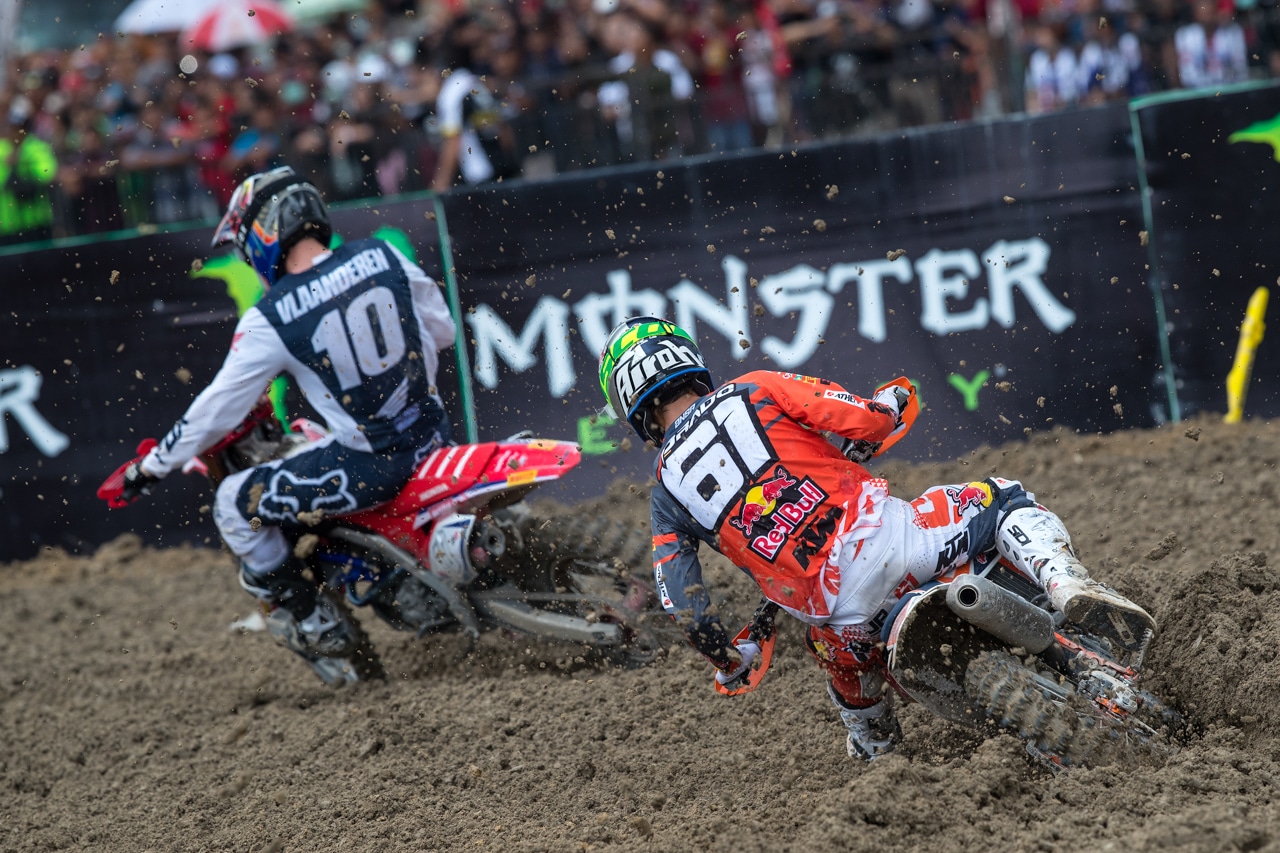 Jorge Prado is only seven points down in championship points to his teammate Pauls Jonass.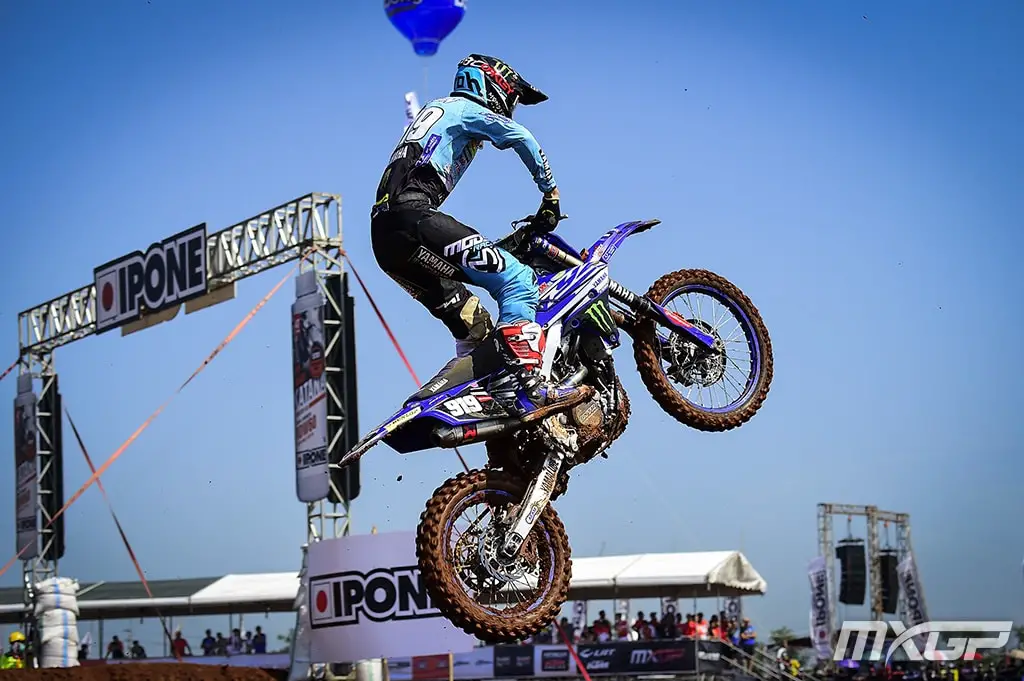 Yamaha's Ben Watson finished third. 
ASIA MX2 RACE REPORT
MX2's Racing was a sight for the Indonesian fans as well with the 250cc bikes stretching out the massive jumps of the Semarang circuit. Off the start it looked as if Kemea Yamaha Official MX2 Team's Ben Watson was about to take his first holeshot. Unfortunately for Watson Red Bull KTM Factory Racing's Jorge Pradocame out of the first turn with the lead.
Watson's best start of the year put him third after the first lap with Prado's Red Bull KTM Factory Racing Teammate Pauls Jonass also making it past the Brit. In 4th and 5th position were Rockstar Energy Husqvarna Factory Racing's Thomas Kjer Olsen and Thomas Covington.
Last week's MX2 overall winner, Team HRC's Calvin Vlaanderen was in 6th with Yamaha SM Action – M.C. Migliori's Michele Cervellin and Kemea Yamaha Official MX2 Team's Jago Geerts giving chase.
The first portion of the race Prado held a steady pace and lead over Jonass but just before the halfway mark Jonass started making up time little by little. Prado then reached the tail end of lapped traffic which allowed Jonass to close the gap to nearly nothing. With Jonass on the back wheel of Prado it took just over a lap to make a pass for the lead stick.
Another rider on a clear mission to forward was Kemea Yamaha Official MX2's Anthony Rodriguez. Rodriguez looked comfortable on the track since Free Practice and showed impressive speed passing both Cervellin and Geerts in the race to take 7th.
The remainder of the race stayed relatively unchanged and at the finish Jonass kept Prado behind him to score his 4th pole position of 2018 with Watson 3rd, Olsen 4th, Covington 5th, and Vlaanderen matching his qualifying position from last week of 6th.
Pauls Jonass: "The qualifying went really good. I haven't won a qualifying race in a while so it was good to win and go the gate first because here the start is very important. I think they did a really good job on the track."
Calvin Vlaanderen: "The qualifying race was quite good, we got off to a good start and I was in 6th from the first laps. I just saved some energy for tomorrow…we just did our thing today but tomorrow hopefully we get 2 good starts so we can run up front and fight for the podium again."