When WORCS went to Lake Havasu, MXA knew it would be the place to test our YZ450FX and CRF450RX cross-country bikes, even if we had to ride through the lake
One man, one bike, one Honda guru, two strokes and eighteen years of waiting for fruition
This is a classic example of all that can go wrong with a hopped-up bike—and spending a bundle of money doesn't always make a bike better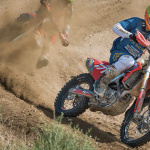 Honda wouldn't give us Sexton's or Roczen's works bikes for the weekend, but Honda's Johnny Campbell gave us one
If there is one takeaway from the Works Edition for Honda CRF450 owners, it is to spend less time hopping up the CRF450 powerband and more time mellowing it out—it will handle better.
Honda celebrates their 50th Anniversary Edition
Honda's aluminum frame looked cool, but it vibrated like a dentist's drill and, in Honda's hands, didn't shown a single advantage over its chromoly steel competitors
I've made no secret that I feel I was meant to race a KX500, so this is hard for me to say out loud, but the Honda CR500 was the best bike
What is the 80-percent solution to racing a CRF450? Only at 80% does the overly rigid frame, unequal suspension settings and the frame's harmonic imbalance cancel each other out
Test riders called the new low-to-mid CRF250 "a faster YZ250F—with bad forks"
Finally! The CRF450 Works Edition comes with its very own suspension settings and tailored ECU mapping. This bike hits the dyno with 60-horsepower, but it's so smooth on the track that you wouldn't believe the dyno
This year's MXA 250 four-stroke shootout includes seven race machines. MXA lived with these seven 250cc four-stroke bikes for months—racing them, working on them and deciphering each ones hidden code
This is the 450 Shootout that you have to read, but for the effort you will be rewarded with all you need to know about the 450 class of 2022
A first of its kind from Honda as they partnered with Greenger to build this electric kids bike
What are the best and worst aspects of the seven 250 motocross machines on the market? We dive into that and rank them from first to seventh here
It's finally here! We go in-depth on all seven 2022 450 four-stroke models in this full-feature video
We wanted to test Michael Byrne's 2003 CR125 because it, along with the rest of the Factory Connection CR125s, is the only fast CR125 on the track
This was the Porsche Turbo Carrera of the 125 class back in 1992—it revved higher, harder and longer than the stock CR125 and had better bottom to boot
Did Honda hit the mark with the single-sided muffler, 8 lbs weight loss, all-new engine, CRF450 frame and Pirelli tires? We test it here
Thankfully, Honda went to work on our two biggest complaints from the 2021 CRF450 when they developed the 2022 model. Hear what we thought of the updated bike in our latest test video
Kyle Lewis has made made modest changes to his Honda, but thoughtful ones. It's not a gaudy go-fast buggy, but a professionally prepped race bike
We flashback to when all the Japanese manufactures made two-stroke dirt bikes. This is the complete 2004 RM250 vs. YZ250 vs. CR250 vs. KX250 vs. KTM brawl
We get the inside secrets from FMF, Pro Circuit, Factory Honda, Planet Honda and did our own R&D to make the 1999 CR250 as good as it could be
We explain all the details on the new 2022 Honda CRF250 before we go ride the bike next week
The CRF250 is resigned from head-to-toe for 2022
Honda introduces a six-pack of CRF450-based off-road bikes for 2022—including a $12,399 Works Edition & the $9599 base motocross version
It should be noted that the 2022 Honda CRF450 is the 2021 Honda CRF450, but it will get updated maps and new suspension valving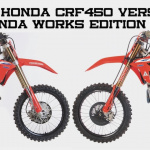 Should you buy a stock CRF450 and make it own own or buy the ready-made Honda Works Edition?
Roger's instructions were to tell us anything we wanted to know, keep the bikes running as long as we liked, and help us dial in our own stock 1991 CR125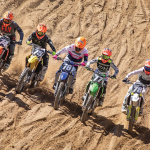 Breaking down the fastest 250 four-strokes — everything you need know, most of it applicable to your actual riding
Motocross racers love shootouts, until the bike they spent $10,000 loses; They think their brand is the fastest bike, until they see a dyno chart; They think that weight doesn't matter on motocross bikes, but if their girlfriend gains a few pounds they go ballistic
It's finally here! We rank all seven 2021 250 models from seventh to first and share our opinion on the best bargain bike, best entry level bike, best working class bike and bike of the year
It's finally here! MXA's seven bike, 450 shootout video
Unfortunately the ECU mapping didn't get fixed straight from the factory, but you can update it for free at your dealer
These are two totally different bikes. They share almost nothing in terms of design, focus or intent, but one is very good and the other is a little irritating
The air-cooled CRF150F electric-start engine is made for a teenager to cruise around on flat trails—We have to say it, this advanced chassis is begging to have a hot-rod water-cooled engine in it
We are ambivalent about the 2021 Honda CRF450; they did some things very well and some things very poorly—but mostly they rushed it out the door before it was done
Which one should you buy? We break down the details and give you our opinion on the bikes in this MXA Head-to-Head Shootout video
The 2021 CRF250 doesn't shine in any area of the power curve. It is lethargic off the bottom, needs a wake-up call in the midrange and doesn't take off until the upper echelons of the powerband.
They look so lovely under studio lights, but getting them to that point is fraught with peril and imperiled by fraught
When Honda's aluminum frame was in its teething stages it was jaw breaker rigid. Looking back, was it the way to go?
Various CRs and CRFs parts make 2008 Service Honda CR500AF sound like Frankenstein's bike, but on the stand it looks like it was meant to be.
After an aborted attempt to jump from Team Suzuki to Team Honda in the middle of the 1997 season, Mike finally got his wish for the 1998 season
Justin Barcia's Geico 2012 Honda CRF250 ripped, the brakes were sensitive and the suspension was set up for a 144-pound man-child.
Time has a way of blurring the rear-view vision of motocross fans. What's better a 2004 Honda or 2004 Yamaha? We not surprised that you don't know the correct answer
The CRF450 was the first production 450 motocross bike to break the 60-horse barrier. For comparison, the 2015 Honda made 53.03 horsepower. The "slower is better" philosophy was old news
Short of making it happen at gunpoint, the easiest way to get your hands on a works bike is to be Daytona winner or an MXA test rider
The 2021 Honda CRF450 is all-new from head-to-toe. Learn our initial impressions about the bike here
The MXA Wrecking Crew shakes down the 2021 Honda CRF250
There is a lot to be learned from the BWR Honda team. They are the most creative privateer team on the Supercross circuit
Had Troy listened to his old buddies, his racing gear might have been on the podium for someone else's team, but he lived his Frank Sinatra dream and did it his way
The 2005 CR125 was much faster than the 2004 model. In fact, was competitive with the rest of the 125s. As for the 250Fs, let's not get too greedy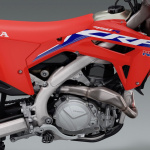 If you're in the market for a 2021 dirt bike, Honda is ready, willing and able to sell you whatever you want
Everything you want to know about the CRF450 in the video above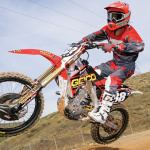 With the word that Geico might pull out of motocross, we thought we take a look back at one of their great bikes and riders
Come on Honda, bring back two-strokes! We still love them
The well traveled history of a 2005 Honda CR125 & what's planned for it next
A scary fast bike that only the gifted could ride
One small step backwards and one giant leap forward
The 2005 CR250 should have dug a trench at low rpm, but instead of going "braapp" it went "wahhhhh." On the positive side, it's no longer a "wah, wah, wah" engine, just one "wah" in '05