MOTOCROSS ACTION'S MID-WEEK REPORT: (02/23/12)

By John Minert
COLE SEELY GETS THE GIG AT TEAM HONDA


Cole Seely will replace Trey Canard at Team Honda. To find out who will repalce Chad Reed?read below.
Press release: Team Honda Muscle Milk announces today that current Troy Lee Designs/Lucas Oil/Honda Supercross Lites rider Cole Seely will fill in for injured Team Honda Muscle Milk rider Trey Canard at select Supercross races beginning with the coming Atlanta round next weekend.
Seely started the 2012 Lites West title chase with a bang, scoring a win in the opening round at Anaheim 1. The 21-year-old from Newbury Park, CA, added a pair of seconds to that win so far this season and is currently third overall in the championship as the Lites West series takes a nine week break.
"Cole proved last year that he has what it takes to run in the Supercross class," said Team Honda Muscle Milk Manager Erik Kehoe. "He's a hard-charger, and a good fit for the team. It's a great opportunity for Cole to showcase his capability on the CRF450, while maintaining his competitive skills during the break. I want to thank everyone at the Troy Lee Designs/Lucas Oil/Honda team and all their sponsors for allowing Cole the opportunity to race a factory Honda for Team Honda Muscle Milk.

MXA INTERVIEW: KRISTIAN KIBBY
There's a lot of buzz around Geico Honda. Just when it looked like Tomac had the West handled, he had a big crash. Barcia has come out looking very strong on the East, winning the first round in Dallas. Meanwhile the veteran and crowd favorite Windham goes bigger and bigger at opening ceremonies and takes a ride on Chad Reeds bike between races. We called up Geico Tech man Christian Kibby to get some inside details on the all the action.


Eli is expected to be ready to go at the next West round in Seattle.

MXA: Can you give us a Tomac injury update?
Kristian: I have not spoken to Eli or his family lately, but it sounds like he needs to take a few weeks off the bike. I'm sure he'll be back to the same Tomac that we saw earlier in the West when he gets back on the bike for Seattle.

What's your take on Kevin Windham doing these big transfer jumps. Too risky?
I spent a few years around the freestyle crowd back in the day, so I don't see it as being that risky. I think he's a very smart and skillful rider. It looks like it's high-risk and it's great for the fans to see. But I think that it's more calculated than it looks, it's all going to work out well. And there has been some footage getting out there that he does do some practice runs earlier in the day. So, it's only a small portion of the crowd that thinks he comes straight out in opening ceremonies and hits it.


K-Dub's jumps may seem nuts, but remember that with age comes wisdom.
Without many improvements to the 2012 OEM Hondas, what are some technical improvements to the team's bikes this year?
Without giving too much away, we have the benefit that we are now in the third year of this generation of 250. When a new motorcycle comes out from Honda it's entirely new, from new plastics to new chassis and suspension and engine. Looking around at some of the other motorcycles, when they have a new model coming out, quite often they tackle one area or another. Suzuki for instance might come out with a new engine, but keep the same chassis. So a Suzuki team would have less to deal with during one off-season. Our Honda had a good platform to work from. Being three years deep with refinements on suspension and chassis settings, we're in a really good place. We're a able to really home in things that we couldn't when we had a big plate full of things coming into the 2010 season.
With more Honda satellite teams emerging, has the dynamic and relationship with the factory changed at all?
No, I think our relationship with Honda has remained the same. The fact that they have built relationships with other teams hasn't changed anything with us. That's all been happening side by side without having to take from one and give to another.

We heard a rumor about Kevin trying Chad Reed's bike. What really happened?
I heard some rumors about that too. It was as innocent as two buddies at the track, and one says 'Hey, let me ride your bike' and the other says 'Okay, let me have a go at your bike.' Those guys are friends, they talk about the obstacles at the track, and this is an extension of that. They had a discussion about the pros and cons of their bikes and how they choose to set them up. Remember that both of these guys are pretty much able to have whatever they want on their bikes. Kevin did a lap on Chad's bike. I heard a report on it, and they made a much bigger deal out of it than it really was. I think Kevin's eyes were open to some things that were good on Chad's bike, but at the same time, if he were to pursue that, it may detract from some of the positive things about his setting. We all know their are a lot of compromises there. Do you go for traction or jump absorption. Do you want it to turn quickly or be stable. I was just comparing two individual preferences. It happens more often than you think. It happens more than you think. Kevin and Chad are both know for speaking the truth with the media. A lot of other riders, historically, may not have commented on it.


Believe it or not, Barcia (who happens to be a Matrix Concepts rider) is learning some patience.

What was your evaluation of the Barcia's race in Dallas?
Last year Barcia got a bunch of good starts, and that really helped him out. We didn't see that this weekend. I don't like to dwell on one round. At the first two rounds of the West Tomac finished fourth or something. Nobody panicked here, because there was only two races to sample from. With Justin, I hope he can start further toward the front. He has a little bit of work to do at the beginning of the main, but it showed that he was determined to get to the front. It's funny, but I think Barcia rode patiently. It didn't quite look like it, but that was patient for Justin. He did well to be aggressive out of the gate with less than a holeshot. He didn't do anything too risky, but worked at getting up to the front. He did make one poor choice, I thought. His first pass attempt on Durham cost him some time. Luckily he was going quick enough that he had enough time to make another attempt and pull alongside in the whoops. He's still got some stuff to work on, but he said he was a little nervous the first round. He is driven to get it done, so it'll work out.

DON'T FORGET THE MEXICAN GRAND PRIX ON MAY 13: IT REALLY WILL BE A SHOOTOUT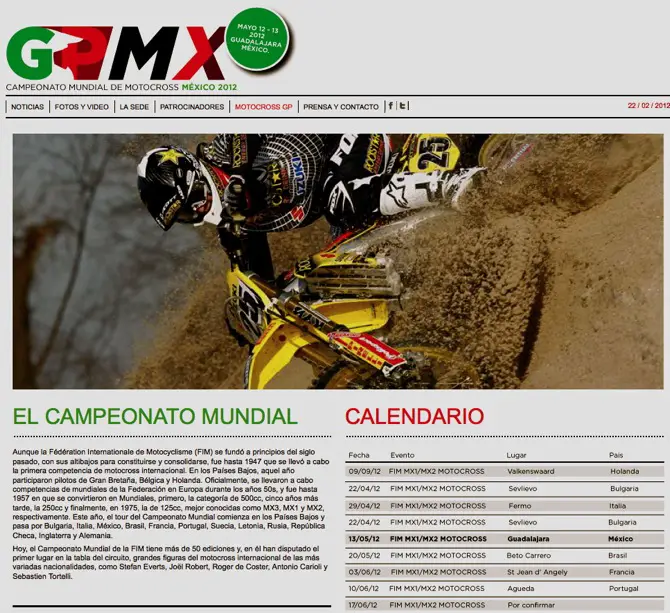 To learn more about the Mexican Grand Prix go to www.motocrossgpmexico.com, but brush up on your Spanish first.
IT'S LONELY AT THE TOP! JAMES STEWART PRACTICING BY HIMSELF IN THE MIDDLE OF THE NIGHT

PHOTO OF THE WEEK (IF THE WEEK WAS 50 YEARS AGO)


No matter how exotic you think a modern motocross bike is, nothing comes close to Dave Bickers' Greeves from almost 50 years ago. Check out the conical front hub, leading link forks, cast aluminum frame, balooey pipe and the classic pudding bowl.
NEW PRODUCT: DR.D 2010-12 YZ450 ENGINE RELOCATION KIT


Dubach Racing Development (DR.D) is now selling 2010-12 Yamaha YZ450 Engine Relocation Kits. CNC machined with durability in mind DR.Ds kit moves the engine forward 2.5 millimeters, putting increased weight on the front wheel resulting in a more planted feel and improved all around maneuverability. DR.D's Engine Relocation Kit includes two Collars, two Engine mounts one Universal head-pipe spacer and three Exhaust mounting studs. DR.D's Engine Relocation Kit (part #3100) with a retail cost of $149.95 can be purchased online at www.dubachracing.com or at any stocking DR.D dealer nationwide.
THIS AIN'T MOTOCROSS! AKRAPOVIC DREAM MACHINE COMES TO USA


This ain't your daddy's cruiser, unless your dad had access to lots of carbon fiber.
Akrapovic introduced the stunning Morsus motorcycle in 2011, and now this one-off creation is coming to America. Slovenia-based Dreamachine Motorcycles ? itself a renowned European custom bike builder ? built the Morsus exactly to the design first sketched out by its designer Tomaz Capuder and the Akrapovic team. The end result being a creation combining modern materials of carbon fiber and titanium, with head-turning design flair. In a word: Morsus.
Neil Morley, Akrapovic Marketing Director, says: "We built the Morsus with our partners, Dreamachine Motorcycles, to demonstrate that while we are known for our racing prowess, we have such a breadth and depth of in-house talent that entering the competitive world of custom bikes is a natural extension of what we do." Tomaz Capuder of Dreamachine Motorcycles adds: "This project was a big challenge for me. I admire the work of Igor Akrapovic very much and I wanted to bring together two motorcycle worlds: racing and custom. Building the bike on 26-inch wheels was quite challenging, but I'm happy with the final result.

WHERE TO SEE THE BIKE:
Date                          Location
20 ? 25 Feb              Key east-coast Harley-Davidson dealer visits
27 Feb ? 3 March     Further key east-coast Harley-Davidson dealer visits
9 ? 18 March            Daytona Bike Week
2 ? 7 April                 Key west-coast Harley-Davidson dealer visits
9 ? 14 April               Key west-coast metric dealer visits
16 ? 21 April             Key west-coast Harley-Davidson dealer visits
25 ? 29 April             Laughlin River Run, Nevada
26 ? 29 May             World Superbikes, Utah
5 ? 9 June                 Americade, Lake George, New York
27 ? 29 July              MotoGP, Laguna Seca
FURTHER DATES AND LOCATIONS TO BE CONFIRMED
TECHNICAL DETAILS:
– Frame: by Dreamachine Motorcycles
– Engine: S&S 113 CI (1852 ccm), 114BHP
– Transmission: Ecoline six-gears, hydraulic clutch
– Primary: Zodiac 3-inch open belt with support plate
– Wheels: Alu-carbon by Dreamachine motorcycles (26 x 3.5in front and rear)
– Suspension: Showa radial forks, with Dreamachine Motorcycles 3D triple trees.
– Single rear Fox air-shock
– Handlebar controls: PT Radial
– Brakes: Front four-piston radial calipers, Wave disc rotors. Rear brake sprocket by Custom tech
– Air filter: Akrapovic carbon end cap, modified by Dreamachine Motorcycles
– Exhaust: Akrapovic custom titanium, modified by Dreamachine Motorcycles
– Color: Titanium
– Seat-to-upper section: pre-preg autoclave molded carbon-fiber

For more info visit www.akrapovic.com
CHAD REED INJURY UPDATE: IS HE IN OR OUT?

PRESS RELEASE: In a devastating blow for TwoTwo Motorsports Chad Reed, injuries sustained at last weekend's Dallas round of the AMA Supercross, have forced him to retire from the remainder of the 2012 Monster Energy AMA Supercross, an FIM World Championship. Reed suffered a horrific crash while challenging for the race lead on Lap 7 and was unable to finish the race.  Initial scans have revealed the Australian has torn his anterior cruciate ligament, broken his tibia and fibula, sustained two broken ribs and has a broken T6 vertebrae. At this point in time doctors are waiting for the swelling on his knee to subside before they conduct surgery.
"To say I am hurting right now would be a major understatement," Reed said. "I am just trying to figure out what hurts more, the injuries or the fact that I am going to be out for a while with knee surgery. This is bitterly disappointing, I felt like I had everything in my corner this time. I've never felt more comfortable, from the bike and team to my riding. I was genuinely in a position to fight for race wins week in week out and expected to be going to Las Vegas for a shot at the title. To my sponsors and fans thank-you for your messages of support, they mean a lot.  This is a difficult time," Reed added.
The TwoTwo Motorsports team and sponsors will regroup over the next week and formulate a plan to move forward. Reed is aiming to return for the outdoor season but that goal will be re-evaluated by doctors post surgery. Follow Chad on twitter (@crtwotwo) and TwoTwo Motorsports on facebook.
WILL CHAD AND TWOTWO MOTORSPORTS HIRE A FILL-IN RIDER FOR THE REST OF THE SEASON?
A little bird told us that that they will not:


STARCROSS MANTOVA VIDEO! WATCH JEFFREY HERLINGS (84), EVGENY BOBRYSHEV (777) & TONY CAIROLI (222) LEAVE THEM IN THEIR DUST AT A TRACK THAT IS AS CLOSE TO SUPERCROSS AS THE GP RIDERS EVER GET
The Russian Honda rider catches and passes the five-time World Champ…and Herlings is right behind both of them at the finish line.


NEW PRODUCT: EVS F1 CHEST PROTECTOR



Press release: The all-new F1 roost guard is a justifiable, yet simple, new addition to the already amazing chest protection family.  With stellar roost deflection technology and a fully modular customizable design, personalizing your own fit to suit your exact needs is now easier than ever. Its compact and form fitting design was tailored to fuel your competitive side without sacrificing comfort or protection.
F1 Features:
    Lightweight impact resistant injection molded construction, Compact form-fit design, Compatible with all major neck braces, Adjustable shoulders, Click-Tec front closure system ensures adjustability and secure fit, Removable back plate, Plush bio-foam liner, Multiple vents and air channels offer maximum ventilation.


Size                   Weight                Height        
Small/Medium    Under 125 lbs.     Under 5'3″
Large/X-Large    125 lbs. +            5'3″ +
Colors: Black, White
Price: $75.00 (Small/Medium), $89.00 (Large/X-Large)
Visit www.evs-sports.com for more info.

TWO-STROKE HERO! ANTOINE MEO RIDES A KTM 125EXC ENDURO BIKE AT THE VALENCE MOTOCROSS AGAINST FOUR-STROKES…IT EVEN HAD A HEADLIGHT

NEW PRODUCT AT HALF PRICE: MATRIX CONCEPTS UMBRELLA

The brand new Matrix Concepts Umbrella in factory team colors is lightweight with an exclusive strong carbon fiber shaft and durable nylon. As introductory offer, the Matrix Concepts Umbrella will be 50 percent off at Matrix Racing Products.com until February 26th 2012. Take advantage of the deal at www.MatrixRacingProducts.com

HONDA TO UNVEIL A NEW NSX SPORTS CAR


The Honda NSX used to be the car that Honda factory riders got to drive around while under contract. Then, it disappeared from the market. Now, it is coming back. The Honda NSX Concept will make its European debut at the Geneva Motor Show. Highlighting the design and technology direction for Honda's next generation supercar, the NSX Concept features a V6 mid-mounted engine and will employ a range of new technologies including the innovative Sport Hybrid SH-AWD (Super Handling All Wheel Drive) hybrid system. It isn't expected to go on sale for at least three years.
SEE HOW DAVI MILLSAPS' FIRST LAP AT DALLAS WENT & HIS DUEL WITH JEFF ALESSI
A lap later he would fall down and his night would go from good to bad…and so would his teammate's (who was stuck behind him).

WIN A BRAND-NEW HOPPED-UP 2012 YZ250F FROM YAMAHA



Yamaha Motor Corporation is pleased to announce that it is offering one lucky Supercross fan the chance to win a modified 2012 YZ250F with accessories from some of the very best in the business like GYTR, FMF, LightSpeed, One Industries and Braking just to name a few. Major changes were made to the 2012 YZ250F to make it better in every way. The engine revs freer thanks to less friction, the motor pulls even further with the larger 39mm carburetor and the new bilateral frame and KYB SSS suspension complete the perfect handling package.
Starting at the very first Supercross in Anaheim, CA, fans have been greeted in stadium concourses with signs directing them where to register to win this awesome machine. If you missed the signs, the bike was brought up on the podium during intermission, and the announcers told the sold out crowds everything about the bike and how to win it.
If you haven't been able to attend one of the rounds of the 2012 Supercross series or even worse don't have one in your neck of woods, we still want you to have the opportunity to take home this sweet looking 2012 YZ250F. For a chance to win the bike, please visit www.yamaha-motor.com/sxyz before the Supercross season ends and register for your chance to win.
GET MXA ON YOUR iPAD OR iPHONE…OR YOU COULD BE NOSTALGIC AND READ THE PAPER VERSION


The new MXA App lets you download the latest issue of MXA right to your iphone or ipad. Its all the things you love about Motocross Action in a new digital format. The app saves the magazine on your mobile device so there is no waiting to load the next page and no lag time. This is also the cheapest way to subscribe ($8.99) or to buy a single issue ($2.99). Go to http://itunes.apple.com/us/app/motocross-action-magazine/id497706566?mt=8 and check out the newest way to read Motocross Action.
ZACH OSBORNE INTERVIEW: THOUGHTS ON HIS ABBREVIATED SUPERCROSS SERIES & THE UPCOMING GP SEASON


Zach proved his worth in his short 250 West Supercross stint. Will there be any takers in 2013?
Zach, it was a calculated risk to do Supercross during the GP off-season but what advantages did it carry for you?
Fitness, confidence and something I wanted to do, even from last year really. We had talked about it before but now the timing was right. In terms of the physical demands doing those races was about a maximum performance thing because your heart rate is so high and you are in an intense environment for such a short space of time. What we did in the U.S. will help with my intensity, my fitness and my sharpness coming into the season.
We've seen Gautier Paulin and Ken Roczen indulging in some Supercross races pre-GPs and it seemed to do them good?
Yeah, I think so. For me, it was a good opportunity to get some time on the bike, good exposure for the sponsors and also nice to have the chance to race on U.S soil and in front of the Supercross fans again. We had some good help from Yamaha U.S.

Zach ran his GP outdoor engine with stiffer Ohlins suspension.
Can you explain a little about how you set up your YZ250F for Supercross compared to motocross?
Well, the engine is identical. The only big difference is that here we were not allowed to use some of the carbon components that we can bolt on in Europe. The gearing is the same and the suspension is much harder than I would have for the GPs or motocross. Obviously you are pushing the bike all the time and with so many jumps on such a short circuit the set-up has to be different to cope with that. We worked a lot on the suspension and did a great job with Ohlins in the last couple of months. It has been a big effort, especially by people like Cosworth, but I have never been happier with the Yamaha than with the race bike I have now.
How long did it really take to get back into the Supercross ?swing'?
It took me about six weeks to get my timing ?down' and get to a position where I could turn laps and then turn a lot of laps. It has been an intense process because I only started riding in the middle of October and that was after a two-month layout with a shoulder injury. It was a quick transition but it went well. During the last three weeks I felt like I was ready to go. I felt like I was up to 22-23 laps in my motos and felt solid at a good pace on what was a gnarly track.
Supercross is obviously a one afternoon-evening hit. Each event must pass pretty quickly?
It goes by really quick. At a GP you can be at a circuit for four full days. Here you arrive Friday afternoon, get the bike out, get Tech control done and then most of Saturday goes past so fast that you don't get time to blink. You cannot beat racing in front of 60,000 people and be on the same stage as the big guys in the sport. It has always been a dream of mine to race Supercross in the SX class, at the highest level. So it is motivating to be here. If you come into that stadium and see all the show?if it doesn't get your blood going then nothing ever will.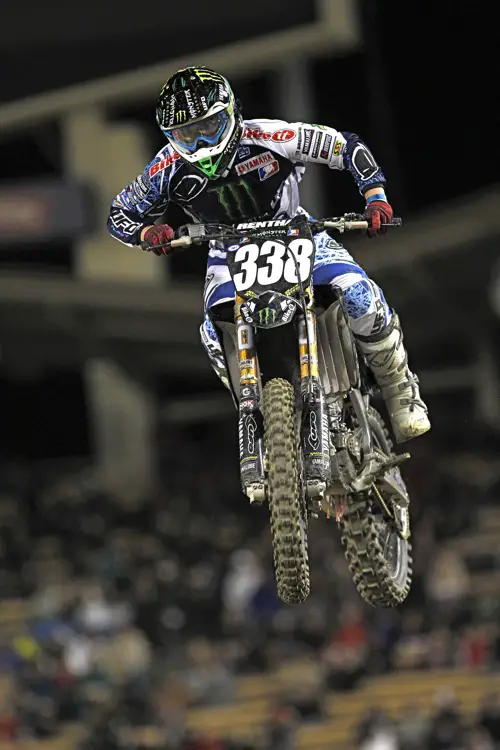 Zach Osborne?far from the "Snack Pack."
The first lap of a main event seems crazy with many riders jostling for space and a myriad of obstacles to contend with. What's it like?
If you are at the front then it is not too bad, it almost seems ?quiet' but in the pack it is chaos. Everyone is dicing because they don't want to let the ones in front of them getaway and need to block those behind them. It is bedlam on the first lap when you have twenty guys hitting a triple all at the same time. It can get wild!
With the tracks being so tight can you still line up a pass or is it a case of banging bars to overtake?
A bit of both but it is more of a block-pass situation. You can't really set it up a few corners before, you just know in the moment when it has to happen. When I was chasing Rattray in Phoenix there were a few places where he was a little bit faster than me and then some places where I was quicker than him so it was a give-take every lap and it was harder to line him up. Looking back now I should have been more aggressive in the first few laps than I was.
Does Supercross take a different mindset?
Yeah. It is so tight and technical and everything needs to be more perfect compared to motocross so I think it shows if you are not physically fit or zoned in with your timing. The tracks are short and one mistake can mess up a whole entire section. It is about keeping momentum and keeping the bike wound-up. It is a completely different form of racing. We are all on dirt-bikes but that's about the only similarity.

Zach says that racing the Supercross series gave him more confidence leading into the 250 World Championships.
How do you feel about the 2012 Grand Prix campaign?
Good. I've had a completely different set-up and approach going into this season compared to the past so it is a little difficult to judge where I am. I haven't really done any motocross riding yet or a lot of endurance training that I need to do but I have been able to get a lot of confidence from what we achieved in Supercross. Another good thing is the feeling or more familiarity with my 2012 race bike. I'm back into my training and prep for the GPs now and I feel like I am ahead of the game. I think it is fine that I've spent more time at home this winter. I don't think I needed to be in Europe watching it snow!
Musquin and Roczen ? MX2-GP world champions for the past three years ? have moved on. How do you view your chances for the title now?
Obviously I need to be right in there for the championship. This is my last year in MX2 and could be my last year in Europe as well. This could be my final shot to win a world championship. There are a few guys who are going to be ?right there'; Tommy, Jeffrey and Arnaud will be good. I will have to put my head down and get the results every weekend.
HAPPY BIRTHDAY KIM: LOOKING FORWARD BY LOOKING BACK


Spanish motocross racer Joaquim Sunol turned 50 last week. To celebrate the happy occasion we want to show a photo of a young Joaquim collecting his purse money and Joaquim today. Of course, Joaquim is a plastic surgeon, so we could have the photos mixed up.