MOTOCROSS ACTION'S MID-WEEK REPORT BY JOHN BASHER
PHOTO OF THE WEEK
Massimo Zanzani captured this picturesque image of the Grand Prix finale in Mexico, sight of Jordi Tixier's 250 GP heroics.
250 TWO-STROKES OF THE MXA WRECKING CREW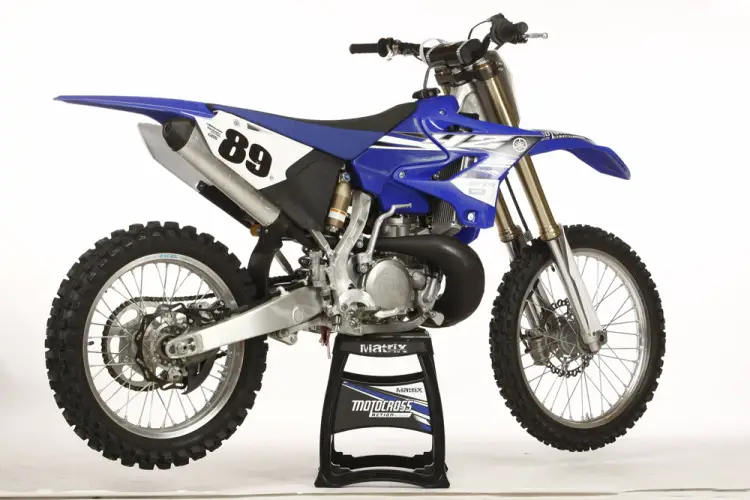 AND NOW FOR SOMETHING COMPLETELY DIFFERENT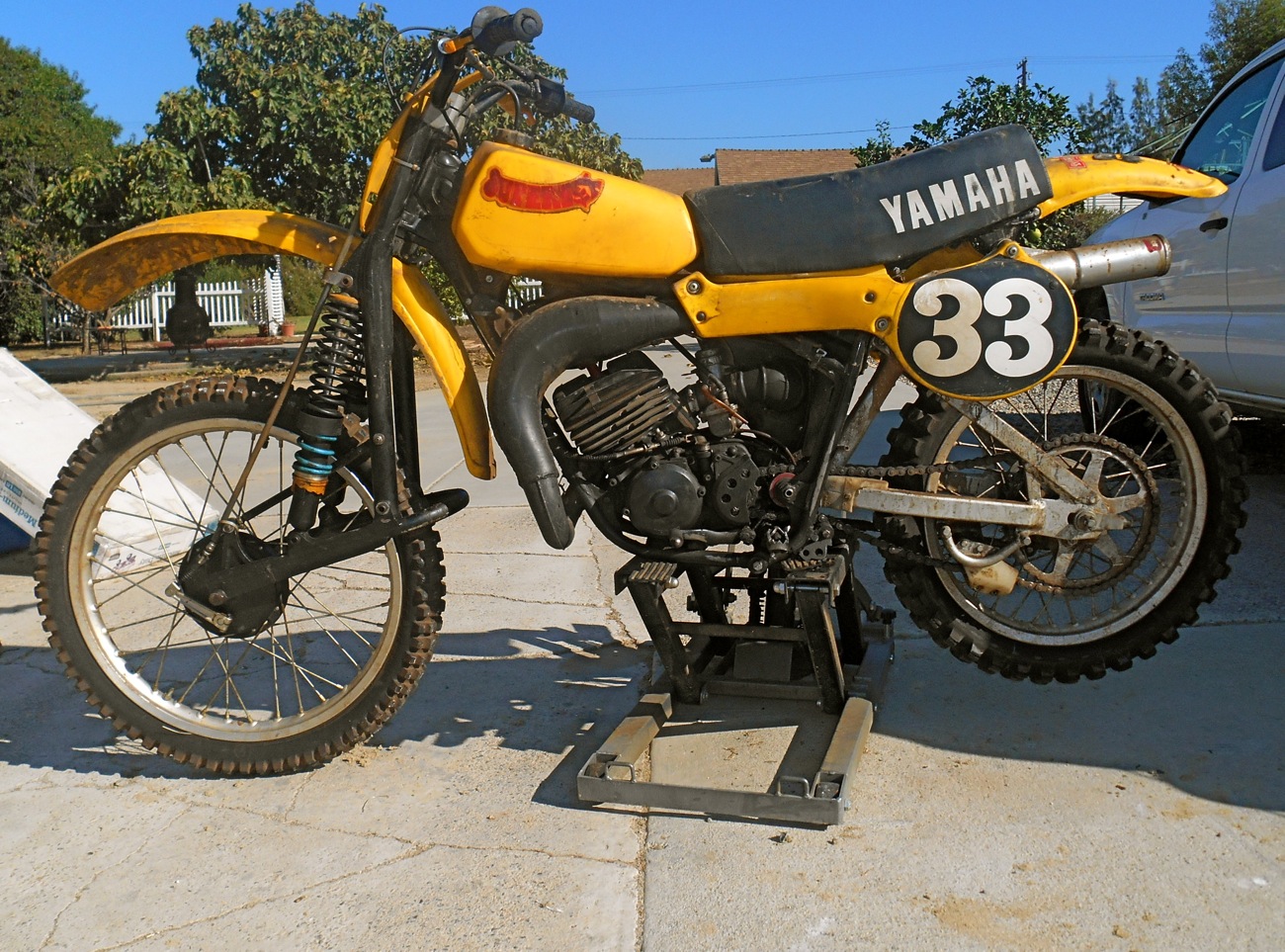 This 1979 Yamaha YZ125 has been in storage at MXA for 35 years. It's Thork leading link forks and Fox Airshox are probably worth more than the old beater. The faded decal on the tank says"Superfox." The front fender is twisted from leaning against a wall. Other than that it is dirty, but complete.
Here is the same bike as it was in 1979. By that we mean, dead on the side of the track at Saddleback with a much younger Jody contemplating shooting it to put it out of its misery. It spun the right side main bearing. Amazing, the stock IRC GS-45V tires in this photo are still on the bike in the photo above.
PROOF ONCE MORE THAT PASTRANA IS A NUT
KEN ROCZEN ON A SUZUKI
Okay, so these aren't photos of Ken Roczen on his RCH Racing Suzuki RM-Z450, but instead from his racing days with Teka Suzuki. Even so, you can imagine how stylish K-Roc will be aboard the yellow bike, evidenced by these photos from the 2010 Italian Grand Prix.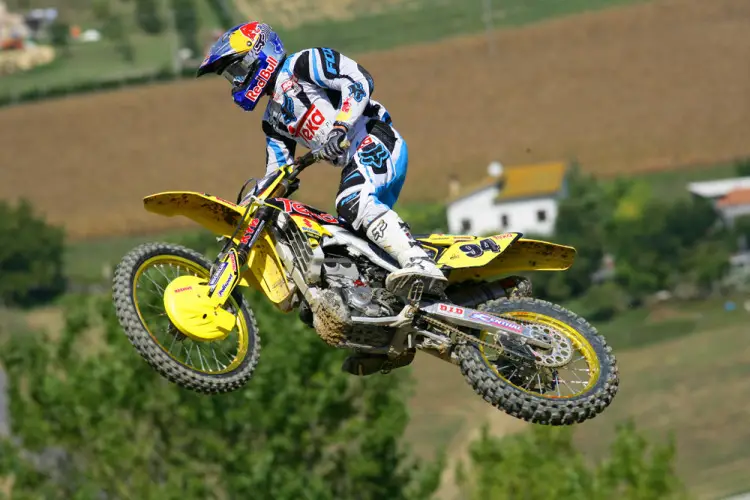 MXA VIDEO: 2015 YAMAHA TWO-STROKES

MANUFACTURER OF THE YEAR: KTM MOTORCYCLES
Tony Cairoli (left) and Jordi Tixier (right) helped lead KTM to a banner year. Photo by Massimo Zanzani.
Isn't it obvious? KTM, the powerhouse racing manufacturer, deserves credit for the impact they made on the world in 2014. In fact, they made every other brand look silly. Sure, titles were won by other manufacturers, but not with nearly as much regularity as KTM. Need proof?
450 National Champ – KTM…Ken Roczen (Ryan Dungey second in points)
450 Supercross Champ – Kawasaki…Ryan Villopoto (Ryan Dungey second)
250 National Champ – Yamaha…Jeremy Martin
250 East Supercross Champ – Honda…Justin Bogle
250 West Supercross Champ – KTM…Jason Anderson
450 Grand Prix Champ – KTM…Tony Cairoli
250 Grand Prix Champ – KTM…Jordi Tixier (Jeffrey Herlings second in points)
GNCC Champ – KTM…Kailub Russell
It doesn't appear that KTM will be knocked off the top step of the podium any time soon. With Ryan Dungey, Tony Cairoli, Jeffrey Herlings and Marvin Musquin riding orange in 2015, along with talents like Dean Wilson, Justin Hill, and the Troy Lee Designs team, the future looks promising for the Austrian manufacturer. There has only been one major setback in the arm's race for 2015–the loss of Ken Roczen to Suzuki. Time will tell if K-Roc's switch to yellow was a smart choice.
MINI PRODUCT TEST: WUBBANUB PACIFIER

WHAT IS IT? Do you have an infant? I do. In fact, I have a two-week-old son named Declan. He's a rad little guy, but from time to time he sobs like a girl at the end of The Notebook. Sometimes Declan sounds like a Cobra CX50 at full throttle because he has a messy diaper, restlessness, gas bubbles, hunger, or simply because he wants to drive me crazy. If you're in the same boat then the WubbaNub infant pacifier is for you. It stops Junior's screeching and keeps you from beating your head against a brick wall.
WHAT'S IT COST? $12.99.
CONTACT? www.wubbanub.com or your local child care store.
WHAT STANDS OUT? Here's a list of things that stand out with the WubbaNub infant pacifier.
(1) Pacifier. Let's face it, you're buying a WubbaNub because of the rubber cork that's getting put inside baby's mouth. While the stuffed animal that's attached to the pacifier is cutesy, it's really all about the mouth silencer. Additionally, pacifier use among infants has been proven to reduce the risk of SIDS (Sudden Infant Death Sydrome).
(2) Stuffed animal. The WubbaNub infant pacifier gets a lot of attention because of the super-duper, pinch me I'm cute stuffed animal that's attached to the pacifier. Casual observers will love the baby giraffe, elephant, little lamp, pink kitty, little lion, green frog more blue bear that looks like it's making out with your kid, but it's really more than that. The stuffed animal is a great way for your baby to hold on to the pacifier. Ta da! See, it's more than just a spit-up catcher.
(3) Performance. This is baby tested, father approved. I'd have a lot more gray hair if my wife never begged me to buy WubbaNubs for my boys. Nicknamed "Wubbs," it has saved my hearing and prevented several nervous breakdowns. For best results I recommend coaxing it into a screaming kid's mouth while whispering, "It's only a few more months until you stop crying endlessly and Daddy can finally get some sleep."
WHAT'S THE SQUAWK? More of a quibble relating to the child than the WubbaNub, but it would be nice if the little stuffed animal could also change diapers. Maybe the next generation Wubba will be more father-friendly.
I'd pay twice as much for a WubbaNub, because it keeps my son from screaming bloody murder in the wee hours of the morning. This is the ultimate silencer for your kid.
TAKE-OUT SEQUENCE: WHERE TWO BECOME ONE
MXA's GP photog Massimo Zanzani captured 250 Grand Prix  racer Dylan Ferrandis introducing himself to Jose Butron's front end in Brazil.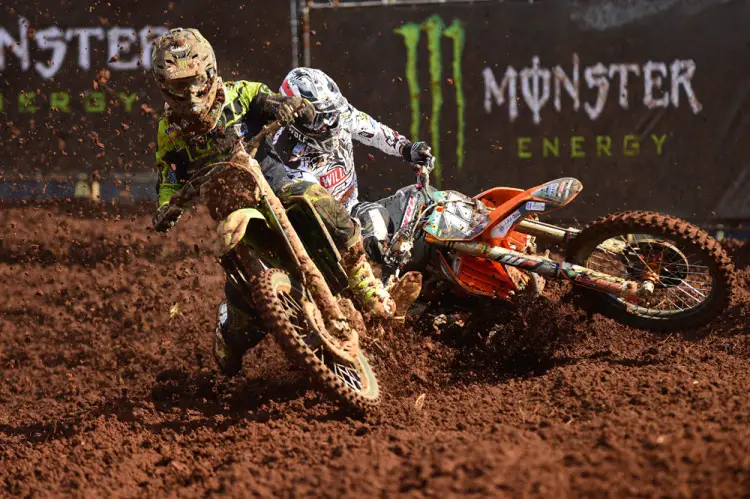 RIDE ON BOARD WITH ROBBY BELL
BIG NAME AFTERMARKET COMPANIES ARE LOOKING TO SPONSOR YOU
All you have to do is put your application on Hookit

Press release: Twin Air, Moto Master, JT Sprockets, TMV and Scar Racing, all under the Dominus Corporation umbrella, announce their 2015 Sponsorship Programs powered by Hookit, and are taking applications for amateur sponsorship for the 2015 season for moto and off road athletes. Designed as a one-stop digital tool Hookit technology can filter through applications making it easy for us to sponsor and reward amateur athletes with discounts, while tracking their reach, commitment and performance in moto and off road.
"Hookit not only allows us to effectively grow our grassroots initiatives, but allows us to identify future talent that are seeking support while giving riders a platform to track progression, get exposure and earn deals on products," Jeremy Garges, Brand Manager. For more information and specific requirements visit Twin Air, Moto-Master, JT Sprockets, TMV and/or Scar Racing sponsorship programs visit:
Twin Air Hookit Profile: http://www.hookit.com/brands/twinair1/
Moto Master Hookit Profile: http://www.hookit.com/brands/motomaster/
JT Sprockets Hookit Profile: http://www.hookit.com/brands/jtsprockets/
TMV Hookit Profile: http://www.hookit.com/brands/tmv1/
Scar Racing Hookit Profile: http://www.hookit.com/brands/scarracing/
YAMAHA & JGR CONTINUE RELATIONSHIP — BARCIA & PEICK START ONE

Press release: Yamaha Motor Corporation, USA is pleased to announce the extension of our relationship with Joe Gibbs Racing (JGRMX) through a new contract that will see the successful team race YZ450Fs in both the AMA Supercross and Outdoor series for at least the next two years. On top of that, Yamaha is proud to welcome two new riders to the Yamaha JGRMX family.
After an illustrious amateur career, Justin Barcia started off his professional career with a bang, winning the AMA Rookie of the Year award in 2009. He followed that early success with two 250SX East Coast Championships. That same success followed Barcia when he moved up to the 450 Class, as he won two 450SX Supercross races in his first season and took home the 2013 AMA 450 Class Rookie of the Year award. Already a proven winner with an intensity that is unrivaled, Barcia is looking forward to the start of the 2015 Season.
"I have met everyone over at Joe Gibbs Racing and already feel like part of the family, I am excited to start riding and training for the 2015 season," said Justin Barcia, who has been recovering from ankle surgery earlier in the season.
Joining Barcia on the Toyota/Yamaha/JGRMX team is perennial underdog fan favorite Weston Peick. A long-time Yamaha rider Weston had a breakthrough season in 2014 and looks forward to carrying that momentum into the 2015 season now that he's back on a YZ450F.
"I couldn't be more excited to see what the future holds for the Toyota/Yamaha/JGRMX team. With Barcia and Peick under the tent and the improved 2015 YZ450F at their disposal it should be a very exciting year," said Yamaha Motor Co. Racing Division Manager, Keith McCarty.