MXA TEAM TESTED: STEG PEGZ
MXA TEAM TESTED: STEG PEGZ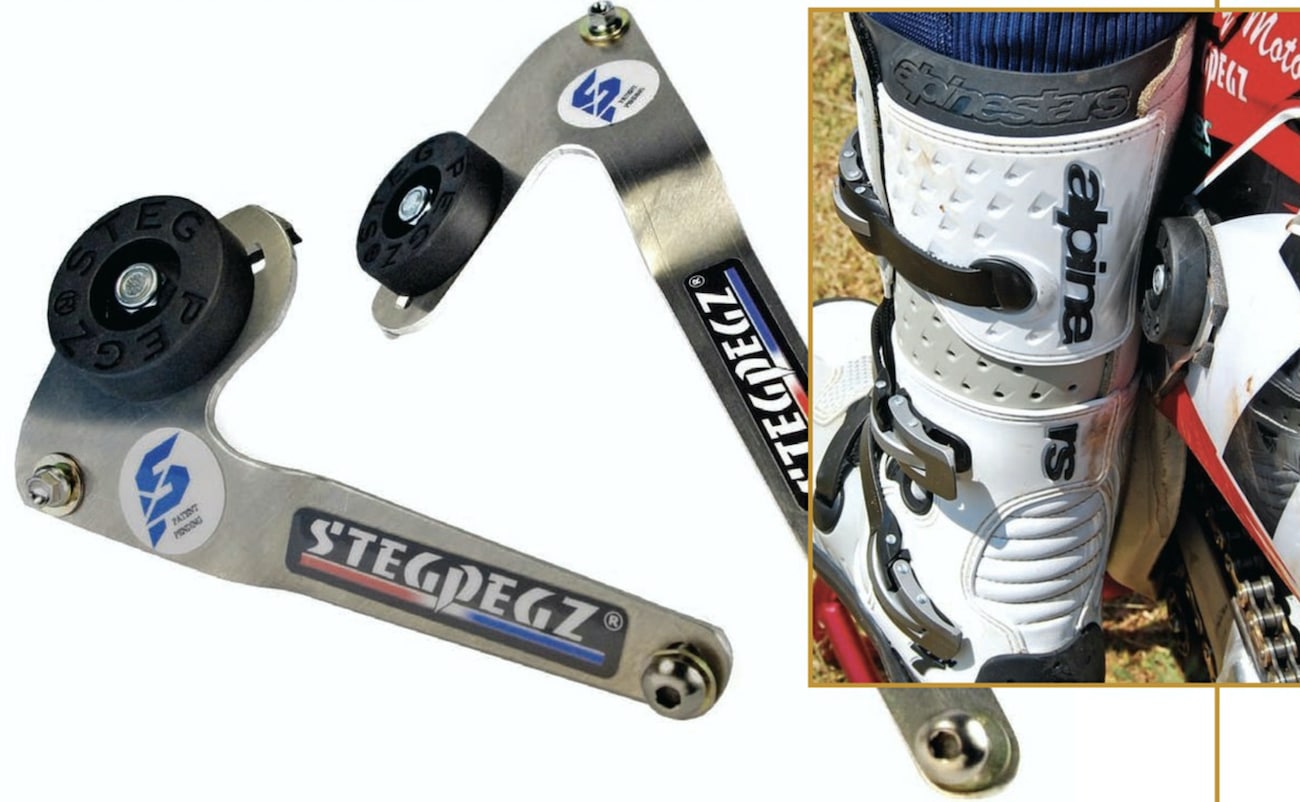 WHAT IS IT? Steg Pegz are imported from Australia by Brap Offroad. Steg Pegz bolt to your bike and are designed to take pressure off your arms.
WHAT'S IT COST? $154.95 (Steg Pegz kit), $34.95 (replacement pucks), $29.95 (puck spacers for up to 12mm more puck width)
CONTACT? www.brapoffroad.com or (717) 285-7873.
WHAT STANDS OUT? Here's a list of things that stand out with the Steg Pegz.
(1) Concept. Steg Pegz are, in essence, rubber pucks that look like skateboard wheels. They attach to your bike's side panels on aluminum brackets. Steg Pegz's rubber pucks are designed to allow the rider to rest the back of his bootss against the pucks so that he doesn't have to hang on to the handlebars as tightly. In theory, this should keep your body forward on the bike under acceleration without having to use much upper-body strength.
(2) Installation. Steg Pegz are made for every major brand, and they come with the necessary mounting hardware and bolt into already existing holes.
(3) Adjustment. The Steg Pegz are completely adjustable. The rubber pucks can be moved back and forth in a slot. We recommend starting with the pucks in the middle of the slot. During the first few rides, you will want to move the pucks all the way back, as they feel foreign. But, stick with the middle position, because the more you ride with them, the more adept you will become at using them. Leg length, riding style and personal preference play a big role in where to position the pucks.
(4) Performance. We will admit that the first time we rode with the Steg Pegz we were uncomfortable. But the more we rode, the more we liked them. When you use them correctly, you are able to take weight off your arms under acceleration. In fact, several test riders wanted thicker pucks so that they could find them easier. Initially, we feared that our boots might get caught on the pucks. One tester got his pants momentarily stuck on the exposed 8mm hex-head bolt, but a button-head Allen bolt solved that issue.
(5) Wear. We actually wore the edges off the pucks—much like rounding off the knobs on a tire. Replacement pucks are $39.99. We think that the average rider could get a year's use out of the pucks before having to replace them.
WHAT'S THE SQUAWK?  We want Steg Pegz to offer different thicknesses of pucks, but instead they offer a spacer kit that allows you to make the pucks as much as 12mm wider.
WHAT DO WE REALLY THINK?
The Steg Pegz did exactly what they were designed to do. And, yes, we were surprised!