JOHN BASHER'S YAMAHA YZ125 LOVE STORY
By John Basher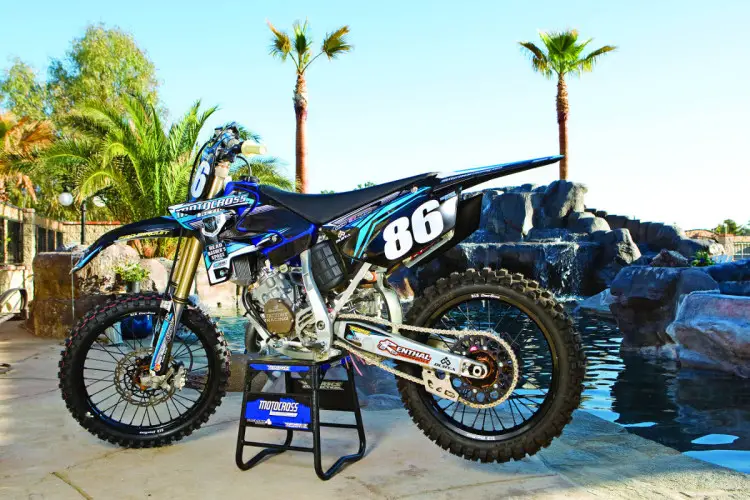 It was a forbidden tryst. Awkward at the very least and absurd in theory, I had fallen in love with something rare. Imagine me, 6 foot 1 and 175 pounds, becoming weak at the knees whenever I heard her murmur. She was high-strung and moody, qualities that most men avoid like the bubonic plague. To me, it was a siren's call. I was captivated by desire. I longingly gazed the first time I laid eyes on her, imagining what could be. The possibilities were endless!
I have the uncanny ability to spot a diamond in the rough, even though her outward appearance would suggest that she was frumpy. There were very few distinguishing features, and those that were noteworthy showed her age. Worse yet, the poor girl looked dejected. She didn't exude the quiet confidence that she had emanated some years ago when gentlemen callers were interested. Time and tide wait for no man, or, in this case, my fair lady.
I believed that tender-loving care would resurrect her from the clutches of mediocrity. To be blunt, she needed a makeover. The cover-up and blush that women get at the make-up boutique at the mall wouldn't do. My doll needed revitalization that started from deep-down within. There's a fine line between an overhaul and completely shifting one's personality. I wanted my girl to be timeless, like Kate Beckinsale rather than a Pamela Anderson type. It wouldn't be easy. Just like treading lightly when your wife asks you, "Do I look fat in these jeans?" I had to be careful. One wrong move and my darling's love would take a swift turn down resentment road.
By the time I was neck deep in my own "Project Runway," I could sense that there was tension in the air. My wife, Hope, was initially supportive. Yet, time eroded her understanding of my fling. Hope thought that I was spending too much time with the other girl in my life. My wife expressed her feelings by scowling and talking under her breath whenever I walked out to the garage.
I'll admit that I had gotten too attached. I acted like a tween with a crush. Daydreaming led to doodling in my notebook. Oh, the places we would visit! The adventures we could have! Yet, in my heart of hearts, I knew that this courtship wouldn't end well unless I backed off. Fighting my male instincts, I took things slowly. I had to put expensive purchases on the back burner. I'd skirt the weight talk, because my sweet girl was in shape. She didn't need to trim the fat. She was already supermodel skinny. As for looks? That subject had to be addressed, as I knew that a wardrobe change would give her confidence. There's nothing wrong with changing things up every now and then. At least she could step into an image that would fit in this century. So, I invested money where appropriate and didn't get stupid.
Those few weeks with her created memories that I'll cherish forever. There was magic in the air. We could be anything we wanted. Nothing mattered, just as long as we had one another. Everyone else saw what we had, and they were jealous. Her crooning was incantational. Grown men praised her ability to bring back the joy of their youth.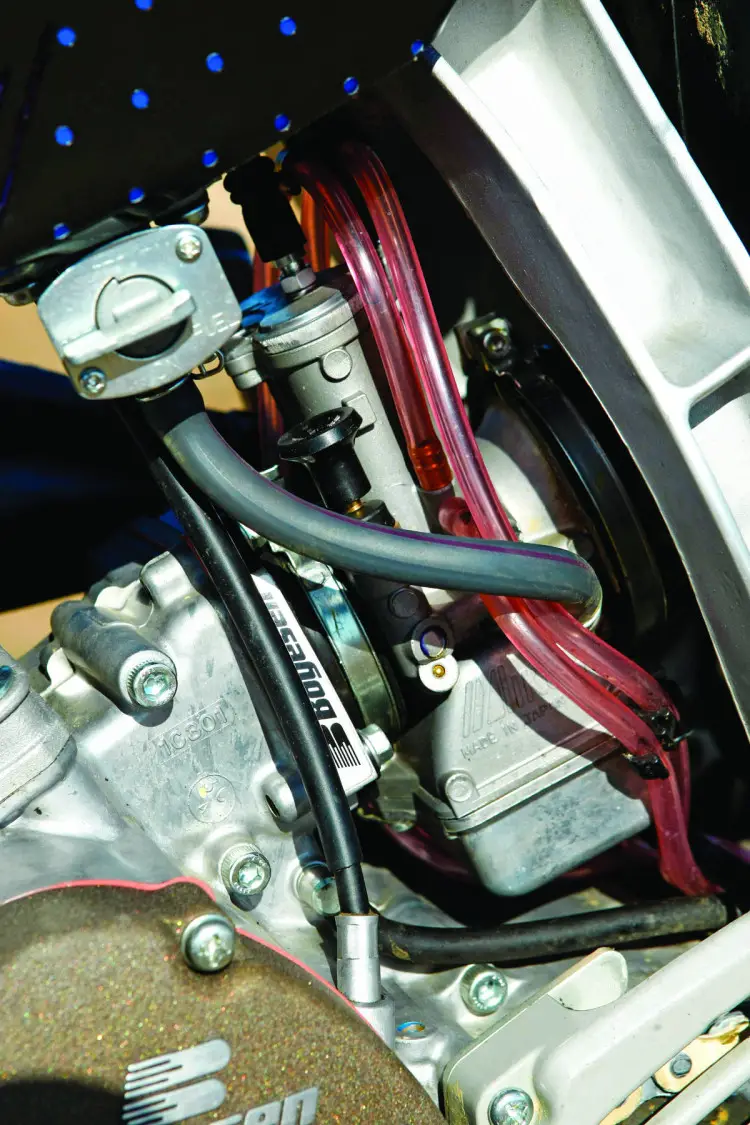 Sadly, my sweetheart couldn't handle the pressure of always being sweet and pretty in the eyes of so many. I refused to listen to her wailing, which didn't help. My doll required tender loving care, but in my joy I overlooked her needs. Still, I couldn't understand how the strain of trying to be beautiful caused her grief. She was well liked, though not entirely popular. My friends could see that she had put spunk in my step. Society, she felt, had labeled her old and ugly, even if she was dressed to the nines. Upon making that statement, my darling's left fork leg began to weep oil. And with that I had to forgive my project Yamaha YZ125 for being so weak-minded, though I would never forget her.
AN IDEA REALIZED
The demand for two-strokes has increased. It's easy to believe. The MXA wrecking crew has colorfully stated time and again that a two-stroke is the ultimate motocross bike for the average consumer. It is easier to work on, less expensive, has fewer moving parts and is incredibly fun to ride. Coincidentally, I have the MXA wrecking crew to blame for my deep love of four-strokes.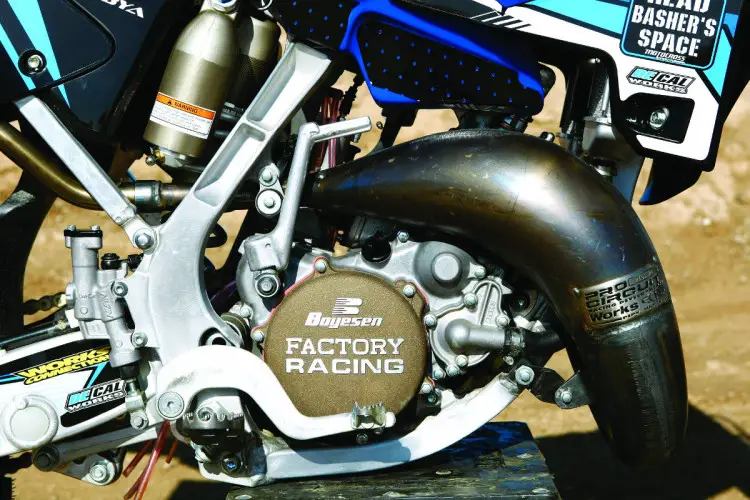 Back in 2002, while attending college in Rochester, New York, I desperately needed to escape the inclement weather. I phoned up my brother, Mike, who worked at MXA as an assistant editor at the time. A much-needed reprieve from the inclement weather of upstate New York was in order. I also yearned to race smack dab in the epicenter of the motocross world. I had a grand time with my brother during my stay in SoCal. Tourist attractions called my name. The beach and bronzed bodies opened my eyes to the California lifestyle. Of course, the best part of the trip was getting to race at Glen Helen. That's where I met Jody and the MXA gang. I suited up in brand-new gear and awaited Jody's instructions on which bike I could ride. Jody asked if I had any interest in racing the Yamaha YZ250F. With no prior experience on a modern four-stroke, I jumped at the opportunity.
At that time, the YZ250F was the only 250 four-stroke in production, and it was allowed to line up against 125 two-strokes. Off the start I grabbed the holeshot—something I was never able to do on my KTM 125SX—and powered away from the competition. I fanned the clutch and butchered the throttle, yet the YZ250F's power and ease of use afforded me mistakes. My mind was blown. After the race I exclaimed, "Four-strokes are for me! Two-strokes are lame!" How blind I was.
Granted, I had no choice. The AMA, with their outlandish displacement rule for four-strokes, effectively quashed the demand for two-strokes. Manufacturers saw the writing on the wall. Honda ditched their two-stroke effort, followed by Kawasaki and then Suzuki. For 2014, only Yamaha, Husqvarna and KTM sell two-strokes in the United States. That's sad.

They say that hindsight is 20/20. At the time I didn't much care that two-stroke sales were evaporating faster than rain in the Sahara. I was your average four-stroke fan. New technology was appealing. The two-stroke guard could live in the past. "Adapt or die" was my philosophy, and the smokers were living on borrowed time.
THEN A STRANGE THING HAPPENED

Then a strange thing happened. The economy went belly-up. People didn't want to spend their hard-earned money on a new motorcycle. They were struggling to keep food on the table. Hobbies had to be put on hold. When the economy finally started to dig itself out of the trench it was in for several years, public opinion had changed. Riders burned by a blown-up four-stroke were tentative to reinvest. It's the whole "Fool me once, shame on you. Fool me twice, shame on me" mentality. Instead, people started buying two-strokes. Used, abused or new, it didn't matter.
My love for two-strokes was reignited a few seasons ago. REM, the weekly motocross race series at Glen Helen, decided to create a 125 two-stroke Adult class. The prospect of grown men banging bars on antiquated machinery was appealing to me. It seemed like the super-sized version of friends jamming around on 50cc play bikes. I signed up and instantly became hooked. It was the most fun I ever had on a two-stroke. Sadly, I had to retire the 125 two-stroke after a few race weekends, because other testing obligations called. It was back to testing boring four-strokes for me.
Glen Helen used to hold an annual World Four-Stroke Championship. This was back when two-strokes ruled the tracks and four-strokes were taboo. Once four-strokes came into prominence, it was decided that a World Two-Stroke Championship was more appropriate. Last year the MXA wrecking crew sent a fleet of talent to the race. I watched from the sidelines as my AMA Pro compatriots churned up prime loam and had their two-smokers howling up and down Glen Helen's many hills. Their smiles convinced me to build my own special two-stroke project bike for this year's race.
THE YZ125 MAKEOVER
The Yamaha YZ125 hasn't seen any major revisions since 2005. We've beaten the YZ125 horse to death and done everything we possibly could to it. Why did I choose to revisit an old warrior? I have a soft spot in my heart for the YZ125. It has a solid engine and neutral chassis. Moreover, who can deny the amazing Kayaba SSS suspension? I was hooked on the Yamaha the moment I dreamed up the idea of building a two-stroke.
We've tested every big-bore YZ125 under the sun. I wasn't sold on any of them. Changing the dynamic of the engine left the powerband feeling chunky and abrupt. Pumping up the horsepower isn't always the best direction to take. Instead, I left the 2014 YZ125 engine stock and took a more conventional approach. A Pro Circuit pipe and silencer were easy choices. Those modifications boosted the powerband and gave the Yamaha a ferocious high-pitched squeal. I tapped into the air-induction area by adding a Boyesen Power Wing (for better airflow into the carburetor).
It made sense to replace the stock reed block for a high-performance Boyesen RAD valve. As for aesthetics, I replaced the cheap plastic ignition cover with a magnesium-colored Boyesen metal cover and opted for the matching clutch cover.
The YZ125 really hasn't been massaged by Yamaha's engineers in nearly a decade. UFO Plastic capitalized on Yamaha's complacency by designing plastics that matched the last generation's YZ250F. They took it a step further by offering the complete kit in blue, white, black and retro yellow. I opted for an all-black ensemble since I wanted the YZ125 to give off a stealthy, ninja-like vibe. DeCal Works understood my vision and created a complete graphics kit that complemented the black motif.
Black rims are commonplace, but the black rims get pockmarked over time. Silver is the better choice. Out of the crate, the YZ125 has silver rims, but the color didn't work for my creation. Instead, I used a Dubya wheelset with black rims and spokes with magnesium-colored hubs. I matched that with a black Renthal rear sprocket (and tacked on an extra tooth while I was at it). The Renthal gold chain added a splash of color.  Other Renthal products used were Kevlar grips and TwinWall handlebars.
I always like to use Works Connection products for my bike builds. Not only do they have a bunch of cool parts, but the fitment and installation are second to none. Works Connection provided axle blocks, a forged front-brake lever, radiator braces, brake caps and clutch perch assembly. It goes without saying that every part I could get in black was chosen.
I'm aware that the Yamaha YZ125 is the lightest big bike made. At 199 pounds, it is over 20 pounds lighter than a 250 four-stroke. That doesn't discount the need for an oversize front-brake rotor. I chose a Moto-Master 270mm kit, and not just because the brake hanger is black. The Moto-Master rotor provides excellent stopping power and modulation.
I wanted to wow the readers of MXA by going whole hog on my YZ125 bike build. I tried to get a titanium bolt kit to make the bike lighter. It didn't happen. An aluminum gas tank would have been trick. No such luck. The cylinder could have been ported by Mitch Payton, but he was busy winning Supercross races. Instead, I took an alternate approach. There's no reason to mess with a bike that has already been tuned to near perfection. I simply put the finishing touches on the Sistine Chapel.