TALLADEGA CRASH: THE WILDEST, LONGEST, FASTEST MOTOCROSS CRASH EVER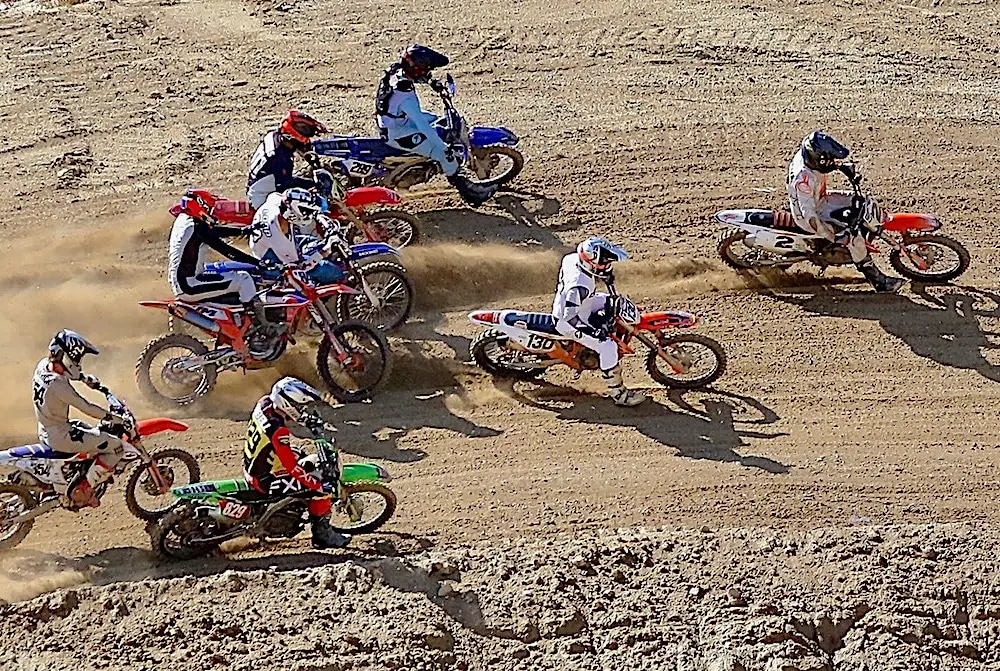 Dennis Stapleton (84) and Jeff Loop (229) cross handlebars midway into Glen Helen's Talladega first turn. As they struggle to separate, Dennis' handlebar catches in Loop's jersey. Kurt Nicoll (2) and Tony Amaradio (130) grab the lead. Debbi Tamietti shot this crash sequence from far away with a telephoto lens, so they aren't perfectly focused.
At the 2020 REM Octobercross on Saturday, MXA's Dennis Stapleton had won the first Pro moto outright and going into the second moto he knew that he needed to get a good start in moto two if he wanted to win the overall, especially if he wanted to beat Kurt Nicoll (2), Braden O'Neal (123), Jeff Loop (289), Tony Amaradio (130), Todd Sibell (829), Dylan Gaszak (354), Michael Smith (984) and Dana Dreier (289). There are historically very few crashes in Glen Helen's Talladega first turn, not only because it is steeply banked and a perfect 180-degree arc, but because the riders hit it at 70 mph and common sense  prevails.
As Loop and Stapleton continue to accelerate, Stapleton's left hand falls off the bars, which are caught in the crook of Loop's right arm.
Whether Stapleton drifted up or Loop came down, once the two riders were hooked together, they were just along for the ride. At this point Dennis is falling off the back of his KTM 450SXF, but unfortunately his throttle hand, which is still holding on, is jerking the throttle wide open.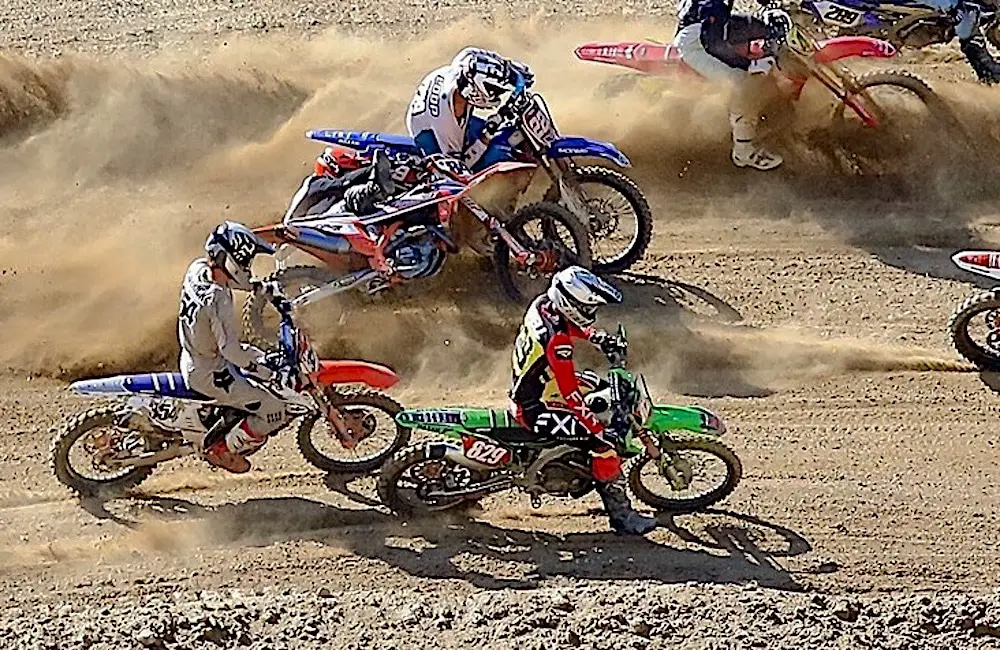 Dennis disappears down onto Jeff's Loop's spinning rear wheel, while the weight of Stapleton's KTM on Jeff Loop's right arm, not only pulls him into a tight crouch, but pulls Jeff's throttle hand wide open.

Dennis Stapleton is in big trouble at this point, his bike is being dragged out from under him, causing him to fall into the rear wheel of Jeff loop's YZ450. The KTM has lost traction in the rear and the only thing keeping it semi upright, is that Dennis' handlebar remains firmly connected to Jeff Loop right arm.  As for Loop the weight of the KTM is making him turn his throttle wide open.
Dennis Stapleton bounces off Jeff Loop's rear wheel and come dangerously close to having his head hit by Loop's rear tire.  Worse yet,  with Stapleton's handlebar still stuck on Jeff's left arm, the KTM's front wheel lifts off the ground as Loop struggles to maintain a straight line.

Dennis finally hits the ground, with his head almost under Jeff loop's rear wheel, meanwhile Loop is now in serious trouble as the persistent KTM handlebar refuses to come loose from Jeff's right arm. Luckily, as the KTM's front wheel is lifted off the ground that suddenly frees up Jeff's arm to take control of his bike.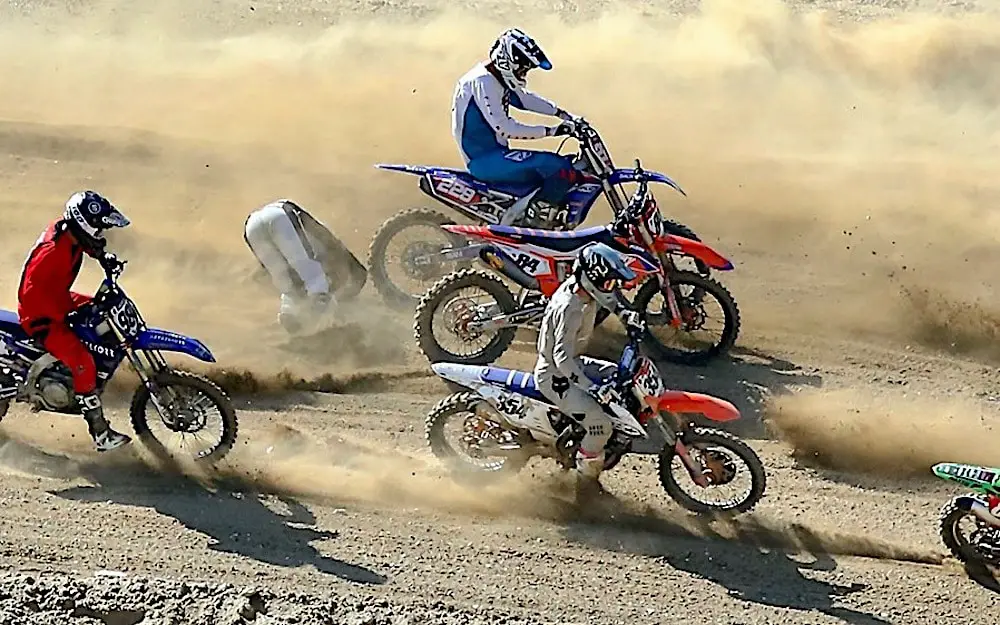 Dennis is finally ejected out of the back of the crash, but his KTM 450SXF has suddenly righted itself, and starts to race Jeff's YZ450F to the next part of the banked corner.

Dennis Stapleton, finally clear of the the two entangled bikes,  starts to tumble. It is estimated that Dennis and Jeff are still going about 50 mph (as the front runners haven't pulled that far ahead of the pair). They are both still in danger. Jeff Loop can't shake Stapleton's KTM as it accelerates alongside him as Talledega begins to turn into the right-hand arc of its bowl shape. As for Stapleton, he is now directly in the path of the uncoming traffic of the rest of the Pro class.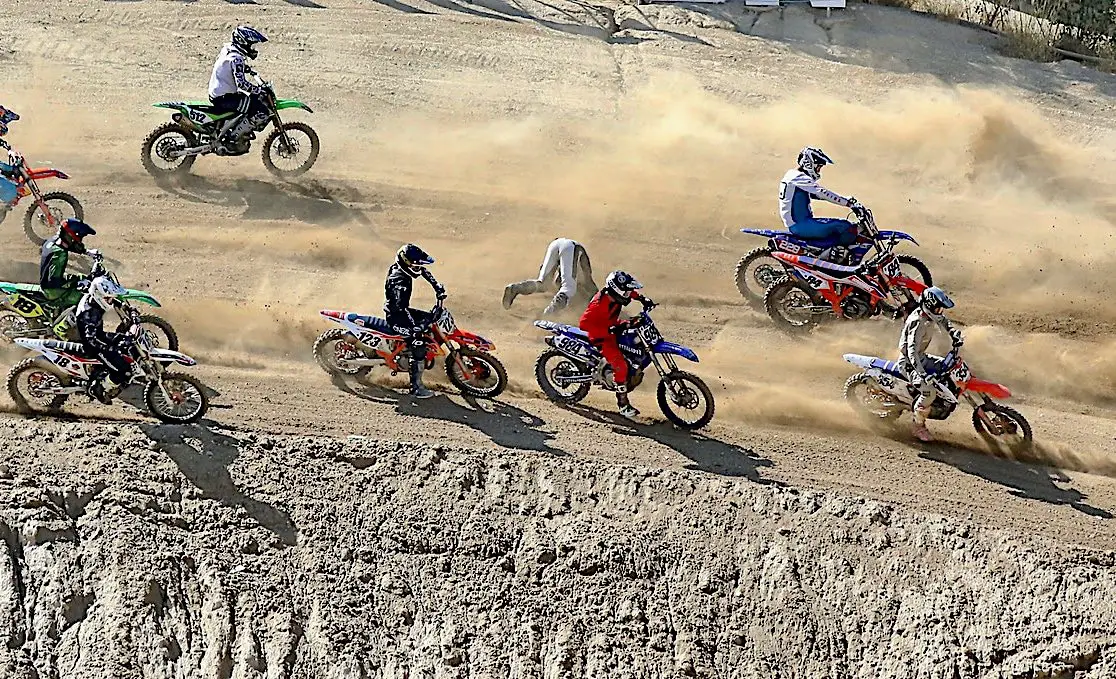 As the rest of the Pro pack catches up from behind, Dennis is going end over end as the other riders try to avoid hitting him. Jeff Loop is still trying to get away from Dennis' KTM, which amazing enough would continue the rest of the way around the first turn all by itself before falling over.

As the pack worked their way around Dennis, he got to his feet, no worse for wear, save for a large tire abrasion on his back from falling on Loop's rear wheel. His biggest problem was finding his bike, which had gone about 100 feet  down (around the corner). Dennis would remount and start a long chase from way back to catch up. He knew that after winning the first  moto, he could still make money if he could work his  into the pack. In the end Dennis did come back far enough to go 1-6 for fourth overall.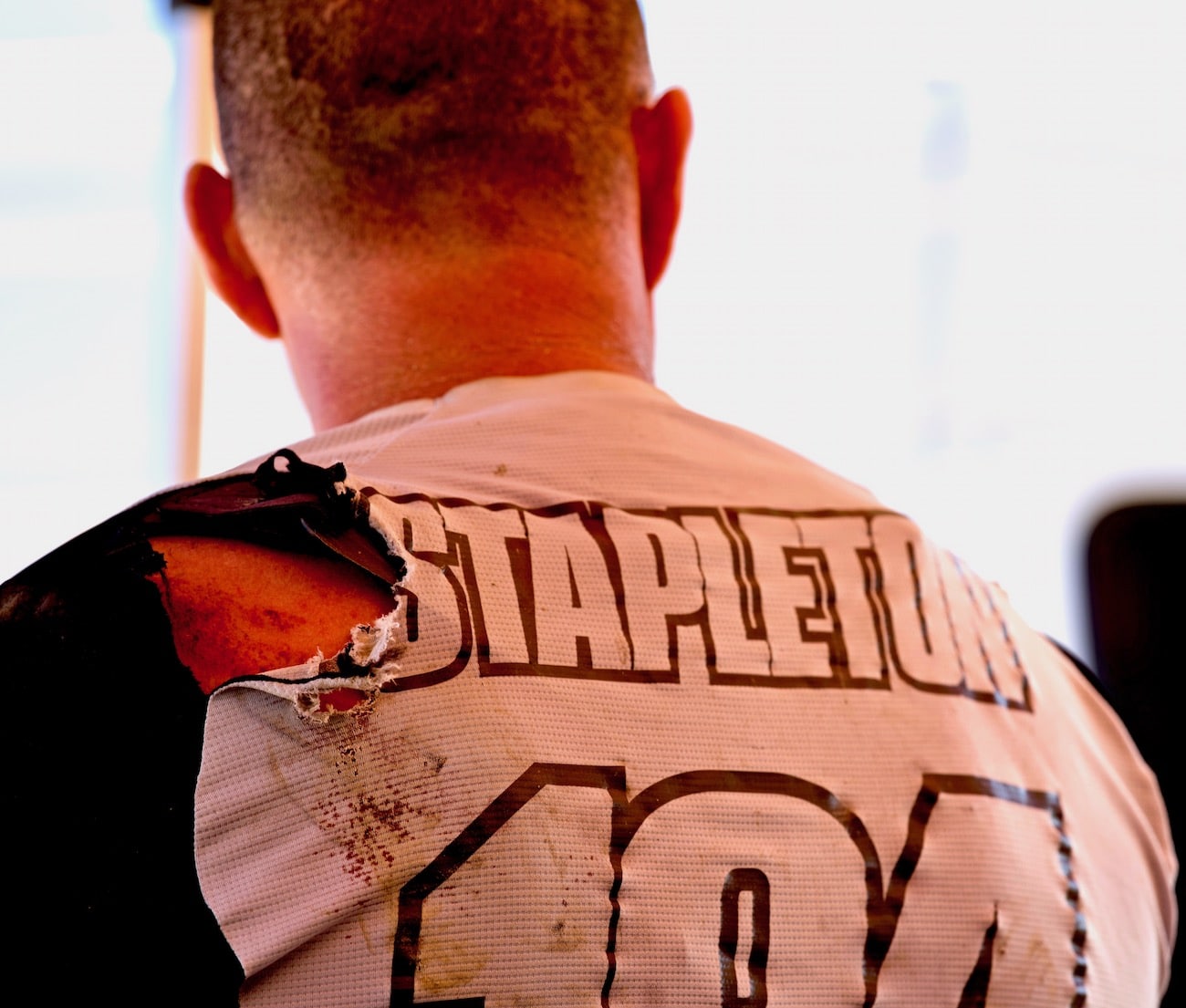 The abrasion on Dennis Stapleton's back was about ten times larger than the hole in his jersey as the blood seeping through the jersey proves. He was a very lucky boy. (Photo: Jon Ortner)
Dennis Stapleton rides virtually every day of the week and has had his fair share of crashes, but this one he will remember for a long time.