SHORTEST SHOOTOUT IN HISTORY: BITE-SIZE 2018 MXA 450 SHOOTOUT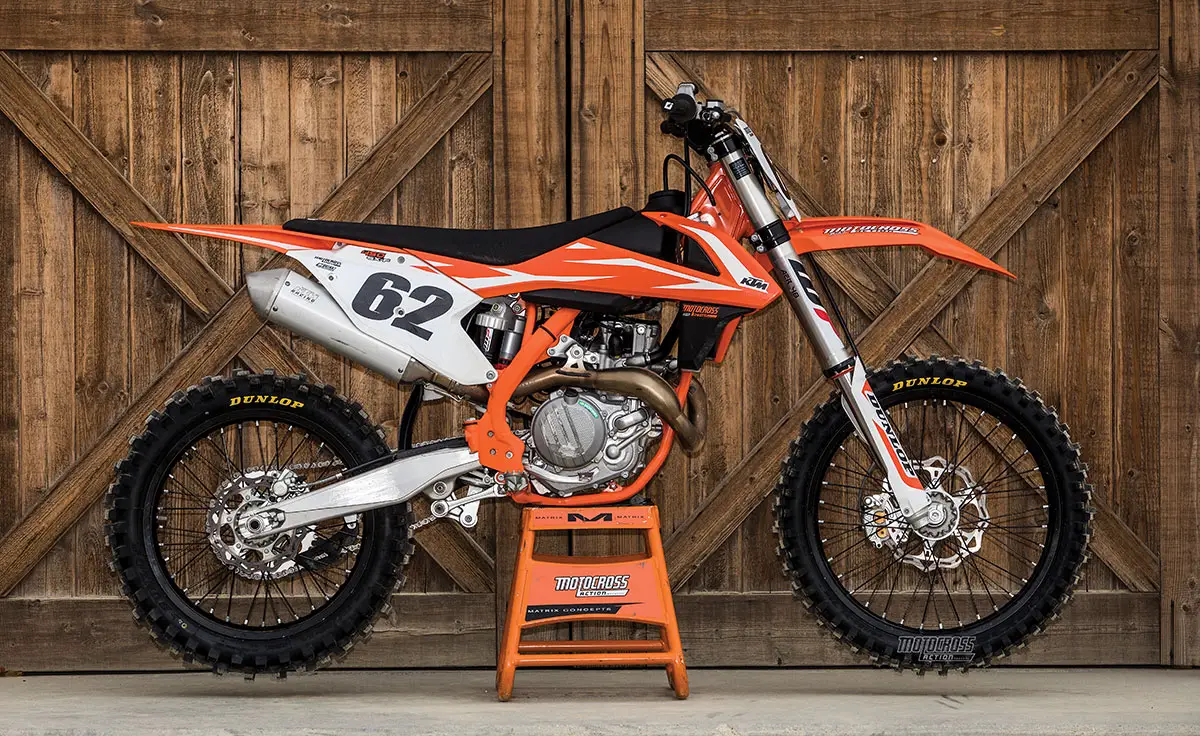 FIRST PLACE 2018 KTM 450SXF
You don't have to buy a 2018 KTM 450SXF, but you do need to know that this is the best 450 motocross bike made in 2018. No machine offers as many pluses and as few minuses as the 2018 KTM 450SXF. It has the broadest powerband with the longest pull. It has brakes that are one-finger-strong. It has a diaphragm hydraulic clutch that can be abused or misused without damage. It handles by virtue of mind control—think it and it does it. Its five-speed tranny never misses a shift. It has the most ingenious airbox ever designed. It has launch control, traction control and two push-button maps. Its WP air forks are simple to adjust, live with and tune. The KTM 450SXF is 19 pounds lighter than the RM-Z450, 18 pounds lighter than the CRF450, 17 pounds lighter than the YZ450F and 9 pounds lighter than the KX450F. Make no mistake about it; the KTM 450SXF wins this shootout.
SECOND PLACE (TIE) 2018 HUSQVARNA FC450
The 2018 Husqvarna FC450 rolls down the same assembly as the KTM 450SXF, so for all intents and purposes, it shares every mechanical piece with its orange brother. Where it differs mechanically is the airbox, muffler, brake rotors, hydraulic clutch, plastic and throttle response. In motion, these hard-part variations make the FC450's power delivery more manageable, the chassis more forgiving and the overall weight 2 pounds heavier. It is, in the simplest terms, a kinder, gentler version of the 2018 KTM 450SXF. It ties for second overall with the 2018 Honda CRF450, not because they are close to each other in performance, but because they are the polar opposite of each other. The Husqvarna is for motocross racers looking for a perfect-handling machine with a mellow 450cc powerband, super suspension, world-class brakes, light weight and all the rough edges knocked off. If you like the Husqvarna, you won't like the Honda and vice versa.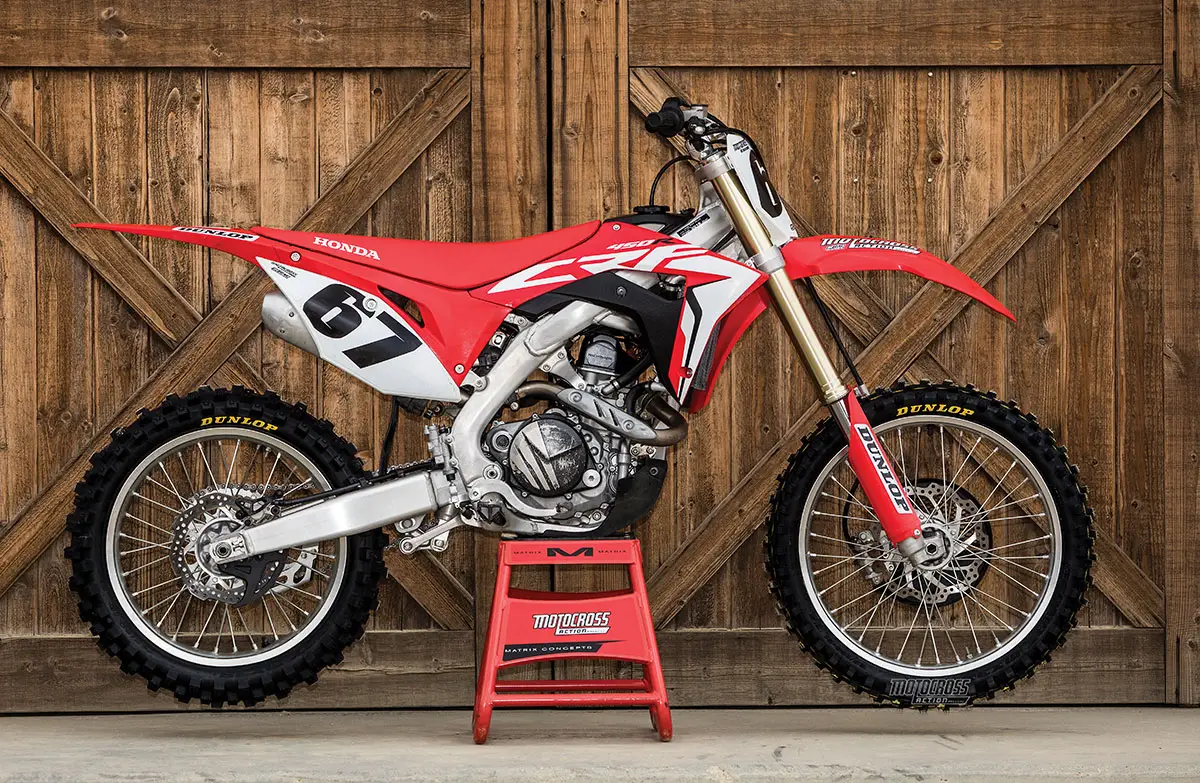 SECOND PLACE (TIE) 2018 HONDA CRF450
Let's not get too misty about the 2018 Honda CRF450. In truth, it is the exact same bike as the 2017 CRF450 with stiffer springs, a new map, electric starter and 7 extra pounds. So why does it tie for second place with the Husqvarna? Because it is the best bike for riders looking for something different from the KTM/Husqvarna DNA. The 2018 Honda CRF450 powerband hits harder than the Husky's, and while it doesn't pull as far, it's livelier into the midrange. The handling is quicker and quirkier than the Husqvarna's. Whereas the FC450 chassis is forgiving and absorbent, the CRF450 chassis is rigid and aggressive. The rigidity works over the rider more in the rough but produces a cut-and-thrust style of handling. Its best trait is at turn-in where it can knife into any inside line. Conversely, the CRF450 doesn't have the brakes, clutch, forks or light weight of the Husky, but it has personality galore. It also has weight galore at 240 pounds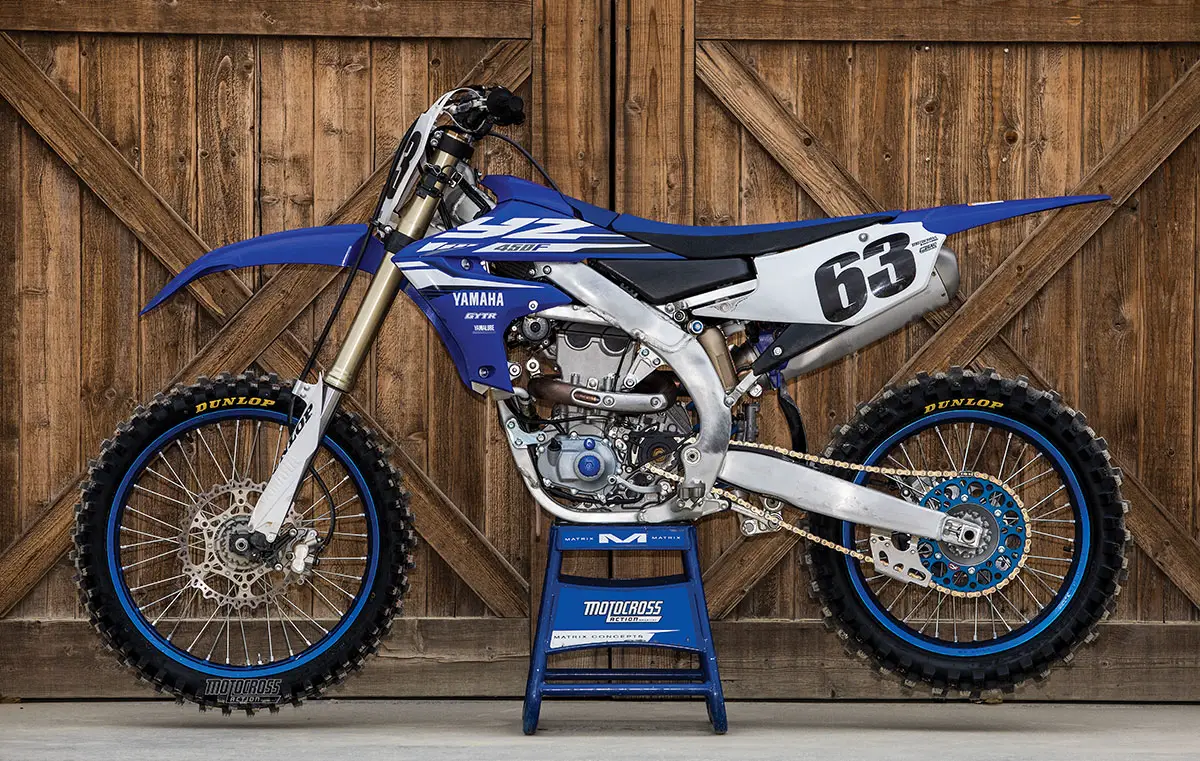 FOURTH PLACE 2018 YAMAHA YZ450F
There is no reason to gloss over it. A strong contingent of MXA test riders found fault with the 2018 Yamaha YZ450F, while the minority loved it. The YZ450F jumped up and down on the MXA rankings based on one factor—whether or not the test rider was a Yamaha fan. Every MXA test rider who liked the previous jumbo-sized, poor-turning, two-stage-powerband, 2014–2017 YZ450Fs liked the 2018 YZ450F. As well they should, because the 2018 YZ450F is a better bike. It has a more unified powerband than last year and is narrower at the fuel tank than before. Best of all, it turns-in better than any previous YZ450F. This singular superlative is what loyal Yamaha YZ450F riders liked most about it. When you add in the great Kayaba SSS suspension, you get a better machine. No test riders hated the electric starter, but their love was muted by the fact that the all-new 2018 YZ450F actually gained weight because of the magic button. How much does it weigh? A portly 239 pounds.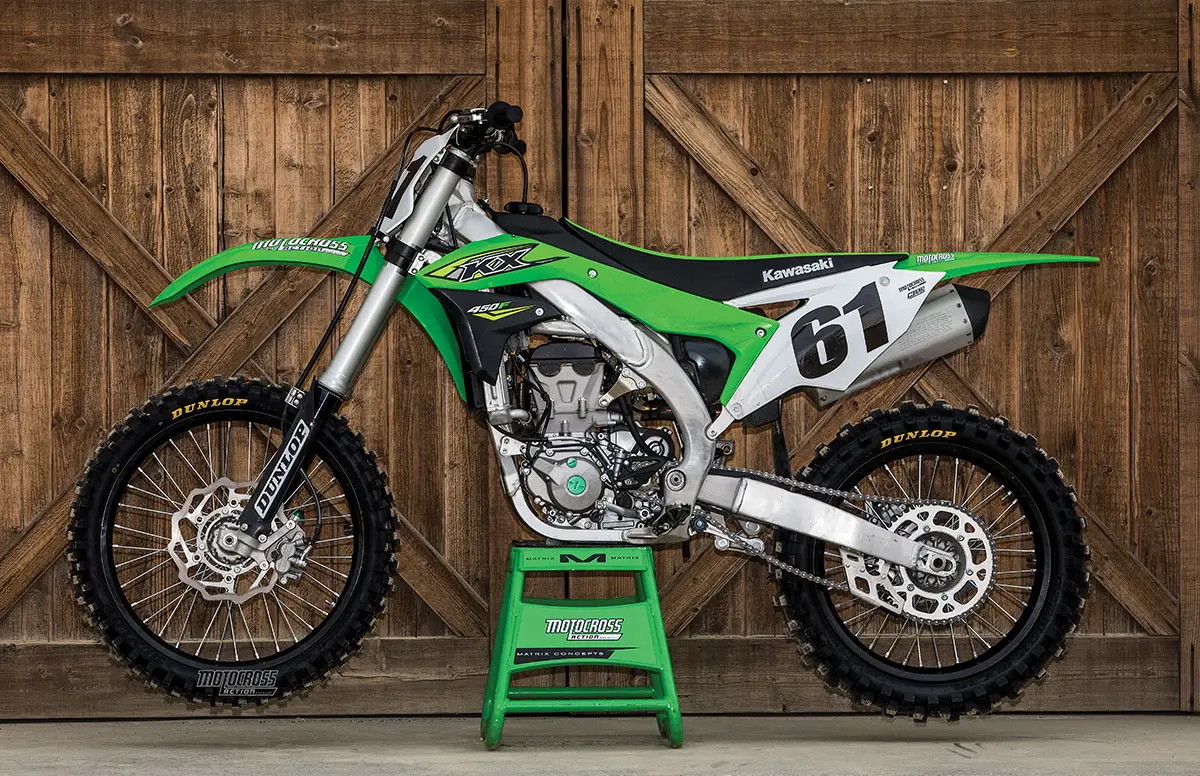 FIFTH PLACE 2018 KAWASAKI KX450F
The 2018 Kawasaki KX450F is a nice bike, and it is probably better, in the right hands, than its fifth place in the "2018 MXA 450 Shootout" would lead you to believe. Most MXA test riders admire the KX450F. It is the best KX450F in years, but the 2018 KX-F is caught in a time warp, some of which is of Kawasaki's own making. First, the 2018 KX450F is just a warmed-over 2017 bike with 2018 graphics. In a year when every other brand made changes, some of them wholesale, Kawasaki's rehash was not too well played. Second, if there were any time in history not to have Showa TAC air forks on your bike, 2018 is it. Consumers have spoken with their wallets about their dislike of TAC forks—Kawasaki must not have gotten the memo. Third, Kawasaki chose not to make changes for 2018 because of budget constraints. Kawasaki has an all-new 2019 model waiting in the wings, so it knew there was no way it would win any 2018 shootouts.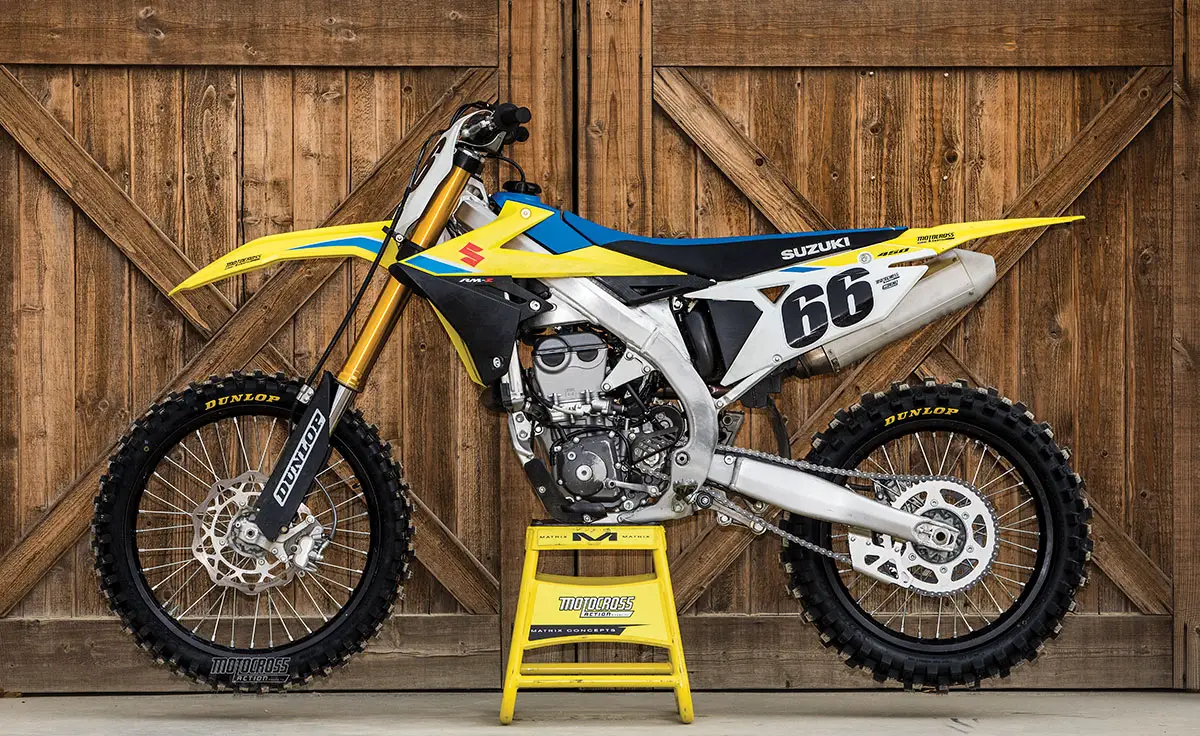 SIXTH  PLACE 2018 SUZUKI RM-Z450
MXA thinks that given another year of R&D time, Suzuki could have done a much better job on the 2018 Suzuki RM-Z450. It has the feel of a bike that was rushed out of the prototype stage too soon. It needed more real-world testing. As is, this is a bike that will only sell to Suzuki loyalists. That's sad, because launching a new bike is a multi-million-dollar investment, and Suzuki could have done so much better. The RM-Z450 is a confused machine. For example, the 2018 Suzuki RM-Z450 has great power placement, but it makes the least horsepower of any 450 sold in 2018. It still has its fabled cornering prowess, but the overall chassis is so far out of balance that even that Suzuki trademark is muted. It returned to coil-spring forks and introduced the BFRC shock absorber, but its overall suspension rating is hampered by poor setup. And, even without adding electric starting, the newly designed RM-Z450 gained enough weight to make it the heaviest bike sold at 241 pounds.
If you want to read the complete 2018 MXA 450 Shootout in more detail Click Here