TWO-STROKE TEST: A CLOSE-UP LOOK AT MXA'S FULL-RACE KTM 300XC MOTOCROSS BIKE

The MXA wrecking crew started out testing he stock 2012 KTM 300XC. That test is out in the February issue of MXA. It is an alll-encompassing look of the stock bike (but it will cover the basic mods needed to turn the 300XC into an 300SX). Then, new March issue, we have a test of our completely modified 300XC. We have been racing the bike in various forms since October and have learned a lot about the jetting, suspension, gearing, spring rates, bar mounts, fuel capacity and setup. We learn a little bit more with each race. We have included several photos of what our project bike looks like …and one of what it looked like off the showroom floor. This should start your motor.


MXA's mods included revalved suspension (front and rear), stiffer springs (front and rear), longer shock linkage, pipe and silencer, small gas tank, lower gearing (quite a bit lower), different bar mounts (with the stock Renthal bars) and DeCal Works graphics. For unknown reasons, some 300XC's come with 14-tooth countershaft sprockets and some come with 13s. If you bike has a 13, run a 49 or 50-tooth rear sprocket for motocross, but if it has a 14, run a 52-tooth rear sprocket. We have some test riders who choose to gear it 14/49 to try to use first, second and third instead of second, third and fourth. The gearing is an issue, but it is one that you will have to work through for your personal tastes and tracks.


The 300XC is the largest displacement two-stroke still offered by the Big Five (of which only Yamaha and KTM offer two-strokes). It comes equipped with a torquier powerband than the 250SX, electric starter, six-speed gearbox and the same frame geometry as the 250SX.


This is the showroom stock 2012 KTM 300XC. Considered by many as the best all-around dirt bike made, the MXA wrecking crew wanted to build a motocross version to take advantage of the big-bore engine. We removed the big gas tank and side stand.

We try to race the 2012 KTM 300XC stock, but it wasn't stiff enough for motocross. The gas tank and 18-inch rear wheel weren't major issues, but we did change them.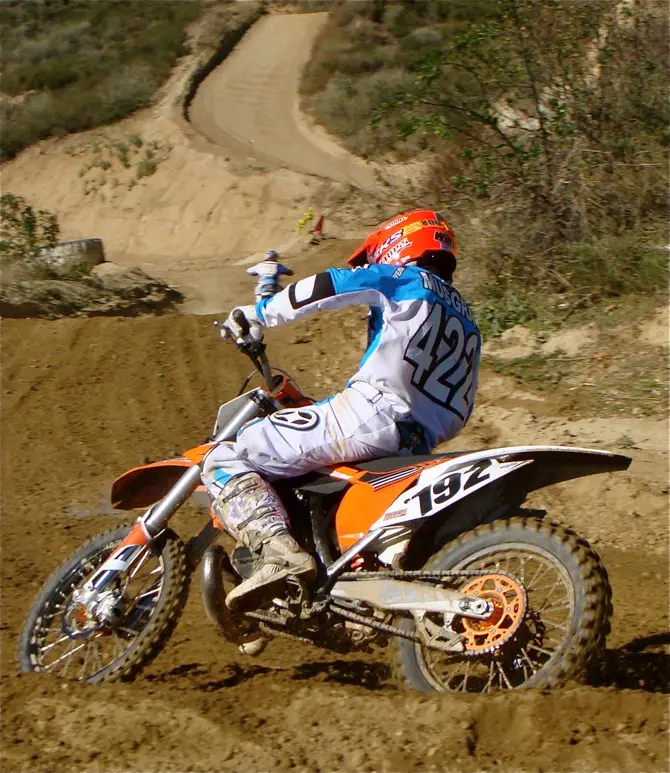 This is what it looks like in race trim with revalved suspension, small tank, 19-inch rear wheel, new gearing, Pro Circuit pipe and lower linkage.If you want to read more about MXA's 300XC project bike pick up the March 2012 issue (the one with Roger DeCoster on the cover).