The YZ450F brings a new look for 2023!
"I chose the Yamaha YZ125 because it had been basically the same since 2005. I know lots of people criticize Yamaha for not making a new YZ125 and YZ250 every couple of years, but the fact that they don't change is why I wanted one."
The wild and wacky story of how Yamaha got into the dirt bike business and the cast of characters that made it a success
The 2022 Yamaha YZ250 got a much-needed facelift, but the lack of engine upgrades or weight savings means that the new YZ250 didn't close the power gap on the 2022 KTM 250SX
When WORCS went to Lake Havasu, MXA knew it would be the place to test our YZ450FX and CRF450RX cross-country bikes, even if we had to ride through the lake
Not just one of Stefan Everts Championship bikes, but both of them at the same track on the same day
Yamaha has updated their YZ85 and added a new model to their production line, the YZ85 Big Wheel. We shake down these new bikes here
What are the pros and cons of the tried-and-true YZ125 versus the all-new 2022 version? We break them down here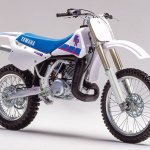 Some times a stop gap measure is the only measure that can work when you start too late
MXA'S Daryl Ecklund didn't just ride Febvre's Grand Prix YZ450FM, he got to ride it all by himself on the Maggiora track in Italy
When Yamaha introduced a brand-new YZ125 for 2022, it was imperative that we schedule the 125s for a rematch. Unfortunately, we couldn't get a 2022 TM 125MX because of COVID-related issues in Holland
Jamie Ellis, Dean Dickenson & Mitch Payton put our KTM, Husky & Yamaha 125s on remedial speed therapy — with video and something called "words"
Mike Alessi not only shows how to ride a YZ125 fast, but also how to build one that leaves no stone unturned
With Alex being just 5-foot-4 and weighing only 145 pounds, his bike featured raised footpegs, a cut-down subframe and lowered seat. MXA test riders are used to riding oddly configured race bikes, but Alex's custom tailored "rider triangle" was a challenge
The 2022 YZ125 better, but we were surprised by the direction that Yamaha went. The new 2022 Yamaha YZ125 is faster than the 2021 YZ125 but not as fast as we expected
Thanks to its Kayaba SSS suspension, incredible reliability and broad powerband, the YZ450F is a good value for guys who doesn't want to spend hard-earned cash post-purchase
For 2022, Yamaha focused its attention on the rear wheel and some modest updates to valving in the suspension department.
Garrett's ClubMX YZ250F was 9 pounds lighter than the stock 2022 YZ250F, which means it hit the scales at 218 pounds.
The Muc-Off FXR ClubMX Yamaha team gave us practically every detail about Garrett's bike. This is a privateer YZ250F that keeps up with the factory bikes
This year's MXA 250 four-stroke shootout includes seven race machines. MXA lived with these seven 250cc four-stroke bikes for months—racing them, working on them and deciphering each ones hidden code
This is the 450 Shootout that you have to read, but for the effort you will be rewarded with all you need to know about the 450 class of 2022
James Stewart's 2009 AMA Supercross-winning YZ450F is a piece of history, chock-full of personal touches that only James Stewart would like
How Chad Reed got to America in the first place—and the moves he made to insure that he became a moto icon
What are the best and worst aspects of the seven 250 motocross machines on the market? We dive into that and rank them from first to seventh here
It's finally here! We go in-depth on all seven 2022 450 four-stroke models in this full-feature video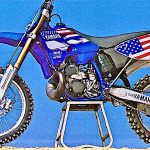 And, while we were there to ride John Dowd's MXDN YZ250, we decided to ride Doug Henry's YZ400 team bike also
We didn't expect it, but Yamaha went all-out on their new YZ125. How good is it? We break it all down for you right here
Finally, after remaining basically the same since 2006, the YZ250 has gained some significant upgrades. It's not "All-new," but it feels pretty new!
The three-speed tranny was not just for Supercross, Yamaha said they also ran the three-speed outdoors, but with a smaller rear sprocket.
We lined up tests on the three 1998 Motocross des Nations works bikes. It was a great test—even though the fairy tale didn't have a happy ending
How does the new YZ125 compare to the Husky 125? We put them head-to-head and break down all the details here
Test riders always make their jobs seem so hard, but watch these three and you'll see that it's hardly like working in the salt mines
The JGR Motocross team is the brainchild of Coy Gibbs, younger son of famous football coach and NASCAR race team owner Joe Gibbs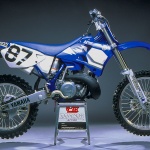 The 2000 Yamaha YZ250 was a seamless blend of usability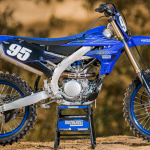 We breakdown the details on the successful Yamaha YZ250F and include a new map
The Yamaha YZ450F received some minor updates for 2022. Learn all about it here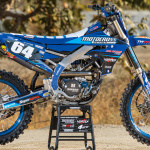 We cried a little bit when riding this bike for two reasons. (1) The reverberation noise was insanely loud due to the hopped-up engine and vented airbox cover (2) The power profile brought us tears of joy
We had come to ride the bike that Damon had used to win Anaheim, Houston, Pontiac, Charlotte, Los Angeles and Mt. Morris; why would we want to change anything?
Factory-prepped bikes evoke images of unbelievable power, superb handling, and razor-like control. Yet visually, Windham's YZ125 looked pretty much like the stock YZ125 that the MXA gang brought along for comparison
We flashback to when all the Japanese manufactures made two-stroke dirt bikes. This is the complete 2004 RM250 vs. YZ250 vs. CR250 vs. KX250 vs. KTM brawl
You didn't ask this is significant history, but we tested Brett Metcalfe's 2005 Yamaha of Troy YZ125 when it was the only smoker left on the track
We're thrilled that Yamaha updated the YZ250FX cross-country bike with better components and more thought than the original FXs. This is a big step up
The only one of the Big Four Janaoese brands to still build two-strokes, goes all-in on a new Yamaha YZ125, and a fresh remake of the rest of the line
The 2022 YZ125 gets a new cylinder, head, piston, piston pin, connecting rod, crankcase, expansion chamber, Hitachi Astemo Keihin PWK38S carburetor and 3D-map-controlled CDI
The YZ250 two-stroke receives an enhanced lightweight braking system, updated suspension settings, improved ergonomic design and modern YZ styling
Yamaha is stepping up to the little league plate in a big way
The new Yamaha's are here!
Jason Lawrence isn't your typical motocross rider (in any sense of the word). He has a very neutral riding position and tends to weight the back end of the bike more than the front.
Thinking about a new one-two-five? GasGas MC 125 versus Husvarna TC125 versus KTM 125SX versus TM 125MX versus Yamaha YZ125
Yamaha was the first motorcycle manufacturer to figure out that it's not how much power you make, but how you make it.
We breakdown the details on each of the 2021 125 Two-Strokes and rank them from fifth to first
The MXA wrecking crew had a very good time on Mike's Yamaha YZ134; we bonded with it; it encouraged our test riders, didn't punish them for mistakes and never talked back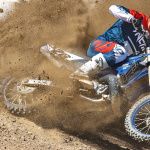 The best thing about the YZ250 is that Yamaha keeps making it. Yamaha's last Japanese two-stroke competitor said, "Sayonara" 12 years ago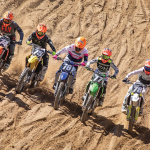 Breaking down the fastest 250 four-strokes — everything you need know, most of it applicable to your actual riding
Motocross racers love shootouts, until the bike they spent $10,000 loses; They think their brand is the fastest bike, until they see a dyno chart; They think that weight doesn't matter on motocross bikes, but if their girlfriend gains a few pounds they go ballistic
Think of it as a preview of the mods that Eli Tomac's YZ450F will get in 2022
On the first test rides of our full-blown, full-race, full-size, Yamaha YZ270F, the MXA test riders were impressed, but we aren't going to lie; we cried a little bit for two reasons
Brett Metcalfe's Yamaha of Troy YZ125 was the last of the breed — and he was the last of the Mohicans
It's finally here! We rank all seven 2021 250 models from seventh to first and share our opinion on the best bargain bike, best entry level bike, best working class bike and bike of the year
For 2021, Yamaha passed down the YZ450F chassis to the smaller YZ250F and reworked the engine for more top end