2016 YAMAHA YZ125 TWO-STROKE RACE TEST: EVERYTHING YOU NEED TO KNOW
Q: FIRST AND FOREMOST, IS THE 2016 YAMAHA YZ125 BETTER THAN THE 2015 YZ125?
A: The frame, chassis and suspension on the YZ125 have been virtually the same since 2006. In 2015, the YZ125 got a facelift with restyled plastic, and this year Yamaha introduced black rims and a gold chain. Yamaha has no bragging rights here. It hasn't reinvented the wheel, or the YZ125, in the last 10 years.
Q: HOW MUCH DOES THE 2016 YAMAHA YZ125 COST?
A: The 2016 Yamaha YZ125 is the cheapest bike in its class, coming in at $6390. That is $509 less than a Husqvarna TC125 and $409 less than a KTM 125SX.
Q: HOW FAST IS THE YAMAHA YZ125?
A: The YZ125's powerband is old-school but still playful. The engine is a decade old but has kept up with its competition—until now. The YZ125 engine became old-school when KTM upped the ante with its all-new 2016 KTM 125SX engine design. The 2016 KTM 125SX engine has more than enough power to keep your clutch finger from blistering. It produces 38.4 horsepower, while the 2016 Yamaha YZ125 is stuck back in the 34.01-horsepower range where it has been for a decade. As a race bike, the 2016 Yamaha YZ125 gives up over 4 horses to the orange tiddler. That's too much in a class that values ponies over everything else. However, the number of 125cc two-stroke classes being held at local races has dwindled since the heyday back in 2001 (before the 250cc four-stroke was allowed in the class). That means that most 125 two-strokes, apart from those headed for Vet diehards and Loretta Lynn aspirants, are being used as entry-level bikes, trail bikes or by professional practice riders. For that use, 34.01 horsepower is more than enough.
If you're interested in the most powerful bike in this category, the 2016 KTM 150SX makes 40.60 horsepower. It's not as fluid from corner to corner as a regulation-sized 125, but it can jump things that a 125 quivers at.
2016 Yamaha YZ125: This is a ten-year-old bike with a facelift that still gives us a grin from ear to ear when we twist the throttle.
Q: CAN YOU MAKE THE YZ125 ENGINE COMPETITIVE WITH THE KTM 125SX ENGINE FOR A REASONABLE PRICE?
A: For the price difference between the YZ125 and KTM 125SX ($409), you can buy some hop-up mods to make the YZ125 engine more competitive. Here is the list.
Pipe. Less than $250 will buy you around 2 horsepower with an aftermarket exhaust pipe. We have had great luck with both Pro Circuit and FMF YZ125 exhausts.
Reeds. We run a Boyesen RAD valve to broaden the power. The $179.95 RAD valve is a complete replacement reed block and valve assembly. Boyesen can be reached at www.boyesen.com or at (800) 441-1177.
Gearing. Adding one tooth to the rear sprocket (from a 48 to a 49) will perk up second gear, get you to third gear sooner and make the overall ratios between the six gears more user-friendly.
Q: IS THE DECADE-OLD KAYABA SSS SUSPENSION OVERSHADOWED BY NEW AIR FORK TECHNOLOGY?
A: Don't make us laugh. We will just come out and say it—the YZ125 is the best-suspended bike on the market, even though the Kayaba SSS suspension components have just had their 10th birthday. Air forks, no matter the brand, can't touch this stuff. It will keep from bottoming out on hard hits, float on top of rough chop, feel like its magnetized to the ground in corners and work well with riders from 135 to 200 pounds. The Kayaba SSS components were light years ahead of their time in 2006—and they still are.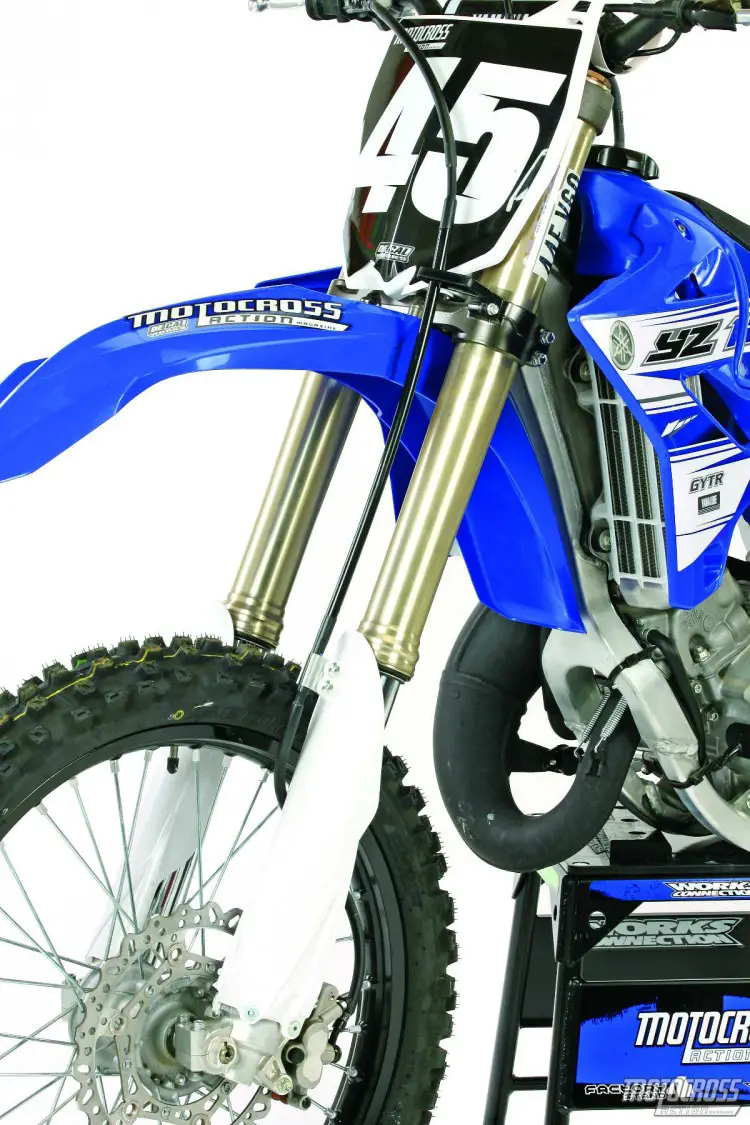 Superior: The YZ125 is the best suspended bike on the planet due to its class-leading Kayaba SSS components.
Q: HOW DO KTM'S WP SUSPENSION COMPONENTS COMPARE TO THE YZ125'S SSS?

A: It's no secret to anyone who doesn't live in Munderfing, Austria, that WP suspension has been the Achilles heel of KTM for many years now. Only recently has WP stopped drinking the delusional Kool-Aid that had them thinking they were in the game. They weren't. But, for 2016, at least they have moved up from bat boy to benchwarmer on the suspension roster. The 2016 KTM 125SX has suspension components that are workmanlike and perform decently for the average rider. Where the WP suspension is inferior to the SSS components is bottoming resistance. This is a key factor in any rider's confidence. You don't need great suspension on smooth ground, but you should demand peace of mind for those unexpected hard hits. That's where the YZ125 shines and the KTM 125SX fails.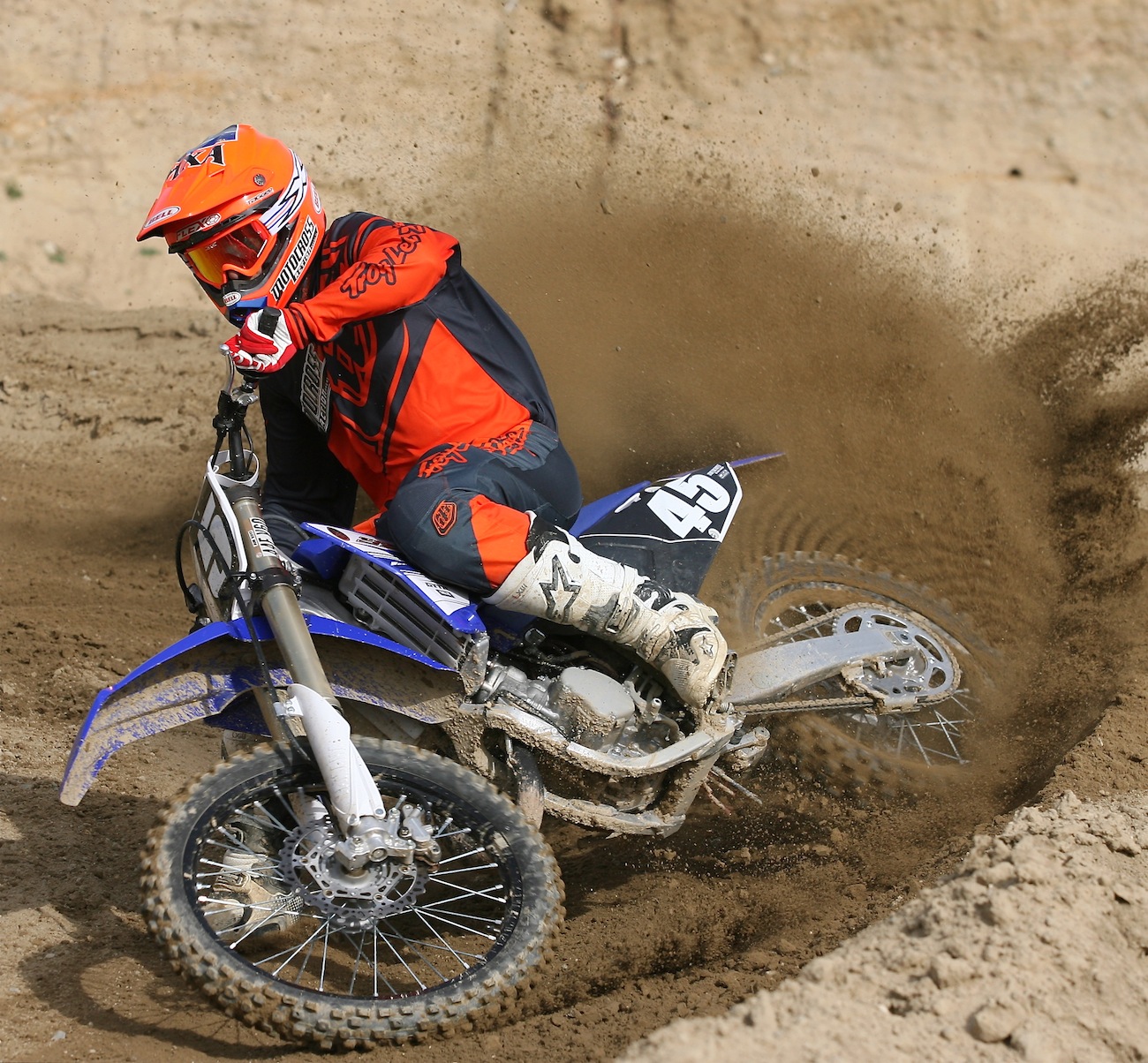 Q: WHO SHOULD YOU BUY A YZ125?
A: We feel strongly that any rider coming off an 85cc machine should spend some quality time on a 125. A mini rider who goes straight to a 250F will struggle with the excess weight, increased power and unique attributes of a 250 four-stroke. He will put his safety and his progress at risk by undertaking such a giant challenge. This is a recipe for disaster. Yes, we know that the 125cc machine is not as competitive against 250 four-strokes as another 250 four-stroke, but it is a valuable step up the learning-curve ladder. It's the same size as a 250F, but Little Johnny won't have to learn big-bike skills while being manhandled by a 220-pound beast. He can become familiar with the big-bike world on a bike that weighs under 200 pounds and puts a premium on shift points and race tactics. It was part of the education program of almost every factory star of the past.
You might say, "I can't afford to buy a $6300 bike that Little Johnny is only going to ride for a year!" We accept that, but remember when we said that the YZ125 has been virtually unchanged since 2006? Go find yourself a used YZ125 for a fraction of the price of a new one. And, if you keep it in tip-top shape, chances are you'll be able to sell it for what you bought it for a year later. That isn't going to happen with a 250F.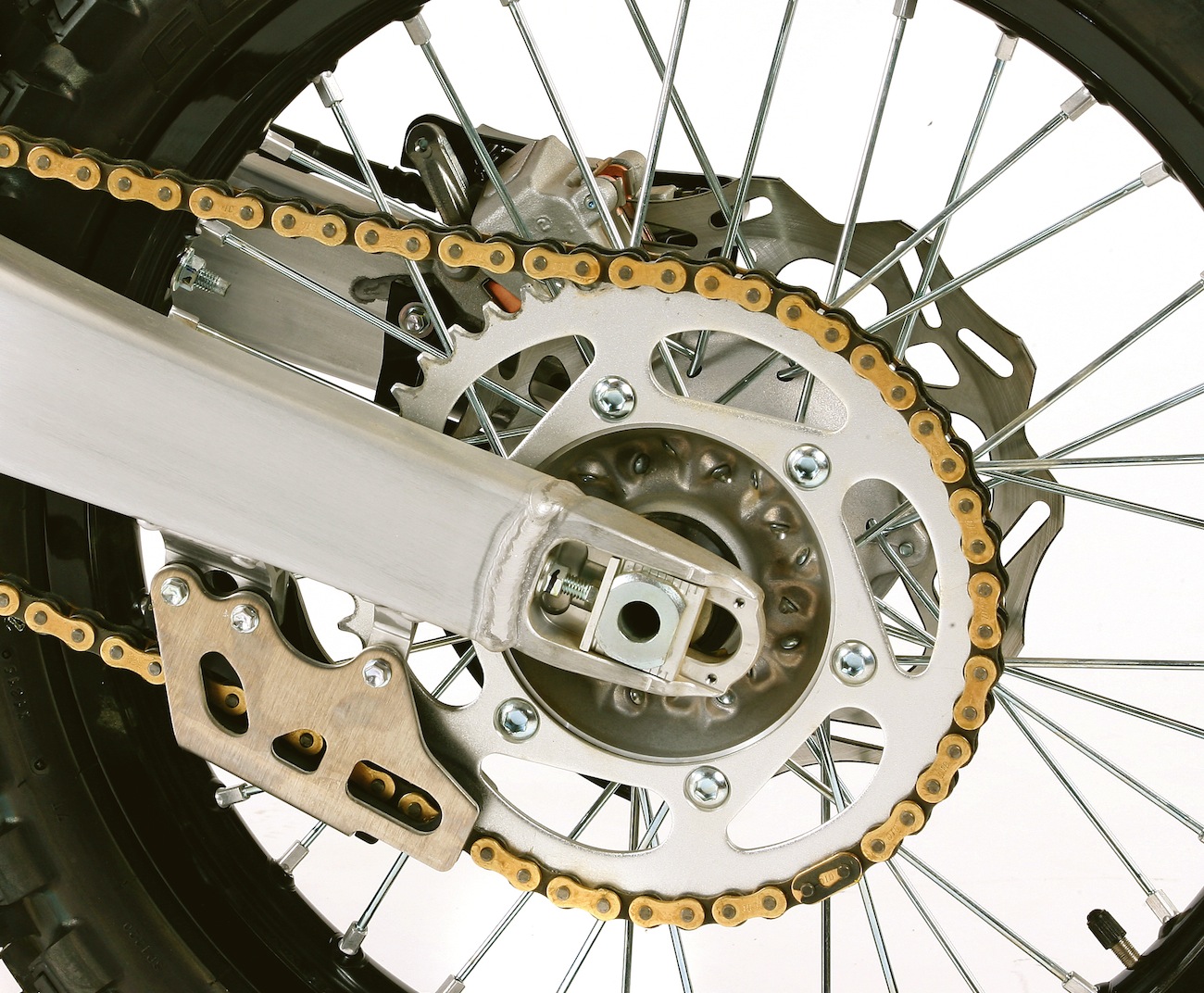 Snap: We went from a 48-tooth rear sprocket to a 49 to perk up second gear, allowing us to get to third quicker.
Q: CAN YOU CONVERT A 2006 YZ125 INTO A 2016 YZ125?
A: Although there have been a few small changes since 2006, such as Pro Taper bars (2007), stiffer fork springs (2008), a lighter brake hose clamp (2009), longer silencer (2011), richer jetting (2011) and a white rear fender, the aesthetics upgrade in 2015 made the most noise. And guess what, you can make your 2006 through 2014 Yamaha YZ125 look identical to a 2016. Here's how.
(1) Front fender. The mounting of the new-style front fender was changed in 2015. Applied Racing (www.appliedrace.com) offers a bottom clamp that has the new-style mounting for the front fender, and there are aftermarket look-alike fenders that fit the old bolt pattern.
(2) Airbox. Although the new airbox looks very different from the old one, it will bolt on the older frames with no hassles (as the subframe and airboot have not been changed). Even simpler, Cycra has designed aftermarket side panels that make the airbox and number plates on any 2005 to 2014 YZ125/250 look like 2016 YZ plastic (www.cycraracing.com).
(3) Rest of the package. Aftermarket companies like Cycra and UFO offer total restyled plastic kits (side panels, side shrouds, front fenders, rear fenders and fork guards) that make almost any old YZ125 look more  modern.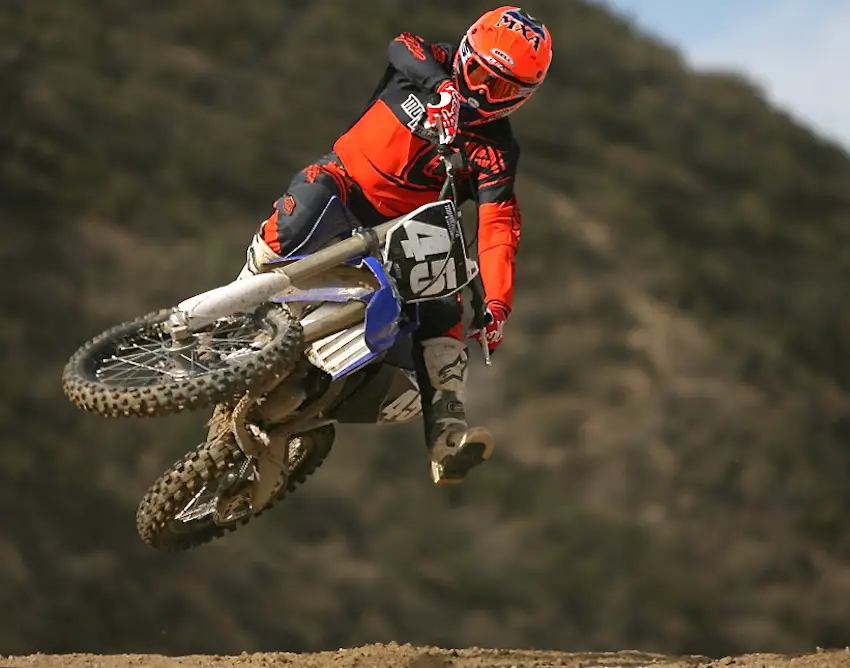 Q: WHAT DO WE THINK ABOUT THE YZ125 CHASSIS?
A: Luckily for the YZ125's aluminum chassis, it is held up with the best suspension on the planet. The great suspension, light weight and balanced ergonomics make for an agile bike that is easy to ride. Although the chassis does have flaws, the overall quality of the parts around it disguise them. In the corners, the YZ125 tends to understeer. It can be Band-Aided by raising the forks in the clamps, running a better front tire and fiddling with setup, but the latest generation of KTM 125s will out-turn the Zinger. The YZ125 chassis could use a 10-year check-up and redesign.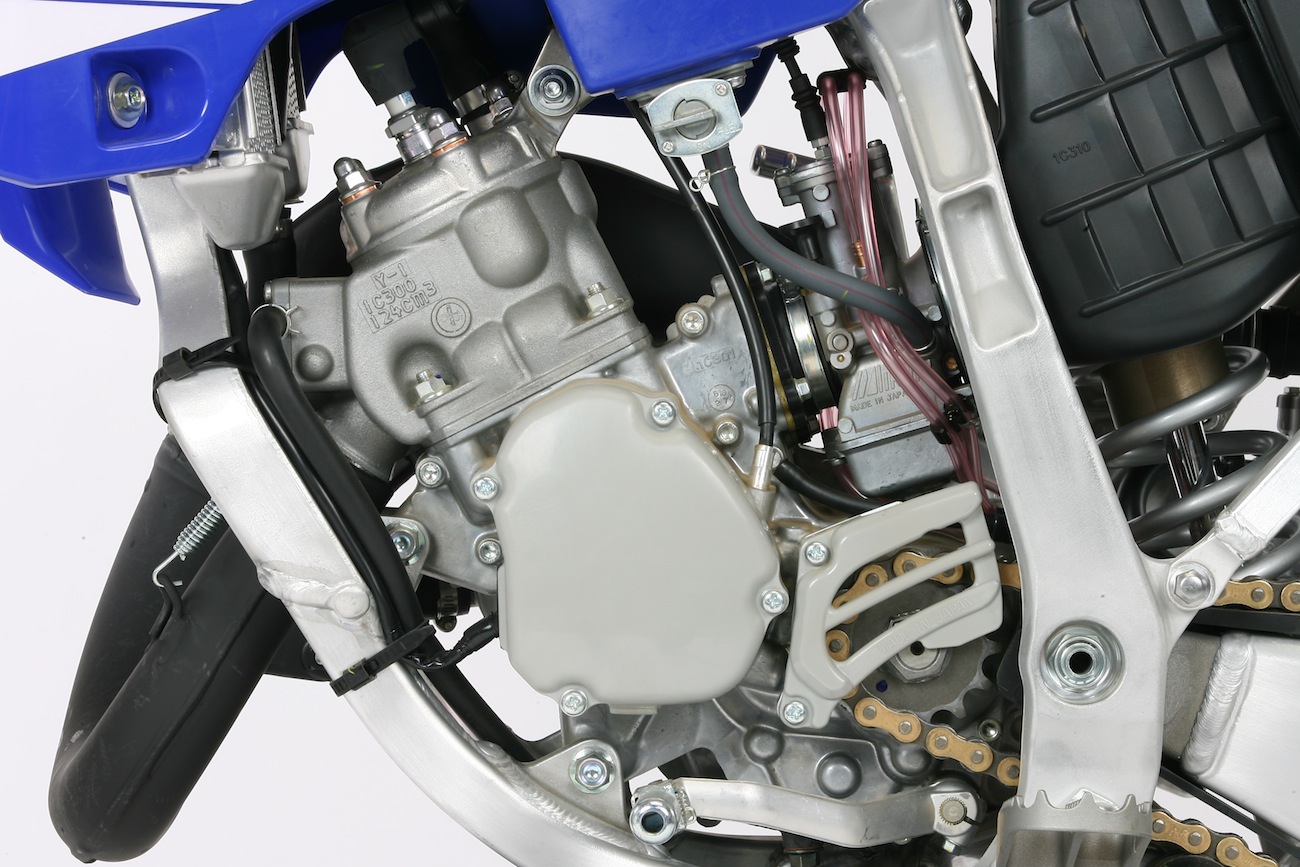 Old school: Its engine might be growing long in the tooth, but it is still a bushel of fun if you don't mind getting beat.
Q: WHAT DID WE HATE?
A: The hate list:
(1) Chassis. The YZ125's chassis is dated—and we weren't wild about the geometry back in the day. It exhibits understeer that is a constant irritant. The demands of modern motocross have changed, but the YZ125 frame hasn't.
(2) Engine. KTM and its brother-in-law Husqvarna stepped up to the plate for 2016. Yamaha hasn't stepped up to the plate in a decade. It's a marvel that the YZ125 has stayed competitive for 9 of its 10 years of benign neglect, but every engine reaches its tipping point  sooner or later. The YZ125 engine is now on the downside of its lifespan.
(3) Front tire. Dunlop's MX52 front tire makes the YZ125 front end feel worse than it actually is. Invest in a Dunlop MX32, Bridgestone X30 or your favorite premium front tire if you want to get the most out of the YZ in the corners.
(4) Brakes. The YZ125 front brake is good, but the Austrian bike's brakes are great.
(5) Powerband. It's not that we hate the YZ125  powerband; we just think it needs a little more bottom-end grunt to keep our fingers off the clutch.
(6) Price. The YZ125 may be the lowest-priced bike in the class, but Yamaha's glacial development program has fueled the used-bike market more than it has the traffic flow into its showrooms. Why buy a new YZ125 when any used YZ125 can do the same job at a fraction of the price? Change is good for the bottom line. This is marketing 101.
Q: WHAT DID WE LIKE?
A: The like list:
(1) Clutch. The YZ125 clutch can take a beating.
(2) Transition bike. This is one of the best bikes for transitioning from an 85cc machine.
(3) Suspension. Big or small, Beginner to Pro, the Kayaba SSS (Speed Sensitive System) components are the best suspension money can buy. Lucky for you, it comes stock on the entire Yamaha line (all the way back to 2006, which is a caveat against buying any YZ125 before that year).
(4) Maintenance. Anyone who is mechanically inclined can change a YZ125's top end with basic tools you will find in most toolboxs. A Vertex replica piston kit will cost you $124.48 (www.vertexpistons.com). That will buy you one-half of a YZ250F piston.
(5) Bulletproof. Yamaha has the best reputation for durability.
(6) Weight. At under 200 pounds, the Yamaha YZ125 is easy to ride and very agile.
A: The Yamaha YZ125 is an all-around great bike. Yes, politics and bureaucratic wrangling have decimated it as a race bike (except in two-stroke-only classes), but it has a personality, is perfect for mini riders transitioning to big bikes and teaches skills that can only be learned on a 125. It you're not worried about being on top of the podium, the YZ125 is the most fun two wheels can offer.
MXA'S YAMAHA YZ125 SETUP SPECS
This is how we set up our 2016 Yamaha YZ125 for racing. We offer it as a guide to help you find your own sweet spot.
KAYABA SSS FORK SETTINGS
For hard-core racing, we ran this setup on the 2016 Yamaha YZ125 (stock clickers are in parentheses):
Spring rate: 0.42 kg/mm
Compression: 9 clicks out (12 clicks out)
Rebound: 8 clicks out (12 clicks out)
Fork-leg height: 5mm up
Notes: These are awesome forks, made all the more terrific by the light feel and snappy input of the two-stroke engine. Obviously, if you are fast or fat, you might want to go stiffer on the fork springs. Typically, however, fast riders can dial in more compression (and use the crossover effect of rebound damping to get the stock fork springs to work).
KAYABA SSS SHOCK SETTINGS
For hard-core racing, we ran this setup on the 2016 Yamaha YZ125 (stock clickers are in parentheses):
Spring rate: 4.7 kg/mm
Race sag: 100mm (105mm)
Hi-compression: 1-1/2 turns out
Lo-compression: 10 clicks out (13 clicks out)
Rebound: 9 clicks out (11 clicks out)
Notes: The one thing that the KTM 125SX and Husqvarna TC125 can't touch is the YZ125's suspension. Compared to what comes on the Austrian bikes, the YZ125 has a works shock. It comes with a jumbo-sized 18mm shock shaft, Kashima-coated internals and SSS damping. AMA National-speed riders and heavyweight contenders will need to move up to a 5.0 kg/mm spring.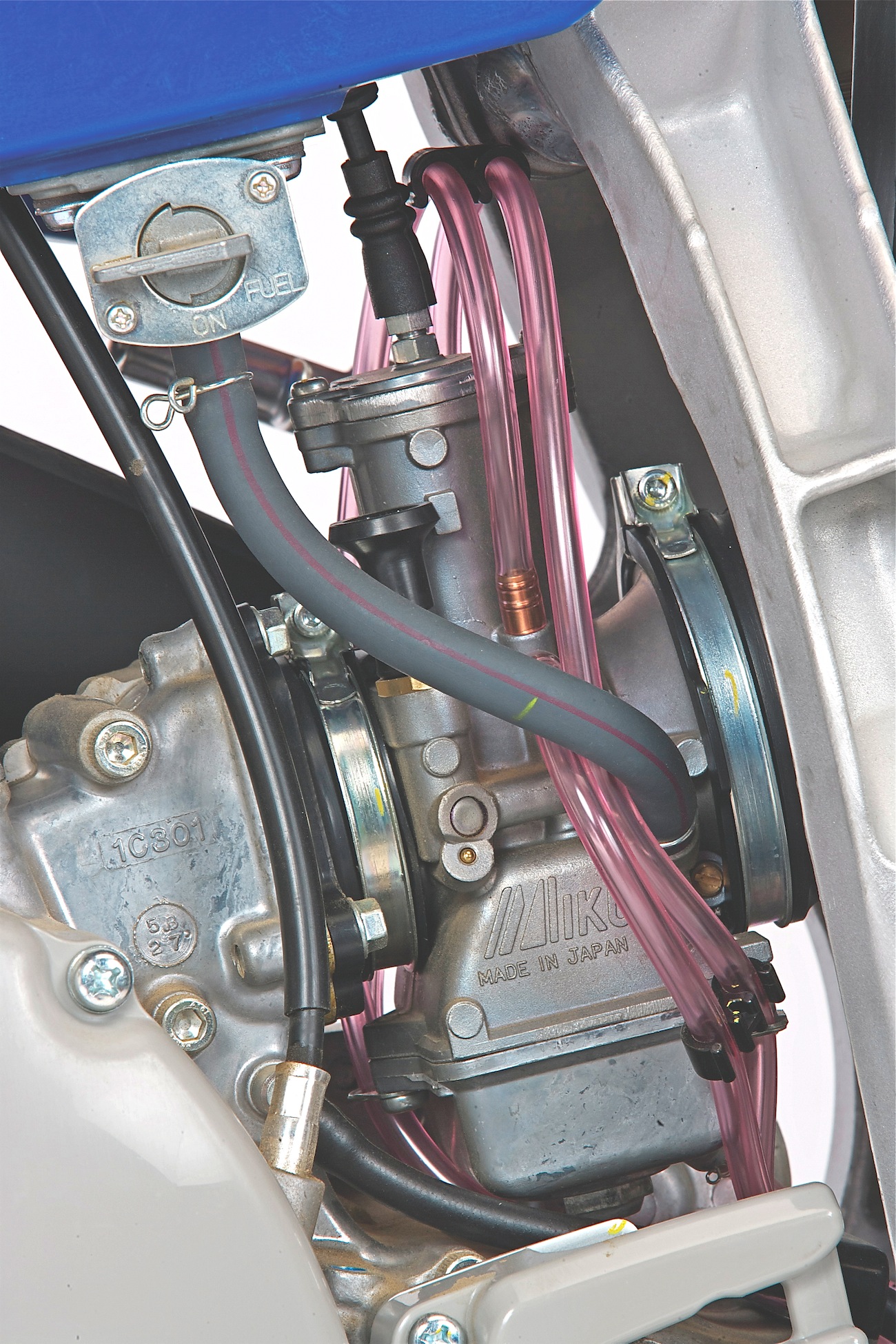 YAMAHA YZ125 JETTING
Yamaha has its jetting down, and our 2016 YZ125 ran clean. Here are the 38mm Mikuni TMX jetting specs:
Main: 430
Pilot: 40
Needle: 6BFY42-74
Clip: 3rd from top
Air screw: 2-1/2 turns out
Notes: Yamaha includes one richer (440) and one leaner main jet (420) with the bike. Depending on where you are from in the world and the temperature, you might need to put these jets into use. If you port the engine or add an aftermarket exhaust system, consider going up on the main jet (440) or even adding a splash of VP C-12 to every 5 gallons of gas for safety's sake.