WE RIDE TWISTED DEVELOPMENT'S 2005 HONDA CR125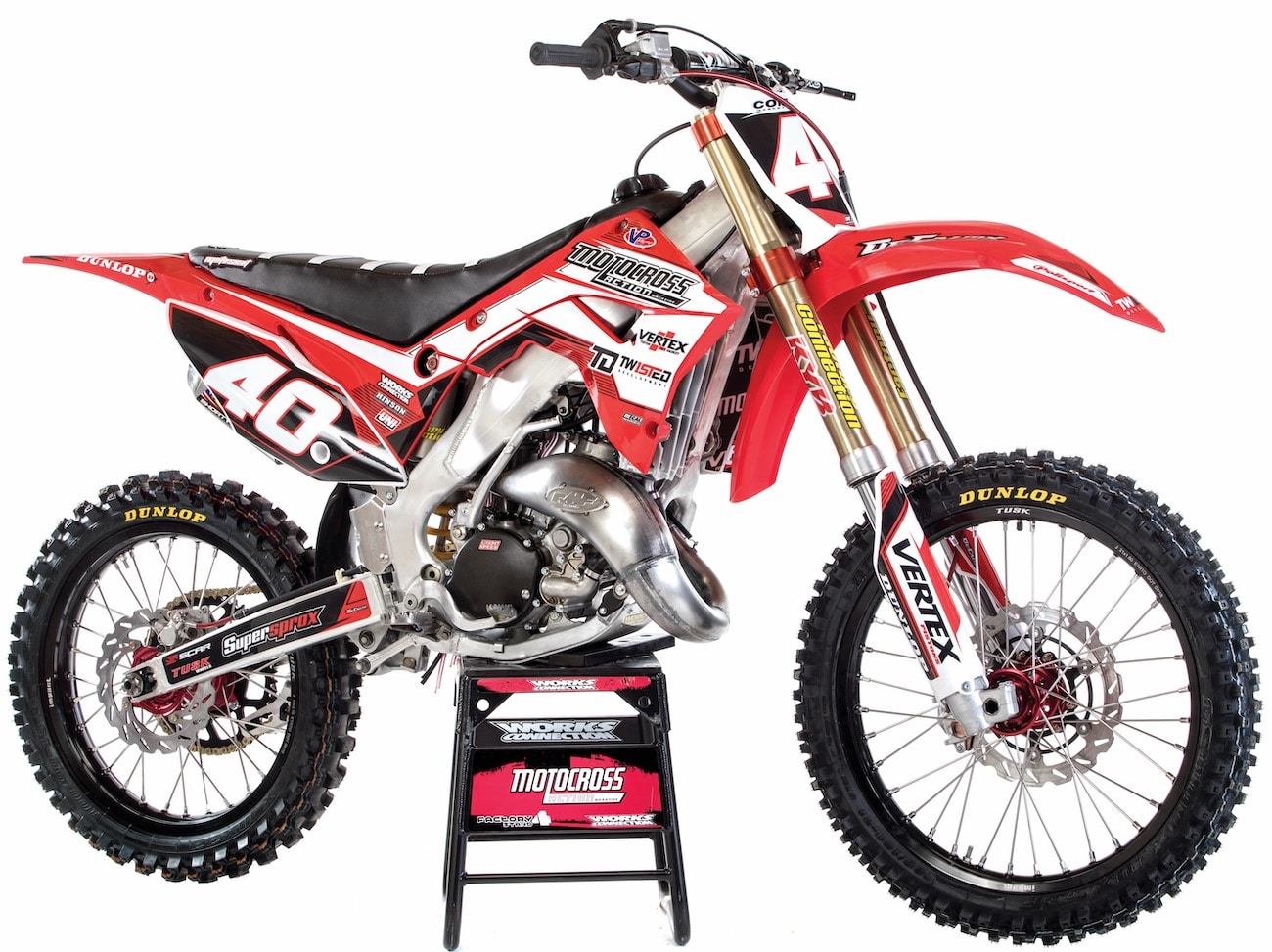 When we have Twisted Development in the title of a story, you automatically expect a full-fledged, high-dollar race bike. Twisted Development (TD) is known for privateer power that can run with the factory bikes. If you want to race against the factory teams, Twisted Development is the go-to race shop; however, this test of a TD-built machine is a little different. We never thought of Twisted Development's Jamie Ellis as being sentimental about the bikes he builds, but this bike was on the nostalgic side for this high-level engine performance company. We get it, though. The MXA wrecking crew is head over heels in love with old smokers, so we couldn't resist riding Twisted Developments 2005 Honda CR125. Since it was a personal project for Jamie, we'll let him explain a little of the bike's background. Take it away, Jamie.
EVEN THOUGH MY SON WAS ONLY 6 YEARS OLD, I HAD A VISION
FOR THIS BIKE TO BE MY SON'S BIKE A DECADE FROM NOW
WHEN HE BECAME OLD ENOUGH TO RIDE IT.
"At the time I was working for Bobby Hewitt, who was the owner of the Rockstar Suzuki race team," said Jamie, "our Parts Coordinator, Brian Burke, was from Binghamton, New York. Every year for the Unadilla National, the team would stay in Binghamton for the week to rebuild our race bikes and check out the local sights. In 2011 Brian asked if he could put his beat-up 2005 Honda CR125 in the Rockstar semi to get it back to California. He planned to rebuild it in the off-season. We didn't have a lot of room in the semi, so we tore the CR125 down and put it into trash cans so it would fit in the upper level of the semi. That way it would be easier to move around until the Nationals were over. When we got back to the race shop, the whole Rockstar Suzuki crew helped put the CR125 back together, because we couldn't stand to see mechanically challenged Brian struggle to work on the bike.
"Fast-forward to 2015 when the Rockstar Suzuki team turned into the Rockstar Husqvarna team and moved from our Corona, California, race shop 40 miles south to Husqvarna's headquarters in Murrieta, California (which is now next door to my shop). During the move, the team felt that it wouldn't be a good idea to have a Honda in the Factory Husqvarna race shop, so Brian's CR125 was moved to a dark corner of my personal garage where it would sit until 2020. Those next five years I got tired of storing Brian's junky old CR125 and finally told him to come pick it up or I was going to fix it up for my kid to ride. Even though my son was only 6 years old, I had a vision for this bike to be my son's bike a decade from now when he became old enough to ride it. I told Brian that if he ever wanted to ride his bike, he could come by and pick it up any time he wanted. Brian said that sounded like a good deal. 
"I felt that the CR125 was a great transition bike, and that 10 years from now, who knew if smokers would even be available? With that vision, I got the old CR125 into the Twisted Development shop, and we put some TLC into it. It was a scavenger hunt to find parts for the old gal, but after scratching around, this build finally came together. 
"We made simple modifications to this build to keep it reliable and manageable for my kid when he eventually grows into it. We ported the cylinder and decked the head (to get the squish where it needed to be). We added FMF bolt-on power with a pipe and silencer, which was run with VP MRX02 race fuel. Factory Connection hooked up the suspension, and Tusk provided a wheelset with a set of Dunlop MX33 tires. We used low Supersprox 13/52 gearing to try to get the little-bore 125cc moving. We picked the number 40, because when my son was asked his favorite number, he chose 40.
"When it was done, I asked the MXA wrecking crew if they'd like to ride it. When they are done with it, I'm going to put the refurbished 2005 Honda CR125 away until my son is old enough to enjoy it. It might be considered even more a vintage bike by then."

WE FELT BAD ABOUT BLOWING UP A BIKE THAT JAMIE HAD PUSHED AROUND
FOR NINE YEARS WAITING FOR THE DAY WHEN IT
WAS FINALLY RIDDEN AGAIN.
We liked the backstory of Brian Burke's Honda CR125, and when Jamie asked if we'd like to test it, we jumped at the chance. Unfortunately, the first time we rode it, the CR125 seized a ring. We felt bad about blowing up a bike that Jamie had pushed around for many years waiting for the day when it was finally ridden again. The nice guys that we are, we put all the blame on our test rider and pushed the CR125 project off to the side. Jaime vowed to get the bike running again, but it wasn't until things began to normalize from the coronavirus pandemic that MXA and Jaime had a window of opportunity to meet again and put the old dog through its paces. 
Our second attempt was, for the most part, a success. The CR125 looked like a new-age machine with its Polisport restyled kit, new tires and shiny graphics, but on the track, the engine felt like a decade-old machine. That wasn't a bad thing, because it was actually a decade-and-a-half-old machine. We never thought that a 15-year-old Honda CR125 was going to run with the 40-horsepower wonder 125s of today, because this was a project of love for a young kid to learn on and enjoy. The engine was incredibly fun. It didn't offer much bottom, but the mid-to-top power held its own. We did some small fuel and jetting changes to get the bike running cleaner. After that, our testers had an absolute ball on it. 

The Factory Connection suspension valving and Honda chassis allowed the bike to handle like a champ. The light chassis allowed testers to put the front wheel anywhere they wanted with ease. The CR125 allowed riders to recover from mistakes fast, but in truth, it was hard to make mistakes on a bike with better handling than engine performance. 
The MXA gang didn't want to stop riding this build for three reasons: (1) It was incredibly fun to ride. (2) Once we shut it off, it was going to go back into the storage locker for another 10 years. (3) We could ride through a tank of gas without getting tired. This bike is perfect for its intended purpose, which is to bring safety and a smile to a kid who loves riding.  
TWISTED CR125 PARTS SUPPLIERS:
Twisted Development: www.td-racing.com
Tusk: www.rockymountainatvmc.com
Supersprox: www.supersproxusa.com
ODI: www.odigrips.com
Dunlop: www.dunlopmotorcycletires.com 
Works Connection: www.worksconnection.com
Polisport: www.polisport.com
Hinson Racing: www.hinsonracing.com
All Balls Racing: www.allballsracing.com
Scar Racing: www.scar-racing.com
Vertex Pistons: www.vertexpistons.com
Decal Works: www.decalmx.com
Moto Seat: www.motoseat.com
FMF: www.fmfracing.com
VP Racing: www.vpracingfuels.com 
Light Speed: www.lightspeedcarbon.com