The TM 112MX has the same bore as the TM 100MX, but with a longer stroke. The longer stroke adds more power and TM's engineers built all-new cases just for the TM 112MX.
You'd be surprised how little we did to build a rocketship KTM 125SX. We got a 150 kit from KTM and help from Mitch Payton (and we left the rest of the bike fairly stock)
Factory-prepped bikes evoke images of unbelievable power, superb handling, and razor-like control. Yet visually, Windham's YZ125 looked pretty much like the stock YZ125 that the MXA gang brought along for comparison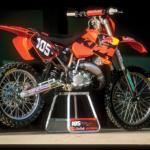 The 2003 125 National Motocross Championship at Troy, Ohio, could have been an epic battle between Langston and Hughes, but It didn't happen. Fate, in the form of a massive rainstorm, dealt a cruel blow to one of the two KTM racers.
You didn't ask this is significant history, but we tested Brett Metcalfe's 2005 Yamaha of Troy YZ125 when it was the only smoker left on the track
Jeff Emig just got done battling with 450s at Loretta's on a Husky 150 two-stroke, demonstrating one of the great niche markets for this model. We breakdown the details on the stock 2022 150SX in this video
There is nothing like a brand-new 2022 125 two-stroke on a sunny day with your friends at the track — even if it is considered a day at the office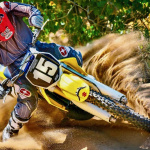 It is easy to look at the 2007 Suzuki RM125 and see a throwback to an ancient era with the steel frame, revvy powerband and unchanged exterior
"I chose the Yamaha YZ125 because it had been basically the same since 2005. I know lots of people criticize Yamaha for not making a new YZ125 and YZ250 every couple of years, but the fact that they don't change is why I wanted one."
The 2022 YZ125 gets a new cylinder, head, piston, piston pin, connecting rod, crankcase, expansion chamber, Hitachi Astemo Keihin PWK38S carburetor and 3D-map-controlled CDI